Formed back in 2013, the East Sussex Finescale group is a successful association of railway modellers dedicated to finescale modelling. Our members are not exclusively geographically located along on the Southern's east coast between Lewes and Rye. Indeed, although still concentrated in East Sussex, we have an active membership which now includes members in West Sussex, Surrey, Kent and several in Portugal (who pay regular visits)!
Whilst there are a number of model railway clubs in this area, East Sussex Finescale group (ESF) is specifically orientated towards finescale modelling and was created because of a local 'finescale modelling void'. Since then it has flourished to the point at which the group has reluctantly decided membership currently has to be by invitation.
Members' interests range from detailing and modifying proprietary products, making and improving kits right through to scratch building; sharing ideas and techniques in the process. Hopefully this will also assist in placing finescale modelling within the grasp of most whilst enable the development of members' modelling!
Although the East Sussex Finescale group modellers currently have a 4mm lean towards the Southern, we also incorporate P4, EM, OO & HO without bias. Certainly, finescale modelling should neither be elitist or the preserve of one particular scale or gauge.
Previously hosted on www.BloodandCustard.net, the East Sussex Finescale group are not affiliated to any clubs or associations. Limited products and services are becoming available to members under the 'East Sussex Finescale' group brand. Apologies but these are currently not available on-line.
<![if !vml]>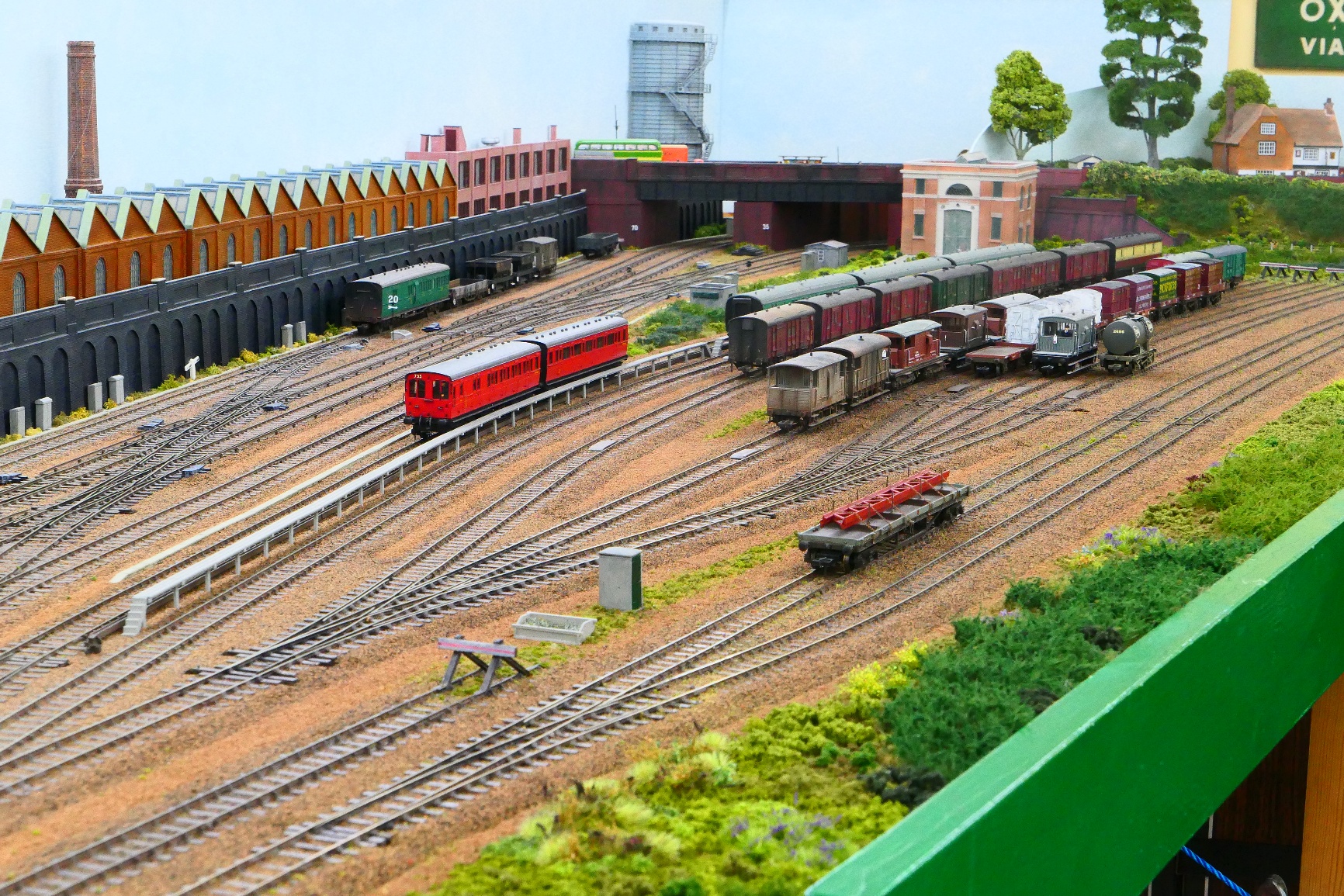 <![endif]>
Modified and weathered Heljan D6580 including fitting of finescale wheelsets.
This is intended to demonstrate how a commercially produced model can easily be improved to 'finescale' standards.
Contacting ESF is currently via (munged address) ESF arobase EastSussexFinescale full stop Charlie Oscar Mike
Modelling Interest
Improving the Hornby 2 BIL (including conversion to P4) by Ian Sneyd
Hornby 2 BIL & 2 HAL - Creating a Hybrid Unit by Colin Watts
00 Works – Roderick Bruce is 'our' local manufacturer of 4mm locomotives
Members Layouts
Redhill - Southern Railway 1938 in 4mm (Structures) (Ian Sneyd)
Redhill - Southern Railway 1938 in 4mm (Locomotives) (Ian Sneyd)
Ewhurst Green – Southern Region 1958-64 in 4mm
                       Ewhurst Green – Running Sessions
Apothecary Street – Southern Region 1958-62 in 4mm
<![if !vml]>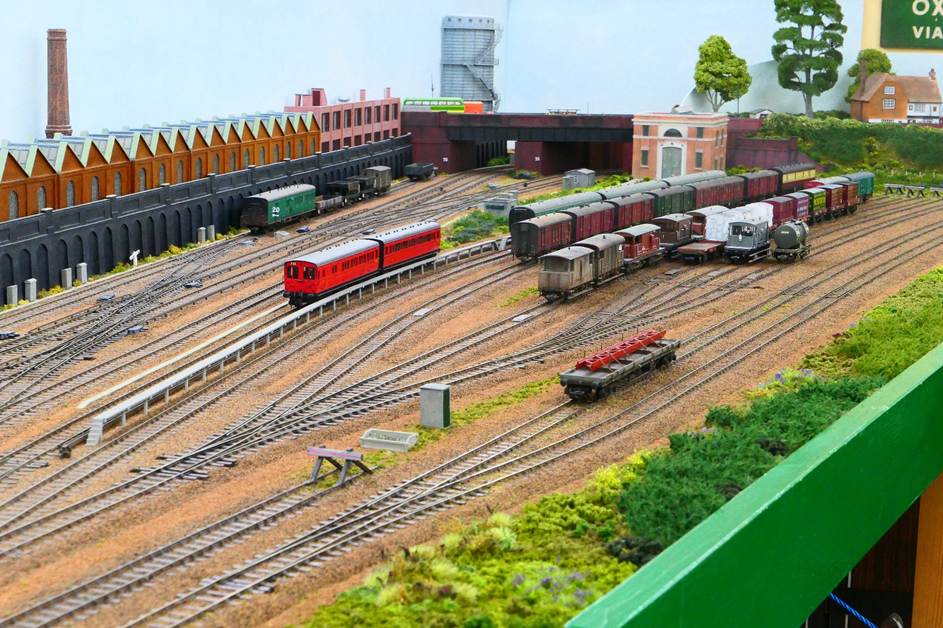 <![endif]> 
Construction of ESF member Ian Sneyd's P4 layout 'Redhill' taken during a visit to the Algarve. Another ESF member (Terry 'The Rigger') is working on Ian's Portuguese 'H0' layout mounted on a tier beneath 'Redhill'. ©
<![if !vml]>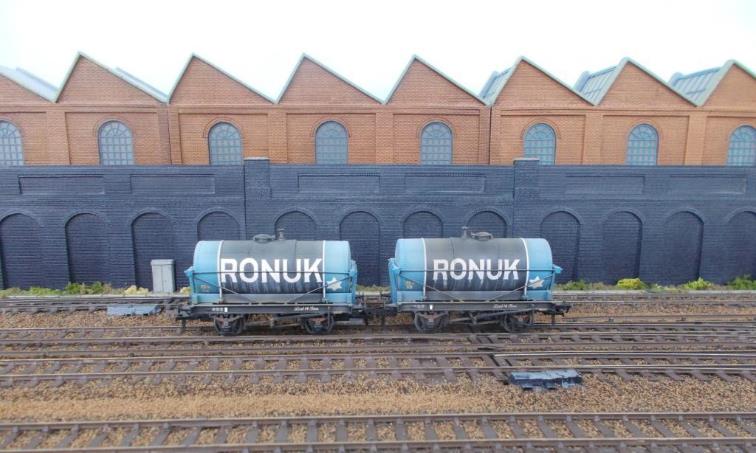 <![endif]> 
Contrary to appearance (and the alarm clock) when ESF members undertake overnight visits proper beds are provided. In this instance, having flown in from his mountain retreat visiting ESF member (Terry 'The Rigger') is undertaking a static load test on the baseboards of 4mm finescale layout 'Ewhurst Green'. ©
Information
Lighting in your Track Room LED fluorescent tube replacement and how the re-wiring circuit works!
Group Forum
Yahoo groups - EastSussexFinescale
Sussex Retailers
Morris Models (Lancing)
Established in 1964 this is a traditional well-stocked traditional model railway shop catering for UK and Continental outline modellers alike. Easily accessible by road with good parking (else taxi or walk from Lancing station).
Silverhill Models (Hastings)
A long-established traditional model railway shop located on a number of bus route with limited on-street parking in the locality.
Train Times Models (Eastbourne)
A local model railway shop located on a bus route with limited on-street parking in the locality.
The Hobby Box (Uckfield, East Sussex)
Sadly this long-established model shop decided to cease trading and (with the quietest of announcements) closed its doors on Saturday 22nd July 2017. Click for more details and a brief history of the business which many of us frequented over the decades.
East Sussex Finescale Group Meetings
With close communication across our membership there is no longer any need to publish dates save to say they are on average fortnightly amongst three dedicated groups with our finescale circle of modelling friends; this being necessary through some of the geographical distances involved although we do occasionally travel those distances to enjoy running sessions of East Sussex Finescale group-member layouts, undertake modelling workshops or simply socialise.
 The East Sussex Finescale undertakes occasional trips to exhibitions including regularly attending the excellent Southwold event including group luncheons on the pier. Fortunately, we were able to attend Southwold's 2018 exhibition, for it proved to be the last organised by the Waveney Valley Model Railway Club.
Local meetings usually include luncheon at our favourite beach-front café else a mutually convenient location!
Luncheons can be very much a social event and sometimes includes wives /partners joining us before disappearing into town (away from our railway rooms).
<![if !vml]>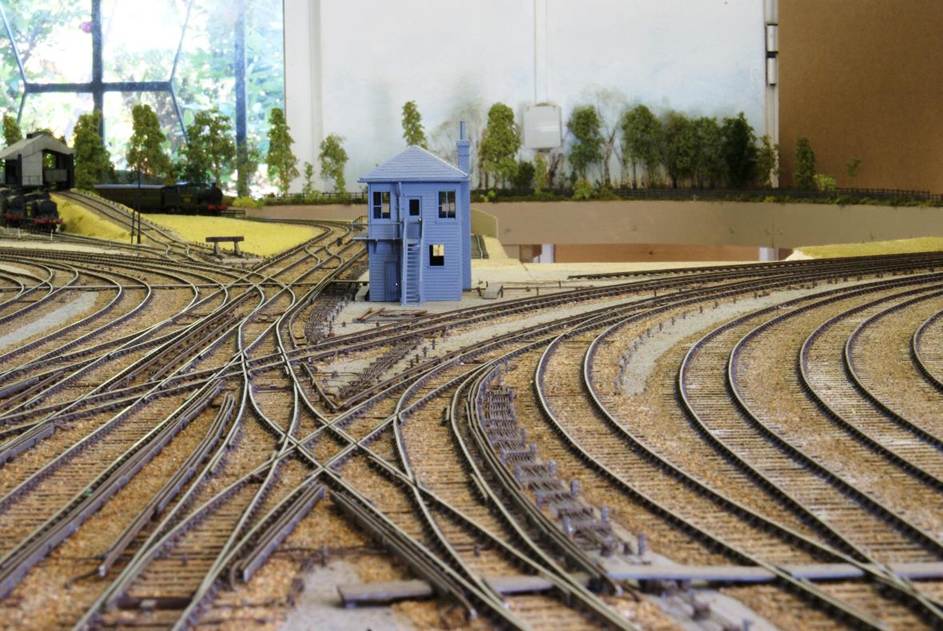 <![endif]>
Modified Southeastern Finecast Q kit of 30549 as allocated to Norwood Shed.
Finished by Ian Sneyd, the locomotive frames were modified (the kit builds
no.30530 as standard), stovepipe chimney (unique to no.30549), brake rodding, steam reverser piping as well as tender bulkhead detail added. Powered by a Mashima motor. ©
This webpage is kindly provided by www.BloodandCustard.net
ALL PHOTOGRAPHS ARE COPYRIGHT
Links
<![if !vml]>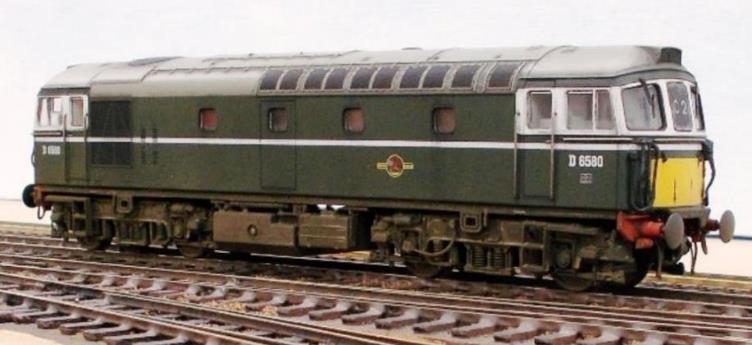 <![endif]>
<![if !vml]>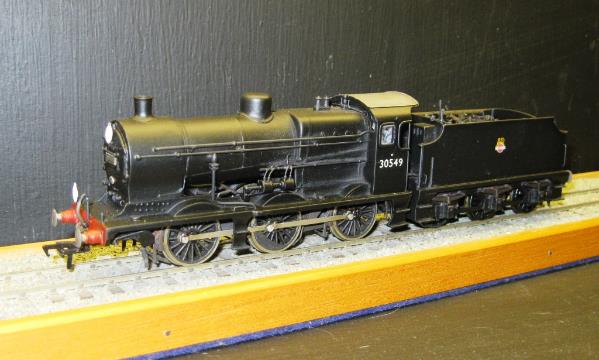 <![endif]>
<![if !vml]>
<![endif]>
BloodandCustard East Sussex Finescale Railway Modelling Finescale Modelling OO HO 18.83mm 4mm. BloodandCustard East Sussex Finescale Railway Modelling Finescale Modelling OO HO 18.83mm 4mm BloodandCustard East Sussex Finescale Railway Modelling Finescale Modelling OO HO 18.83mm 4mm BloodandCustard East Sussex Finescale Railway Modelling Finescale Modelling OO HO 18.83mm 4mm BloodandCustard East Sussex Finescale Railway Modelling Finescale Modelling OO HO 18.83mm 4mm BloodandCustard East Sussex Finescale Railway Modelling Finescale Modelling OO HO 18.83mm 4mm BloodandCustard East Sussex Finescale Railway Modelling Finescale Modelling OO HO 18.83mm 4mm BloodandCustard East Sussex Finescale Railway Modelling Finescale Modelling OO HO 18.83mm 4mm BloodandCustard East Sussex Finescale Railway Modelling Finescale Modelling OO HO 18.83mm 4mm BloodandCustard East Sussex Finescale Railway Modelling Finescale Modelling OO HO 18.83mm 4mm BloodandCustard East Sussex Finescale Railway Modelling Finescale Modelling OO HO 18.83mm 4mm BloodandCustard East Sussex Finescale Railway Modelling Finescale Modelling OO HO 18.83mm 4mm BloodandCustard East Sussex Finescale Railway Modelling Finescale Modelling OO HO 18.83mm 4mm BloodandCustard East Sussex Finescale Railway Modelling Finescale Modelling OO HO 18.83mm 4mm BloodandCustard East Sussex Finescale Railway Modelling Finescale Modelling OO HO 18.83mm 4mm BloodandCustard East Sussex Finescale Railway Modelling Finescale Modelling OO HO 18.83mm 4mm BloodandCustard East Sussex Finescale Railway Modelling Finescale Modelling OO HO 18.83mm 4mm BloodandCustard East Sussex Finescale Railway Modelling Finescale Modelling OO HO 18.83mm 4mm BloodandCustard East Sussex Finescale Railway Modelling Finescale Modelling OO HO 18.83mm 4mm BloodandCustard East Sussex Finescale Railway Modelling Finescale Modelling OO HO 18.83mm 4mm BloodandCustard East Sussex Finescale Railway Modelling Finescale Modelling OO HO 18.83mm 4mm BloodandCustard East Sussex Finescale Railway Modelling Finescale Modelling OO HO 18.83mm 4mm BloodandCustard East Sussex Finescale Railway Modelling Finescale Modelling OO HO 18.83mm 4mm BloodandCustard East Sussex Finescale Railway Modelling Finescale Modelling OO HO 18.83mm 4mm BloodandCustard East Sussex Finescale Railway Modelling Finescale Modelling OO HO 18.83mm 4mm BloodandCustard East Sussex Finescale Railway Modelling Finescale Modelling OO HO 18.83mm 4mm BloodandCustard East Sussex Finescale Railway Modelling Finescale Modelling OO HO 18.83mm 4mm BloodandCustard East Sussex Finescale Railway Modelling Finescale Modelling OO HO 18.83mm 4mm BloodandCustard East Sussex Finescale Railway Modelling Finescale Modelling OO HO 18.83mm 4mm BloodandCustard East Sussex Finescale Railway Modelling Finescale Modelling OO HO 18.83mm 4mm BloodandCustard East Sussex Finescale Railway Modelling Finescale Modelling OO HO 18.83mm 4mm BloodandCustard East Sussex Finescale Railway Modelling Finescale Modelling OO HO 18.83mm 4mm BloodandCustard East Sussex Finescale Railway Modelling Finescale Modelling OO HO 18.83mm 4mm BloodandCustard East Sussex Finescale Railway Modelling Finescale Modelling OO HO 18.83mm 4mm BloodandCustard East Sussex Finescale Railway Modelling Finescale Modelling OO HO 18.83mm 4mm BloodandCustard East Sussex Finescale Railway Modelling Finescale Modelling OO HO 18.83mm 4mm BloodandCustard East Sussex Finescale Railway Modelling Finescale Modelling OO HO 18.83mm 4mm BloodandCustard East Sussex Finescale Railway Modelling Finescale Modelling OO HO 18.83mm 4mm BloodandCustard East Sussex Finescale Railway Modelling Finescale Modelling OO HO 18.83mm 4mm BloodandCustard East Sussex Finescale Railway Modelling Finescale Modelling OO HO 18.83mm 4mm BloodandCustard East Sussex Finescale Railway Modelling Finescale Modelling OO HO 18.83mm 4mm BloodandCustard East Sussex Finescale Railway Modelling Finescale Modelling OO HO 18.83mm 4mm BloodandCustard East Sussex Finescale Railway Modelling Finescale Modelling OO HO 18.83mm 4mm BloodandCustard East Sussex Finescale Railway Modelling Finescale Modelling OO HO 18.83mm 4mm BloodandCustard East Sussex Finescale Railway Modelling Finescale Modelling OO HO 18.83mm 4mm BloodandCustard East Sussex Finescale Railway Modelling Finescale Modelling OO HO 18.83mm 4mm BloodandCustard East Sussex Finescale Railway Modelling Finescale Modelling OO HO 18.83mm 4mm BloodandCustard East Sussex Finescale Railway Modelling Finescale Modelling OO HO 18.83mm 4mm BloodandCustard East Sussex Finescale Railway Modelling Finescale Modelling OO HO 18.83mm 4mm BloodandCustard East Sussex Finescale Railway Modelling Finescale Modelling OO HO 18.83mm 4mm BloodandCustard East Sussex Finescale Railway Modelling Finescale Modelling OO HO 18.83mm 4mm BloodandCustard East Sussex Finescale Railway Modelling Finescale Modelling OO HO 18.83mm 4mm BloodandCustard East Sussex Finescale Railway Modelling Finescale Modelling OO HO 18.83mm 4mm BloodandCustard East Sussex Finescale Railway Modelling Finescale Modelling OO HO 18.83mm 4mm BloodandCustard East Sussex Finescale Railway Modelling Finescale Modelling OO HO 18.83mm 4mm BloodandCustard East Sussex Finescale Railway Modelling Finescale Modelling OO HO 18.83mm 4mm BloodandCustard East Sussex Finescale Railway Modelling Finescale Modelling OO HO 18.83mm 4mm BloodandCustard East Sussex Finescale Railway Modelling Finescale Modelling OO HO 18.83mm 4mm BloodandCustard East Sussex Finescale Railway Modelling Finescale Modelling OO HO 18.83mm 4mm BloodandCustard East Sussex Finescale Railway Modelling Finescale Modelling OO HO 18.83mm 4mm BloodandCustard East Sussex Finescale Railway Modelling Finescale Modelling OO HO 18.83mm 4mm BloodandCustard East Sussex Finescale Railway Modelling Finescale Modelling OO HO 18.83mm 4mm BloodandCustard East Sussex Finescale Railway Modelling Finescale Modelling OO HO 18.83mm 4mm BloodandCustard East Sussex Finescale Railway Modelling Finescale Modelling OO HO 18.83mm 4mm BloodandCustard East Sussex Finescale Railway Modelling Finescale Modelling OO HO 18.83mm 4mm BloodandCustard East Sussex Finescale Railway Modelling Finescale Modelling OO HO 18.83mm 4mm BloodandCustard East Sussex Finescale Railway Modelling Finescale Modelling OO HO 18.83mm 4mm BloodandCustard East Sussex Finescale Railway Modelling Finescale Modelling OO HO 18.83mm 4mm BloodandCustard East Sussex Finescale Railway Modelling Finescale Modelling OO HO 18.83mm 4mm BloodandCustard East Sussex Finescale Railway Modelling Finescale Modelling OO HO 18.83mm 4mm BloodandCustard East Sussex Finescale Railway Modelling Finescale Modelling OO HO 18.83mm 4mm BloodandCustard East Sussex Finescale Railway Modelling Finescale Modelling OO HO 18.83mm 4mm BloodandCustard East Sussex Finescale Railway Modelling Finescale Modelling OO HO 18.83mm 4mm BloodandCustard East Sussex Finescale Railway Modelling Finescale Modelling OO HO 18.83mm 4mm BloodandCustard East Sussex Finescale Railway Modelling Finescale Modelling OO HO 18.83mm 4mm BloodandCustard East Sussex Finescale Railway Modelling Finescale Modelling OO HO 18.83mm 4mm BloodandCustard East Sussex Finescale Railway Modelling Finescale Modelling OO HO 18.83mm 4mm BloodandCustard East Sussex Finescale Railway Modelling Finescale Modelling OO HO 18.83mm 4mm BloodandCustard East Sussex Finescale Railway Modelling Finescale Modelling OO HO 18.83mm 4mm BloodandCustard East Sussex Finescale Railway Modelling Finescale Modelling OO HO 18.83mm 4mm BloodandCustard East Sussex Finescale Railway Modelling Finescale Modelling OO HO 18.83mm 4mm BloodandCustard East Sussex Finescale Railway Modelling Finescale Modelling OO HO 18.83mm 4mm BloodandCustard East Sussex Finescale Railway Modelling Finescale Modelling OO HO 18.83mm 4mm BloodandCustard East Sussex Finescale Railway Modelling Finescale Modelling OO HO 18.83mm 4mm BloodandCustard East Sussex Finescale Railway Modelling Finescale Modelling OO HO 18.83mm 4mm BloodandCustard East Sussex Finescale Railway Modelling Finescale Modelling OO HO 18.83mm 4mm BloodandCustard East Sussex Finescale Railway Modelling Finescale Modelling OO HO 18.83mm 4mm BloodandCustard East Sussex Finescale Railway Modelling Finescale Modelling OO HO 18.83mm 4mm BloodandCustard East Sussex Finescale Railway Modelling Finescale Modelling OO HO 18.83mm 4mm BloodandCustard East Sussex Finescale Railway Modelling Finescale Modelling OO HO 18.83mm 4mm BloodandCustard East Sussex Finescale Railway Modelling Finescale Modelling OO HO 18.83mm 4mm BloodandCustard East Sussex Finescale Railway Modelling Finescale Modelling OO HO 18.83mm 4mm BloodandCustard East Sussex Finescale Railway Modelling Finescale Modelling OO HO 18.83mm 4mm BloodandCustard East Sussex Finescale Railway Modelling Finescale Modelling OO HO 18.83mm 4mm BloodandCustard East Sussex Finescale Railway Modelling Finescale Modelling OO HO 18.83mm 4mm BloodandCustard East Sussex Finescale Railway Modelling Finescale Modelling OO HO 18.83mm 4mm BloodandCustard East Sussex Finescale Railway Modelling Finescale Modelling OO HO 18.83mm 4mm BloodandCustard East Sussex Finescale Railway Modelling Finescale Modelling OO HO 18.83mm 4mm BloodandCustard East Sussex Finescale Railway Modelling Finescale Modelling OO HO 18.83mm 4mm BloodandCustard East Sussex Finescale Railway Modelling Finescale Modelling OO HO 18.83mm 4mm BloodandCustard East Sussex Finescale Railway Modelling Finescale Modelling OO HO 18.83mm 4mm BloodandCustard East Sussex Finescale Railway Modelling Finescale Modelling OO HO 18.83mm 4mm BloodandCustard East Sussex Finescale Railway Modelling Finescale Modelling OO HO 18.83mm 4mm BloodandCustard East Sussex Finescale Railway Modelling Finescale Modelling OO HO 18.83mm 4mm BloodandCustard East Sussex Finescale Railway Modelling Finescale Modelling OO HO 18.83mm 4mm BloodandCustard East Sussex Finescale Railway Modelling Finescale Modelling OO HO 18.83mm 4mm BloodandCustard East Sussex Finescale Railway Modelling Finescale Modelling OO HO 18.83mm 4mm BloodandCustard East Sussex Finescale Railway Modelling Finescale Modelling OO HO 18.83mm 4mm BloodandCustard East Sussex Finescale Railway Modelling Finescale Modelling OO HO 18.83mm 4mm BloodandCustard East Sussex Finescale Railway Modelling Finescale Modelling OO HO 18.83mm 4mm BloodandCustard East Sussex Finescale Railway Modelling Finescale Modelling OO HO 18.83mm 4mm BloodandCustard East Sussex Finescale Railway Modelling Finescale Modelling OO HO 18.83mm 4mm BloodandCustard East Sussex Finescale Railway Modelling Finescale Modelling OO HO 18.83mm 4mm BloodandCustard East Sussex Finescale Railway Modelling Finescale Modelling OO HO 18.83mm 4mm BloodandCustard East Sussex Finescale Railway Modelling Finescale Modelling OO HO 18.83mm 4mm BloodandCustard East Sussex Finescale Railway Modelling Finescale Modelling OO HO 18.83mm 4mm BloodandCustard East Sussex Finescale Railway Modelling Finescale Modelling OO HO 18.83mm 4mm BloodandCustard East Sussex Finescale Railway Modelling Finescale Modelling OO HO 18.83mm 4mm BloodandCustard East Sussex Finescale Railway Modelling Finescale Modelling OO HO 18.83mm 4mm BloodandCustard East Sussex Finescale Railway Modelling Finescale Modelling OO HO 18.83mm 4mm BloodandCustard East Sussex Finescale Railway Modelling Finescale Modelling OO HO 18.83mm 4mm BloodandCustard East Sussex Finescale Railway Modelling Finescale Modelling OO HO 18.83mm 4mm BloodandCustard East Sussex Finescale Railway Modelling Finescale Modelling OO HO 18.83mm 4mm BloodandCustard East Sussex Finescale Railway Modelling Finescale Modelling OO HO 18.83mm 4mm BloodandCustard East Sussex Finescale Railway Modelling Finescale Modelling OO HO 18.83mm 4mm BloodandCustard East Sussex Finescale Railway Modelling Finescale Modelling OO HO 18.83mm 4mm BloodandCustard East Sussex Finescale Railway Modelling Finescale Modelling OO HO 18.83mm 4mm BloodandCustard East Sussex Finescale Railway Modelling Finescale Modelling OO HO 18.83mm 4mm BloodandCustard East Sussex Finescale Railway Modelling Finescale Modelling OO HO 18.83mm 4mm BloodandCustard East Sussex Finescale Railway Modelling Finescale Modelling OO HO 18.83mm 4mm BloodandCustard East Sussex Finescale Railway Modelling Finescale Modelling OO HO 18.83mm 4mm BloodandCustard East Sussex Finescale Railway Modelling Finescale Modelling OO HO 18.83mm 4mm BloodandCustard East Sussex Finescale Railway Modelling Finescale Modelling OO HO 18.83mm 4mm BloodandCustard East Sussex Finescale Railway Modelling Finescale Modelling OO HO 18.83mm 4mm BloodandCustard East Sussex Finescale Railway Modelling Finescale Modelling OO HO 18.83mm 4mm BloodandCustard East Sussex Finescale Railway Modelling Finescale Modelling OO HO 18.83mm 4mm BloodandCustard East Sussex Finescale Railway Modelling Finescale Modelling OO HO 18.83mm 4mm BloodandCustard East Sussex Finescale Railway Modelling Finescale Modelling OO HO 18.83mm 4mm BloodandCustard East Sussex Finescale Railway Modelling Finescale Modelling OO HO 18.83mm 4mm BloodandCustard East Sussex Finescale Railway Modelling Finescale Modelling OO HO 18.83mm 4mm BloodandCustard East Sussex Finescale Railway Modelling Finescale Modelling OO HO 18.83mm 4mm BloodandCustard East Sussex Finescale Railway Modelling Finescale Modelling OO HO 18.83mm 4mm BloodandCustard East Sussex Finescale Railway Modelling Finescale Modelling OO HO 18.83mm 4mm BloodandCustard East Sussex Finescale Railway Modelling Finescale Modelling OO HO 18.83mm 4mm BloodandCustard East Sussex Finescale Railway Modelling Finescale Modelling OO HO 18.83mm 4mm BloodandCustard East Sussex Finescale Railway Modelling Finescale Modelling OO HO 18.83mm 4mm BloodandCustard East Sussex Finescale Railway Modelling Finescale Modelling OO HO 18.83mm 4mm BloodandCustard East Sussex Finescale Railway Modelling Finescale Modelling OO HO 18.83mm 4mm BloodandCustard East Sussex Finescale Railway Modelling Finescale Modelling OO HO 18.83mm 4mm BloodandCustard East Sussex Finescale Railway Modelling Finescale Modelling OO HO 18.83mm 4mm BloodandCustard East Sussex Finescale Railway Modelling Finescale Modelling OO HO 18.83mm 4mm BloodandCustard East Sussex Finescale Railway Modelling Finescale Modelling OO HO 18.83mm 4mm BloodandCustard East Sussex Finescale Railway Modelling Finescale Modelling OO HO 18.83mm 4mm BloodandCustard East Sussex Finescale Railway Modelling Finescale Modelling OO HO 18.83mm 4mm BloodandCustard East Sussex Finescale Railway Modelling Finescale Modelling OO HO 18.83mm 4mm BloodandCustard East Sussex Finescale Railway Modelling Finescale Modelling OO HO 18.83mm 4mm BloodandCustard East Sussex Finescale Railway Modelling Finescale Modelling OO HO 18.83mm 4mm BloodandCustard East Sussex Finescale Railway Modelling Finescale Modelling OO HO 18.83mm 4mm BloodandCustard East Sussex Finescale Railway Modelling Finescale Modelling OO HO 18.83mm 4mm BloodandCustard East Sussex Finescale Railway Modelling Finescale Modelling OO HO 18.83mm 4mm BloodandCustard East Sussex Finescale Railway Modelling Finescale Modelling OO HO 18.83mm 4mm BloodandCustard East Sussex Finescale Railway Modelling Finescale Modelling OO HO 18.83mm 4mm BloodandCustard East Sussex Finescale Railway Modelling Finescale Modelling OO HO 18.83mm 4mm BloodandCustard East Sussex Finescale Railway Modelling Finescale Modelling OO HO 18.83mm 4mm BloodandCustard East Sussex Finescale Railway Modelling Finescale Modelling OO HO 18.83mm 4mm BloodandCustard East Sussex Finescale Railway Modelling Finescale Modelling OO HO 18.83mm 4mm BloodandCustard East Sussex Finescale Railway Modelling Finescale Modelling OO HO 18.83mm 4mm BloodandCustard East Sussex Finescale Railway Modelling Finescale Modelling OO HO 18.83mm 4mm BloodandCustard East Sussex Finescale Railway Modelling Finescale Modelling OO HO 18.83mm 4mm BloodandCustard East Sussex Finescale Railway Modelling Finescale Modelling OO HO 18.83mm 4mm BloodandCustard East Sussex Finescale Railway Modelling Finescale Modelling OO HO 18.83mm 4mm BloodandCustard East Sussex Finescale Railway Modelling Finescale Modelling OO HO 18.83mm 4mm BloodandCustard East Sussex Finescale Railway Modelling Finescale Modelling OO HO 18.83mm 4mm BloodandCustard East Sussex Finescale Railway Modelling Finescale Modelling OO HO 18.83mm 4mm BloodandCustard East Sussex Finescale Railway Modelling Finescale Modelling OO HO 18.83mm 4mm BloodandCustard East Sussex Finescale Railway Modelling Finescale Modelling OO HO 18.83mm 4mm BloodandCustard East Sussex Finescale Railway Modelling Finescale Modelling OO HO 18.83mm 4mm BloodandCustard East Sussex Finescale Railway Modelling Finescale Modelling OO HO 18.83mm 4mm BloodandCustard East Sussex Finescale Railway Modelling Finescale Modelling OO HO 18.83mm 4mm BloodandCustard East Sussex Finescale Railway Modelling Finescale Modelling OO HO 18.83mm 4mm BloodandCustard East Sussex Finescale Railway Modelling Finescale Modelling OO HO 18.83mm 4mm BloodandCustard East Sussex Finescale Railway Modelling Finescale Modelling OO HO 18.83mm 4mm BloodandCustard East Sussex Finescale Railway Modelling Finescale Modelling OO HO 18.83mm 4mm BloodandCustard East Sussex Finescale Railway Modelling Finescale Modelling OO HO 18.83mm 4mm BloodandCustard East Sussex Finescale Railway Modelling Finescale Modelling OO HO 18.83mm 4mm BloodandCustard East Sussex Finescale Railway Modelling Finescale Modelling OO HO 18.83mm 4mm BloodandCustard East Sussex Finescale Railway Modelling Finescale Modelling OO HO 18.83mm 4mm BloodandCustard East Sussex Finescale Railway Modelling Finescale Modelling OO HO 18.83mm 4mm BloodandCustard East Sussex Finescale Railway Modelling Finescale Modelling OO HO 18.83mm 4mm BloodandCustard East Sussex Finescale Railway Modelling Finescale Modelling OO HO 18.83mm 4mm BloodandCustard East Sussex Finescale Railway Modelling Finescale Modelling OO HO 18.83mm 4mm BloodandCustard East Sussex Finescale Railway Modelling Finescale Modelling OO HO 18.83mm 4mm BloodandCustard East Sussex Finescale Railway Modelling Finescale Modelling OO HO 18.83mm 4mm BloodandCustard East Sussex Finescale Railway Modelling Finescale Modelling OO HO 18.83mm 4mm BloodandCustard East Sussex Finescale Railway Modelling Finescale Modelling OO HO 18.83mm 4mm BloodandCustard East Sussex Finescale Railway Modelling Finescale Modelling OO HO 18.83mm 4mm BloodandCustard East Sussex Finescale Railway Modelling Finescale Modelling OO HO 18.83mm 4mm BloodandCustard East Sussex Finescale Railway Modelling Finescale Modelling OO HO 18.83mm 4mm BloodandCustard East Sussex Finescale Railway Modelling Finescale Modelling OO HO 18.83mm 4mm BloodandCustard East Sussex Finescale Railway Modelling Finescale Modelling OO HO 18.83mm 4mm BloodandCustard East Sussex Finescale Railway Modelling Finescale Modelling OO HO 18.83mm 4mm BloodandCustard East Sussex Finescale Railway Modelling Finescale Modelling OO HO 18.83mm 4mm BloodandCustard East Sussex Finescale Railway Modelling Finescale Modelling OO HO 18.83mm 4mm BloodandCustard East Sussex Finescale Railway Modelling Finescale Modelling OO HO 18.83mm 4mm BloodandCustard East Sussex Finescale Railway Modelling Finescale Modelling OO HO 18.83mm 4mm BloodandCustard East Sussex Finescale Railway Modelling Finescale Modelling OO HO 18.83mm 4mm BloodandCustard East Sussex Finescale Railway Modelling Finescale Modelling OO HO 18.83mm 4mm BloodandCustard East Sussex Finescale Railway Modelling Finescale Modelling OO HO 18.83mm 4mm BloodandCustard East Sussex Finescale Railway Modelling Finescale Modelling OO HO 18.83mm 4mm BloodandCustard East Sussex Finescale Railway Modelling Finescale Modelling OO HO 18.83mm 4mm BloodandCustard East Sussex Finescale Railway Modelling Finescale Modelling OO HO 18.83mm 4mm BloodandCustard East Sussex Finescale Railway Modelling Finescale Modelling OO HO 18.83mm 4mm BloodandCustard East Sussex Finescale Railway Modelling Finescale Modelling OO HO 18.83mm 4mm BloodandCustard East Sussex Finescale Railway Modelling Finescale Modelling OO HO 18.83mm 4mm BloodandCustard East Sussex Finescale Railway Modelling Finescale Modelling OO HO 18.83mm 4mm BloodandCustard East Sussex Finescale Railway Modelling Finescale Modelling OO HO 18.83mm 4mm BloodandCustard East Sussex Finescale Railway Modelling Finescale Modelling OO HO 18.83mm 4mm BloodandCustard East Sussex Finescale Railway Modelling Finescale Modelling OO HO 18.83mm 4mm BloodandCustard East Sussex Finescale Railway Modelling Finescale Modelling OO HO 18.83mm 4mm BloodandCustard East Sussex Finescale Railway Modelling Finescale Modelling OO HO 18.83mm 4mm BloodandCustard East Sussex Finescale Railway Modelling Finescale Modelling OO HO 18.83mm 4mm BloodandCustard East Sussex Finescale Railway Modelling Finescale Modelling OO HO 18.83mm 4mm BloodandCustard East Sussex Finescale Railway Modelling Finescale Modelling OO HO 18.83mm 4mm BloodandCustard East Sussex Finescale Railway Modelling Finescale Modelling OO HO 18.83mm 4mm BloodandCustard East Sussex Finescale Railway Modelling Finescale Modelling OO HO 18.83mm 4mm BloodandCustard East Sussex Finescale Railway Modelling Finescale Modelling OO HO 18.83mm 4mm BloodandCustard East Sussex Finescale Railway Modelling Finescale Modelling OO HO 18.83mm 4mm BloodandCustard East Sussex Finescale Railway Modelling Finescale Modelling OO HO 18.83mm 4mm BloodandCustard East Sussex Finescale Railway Modelling Finescale Modelling OO HO 18.83mm 4mm BloodandCustard East Sussex Finescale Railway Modelling Finescale Modelling OO HO 18.83mm 4mm BloodandCustard East Sussex Finescale Railway Modelling Finescale Modelling OO HO 18.83mm 4mm BloodandCustard East Sussex Finescale Railway Modelling Finescale Modelling OO HO 18.83mm 4mm BloodandCustard East Sussex Finescale Railway Modelling Finescale Modelling OO HO 18.83mm 4mm BloodandCustard East Sussex Finescale Railway Modelling Finescale Modelling OO HO 18.83mm 4mm BloodandCustard East Sussex Finescale Railway Modelling Finescale Modelling OO HO 18.83mm 4mm BloodandCustard East Sussex Finescale Railway Modelling Finescale Modelling OO HO 18.83mm 4mm BloodandCustard East Sussex Finescale Railway Modelling Finescale Modelling OO HO 18.83mm 4mm BloodandCustard East Sussex Finescale Railway Modelling Finescale Modelling OO HO 18.83mm 4mm BloodandCustard East Sussex Finescale Railway Modelling Finescale Modelling OO HO 18.83mm 4mm BloodandCustard East Sussex Finescale Railway Modelling Finescale Modelling OO HO 18.83mm 4mm BloodandCustard East Sussex Finescale Railway Modelling Finescale Modelling OO HO 18.83mm 4mm BloodandCustard East Sussex Finescale Railway Modelling Finescale Modelling OO HO 18.83mm 4mm BloodandCustard East Sussex Finescale Railway Modelling Finescale Modelling OO HO 18.83mm 4mm BloodandCustard East Sussex Finescale Railway Modelling Finescale Modelling OO HO 18.83mm 4mm BloodandCustard East Sussex Finescale Railway Modelling Finescale Modelling OO HO 18.83mm 4mm BloodandCustard East Sussex Finescale Railway Modelling Finescale Modelling OO HO 18.83mm 4mm BloodandCustard East Sussex Finescale Railway Modelling Finescale Modelling OO HO 18.83mm 4mm BloodandCustard East Sussex Finescale Railway Modelling Finescale Modelling OO HO 18.83mm 4mm BloodandCustard East Sussex Finescale Railway Modelling Finescale Modelling OO HO 18.83mm 4mm BloodandCustard East Sussex Finescale Railway Modelling Finescale Modelling OO HO 18.83mm 4mm BloodandCustard East Sussex Finescale Railway Modelling Finescale Modelling OO HO 18.83mm 4mm BloodandCustard East Sussex Finescale Railway Modelling Finescale Modelling OO HO 18.83mm 4mm BloodandCustard East Sussex Finescale Railway Modelling Finescale Modelling OO HO 18.83mm 4mm BloodandCustard East Sussex Finescale Railway Modelling Finescale Modelling OO HO 18.83mm 4mm BloodandCustard East Sussex Finescale Railway Modelling Finescale Modelling OO HO 18.83mm 4mm BloodandCustard East Sussex Finescale Railway Modelling Finescale Modelling OO HO 18.83mm 4mm BloodandCustard East Sussex Finescale Railway Modelling Finescale Modelling OO HO 18.83mm 4mm BloodandCustard East Sussex Finescale Railway Modelling Finescale Modelling OO HO 18.83mm 4mm BloodandCustard East Sussex Finescale Railway Modelling Finescale Modelling OO HO 18.83mm 4mm BloodandCustard East Sussex Finescale Railway Modelling Finescale Modelling OO HO 18.83mm 4mm BloodandCustard East Sussex Finescale Railway Modelling Finescale Modelling OO HO 18.83mm 4mm BloodandCustard East Sussex Finescale Railway Modelling Finescale Modelling OO HO 18.83mm 4mm BloodandCustard East Sussex Finescale Railway Modelling Finescale Modelling OO HO 18.83mm 4mm BloodandCustard East Sussex Finescale Railway Modelling Finescale Modelling OO HO 18.83mm 4mm BloodandCustard East Sussex Finescale Railway Modelling Finescale Modelling OO HO 18.83mm 4mm BloodandCustard East Sussex Finescale Railway Modelling Finescale Modelling OO HO 18.83mm 4mm BloodandCustard East Sussex Finescale Railway Modelling Finescale Modelling OO HO 18.83mm 4mm BloodandCustard East Sussex Finescale Railway Modelling Finescale Modelling OO HO 18.83mm 4mm BloodandCustard East Sussex Finescale Railway Modelling Finescale Modelling OO HO 18.83mm 4mm BloodandCustard East Sussex Finescale Railway Modelling Finescale Modelling OO HO 18.83mm 4mm BloodandCustard East Sussex Finescale Railway Modelling Finescale Modelling OO HO 18.83mm 4mm BloodandCustard East Sussex Finescale Railway Modelling Finescale Modelling OO HO 18.83mm 4mm BloodandCustard East Sussex Finescale Railway Modelling Finescale Modelling OO HO 18.83mm 4mm BloodandCustard East Sussex Finescale Railway Modelling Finescale Modelling OO HO 18.83mm 4mm BloodandCustard East Sussex Finescale Railway Modelling Finescale Modelling OO HO 18.83mm 4mm BloodandCustard East Sussex Finescale Railway Modelling Finescale Modelling OO HO 18.83mm 4mm BloodandCustard East Sussex Finescale Railway Modelling Finescale Modelling OO HO 18.83mm 4mmBloodandCustard East Sussex Finescale Railway Modelling Finescale Modelling OO HO 18.83mm 4mm. BloodandCustard East Sussex Finescale Railway Modelling Finescale Modelling OO HO 18.83mm 4mm BloodandCustard East Sussex Finescale Railway Modelling Finescale Modelling OO HO 18.83mm 4mm BloodandCustard East Sussex Finescale Railway Modelling Finescale Modelling OO HO 18.83mm 4mm BloodandCustard East Sussex Finescale Railway Modelling Finescale Modelling OO HO 18.83mm 4mm BloodandCustard East Sussex Finescale Railway Modelling Finescale Modelling OO HO 18.83mm 4mm BloodandCustard East Sussex Finescale Railway Modelling Finescale Modelling OO HO 18.83mm 4mm BloodandCustard East Sussex Finescale Railway Modelling Finescale Modelling OO HO 18.83mm 4mm BloodandCustard East Sussex Finescale Railway Modelling Finescale Modelling OO HO 18.83mm 4mm BloodandCustard East Sussex Finescale Railway Modelling Finescale Modelling OO HO 18.83mm 4mm BloodandCustard East Sussex Finescale Railway Modelling Finescale Modelling OO HO 18.83mm 4mm BloodandCustard East Sussex Finescale Railway Modelling Finescale Modelling OO HO 18.83mm 4mm BloodandCustard East Sussex Finescale Railway Modelling Finescale Modelling OO HO 18.83mm 4mm BloodandCustard East Sussex Finescale Railway Modelling Finescale Modelling OO HO 18.83mm 4mm BloodandCustard East Sussex Finescale Railway Modelling Finescale Modelling OO HO 18.83mm 4mm BloodandCustard East Sussex Finescale Railway Modelling Finescale Modelling OO HO 18.83mm 4mm BloodandCustard East Sussex Finescale Railway Modelling Finescale Modelling OO HO 18.83mm 4mm BloodandCustard East Sussex Finescale Railway Modelling Finescale Modelling OO HO 18.83mm 4mm BloodandCustard East Sussex Finescale Railway Modelling Finescale Modelling OO HO 18.83mm 4mm BloodandCustard East Sussex Finescale Railway Modelling Finescale Modelling OO HO 18.83mm 4mm BloodandCustard East Sussex Finescale Railway Modelling Finescale Modelling OO HO 18.83mm 4mm BloodandCustard East Sussex Finescale Railway Modelling Finescale Modelling OO HO 18.83mm 4mm BloodandCustard East Sussex Finescale Railway Modelling Finescale Modelling OO HO 18.83mm 4mm BloodandCustard East Sussex Finescale Railway Modelling Finescale Modelling OO HO 18.83mm 4mm BloodandCustard East Sussex Finescale Railway Modelling Finescale Modelling OO HO 18.83mm 4mm BloodandCustard East Sussex Finescale Railway Modelling Finescale Modelling OO HO 18.83mm 4mm BloodandCustard East Sussex Finescale Railway Modelling Finescale Modelling OO HO 18.83mm 4mm BloodandCustard East Sussex Finescale Railway Modelling Finescale Modelling OO HO 18.83mm 4mm BloodandCustard East Sussex Finescale Railway Modelling Finescale Modelling OO HO 18.83mm 4mm BloodandCustard East Sussex Finescale Railway Modelling Finescale Modelling OO HO 18.83mm 4mm BloodandCustard East Sussex Finescale Railway Modelling Finescale Modelling OO HO 18.83mm 4mm BloodandCustard East Sussex Finescale Railway Modelling Finescale Modelling OO HO 18.83mm 4mm BloodandCustard East Sussex Finescale Railway Modelling Finescale Modelling OO HO 18.83mm 4mm BloodandCustard East Sussex Finescale Railway Modelling Finescale Modelling OO HO 18.83mm 4mm BloodandCustard East Sussex Finescale Railway Modelling Finescale Modelling OO HO 18.83mm 4mm BloodandCustard East Sussex Finescale Railway Modelling Finescale Modelling OO HO 18.83mm 4mm BloodandCustard East Sussex Finescale Railway Modelling Finescale Modelling OO HO 18.83mm 4mm BloodandCustard East Sussex Finescale Railway Modelling Finescale Modelling OO HO 18.83mm 4mm BloodandCustard East Sussex Finescale Railway Modelling Finescale Modelling OO HO 18.83mm 4mm BloodandCustard East Sussex Finescale Railway Modelling Finescale Modelling OO HO 18.83mm 4mm BloodandCustard East Sussex Finescale Railway Modelling Finescale Modelling OO HO 18.83mm 4mm BloodandCustard East Sussex Finescale Railway Modelling Finescale Modelling OO HO 18.83mm 4mm BloodandCustard East Sussex Finescale Railway Modelling Finescale Modelling OO HO 18.83mm 4mm BloodandCustard East Sussex Finescale Railway Modelling Finescale Modelling OO HO 18.83mm 4mm BloodandCustard East Sussex Finescale Railway Modelling Finescale Modelling OO HO 18.83mm 4mm BloodandCustard East Sussex Finescale Railway Modelling Finescale Modelling OO HO 18.83mm 4mm BloodandCustard East Sussex Finescale Railway Modelling Finescale Modelling OO HO 18.83mm 4mm BloodandCustard East Sussex Finescale Railway Modelling Finescale Modelling OO HO 18.83mm 4mm BloodandCustard East Sussex Finescale Railway Modelling Finescale Modelling OO HO 18.83mm 4mm BloodandCustard East Sussex Finescale Railway Modelling Finescale Modelling OO HO 18.83mm 4mm BloodandCustard East Sussex Finescale Railway Modelling Finescale Modelling OO HO 18.83mm 4mm BloodandCustard East Sussex Finescale Railway Modelling Finescale Modelling OO HO 18.83mm 4mm BloodandCustard East Sussex Finescale Railway Modelling Finescale Modelling OO HO 18.83mm 4mm BloodandCustard East Sussex Finescale Railway Modelling Finescale Modelling OO HO 18.83mm 4mm BloodandCustard East Sussex Finescale Railway Modelling Finescale Modelling OO HO 18.83mm 4mm BloodandCustard East Sussex Finescale Railway Modelling Finescale Modelling OO HO 18.83mm 4mm BloodandCustard East Sussex Finescale Railway Modelling Finescale Modelling OO HO 18.83mm 4mm BloodandCustard East Sussex Finescale Railway Modelling Finescale Modelling OO HO 18.83mm 4mm BloodandCustard East Sussex Finescale Railway Modelling Finescale Modelling OO HO 18.83mm 4mm BloodandCustard East Sussex Finescale Railway Modelling Finescale Modelling OO HO 18.83mm 4mm BloodandCustard East Sussex Finescale Railway Modelling Finescale Modelling OO HO 18.83mm 4mm BloodandCustard East Sussex Finescale Railway Modelling Finescale Modelling OO HO 18.83mm 4mm BloodandCustard East Sussex Finescale Railway Modelling Finescale Modelling OO HO 18.83mm 4mm BloodandCustard East Sussex Finescale Railway Modelling Finescale Modelling OO HO 18.83mm 4mm BloodandCustard East Sussex Finescale Railway Modelling Finescale Modelling OO HO 18.83mm 4mm BloodandCustard East Sussex Finescale Railway Modelling Finescale Modelling OO HO 18.83mm 4mm BloodandCustard East Sussex Finescale Railway Modelling Finescale Modelling OO HO 18.83mm 4mm BloodandCustard East Sussex Finescale Railway Modelling Finescale Modelling OO HO 18.83mm 4mm BloodandCustard East Sussex Finescale Railway Modelling Finescale Modelling OO HO 18.83mm 4mm BloodandCustard East Sussex Finescale Railway Modelling Finescale Modelling OO HO 18.83mm 4mm BloodandCustard East Sussex Finescale Railway Modelling Finescale Modelling OO HO 18.83mm 4mm BloodandCustard East Sussex Finescale Railway Modelling Finescale Modelling OO HO 18.83mm 4mm BloodandCustard East Sussex Finescale Railway Modelling Finescale Modelling OO HO 18.83mm 4mm BloodandCustard East Sussex Finescale Railway Modelling Finescale Modelling OO HO 18.83mm 4mm BloodandCustard East Sussex Finescale Railway Modelling Finescale Modelling OO HO 18.83mm 4mm BloodandCustard East Sussex Finescale Railway Modelling Finescale Modelling OO HO 18.83mm 4mm BloodandCustard East Sussex Finescale Railway Modelling Finescale Modelling OO HO 18.83mm 4mm BloodandCustard East Sussex Finescale Railway Modelling Finescale Modelling OO HO 18.83mm 4mm BloodandCustard East Sussex Finescale Railway Modelling Finescale Modelling OO HO 18.83mm 4mm BloodandCustard East Sussex Finescale Railway Modelling Finescale Modelling OO HO 18.83mm 4mm BloodandCustard East Sussex Finescale Railway Modelling Finescale Modelling OO HO 18.83mm 4mm BloodandCustard East Sussex Finescale Railway Modelling Finescale Modelling OO HO 18.83mm 4mm BloodandCustard East Sussex Finescale Railway Modelling Finescale Modelling OO HO 18.83mm 4mm BloodandCustard East Sussex Finescale Railway Modelling Finescale Modelling OO HO 18.83mm 4mm BloodandCustard East Sussex Finescale Railway Modelling Finescale Modelling OO HO 18.83mm 4mm BloodandCustard East Sussex Finescale Railway Modelling Finescale Modelling OO HO 18.83mm 4mm BloodandCustard East Sussex Finescale Railway Modelling Finescale Modelling OO HO 18.83mm 4mm BloodandCustard East Sussex Finescale Railway Modelling Finescale Modelling OO HO 18.83mm 4mm BloodandCustard East Sussex Finescale Railway Modelling Finescale Modelling OO HO 18.83mm 4mm BloodandCustard East Sussex Finescale Railway Modelling Finescale Modelling OO HO 18.83mm 4mm BloodandCustard East Sussex Finescale Railway Modelling Finescale Modelling OO HO 18.83mm 4mm BloodandCustard East Sussex Finescale Railway Modelling Finescale Modelling OO HO 18.83mm 4mm BloodandCustard East Sussex Finescale Railway Modelling Finescale Modelling OO HO 18.83mm 4mm BloodandCustard East Sussex Finescale Railway Modelling Finescale Modelling OO HO 18.83mm 4mm BloodandCustard East Sussex Finescale Railway Modelling Finescale Modelling OO HO 18.83mm 4mm BloodandCustard East Sussex Finescale Railway Modelling Finescale Modelling OO HO 18.83mm 4mm BloodandCustard East Sussex Finescale Railway Modelling Finescale Modelling OO HO 18.83mm 4mm BloodandCustard East Sussex Finescale Railway Modelling Finescale Modelling OO HO 18.83mm 4mm BloodandCustard East Sussex Finescale Railway Modelling Finescale Modelling OO HO 18.83mm 4mm BloodandCustard East Sussex Finescale Railway Modelling Finescale Modelling OO HO 18.83mm 4mm BloodandCustard East Sussex Finescale Railway Modelling Finescale Modelling OO HO 18.83mm 4mm BloodandCustard East Sussex Finescale Railway Modelling Finescale Modelling OO HO 18.83mm 4mm BloodandCustard East Sussex Finescale Railway Modelling Finescale Modelling OO HO 18.83mm 4mm BloodandCustard East Sussex Finescale Railway Modelling Finescale Modelling OO HO 18.83mm 4mm BloodandCustard East Sussex Finescale Railway Modelling Finescale Modelling OO HO 18.83mm 4mm BloodandCustard East Sussex Finescale Railway Modelling Finescale Modelling OO HO 18.83mm 4mm BloodandCustard East Sussex Finescale Railway Modelling Finescale Modelling OO HO 18.83mm 4mm BloodandCustard East Sussex Finescale Railway Modelling Finescale Modelling OO HO 18.83mm 4mm BloodandCustard East Sussex Finescale Railway Modelling Finescale Modelling OO HO 18.83mm 4mm BloodandCustard East Sussex Finescale Railway Modelling Finescale Modelling OO HO 18.83mm 4mm BloodandCustard East Sussex Finescale Railway Modelling Finescale Modelling OO HO 18.83mm 4mm BloodandCustard East Sussex Finescale Railway Modelling Finescale Modelling OO HO 18.83mm 4mm BloodandCustard East Sussex Finescale Railway Modelling Finescale Modelling OO HO 18.83mm 4mm BloodandCustard East Sussex Finescale Railway Modelling Finescale Modelling OO HO 18.83mm 4mm BloodandCustard East Sussex Finescale Railway Modelling Finescale Modelling OO HO 18.83mm 4mm BloodandCustard East Sussex Finescale Railway Modelling Finescale Modelling OO HO 18.83mm 4mm BloodandCustard East Sussex Finescale Railway Modelling Finescale Modelling OO HO 18.83mm 4mm BloodandCustard East Sussex Finescale Railway Modelling Finescale Modelling OO HO 18.83mm 4mm BloodandCustard East Sussex Finescale Railway Modelling Finescale Modelling OO HO 18.83mm 4mm BloodandCustard East Sussex Finescale Railway Modelling Finescale Modelling OO HO 18.83mm 4mm BloodandCustard East Sussex Finescale Railway Modelling Finescale Modelling OO HO 18.83mm 4mm BloodandCustard East Sussex Finescale Railway Modelling Finescale Modelling OO HO 18.83mm 4mm BloodandCustard East Sussex Finescale Railway Modelling Finescale Modelling OO HO 18.83mm 4mm BloodandCustard East Sussex Finescale Railway Modelling Finescale Modelling OO HO 18.83mm 4mm BloodandCustard East Sussex Finescale Railway Modelling Finescale Modelling OO HO 18.83mm 4mm BloodandCustard East Sussex Finescale Railway Modelling Finescale Modelling OO HO 18.83mm 4mm BloodandCustard East Sussex Finescale Railway Modelling Finescale Modelling OO HO 18.83mm 4mm BloodandCustard East Sussex Finescale Railway Modelling Finescale Modelling OO HO 18.83mm 4mm BloodandCustard East Sussex Finescale Railway Modelling Finescale Modelling OO HO 18.83mm 4mm BloodandCustard East Sussex Finescale Railway Modelling Finescale Modelling OO HO 18.83mm 4mm BloodandCustard East Sussex Finescale Railway Modelling Finescale Modelling OO HO 18.83mm 4mm BloodandCustard East Sussex Finescale Railway Modelling Finescale Modelling OO HO 18.83mm 4mm BloodandCustard East Sussex Finescale Railway Modelling Finescale Modelling OO HO 18.83mm 4mm BloodandCustard East Sussex Finescale Railway Modelling Finescale Modelling OO HO 18.83mm 4mm BloodandCustard East Sussex Finescale Railway Modelling Finescale Modelling OO HO 18.83mm 4mm BloodandCustard East Sussex Finescale Railway Modelling Finescale Modelling OO HO 18.83mm 4mm BloodandCustard East Sussex Finescale Railway Modelling Finescale Modelling OO HO 18.83mm 4mm BloodandCustard East Sussex Finescale Railway Modelling Finescale Modelling OO HO 18.83mm 4mm BloodandCustard East Sussex Finescale Railway Modelling Finescale Modelling OO HO 18.83mm 4mm BloodandCustard East Sussex Finescale Railway Modelling Finescale Modelling OO HO 18.83mm 4mm BloodandCustard East Sussex Finescale Railway Modelling Finescale Modelling OO HO 18.83mm 4mm BloodandCustard East Sussex Finescale Railway Modelling Finescale Modelling OO HO 18.83mm 4mm BloodandCustard East Sussex Finescale Railway Modelling Finescale Modelling OO HO 18.83mm 4mm BloodandCustard East Sussex Finescale Railway Modelling Finescale Modelling OO HO 18.83mm 4mm BloodandCustard East Sussex Finescale Railway Modelling Finescale Modelling OO HO 18.83mm 4mm BloodandCustard East Sussex Finescale Railway Modelling Finescale Modelling OO HO 18.83mm 4mm BloodandCustard East Sussex Finescale Railway Modelling Finescale Modelling OO HO 18.83mm 4mm BloodandCustard East Sussex Finescale Railway Modelling Finescale Modelling OO HO 18.83mm 4mm BloodandCustard East Sussex Finescale Railway Modelling Finescale Modelling OO HO 18.83mm 4mm BloodandCustard East Sussex Finescale Railway Modelling Finescale Modelling OO HO 18.83mm 4mm BloodandCustard East Sussex Finescale Railway Modelling Finescale Modelling OO HO 18.83mm 4mm BloodandCustard East Sussex Finescale Railway Modelling Finescale Modelling OO HO 18.83mm 4mm BloodandCustard East Sussex Finescale Railway Modelling Finescale Modelling OO HO 18.83mm 4mm BloodandCustard East Sussex Finescale Railway Modelling Finescale Modelling OO HO 18.83mm 4mm BloodandCustard East Sussex Finescale Railway Modelling Finescale Modelling OO HO 18.83mm 4mm BloodandCustard East Sussex Finescale Railway Modelling Finescale Modelling OO HO 18.83mm 4mm BloodandCustard East Sussex Finescale Railway Modelling Finescale Modelling OO HO 18.83mm 4mm BloodandCustard East Sussex Finescale Railway Modelling Finescale Modelling OO HO 18.83mm 4mm BloodandCustard East Sussex Finescale Railway Modelling Finescale Modelling OO HO 18.83mm 4mm BloodandCustard East Sussex Finescale Railway Modelling Finescale Modelling OO HO 18.83mm 4mm BloodandCustard East Sussex Finescale Railway Modelling Finescale Modelling OO HO 18.83mm 4mm BloodandCustard East Sussex Finescale Railway Modelling Finescale Modelling OO HO 18.83mm 4mm BloodandCustard East Sussex Finescale Railway Modelling Finescale Modelling OO HO 18.83mm 4mm BloodandCustard East Sussex Finescale Railway Modelling Finescale Modelling OO HO 18.83mm 4mm BloodandCustard East Sussex Finescale Railway Modelling Finescale Modelling OO HO 18.83mm 4mm BloodandCustard East Sussex Finescale Railway Modelling Finescale Modelling OO HO 18.83mm 4mm BloodandCustard East Sussex Finescale Railway Modelling Finescale Modelling OO HO 18.83mm 4mm BloodandCustard East Sussex Finescale Railway Modelling Finescale Modelling OO HO 18.83mm 4mm BloodandCustard East Sussex Finescale Railway Modelling Finescale Modelling OO HO 18.83mm 4mm BloodandCustard East Sussex Finescale Railway Modelling Finescale Modelling OO HO 18.83mm 4mm BloodandCustard East Sussex Finescale Railway Modelling Finescale Modelling OO HO 18.83mm 4mm BloodandCustard East Sussex Finescale Railway Modelling Finescale Modelling OO HO 18.83mm 4mm BloodandCustard East Sussex Finescale Railway Modelling Finescale Modelling OO HO 18.83mm 4mm BloodandCustard East Sussex Finescale Railway Modelling Finescale Modelling OO HO 18.83mm 4mm BloodandCustard East Sussex Finescale Railway Modelling Finescale Modelling OO HO 18.83mm 4mm BloodandCustard East Sussex Finescale Railway Modelling Finescale Modelling OO HO 18.83mm 4mm BloodandCustard East Sussex Finescale Railway Modelling Finescale Modelling OO HO 18.83mm 4mm BloodandCustard East Sussex Finescale Railway Modelling Finescale Modelling OO HO 18.83mm 4mm BloodandCustard East Sussex Finescale Railway Modelling Finescale Modelling OO HO 18.83mm 4mm BloodandCustard East Sussex Finescale Railway Modelling Finescale Modelling OO HO 18.83mm 4mm BloodandCustard East Sussex Finescale Railway Modelling Finescale Modelling OO HO 18.83mm 4mm BloodandCustard East Sussex Finescale Railway Modelling Finescale Modelling OO HO 18.83mm 4mm BloodandCustard East Sussex Finescale Railway Modelling Finescale Modelling OO HO 18.83mm 4mm BloodandCustard East Sussex Finescale Railway Modelling Finescale Modelling OO HO 18.83mm 4mm BloodandCustard East Sussex Finescale Railway Modelling Finescale Modelling OO HO 18.83mm 4mm BloodandCustard East Sussex Finescale Railway Modelling Finescale Modelling OO HO 18.83mm 4mm BloodandCustard East Sussex Finescale Railway Modelling Finescale Modelling OO HO 18.83mm 4mm BloodandCustard East Sussex Finescale Railway Modelling Finescale Modelling OO HO 18.83mm 4mm BloodandCustard East Sussex Finescale Railway Modelling Finescale Modelling OO HO 18.83mm 4mm BloodandCustard East Sussex Finescale Railway Modelling Finescale Modelling OO HO 18.83mm 4mm BloodandCustard East Sussex Finescale Railway Modelling Finescale Modelling OO HO 18.83mm 4mm BloodandCustard East Sussex Finescale Railway Modelling Finescale Modelling OO HO 18.83mm 4mm BloodandCustard East Sussex Finescale Railway Modelling Finescale Modelling OO HO 18.83mm 4mm BloodandCustard East Sussex Finescale Railway Modelling Finescale Modelling OO HO 18.83mm 4mm BloodandCustard East Sussex Finescale Railway Modelling Finescale Modelling OO HO 18.83mm 4mm BloodandCustard East Sussex Finescale Railway Modelling Finescale Modelling OO HO 18.83mm 4mm BloodandCustard East Sussex Finescale Railway Modelling Finescale Modelling OO HO 18.83mm 4mm BloodandCustard East Sussex Finescale Railway Modelling Finescale Modelling OO HO 18.83mm 4mm BloodandCustard East Sussex Finescale Railway Modelling Finescale Modelling OO HO 18.83mm 4mm BloodandCustard East Sussex Finescale Railway Modelling Finescale Modelling OO HO 18.83mm 4mm BloodandCustard East Sussex Finescale Railway Modelling Finescale Modelling OO HO 18.83mm 4mm BloodandCustard East Sussex Finescale Railway Modelling Finescale Modelling OO HO 18.83mm 4mm BloodandCustard East Sussex Finescale Railway Modelling Finescale Modelling OO HO 18.83mm 4mm BloodandCustard East Sussex Finescale Railway Modelling Finescale Modelling OO HO 18.83mm 4mm BloodandCustard East Sussex Finescale Railway Modelling Finescale Modelling OO HO 18.83mm 4mm BloodandCustard East Sussex Finescale Railway Modelling Finescale Modelling OO HO 18.83mm 4mm BloodandCustard East Sussex Finescale Railway Modelling Finescale Modelling OO HO 18.83mm 4mm BloodandCustard East Sussex Finescale Railway Modelling Finescale Modelling OO HO 18.83mm 4mm BloodandCustard East Sussex Finescale Railway Modelling Finescale Modelling OO HO 18.83mm 4mm BloodandCustard East Sussex Finescale Railway Modelling Finescale Modelling OO HO 18.83mm 4mm BloodandCustard East Sussex Finescale Railway Modelling Finescale Modelling OO HO 18.83mm 4mm BloodandCustard East Sussex Finescale Railway Modelling Finescale Modelling OO HO 18.83mm 4mm BloodandCustard East Sussex Finescale Railway Modelling Finescale Modelling OO HO 18.83mm 4mm BloodandCustard East Sussex Finescale Railway Modelling Finescale Modelling OO HO 18.83mm 4mm BloodandCustard East Sussex Finescale Railway Modelling Finescale Modelling OO HO 18.83mm 4mm BloodandCustard East Sussex Finescale Railway Modelling Finescale Modelling OO HO 18.83mm 4mm BloodandCustard East Sussex Finescale Railway Modelling Finescale Modelling OO HO 18.83mm 4mm BloodandCustard East Sussex Finescale Railway Modelling Finescale Modelling OO HO 18.83mm 4mm BloodandCustard East Sussex Finescale Railway Modelling Finescale Modelling OO HO 18.83mm 4mm BloodandCustard East Sussex Finescale Railway Modelling Finescale Modelling OO HO 18.83mm 4mm BloodandCustard East Sussex Finescale Railway Modelling Finescale Modelling OO HO 18.83mm 4mm BloodandCustard East Sussex Finescale Railway Modelling Finescale Modelling OO HO 18.83mm 4mm BloodandCustard East Sussex Finescale Railway Modelling Finescale Modelling OO HO 18.83mm 4mm BloodandCustard East Sussex Finescale Railway Modelling Finescale Modelling OO HO 18.83mm 4mm BloodandCustard East Sussex Finescale Railway Modelling Finescale Modelling OO HO 18.83mm 4mm BloodandCustard East Sussex Finescale Railway Modelling Finescale Modelling OO HO 18.83mm 4mm BloodandCustard East Sussex Finescale Railway Modelling Finescale Modelling OO HO 18.83mm 4mm BloodandCustard East Sussex Finescale Railway Modelling Finescale Modelling OO HO 18.83mm 4mm BloodandCustard East Sussex Finescale Railway Modelling Finescale Modelling OO HO 18.83mm 4mm BloodandCustard East Sussex Finescale Railway Modelling Finescale Modelling OO HO 18.83mm 4mm BloodandCustard East Sussex Finescale Railway Modelling Finescale Modelling OO HO 18.83mm 4mm BloodandCustard East Sussex Finescale Railway Modelling Finescale Modelling OO HO 18.83mm 4mm BloodandCustard East Sussex Finescale Railway Modelling Finescale Modelling OO HO 18.83mm 4mm BloodandCustard East Sussex Finescale Railway Modelling Finescale Modelling OO HO 18.83mm 4mm BloodandCustard East Sussex Finescale Railway Modelling Finescale Modelling OO HO 18.83mm 4mm BloodandCustard East Sussex Finescale Railway Modelling Finescale Modelling OO HO 18.83mm 4mm BloodandCustard East Sussex Finescale Railway Modelling Finescale Modelling OO HO 18.83mm 4mm BloodandCustard East Sussex Finescale Railway Modelling Finescale Modelling OO HO 18.83mm 4mm BloodandCustard East Sussex Finescale Railway Modelling Finescale Modelling OO HO 18.83mm 4mm BloodandCustard East Sussex Finescale Railway Modelling Finescale Modelling OO HO 18.83mm 4mm BloodandCustard East Sussex Finescale Railway Modelling Finescale Modelling OO HO 18.83mm 4mm BloodandCustard East Sussex Finescale Railway Modelling Finescale Modelling OO HO 18.83mm 4mm BloodandCustard East Sussex Finescale Railway Modelling Finescale Modelling OO HO 18.83mm 4mm BloodandCustard East Sussex Finescale Railway Modelling Finescale Modelling OO HO 18.83mm 4mm BloodandCustard East Sussex Finescale Railway Modelling Finescale Modelling OO HO 18.83mm 4mm BloodandCustard East Sussex Finescale Railway Modelling Finescale Modelling OO HO 18.83mm 4mm BloodandCustard East Sussex Finescale Railway Modelling Finescale Modelling OO HO 18.83mm 4mm BloodandCustard East Sussex Finescale Railway Modelling Finescale Modelling OO HO 18.83mm 4mm BloodandCustard East Sussex Finescale Railway Modelling Finescale Modelling OO HO 18.83mm 4mm BloodandCustard East Sussex Finescale Railway Modelling Finescale Modelling OO HO 18.83mm 4mm BloodandCustard East Sussex Finescale Railway Modelling Finescale Modelling OO HO 18.83mm 4mm BloodandCustard East Sussex Finescale Railway Modelling Finescale Modelling OO HO 18.83mm 4mm BloodandCustard East Sussex Finescale Railway Modelling Finescale Modelling OO HO 18.83mm 4mm BloodandCustard East Sussex Finescale Railway Modelling Finescale Modelling OO HO 18.83mm 4mm BloodandCustard East Sussex Finescale Railway Modelling Finescale Modelling OO HO 18.83mm 4mm BloodandCustard East Sussex Finescale Railway Modelling Finescale Modelling OO HO 18.83mm 4mm BloodandCustard East Sussex Finescale Railway Modelling Finescale Modelling OO HO 18.83mm 4mm BloodandCustard East Sussex Finescale Railway Modelling Finescale Modelling OO HO 18.83mm 4mm BloodandCustard East Sussex Finescale Railway Modelling Finescale Modelling OO HO 18.83mm 4mm BloodandCustard East Sussex Finescale Railway Modelling Finescale Modelling OO HO 18.83mm 4mm BloodandCustard East Sussex Finescale Railway Modelling Finescale Modelling OO HO 18.83mm 4mm BloodandCustard East Sussex Finescale Railway Modelling Finescale Modelling OO HO 18.83mm 4mm BloodandCustard East Sussex Finescale Railway Modelling Finescale Modelling OO HO 18.83mm 4mm BloodandCustard East Sussex Finescale Railway Modelling Finescale Modelling OO HO 18.83mm 4mm BloodandCustard East Sussex Finescale Railway Modelling Finescale Modelling OO HO 18.83mm 4mm BloodandCustard East Sussex Finescale Railway Modelling Finescale Modelling OO HO 18.83mm 4mm BloodandCustard East Sussex Finescale Railway Modelling Finescale Modelling OO HO 18.83mm 4mm BloodandCustard East Sussex Finescale Railway Modelling Finescale Modelling OO HO 18.83mm 4mm BloodandCustard East Sussex Finescale Railway Modelling Finescale Modelling OO HO 18.83mm 4mm BloodandCustard East Sussex Finescale Railway Modelling Finescale Modelling OO HO 18.83mm 4mm BloodandCustard East Sussex Finescale Railway Modelling Finescale Modelling OO HO 18.83mm 4mm BloodandCustard East Sussex Finescale Railway Modelling Finescale Modelling OO HO 18.83mm 4mm BloodandCustard East Sussex Finescale Railway Modelling Finescale Modelling OO HO 18.83mm 4mm BloodandCustard East Sussex Finescale Railway Modelling Finescale Modelling OO HO 18.83mm 4mm BloodandCustard East Sussex Finescale Railway Modelling Finescale Modelling OO HO 18.83mm 4mm BloodandCustard East Sussex Finescale Railway Modelling Finescale Modelling OO HO 18.83mm 4mm BloodandCustard East Sussex Finescale Railway Modelling Finescale Modelling OO HO 18.83mmBloodandCustard East Sussex Finescale Railway Modelling Finescale Modelling OO HO 18.83mm 4mm. BloodandCustard East Sussex Finescale Railway Modelling Finescale Modelling OO HO 18.83mm 4mm BloodandCustard East Sussex Finescale Railway Modelling Finescale Modelling OO HO 18.83mm 4mm BloodandCustard East Sussex Finescale Railway Modelling Finescale Modelling OO HO 18.83mm 4mm BloodandCustard East Sussex Finescale Railway Modelling Finescale Modelling OO HO 18.83mm 4mm BloodandCustard East Sussex Finescale Railway Modelling Finescale Modelling OO HO 18.83mm 4mm BloodandCustard East Sussex Finescale Railway Modelling Finescale Modelling OO HO 18.83mm 4mm BloodandCustard East Sussex Finescale Railway Modelling Finescale Modelling OO HO 18.83mm 4mm BloodandCustard East Sussex Finescale Railway Modelling Finescale Modelling OO HO 18.83mm 4mm BloodandCustard East Sussex Finescale Railway Modelling Finescale Modelling OO HO 18.83mm 4mm BloodandCustard East Sussex Finescale Railway Modelling Finescale Modelling OO HO 18.83mm 4mm BloodandCustard East Sussex Finescale Railway Modelling Finescale Modelling OO HO 18.83mm 4mm BloodandCustard East Sussex Finescale Railway Modelling Finescale Modelling OO HO 18.83mm 4mm BloodandCustard East Sussex Finescale Railway Modelling Finescale Modelling OO HO 18.83mm 4mm BloodandCustard East Sussex Finescale Railway Modelling Finescale Modelling OO HO 18.83mm 4mm BloodandCustard East Sussex Finescale Railway Modelling Finescale Modelling OO HO 18.83mm 4mm BloodandCustard East Sussex Finescale Railway Modelling Finescale Modelling OO HO 18.83mm 4mm BloodandCustard East Sussex Finescale Railway Modelling Finescale Modelling OO HO 18.83mm 4mm BloodandCustard East Sussex Finescale Railway Modelling Finescale Modelling OO HO 18.83mm 4mm BloodandCustard East Sussex Finescale Railway Modelling Finescale Modelling OO HO 18.83mm 4mm BloodandCustard East Sussex Finescale Railway Modelling Finescale Modelling OO HO 18.83mm 4mm BloodandCustard East Sussex Finescale Railway Modelling Finescale Modelling OO HO 18.83mm 4mm BloodandCustard East Sussex Finescale Railway Modelling Finescale Modelling OO HO 18.83mm 4mm BloodandCustard East Sussex Finescale Railway Modelling Finescale Modelling OO HO 18.83mm 4mm BloodandCustard East Sussex Finescale Railway Modelling Finescale Modelling OO HO 18.83mm 4mm BloodandCustard East Sussex Finescale Railway Modelling Finescale Modelling OO HO 18.83mm 4mm BloodandCustard East Sussex Finescale Railway Modelling Finescale Modelling OO HO 18.83mm 4mm BloodandCustard East Sussex Finescale Railway Modelling Finescale Modelling OO HO 18.83mm 4mm BloodandCustard East Sussex Finescale Railway Modelling Finescale Modelling OO HO 18.83mm 4mm BloodandCustard East Sussex Finescale Railway Modelling Finescale Modelling OO HO 18.83mm 4mm BloodandCustard East Sussex Finescale Railway Modelling Finescale Modelling OO HO 18.83mm 4mm BloodandCustard East Sussex Finescale Railway Modelling Finescale Modelling OO HO 18.83mm 4mm BloodandCustard East Sussex Finescale Railway Modelling Finescale Modelling OO HO 18.83mm 4mm BloodandCustard East Sussex Finescale Railway Modelling Finescale Modelling OO HO 18.83mm 4mm BloodandCustard East Sussex Finescale Railway Modelling Finescale Modelling OO HO 18.83mm 4mm BloodandCustard East Sussex Finescale Railway Modelling Finescale Modelling OO HO 18.83mm 4mm BloodandCustard East Sussex Finescale Railway Modelling Finescale Modelling OO HO 18.83mm 4mm BloodandCustard East Sussex Finescale Railway Modelling Finescale Modelling OO HO 18.83mm 4mm BloodandCustard East Sussex Finescale Railway Modelling Finescale Modelling OO HO 18.83mm 4mm BloodandCustard East Sussex Finescale Railway Modelling Finescale Modelling OO HO 18.83mm 4mm BloodandCustard East Sussex Finescale Railway Modelling Finescale Modelling OO HO 18.83mm 4mm BloodandCustard East Sussex Finescale Railway Modelling Finescale Modelling OO HO 18.83mm 4mm BloodandCustard East Sussex Finescale Railway Modelling Finescale Modelling OO HO 18.83mm 4mm BloodandCustard East Sussex Finescale Railway Modelling Finescale Modelling OO HO 18.83mm 4mm BloodandCustard East Sussex Finescale Railway Modelling Finescale Modelling OO HO 18.83mm 4mm BloodandCustard East Sussex Finescale Railway Modelling Finescale Modelling OO HO 18.83mm 4mm BloodandCustard East Sussex Finescale Railway Modelling Finescale Modelling OO HO 18.83mm 4mm BloodandCustard East Sussex Finescale Railway Modelling Finescale Modelling OO HO 18.83mm 4mm BloodandCustard East Sussex Finescale Railway Modelling Finescale Modelling OO HO 18.83mm 4mm BloodandCustard East Sussex Finescale Railway Modelling Finescale Modelling OO HO 18.83mm 4mm BloodandCustard East Sussex Finescale Railway Modelling Finescale Modelling OO HO 18.83mm 4mm BloodandCustard East Sussex Finescale Railway Modelling Finescale Modelling OO HO 18.83mm 4mm BloodandCustard East Sussex Finescale Railway Modelling Finescale Modelling OO HO 18.83mm 4mm BloodandCustard East Sussex Finescale Railway Modelling Finescale Modelling OO HO 18.83mm 4mm BloodandCustard East Sussex Finescale Railway Modelling Finescale Modelling OO HO 18.83mm 4mm BloodandCustard East Sussex Finescale Railway Modelling Finescale Modelling OO HO 18.83mm 4mm BloodandCustard East Sussex Finescale Railway Modelling Finescale Modelling OO HO 18.83mm 4mm BloodandCustard East Sussex Finescale Railway Modelling Finescale Modelling OO HO 18.83mm 4mm BloodandCustard East Sussex Finescale Railway Modelling Finescale Modelling OO HO 18.83mm 4mm BloodandCustard East Sussex Finescale Railway Modelling Finescale Modelling OO HO 18.83mm 4mm BloodandCustard East Sussex Finescale Railway Modelling Finescale Modelling OO HO 18.83mm 4mm BloodandCustard East Sussex Finescale Railway Modelling Finescale Modelling OO HO 18.83mm 4mm BloodandCustard East Sussex Finescale Railway Modelling Finescale Modelling OO HO 18.83mm 4mm BloodandCustard East Sussex Finescale Railway Modelling Finescale Modelling OO HO 18.83mm 4mm BloodandCustard East Sussex Finescale Railway Modelling Finescale Modelling OO HO 18.83mm 4mm BloodandCustard East Sussex Finescale Railway Modelling Finescale Modelling OO HO 18.83mm 4mm BloodandCustard East Sussex Finescale Railway Modelling Finescale Modelling OO HO 18.83mm 4mm BloodandCustard East Sussex Finescale Railway Modelling Finescale Modelling OO HO 18.83mm 4mm BloodandCustard East Sussex Finescale Railway Modelling Finescale Modelling OO HO 18.83mm 4mm BloodandCustard East Sussex Finescale Railway Modelling Finescale Modelling OO HO 18.83mm 4mm BloodandCustard East Sussex Finescale Railway Modelling Finescale Modelling OO HO 18.83mm 4mm BloodandCustard East Sussex Finescale Railway Modelling Finescale Modelling OO HO 18.83mm 4mm BloodandCustard East Sussex Finescale Railway Modelling Finescale Modelling OO HO 18.83mm 4mm BloodandCustard East Sussex Finescale Railway Modelling Finescale Modelling OO HO 18.83mm 4mm BloodandCustard East Sussex Finescale Railway Modelling Finescale Modelling OO HO 18.83mm 4mm BloodandCustard East Sussex Finescale Railway Modelling Finescale Modelling OO HO 18.83mm 4mm BloodandCustard East Sussex Finescale Railway Modelling Finescale Modelling OO HO 18.83mm 4mm BloodandCustard East Sussex Finescale Railway Modelling Finescale Modelling OO HO 18.83mm 4mm BloodandCustard East Sussex Finescale Railway Modelling Finescale Modelling OO HO 18.83mm 4mm BloodandCustard East Sussex Finescale Railway Modelling Finescale Modelling OO HO 18.83mm 4mm BloodandCustard East Sussex Finescale Railway Modelling Finescale Modelling OO HO 18.83mm 4mm BloodandCustard East Sussex Finescale Railway Modelling Finescale Modelling OO HO 18.83mm 4mm BloodandCustard East Sussex Finescale Railway Modelling Finescale Modelling OO HO 18.83mm 4mm BloodandCustard East Sussex Finescale Railway Modelling Finescale Modelling OO HO 18.83mm 4mm BloodandCustard East Sussex Finescale Railway Modelling Finescale Modelling OO HO 18.83mm 4mm BloodandCustard East Sussex Finescale Railway Modelling Finescale Modelling OO HO 18.83mm 4mm BloodandCustard East Sussex Finescale Railway Modelling Finescale Modelling OO HO 18.83mm 4mm BloodandCustard East Sussex Finescale Railway Modelling Finescale Modelling OO HO 18.83mm 4mm BloodandCustard East Sussex Finescale Railway Modelling Finescale Modelling OO HO 18.83mm 4mm BloodandCustard East Sussex Finescale Railway Modelling Finescale Modelling OO HO 18.83mm 4mm BloodandCustard East Sussex Finescale Railway Modelling Finescale Modelling OO HO 18.83mm 4mm BloodandCustard East Sussex Finescale Railway Modelling Finescale Modelling OO HO 18.83mm 4mm BloodandCustard East Sussex Finescale Railway Modelling Finescale Modelling OO HO 18.83mm 4mm BloodandCustard East Sussex Finescale Railway Modelling Finescale Modelling OO HO 18.83mm 4mm BloodandCustard East Sussex Finescale Railway Modelling Finescale Modelling OO HO 18.83mm 4mm BloodandCustard East Sussex Finescale Railway Modelling Finescale Modelling OO HO 18.83mm 4mm BloodandCustard East Sussex Finescale Railway Modelling Finescale Modelling OO HO 18.83mm 4mm BloodandCustard East Sussex Finescale Railway Modelling Finescale Modelling OO HO 18.83mm 4mm BloodandCustard East Sussex Finescale Railway Modelling Finescale Modelling OO HO 18.83mm 4mm BloodandCustard East Sussex Finescale Railway Modelling Finescale Modelling OO HO 18.83mm 4mm BloodandCustard East Sussex Finescale Railway Modelling Finescale Modelling OO HO 18.83mm 4mm BloodandCustard East Sussex Finescale Railway Modelling Finescale Modelling OO HO 18.83mm 4mm BloodandCustard East Sussex Finescale Railway Modelling Finescale Modelling OO HO 18.83mm 4mm BloodandCustard East Sussex Finescale Railway Modelling Finescale Modelling OO HO 18.83mm 4mm BloodandCustard East Sussex Finescale Railway Modelling Finescale Modelling OO HO 18.83mm 4mm BloodandCustard East Sussex Finescale Railway Modelling Finescale Modelling OO HO 18.83mm 4mm BloodandCustard East Sussex Finescale Railway Modelling Finescale Modelling OO HO 18.83mm 4mm BloodandCustard East Sussex Finescale Railway Modelling Finescale Modelling OO HO 18.83mm 4mm BloodandCustard East Sussex Finescale Railway Modelling Finescale Modelling OO HO 18.83mm 4mm BloodandCustard East Sussex Finescale Railway Modelling Finescale Modelling OO HO 18.83mm 4mm BloodandCustard East Sussex Finescale Railway Modelling Finescale Modelling OO HO 18.83mm 4mm BloodandCustard East Sussex Finescale Railway Modelling Finescale Modelling OO HO 18.83mm 4mm BloodandCustard East Sussex Finescale Railway Modelling Finescale Modelling OO HO 18.83mm 4mm BloodandCustard East Sussex Finescale Railway Modelling Finescale Modelling OO HO 18.83mm 4mm BloodandCustard East Sussex Finescale Railway Modelling Finescale Modelling OO HO 18.83mm 4mm BloodandCustard East Sussex Finescale Railway Modelling Finescale Modelling OO HO 18.83mm 4mm BloodandCustard East Sussex Finescale Railway Modelling Finescale Modelling OO HO 18.83mm 4mm BloodandCustard East Sussex Finescale Railway Modelling Finescale Modelling OO HO 18.83mm 4mm BloodandCustard East Sussex Finescale Railway Modelling Finescale Modelling OO HO 18.83mm 4mm BloodandCustard East Sussex Finescale Railway Modelling Finescale Modelling OO HO 18.83mm 4mm BloodandCustard East Sussex Finescale Railway Modelling Finescale Modelling OO HO 18.83mm 4mm BloodandCustard East Sussex Finescale Railway Modelling Finescale Modelling OO HO 18.83mm 4mm BloodandCustard East Sussex Finescale Railway Modelling Finescale Modelling OO HO 18.83mm 4mm BloodandCustard East Sussex Finescale Railway Modelling Finescale Modelling OO HO 18.83mm 4mm BloodandCustard East Sussex Finescale Railway Modelling Finescale Modelling OO HO 18.83mm 4mm BloodandCustard East Sussex Finescale Railway Modelling Finescale Modelling OO HO 18.83mm 4mm BloodandCustard East Sussex Finescale Railway Modelling Finescale Modelling OO HO 18.83mm 4mm BloodandCustard East Sussex Finescale Railway Modelling Finescale Modelling OO HO 18.83mm 4mm BloodandCustard East Sussex Finescale Railway Modelling Finescale Modelling OO HO 18.83mm 4mm BloodandCustard East Sussex Finescale Railway Modelling Finescale Modelling OO HO 18.83mm 4mm BloodandCustard East Sussex Finescale Railway Modelling Finescale Modelling OO HO 18.83mm 4mm BloodandCustard East Sussex Finescale Railway Modelling Finescale Modelling OO HO 18.83mm 4mm BloodandCustard East Sussex Finescale Railway Modelling Finescale Modelling OO HO 18.83mm 4mm BloodandCustard East Sussex Finescale Railway Modelling Finescale Modelling OO HO 18.83mm 4mm BloodandCustard East Sussex Finescale Railway Modelling Finescale Modelling OO HO 18.83mm 4mm BloodandCustard East Sussex Finescale Railway Modelling Finescale Modelling OO HO 18.83mm 4mm BloodandCustard East Sussex Finescale Railway Modelling Finescale Modelling OO HO 18.83mm 4mm BloodandCustard East Sussex Finescale Railway Modelling Finescale Modelling OO HO 18.83mm 4mm BloodandCustard East Sussex Finescale Railway Modelling Finescale Modelling OO HO 18.83mm 4mm BloodandCustard East Sussex Finescale Railway Modelling Finescale Modelling OO HO 18.83mm 4mm BloodandCustard East Sussex Finescale Railway Modelling Finescale Modelling OO HO 18.83mm 4mm BloodandCustard East Sussex Finescale Railway Modelling Finescale Modelling OO HO 18.83mm 4mm BloodandCustard East Sussex Finescale Railway Modelling Finescale Modelling OO HO 18.83mm 4mm BloodandCustard East Sussex Finescale Railway Modelling Finescale Modelling OO HO 18.83mm 4mm BloodandCustard East Sussex Finescale Railway Modelling Finescale Modelling OO HO 18.83mm 4mm BloodandCustard East Sussex Finescale Railway Modelling Finescale Modelling OO HO 18.83mm 4mm BloodandCustard East Sussex Finescale Railway Modelling Finescale Modelling OO HO 18.83mm 4mm BloodandCustard East Sussex Finescale Railway Modelling Finescale Modelling OO HO 18.83mm 4mm BloodandCustard East Sussex Finescale Railway Modelling Finescale Modelling OO HO 18.83mm 4mm BloodandCustard East Sussex Finescale Railway Modelling Finescale Modelling OO HO 18.83mm 4mm BloodandCustard East Sussex Finescale Railway Modelling Finescale Modelling OO HO 18.83mm 4mm BloodandCustard East Sussex Finescale Railway Modelling Finescale Modelling OO HO 18.83mm 4mm BloodandCustard East Sussex Finescale Railway Modelling Finescale Modelling OO HO 18.83mm 4mm BloodandCustard East Sussex Finescale Railway Modelling Finescale Modelling OO HO 18.83mm 4mm BloodandCustard East Sussex Finescale Railway Modelling Finescale Modelling OO HO 18.83mm 4mm BloodandCustard East Sussex Finescale Railway Modelling Finescale Modelling OO HO 18.83mm 4mm BloodandCustard East Sussex Finescale Railway Modelling Finescale Modelling OO HO 18.83mm 4mm BloodandCustard East Sussex Finescale Railway Modelling Finescale Modelling OO HO 18.83mm 4mm BloodandCustard East Sussex Finescale Railway Modelling Finescale Modelling OO HO 18.83mm 4mm BloodandCustard East Sussex Finescale Railway Modelling Finescale Modelling OO HO 18.83mm 4mm BloodandCustard East Sussex Finescale Railway Modelling Finescale Modelling OO HO 18.83mm 4mm BloodandCustard East Sussex Finescale Railway Modelling Finescale Modelling OO HO 18.83mm 4mm BloodandCustard East Sussex Finescale Railway Modelling Finescale Modelling OO HO 18.83mm 4mm BloodandCustard East Sussex Finescale Railway Modelling Finescale Modelling OO HO 18.83mm 4mm BloodandCustard East Sussex Finescale Railway Modelling Finescale Modelling OO HO 18.83mm 4mm BloodandCustard East Sussex Finescale Railway Modelling Finescale Modelling OO HO 18.83mm 4mm BloodandCustard East Sussex Finescale Railway Modelling Finescale Modelling OO HO 18.83mm 4mm BloodandCustard East Sussex Finescale Railway Modelling Finescale Modelling OO HO 18.83mm 4mm BloodandCustard East Sussex Finescale Railway Modelling Finescale Modelling OO HO 18.83mm 4mm BloodandCustard East Sussex Finescale Railway Modelling Finescale Modelling OO HO 18.83mm 4mm BloodandCustard East Sussex Finescale Railway Modelling Finescale Modelling OO HO 18.83mm 4mm BloodandCustard East Sussex Finescale Railway Modelling Finescale Modelling OO HO 18.83mm 4mm BloodandCustard East Sussex Finescale Railway Modelling Finescale Modelling OO HO 18.83mm 4mm BloodandCustard East Sussex Finescale Railway Modelling Finescale Modelling OO HO 18.83mm 4mm BloodandCustard East Sussex Finescale Railway Modelling Finescale Modelling OO HO 18.83mm 4mm BloodandCustard East Sussex Finescale Railway Modelling Finescale Modelling OO HO 18.83mm 4mm BloodandCustard East Sussex Finescale Railway Modelling Finescale Modelling OO HO 18.83mm 4mm BloodandCustard East Sussex Finescale Railway Modelling Finescale Modelling OO HO 18.83mm 4mm BloodandCustard East Sussex Finescale Railway Modelling Finescale Modelling OO HO 18.83mm 4mm BloodandCustard East Sussex Finescale Railway Modelling Finescale Modelling OO HO 18.83mm 4mm BloodandCustard East Sussex Finescale Railway Modelling Finescale Modelling OO HO 18.83mm 4mm BloodandCustard East Sussex Finescale Railway Modelling Finescale Modelling OO HO 18.83mm 4mm BloodandCustard East Sussex Finescale Railway Modelling Finescale Modelling OO HO 18.83mm 4mm BloodandCustard East Sussex Finescale Railway Modelling Finescale Modelling OO HO 18.83mm 4mm BloodandCustard East Sussex Finescale Railway Modelling Finescale Modelling OO HO 18.83mm 4mm BloodandCustard East Sussex Finescale Railway Modelling Finescale Modelling OO HO 18.83mm 4mm BloodandCustard East Sussex Finescale Railway Modelling Finescale Modelling OO HO 18.83mm 4mm BloodandCustard East Sussex Finescale Railway Modelling Finescale Modelling OO HO 18.83mm 4mm BloodandCustard East Sussex Finescale Railway Modelling Finescale Modelling OO HO 18.83mm 4mm BloodandCustard East Sussex Finescale Railway Modelling Finescale Modelling OO HO 18.83mm 4mm BloodandCustard East Sussex Finescale Railway Modelling Finescale Modelling OO HO 18.83mm 4mm BloodandCustard East Sussex Finescale Railway Modelling Finescale Modelling OO HO 18.83mm 4mm BloodandCustard East Sussex Finescale Railway Modelling Finescale Modelling OO HO 18.83mm 4mm BloodandCustard East Sussex Finescale Railway Modelling Finescale Modelling OO HO 18.83mm 4mm BloodandCustard East Sussex Finescale Railway Modelling Finescale Modelling OO HO 18.83mm 4mm BloodandCustard East Sussex Finescale Railway Modelling Finescale Modelling OO HO 18.83mm 4mm BloodandCustard East Sussex Finescale Railway Modelling Finescale Modelling OO HO 18.83mm 4mm BloodandCustard East Sussex Finescale Railway Modelling Finescale Modelling OO HO 18.83mm 4mm BloodandCustard East Sussex Finescale Railway Modelling Finescale Modelling OO HO 18.83mm 4mm BloodandCustard East Sussex Finescale Railway Modelling Finescale Modelling OO HO 18.83mm 4mm BloodandCustard East Sussex Finescale Railway Modelling Finescale Modelling OO HO 18.83mm 4mm BloodandCustard East Sussex Finescale Railway Modelling Finescale Modelling OO HO 18.83mm 4mm BloodandCustard East Sussex Finescale Railway Modelling Finescale Modelling OO HO 18.83mm 4mm BloodandCustard East Sussex Finescale Railway Modelling Finescale Modelling OO HO 18.83mm 4mm BloodandCustard East Sussex Finescale Railway Modelling Finescale Modelling OO HO 18.83mm 4mm BloodandCustard East Sussex Finescale Railway Modelling Finescale Modelling OO HO 18.83mm 4mm BloodandCustard East Sussex Finescale Railway Modelling Finescale Modelling OO HO 18.83mm 4mm BloodandCustard East Sussex Finescale Railway Modelling Finescale Modelling OO HO 18.83mm 4mm BloodandCustard East Sussex Finescale Railway Modelling Finescale Modelling OO HO 18.83mm 4mm BloodandCustard East Sussex Finescale Railway Modelling Finescale Modelling OO HO 18.83mm 4mm BloodandCustard East Sussex Finescale Railway Modelling Finescale Modelling OO HO 18.83mm 4mm BloodandCustard East Sussex Finescale Railway Modelling Finescale Modelling OO HO 18.83mm 4mm BloodandCustard East Sussex Finescale Railway Modelling Finescale Modelling OO HO 18.83mm 4mm BloodandCustard East Sussex Finescale Railway Modelling Finescale Modelling OO HO 18.83mm 4mm BloodandCustard East Sussex Finescale Railway Modelling Finescale Modelling OO HO 18.83mm 4mm BloodandCustard East Sussex Finescale Railway Modelling Finescale Modelling OO HO 18.83mm 4mm BloodandCustard East Sussex Finescale Railway Modelling Finescale Modelling OO HO 18.83mm 4mm BloodandCustard East Sussex Finescale Railway Modelling Finescale Modelling OO HO 18.83mm 4mm BloodandCustard East Sussex Finescale Railway Modelling Finescale Modelling OO HO 18.83mm 4mm BloodandCustard East Sussex Finescale Railway Modelling Finescale Modelling OO HO 18.83mm 4mm BloodandCustard East Sussex Finescale Railway Modelling Finescale Modelling OO HO 18.83mm 4mm BloodandCustard East Sussex Finescale Railway Modelling Finescale Modelling OO HO 18.83mm 4mm BloodandCustard East Sussex Finescale Railway Modelling Finescale Modelling OO HO 18.83mm 4mm BloodandCustard East Sussex Finescale Railway Modelling Finescale Modelling OO HO 18.83mm 4mm BloodandCustard East Sussex Finescale Railway Modelling Finescale Modelling OO HO 18.83mm 4mm BloodandCustard East Sussex Finescale Railway Modelling Finescale Modelling OO HO 18.83mm 4mm BloodandCustard East Sussex Finescale Railway Modelling Finescale Modelling OO HO 18.83mm 4mm BloodandCustard East Sussex Finescale Railway Modelling Finescale Modelling OO HO 18.83mm 4mm BloodandCustard East Sussex Finescale Railway Modelling Finescale Modelling OO HO 18.83mm 4mm BloodandCustard East Sussex Finescale Railway Modelling Finescale Modelling OO HO 18.83mm 4mm BloodandCustard East Sussex Finescale Railway Modelling Finescale Modelling OO HO 18.83mm 4mm BloodandCustard East Sussex Finescale Railway Modelling Finescale Modelling OO HO 18.83mm 4mm BloodandCustard East Sussex Finescale Railway Modelling Finescale Modelling OO HO 18.83mm 4mm BloodandCustard East Sussex Finescale Railway Modelling Finescale Modelling OO HO 18.83mm 4mm BloodandCustard East Sussex Finescale Railway Modelling Finescale Modelling OO HO 18.83mm 4mm BloodandCustard East Sussex Finescale Railway Modelling Finescale Modelling OO HO 18.83mm 4mm BloodandCustard East Sussex Finescale Railway Modelling Finescale Modelling OO HO 18.83mm 4mm BloodandCustard East Sussex Finescale Railway Modelling Finescale Modelling OO HO 18.83mm 4mm BloodandCustard East Sussex Finescale Railway Modelling Finescale Modelling OO HO 18.83mm 4mm BloodandCustard East Sussex Finescale Railway Modelling Finescale Modelling OO HO 18.83mm 4mm BloodandCustard East Sussex Finescale Railway Modelling Finescale Modelling OO HO 18.83mm 4mm BloodandCustard East Sussex Finescale Railway Modelling Finescale Modelling OO HO 18.83mm 4mm BloodandCustard East Sussex Finescale Railway Modelling Finescale Modelling OO HO 18.83mm 4mm BloodandCustard East Sussex Finescale Railway Modelling Finescale Modelling OO HO 18.83mm 4mm BloodandCustard East Sussex Finescale Railway Modelling Finescale Modelling OO HO 18.83mm 4mm BloodandCustard East Sussex Finescale Railway Modelling Finescale Modelling OO HO 18.83mm 4mm BloodandCustard East Sussex Finescale Railway Modelling Finescale Modelling OO HO 18.83mm 4mm BloodandCustard East Sussex Finescale Railway Modelling Finescale Modelling OO HO 18.83mm 4mm BloodandCustard East Sussex Finescale Railway Modelling Finescale Modelling OO HO 18.83mm 4mm BloodandCustard East Sussex Finescale Railway Modelling Finescale Modelling OO HO 18.83mm 4mm BloodandCustard East Sussex Finescale Railway Modelling Finescale Modelling OO HO 18.83mm 4mm BloodandCustard East Sussex Finescale Railway Modelling Finescale Modelling OO HO 18.83mm 4mm BloodandCustard East Sussex Finescale Railway Modelling Finescale Modelling OO HO 18.83mm 4mm BloodandCustard East Sussex Finescale Railway Modelling Finescale Modelling OO HO 18.83mm 4mm BloodandCustard East Sussex Finescale Railway Modelling Finescale Modelling OO HO 18.83mm 4mm BloodandCustard East Sussex Finescale Railway Modelling Finescale Modelling OO HO 18.83mm 4mm BloodandCustard East Sussex Finescale Railway Modelling Finescale Modelling OO HO 18.83mm 4mm BloodandCustard East Sussex Finescale Railway Modelling Finescale Modelling OO HO 18.83mm 4mm BloodandCustard East Sussex Finescale Railway Modelling Finescale Modelling OO HO 18.83mm 4mm BloodandCustard East Sussex Finescale Railway Modelling Finescale Modelling OO HO 18.83mm 4mm BloodandCustard East Sussex Finescale Railway Modelling Finescale Modelling OO HO 18.83mm 4mm BloodandCustard East Sussex Finescale Railway Modelling Finescale Modelling OO HO 18.83mm 4mm BloodandCustard East Sussex Finescale Railway Modelling Finescale Modelling OO HO 18.83mm 4mm BloodandCustard East Sussex Finescale Railway Modelling Finescale Modelling OO HO 18.83mm 4mm BloodandCustard East Sussex Finescale Railway Modelling Finescale Modelling OO HO 18.83mm 4mm BloodandCustard East Sussex Finescale Railway Modelling Finescale Modelling OO HO 18.83mm 4mm BloodandCustard East Sussex Finescale Railway Modelling Finescale Modelling OO HO 18.83mm 4mm BloodandCustard East Sussex Finescale Railway Modelling Finescale Modelling OO HO 18.83mm 4mm BloodandCustard East Sussex Finescale Railway Modelling Finescale Modelling OO HO 18.83mm 4mm BloodandCustard East Sussex Finescale Railway Modelling Finescale Modelling OO HO 18.83mm 4mm BloodandCustard East Sussex Finescale Railway Modelling Finescale Modelling OO HO 18.83mm 4mm BloodandCustard East Sussex Finescale Railway Modelling Finescale Modelling OO HO 18.83mm 4mm BloodandCustard East Sussex Finescale Railway Modelling Finescale Modelling OO HO 18.83mm 4mm BloodandCustard East Sussex Finescale Railway Modelling Finescale Modelling OO HO 18.83mm 4mm BloodandCustard East Sussex Finescale Railway Modelling Finescale Modelling OO HO 18.83mm 4mm BloodandCustard East Sussex Finescale Railway Modelling Finescale Modelling OO HO 18.83mm 4mm BloodandCustard East Sussex Finescale Railway Modelling Finescale Modelling OO HO 18.83mmBloodandCustard East Sussex Finescale Railway Modelling Finescale Modelling OO HO 18.83mm 4mm. BloodandCustard East Sussex Finescale Railway Modelling Finescale Modelling OO HO 18.83mm 4mm BloodandCustard East Sussex Finescale Railway Modelling Finescale Modelling OO HO 18.83mm 4mm BloodandCustard East Sussex Finescale Railway Modelling Finescale Modelling OO HO 18.83mm 4mm BloodandCustard East Sussex Finescale Railway Modelling Finescale Modelling OO HO 18.83mm 4mm BloodandCustard East Sussex Finescale Railway Modelling Finescale Modelling OO HO 18.83mm 4mm BloodandCustard East Sussex Finescale Railway Modelling Finescale Modelling OO HO 18.83mm 4mm BloodandCustard East Sussex Finescale Railway Modelling Finescale Modelling OO HO 18.83mm 4mm BloodandCustard East Sussex Finescale Railway Modelling Finescale Modelling OO HO 18.83mm 4mm BloodandCustard East Sussex Finescale Railway Modelling Finescale Modelling OO HO 18.83mm 4mm BloodandCustard East Sussex Finescale Railway Modelling Finescale Modelling OO HO 18.83mm 4mm BloodandCustard East Sussex Finescale Railway Modelling Finescale Modelling OO HO 18.83mm 4mm BloodandCustard East Sussex Finescale Railway Modelling Finescale Modelling OO HO 18.83mm 4mm BloodandCustard East Sussex Finescale Railway Modelling Finescale Modelling OO HO 18.83mm 4mm BloodandCustard East Sussex Finescale Railway Modelling Finescale Modelling OO HO 18.83mm 4mm BloodandCustard East Sussex Finescale Railway Modelling Finescale Modelling OO HO 18.83mm 4mm BloodandCustard East Sussex Finescale Railway Modelling Finescale Modelling OO HO 18.83mm 4mm BloodandCustard East Sussex Finescale Railway Modelling Finescale Modelling OO HO 18.83mm 4mm BloodandCustard East Sussex Finescale Railway Modelling Finescale Modelling OO HO 18.83mm 4mm BloodandCustard East Sussex Finescale Railway Modelling Finescale Modelling OO HO 18.83mm 4mm BloodandCustard East Sussex Finescale Railway Modelling Finescale Modelling OO HO 18.83mm 4mm BloodandCustard East Sussex Finescale Railway Modelling Finescale Modelling OO HO 18.83mm 4mm BloodandCustard East Sussex Finescale Railway Modelling Finescale Modelling OO HO 18.83mm 4mm BloodandCustard East Sussex Finescale Railway Modelling Finescale Modelling OO HO 18.83mm 4mm BloodandCustard East Sussex Finescale Railway Modelling Finescale Modelling OO HO 18.83mm 4mm BloodandCustard East Sussex Finescale Railway Modelling Finescale Modelling OO HO 18.83mm 4mm BloodandCustard East Sussex Finescale Railway Modelling Finescale Modelling OO HO 18.83mm 4mm BloodandCustard East Sussex Finescale Railway Modelling Finescale Modelling OO HO 18.83mm 4mm BloodandCustard East Sussex Finescale Railway Modelling Finescale Modelling OO HO 18.83mm 4mm BloodandCustard East Sussex Finescale Railway Modelling Finescale Modelling OO HO 18.83mm 4mm BloodandCustard East Sussex Finescale Railway Modelling Finescale Modelling OO HO 18.83mm 4mm BloodandCustard East Sussex Finescale Railway Modelling Finescale Modelling OO HO 18.83mm 4mm BloodandCustard East Sussex Finescale Railway Modelling Finescale Modelling OO HO 18.83mm 4mm BloodandCustard East Sussex Finescale Railway Modelling Finescale Modelling OO HO 18.83mm 4mm BloodandCustard East Sussex Finescale Railway Modelling Finescale Modelling OO HO 18.83mm 4mm BloodandCustard East Sussex Finescale Railway Modelling Finescale Modelling OO HO 18.83mm 4mm BloodandCustard East Sussex Finescale Railway Modelling Finescale Modelling OO HO 18.83mm 4mm BloodandCustard East Sussex Finescale Railway Modelling Finescale Modelling OO HO 18.83mm 4mm BloodandCustard East Sussex Finescale Railway Modelling Finescale Modelling OO HO 18.83mm 4mm BloodandCustard East Sussex Finescale Railway Modelling Finescale Modelling OO HO 18.83mm 4mm BloodandCustard East Sussex Finescale Railway Modelling Finescale Modelling OO HO 18.83mm 4mm BloodandCustard East Sussex Finescale Railway Modelling Finescale Modelling OO HO 18.83mm 4mm BloodandCustard East Sussex Finescale Railway Modelling Finescale Modelling OO HO 18.83mm 4mm BloodandCustard East Sussex Finescale Railway Modelling Finescale Modelling OO HO 18.83mm 4mm BloodandCustard East Sussex Finescale Railway Modelling Finescale Modelling OO HO 18.83mm 4mm BloodandCustard East Sussex Finescale Railway Modelling Finescale Modelling OO HO 18.83mm 4mm BloodandCustard East Sussex Finescale Railway Modelling Finescale Modelling OO HO 18.83mm 4mm BloodandCustard East Sussex Finescale Railway Modelling Finescale Modelling OO HO 18.83mm 4mm BloodandCustard East Sussex Finescale Railway Modelling Finescale Modelling OO HO 18.83mm 4mm BloodandCustard East Sussex Finescale Railway Modelling Finescale Modelling OO HO 18.83mm 4mm BloodandCustard East Sussex Finescale Railway Modelling Finescale Modelling OO HO 18.83mm 4mm BloodandCustard East Sussex Finescale Railway Modelling Finescale Modelling OO HO 18.83mm 4mm BloodandCustard East Sussex Finescale Railway Modelling Finescale Modelling OO HO 18.83mm 4mm BloodandCustard East Sussex Finescale Railway Modelling Finescale Modelling OO HO 18.83mm 4mm BloodandCustard East Sussex Finescale Railway Modelling Finescale Modelling OO HO 18.83mm 4mm BloodandCustard East Sussex Finescale Railway Modelling Finescale Modelling OO HO 18.83mm 4mm BloodandCustard East Sussex Finescale Railway Modelling Finescale Modelling OO HO 18.83mm 4mm BloodandCustard East Sussex Finescale Railway Modelling Finescale Modelling OO HO 18.83mm 4mm BloodandCustard East Sussex Finescale Railway Modelling Finescale Modelling OO HO 18.83mm 4mm BloodandCustard East Sussex Finescale Railway Modelling Finescale Modelling OO HO 18.83mm 4mm BloodandCustard East Sussex Finescale Railway Modelling Finescale Modelling OO HO 18.83mm 4mm BloodandCustard East Sussex Finescale Railway Modelling Finescale Modelling OO HO 18.83mm 4mm BloodandCustard East Sussex Finescale Railway Modelling Finescale Modelling OO HO 18.83mm 4mm BloodandCustard East Sussex Finescale Railway Modelling Finescale Modelling OO HO 18.83mm 4mm BloodandCustard East Sussex Finescale Railway Modelling Finescale Modelling OO HO 18.83mm 4mm BloodandCustard East Sussex Finescale Railway Modelling Finescale Modelling OO HO 18.83mm 4mm BloodandCustard East Sussex Finescale Railway Modelling Finescale Modelling OO HO 18.83mm 4mm BloodandCustard East Sussex Finescale Railway Modelling Finescale Modelling OO HO 18.83mm 4mm BloodandCustard East Sussex Finescale Railway Modelling Finescale Modelling OO HO 18.83mm 4mm BloodandCustard East Sussex Finescale Railway Modelling Finescale Modelling OO HO 18.83mm 4mm BloodandCustard East Sussex Finescale Railway Modelling Finescale Modelling OO HO 18.83mm 4mm BloodandCustard East Sussex Finescale Railway Modelling Finescale Modelling OO HO 18.83mm 4mm BloodandCustard East Sussex Finescale Railway Modelling Finescale Modelling OO HO 18.83mm 4mm BloodandCustard East Sussex Finescale Railway Modelling Finescale Modelling OO HO 18.83mm 4mm BloodandCustard East Sussex Finescale Railway Modelling Finescale Modelling OO HO 18.83mm 4mm BloodandCustard East Sussex Finescale Railway Modelling Finescale Modelling OO HO 18.83mm 4mm BloodandCustard East Sussex Finescale Railway Modelling Finescale Modelling OO HO 18.83mm 4mm BloodandCustard East Sussex Finescale Railway Modelling Finescale Modelling OO HO 18.83mm 4mm BloodandCustard East Sussex Finescale Railway Modelling Finescale Modelling OO HO 18.83mm 4mm BloodandCustard East Sussex Finescale Railway Modelling Finescale Modelling OO HO 18.83mm 4mm BloodandCustard East Sussex Finescale Railway Modelling Finescale Modelling OO HO 18.83mm 4mm BloodandCustard East Sussex Finescale Railway Modelling Finescale Modelling OO HO 18.83mm 4mm BloodandCustard East Sussex Finescale Railway Modelling Finescale Modelling OO HO 18.83mm 4mm BloodandCustard East Sussex Finescale Railway Modelling Finescale Modelling OO HO 18.83mm 4mm BloodandCustard East Sussex Finescale Railway Modelling Finescale Modelling OO HO 18.83mm 4mm BloodandCustard East Sussex Finescale Railway Modelling Finescale Modelling OO HO 18.83mm 4mm BloodandCustard East Sussex Finescale Railway Modelling Finescale Modelling OO HO 18.83mm 4mm BloodandCustard East Sussex Finescale Railway Modelling Finescale Modelling OO HO 18.83mm 4mm BloodandCustard East Sussex Finescale Railway Modelling Finescale Modelling OO HO 18.83mm 4mm BloodandCustard East Sussex Finescale Railway Modelling Finescale Modelling OO HO 18.83mm 4mm BloodandCustard East Sussex Finescale Railway Modelling Finescale Modelling OO HO 18.83mm 4mm BloodandCustard East Sussex Finescale Railway Modelling Finescale Modelling OO HO 18.83mm 4mm BloodandCustard East Sussex Finescale Railway Modelling Finescale Modelling OO HO 18.83mm 4mm BloodandCustard East Sussex Finescale Railway Modelling Finescale Modelling OO HO 18.83mm 4mm BloodandCustard East Sussex Finescale Railway Modelling Finescale Modelling OO HO 18.83mm 4mm BloodandCustard East Sussex Finescale Railway Modelling Finescale Modelling OO HO 18.83mm 4mm BloodandCustard East Sussex Finescale Railway Modelling Finescale Modelling OO HO 18.83mm 4mm BloodandCustard East Sussex Finescale Railway Modelling Finescale Modelling OO HO 18.83mm 4mm BloodandCustard East Sussex Finescale Railway Modelling Finescale Modelling OO HO 18.83mm 4mm BloodandCustard East Sussex Finescale Railway Modelling Finescale Modelling OO HO 18.83mm 4mm BloodandCustard East Sussex Finescale Railway Modelling Finescale Modelling OO HO 18.83mm 4mm BloodandCustard East Sussex Finescale Railway Modelling Finescale Modelling OO HO 18.83mm 4mm BloodandCustard East Sussex Finescale Railway Modelling Finescale Modelling OO HO 18.83mm 4mm BloodandCustard East Sussex Finescale Railway Modelling Finescale Modelling OO HO 18.83mm 4mm BloodandCustard East Sussex Finescale Railway Modelling Finescale Modelling OO HO 18.83mm 4mm BloodandCustard East Sussex Finescale Railway Modelling Finescale Modelling OO HO 18.83mm 4mm BloodandCustard East Sussex Finescale Railway Modelling Finescale Modelling OO HO 18.83mm 4mm BloodandCustard East Sussex Finescale Railway Modelling Finescale Modelling OO HO 18.83mm 4mm BloodandCustard East Sussex Finescale Railway Modelling Finescale Modelling OO HO 18.83mm 4mm BloodandCustard East Sussex Finescale Railway Modelling Finescale Modelling OO HO 18.83mm 4mm BloodandCustard East Sussex Finescale Railway Modelling Finescale Modelling OO HO 18.83mm 4mm BloodandCustard East Sussex Finescale Railway Modelling Finescale Modelling OO HO 18.83mm 4mm BloodandCustard East Sussex Finescale Railway Modelling Finescale Modelling OO HO 18.83mm 4mm BloodandCustard East Sussex Finescale Railway Modelling Finescale Modelling OO HO 18.83mm 4mm BloodandCustard East Sussex Finescale Railway Modelling Finescale Modelling OO HO 18.83mm 4mm BloodandCustard East Sussex Finescale Railway Modelling Finescale Modelling OO HO 18.83mm 4mm BloodandCustard East Sussex Finescale Railway Modelling Finescale Modelling OO HO 18.83mm 4mm BloodandCustard East Sussex Finescale Railway Modelling Finescale Modelling OO HO 18.83mm 4mm BloodandCustard East Sussex Finescale Railway Modelling Finescale Modelling OO HO 18.83mm 4mm BloodandCustard East Sussex Finescale Railway Modelling Finescale Modelling OO HO 18.83mm 4mm BloodandCustard East Sussex Finescale Railway Modelling Finescale Modelling OO HO 18.83mm 4mm BloodandCustard East Sussex Finescale Railway Modelling Finescale Modelling OO HO 18.83mm 4mm BloodandCustard East Sussex Finescale Railway Modelling Finescale Modelling OO HO 18.83mm 4mm BloodandCustard East Sussex Finescale Railway Modelling Finescale Modelling OO HO 18.83mm 4mm BloodandCustard East Sussex Finescale Railway Modelling Finescale Modelling OO HO 18.83mm 4mm BloodandCustard East Sussex Finescale Railway Modelling Finescale Modelling OO HO 18.83mm 4mm BloodandCustard East Sussex Finescale Railway Modelling Finescale Modelling OO HO 18.83mm 4mm BloodandCustard East Sussex Finescale Railway Modelling Finescale Modelling OO HO 18.83mm 4mm BloodandCustard East Sussex Finescale Railway Modelling Finescale Modelling OO HO 18.83mm 4mm BloodandCustard East Sussex Finescale Railway Modelling Finescale Modelling OO HO 18.83mm 4mm BloodandCustard East Sussex Finescale Railway Modelling Finescale Modelling OO HO 18.83mm 4mm BloodandCustard East Sussex Finescale Railway Modelling Finescale Modelling OO HO 18.83mm 4mm BloodandCustard East Sussex Finescale Railway Modelling Finescale Modelling OO HO 18.83mm 4mm BloodandCustard East Sussex Finescale Railway Modelling Finescale Modelling OO HO 18.83mm 4mm BloodandCustard East Sussex Finescale Railway Modelling Finescale Modelling OO HO 18.83mm 4mm BloodandCustard East Sussex Finescale Railway Modelling Finescale Modelling OO HO 18.83mm 4mm BloodandCustard East Sussex Finescale Railway Modelling Finescale Modelling OO HO 18.83mm 4mm BloodandCustard East Sussex Finescale Railway Modelling Finescale Modelling OO HO 18.83mm 4mm BloodandCustard East Sussex Finescale Railway Modelling Finescale Modelling OO HO 18.83mm 4mm BloodandCustard East Sussex Finescale Railway Modelling Finescale Modelling OO HO 18.83mm 4mm BloodandCustard East Sussex Finescale Railway Modelling Finescale Modelling OO HO 18.83mm 4mm BloodandCustard East Sussex Finescale Railway Modelling Finescale Modelling OO HO 18.83mm 4mm BloodandCustard East Sussex Finescale Railway Modelling Finescale Modelling OO HO 18.83mm 4mm BloodandCustard East Sussex Finescale Railway Modelling Finescale Modelling OO HO 18.83mm 4mm BloodandCustard East Sussex Finescale Railway Modelling Finescale Modelling OO HO 18.83mm 4mm BloodandCustard East Sussex Finescale Railway Modelling Finescale Modelling OO HO 18.83mm 4mm BloodandCustard East Sussex Finescale Railway Modelling Finescale Modelling OO HO 18.83mm 4mm BloodandCustard East Sussex Finescale Railway Modelling Finescale Modelling OO HO 18.83mm 4mm BloodandCustard East Sussex Finescale Railway Modelling Finescale Modelling OO HO 18.83mm 4mm BloodandCustard East Sussex Finescale Railway Modelling Finescale Modelling OO HO 18.83mm 4mm BloodandCustard East Sussex Finescale Railway Modelling Finescale Modelling OO HO 18.83mm 4mm BloodandCustard East Sussex Finescale Railway Modelling Finescale Modelling OO HO 18.83mm 4mm BloodandCustard East Sussex Finescale Railway Modelling Finescale Modelling OO HO 18.83mm 4mm BloodandCustard East Sussex Finescale Railway Modelling Finescale Modelling OO HO 18.83mm 4mm BloodandCustard East Sussex Finescale Railway Modelling Finescale Modelling OO HO 18.83mm 4mm BloodandCustard East Sussex Finescale Railway Modelling Finescale Modelling OO HO 18.83mm 4mm BloodandCustard East Sussex Finescale Railway Modelling Finescale Modelling OO HO 18.83mm 4mm BloodandCustard East Sussex Finescale Railway Modelling Finescale Modelling OO HO 18.83mm 4mm BloodandCustard East Sussex Finescale Railway Modelling Finescale Modelling OO HO 18.83mm 4mm BloodandCustard East Sussex Finescale Railway Modelling Finescale Modelling OO HO 18.83mm 4mm BloodandCustard East Sussex Finescale Railway Modelling Finescale Modelling OO HO 18.83mm 4mm BloodandCustard East Sussex Finescale Railway Modelling Finescale Modelling OO HO 18.83mm 4mm BloodandCustard East Sussex Finescale Railway Modelling Finescale Modelling OO HO 18.83mm 4mm BloodandCustard East Sussex Finescale Railway Modelling Finescale Modelling OO HO 18.83mm 4mm BloodandCustard East Sussex Finescale Railway Modelling Finescale Modelling OO HO 18.83mm 4mm BloodandCustard East Sussex Finescale Railway Modelling Finescale Modelling OO HO 18.83mm 4mm BloodandCustard East Sussex Finescale Railway Modelling Finescale Modelling OO HO 18.83mm 4mm BloodandCustard East Sussex Finescale Railway Modelling Finescale Modelling OO HO 18.83mm 4mm BloodandCustard East Sussex Finescale Railway Modelling Finescale Modelling OO HO 18.83mm 4mm BloodandCustard East Sussex Finescale Railway Modelling Finescale Modelling OO HO 18.83mm 4mm BloodandCustard East Sussex Finescale Railway Modelling Finescale Modelling OO HO 18.83mm 4mm BloodandCustard East Sussex Finescale Railway Modelling Finescale Modelling OO HO 18.83mm 4mm BloodandCustard East Sussex Finescale Railway Modelling Finescale Modelling OO HO 18.83mm 4mm BloodandCustard East Sussex Finescale Railway Modelling Finescale Modelling OO HO 18.83mm 4mm BloodandCustard East Sussex Finescale Railway Modelling Finescale Modelling OO HO 18.83mm 4mm BloodandCustard East Sussex Finescale Railway Modelling Finescale Modelling OO HO 18.83mm 4mm BloodandCustard East Sussex Finescale Railway Modelling Finescale Modelling OO HO 18.83mm 4mm BloodandCustard East Sussex Finescale Railway Modelling Finescale Modelling OO HO 18.83mm 4mm BloodandCustard East Sussex Finescale Railway Modelling Finescale Modelling OO HO 18.83mm 4mm BloodandCustard East Sussex Finescale Railway Modelling Finescale Modelling OO HO 18.83mm 4mm BloodandCustard East Sussex Finescale Railway Modelling Finescale Modelling OO HO 18.83mm 4mm BloodandCustard East Sussex Finescale Railway Modelling Finescale Modelling OO HO 18.83mm 4mm BloodandCustard East Sussex Finescale Railway Modelling Finescale Modelling OO HO 18.83mm 4mm BloodandCustard East Sussex Finescale Railway Modelling Finescale Modelling OO HO 18.83mm 4mm BloodandCustard East Sussex Finescale Railway Modelling Finescale Modelling OO HO 18.83mm 4mm BloodandCustard East Sussex Finescale Railway Modelling Finescale Modelling OO HO 18.83mm 4mm BloodandCustard East Sussex Finescale Railway Modelling Finescale Modelling OO HO 18.83mm 4mm BloodandCustard East Sussex Finescale Railway Modelling Finescale Modelling OO HO 18.83mm 4mm BloodandCustard East Sussex Finescale Railway Modelling Finescale Modelling OO HO 18.83mm 4mm BloodandCustard East Sussex Finescale Railway Modelling Finescale Modelling OO HO 18.83mm 4mm BloodandCustard East Sussex Finescale Railway Modelling Finescale Modelling OO HO 18.83mm 4mm BloodandCustard East Sussex Finescale Railway Modelling Finescale Modelling OO HO 18.83mm 4mm BloodandCustard East Sussex Finescale Railway Modelling Finescale Modelling OO HO 18.83mm 4mm BloodandCustard East Sussex Finescale Railway Modelling Finescale Modelling OO HO 18.83mm 4mm BloodandCustard East Sussex Finescale Railway Modelling Finescale Modelling OO HO 18.83mm 4mm BloodandCustard East Sussex Finescale Railway Modelling Finescale Modelling OO HO 18.83mm 4mm BloodandCustard East Sussex Finescale Railway Modelling Finescale Modelling OO HO 18.83mm 4mm BloodandCustard East Sussex Finescale Railway Modelling Finescale Modelling OO HO 18.83mm 4mm BloodandCustard East Sussex Finescale Railway Modelling Finescale Modelling OO HO 18.83mm 4mm BloodandCustard East Sussex Finescale Railway Modelling Finescale Modelling OO HO 18.83mm 4mm BloodandCustard East Sussex Finescale Railway Modelling Finescale Modelling OO HO 18.83mm 4mm BloodandCustard East Sussex Finescale Railway Modelling Finescale Modelling OO HO 18.83mm 4mm BloodandCustard East Sussex Finescale Railway Modelling Finescale Modelling OO HO 18.83mm 4mm BloodandCustard East Sussex Finescale Railway Modelling Finescale Modelling OO HO 18.83mm 4mm BloodandCustard East Sussex Finescale Railway Modelling Finescale Modelling OO HO 18.83mm 4mm BloodandCustard East Sussex Finescale Railway Modelling Finescale Modelling OO HO 18.83mm 4mm BloodandCustard East Sussex Finescale Railway Modelling Finescale Modelling OO HO 18.83mm 4mm BloodandCustard East Sussex Finescale Railway Modelling Finescale Modelling OO HO 18.83mm 4mm BloodandCustard East Sussex Finescale Railway Modelling Finescale Modelling OO HO 18.83mm 4mm BloodandCustard East Sussex Finescale Railway Modelling Finescale Modelling OO HO 18.83mm 4mm BloodandCustard East Sussex Finescale Railway Modelling Finescale Modelling OO HO 18.83mm 4mm BloodandCustard East Sussex Finescale Railway Modelling Finescale Modelling OO HO 18.83mm 4mm BloodandCustard East Sussex Finescale Railway Modelling Finescale Modelling OO HO 18.83mm 4mm BloodandCustard East Sussex Finescale Railway Modelling Finescale Modelling OO HO 18.83mm 4mm BloodandCustard East Sussex Finescale Railway Modelling Finescale Modelling OO HO 18.83mm 4mm BloodandCustard East Sussex Finescale Railway Modelling Finescale Modelling OO HO 18.83mm 4mm BloodandCustard East Sussex Finescale Railway Modelling Finescale Modelling OO HO 18.83mm 4mm BloodandCustard East Sussex Finescale Railway Modelling Finescale Modelling OO HO 18.83mm 4mm BloodandCustard East Sussex Finescale Railway Modelling Finescale Modelling OO HO 18.83mm 4mm BloodandCustard East Sussex Finescale Railway Modelling Finescale Modelling OO HO 18.83mm 4mm BloodandCustard East Sussex Finescale Railway Modelling Finescale Modelling OO HO 18.83mm 4mm BloodandCustard East Sussex Finescale Railway Modelling Finescale Modelling OO HO 18.83mm 4mm BloodandCustard East Sussex Finescale Railway Modelling Finescale Modelling OO HO 18.83mm 4mm BloodandCustard East Sussex Finescale Railway Modelling Finescale Modelling OO HO 18.83mm 4mm BloodandCustard East Sussex Finescale Railway Modelling Finescale Modelling OO HO 18.83mm 4mm BloodandCustard East Sussex Finescale Railway Modelling Finescale Modelling OO HO 18.83mm 4mm BloodandCustard East Sussex Finescale Railway Modelling Finescale Modelling OO HO 18.83mm 4mm BloodandCustard East Sussex Finescale Railway Modelling Finescale Modelling OO HO 18.83mm 4mm BloodandCustard East Sussex Finescale Railway Modelling Finescale Modelling OO HO 18.83mm 4mm BloodandCustard East Sussex Finescale Railway Modelling Finescale Modelling OO HO 18.83mm 4mm BloodandCustard East Sussex Finescale Railway Modelling Finescale Modelling OO HO 18.83mm 4mm BloodandCustard East Sussex Finescale Railway Modelling Finescale Modelling OO HO 18.83mm 4mm BloodandCustard East Sussex Finescale Railway Modelling Finescale Modelling OO HO 18.83mm 4mm BloodandCustard East Sussex Finescale Railway Modelling Finescale Modelling OO HO 18.83mm 4mm BloodandCustard East Sussex Finescale Railway Modelling Finescale Modelling OO HO 18.83mm 4mm BloodandCustard East Sussex Finescale Railway Modelling Finescale Modelling OO HO 18.83mm 4mm BloodandCustard East Sussex Finescale Railway Modelling Finescale Modelling OO HO 18.83mm 4mm BloodandCustard East Sussex Finescale Railway Modelling Finescale Modelling OO HO 18.83mm 4mm BloodandCustard East Sussex Finescale Railway Modelling Finescale Modelling OO HO 18.83mm 4mm BloodandCustard East Sussex Finescale Railway Modelling Finescale Modelling OO HO 18.83mm 4mm BloodandCustard East Sussex Finescale Railway Modelling Finescale Modelling OO HO 18.83mm 4mm BloodandCustard East Sussex Finescale Railway Modelling Finescale Modelling OO HO 18.83mm 4mm BloodandCustard East Sussex Finescale Railway Modelling Finescale Modelling OO HO 18.83mm 4mm BloodandCustard East Sussex Finescale Railway Modelling Finescale Modelling OO HO 18.83mm 4mm BloodandCustard East Sussex Finescale Railway Modelling Finescale Modelling OO HO 18.83mm 4mm BloodandCustard East Sussex Finescale Railway Modelling Finescale Modelling OO HO 18.83mm 4mm BloodandCustard East Sussex Finescale Railway Modelling Finescale Modelling OO HO 18.83mm 4mm BloodandCustard East Sussex Finescale Railway Modelling Finescale Modelling OO HO 18.83mm 4mm BloodandCustard East Sussex Finescale Railway Modelling Finescale Modelling OO HO 18.83mm 4mm BloodandCustard East Sussex Finescale Railway Modelling Finescale Modelling OO HO 18.83mm 4mm BloodandCustard East Sussex Finescale Railway Modelling Finescale Modelling OO HO 18.83mm 4mm BloodandCustard East Sussex Finescale Railway Modelling Finescale Modelling OO HO 18.83mm 4mm BloodandCustard East Sussex Finescale Railway Modelling Finescale Modelling OO HO 18.83mm 4mm BloodandCustard East Sussex Finescale Railway Modelling Finescale Modelling OO HO 18.83mm 4mm BloodandCustard East Sussex Finescale Railway Modelling Finescale Modelling OO HO 18.83mm 4mm BloodandCustard East Sussex Finescale Railway Modelling Finescale Modelling OO HO 18.83mm 4mm BloodandCustard East Sussex Finescale Railway Modelling Finescale Modelling OO HO 18.83mm 4mm BloodandCustard East Sussex Finescale Railway Modelling Finescale Modelling OO HO 18.83mm 4mm BloodandCustard East Sussex Finescale Railway Modelling Finescale Modelling OO HO 18.83mm 4mm BloodandCustard East Sussex Finescale Railway Modelling Finescale Modelling OO HO 18.83mm 4mm BloodandCustard East Sussex Finescale Railway Modelling Finescale Modelling OO HO 18.83mm 4mm BloodandCustard East Sussex Finescale Railway Modelling Finescale Modelling OO HO 18.83mm 4mm BloodandCustard East Sussex Finescale Railway Modelling Finescale Modelling OO HO 18.83mm 4mm BloodandCustard East Sussex Finescale Railway Modelling Finescale Modelling OO HO 18.83mm 4mm BloodandCustard East Sussex Finescale Railway Modelling Finescale Modelling OO HO 18.83mm 4mm BloodandCustard East Sussex Finescale Railway Modelling Finescale Modelling OO HO 18.83mm 4mm BloodandCustard East Sussex Finescale Railway Modelling Finescale Modelling OO HO 18.83mm 4mm BloodandCustard East Sussex Finescale Railway Modelling Finescale Modelling OO HO 18.83mm 4mm BloodandCustard East Sussex Finescale Railway Modelling Finescale Modelling OO HO 18.83mm 4mm BloodandCustard East Sussex Finescale Railway Modelling Finescale Modelling OO HO 18.83mm 4mm BloodandCustard East Sussex Finescale Railway Modelling Finescale Modelling OO HO 18.83mm 4mm BloodandCustard East Sussex Finescale Railway Modelling Finescale Modelling OO HO 18.83mm 4mm BloodandCustard East Sussex Finescale Railway Modelling Finescale Modelling OO HO 18.83mm 4mm BloodandCustard East Sussex Finescale Railway Modelling Finescale Modelling OO HO 18.83mm 4mm BloodandCustard East Sussex Finescale Railway Modelling Finescale Modelling OO HO 18.83mm 4mm BloodandCustard East Sussex Finescale Railway Modelling Finescale Modelling OO HO 18.83mm 4mm BloodandCustard East Sussex Finescale Railway Modelling Finescale Modelling OO HO 18.83mmBloodandCustard East Sussex Finescale Railway Modelling Finescale Modelling OO HO 18.83mm 4mm. BloodandCustard East Sussex Finescale Railway Modelling Finescale Modelling OO HO 18.83mm 4mm BloodandCustard East Sussex Finescale Railway Modelling Finescale Modelling OO HO 18.83mm 4mm BloodandCustard East Sussex Finescale Railway Modelling Finescale Modelling OO HO 18.83mm 4mm BloodandCustard East Sussex Finescale Railway Modelling Finescale Modelling OO HO 18.83mm 4mm BloodandCustard East Sussex Finescale Railway Modelling Finescale Modelling OO HO 18.83mm 4mm BloodandCustard East Sussex Finescale Railway Modelling Finescale Modelling OO HO 18.83mm 4mm BloodandCustard East Sussex Finescale Railway Modelling Finescale Modelling OO HO 18.83mm 4mm BloodandCustard East Sussex Finescale Railway Modelling Finescale Modelling OO HO 18.83mm 4mm BloodandCustard East Sussex Finescale Railway Modelling Finescale Modelling OO HO 18.83mm 4mm BloodandCustard East Sussex Finescale Railway Modelling Finescale Modelling OO HO 18.83mm 4mm BloodandCustard East Sussex Finescale Railway Modelling Finescale Modelling OO HO 18.83mm 4mm BloodandCustard East Sussex Finescale Railway Modelling Finescale Modelling OO HO 18.83mm 4mm BloodandCustard East Sussex Finescale Railway Modelling Finescale Modelling OO HO 18.83mm 4mm BloodandCustard East Sussex Finescale Railway Modelling Finescale Modelling OO HO 18.83mm 4mm BloodandCustard East Sussex Finescale Railway Modelling Finescale Modelling OO HO 18.83mm 4mm BloodandCustard East Sussex Finescale Railway Modelling Finescale Modelling OO HO 18.83mm 4mm BloodandCustard East Sussex Finescale Railway Modelling Finescale Modelling OO HO 18.83mm 4mm BloodandCustard East Sussex Finescale Railway Modelling Finescale Modelling OO HO 18.83mm 4mm BloodandCustard East Sussex Finescale Railway Modelling Finescale Modelling OO HO 18.83mm 4mm BloodandCustard East Sussex Finescale Railway Modelling Finescale Modelling OO HO 18.83mm 4mm BloodandCustard East Sussex Finescale Railway Modelling Finescale Modelling OO HO 18.83mm 4mm BloodandCustard East Sussex Finescale Railway Modelling Finescale Modelling OO HO 18.83mm 4mm BloodandCustard East Sussex Finescale Railway Modelling Finescale Modelling OO HO 18.83mm 4mm BloodandCustard East Sussex Finescale Railway Modelling Finescale Modelling OO HO 18.83mm 4mm BloodandCustard East Sussex Finescale Railway Modelling Finescale Modelling OO HO 18.83mm 4mm BloodandCustard East Sussex Finescale Railway Modelling Finescale Modelling OO HO 18.83mm 4mm BloodandCustard East Sussex Finescale Railway Modelling Finescale Modelling OO HO 18.83mm 4mm BloodandCustard East Sussex Finescale Railway Modelling Finescale Modelling OO HO 18.83mm 4mm BloodandCustard East Sussex Finescale Railway Modelling Finescale Modelling OO HO 18.83mm 4mm BloodandCustard East Sussex Finescale Railway Modelling Finescale Modelling OO HO 18.83mm 4mm BloodandCustard East Sussex Finescale Railway Modelling Finescale Modelling OO HO 18.83mm 4mm BloodandCustard East Sussex Finescale Railway Modelling Finescale Modelling OO HO 18.83mm 4mm BloodandCustard East Sussex Finescale Railway Modelling Finescale Modelling OO HO 18.83mm 4mm BloodandCustard East Sussex Finescale Railway Modelling Finescale Modelling OO HO 18.83mm 4mm BloodandCustard East Sussex Finescale Railway Modelling Finescale Modelling OO HO 18.83mm 4mm BloodandCustard East Sussex Finescale Railway Modelling Finescale Modelling OO HO 18.83mm 4mm BloodandCustard East Sussex Finescale Railway Modelling Finescale Modelling OO HO 18.83mm 4mm BloodandCustard East Sussex Finescale Railway Modelling Finescale Modelling OO HO 18.83mm 4mm BloodandCustard East Sussex Finescale Railway Modelling Finescale Modelling OO HO 18.83mm 4mm BloodandCustard East Sussex Finescale Railway Modelling Finescale Modelling OO HO 18.83mm 4mm BloodandCustard East Sussex Finescale Railway Modelling Finescale Modelling OO HO 18.83mm 4mm BloodandCustard East Sussex Finescale Railway Modelling Finescale Modelling OO HO 18.83mm 4mm BloodandCustard East Sussex Finescale Railway Modelling Finescale Modelling OO HO 18.83mm 4mm BloodandCustard East Sussex Finescale Railway Modelling Finescale Modelling OO HO 18.83mm 4mm BloodandCustard East Sussex Finescale Railway Modelling Finescale Modelling OO HO 18.83mm 4mm BloodandCustard East Sussex Finescale Railway Modelling Finescale Modelling OO HO 18.83mm 4mm BloodandCustard East Sussex Finescale Railway Modelling Finescale Modelling OO HO 18.83mm 4mm BloodandCustard East Sussex Finescale Railway Modelling Finescale Modelling OO HO 18.83mm 4mm BloodandCustard East Sussex Finescale Railway Modelling Finescale Modelling OO HO 18.83mm 4mm BloodandCustard East Sussex Finescale Railway Modelling Finescale Modelling OO HO 18.83mm 4mm BloodandCustard East Sussex Finescale Railway Modelling Finescale Modelling OO HO 18.83mm 4mm BloodandCustard East Sussex Finescale Railway Modelling Finescale Modelling OO HO 18.83mm 4mm BloodandCustard East Sussex Finescale Railway Modelling Finescale Modelling OO HO 18.83mm 4mm BloodandCustard East Sussex Finescale Railway Modelling Finescale Modelling OO HO 18.83mm 4mm BloodandCustard East Sussex Finescale Railway Modelling Finescale Modelling OO HO 18.83mm 4mm BloodandCustard East Sussex Finescale Railway Modelling Finescale Modelling OO HO 18.83mm 4mm BloodandCustard East Sussex Finescale Railway Modelling Finescale Modelling OO HO 18.83mm 4mm BloodandCustard East Sussex Finescale Railway Modelling Finescale Modelling OO HO 18.83mm 4mm BloodandCustard East Sussex Finescale Railway Modelling Finescale Modelling OO HO 18.83mm 4mm BloodandCustard East Sussex Finescale Railway Modelling Finescale Modelling OO HO 18.83mm 4mm BloodandCustard East Sussex Finescale Railway Modelling Finescale Modelling OO HO 18.83mm 4mm BloodandCustard East Sussex Finescale Railway Modelling Finescale Modelling OO HO 18.83mm 4mm BloodandCustard East Sussex Finescale Railway Modelling Finescale Modelling OO HO 18.83mm 4mm BloodandCustard East Sussex Finescale Railway Modelling Finescale Modelling OO HO 18.83mm 4mm BloodandCustard East Sussex Finescale Railway Modelling Finescale Modelling OO HO 18.83mm 4mm BloodandCustard East Sussex Finescale Railway Modelling Finescale Modelling OO HO 18.83mm 4mm BloodandCustard East Sussex Finescale Railway Modelling Finescale Modelling OO HO 18.83mm 4mm BloodandCustard East Sussex Finescale Railway Modelling Finescale Modelling OO HO 18.83mm 4mm BloodandCustard East Sussex Finescale Railway Modelling Finescale Modelling OO HO 18.83mm 4mm BloodandCustard East Sussex Finescale Railway Modelling Finescale Modelling OO HO 18.83mm 4mm BloodandCustard East Sussex Finescale Railway Modelling Finescale Modelling OO HO 18.83mm 4mm BloodandCustard East Sussex Finescale Railway Modelling Finescale Modelling OO HO 18.83mm 4mm BloodandCustard East Sussex Finescale Railway Modelling Finescale Modelling OO HO 18.83mm 4mm BloodandCustard East Sussex Finescale Railway Modelling Finescale Modelling OO HO 18.83mm 4mm BloodandCustard East Sussex Finescale Railway Modelling Finescale Modelling OO HO 18.83mm 4mm BloodandCustard East Sussex Finescale Railway Modelling Finescale Modelling OO HO 18.83mm 4mm BloodandCustard East Sussex Finescale Railway Modelling Finescale Modelling OO HO 18.83mm 4mm BloodandCustard East Sussex Finescale Railway Modelling Finescale Modelling OO HO 18.83mm 4mm BloodandCustard East Sussex Finescale Railway Modelling Finescale Modelling OO HO 18.83mm 4mm BloodandCustard East Sussex Finescale Railway Modelling Finescale Modelling OO HO 18.83mm 4mm BloodandCustard East Sussex Finescale Railway Modelling Finescale Modelling OO HO 18.83mm 4mm BloodandCustard East Sussex Finescale Railway Modelling Finescale Modelling OO HO 18.83mm 4mm BloodandCustard East Sussex Finescale Railway Modelling Finescale Modelling OO HO 18.83mm 4mm BloodandCustard East Sussex Finescale Railway Modelling Finescale Modelling OO HO 18.83mm 4mm BloodandCustard East Sussex Finescale Railway Modelling Finescale Modelling OO HO 18.83mm 4mm BloodandCustard East Sussex Finescale Railway Modelling Finescale Modelling OO HO 18.83mm 4mm BloodandCustard East Sussex Finescale Railway Modelling Finescale Modelling OO HO 18.83mm 4mm BloodandCustard East Sussex Finescale Railway Modelling Finescale Modelling OO HO 18.83mm 4mm BloodandCustard East Sussex Finescale Railway Modelling Finescale Modelling OO HO 18.83mm 4mm BloodandCustard East Sussex Finescale Railway Modelling Finescale Modelling OO HO 18.83mm 4mm BloodandCustard East Sussex Finescale Railway Modelling Finescale Modelling OO HO 18.83mm 4mm BloodandCustard East Sussex Finescale Railway Modelling Finescale Modelling OO HO 18.83mm 4mm BloodandCustard East Sussex Finescale Railway Modelling Finescale Modelling OO HO 18.83mm 4mm BloodandCustard East Sussex Finescale Railway Modelling Finescale Modelling OO HO 18.83mm 4mm BloodandCustard East Sussex Finescale Railway Modelling Finescale Modelling OO HO 18.83mm 4mm BloodandCustard East Sussex Finescale Railway Modelling Finescale Modelling OO HO 18.83mm 4mm BloodandCustard East Sussex Finescale Railway Modelling Finescale Modelling OO HO 18.83mm 4mm BloodandCustard East Sussex Finescale Railway Modelling Finescale Modelling OO HO 18.83mm 4mm BloodandCustard East Sussex Finescale Railway Modelling Finescale Modelling OO HO 18.83mm 4mm BloodandCustard East Sussex Finescale Railway Modelling Finescale Modelling OO HO 18.83mm 4mm BloodandCustard East Sussex Finescale Railway Modelling Finescale Modelling OO HO 18.83mm 4mm BloodandCustard East Sussex Finescale Railway Modelling Finescale Modelling OO HO 18.83mm 4mm BloodandCustard East Sussex Finescale Railway Modelling Finescale Modelling OO HO 18.83mm 4mm BloodandCustard East Sussex Finescale Railway Modelling Finescale Modelling OO HO 18.83mm 4mm BloodandCustard East Sussex Finescale Railway Modelling Finescale Modelling OO HO 18.83mm 4mm BloodandCustard East Sussex Finescale Railway Modelling Finescale Modelling OO HO 18.83mm 4mm BloodandCustard East Sussex Finescale Railway Modelling Finescale Modelling OO HO 18.83mm 4mm BloodandCustard East Sussex Finescale Railway Modelling Finescale Modelling OO HO 18.83mm 4mm BloodandCustard East Sussex Finescale Railway Modelling Finescale Modelling OO HO 18.83mm 4mm BloodandCustard East Sussex Finescale Railway Modelling Finescale Modelling OO HO 18.83mm 4mm BloodandCustard East Sussex Finescale Railway Modelling Finescale Modelling OO HO 18.83mm 4mm BloodandCustard East Sussex Finescale Railway Modelling Finescale Modelling OO HO 18.83mm 4mm BloodandCustard East Sussex Finescale Railway Modelling Finescale Modelling OO HO 18.83mm 4mm BloodandCustard East Sussex Finescale Railway Modelling Finescale Modelling OO HO 18.83mm 4mm BloodandCustard East Sussex Finescale Railway Modelling Finescale Modelling OO HO 18.83mm 4mm BloodandCustard East Sussex Finescale Railway Modelling Finescale Modelling OO HO 18.83mm 4mm BloodandCustard East Sussex Finescale Railway Modelling Finescale Modelling OO HO 18.83mm 4mm BloodandCustard East Sussex Finescale Railway Modelling Finescale Modelling OO HO 18.83mm 4mm BloodandCustard East Sussex Finescale Railway Modelling Finescale Modelling OO HO 18.83mm 4mm BloodandCustard East Sussex Finescale Railway Modelling Finescale Modelling OO HO 18.83mm 4mm BloodandCustard East Sussex Finescale Railway Modelling Finescale Modelling OO HO 18.83mm 4mm BloodandCustard East Sussex Finescale Railway Modelling Finescale Modelling OO HO 18.83mm 4mm BloodandCustard East Sussex Finescale Railway Modelling Finescale Modelling OO HO 18.83mm 4mm BloodandCustard East Sussex Finescale Railway Modelling Finescale Modelling OO HO 18.83mm 4mm BloodandCustard East Sussex Finescale Railway Modelling Finescale Modelling OO HO 18.83mm 4mm BloodandCustard East Sussex Finescale Railway Modelling Finescale Modelling OO HO 18.83mm 4mm BloodandCustard East Sussex Finescale Railway Modelling Finescale Modelling OO HO 18.83mm 4mm BloodandCustard East Sussex Finescale Railway Modelling Finescale Modelling OO HO 18.83mm 4mm BloodandCustard East Sussex Finescale Railway Modelling Finescale Modelling OO HO 18.83mm 4mm BloodandCustard East Sussex Finescale Railway Modelling Finescale Modelling OO HO 18.83mm 4mm BloodandCustard East Sussex Finescale Railway Modelling Finescale Modelling OO HO 18.83mm 4mm BloodandCustard East Sussex Finescale Railway Modelling Finescale Modelling OO HO 18.83mm 4mm BloodandCustard East Sussex Finescale Railway Modelling Finescale Modelling OO HO 18.83mm 4mm BloodandCustard East Sussex Finescale Railway Modelling Finescale Modelling OO HO 18.83mm 4mm BloodandCustard East Sussex Finescale Railway Modelling Finescale Modelling OO HO 18.83mm 4mm BloodandCustard East Sussex Finescale Railway Modelling Finescale Modelling OO HO 18.83mm 4mm BloodandCustard East Sussex Finescale Railway Modelling Finescale Modelling OO HO 18.83mm 4mm BloodandCustard East Sussex Finescale Railway Modelling Finescale Modelling OO HO 18.83mm 4mm BloodandCustard East Sussex Finescale Railway Modelling Finescale Modelling OO HO 18.83mm 4mm BloodandCustard East Sussex Finescale Railway Modelling Finescale Modelling OO HO 18.83mm 4mm BloodandCustard East Sussex Finescale Railway Modelling Finescale Modelling OO HO 18.83mm 4mm BloodandCustard East Sussex Finescale Railway Modelling Finescale Modelling OO HO 18.83mm 4mm BloodandCustard East Sussex Finescale Railway Modelling Finescale Modelling OO HO 18.83mm 4mm BloodandCustard East Sussex Finescale Railway Modelling Finescale Modelling OO HO 18.83mm 4mm BloodandCustard East Sussex Finescale Railway Modelling Finescale Modelling OO HO 18.83mm 4mm BloodandCustard East Sussex Finescale Railway Modelling Finescale Modelling OO HO 18.83mm 4mm BloodandCustard East Sussex Finescale Railway Modelling Finescale Modelling OO HO 18.83mm 4mm BloodandCustard East Sussex Finescale Railway Modelling Finescale Modelling OO HO 18.83mm 4mm BloodandCustard East Sussex Finescale Railway Modelling Finescale Modelling OO HO 18.83mm 4mm BloodandCustard East Sussex Finescale Railway Modelling Finescale Modelling OO HO 18.83mm 4mm BloodandCustard East Sussex Finescale Railway Modelling Finescale Modelling OO HO 18.83mm 4mm BloodandCustard East Sussex Finescale Railway Modelling Finescale Modelling OO HO 18.83mm 4mm BloodandCustard East Sussex Finescale Railway Modelling Finescale Modelling OO HO 18.83mm 4mm BloodandCustard East Sussex Finescale Railway Modelling Finescale Modelling OO HO 18.83mm 4mm BloodandCustard East Sussex Finescale Railway Modelling Finescale Modelling OO HO 18.83mm 4mm BloodandCustard East Sussex Finescale Railway Modelling Finescale Modelling OO HO 18.83mm 4mm BloodandCustard East Sussex Finescale Railway Modelling Finescale Modelling OO HO 18.83mm 4mm BloodandCustard East Sussex Finescale Railway Modelling Finescale Modelling OO HO 18.83mm 4mm BloodandCustard East Sussex Finescale Railway Modelling Finescale Modelling OO HO 18.83mm 4mm BloodandCustard East Sussex Finescale Railway Modelling Finescale Modelling OO HO 18.83mm 4mm BloodandCustard East Sussex Finescale Railway Modelling Finescale Modelling OO HO 18.83mm 4mm BloodandCustard East Sussex Finescale Railway Modelling Finescale Modelling OO HO 18.83mm 4mm BloodandCustard East Sussex Finescale Railway Modelling Finescale Modelling OO HO 18.83mm 4mm BloodandCustard East Sussex Finescale Railway Modelling Finescale Modelling OO HO 18.83mm 4mm BloodandCustard East Sussex Finescale Railway Modelling Finescale Modelling OO HO 18.83mm 4mm BloodandCustard East Sussex Finescale Railway Modelling Finescale Modelling OO HO 18.83mm 4mm BloodandCustard East Sussex Finescale Railway Modelling Finescale Modelling OO HO 18.83mm 4mm BloodandCustard East Sussex Finescale Railway Modelling Finescale Modelling OO HO 18.83mm 4mm BloodandCustard East Sussex Finescale Railway Modelling Finescale Modelling OO HO 18.83mm 4mm BloodandCustard East Sussex Finescale Railway Modelling Finescale Modelling OO HO 18.83mm 4mm BloodandCustard East Sussex Finescale Railway Modelling Finescale Modelling OO HO 18.83mm 4mm BloodandCustard East Sussex Finescale Railway Modelling Finescale Modelling OO HO 18.83mm 4mm BloodandCustard East Sussex Finescale Railway Modelling Finescale Modelling OO HO 18.83mm 4mm BloodandCustard East Sussex Finescale Railway Modelling Finescale Modelling OO HO 18.83mm 4mm BloodandCustard East Sussex Finescale Railway Modelling Finescale Modelling OO HO 18.83mm 4mm BloodandCustard East Sussex Finescale Railway Modelling Finescale Modelling OO HO 18.83mm 4mm BloodandCustard East Sussex Finescale Railway Modelling Finescale Modelling OO HO 18.83mm 4mm BloodandCustard East Sussex Finescale Railway Modelling Finescale Modelling OO HO 18.83mm 4mm BloodandCustard East Sussex Finescale Railway Modelling Finescale Modelling OO HO 18.83mm 4mm BloodandCustard East Sussex Finescale Railway Modelling Finescale Modelling OO HO 18.83mm 4mm BloodandCustard East Sussex Finescale Railway Modelling Finescale Modelling OO HO 18.83mm 4mm BloodandCustard East Sussex Finescale Railway Modelling Finescale Modelling OO HO 18.83mm 4mm BloodandCustard East Sussex Finescale Railway Modelling Finescale Modelling OO HO 18.83mm 4mm BloodandCustard East Sussex Finescale Railway Modelling Finescale Modelling OO HO 18.83mm 4mm BloodandCustard East Sussex Finescale Railway Modelling Finescale Modelling OO HO 18.83mm 4mm BloodandCustard East Sussex Finescale Railway Modelling Finescale Modelling OO HO 18.83mm 4mm BloodandCustard East Sussex Finescale Railway Modelling Finescale Modelling OO HO 18.83mm 4mm BloodandCustard East Sussex Finescale Railway Modelling Finescale Modelling OO HO 18.83mm 4mm BloodandCustard East Sussex Finescale Railway Modelling Finescale Modelling OO HO 18.83mm 4mm BloodandCustard East Sussex Finescale Railway Modelling Finescale Modelling OO HO 18.83mm 4mm BloodandCustard East Sussex Finescale Railway Modelling Finescale Modelling OO HO 18.83mm 4mm BloodandCustard East Sussex Finescale Railway Modelling Finescale Modelling OO HO 18.83mm 4mm BloodandCustard East Sussex Finescale Railway Modelling Finescale Modelling OO HO 18.83mm 4mm BloodandCustard East Sussex Finescale Railway Modelling Finescale Modelling OO HO 18.83mm 4mm BloodandCustard East Sussex Finescale Railway Modelling Finescale Modelling OO HO 18.83mm 4mm BloodandCustard East Sussex Finescale Railway Modelling Finescale Modelling OO HO 18.83mm 4mm BloodandCustard East Sussex Finescale Railway Modelling Finescale Modelling OO HO 18.83mm 4mm BloodandCustard East Sussex Finescale Railway Modelling Finescale Modelling OO HO 18.83mm 4mm BloodandCustard East Sussex Finescale Railway Modelling Finescale Modelling OO HO 18.83mm 4mm BloodandCustard East Sussex Finescale Railway Modelling Finescale Modelling OO HO 18.83mm 4mm BloodandCustard East Sussex Finescale Railway Modelling Finescale Modelling OO HO 18.83mm 4mm BloodandCustard East Sussex Finescale Railway Modelling Finescale Modelling OO HO 18.83mm 4mm BloodandCustard East Sussex Finescale Railway Modelling Finescale Modelling OO HO 18.83mm 4mm BloodandCustard East Sussex Finescale Railway Modelling Finescale Modelling OO HO 18.83mm 4mm BloodandCustard East Sussex Finescale Railway Modelling Finescale Modelling OO HO 18.83mm 4mm BloodandCustard East Sussex Finescale Railway Modelling Finescale Modelling OO HO 18.83mm 4mm BloodandCustard East Sussex Finescale Railway Modelling Finescale Modelling OO HO 18.83mm 4mm BloodandCustard East Sussex Finescale Railway Modelling Finescale Modelling OO HO 18.83mm 4mm BloodandCustard East Sussex Finescale Railway Modelling Finescale Modelling OO HO 18.83mm 4mm BloodandCustard East Sussex Finescale Railway Modelling Finescale Modelling OO HO 18.83mm 4mm BloodandCustard East Sussex Finescale Railway Modelling Finescale Modelling OO HO 18.83mm 4mm BloodandCustard East Sussex Finescale Railway Modelling Finescale Modelling OO HO 18.83mm 4mm BloodandCustard East Sussex Finescale Railway Modelling Finescale Modelling OO HO 18.83mm 4mm BloodandCustard East Sussex Finescale Railway Modelling Finescale Modelling OO HO 18.83mm 4mm BloodandCustard East Sussex Finescale Railway Modelling Finescale Modelling OO HO 18.83mm 4mm BloodandCustard East Sussex Finescale Railway Modelling Finescale Modelling OO HO 18.83mm 4mm BloodandCustard East Sussex Finescale Railway Modelling Finescale Modelling OO HO 18.83mm 4mm BloodandCustard East Sussex Finescale Railway Modelling Finescale Modelling OO HO 18.83mm 4mm BloodandCustard East Sussex Finescale Railway Modelling Finescale Modelling OO HO 18.83mm 4mm BloodandCustard East Sussex Finescale Railway Modelling Finescale Modelling OO HO 18.83mm 4mm BloodandCustard East Sussex Finescale Railway Modelling Finescale Modelling OO HO 18.83mm 4mm BloodandCustard East Sussex Finescale Railway Modelling Finescale Modelling OO HO 18.83mm 4mm BloodandCustard East Sussex Finescale Railway Modelling Finescale Modelling OO HO 18.83mm 4mm BloodandCustard East Sussex Finescale Railway Modelling Finescale Modelling OO HO 18.83mm 4mm BloodandCustard East Sussex Finescale Railway Modelling Finescale Modelling OO HO 18.83mm 4mm BloodandCustard East Sussex Finescale Railway Modelling Finescale Modelling OO HO 18.83mm 4mm BloodandCustard East Sussex Finescale Railway Modelling Finescale Modelling OO HO 18.83mm 4mm BloodandCustard East Sussex Finescale Railway Modelling Finescale Modelling OO HO 18.83mm 4mm BloodandCustard East Sussex Finescale Railway Modelling Finescale Modelling OO HO 18.83mm 4mm BloodandCustard East Sussex Finescale Railway Modelling Finescale Modelling OO HO 18.83mm 4mm BloodandCustard East Sussex Finescale Railway Modelling Finescale Modelling OO HO 18.83mm 4mm BloodandCustard East Sussex Finescale Railway Modelling Finescale Modelling OO HO 18.83mm 4mm BloodandCustard East Sussex Finescale Railway Modelling Finescale Modelling OO HO 18.83mm 4mm BloodandCustard East Sussex Finescale Railway Modelling Finescale Modelling OO HO 18.83mm 4mm BloodandCustard East Sussex Finescale Railway Modelling Finescale Modelling OO HO 18.83mm 4mm BloodandCustard East Sussex Finescale Railway Modelling Finescale Modelling OO HO 18.83mm 4mm BloodandCustard East Sussex Finescale Railway Modelling Finescale Modelling OO HO 18.83mm 4mm BloodandCustard East Sussex Finescale Railway Modelling Finescale Modelling OO HO 18.83mm 4mm BloodandCustard East Sussex Finescale Railway Modelling Finescale Modelling OO HO 18.83mm 4mm BloodandCustard East Sussex Finescale Railway Modelling Finescale Modelling OO HO 18.83mm 4mm BloodandCustard East Sussex Finescale Railway Modelling Finescale Modelling OO HO 18.83mm 4mm BloodandCustard East Sussex Finescale Railway Modelling Finescale Modelling OO HO 18.83mm 4mm BloodandCustard East Sussex Finescale Railway Modelling Finescale Modelling OO HO 18.83mm 4mm BloodandCustard East Sussex Finescale Railway Modelling Finescale Modelling OO HO 18.83mm 4mm BloodandCustard East Sussex Finescale Railway Modelling Finescale Modelling OO HO 18.83mm 4mm BloodandCustard East Sussex Finescale Railway Modelling Finescale Modelling OO HO 18.83mm 4mm BloodandCustard East Sussex Finescale Railway Modelling Finescale Modelling OO HO 18.83mm 4mm BloodandCustard East Sussex Finescale Railway Modelling Finescale Modelling OO HO 18.83mm 4mm BloodandCustard East Sussex Finescale Railway Modelling Finescale Modelling OO HO 18.83mm 4mm BloodandCustard East Sussex Finescale Railway Modelling Finescale Modelling OO HO 18.83mm 4mm BloodandCustard East Sussex Finescale Railway Modelling Finescale Modelling OO HO 18.83mm 4mm BloodandCustard East Sussex Finescale Railway Modelling Finescale Modelling OO HO 18.83mm 4mm BloodandCustard East Sussex Finescale Railway Modelling Finescale Modelling OO HO 18.83mm 4mm BloodandCustard East Sussex Finescale Railway Modelling Finescale Modelling OO HO 18.83mm 4mm BloodandCustard East Sussex Finescale Railway Modelling Finescale Modelling OO HO 18.83mm 4mm BloodandCustard East Sussex Finescale Railway Modelling Finescale Modelling OO HO 18.83mm 4mm BloodandCustard East Sussex Finescale Railway Modelling Finescale Modelling OO HO 18.83mm 4mm BloodandCustard East Sussex Finescale Railway Modelling Finescale Modelling OO HO 18.83mm 4mm BloodandCustard East Sussex Finescale Railway Modelling Finescale Modelling OO HO 18.83mm 4mm BloodandCustard East Sussex Finescale Railway Modelling Finescale Modelling OO HO 18.83mm 4mm BloodandCustard East Sussex Finescale Railway Modelling Finescale Modelling OO HO 18.83mm 4mm BloodandCustard East Sussex Finescale Railway Modelling Finescale Modelling OO HO 18.83mm 4mm BloodandCustard East Sussex Finescale Railway Modelling Finescale Modelling OO HO 18.83mm 4mm BloodandCustard East Sussex Finescale Railway Modelling Finescale Modelling OO HO 18.83mm 4mm BloodandCustard East Sussex Finescale Railway Modelling Finescale Modelling OO HO 18.83mm 4mm BloodandCustard East Sussex Finescale Railway Modelling Finescale Modelling OO HO 18.83mm 4mm BloodandCustard East Sussex Finescale Railway Modelling Finescale Modelling OO HO 18.83mm 4mm BloodandCustard East Sussex Finescale Railway Modelling Finescale Modelling OO HO 18.83mm 4mm BloodandCustard East Sussex Finescale Railway Modelling Finescale Modelling OO HO 18.83mm 4mm BloodandCustard East Sussex Finescale Railway Modelling Finescale Modelling OO HO 18.83mm 4mm BloodandCustard East Sussex Finescale Railway Modelling Finescale Modelling OO HO 18.83mm 4mm BloodandCustard East Sussex Finescale Railway Modelling Finescale Modelling OO HO 18.83mm 4mm BloodandCustard East Sussex Finescale Railway Modelling Finescale Modelling OO HO 18.83mm 4mm BloodandCustard East Sussex Finescale Railway Modelling Finescale Modelling OO HO 18.83mm 4mm BloodandCustard East Sussex Finescale Railway Modelling Finescale Modelling OO HO 18.83mm 4mm BloodandCustard East Sussex Finescale Railway Modelling Finescale Modelling OO HO 18.83mmBloodandCustard East Sussex Finescale Railway Modelling Finescale Modelling OO HO 18.83mm 4mm. BloodandCustard East Sussex Finescale Railway Modelling Finescale Modelling OO HO 18.83mm 4mm BloodandCustard East Sussex Finescale Railway Modelling Finescale Modelling OO HO 18.83mm 4mm BloodandCustard East Sussex Finescale Railway Modelling Finescale Modelling OO HO 18.83mm 4mm BloodandCustard East Sussex Finescale Railway Modelling Finescale Modelling OO HO 18.83mm 4mm BloodandCustard East Sussex Finescale Railway Modelling Finescale Modelling OO HO 18.83mm 4mm BloodandCustard East Sussex Finescale Railway Modelling Finescale Modelling OO HO 18.83mm 4mm BloodandCustard East Sussex Finescale Railway Modelling Finescale Modelling OO HO 18.83mm 4mm BloodandCustard East Sussex Finescale Railway Modelling Finescale Modelling OO HO 18.83mm 4mm BloodandCustard East Sussex Finescale Railway Modelling Finescale Modelling OO HO 18.83mm 4mm BloodandCustard East Sussex Finescale Railway Modelling Finescale Modelling OO HO 18.83mm 4mm BloodandCustard East Sussex Finescale Railway Modelling Finescale Modelling OO HO 18.83mm 4mm BloodandCustard East Sussex Finescale Railway Modelling Finescale Modelling OO HO 18.83mm 4mm BloodandCustard East Sussex Finescale Railway Modelling Finescale Modelling OO HO 18.83mm 4mm BloodandCustard East Sussex Finescale Railway Modelling Finescale Modelling OO HO 18.83mm 4mm BloodandCustard East Sussex Finescale Railway Modelling Finescale Modelling OO HO 18.83mm 4mm BloodandCustard East Sussex Finescale Railway Modelling Finescale Modelling OO HO 18.83mm 4mm BloodandCustard East Sussex Finescale Railway Modelling Finescale Modelling OO HO 18.83mm 4mm BloodandCustard East Sussex Finescale Railway Modelling Finescale Modelling OO HO 18.83mm 4mm BloodandCustard East Sussex Finescale Railway Modelling Finescale Modelling OO HO 18.83mm 4mm BloodandCustard East Sussex Finescale Railway Modelling Finescale Modelling OO HO 18.83mm 4mm BloodandCustard East Sussex Finescale Railway Modelling Finescale Modelling OO HO 18.83mm 4mm BloodandCustard East Sussex Finescale Railway Modelling Finescale Modelling OO HO 18.83mm 4mm BloodandCustard East Sussex Finescale Railway Modelling Finescale Modelling OO HO 18.83mm 4mm BloodandCustard East Sussex Finescale Railway Modelling Finescale Modelling OO HO 18.83mm 4mm BloodandCustard East Sussex Finescale Railway Modelling Finescale Modelling OO HO 18.83mm 4mm BloodandCustard East Sussex Finescale Railway Modelling Finescale Modelling OO HO 18.83mm 4mm BloodandCustard East Sussex Finescale Railway Modelling Finescale Modelling OO HO 18.83mm 4mm BloodandCustard East Sussex Finescale Railway Modelling Finescale Modelling OO HO 18.83mm 4mm BloodandCustard East Sussex Finescale Railway Modelling Finescale Modelling OO HO 18.83mm 4mm BloodandCustard East Sussex Finescale Railway Modelling Finescale Modelling OO HO 18.83mm 4mm BloodandCustard East Sussex Finescale Railway Modelling Finescale Modelling OO HO 18.83mm 4mm BloodandCustard East Sussex Finescale Railway Modelling Finescale Modelling OO HO 18.83mm 4mm BloodandCustard East Sussex Finescale Railway Modelling Finescale Modelling OO HO 18.83mm 4mm BloodandCustard East Sussex Finescale Railway Modelling Finescale Modelling OO HO 18.83mm 4mm BloodandCustard East Sussex Finescale Railway Modelling Finescale Modelling OO HO 18.83mm 4mm BloodandCustard East Sussex Finescale Railway Modelling Finescale Modelling OO HO 18.83mm 4mm BloodandCustard East Sussex Finescale Railway Modelling Finescale Modelling OO HO 18.83mm 4mm BloodandCustard East Sussex Finescale Railway Modelling Finescale Modelling OO HO 18.83mm 4mm BloodandCustard East Sussex Finescale Railway Modelling Finescale Modelling OO HO 18.83mm 4mm BloodandCustard East Sussex Finescale Railway Modelling Finescale Modelling OO HO 18.83mm 4mm BloodandCustard East Sussex Finescale Railway Modelling Finescale Modelling OO HO 18.83mm 4mm BloodandCustard East Sussex Finescale Railway Modelling Finescale Modelling OO HO 18.83mm 4mm BloodandCustard East Sussex Finescale Railway Modelling Finescale Modelling OO HO 18.83mm 4mm BloodandCustard East Sussex Finescale Railway Modelling Finescale Modelling OO HO 18.83mm 4mm BloodandCustard East Sussex Finescale Railway Modelling Finescale Modelling OO HO 18.83mm 4mm BloodandCustard East Sussex Finescale Railway Modelling Finescale Modelling OO HO 18.83mm 4mm BloodandCustard East Sussex Finescale Railway Modelling Finescale Modelling OO HO 18.83mm 4mm BloodandCustard East Sussex Finescale Railway Modelling Finescale Modelling OO HO 18.83mm 4mm BloodandCustard East Sussex Finescale Railway Modelling Finescale Modelling OO HO 18.83mm 4mm BloodandCustard East Sussex Finescale Railway Modelling Finescale Modelling OO HO 18.83mm 4mm BloodandCustard East Sussex Finescale Railway Modelling Finescale Modelling OO HO 18.83mm 4mm BloodandCustard East Sussex Finescale Railway Modelling Finescale Modelling OO HO 18.83mm 4mm BloodandCustard East Sussex Finescale Railway Modelling Finescale Modelling OO HO 18.83mm 4mm BloodandCustard East Sussex Finescale Railway Modelling Finescale Modelling OO HO 18.83mm 4mm BloodandCustard East Sussex Finescale Railway Modelling Finescale Modelling OO HO 18.83mm 4mm BloodandCustard East Sussex Finescale Railway Modelling Finescale Modelling OO HO 18.83mm 4mm BloodandCustard East Sussex Finescale Railway Modelling Finescale Modelling OO HO 18.83mm 4mm BloodandCustard East Sussex Finescale Railway Modelling Finescale Modelling OO HO 18.83mm 4mm BloodandCustard East Sussex Finescale Railway Modelling Finescale Modelling OO HO 18.83mm 4mm BloodandCustard East Sussex Finescale Railway Modelling Finescale Modelling OO HO 18.83mm 4mm BloodandCustard East Sussex Finescale Railway Modelling Finescale Modelling OO HO 18.83mm 4mm BloodandCustard East Sussex Finescale Railway Modelling Finescale Modelling OO HO 18.83mm 4mm BloodandCustard East Sussex Finescale Railway Modelling Finescale Modelling OO HO 18.83mm 4mm BloodandCustard East Sussex Finescale Railway Modelling Finescale Modelling OO HO 18.83mm 4mm BloodandCustard East Sussex Finescale Railway Modelling Finescale Modelling OO HO 18.83mm 4mm BloodandCustard East Sussex Finescale Railway Modelling Finescale Modelling OO HO 18.83mm 4mm BloodandCustard East Sussex Finescale Railway Modelling Finescale Modelling OO HO 18.83mm 4mm BloodandCustard East Sussex Finescale Railway Modelling Finescale Modelling OO HO 18.83mm 4mm BloodandCustard East Sussex Finescale Railway Modelling Finescale Modelling OO HO 18.83mm 4mm BloodandCustard East Sussex Finescale Railway Modelling Finescale Modelling OO HO 18.83mm 4mm BloodandCustard East Sussex Finescale Railway Modelling Finescale Modelling OO HO 18.83mm 4mm BloodandCustard East Sussex Finescale Railway Modelling Finescale Modelling OO HO 18.83mm 4mm BloodandCustard East Sussex Finescale Railway Modelling Finescale Modelling OO HO 18.83mm 4mm BloodandCustard East Sussex Finescale Railway Modelling Finescale Modelling OO HO 18.83mm 4mm BloodandCustard East Sussex Finescale Railway Modelling Finescale Modelling OO HO 18.83mm 4mm BloodandCustard East Sussex Finescale Railway Modelling Finescale Modelling OO HO 18.83mm 4mm BloodandCustard East Sussex Finescale Railway Modelling Finescale Modelling OO HO 18.83mm 4mm BloodandCustard East Sussex Finescale Railway Modelling Finescale Modelling OO HO 18.83mm 4mm BloodandCustard East Sussex Finescale Railway Modelling Finescale Modelling OO HO 18.83mm 4mm BloodandCustard East Sussex Finescale Railway Modelling Finescale Modelling OO HO 18.83mm 4mm BloodandCustard East Sussex Finescale Railway Modelling Finescale Modelling OO HO 18.83mm 4mm BloodandCustard East Sussex Finescale Railway Modelling Finescale Modelling OO HO 18.83mm 4mm BloodandCustard East Sussex Finescale Railway Modelling Finescale Modelling OO HO 18.83mm 4mm BloodandCustard East Sussex Finescale Railway Modelling Finescale Modelling OO HO 18.83mm 4mm BloodandCustard East Sussex Finescale Railway Modelling Finescale Modelling OO HO 18.83mm 4mm BloodandCustard East Sussex Finescale Railway Modelling Finescale Modelling OO HO 18.83mm 4mm BloodandCustard East Sussex Finescale Railway Modelling Finescale Modelling OO HO 18.83mm 4mm BloodandCustard East Sussex Finescale Railway Modelling Finescale Modelling OO HO 18.83mm 4mm BloodandCustard East Sussex Finescale Railway Modelling Finescale Modelling OO HO 18.83mm 4mm BloodandCustard East Sussex Finescale Railway Modelling Finescale Modelling OO HO 18.83mm 4mm BloodandCustard East Sussex Finescale Railway Modelling Finescale Modelling OO HO 18.83mm 4mm BloodandCustard East Sussex Finescale Railway Modelling Finescale Modelling OO HO 18.83mm 4mm BloodandCustard East Sussex Finescale Railway Modelling Finescale Modelling OO HO 18.83mm 4mm BloodandCustard East Sussex Finescale Railway Modelling Finescale Modelling OO HO 18.83mm 4mm BloodandCustard East Sussex Finescale Railway Modelling Finescale Modelling OO HO 18.83mm 4mm BloodandCustard East Sussex Finescale Railway Modelling Finescale Modelling OO HO 18.83mm 4mm BloodandCustard East Sussex Finescale Railway Modelling Finescale Modelling OO HO 18.83mm 4mm BloodandCustard East Sussex Finescale Railway Modelling Finescale Modelling OO HO 18.83mm 4mm BloodandCustard East Sussex Finescale Railway Modelling Finescale Modelling OO HO 18.83mm 4mm BloodandCustard East Sussex Finescale Railway Modelling Finescale Modelling OO HO 18.83mm 4mm BloodandCustard East Sussex Finescale Railway Modelling Finescale Modelling OO HO 18.83mm 4mm BloodandCustard East Sussex Finescale Railway Modelling Finescale Modelling OO HO 18.83mm 4mm BloodandCustard East Sussex Finescale Railway Modelling Finescale Modelling OO HO 18.83mm 4mm BloodandCustard East Sussex Finescale Railway Modelling Finescale Modelling OO HO 18.83mm 4mm BloodandCustard East Sussex Finescale Railway Modelling Finescale Modelling OO HO 18.83mm 4mm BloodandCustard East Sussex Finescale Railway Modelling Finescale Modelling OO HO 18.83mm 4mm BloodandCustard East Sussex Finescale Railway Modelling Finescale Modelling OO HO 18.83mm 4mm BloodandCustard East Sussex Finescale Railway Modelling Finescale Modelling OO HO 18.83mm 4mm BloodandCustard East Sussex Finescale Railway Modelling Finescale Modelling OO HO 18.83mm 4mm BloodandCustard East Sussex Finescale Railway Modelling Finescale Modelling OO HO 18.83mm 4mm BloodandCustard East Sussex Finescale Railway Modelling Finescale Modelling OO HO 18.83mm 4mm BloodandCustard East Sussex Finescale Railway Modelling Finescale Modelling OO HO 18.83mm 4mm BloodandCustard East Sussex Finescale Railway Modelling Finescale Modelling OO HO 18.83mm 4mm BloodandCustard East Sussex Finescale Railway Modelling Finescale Modelling OO HO 18.83mm 4mm BloodandCustard East Sussex Finescale Railway Modelling Finescale Modelling OO HO 18.83mm 4mm BloodandCustard East Sussex Finescale Railway Modelling Finescale Modelling OO HO 18.83mm 4mm BloodandCustard East Sussex Finescale Railway Modelling Finescale Modelling OO HO 18.83mm 4mm BloodandCustard East Sussex Finescale Railway Modelling Finescale Modelling OO HO 18.83mm 4mm BloodandCustard East Sussex Finescale Railway Modelling Finescale Modelling OO HO 18.83mm 4mm BloodandCustard East Sussex Finescale Railway Modelling Finescale Modelling OO HO 18.83mm 4mm BloodandCustard East Sussex Finescale Railway Modelling Finescale Modelling OO HO 18.83mm 4mm BloodandCustard East Sussex Finescale Railway Modelling Finescale Modelling OO HO 18.83mm 4mm BloodandCustard East Sussex Finescale Railway Modelling Finescale Modelling OO HO 18.83mm 4mm BloodandCustard East Sussex Finescale Railway Modelling Finescale Modelling OO HO 18.83mm 4mm BloodandCustard East Sussex Finescale Railway Modelling Finescale Modelling OO HO 18.83mm 4mm BloodandCustard East Sussex Finescale Railway Modelling Finescale Modelling OO HO 18.83mm 4mm BloodandCustard East Sussex Finescale Railway Modelling Finescale Modelling OO HO 18.83mm 4mm BloodandCustard East Sussex Finescale Railway Modelling Finescale Modelling OO HO 18.83mm 4mm BloodandCustard East Sussex Finescale Railway Modelling Finescale Modelling OO HO 18.83mm 4mm BloodandCustard East Sussex Finescale Railway Modelling Finescale Modelling OO HO 18.83mm 4mm BloodandCustard East Sussex Finescale Railway Modelling Finescale Modelling OO HO 18.83mm 4mm BloodandCustard East Sussex Finescale Railway Modelling Finescale Modelling OO HO 18.83mm 4mm BloodandCustard East Sussex Finescale Railway Modelling Finescale Modelling OO HO 18.83mm 4mm BloodandCustard East Sussex Finescale Railway Modelling Finescale Modelling OO HO 18.83mm 4mm BloodandCustard East Sussex Finescale Railway Modelling Finescale Modelling OO HO 18.83mm 4mm BloodandCustard East Sussex Finescale Railway Modelling Finescale Modelling OO HO 18.83mm 4mm BloodandCustard East Sussex Finescale Railway Modelling Finescale Modelling OO HO 18.83mm 4mm BloodandCustard East Sussex Finescale Railway Modelling Finescale Modelling OO HO 18.83mm 4mm BloodandCustard East Sussex Finescale Railway Modelling Finescale Modelling OO HO 18.83mm 4mm BloodandCustard East Sussex Finescale Railway Modelling Finescale Modelling OO HO 18.83mm 4mm BloodandCustard East Sussex Finescale Railway Modelling Finescale Modelling OO HO 18.83mm 4mm BloodandCustard East Sussex Finescale Railway Modelling Finescale Modelling OO HO 18.83mm 4mm BloodandCustard East Sussex Finescale Railway Modelling Finescale Modelling OO HO 18.83mm 4mm BloodandCustard East Sussex Finescale Railway Modelling Finescale Modelling OO HO 18.83mm 4mm BloodandCustard East Sussex Finescale Railway Modelling Finescale Modelling OO HO 18.83mm 4mm BloodandCustard East Sussex Finescale Railway Modelling Finescale Modelling OO HO 18.83mm 4mm BloodandCustard East Sussex Finescale Railway Modelling Finescale Modelling OO HO 18.83mm 4mm BloodandCustard East Sussex Finescale Railway Modelling Finescale Modelling OO HO 18.83mm 4mm BloodandCustard East Sussex Finescale Railway Modelling Finescale Modelling OO HO 18.83mm 4mm BloodandCustard East Sussex Finescale Railway Modelling Finescale Modelling OO HO 18.83mm 4mm BloodandCustard East Sussex Finescale Railway Modelling Finescale Modelling OO HO 18.83mm 4mm BloodandCustard East Sussex Finescale Railway Modelling Finescale Modelling OO HO 18.83mm 4mm BloodandCustard East Sussex Finescale Railway Modelling Finescale Modelling OO HO 18.83mm 4mm BloodandCustard East Sussex Finescale Railway Modelling Finescale Modelling OO HO 18.83mm 4mm BloodandCustard East Sussex Finescale Railway Modelling Finescale Modelling OO HO 18.83mm 4mm BloodandCustard East Sussex Finescale Railway Modelling Finescale Modelling OO HO 18.83mm 4mm BloodandCustard East Sussex Finescale Railway Modelling Finescale Modelling OO HO 18.83mm 4mm BloodandCustard East Sussex Finescale Railway Modelling Finescale Modelling OO HO 18.83mm 4mm BloodandCustard East Sussex Finescale Railway Modelling Finescale Modelling OO HO 18.83mm 4mm BloodandCustard East Sussex Finescale Railway Modelling Finescale Modelling OO HO 18.83mm 4mm BloodandCustard East Sussex Finescale Railway Modelling Finescale Modelling OO HO 18.83mm 4mm BloodandCustard East Sussex Finescale Railway Modelling Finescale Modelling OO HO 18.83mm 4mm BloodandCustard East Sussex Finescale Railway Modelling Finescale Modelling OO HO 18.83mm 4mm BloodandCustard East Sussex Finescale Railway Modelling Finescale Modelling OO HO 18.83mm 4mm BloodandCustard East Sussex Finescale Railway Modelling Finescale Modelling OO HO 18.83mm 4mm BloodandCustard East Sussex Finescale Railway Modelling Finescale Modelling OO HO 18.83mm 4mm BloodandCustard East Sussex Finescale Railway Modelling Finescale Modelling OO HO 18.83mm 4mm BloodandCustard East Sussex Finescale Railway Modelling Finescale Modelling OO HO 18.83mm 4mm BloodandCustard East Sussex Finescale Railway Modelling Finescale Modelling OO HO 18.83mm 4mm BloodandCustard East Sussex Finescale Railway Modelling Finescale Modelling OO HO 18.83mm 4mm BloodandCustard East Sussex Finescale Railway Modelling Finescale Modelling OO HO 18.83mm 4mm BloodandCustard East Sussex Finescale Railway Modelling Finescale Modelling OO HO 18.83mm 4mm BloodandCustard East Sussex Finescale Railway Modelling Finescale Modelling OO HO 18.83mm 4mm BloodandCustard East Sussex Finescale Railway Modelling Finescale Modelling OO HO 18.83mm 4mm BloodandCustard East Sussex Finescale Railway Modelling Finescale Modelling OO HO 18.83mm 4mm BloodandCustard East Sussex Finescale Railway Modelling Finescale Modelling OO HO 18.83mm 4mm BloodandCustard East Sussex Finescale Railway Modelling Finescale Modelling OO HO 18.83mm 4mm BloodandCustard East Sussex Finescale Railway Modelling Finescale Modelling OO HO 18.83mm 4mm BloodandCustard East Sussex Finescale Railway Modelling Finescale Modelling OO HO 18.83mm 4mm BloodandCustard East Sussex Finescale Railway Modelling Finescale Modelling OO HO 18.83mm 4mm BloodandCustard East Sussex Finescale Railway Modelling Finescale Modelling OO HO 18.83mm 4mm BloodandCustard East Sussex Finescale Railway Modelling Finescale Modelling OO HO 18.83mm 4mm BloodandCustard East Sussex Finescale Railway Modelling Finescale Modelling OO HO 18.83mm 4mm BloodandCustard East Sussex Finescale Railway Modelling Finescale Modelling OO HO 18.83mm 4mm BloodandCustard East Sussex Finescale Railway Modelling Finescale Modelling OO HO 18.83mm 4mm BloodandCustard East Sussex Finescale Railway Modelling Finescale Modelling OO HO 18.83mm 4mm BloodandCustard East Sussex Finescale Railway Modelling Finescale Modelling OO HO 18.83mm 4mm BloodandCustard East Sussex Finescale Railway Modelling Finescale Modelling OO HO 18.83mm 4mm BloodandCustard East Sussex Finescale Railway Modelling Finescale Modelling OO HO 18.83mm 4mm BloodandCustard East Sussex Finescale Railway Modelling Finescale Modelling OO HO 18.83mm 4mm BloodandCustard East Sussex Finescale Railway Modelling Finescale Modelling OO HO 18.83mm 4mm BloodandCustard East Sussex Finescale Railway Modelling Finescale Modelling OO HO 18.83mm 4mm BloodandCustard East Sussex Finescale Railway Modelling Finescale Modelling OO HO 18.83mm 4mm BloodandCustard East Sussex Finescale Railway Modelling Finescale Modelling OO HO 18.83mm 4mm BloodandCustard East Sussex Finescale Railway Modelling Finescale Modelling OO HO 18.83mm 4mm BloodandCustard East Sussex Finescale Railway Modelling Finescale Modelling OO HO 18.83mm 4mm BloodandCustard East Sussex Finescale Railway Modelling Finescale Modelling OO HO 18.83mm 4mm BloodandCustard East Sussex Finescale Railway Modelling Finescale Modelling OO HO 18.83mm 4mm BloodandCustard East Sussex Finescale Railway Modelling Finescale Modelling OO HO 18.83mm 4mm BloodandCustard East Sussex Finescale Railway Modelling Finescale Modelling OO HO 18.83mm 4mm BloodandCustard East Sussex Finescale Railway Modelling Finescale Modelling OO HO 18.83mm 4mm BloodandCustard East Sussex Finescale Railway Modelling Finescale Modelling OO HO 18.83mm 4mm BloodandCustard East Sussex Finescale Railway Modelling Finescale Modelling OO HO 18.83mm 4mm BloodandCustard East Sussex Finescale Railway Modelling Finescale Modelling OO HO 18.83mm 4mm BloodandCustard East Sussex Finescale Railway Modelling Finescale Modelling OO HO 18.83mm 4mm BloodandCustard East Sussex Finescale Railway Modelling Finescale Modelling OO HO 18.83mm 4mm BloodandCustard East Sussex Finescale Railway Modelling Finescale Modelling OO HO 18.83mm 4mm BloodandCustard East Sussex Finescale Railway Modelling Finescale Modelling OO HO 18.83mm 4mm BloodandCustard East Sussex Finescale Railway Modelling Finescale Modelling OO HO 18.83mm 4mm BloodandCustard East Sussex Finescale Railway Modelling Finescale Modelling OO HO 18.83mm 4mm BloodandCustard East Sussex Finescale Railway Modelling Finescale Modelling OO HO 18.83mm 4mm BloodandCustard East Sussex Finescale Railway Modelling Finescale Modelling OO HO 18.83mm 4mm BloodandCustard East Sussex Finescale Railway Modelling Finescale Modelling OO HO 18.83mm 4mm BloodandCustard East Sussex Finescale Railway Modelling Finescale Modelling OO HO 18.83mm 4mm BloodandCustard East Sussex Finescale Railway Modelling Finescale Modelling OO HO 18.83mm 4mm BloodandCustard East Sussex Finescale Railway Modelling Finescale Modelling OO HO 18.83mm 4mm BloodandCustard East Sussex Finescale Railway Modelling Finescale Modelling OO HO 18.83mm 4mm BloodandCustard East Sussex Finescale Railway Modelling Finescale Modelling OO HO 18.83mm 4mm BloodandCustard East Sussex Finescale Railway Modelling Finescale Modelling OO HO 18.83mm 4mm BloodandCustard East Sussex Finescale Railway Modelling Finescale Modelling OO HO 18.83mm 4mm BloodandCustard East Sussex Finescale Railway Modelling Finescale Modelling OO HO 18.83mm 4mm BloodandCustard East Sussex Finescale Railway Modelling Finescale Modelling OO HO 18.83mm 4mm BloodandCustard East Sussex Finescale Railway Modelling Finescale Modelling OO HO 18.83mm 4mm BloodandCustard East Sussex Finescale Railway Modelling Finescale Modelling OO HO 18.83mm 4mm BloodandCustard East Sussex Finescale Railway Modelling Finescale Modelling OO HO 18.83mm 4mm BloodandCustard East Sussex Finescale Railway Modelling Finescale Modelling OO HO 18.83mm 4mm BloodandCustard East Sussex Finescale Railway Modelling Finescale Modelling OO HO 18.83mm 4mm BloodandCustard East Sussex Finescale Railway Modelling Finescale Modelling OO HO 18.83mm 4mm BloodandCustard East Sussex Finescale Railway Modelling Finescale Modelling OO HO 18.83mm 4mm BloodandCustard East Sussex Finescale Railway Modelling Finescale Modelling OO HO 18.83mm 4mm BloodandCustard East Sussex Finescale Railway Modelling Finescale Modelling OO HO 18.83mm 4mm BloodandCustard East Sussex Finescale Railway Modelling Finescale Modelling OO HO 18.83mm 4mm BloodandCustard East Sussex Finescale Railway Modelling Finescale Modelling OO HO 18.83mm 4mm BloodandCustard East Sussex Finescale Railway Modelling Finescale Modelling OO HO 18.83mm 4mm BloodandCustard East Sussex Finescale Railway Modelling Finescale Modelling OO HO 18.83mm 4mm BloodandCustard East Sussex Finescale Railway Modelling Finescale Modelling OO HO 18.83mm 4mm BloodandCustard East Sussex Finescale Railway Modelling Finescale Modelling OO HO 18.83mm 4mm BloodandCustard East Sussex Finescale Railway Modelling Finescale Modelling OO HO 18.83mm 4mm BloodandCustard East Sussex Finescale Railway Modelling Finescale Modelling OO HO 18.83mm 4mm BloodandCustard East Sussex Finescale Railway Modelling Finescale Modelling OO HO 18.83mm 4mm BloodandCustard East Sussex Finescale Railway Modelling Finescale Modelling OO HO 18.83mm 4mm BloodandCustard East Sussex Finescale Railway Modelling Finescale Modelling OO HO 18.83mm 4mm BloodandCustard East Sussex Finescale Railway Modelling Finescale Modelling OO HO 18.83mm 4mm BloodandCustard East Sussex Finescale Railway Modelling Finescale Modelling OO HO 18.83mm 4mm BloodandCustard East Sussex Finescale Railway Modelling Finescale Modelling OO HO 18.83mm 4mm BloodandCustard East Sussex Finescale Railway Modelling Finescale Modelling OO HO 18.83mm 4mm BloodandCustard East Sussex Finescale Railway Modelling Finescale Modelling OO HO 18.83mm 4mm BloodandCustard East Sussex Finescale Railway Modelling Finescale Modelling OO HO 18.83mm 4mm BloodandCustard East Sussex Finescale Railway Modelling Finescale Modelling OO HO 18.83mm 4mm BloodandCustard East Sussex Finescale Railway Modelling Finescale Modelling OO HO 18.83mm 4mm BloodandCustard East Sussex Finescale Railway Modelling Finescale Modelling OO HO 18.83mm 4mm BloodandCustard East Sussex Finescale Railway Modelling Finescale Modelling OO HO 18.83mm 4mm BloodandCustard East Sussex Finescale Railway Modelling Finescale Modelling OO HO 18.83mm 4mm BloodandCustard East Sussex Finescale Railway Modelling Finescale Modelling OO HO 18.83mm 4mm BloodandCustard East Sussex Finescale Railway Modelling Finescale Modelling OO HO 18.83mm 4mm BloodandCustard East Sussex Finescale Railway Modelling Finescale Modelling OO HO 18.83mm 4mm BloodandCustard East Sussex Finescale Railway Modelling Finescale Modelling OO HO 18.83mm 4mm BloodandCustard East Sussex Finescale Railway Modelling Finescale Modelling OO HO 18.83mm 4mm BloodandCustard East Sussex Finescale Railway Modelling Finescale Modelling OO HO 18.83mm 4mm BloodandCustard East Sussex Finescale Railway Modelling Finescale Modelling OO HO 18.83mm 4mm BloodandCustard East Sussex Finescale Railway Modelling Finescale Modelling OO HO 18.83mm 4mm BloodandCustard East Sussex Finescale Railway Modelling Finescale Modelling OO HO 18.83mm 4mm BloodandCustard East Sussex Finescale Railway Modelling Finescale Modelling OO HO 18.83mm 4mm BloodandCustard East Sussex Finescale Railway Modelling Finescale Modelling OO HO 18.83mm 4mm BloodandCustard East Sussex Finescale Railway Modelling Finescale Modelling OO HO 18.83mm 4mm BloodandCustard East Sussex Finescale Railway Modelling Finescale Modelling OO HO 18.83mm 4mm BloodandCustard East Sussex Finescale Railway Modelling Finescale Modelling OO HO 18.83mm 4mm BloodandCustard East Sussex Finescale Railway Modelling Finescale Modelling OO HO 18.83mm 4mm BloodandCustard East Sussex Finescale Railway Modelling Finescale Modelling OO HO 18.83mm 4mm BloodandCustard East Sussex Finescale Railway Modelling Finescale Modelling OO HO 18.83mm 4mm BloodandCustard East Sussex Finescale Railway Modelling Finescale Modelling OO HO 18.83mm 4mm BloodandCustard East Sussex Finescale Railway Modelling Finescale Modelling OO HO 18.83mm 4mm BloodandCustard East Sussex Finescale Railway Modelling Finescale Modelling OO HO 18.83mm 4mm BloodandCustard East Sussex Finescale Railway Modelling Finescale Modelling OO HO 18.83mm 4mm BloodandCustard East Sussex Finescale Railway Modelling Finescale Modelling OO HO 18.83mm 4mm BloodandCustard East Sussex Finescale Railway Modelling Finescale Modelling OO HO 18.83mmBloodandCustard East Sussex Finescale Railway Modelling Finescale Modelling OO HO 18.83mm 4mm. BloodandCustard East Sussex Finescale Railway Modelling Finescale Modelling OO HO 18.83mm 4mm BloodandCustard East Sussex Finescale Railway Modelling Finescale Modelling OO HO 18.83mm 4mm BloodandCustard East Sussex Finescale Railway Modelling Finescale Modelling OO HO 18.83mm 4mm BloodandCustard East Sussex Finescale Railway Modelling Finescale Modelling OO HO 18.83mm 4mm BloodandCustard East Sussex Finescale Railway Modelling Finescale Modelling OO HO 18.83mm 4mm BloodandCustard East Sussex Finescale Railway Modelling Finescale Modelling OO HO 18.83mm 4mm BloodandCustard East Sussex Finescale Railway Modelling Finescale Modelling OO HO 18.83mm 4mm BloodandCustard East Sussex Finescale Railway Modelling Finescale Modelling OO HO 18.83mm 4mm BloodandCustard East Sussex Finescale Railway Modelling Finescale Modelling OO HO 18.83mm 4mm BloodandCustard East Sussex Finescale Railway Modelling Finescale Modelling OO HO 18.83mm 4mm BloodandCustard East Sussex Finescale Railway Modelling Finescale Modelling OO HO 18.83mm 4mm BloodandCustard East Sussex Finescale Railway Modelling Finescale Modelling OO HO 18.83mm 4mm BloodandCustard East Sussex Finescale Railway Modelling Finescale Modelling OO HO 18.83mm 4mm BloodandCustard East Sussex Finescale Railway Modelling Finescale Modelling OO HO 18.83mm 4mm BloodandCustard East Sussex Finescale Railway Modelling Finescale Modelling OO HO 18.83mm 4mm BloodandCustard East Sussex Finescale Railway Modelling Finescale Modelling OO HO 18.83mm 4mm BloodandCustard East Sussex Finescale Railway Modelling Finescale Modelling OO HO 18.83mm 4mm BloodandCustard East Sussex Finescale Railway Modelling Finescale Modelling OO HO 18.83mm 4mm BloodandCustard East Sussex Finescale Railway Modelling Finescale Modelling OO HO 18.83mm 4mm BloodandCustard East Sussex Finescale Railway Modelling Finescale Modelling OO HO 18.83mm 4mm BloodandCustard East Sussex Finescale Railway Modelling Finescale Modelling OO HO 18.83mm 4mm BloodandCustard East Sussex Finescale Railway Modelling Finescale Modelling OO HO 18.83mm 4mm BloodandCustard East Sussex Finescale Railway Modelling Finescale Modelling OO HO 18.83mm 4mm BloodandCustard East Sussex Finescale Railway Modelling Finescale Modelling OO HO 18.83mm 4mm BloodandCustard East Sussex Finescale Railway Modelling Finescale Modelling OO HO 18.83mm 4mm BloodandCustard East Sussex Finescale Railway Modelling Finescale Modelling OO HO 18.83mm 4mm BloodandCustard East Sussex Finescale Railway Modelling Finescale Modelling OO HO 18.83mm 4mm BloodandCustard East Sussex Finescale Railway Modelling Finescale Modelling OO HO 18.83mm 4mm BloodandCustard East Sussex Finescale Railway Modelling Finescale Modelling OO HO 18.83mm 4mm BloodandCustard East Sussex Finescale Railway Modelling Finescale Modelling OO HO 18.83mm 4mm BloodandCustard East Sussex Finescale Railway Modelling Finescale Modelling OO HO 18.83mm 4mm BloodandCustard East Sussex Finescale Railway Modelling Finescale Modelling OO HO 18.83mm 4mm BloodandCustard East Sussex Finescale Railway Modelling Finescale Modelling OO HO 18.83mm 4mm BloodandCustard East Sussex Finescale Railway Modelling Finescale Modelling OO HO 18.83mm 4mm BloodandCustard East Sussex Finescale Railway Modelling Finescale Modelling OO HO 18.83mm 4mm BloodandCustard East Sussex Finescale Railway Modelling Finescale Modelling OO HO 18.83mm 4mm BloodandCustard East Sussex Finescale Railway Modelling Finescale Modelling OO HO 18.83mm 4mm BloodandCustard East Sussex Finescale Railway Modelling Finescale Modelling OO HO 18.83mm 4mm BloodandCustard East Sussex Finescale Railway Modelling Finescale Modelling OO HO 18.83mm 4mm BloodandCustard East Sussex Finescale Railway Modelling Finescale Modelling OO HO 18.83mm 4mm BloodandCustard East Sussex Finescale Railway Modelling Finescale Modelling OO HO 18.83mm 4mm BloodandCustard East Sussex Finescale Railway Modelling Finescale Modelling OO HO 18.83mm 4mm BloodandCustard East Sussex Finescale Railway Modelling Finescale Modelling OO HO 18.83mm 4mm BloodandCustard East Sussex Finescale Railway Modelling Finescale Modelling OO HO 18.83mm 4mm BloodandCustard East Sussex Finescale Railway Modelling Finescale Modelling OO HO 18.83mm 4mm BloodandCustard East Sussex Finescale Railway Modelling Finescale Modelling OO HO 18.83mm 4mm BloodandCustard East Sussex Finescale Railway Modelling Finescale Modelling OO HO 18.83mm 4mm BloodandCustard East Sussex Finescale Railway Modelling Finescale Modelling OO HO 18.83mm 4mm BloodandCustard East Sussex Finescale Railway Modelling Finescale Modelling OO HO 18.83mm 4mm BloodandCustard East Sussex Finescale Railway Modelling Finescale Modelling OO HO 18.83mm 4mm BloodandCustard East Sussex Finescale Railway Modelling Finescale Modelling OO HO 18.83mm 4mm BloodandCustard East Sussex Finescale Railway Modelling Finescale Modelling OO HO 18.83mm 4mm BloodandCustard East Sussex Finescale Railway Modelling Finescale Modelling OO HO 18.83mm 4mm BloodandCustard East Sussex Finescale Railway Modelling Finescale Modelling OO HO 18.83mm 4mm BloodandCustard East Sussex Finescale Railway Modelling Finescale Modelling OO HO 18.83mm 4mm BloodandCustard East Sussex Finescale Railway Modelling Finescale Modelling OO HO 18.83mm 4mm BloodandCustard East Sussex Finescale Railway Modelling Finescale Modelling OO HO 18.83mm 4mm BloodandCustard East Sussex Finescale Railway Modelling Finescale Modelling OO HO 18.83mm 4mm BloodandCustard East Sussex Finescale Railway Modelling Finescale Modelling OO HO 18.83mm 4mm BloodandCustard East Sussex Finescale Railway Modelling Finescale Modelling OO HO 18.83mm 4mm BloodandCustard East Sussex Finescale Railway Modelling Finescale Modelling OO HO 18.83mm 4mm BloodandCustard East Sussex Finescale Railway Modelling Finescale Modelling OO HO 18.83mm 4mm BloodandCustard East Sussex Finescale Railway Modelling Finescale Modelling OO HO 18.83mm 4mm BloodandCustard East Sussex Finescale Railway Modelling Finescale Modelling OO HO 18.83mm 4mm BloodandCustard East Sussex Finescale Railway Modelling Finescale Modelling OO HO 18.83mm 4mm BloodandCustard East Sussex Finescale Railway Modelling Finescale Modelling OO HO 18.83mm 4mm BloodandCustard East Sussex Finescale Railway Modelling Finescale Modelling OO HO 18.83mm 4mm BloodandCustard East Sussex Finescale Railway Modelling Finescale Modelling OO HO 18.83mm 4mm BloodandCustard East Sussex Finescale Railway Modelling Finescale Modelling OO HO 18.83mm 4mm BloodandCustard East Sussex Finescale Railway Modelling Finescale Modelling OO HO 18.83mm 4mm BloodandCustard East Sussex Finescale Railway Modelling Finescale Modelling OO HO 18.83mm 4mm BloodandCustard East Sussex Finescale Railway Modelling Finescale Modelling OO HO 18.83mm 4mm BloodandCustard East Sussex Finescale Railway Modelling Finescale Modelling OO HO 18.83mm 4mm BloodandCustard East Sussex Finescale Railway Modelling Finescale Modelling OO HO 18.83mm 4mm BloodandCustard East Sussex Finescale Railway Modelling Finescale Modelling OO HO 18.83mm 4mm BloodandCustard East Sussex Finescale Railway Modelling Finescale Modelling OO HO 18.83mm 4mm BloodandCustard East Sussex Finescale Railway Modelling Finescale Modelling OO HO 18.83mm 4mm BloodandCustard East Sussex Finescale Railway Modelling Finescale Modelling OO HO 18.83mm 4mm BloodandCustard East Sussex Finescale Railway Modelling Finescale Modelling OO HO 18.83mm 4mm BloodandCustard East Sussex Finescale Railway Modelling Finescale Modelling OO HO 18.83mm 4mm BloodandCustard East Sussex Finescale Railway Modelling Finescale Modelling OO HO 18.83mm 4mm BloodandCustard East Sussex Finescale Railway Modelling Finescale Modelling OO HO 18.83mm 4mm BloodandCustard East Sussex Finescale Railway Modelling Finescale Modelling OO HO 18.83mm 4mm BloodandCustard East Sussex Finescale Railway Modelling Finescale Modelling OO HO 18.83mm 4mm BloodandCustard East Sussex Finescale Railway Modelling Finescale Modelling OO HO 18.83mm 4mm BloodandCustard East Sussex Finescale Railway Modelling Finescale Modelling OO HO 18.83mm 4mm BloodandCustard East Sussex Finescale Railway Modelling Finescale Modelling OO HO 18.83mm 4mm BloodandCustard East Sussex Finescale Railway Modelling Finescale Modelling OO HO 18.83mm 4mm BloodandCustard East Sussex Finescale Railway Modelling Finescale Modelling OO HO 18.83mm 4mm BloodandCustard East Sussex Finescale Railway Modelling Finescale Modelling OO HO 18.83mm 4mm BloodandCustard East Sussex Finescale Railway Modelling Finescale Modelling OO HO 18.83mm 4mm BloodandCustard East Sussex Finescale Railway Modelling Finescale Modelling OO HO 18.83mm 4mm BloodandCustard East Sussex Finescale Railway Modelling Finescale Modelling OO HO 18.83mm 4mm BloodandCustard East Sussex Finescale Railway Modelling Finescale Modelling OO HO 18.83mm 4mm BloodandCustard East Sussex Finescale Railway Modelling Finescale Modelling OO HO 18.83mm 4mm BloodandCustard East Sussex Finescale Railway Modelling Finescale Modelling OO HO 18.83mm 4mm BloodandCustard East Sussex Finescale Railway Modelling Finescale Modelling OO HO 18.83mm 4mm BloodandCustard East Sussex Finescale Railway Modelling Finescale Modelling OO HO 18.83mm 4mm BloodandCustard East Sussex Finescale Railway Modelling Finescale Modelling OO HO 18.83mm 4mm BloodandCustard East Sussex Finescale Railway Modelling Finescale Modelling OO HO 18.83mm 4mm BloodandCustard East Sussex Finescale Railway Modelling Finescale Modelling OO HO 18.83mm 4mm BloodandCustard East Sussex Finescale Railway Modelling Finescale Modelling OO HO 18.83mm 4mm BloodandCustard East Sussex Finescale Railway Modelling Finescale Modelling OO HO 18.83mm 4mm BloodandCustard East Sussex Finescale Railway Modelling Finescale Modelling OO HO 18.83mm 4mm BloodandCustard East Sussex Finescale Railway Modelling Finescale Modelling OO HO 18.83mm 4mm BloodandCustard East Sussex Finescale Railway Modelling Finescale Modelling OO HO 18.83mm 4mm BloodandCustard East Sussex Finescale Railway Modelling Finescale Modelling OO HO 18.83mm 4mm BloodandCustard East Sussex Finescale Railway Modelling Finescale Modelling OO HO 18.83mm 4mm BloodandCustard East Sussex Finescale Railway Modelling Finescale Modelling OO HO 18.83mm 4mm BloodandCustard East Sussex Finescale Railway Modelling Finescale Modelling OO HO 18.83mm 4mm BloodandCustard East Sussex Finescale Railway Modelling Finescale Modelling OO HO 18.83mm 4mm BloodandCustard East Sussex Finescale Railway Modelling Finescale Modelling OO HO 18.83mm 4mm BloodandCustard East Sussex Finescale Railway Modelling Finescale Modelling OO HO 18.83mm 4mm BloodandCustard East Sussex Finescale Railway Modelling Finescale Modelling OO HO 18.83mm 4mm BloodandCustard East Sussex Finescale Railway Modelling Finescale Modelling OO HO 18.83mm 4mm BloodandCustard East Sussex Finescale Railway Modelling Finescale Modelling OO HO 18.83mm 4mm BloodandCustard East Sussex Finescale Railway Modelling Finescale Modelling OO HO 18.83mm 4mm BloodandCustard East Sussex Finescale Railway Modelling Finescale Modelling OO HO 18.83mm 4mm BloodandCustard East Sussex Finescale Railway Modelling Finescale Modelling OO HO 18.83mm 4mm BloodandCustard East Sussex Finescale Railway Modelling Finescale Modelling OO HO 18.83mm 4mm BloodandCustard East Sussex Finescale Railway Modelling Finescale Modelling OO HO 18.83mm 4mm BloodandCustard East Sussex Finescale Railway Modelling Finescale Modelling OO HO 18.83mm 4mm BloodandCustard East Sussex Finescale Railway Modelling Finescale Modelling OO HO 18.83mm 4mm BloodandCustard East Sussex Finescale Railway Modelling Finescale Modelling OO HO 18.83mm 4mm BloodandCustard East Sussex Finescale Railway Modelling Finescale Modelling OO HO 18.83mm 4mm BloodandCustard East Sussex Finescale Railway Modelling Finescale Modelling OO HO 18.83mm 4mm BloodandCustard East Sussex Finescale Railway Modelling Finescale Modelling OO HO 18.83mm 4mm BloodandCustard East Sussex Finescale Railway Modelling Finescale Modelling OO HO 18.83mm 4mm BloodandCustard East Sussex Finescale Railway Modelling Finescale Modelling OO HO 18.83mm 4mm BloodandCustard East Sussex Finescale Railway Modelling Finescale Modelling OO HO 18.83mm 4mm BloodandCustard East Sussex Finescale Railway Modelling Finescale Modelling OO HO 18.83mm 4mm BloodandCustard East Sussex Finescale Railway Modelling Finescale Modelling OO HO 18.83mm 4mm BloodandCustard East Sussex Finescale Railway Modelling Finescale Modelling OO HO 18.83mm 4mm BloodandCustard East Sussex Finescale Railway Modelling Finescale Modelling OO HO 18.83mm 4mm BloodandCustard East Sussex Finescale Railway Modelling Finescale Modelling OO HO 18.83mm 4mm BloodandCustard East Sussex Finescale Railway Modelling Finescale Modelling OO HO 18.83mm 4mm BloodandCustard East Sussex Finescale Railway Modelling Finescale Modelling OO HO 18.83mm 4mm BloodandCustard East Sussex Finescale Railway Modelling Finescale Modelling OO HO 18.83mm 4mm BloodandCustard East Sussex Finescale Railway Modelling Finescale Modelling OO HO 18.83mm 4mm BloodandCustard East Sussex Finescale Railway Modelling Finescale Modelling OO HO 18.83mm 4mm BloodandCustard East Sussex Finescale Railway Modelling Finescale Modelling OO HO 18.83mm 4mm BloodandCustard East Sussex Finescale Railway Modelling Finescale Modelling OO HO 18.83mm 4mm BloodandCustard East Sussex Finescale Railway Modelling Finescale Modelling OO HO 18.83mm 4mm BloodandCustard East Sussex Finescale Railway Modelling Finescale Modelling OO HO 18.83mm 4mm BloodandCustard East Sussex Finescale Railway Modelling Finescale Modelling OO HO 18.83mm 4mm BloodandCustard East Sussex Finescale Railway Modelling Finescale Modelling OO HO 18.83mm 4mm BloodandCustard East Sussex Finescale Railway Modelling Finescale Modelling OO HO 18.83mm 4mm BloodandCustard East Sussex Finescale Railway Modelling Finescale Modelling OO HO 18.83mm 4mm BloodandCustard East Sussex Finescale Railway Modelling Finescale Modelling OO HO 18.83mm 4mm BloodandCustard East Sussex Finescale Railway Modelling Finescale Modelling OO HO 18.83mm 4mm BloodandCustard East Sussex Finescale Railway Modelling Finescale Modelling OO HO 18.83mm 4mm BloodandCustard East Sussex Finescale Railway Modelling Finescale Modelling OO HO 18.83mm 4mm BloodandCustard East Sussex Finescale Railway Modelling Finescale Modelling OO HO 18.83mm 4mm BloodandCustard East Sussex Finescale Railway Modelling Finescale Modelling OO HO 18.83mm 4mm BloodandCustard East Sussex Finescale Railway Modelling Finescale Modelling OO HO 18.83mm 4mm BloodandCustard East Sussex Finescale Railway Modelling Finescale Modelling OO HO 18.83mm 4mm BloodandCustard East Sussex Finescale Railway Modelling Finescale Modelling OO HO 18.83mm 4mm BloodandCustard East Sussex Finescale Railway Modelling Finescale Modelling OO HO 18.83mm 4mm BloodandCustard East Sussex Finescale Railway Modelling Finescale Modelling OO HO 18.83mm 4mm BloodandCustard East Sussex Finescale Railway Modelling Finescale Modelling OO HO 18.83mm 4mm BloodandCustard East Sussex Finescale Railway Modelling Finescale Modelling OO HO 18.83mm 4mm BloodandCustard East Sussex Finescale Railway Modelling Finescale Modelling OO HO 18.83mm 4mm BloodandCustard East Sussex Finescale Railway Modelling Finescale Modelling OO HO 18.83mm 4mm BloodandCustard East Sussex Finescale Railway Modelling Finescale Modelling OO HO 18.83mm 4mm BloodandCustard East Sussex Finescale Railway Modelling Finescale Modelling OO HO 18.83mm 4mm BloodandCustard East Sussex Finescale Railway Modelling Finescale Modelling OO HO 18.83mm 4mm BloodandCustard East Sussex Finescale Railway Modelling Finescale Modelling OO HO 18.83mm 4mm BloodandCustard East Sussex Finescale Railway Modelling Finescale Modelling OO HO 18.83mm 4mm BloodandCustard East Sussex Finescale Railway Modelling Finescale Modelling OO HO 18.83mm 4mm BloodandCustard East Sussex Finescale Railway Modelling Finescale Modelling OO HO 18.83mm 4mm BloodandCustard East Sussex Finescale Railway Modelling Finescale Modelling OO HO 18.83mm 4mm BloodandCustard East Sussex Finescale Railway Modelling Finescale Modelling OO HO 18.83mm 4mm BloodandCustard East Sussex Finescale Railway Modelling Finescale Modelling OO HO 18.83mm 4mm BloodandCustard East Sussex Finescale Railway Modelling Finescale Modelling OO HO 18.83mm 4mm BloodandCustard East Sussex Finescale Railway Modelling Finescale Modelling OO HO 18.83mm 4mm BloodandCustard East Sussex Finescale Railway Modelling Finescale Modelling OO HO 18.83mm 4mm BloodandCustard East Sussex Finescale Railway Modelling Finescale Modelling OO HO 18.83mm 4mm BloodandCustard East Sussex Finescale Railway Modelling Finescale Modelling OO HO 18.83mm 4mm BloodandCustard East Sussex Finescale Railway Modelling Finescale Modelling OO HO 18.83mm 4mm BloodandCustard East Sussex Finescale Railway Modelling Finescale Modelling OO HO 18.83mm 4mm BloodandCustard East Sussex Finescale Railway Modelling Finescale Modelling OO HO 18.83mm 4mm BloodandCustard East Sussex Finescale Railway Modelling Finescale Modelling OO HO 18.83mm 4mm BloodandCustard East Sussex Finescale Railway Modelling Finescale Modelling OO HO 18.83mm 4mm BloodandCustard East Sussex Finescale Railway Modelling Finescale Modelling OO HO 18.83mm 4mm BloodandCustard East Sussex Finescale Railway Modelling Finescale Modelling OO HO 18.83mm 4mm BloodandCustard East Sussex Finescale Railway Modelling Finescale Modelling OO HO 18.83mm 4mm BloodandCustard East Sussex Finescale Railway Modelling Finescale Modelling OO HO 18.83mm 4mm BloodandCustard East Sussex Finescale Railway Modelling Finescale Modelling OO HO 18.83mm 4mm BloodandCustard East Sussex Finescale Railway Modelling Finescale Modelling OO HO 18.83mm 4mm BloodandCustard East Sussex Finescale Railway Modelling Finescale Modelling OO HO 18.83mm 4mm BloodandCustard East Sussex Finescale Railway Modelling Finescale Modelling OO HO 18.83mm 4mm BloodandCustard East Sussex Finescale Railway Modelling Finescale Modelling OO HO 18.83mm 4mm BloodandCustard East Sussex Finescale Railway Modelling Finescale Modelling OO HO 18.83mm 4mm BloodandCustard East Sussex Finescale Railway Modelling Finescale Modelling OO HO 18.83mm 4mm BloodandCustard East Sussex Finescale Railway Modelling Finescale Modelling OO HO 18.83mm 4mm BloodandCustard East Sussex Finescale Railway Modelling Finescale Modelling OO HO 18.83mm 4mm BloodandCustard East Sussex Finescale Railway Modelling Finescale Modelling OO HO 18.83mm 4mm BloodandCustard East Sussex Finescale Railway Modelling Finescale Modelling OO HO 18.83mm 4mm BloodandCustard East Sussex Finescale Railway Modelling Finescale Modelling OO HO 18.83mm 4mm BloodandCustard East Sussex Finescale Railway Modelling Finescale Modelling OO HO 18.83mm 4mm BloodandCustard East Sussex Finescale Railway Modelling Finescale Modelling OO HO 18.83mm 4mm BloodandCustard East Sussex Finescale Railway Modelling Finescale Modelling OO HO 18.83mm 4mm BloodandCustard East Sussex Finescale Railway Modelling Finescale Modelling OO HO 18.83mm 4mm BloodandCustard East Sussex Finescale Railway Modelling Finescale Modelling OO HO 18.83mm 4mm BloodandCustard East Sussex Finescale Railway Modelling Finescale Modelling OO HO 18.83mm 4mm BloodandCustard East Sussex Finescale Railway Modelling Finescale Modelling OO HO 18.83mm 4mm BloodandCustard East Sussex Finescale Railway Modelling Finescale Modelling OO HO 18.83mm 4mm BloodandCustard East Sussex Finescale Railway Modelling Finescale Modelling OO HO 18.83mm 4mm BloodandCustard East Sussex Finescale Railway Modelling Finescale Modelling OO HO 18.83mm 4mm BloodandCustard East Sussex Finescale Railway Modelling Finescale Modelling OO HO 18.83mm 4mm BloodandCustard East Sussex Finescale Railway Modelling Finescale Modelling OO HO 18.83mm 4mm BloodandCustard East Sussex Finescale Railway Modelling Finescale Modelling OO HO 18.83mm 4mm BloodandCustard East Sussex Finescale Railway Modelling Finescale Modelling OO HO 18.83mm 4mm BloodandCustard East Sussex Finescale Railway Modelling Finescale Modelling OO HO 18.83mm 4mm BloodandCustard East Sussex Finescale Railway Modelling Finescale Modelling OO HO 18.83mm 4mm BloodandCustard East Sussex Finescale Railway Modelling Finescale Modelling OO HO 18.83mm 4mm BloodandCustard East Sussex Finescale Railway Modelling Finescale Modelling OO HO 18.83mm 4mm BloodandCustard East Sussex Finescale Railway Modelling Finescale Modelling OO HO 18.83mm 4mm BloodandCustard East Sussex Finescale Railway Modelling Finescale Modelling OO HO 18.83mm 4mm BloodandCustard East Sussex Finescale Railway Modelling Finescale Modelling OO HO 18.83mm 4mm BloodandCustard East Sussex Finescale Railway Modelling Finescale Modelling OO HO 18.83mm 4mm BloodandCustard East Sussex Finescale Railway Modelling Finescale Modelling OO HO 18.83mm 4mm BloodandCustard East Sussex Finescale Railway Modelling Finescale Modelling OO HO 18.83mm 4mm BloodandCustard East Sussex Finescale Railway Modelling Finescale Modelling OO HO 18.83mm 4mm BloodandCustard East Sussex Finescale Railway Modelling Finescale Modelling OO HO 18.83mm 4mm BloodandCustard East Sussex Finescale Railway Modelling Finescale Modelling OO HO 18.83mm 4mm BloodandCustard East Sussex Finescale Railway Modelling Finescale Modelling OO HO 18.83mm 4mm BloodandCustard East Sussex Finescale Railway Modelling Finescale Modelling OO HO 18.83mm 4mm BloodandCustard East Sussex Finescale Railway Modelling Finescale Modelling OO HO 18.83mm 4mm BloodandCustard East Sussex Finescale Railway Modelling Finescale Modelling OO HO 18.83mm 4mm BloodandCustard East Sussex Finescale Railway Modelling Finescale Modelling OO HO 18.83mm 4mm BloodandCustard East Sussex Finescale Railway Modelling Finescale Modelling OO HO 18.83mm 4mm BloodandCustard East Sussex Finescale Railway Modelling Finescale Modelling OO HO 18.83mm 4mm BloodandCustard East Sussex Finescale Railway Modelling Finescale Modelling OO HO 18.83mm 4mm BloodandCustard East Sussex Finescale Railway Modelling Finescale Modelling OO HO 18.83mm 4mm BloodandCustard East Sussex Finescale Railway Modelling Finescale Modelling OO HO 18.83mm 4mm BloodandCustard East Sussex Finescale Railway Modelling Finescale Modelling OO HO 18.83mm 4mm BloodandCustard East Sussex Finescale Railway Modelling Finescale Modelling OO HO 18.83mm 4mm BloodandCustard East Sussex Finescale Railway Modelling Finescale Modelling OO HO 18.83mm 4mm BloodandCustard East Sussex Finescale Railway Modelling Finescale Modelling OO HO 18.83mm 4mm BloodandCustard East Sussex Finescale Railway Modelling Finescale Modelling OO HO 18.83mm 4mm BloodandCustard East Sussex Finescale Railway Modelling Finescale Modelling OO HO 18.83mm 4mm BloodandCustard East Sussex Finescale Railway Modelling Finescale Modelling OO HO 18.83mm 4mm BloodandCustard East Sussex Finescale Railway Modelling Finescale Modelling OO HO 18.83mm 4mm BloodandCustard East Sussex Finescale Railway Modelling Finescale Modelling OO HO 18.83mm 4mm BloodandCustard East Sussex Finescale Railway Modelling Finescale Modelling OO HO 18.83mm 4mm BloodandCustard East Sussex Finescale Railway Modelling Finescale Modelling OO HO 18.83mm 4mm BloodandCustard East Sussex Finescale Railway Modelling Finescale Modelling OO HO 18.83mm 4mm BloodandCustard East Sussex Finescale Railway Modelling Finescale Modelling OO HO 18.83mm 4mm BloodandCustard East Sussex Finescale Railway Modelling Finescale Modelling OO HO 18.83mm 4mm BloodandCustard East Sussex Finescale Railway Modelling Finescale Modelling OO HO 18.83mm 4mm BloodandCustard East Sussex Finescale Railway Modelling Finescale Modelling OO HO 18.83mm 4mm BloodandCustard East Sussex Finescale Railway Modelling Finescale Modelling OO HO 18.83mm 4mm BloodandCustard East Sussex Finescale Railway Modelling Finescale Modelling OO HO 18.83mm 4mm BloodandCustard East Sussex Finescale Railway Modelling Finescale Modelling OO HO 18.83mm 4mm BloodandCustard East Sussex Finescale Railway Modelling Finescale Modelling OO HO 18.83mm 4mm BloodandCustard East Sussex Finescale Railway Modelling Finescale Modelling OO HO 18.83mm 4mm BloodandCustard East Sussex Finescale Railway Modelling Finescale Modelling OO HO 18.83mm 4mm BloodandCustard East Sussex Finescale Railway Modelling Finescale Modelling OO HO 18.83mm 4mm BloodandCustard East Sussex Finescale Railway Modelling Finescale Modelling OO HO 18.83mm 4mm BloodandCustard East Sussex Finescale Railway Modelling Finescale Modelling OO HO 18.83mm 4mm BloodandCustard East Sussex Finescale Railway Modelling Finescale Modelling OO HO 18.83mm 4mm BloodandCustard East Sussex Finescale Railway Modelling Finescale Modelling OO HO 18.83mm 4mm BloodandCustard East Sussex Finescale Railway Modelling Finescale Modelling OO HO 18.83mm 4mm BloodandCustard East Sussex Finescale Railway Modelling Finescale Modelling OO HO 18.83mm 4mm BloodandCustard East Sussex Finescale Railway Modelling Finescale Modelling OO HO 18.83mm 4mm BloodandCustard East Sussex Finescale Railway Modelling Finescale Modelling OO HO 18.83mm 4mm BloodandCustard East Sussex Finescale Railway Modelling Finescale Modelling OO HO 18.83mm 4mm BloodandCustard East Sussex Finescale Railway Modelling Finescale Modelling OO HO 18.83mm 4mm BloodandCustard East Sussex Finescale Railway Modelling Finescale Modelling OO HO 18.83mm 4mm BloodandCustard East Sussex Finescale Railway Modelling Finescale Modelling OO HO 18.83mm 4mm BloodandCustard East Sussex Finescale Railway Modelling Finescale Modelling OO HO 18.83mm 4mm BloodandCustard East Sussex Finescale Railway Modelling Finescale Modelling OO HO 18.83mm 4mm BloodandCustard East Sussex Finescale Railway Modelling Finescale Modelling OO HO 18.83mm 4mm BloodandCustard East Sussex Finescale Railway Modelling Finescale Modelling OO HO 18.83mm 4mm BloodandCustard East Sussex Finescale Railway Modelling Finescale Modelling OO HO 18.83mmBloodandCustard East Sussex Finescale Railway Modelling Finescale Modelling OO HO 18.83mm 4mm. BloodandCustard East Sussex Finescale Railway Modelling Finescale Modelling OO HO 18.83mm 4mm BloodandCustard East Sussex Finescale Railway Modelling Finescale Modelling OO HO 18.83mm 4mm BloodandCustard East Sussex Finescale Railway Modelling Finescale Modelling OO HO 18.83mm 4mm BloodandCustard East Sussex Finescale Railway Modelling Finescale Modelling OO HO 18.83mm 4mm BloodandCustard East Sussex Finescale Railway Modelling Finescale Modelling OO HO 18.83mm 4mm BloodandCustard East Sussex Finescale Railway Modelling Finescale Modelling OO HO 18.83mm 4mm BloodandCustard East Sussex Finescale Railway Modelling Finescale Modelling OO HO 18.83mm 4mm BloodandCustard East Sussex Finescale Railway Modelling Finescale Modelling OO HO 18.83mm 4mm BloodandCustard East Sussex Finescale Railway Modelling Finescale Modelling OO HO 18.83mm 4mm BloodandCustard East Sussex Finescale Railway Modelling Finescale Modelling OO HO 18.83mm 4mm BloodandCustard East Sussex Finescale Railway Modelling Finescale Modelling OO HO 18.83mm 4mm BloodandCustard East Sussex Finescale Railway Modelling Finescale Modelling OO HO 18.83mm 4mm BloodandCustard East Sussex Finescale Railway Modelling Finescale Modelling OO HO 18.83mm 4mm BloodandCustard East Sussex Finescale Railway Modelling Finescale Modelling OO HO 18.83mm 4mm BloodandCustard East Sussex Finescale Railway Modelling Finescale Modelling OO HO 18.83mm 4mm BloodandCustard East Sussex Finescale Railway Modelling Finescale Modelling OO HO 18.83mm 4mm BloodandCustard East Sussex Finescale Railway Modelling Finescale Modelling OO HO 18.83mm 4mm BloodandCustard East Sussex Finescale Railway Modelling Finescale Modelling OO HO 18.83mm 4mm BloodandCustard East Sussex Finescale Railway Modelling Finescale Modelling OO HO 18.83mm 4mm BloodandCustard East Sussex Finescale Railway Modelling Finescale Modelling OO HO 18.83mm 4mm BloodandCustard East Sussex Finescale Railway Modelling Finescale Modelling OO HO 18.83mm 4mm BloodandCustard East Sussex Finescale Railway Modelling Finescale Modelling OO HO 18.83mm 4mm BloodandCustard East Sussex Finescale Railway Modelling Finescale Modelling OO HO 18.83mm 4mm BloodandCustard East Sussex Finescale Railway Modelling Finescale Modelling OO HO 18.83mm 4mm BloodandCustard East Sussex Finescale Railway Modelling Finescale Modelling OO HO 18.83mm 4mm BloodandCustard East Sussex Finescale Railway Modelling Finescale Modelling OO HO 18.83mm 4mm BloodandCustard East Sussex Finescale Railway Modelling Finescale Modelling OO HO 18.83mm 4mm BloodandCustard East Sussex Finescale Railway Modelling Finescale Modelling OO HO 18.83mm 4mm BloodandCustard East Sussex Finescale Railway Modelling Finescale Modelling OO HO 18.83mm 4mm BloodandCustard East Sussex Finescale Railway Modelling Finescale Modelling OO HO 18.83mm 4mm BloodandCustard East Sussex Finescale Railway Modelling Finescale Modelling OO HO 18.83mm 4mm BloodandCustard East Sussex Finescale Railway Modelling Finescale Modelling OO HO 18.83mm 4mm BloodandCustard East Sussex Finescale Railway Modelling Finescale Modelling OO HO 18.83mm 4mm BloodandCustard East Sussex Finescale Railway Modelling Finescale Modelling OO HO 18.83mm 4mm BloodandCustard East Sussex Finescale Railway Modelling Finescale Modelling OO HO 18.83mm 4mm BloodandCustard East Sussex Finescale Railway Modelling Finescale Modelling OO HO 18.83mm 4mm BloodandCustard East Sussex Finescale Railway Modelling Finescale Modelling OO HO 18.83mm 4mm BloodandCustard East Sussex Finescale Railway Modelling Finescale Modelling OO HO 18.83mm 4mm BloodandCustard East Sussex Finescale Railway Modelling Finescale Modelling OO HO 18.83mm 4mm BloodandCustard East Sussex Finescale Railway Modelling Finescale Modelling OO HO 18.83mm 4mm BloodandCustard East Sussex Finescale Railway Modelling Finescale Modelling OO HO 18.83mm 4mm BloodandCustard East Sussex Finescale Railway Modelling Finescale Modelling OO HO 18.83mm 4mm BloodandCustard East Sussex Finescale Railway Modelling Finescale Modelling OO HO 18.83mm 4mm BloodandCustard East Sussex Finescale Railway Modelling Finescale Modelling OO HO 18.83mm 4mm BloodandCustard East Sussex Finescale Railway Modelling Finescale Modelling OO HO 18.83mm 4mm BloodandCustard East Sussex Finescale Railway Modelling Finescale Modelling OO HO 18.83mm 4mm BloodandCustard East Sussex Finescale Railway Modelling Finescale Modelling OO HO 18.83mm 4mm BloodandCustard East Sussex Finescale Railway Modelling Finescale Modelling OO HO 18.83mm 4mm BloodandCustard East Sussex Finescale Railway Modelling Finescale Modelling OO HO 18.83mm 4mm BloodandCustard East Sussex Finescale Railway Modelling Finescale Modelling OO HO 18.83mm 4mm BloodandCustard East Sussex Finescale Railway Modelling Finescale Modelling OO HO 18.83mm 4mm BloodandCustard East Sussex Finescale Railway Modelling Finescale Modelling OO HO 18.83mm 4mm BloodandCustard East Sussex Finescale Railway Modelling Finescale Modelling OO HO 18.83mm 4mm BloodandCustard East Sussex Finescale Railway Modelling Finescale Modelling OO HO 18.83mm 4mm BloodandCustard East Sussex Finescale Railway Modelling Finescale Modelling OO HO 18.83mm 4mm BloodandCustard East Sussex Finescale Railway Modelling Finescale Modelling OO HO 18.83mm 4mm BloodandCustard East Sussex Finescale Railway Modelling Finescale Modelling OO HO 18.83mm 4mm BloodandCustard East Sussex Finescale Railway Modelling Finescale Modelling OO HO 18.83mm 4mm BloodandCustard East Sussex Finescale Railway Modelling Finescale Modelling OO HO 18.83mm 4mm BloodandCustard East Sussex Finescale Railway Modelling Finescale Modelling OO HO 18.83mm 4mm BloodandCustard East Sussex Finescale Railway Modelling Finescale Modelling OO HO 18.83mm 4mm BloodandCustard East Sussex Finescale Railway Modelling Finescale Modelling OO HO 18.83mm 4mm BloodandCustard East Sussex Finescale Railway Modelling Finescale Modelling OO HO 18.83mm 4mm BloodandCustard East Sussex Finescale Railway Modelling Finescale Modelling OO HO 18.83mm 4mm BloodandCustard East Sussex Finescale Railway Modelling Finescale Modelling OO HO 18.83mm 4mm BloodandCustard East Sussex Finescale Railway Modelling Finescale Modelling OO HO 18.83mm 4mm BloodandCustard East Sussex Finescale Railway Modelling Finescale Modelling OO HO 18.83mm 4mm BloodandCustard East Sussex Finescale Railway Modelling Finescale Modelling OO HO 18.83mm 4mm BloodandCustard East Sussex Finescale Railway Modelling Finescale Modelling OO HO 18.83mm 4mm BloodandCustard East Sussex Finescale Railway Modelling Finescale Modelling OO HO 18.83mm 4mm BloodandCustard East Sussex Finescale Railway Modelling Finescale Modelling OO HO 18.83mm 4mm BloodandCustard East Sussex Finescale Railway Modelling Finescale Modelling OO HO 18.83mm 4mm BloodandCustard East Sussex Finescale Railway Modelling Finescale Modelling OO HO 18.83mm 4mm BloodandCustard East Sussex Finescale Railway Modelling Finescale Modelling OO HO 18.83mm 4mm BloodandCustard East Sussex Finescale Railway Modelling Finescale Modelling OO HO 18.83mm 4mm BloodandCustard East Sussex Finescale Railway Modelling Finescale Modelling OO HO 18.83mm 4mm BloodandCustard East Sussex Finescale Railway Modelling Finescale Modelling OO HO 18.83mm 4mm BloodandCustard East Sussex Finescale Railway Modelling Finescale Modelling OO HO 18.83mm 4mm BloodandCustard East Sussex Finescale Railway Modelling Finescale Modelling OO HO 18.83mm 4mm BloodandCustard East Sussex Finescale Railway Modelling Finescale Modelling OO HO 18.83mm 4mm BloodandCustard East Sussex Finescale Railway Modelling Finescale Modelling OO HO 18.83mm 4mm BloodandCustard East Sussex Finescale Railway Modelling Finescale Modelling OO HO 18.83mm 4mm BloodandCustard East Sussex Finescale Railway Modelling Finescale Modelling OO HO 18.83mm 4mm BloodandCustard East Sussex Finescale Railway Modelling Finescale Modelling OO HO 18.83mm 4mm BloodandCustard East Sussex Finescale Railway Modelling Finescale Modelling OO HO 18.83mm 4mm BloodandCustard East Sussex Finescale Railway Modelling Finescale Modelling OO HO 18.83mm 4mm BloodandCustard East Sussex Finescale Railway Modelling Finescale Modelling OO HO 18.83mm 4mm BloodandCustard East Sussex Finescale Railway Modelling Finescale Modelling OO HO 18.83mm 4mm BloodandCustard East Sussex Finescale Railway Modelling Finescale Modelling OO HO 18.83mm 4mm BloodandCustard East Sussex Finescale Railway Modelling Finescale Modelling OO HO 18.83mm 4mm BloodandCustard East Sussex Finescale Railway Modelling Finescale Modelling OO HO 18.83mm 4mm BloodandCustard East Sussex Finescale Railway Modelling Finescale Modelling OO HO 18.83mm 4mm BloodandCustard East Sussex Finescale Railway Modelling Finescale Modelling OO HO 18.83mm 4mm BloodandCustard East Sussex Finescale Railway Modelling Finescale Modelling OO HO 18.83mm 4mm BloodandCustard East Sussex Finescale Railway Modelling Finescale Modelling OO HO 18.83mm 4mm BloodandCustard East Sussex Finescale Railway Modelling Finescale Modelling OO HO 18.83mm 4mm BloodandCustard East Sussex Finescale Railway Modelling Finescale Modelling OO HO 18.83mm 4mm BloodandCustard East Sussex Finescale Railway Modelling Finescale Modelling OO HO 18.83mm 4mm BloodandCustard East Sussex Finescale Railway Modelling Finescale Modelling OO HO 18.83mm 4mm BloodandCustard East Sussex Finescale Railway Modelling Finescale Modelling OO HO 18.83mm 4mm BloodandCustard East Sussex Finescale Railway Modelling Finescale Modelling OO HO 18.83mm 4mm BloodandCustard East Sussex Finescale Railway Modelling Finescale Modelling OO HO 18.83mm 4mm BloodandCustard East Sussex Finescale Railway Modelling Finescale Modelling OO HO 18.83mm 4mm BloodandCustard East Sussex Finescale Railway Modelling Finescale Modelling OO HO 18.83mm 4mm BloodandCustard East Sussex Finescale Railway Modelling Finescale Modelling OO HO 18.83mm 4mm BloodandCustard East Sussex Finescale Railway Modelling Finescale Modelling OO HO 18.83mm 4mm BloodandCustard East Sussex Finescale Railway Modelling Finescale Modelling OO HO 18.83mm 4mm BloodandCustard East Sussex Finescale Railway Modelling Finescale Modelling OO HO 18.83mm 4mm BloodandCustard East Sussex Finescale Railway Modelling Finescale Modelling OO HO 18.83mm 4mm BloodandCustard East Sussex Finescale Railway Modelling Finescale Modelling OO HO 18.83mm 4mm BloodandCustard East Sussex Finescale Railway Modelling Finescale Modelling OO HO 18.83mm 4mm BloodandCustard East Sussex Finescale Railway Modelling Finescale Modelling OO HO 18.83mm 4mm BloodandCustard East Sussex Finescale Railway Modelling Finescale Modelling OO HO 18.83mm 4mm BloodandCustard East Sussex Finescale Railway Modelling Finescale Modelling OO HO 18.83mm 4mm BloodandCustard East Sussex Finescale Railway Modelling Finescale Modelling OO HO 18.83mm 4mm BloodandCustard East Sussex Finescale Railway Modelling Finescale Modelling OO HO 18.83mm 4mm BloodandCustard East Sussex Finescale Railway Modelling Finescale Modelling OO HO 18.83mm 4mm BloodandCustard East Sussex Finescale Railway Modelling Finescale Modelling OO HO 18.83mm 4mm BloodandCustard East Sussex Finescale Railway Modelling Finescale Modelling OO HO 18.83mm 4mm BloodandCustard East Sussex Finescale Railway Modelling Finescale Modelling OO HO 18.83mm 4mm BloodandCustard East Sussex Finescale Railway Modelling Finescale Modelling OO HO 18.83mm 4mm BloodandCustard East Sussex Finescale Railway Modelling Finescale Modelling OO HO 18.83mm 4mm BloodandCustard East Sussex Finescale Railway Modelling Finescale Modelling OO HO 18.83mm 4mm BloodandCustard East Sussex Finescale Railway Modelling Finescale Modelling OO HO 18.83mm 4mm BloodandCustard East Sussex Finescale Railway Modelling Finescale Modelling OO HO 18.83mm 4mm BloodandCustard East Sussex Finescale Railway Modelling Finescale Modelling OO HO 18.83mm 4mm BloodandCustard East Sussex Finescale Railway Modelling Finescale Modelling OO HO 18.83mm 4mm BloodandCustard East Sussex Finescale Railway Modelling Finescale Modelling OO HO 18.83mm 4mm BloodandCustard East Sussex Finescale Railway Modelling Finescale Modelling OO HO 18.83mm 4mm BloodandCustard East Sussex Finescale Railway Modelling Finescale Modelling OO HO 18.83mm 4mm BloodandCustard East Sussex Finescale Railway Modelling Finescale Modelling OO HO 18.83mm 4mm BloodandCustard East Sussex Finescale Railway Modelling Finescale Modelling OO HO 18.83mm 4mm BloodandCustard East Sussex Finescale Railway Modelling Finescale Modelling OO HO 18.83mm 4mm BloodandCustard East Sussex Finescale Railway Modelling Finescale Modelling OO HO 18.83mm 4mm BloodandCustard East Sussex Finescale Railway Modelling Finescale Modelling OO HO 18.83mm 4mm BloodandCustard East Sussex Finescale Railway Modelling Finescale Modelling OO HO 18.83mm 4mm BloodandCustard East Sussex Finescale Railway Modelling Finescale Modelling OO HO 18.83mm 4mm BloodandCustard East Sussex Finescale Railway Modelling Finescale Modelling OO HO 18.83mm 4mm BloodandCustard East Sussex Finescale Railway Modelling Finescale Modelling OO HO 18.83mm 4mm BloodandCustard East Sussex Finescale Railway Modelling Finescale Modelling OO HO 18.83mm 4mm BloodandCustard East Sussex Finescale Railway Modelling Finescale Modelling OO HO 18.83mm 4mm BloodandCustard East Sussex Finescale Railway Modelling Finescale Modelling OO HO 18.83mm 4mm BloodandCustard East Sussex Finescale Railway Modelling Finescale Modelling OO HO 18.83mm 4mm BloodandCustard East Sussex Finescale Railway Modelling Finescale Modelling OO HO 18.83mm 4mm BloodandCustard East Sussex Finescale Railway Modelling Finescale Modelling OO HO 18.83mm 4mm BloodandCustard East Sussex Finescale Railway Modelling Finescale Modelling OO HO 18.83mm 4mm BloodandCustard East Sussex Finescale Railway Modelling Finescale Modelling OO HO 18.83mm 4mm BloodandCustard East Sussex Finescale Railway Modelling Finescale Modelling OO HO 18.83mm 4mm BloodandCustard East Sussex Finescale Railway Modelling Finescale Modelling OO HO 18.83mm 4mm BloodandCustard East Sussex Finescale Railway Modelling Finescale Modelling OO HO 18.83mm 4mm BloodandCustard East Sussex Finescale Railway Modelling Finescale Modelling OO HO 18.83mm 4mm BloodandCustard East Sussex Finescale Railway Modelling Finescale Modelling OO HO 18.83mm 4mm BloodandCustard East Sussex Finescale Railway Modelling Finescale Modelling OO HO 18.83mm 4mm BloodandCustard East Sussex Finescale Railway Modelling Finescale Modelling OO HO 18.83mm 4mm BloodandCustard East Sussex Finescale Railway Modelling Finescale Modelling OO HO 18.83mm 4mm BloodandCustard East Sussex Finescale Railway Modelling Finescale Modelling OO HO 18.83mm 4mm BloodandCustard East Sussex Finescale Railway Modelling Finescale Modelling OO HO 18.83mm 4mm BloodandCustard East Sussex Finescale Railway Modelling Finescale Modelling OO HO 18.83mm 4mm BloodandCustard East Sussex Finescale Railway Modelling Finescale Modelling OO HO 18.83mm 4mm BloodandCustard East Sussex Finescale Railway Modelling Finescale Modelling OO HO 18.83mm 4mm BloodandCustard East Sussex Finescale Railway Modelling Finescale Modelling OO HO 18.83mm 4mm BloodandCustard East Sussex Finescale Railway Modelling Finescale Modelling OO HO 18.83mm 4mm BloodandCustard East Sussex Finescale Railway Modelling Finescale Modelling OO HO 18.83mm 4mm BloodandCustard East Sussex Finescale Railway Modelling Finescale Modelling OO HO 18.83mm 4mm BloodandCustard East Sussex Finescale Railway Modelling Finescale Modelling OO HO 18.83mm 4mm BloodandCustard East Sussex Finescale Railway Modelling Finescale Modelling OO HO 18.83mm 4mm BloodandCustard East Sussex Finescale Railway Modelling Finescale Modelling OO HO 18.83mm 4mm BloodandCustard East Sussex Finescale Railway Modelling Finescale Modelling OO HO 18.83mm 4mm BloodandCustard East Sussex Finescale Railway Modelling Finescale Modelling OO HO 18.83mm 4mm BloodandCustard East Sussex Finescale Railway Modelling Finescale Modelling OO HO 18.83mm 4mm BloodandCustard East Sussex Finescale Railway Modelling Finescale Modelling OO HO 18.83mm 4mm BloodandCustard East Sussex Finescale Railway Modelling Finescale Modelling OO HO 18.83mm 4mm BloodandCustard East Sussex Finescale Railway Modelling Finescale Modelling OO HO 18.83mm 4mm BloodandCustard East Sussex Finescale Railway Modelling Finescale Modelling OO HO 18.83mm 4mm BloodandCustard East Sussex Finescale Railway Modelling Finescale Modelling OO HO 18.83mm 4mm BloodandCustard East Sussex Finescale Railway Modelling Finescale Modelling OO HO 18.83mm 4mm BloodandCustard East Sussex Finescale Railway Modelling Finescale Modelling OO HO 18.83mm 4mm BloodandCustard East Sussex Finescale Railway Modelling Finescale Modelling OO HO 18.83mm 4mm BloodandCustard East Sussex Finescale Railway Modelling Finescale Modelling OO HO 18.83mm 4mm BloodandCustard East Sussex Finescale Railway Modelling Finescale Modelling OO HO 18.83mm 4mm BloodandCustard East Sussex Finescale Railway Modelling Finescale Modelling OO HO 18.83mm 4mm BloodandCustard East Sussex Finescale Railway Modelling Finescale Modelling OO HO 18.83mm 4mm BloodandCustard East Sussex Finescale Railway Modelling Finescale Modelling OO HO 18.83mm 4mm BloodandCustard East Sussex Finescale Railway Modelling Finescale Modelling OO HO 18.83mm 4mm BloodandCustard East Sussex Finescale Railway Modelling Finescale Modelling OO HO 18.83mm 4mm BloodandCustard East Sussex Finescale Railway Modelling Finescale Modelling OO HO 18.83mm 4mm BloodandCustard East Sussex Finescale Railway Modelling Finescale Modelling OO HO 18.83mm 4mm BloodandCustard East Sussex Finescale Railway Modelling Finescale Modelling OO HO 18.83mm 4mm BloodandCustard East Sussex Finescale Railway Modelling Finescale Modelling OO HO 18.83mm 4mm BloodandCustard East Sussex Finescale Railway Modelling Finescale Modelling OO HO 18.83mm 4mm BloodandCustard East Sussex Finescale Railway Modelling Finescale Modelling OO HO 18.83mm 4mm BloodandCustard East Sussex Finescale Railway Modelling Finescale Modelling OO HO 18.83mm 4mm BloodandCustard East Sussex Finescale Railway Modelling Finescale Modelling OO HO 18.83mm 4mm BloodandCustard East Sussex Finescale Railway Modelling Finescale Modelling OO HO 18.83mm 4mm BloodandCustard East Sussex Finescale Railway Modelling Finescale Modelling OO HO 18.83mm 4mm BloodandCustard East Sussex Finescale Railway Modelling Finescale Modelling OO HO 18.83mm 4mm BloodandCustard East Sussex Finescale Railway Modelling Finescale Modelling OO HO 18.83mm 4mm BloodandCustard East Sussex Finescale Railway Modelling Finescale Modelling OO HO 18.83mm 4mm BloodandCustard East Sussex Finescale Railway Modelling Finescale Modelling OO HO 18.83mm 4mm BloodandCustard East Sussex Finescale Railway Modelling Finescale Modelling OO HO 18.83mm 4mm BloodandCustard East Sussex Finescale Railway Modelling Finescale Modelling OO HO 18.83mm 4mm BloodandCustard East Sussex Finescale Railway Modelling Finescale Modelling OO HO 18.83mm 4mm BloodandCustard East Sussex Finescale Railway Modelling Finescale Modelling OO HO 18.83mm 4mm BloodandCustard East Sussex Finescale Railway Modelling Finescale Modelling OO HO 18.83mm 4mm BloodandCustard East Sussex Finescale Railway Modelling Finescale Modelling OO HO 18.83mm 4mm BloodandCustard East Sussex Finescale Railway Modelling Finescale Modelling OO HO 18.83mm 4mm BloodandCustard East Sussex Finescale Railway Modelling Finescale Modelling OO HO 18.83mm 4mm BloodandCustard East Sussex Finescale Railway Modelling Finescale Modelling OO HO 18.83mm 4mm BloodandCustard East Sussex Finescale Railway Modelling Finescale Modelling OO HO 18.83mm 4mm BloodandCustard East Sussex Finescale Railway Modelling Finescale Modelling OO HO 18.83mm 4mm BloodandCustard East Sussex Finescale Railway Modelling Finescale Modelling OO HO 18.83mm 4mm BloodandCustard East Sussex Finescale Railway Modelling Finescale Modelling OO HO 18.83mm 4mm BloodandCustard East Sussex Finescale Railway Modelling Finescale Modelling OO HO 18.83mm 4mm BloodandCustard East Sussex Finescale Railway Modelling Finescale Modelling OO HO 18.83mm 4mm BloodandCustard East Sussex Finescale Railway Modelling Finescale Modelling OO HO 18.83mm 4mm BloodandCustard East Sussex Finescale Railway Modelling Finescale Modelling OO HO 18.83mm 4mm BloodandCustard East Sussex Finescale Railway Modelling Finescale Modelling OO HO 18.83mm 4mm BloodandCustard East Sussex Finescale Railway Modelling Finescale Modelling OO HO 18.83mm 4mm BloodandCustard East Sussex Finescale Railway Modelling Finescale Modelling OO HO 18.83mm 4mm BloodandCustard East Sussex Finescale Railway Modelling Finescale Modelling OO HO 18.83mm 4mm BloodandCustard East Sussex Finescale Railway Modelling Finescale Modelling OO HO 18.83mm 4mm BloodandCustard East Sussex Finescale Railway Modelling Finescale Modelling OO HO 18.83mm 4mm BloodandCustard East Sussex Finescale Railway Modelling Finescale Modelling OO HO 18.83mm 4mm BloodandCustard East Sussex Finescale Railway Modelling Finescale Modelling OO HO 18.83mm 4mm BloodandCustard East Sussex Finescale Railway Modelling Finescale Modelling OO HO 18.83mm 4mm BloodandCustard East Sussex Finescale Railway Modelling Finescale Modelling OO HO 18.83mm 4mm BloodandCustard East Sussex Finescale Railway Modelling Finescale Modelling OO HO 18.83mm 4mm BloodandCustard East Sussex Finescale Railway Modelling Finescale Modelling OO HO 18.83mm 4mm BloodandCustard East Sussex Finescale Railway Modelling Finescale Modelling OO HO 18.83mm 4mm BloodandCustard East Sussex Finescale Railway Modelling Finescale Modelling OO HO 18.83mm 4mm BloodandCustard East Sussex Finescale Railway Modelling Finescale Modelling OO HO 18.83mm 4mm BloodandCustard East Sussex Finescale Railway Modelling Finescale Modelling OO HO 18.83mm 4mm BloodandCustard East Sussex Finescale Railway Modelling Finescale Modelling OO HO 18.83mm 4mm BloodandCustard East Sussex Finescale Railway Modelling Finescale Modelling OO HO 18.83mm 4mm BloodandCustard East Sussex Finescale Railway Modelling Finescale Modelling OO HO 18.83mm 4mm BloodandCustard East Sussex Finescale Railway Modelling Finescale Modelling OO HO 18.83mm 4mm BloodandCustard East Sussex Finescale Railway Modelling Finescale Modelling OO HO 18.83mm 4mm BloodandCustard East Sussex Finescale Railway Modelling Finescale Modelling OO HO 18.83mm 4mm BloodandCustard East Sussex Finescale Railway Modelling Finescale Modelling OO HO 18.83mm 4mm BloodandCustard East Sussex Finescale Railway Modelling Finescale Modelling OO HO 18.83mm 4mm BloodandCustard East Sussex Finescale Railway Modelling Finescale Modelling OO HO 18.83mm 4mm BloodandCustard East Sussex Finescale Railway Modelling Finescale Modelling OO HO 18.83mm 4mm BloodandCustard East Sussex Finescale Railway Modelling Finescale Modelling OO HO 18.83mm 4mm BloodandCustard East Sussex Finescale Railway Modelling Finescale Modelling OO HO 18.83mm 4mm BloodandCustard East Sussex Finescale Railway Modelling Finescale Modelling OO HO 18.83mm 4mm BloodandCustard East Sussex Finescale Railway Modelling Finescale Modelling OO HO 18.83mm 4mm BloodandCustard East Sussex Finescale Railway Modelling Finescale Modelling OO HO 18.83mm 4mm BloodandCustard East Sussex Finescale Railway Modelling Finescale Modelling OO HO 18.83mm 4mm BloodandCustard East Sussex Finescale Railway Modelling Finescale Modelling OO HO 18.83mm 4mm BloodandCustard East Sussex Finescale Railway Modelling Finescale Modelling OO HO 18.83mm 4mm BloodandCustard East Sussex Finescale Railway Modelling Finescale Modelling OO HO 18.83mm 4mm BloodandCustard East Sussex Finescale Railway Modelling Finescale Modelling OO HO 18.83mm 4mm BloodandCustard East Sussex Finescale Railway Modelling Finescale Modelling OO HO 18.83mm 4mm BloodandCustard East Sussex Finescale Railway Modelling Finescale Modelling OO HO 18.83mm 4mm BloodandCustard East Sussex Finescale Railway Modelling Finescale Modelling OO HO 18.83mm 4mm BloodandCustard East Sussex Finescale Railway Modelling Finescale Modelling OO HO 18.83mm 4mm BloodandCustard East Sussex Finescale Railway Modelling Finescale Modelling OO HO 18.83mm 4mm BloodandCustard East Sussex Finescale Railway Modelling Finescale Modelling OO HO 18.83mm 4mm BloodandCustard East Sussex Finescale Railway Modelling Finescale Modelling OO HO 18.83mm 4mm BloodandCustard East Sussex Finescale Railway Modelling Finescale Modelling OO HO 18.83mm 4mm BloodandCustard East Sussex Finescale Railway Modelling Finescale Modelling OO HO 18.83mm 4mm BloodandCustard East Sussex Finescale Railway Modelling Finescale Modelling OO HO 18.83mm 4mm BloodandCustard East Sussex Finescale Railway Modelling Finescale Modelling OO HO 18.83mm 4mm BloodandCustard East Sussex Finescale Railway Modelling Finescale Modelling OO HO 18.83mm 4mm BloodandCustard East Sussex Finescale Railway Modelling Finescale Modelling OO HO 18.83mm 4mm BloodandCustard East Sussex Finescale Railway Modelling Finescale Modelling OO HO 18.83mm 4mm BloodandCustard East Sussex Finescale Railway Modelling Finescale Modelling OO HO 18.83mm 4mm BloodandCustard East Sussex Finescale Railway Modelling Finescale Modelling OO HO 18.83mm 4mm BloodandCustard East Sussex Finescale Railway Modelling Finescale Modelling OO HO 18.83mm 4mm BloodandCustard East Sussex Finescale Railway Modelling Finescale Modelling OO HO 18.83mm 4mm BloodandCustard East Sussex Finescale Railway Modelling Finescale Modelling OO HO 18.83mm 4mm BloodandCustard East Sussex Finescale Railway Modelling Finescale Modelling OO HO 18.83mm 4mm BloodandCustard East Sussex Finescale Railway Modelling Finescale Modelling OO HO 18.83mm 4mm BloodandCustard East Sussex Finescale Railway Modelling Finescale Modelling OO HO 18.83mm 4mm BloodandCustard East Sussex Finescale Railway Modelling Finescale Modelling OO HO 18.83mm 4mm BloodandCustard East Sussex Finescale Railway Modelling Finescale Modelling OO HO 18.83mmBloodandCustard East Sussex Finescale Railway Modelling Finescale Modelling OO HO 18.83mm 4mm. BloodandCustard East Sussex Finescale Railway Modelling Finescale Modelling OO HO 18.83mm 4mm BloodandCustard East Sussex Finescale Railway Modelling Finescale Modelling OO HO 18.83mm 4mm BloodandCustard East Sussex Finescale Railway Modelling Finescale Modelling OO HO 18.83mm 4mm BloodandCustard East Sussex Finescale Railway Modelling Finescale Modelling OO HO 18.83mm 4mm BloodandCustard East Sussex Finescale Railway Modelling Finescale Modelling OO HO 18.83mm 4mm BloodandCustard East Sussex Finescale Railway Modelling Finescale Modelling OO HO 18.83mm 4mm BloodandCustard East Sussex Finescale Railway Modelling Finescale Modelling OO HO 18.83mm 4mm BloodandCustard East Sussex Finescale Railway Modelling Finescale Modelling OO HO 18.83mm 4mm BloodandCustard East Sussex Finescale Railway Modelling Finescale Modelling OO HO 18.83mm 4mm BloodandCustard East Sussex Finescale Railway Modelling Finescale Modelling OO HO 18.83mm 4mm BloodandCustard East Sussex Finescale Railway Modelling Finescale Modelling OO HO 18.83mm 4mm BloodandCustard East Sussex Finescale Railway Modelling Finescale Modelling OO HO 18.83mm 4mm BloodandCustard East Sussex Finescale Railway Modelling Finescale Modelling OO HO 18.83mm 4mm BloodandCustard East Sussex Finescale Railway Modelling Finescale Modelling OO HO 18.83mm 4mm BloodandCustard East Sussex Finescale Railway Modelling Finescale Modelling OO HO 18.83mm 4mm BloodandCustard East Sussex Finescale Railway Modelling Finescale Modelling OO HO 18.83mm 4mm BloodandCustard East Sussex Finescale Railway Modelling Finescale Modelling OO HO 18.83mm 4mm BloodandCustard East Sussex Finescale Railway Modelling Finescale Modelling OO HO 18.83mm 4mm BloodandCustard East Sussex Finescale Railway Modelling Finescale Modelling OO HO 18.83mm 4mm BloodandCustard East Sussex Finescale Railway Modelling Finescale Modelling OO HO 18.83mm 4mm BloodandCustard East Sussex Finescale Railway Modelling Finescale Modelling OO HO 18.83mm 4mm BloodandCustard East Sussex Finescale Railway Modelling Finescale Modelling OO HO 18.83mm 4mm BloodandCustard East Sussex Finescale Railway Modelling Finescale Modelling OO HO 18.83mm 4mm BloodandCustard East Sussex Finescale Railway Modelling Finescale Modelling OO HO 18.83mm 4mm BloodandCustard East Sussex Finescale Railway Modelling Finescale Modelling OO HO 18.83mm 4mm BloodandCustard East Sussex Finescale Railway Modelling Finescale Modelling OO HO 18.83mm 4mm BloodandCustard East Sussex Finescale Railway Modelling Finescale Modelling OO HO 18.83mm 4mm BloodandCustard East Sussex Finescale Railway Modelling Finescale Modelling OO HO 18.83mm 4mm BloodandCustard East Sussex Finescale Railway Modelling Finescale Modelling OO HO 18.83mm 4mm BloodandCustard East Sussex Finescale Railway Modelling Finescale Modelling OO HO 18.83mm 4mm BloodandCustard East Sussex Finescale Railway Modelling Finescale Modelling OO HO 18.83mm 4mm BloodandCustard East Sussex Finescale Railway Modelling Finescale Modelling OO HO 18.83mm 4mm BloodandCustard East Sussex Finescale Railway Modelling Finescale Modelling OO HO 18.83mm 4mm BloodandCustard East Sussex Finescale Railway Modelling Finescale Modelling OO HO 18.83mm 4mm BloodandCustard East Sussex Finescale Railway Modelling Finescale Modelling OO HO 18.83mm 4mm BloodandCustard East Sussex Finescale Railway Modelling Finescale Modelling OO HO 18.83mm 4mm BloodandCustard East Sussex Finescale Railway Modelling Finescale Modelling OO HO 18.83mm 4mm BloodandCustard East Sussex Finescale Railway Modelling Finescale Modelling OO HO 18.83mm 4mm BloodandCustard East Sussex Finescale Railway Modelling Finescale Modelling OO HO 18.83mm 4mm BloodandCustard East Sussex Finescale Railway Modelling Finescale Modelling OO HO 18.83mm 4mm BloodandCustard East Sussex Finescale Railway Modelling Finescale Modelling OO HO 18.83mm 4mm BloodandCustard East Sussex Finescale Railway Modelling Finescale Modelling OO HO 18.83mm 4mm BloodandCustard East Sussex Finescale Railway Modelling Finescale Modelling OO HO 18.83mm 4mm BloodandCustard East Sussex Finescale Railway Modelling Finescale Modelling OO HO 18.83mm 4mm BloodandCustard East Sussex Finescale Railway Modelling Finescale Modelling OO HO 18.83mm 4mm BloodandCustard East Sussex Finescale Railway Modelling Finescale Modelling OO HO 18.83mm 4mm BloodandCustard East Sussex Finescale Railway Modelling Finescale Modelling OO HO 18.83mm 4mm BloodandCustard East Sussex Finescale Railway Modelling Finescale Modelling OO HO 18.83mm 4mm BloodandCustard East Sussex Finescale Railway Modelling Finescale Modelling OO HO 18.83mm 4mm BloodandCustard East Sussex Finescale Railway Modelling Finescale Modelling OO HO 18.83mm 4mm BloodandCustard East Sussex Finescale Railway Modelling Finescale Modelling OO HO 18.83mm 4mm BloodandCustard East Sussex Finescale Railway Modelling Finescale Modelling OO HO 18.83mm 4mm BloodandCustard East Sussex Finescale Railway Modelling Finescale Modelling OO HO 18.83mm 4mm BloodandCustard East Sussex Finescale Railway Modelling Finescale Modelling OO HO 18.83mm 4mm BloodandCustard East Sussex Finescale Railway Modelling Finescale Modelling OO HO 18.83mm 4mm BloodandCustard East Sussex Finescale Railway Modelling Finescale Modelling OO HO 18.83mm 4mm BloodandCustard East Sussex Finescale Railway Modelling Finescale Modelling OO HO 18.83mm 4mm BloodandCustard East Sussex Finescale Railway Modelling Finescale Modelling OO HO 18.83mm 4mm BloodandCustard East Sussex Finescale Railway Modelling Finescale Modelling OO HO 18.83mm 4mm BloodandCustard East Sussex Finescale Railway Modelling Finescale Modelling OO HO 18.83mm 4mm BloodandCustard East Sussex Finescale Railway Modelling Finescale Modelling OO HO 18.83mm 4mm BloodandCustard East Sussex Finescale Railway Modelling Finescale Modelling OO HO 18.83mm 4mm BloodandCustard East Sussex Finescale Railway Modelling Finescale Modelling OO HO 18.83mm 4mm BloodandCustard East Sussex Finescale Railway Modelling Finescale Modelling OO HO 18.83mm 4mm BloodandCustard East Sussex Finescale Railway Modelling Finescale Modelling OO HO 18.83mm 4mm BloodandCustard East Sussex Finescale Railway Modelling Finescale Modelling OO HO 18.83mm 4mm BloodandCustard East Sussex Finescale Railway Modelling Finescale Modelling OO HO 18.83mm 4mm BloodandCustard East Sussex Finescale Railway Modelling Finescale Modelling OO HO 18.83mm 4mm BloodandCustard East Sussex Finescale Railway Modelling Finescale Modelling OO HO 18.83mm 4mm BloodandCustard East Sussex Finescale Railway Modelling Finescale Modelling OO HO 18.83mm 4mm BloodandCustard East Sussex Finescale Railway Modelling Finescale Modelling OO HO 18.83mm 4mm BloodandCustard East Sussex Finescale Railway Modelling Finescale Modelling OO HO 18.83mm 4mm BloodandCustard East Sussex Finescale Railway Modelling Finescale Modelling OO HO 18.83mm 4mm BloodandCustard East Sussex Finescale Railway Modelling Finescale Modelling OO HO 18.83mm 4mm BloodandCustard East Sussex Finescale Railway Modelling Finescale Modelling OO HO 18.83mm 4mm BloodandCustard East Sussex Finescale Railway Modelling Finescale Modelling OO HO 18.83mm 4mm BloodandCustard East Sussex Finescale Railway Modelling Finescale Modelling OO HO 18.83mm 4mm BloodandCustard East Sussex Finescale Railway Modelling Finescale Modelling OO HO 18.83mm 4mm BloodandCustard East Sussex Finescale Railway Modelling Finescale Modelling OO HO 18.83mm 4mm BloodandCustard East Sussex Finescale Railway Modelling Finescale Modelling OO HO 18.83mm 4mm BloodandCustard East Sussex Finescale Railway Modelling Finescale Modelling OO HO 18.83mm 4mm BloodandCustard East Sussex Finescale Railway Modelling Finescale Modelling OO HO 18.83mm 4mm BloodandCustard East Sussex Finescale Railway Modelling Finescale Modelling OO HO 18.83mm 4mm BloodandCustard East Sussex Finescale Railway Modelling Finescale Modelling OO HO 18.83mm 4mm BloodandCustard East Sussex Finescale Railway Modelling Finescale Modelling OO HO 18.83mm 4mm BloodandCustard East Sussex Finescale Railway Modelling Finescale Modelling OO HO 18.83mm 4mm BloodandCustard East Sussex Finescale Railway Modelling Finescale Modelling OO HO 18.83mm 4mm BloodandCustard East Sussex Finescale Railway Modelling Finescale Modelling OO HO 18.83mm 4mm BloodandCustard East Sussex Finescale Railway Modelling Finescale Modelling OO HO 18.83mm 4mm BloodandCustard East Sussex Finescale Railway Modelling Finescale Modelling OO HO 18.83mm 4mm BloodandCustard East Sussex Finescale Railway Modelling Finescale Modelling OO HO 18.83mm 4mm BloodandCustard East Sussex Finescale Railway Modelling Finescale Modelling OO HO 18.83mm 4mm BloodandCustard East Sussex Finescale Railway Modelling Finescale Modelling OO HO 18.83mm 4mm BloodandCustard East Sussex Finescale Railway Modelling Finescale Modelling OO HO 18.83mm 4mm BloodandCustard East Sussex Finescale Railway Modelling Finescale Modelling OO HO 18.83mm 4mm BloodandCustard East Sussex Finescale Railway Modelling Finescale Modelling OO HO 18.83mm 4mm BloodandCustard East Sussex Finescale Railway Modelling Finescale Modelling OO HO 18.83mm 4mm BloodandCustard East Sussex Finescale Railway Modelling Finescale Modelling OO HO 18.83mm 4mm BloodandCustard East Sussex Finescale Railway Modelling Finescale Modelling OO HO 18.83mm 4mm BloodandCustard East Sussex Finescale Railway Modelling Finescale Modelling OO HO 18.83mm 4mm BloodandCustard East Sussex Finescale Railway Modelling Finescale Modelling OO HO 18.83mm 4mm BloodandCustard East Sussex Finescale Railway Modelling Finescale Modelling OO HO 18.83mm 4mm BloodandCustard East Sussex Finescale Railway Modelling Finescale Modelling OO HO 18.83mm 4mm BloodandCustard East Sussex Finescale Railway Modelling Finescale Modelling OO HO 18.83mm 4mm BloodandCustard East Sussex Finescale Railway Modelling Finescale Modelling OO HO 18.83mm 4mm BloodandCustard East Sussex Finescale Railway Modelling Finescale Modelling OO HO 18.83mm 4mm BloodandCustard East Sussex Finescale Railway Modelling Finescale Modelling OO HO 18.83mm 4mm BloodandCustard East Sussex Finescale Railway Modelling Finescale Modelling OO HO 18.83mm 4mm BloodandCustard East Sussex Finescale Railway Modelling Finescale Modelling OO HO 18.83mm 4mm BloodandCustard East Sussex Finescale Railway Modelling Finescale Modelling OO HO 18.83mm 4mm BloodandCustard East Sussex Finescale Railway Modelling Finescale Modelling OO HO 18.83mm 4mm BloodandCustard East Sussex Finescale Railway Modelling Finescale Modelling OO HO 18.83mm 4mm BloodandCustard East Sussex Finescale Railway Modelling Finescale Modelling OO HO 18.83mm 4mm BloodandCustard East Sussex Finescale Railway Modelling Finescale Modelling OO HO 18.83mm 4mm BloodandCustard East Sussex Finescale Railway Modelling Finescale Modelling OO HO 18.83mm 4mm BloodandCustard East Sussex Finescale Railway Modelling Finescale Modelling OO HO 18.83mm 4mm BloodandCustard East Sussex Finescale Railway Modelling Finescale Modelling OO HO 18.83mm 4mm BloodandCustard East Sussex Finescale Railway Modelling Finescale Modelling OO HO 18.83mm 4mm BloodandCustard East Sussex Finescale Railway Modelling Finescale Modelling OO HO 18.83mm 4mm BloodandCustard East Sussex Finescale Railway Modelling Finescale Modelling OO HO 18.83mm 4mm BloodandCustard East Sussex Finescale Railway Modelling Finescale Modelling OO HO 18.83mm 4mm BloodandCustard East Sussex Finescale Railway Modelling Finescale Modelling OO HO 18.83mm 4mm BloodandCustard East Sussex Finescale Railway Modelling Finescale Modelling OO HO 18.83mm 4mm BloodandCustard East Sussex Finescale Railway Modelling Finescale Modelling OO HO 18.83mm 4mm BloodandCustard East Sussex Finescale Railway Modelling Finescale Modelling OO HO 18.83mm 4mm BloodandCustard East Sussex Finescale Railway Modelling Finescale Modelling OO HO 18.83mm 4mm BloodandCustard East Sussex Finescale Railway Modelling Finescale Modelling OO HO 18.83mm 4mm BloodandCustard East Sussex Finescale Railway Modelling Finescale Modelling OO HO 18.83mm 4mm BloodandCustard East Sussex Finescale Railway Modelling Finescale Modelling OO HO 18.83mm 4mm BloodandCustard East Sussex Finescale Railway Modelling Finescale Modelling OO HO 18.83mm 4mm BloodandCustard East Sussex Finescale Railway Modelling Finescale Modelling OO HO 18.83mm 4mm BloodandCustard East Sussex Finescale Railway Modelling Finescale Modelling OO HO 18.83mm 4mm BloodandCustard East Sussex Finescale Railway Modelling Finescale Modelling OO HO 18.83mm 4mm BloodandCustard East Sussex Finescale Railway Modelling Finescale Modelling OO HO 18.83mm 4mm BloodandCustard East Sussex Finescale Railway Modelling Finescale Modelling OO HO 18.83mm 4mm BloodandCustard East Sussex Finescale Railway Modelling Finescale Modelling OO HO 18.83mm 4mm BloodandCustard East Sussex Finescale Railway Modelling Finescale Modelling OO HO 18.83mm 4mm BloodandCustard East Sussex Finescale Railway Modelling Finescale Modelling OO HO 18.83mm 4mm BloodandCustard East Sussex Finescale Railway Modelling Finescale Modelling OO HO 18.83mm 4mm BloodandCustard East Sussex Finescale Railway Modelling Finescale Modelling OO HO 18.83mm 4mm BloodandCustard East Sussex Finescale Railway Modelling Finescale Modelling OO HO 18.83mm 4mm BloodandCustard East Sussex Finescale Railway Modelling Finescale Modelling OO HO 18.83mm 4mm BloodandCustard East Sussex Finescale Railway Modelling Finescale Modelling OO HO 18.83mm 4mm BloodandCustard East Sussex Finescale Railway Modelling Finescale Modelling OO HO 18.83mm 4mm BloodandCustard East Sussex Finescale Railway Modelling Finescale Modelling OO HO 18.83mm 4mm BloodandCustard East Sussex Finescale Railway Modelling Finescale Modelling OO HO 18.83mm 4mm BloodandCustard East Sussex Finescale Railway Modelling Finescale Modelling OO HO 18.83mm 4mm BloodandCustard East Sussex Finescale Railway Modelling Finescale Modelling OO HO 18.83mm 4mm BloodandCustard East Sussex Finescale Railway Modelling Finescale Modelling OO HO 18.83mm 4mm BloodandCustard East Sussex Finescale Railway Modelling Finescale Modelling OO HO 18.83mm 4mm BloodandCustard East Sussex Finescale Railway Modelling Finescale Modelling OO HO 18.83mm 4mm BloodandCustard East Sussex Finescale Railway Modelling Finescale Modelling OO HO 18.83mm 4mm BloodandCustard East Sussex Finescale Railway Modelling Finescale Modelling OO HO 18.83mm 4mm BloodandCustard East Sussex Finescale Railway Modelling Finescale Modelling OO HO 18.83mm 4mm BloodandCustard East Sussex Finescale Railway Modelling Finescale Modelling OO HO 18.83mm 4mm BloodandCustard East Sussex Finescale Railway Modelling Finescale Modelling OO HO 18.83mm 4mm BloodandCustard East Sussex Finescale Railway Modelling Finescale Modelling OO HO 18.83mm 4mm BloodandCustard East Sussex Finescale Railway Modelling Finescale Modelling OO HO 18.83mm 4mm BloodandCustard East Sussex Finescale Railway Modelling Finescale Modelling OO HO 18.83mm 4mm BloodandCustard East Sussex Finescale Railway Modelling Finescale Modelling OO HO 18.83mm 4mm BloodandCustard East Sussex Finescale Railway Modelling Finescale Modelling OO HO 18.83mm 4mm BloodandCustard East Sussex Finescale Railway Modelling Finescale Modelling OO HO 18.83mm 4mm BloodandCustard East Sussex Finescale Railway Modelling Finescale Modelling OO HO 18.83mm 4mm BloodandCustard East Sussex Finescale Railway Modelling Finescale Modelling OO HO 18.83mm 4mm BloodandCustard East Sussex Finescale Railway Modelling Finescale Modelling OO HO 18.83mm 4mm BloodandCustard East Sussex Finescale Railway Modelling Finescale Modelling OO HO 18.83mm 4mm BloodandCustard East Sussex Finescale Railway Modelling Finescale Modelling OO HO 18.83mm 4mm BloodandCustard East Sussex Finescale Railway Modelling Finescale Modelling OO HO 18.83mm 4mm BloodandCustard East Sussex Finescale Railway Modelling Finescale Modelling OO HO 18.83mm 4mm BloodandCustard East Sussex Finescale Railway Modelling Finescale Modelling OO HO 18.83mm 4mm BloodandCustard East Sussex Finescale Railway Modelling Finescale Modelling OO HO 18.83mm 4mm BloodandCustard East Sussex Finescale Railway Modelling Finescale Modelling OO HO 18.83mm 4mm BloodandCustard East Sussex Finescale Railway Modelling Finescale Modelling OO HO 18.83mm 4mm BloodandCustard East Sussex Finescale Railway Modelling Finescale Modelling OO HO 18.83mm 4mm BloodandCustard East Sussex Finescale Railway Modelling Finescale Modelling OO HO 18.83mm 4mm BloodandCustard East Sussex Finescale Railway Modelling Finescale Modelling OO HO 18.83mm 4mm BloodandCustard East Sussex Finescale Railway Modelling Finescale Modelling OO HO 18.83mm 4mm BloodandCustard East Sussex Finescale Railway Modelling Finescale Modelling OO HO 18.83mm 4mm BloodandCustard East Sussex Finescale Railway Modelling Finescale Modelling OO HO 18.83mm 4mm BloodandCustard East Sussex Finescale Railway Modelling Finescale Modelling OO HO 18.83mm 4mm BloodandCustard East Sussex Finescale Railway Modelling Finescale Modelling OO HO 18.83mm 4mm BloodandCustard East Sussex Finescale Railway Modelling Finescale Modelling OO HO 18.83mm 4mm BloodandCustard East Sussex Finescale Railway Modelling Finescale Modelling OO HO 18.83mm 4mm BloodandCustard East Sussex Finescale Railway Modelling Finescale Modelling OO HO 18.83mm 4mm BloodandCustard East Sussex Finescale Railway Modelling Finescale Modelling OO HO 18.83mm 4mm BloodandCustard East Sussex Finescale Railway Modelling Finescale Modelling OO HO 18.83mm 4mm BloodandCustard East Sussex Finescale Railway Modelling Finescale Modelling OO HO 18.83mm 4mm BloodandCustard East Sussex Finescale Railway Modelling Finescale Modelling OO HO 18.83mm 4mm BloodandCustard East Sussex Finescale Railway Modelling Finescale Modelling OO HO 18.83mm 4mm BloodandCustard East Sussex Finescale Railway Modelling Finescale Modelling OO HO 18.83mm 4mm BloodandCustard East Sussex Finescale Railway Modelling Finescale Modelling OO HO 18.83mm 4mm BloodandCustard East Sussex Finescale Railway Modelling Finescale Modelling OO HO 18.83mm 4mm BloodandCustard East Sussex Finescale Railway Modelling Finescale Modelling OO HO 18.83mm 4mm BloodandCustard East Sussex Finescale Railway Modelling Finescale Modelling OO HO 18.83mm 4mm BloodandCustard East Sussex Finescale Railway Modelling Finescale Modelling OO HO 18.83mm 4mm BloodandCustard East Sussex Finescale Railway Modelling Finescale Modelling OO HO 18.83mm 4mm BloodandCustard East Sussex Finescale Railway Modelling Finescale Modelling OO HO 18.83mm 4mm BloodandCustard East Sussex Finescale Railway Modelling Finescale Modelling OO HO 18.83mm 4mm BloodandCustard East Sussex Finescale Railway Modelling Finescale Modelling OO HO 18.83mm 4mm BloodandCustard East Sussex Finescale Railway Modelling Finescale Modelling OO HO 18.83mm 4mm BloodandCustard East Sussex Finescale Railway Modelling Finescale Modelling OO HO 18.83mm 4mm BloodandCustard East Sussex Finescale Railway Modelling Finescale Modelling OO HO 18.83mm 4mm BloodandCustard East Sussex Finescale Railway Modelling Finescale Modelling OO HO 18.83mm 4mm BloodandCustard East Sussex Finescale Railway Modelling Finescale Modelling OO HO 18.83mm 4mm BloodandCustard East Sussex Finescale Railway Modelling Finescale Modelling OO HO 18.83mm 4mm BloodandCustard East Sussex Finescale Railway Modelling Finescale Modelling OO HO 18.83mm 4mm BloodandCustard East Sussex Finescale Railway Modelling Finescale Modelling OO HO 18.83mm 4mm BloodandCustard East Sussex Finescale Railway Modelling Finescale Modelling OO HO 18.83mm 4mm BloodandCustard East Sussex Finescale Railway Modelling Finescale Modelling OO HO 18.83mm 4mm BloodandCustard East Sussex Finescale Railway Modelling Finescale Modelling OO HO 18.83mm 4mm BloodandCustard East Sussex Finescale Railway Modelling Finescale Modelling OO HO 18.83mm 4mm BloodandCustard East Sussex Finescale Railway Modelling Finescale Modelling OO HO 18.83mm 4mm BloodandCustard East Sussex Finescale Railway Modelling Finescale Modelling OO HO 18.83mm 4mm BloodandCustard East Sussex Finescale Railway Modelling Finescale Modelling OO HO 18.83mm 4mm BloodandCustard East Sussex Finescale Railway Modelling Finescale Modelling OO HO 18.83mm 4mm BloodandCustard East Sussex Finescale Railway Modelling Finescale Modelling OO HO 18.83mm 4mm BloodandCustard East Sussex Finescale Railway Modelling Finescale Modelling OO HO 18.83mm 4mm BloodandCustard East Sussex Finescale Railway Modelling Finescale Modelling OO HO 18.83mm 4mm BloodandCustard East Sussex Finescale Railway Modelling Finescale Modelling OO HO 18.83mm 4mm BloodandCustard East Sussex Finescale Railway Modelling Finescale Modelling OO HO 18.83mm 4mm BloodandCustard East Sussex Finescale Railway Modelling Finescale Modelling OO HO 18.83mm 4mm BloodandCustard East Sussex Finescale Railway Modelling Finescale Modelling OO HO 18.83mm 4mm BloodandCustard East Sussex Finescale Railway Modelling Finescale Modelling OO HO 18.83mm 4mm BloodandCustard East Sussex Finescale Railway Modelling Finescale Modelling OO HO 18.83mm 4mm BloodandCustard East Sussex Finescale Railway Modelling Finescale Modelling OO HO 18.83mm 4mm BloodandCustard East Sussex Finescale Railway Modelling Finescale Modelling OO HO 18.83mm 4mm BloodandCustard East Sussex Finescale Railway Modelling Finescale Modelling OO HO 18.83mm 4mm BloodandCustard East Sussex Finescale Railway Modelling Finescale Modelling OO HO 18.83mm 4mm BloodandCustard East Sussex Finescale Railway Modelling Finescale Modelling OO HO 18.83mm 4mm BloodandCustard East Sussex Finescale Railway Modelling Finescale Modelling OO HO 18.83mm 4mm BloodandCustard East Sussex Finescale Railway Modelling Finescale Modelling OO HO 18.83mm 4mm BloodandCustard East Sussex Finescale Railway Modelling Finescale Modelling OO HO 18.83mm 4mm BloodandCustard East Sussex Finescale Railway Modelling Finescale Modelling OO HO 18.83mm 4mm BloodandCustard East Sussex Finescale Railway Modelling Finescale Modelling OO HO 18.83mm 4mm BloodandCustard East Sussex Finescale Railway Modelling Finescale Modelling OO HO 18.83mm 4mm BloodandCustard East Sussex Finescale Railway Modelling Finescale Modelling OO HO 18.83mm 4mm BloodandCustard East Sussex Finescale Railway Modelling Finescale Modelling OO HO 18.83mm 4mm BloodandCustard East Sussex Finescale Railway Modelling Finescale Modelling OO HO 18.83mm 4mm BloodandCustard East Sussex Finescale Railway Modelling Finescale Modelling OO HO 18.83mm 4mm BloodandCustard East Sussex Finescale Railway Modelling Finescale Modelling OO HO 18.83mm 4mm BloodandCustard East Sussex Finescale Railway Modelling Finescale Modelling OO HO 18.83mm 4mm BloodandCustard East Sussex Finescale Railway Modelling Finescale Modelling OO HO 18.83mm 4mm BloodandCustard East Sussex Finescale Railway Modelling Finescale Modelling OO HO 18.83mm 4mm BloodandCustard East Sussex Finescale Railway Modelling Finescale Modelling OO HO 18.83mm 4mm BloodandCustard East Sussex Finescale Railway Modelling Finescale Modelling OO HO 18.83mm 4mm BloodandCustard East Sussex Finescale Railway Modelling Finescale Modelling OO HO 18.83mm 4mm BloodandCustard East Sussex Finescale Railway Modelling Finescale Modelling OO HO 18.83mm 4mm BloodandCustard East Sussex Finescale Railway Modelling Finescale Modelling OO HO 18.83mm 4mm BloodandCustard East Sussex Finescale Railway Modelling Finescale Modelling OO HO 18.83mm 4mm BloodandCustard East Sussex Finescale Railway Modelling Finescale Modelling OO HO 18.83mm 4mm BloodandCustard East Sussex Finescale Railway Modelling Finescale Modelling OO HO 18.83mm 4mm BloodandCustard East Sussex Finescale Railway Modelling Finescale Modelling OO HO 18.83mm 4mm BloodandCustard East Sussex Finescale Railway Modelling Finescale Modelling OO HO 18.83mm 4mm BloodandCustard East Sussex Finescale Railway Modelling Finescale Modelling OO HO 18.83mm 4mm BloodandCustard East Sussex Finescale Railway Modelling Finescale Modelling OO HO 18.83mm 4mm BloodandCustard East Sussex Finescale Railway Modelling Finescale Modelling OO HO 18.83mm 4mm BloodandCustard East Sussex Finescale Railway Modelling Finescale Modelling OO HO 18.83mm 4mm BloodandCustard East Sussex Finescale Railway Modelling Finescale Modelling OO HO 18.83mm 4mm BloodandCustard East Sussex Finescale Railway Modelling Finescale Modelling OO HO 18.83mm 4mm BloodandCustard East Sussex Finescale Railway Modelling Finescale Modelling OO HO 18.83mm 4mm BloodandCustard East Sussex Finescale Railway Modelling Finescale Modelling OO HO 18.83mm 4mm BloodandCustard East Sussex Finescale Railway Modelling Finescale Modelling OO HO 18.83mm 4mm BloodandCustard East Sussex Finescale Railway Modelling Finescale Modelling OO HO 18.83mm 4mm BloodandCustard East Sussex Finescale Railway Modelling Finescale Modelling OO HO 18.83mm 4mm BloodandCustard East Sussex Finescale Railway Modelling Finescale Modelling OO HO 18.83mm 4mm BloodandCustard East Sussex Finescale Railway Modelling Finescale Modelling OO HO 18.83mm 4mm BloodandCustard East Sussex Finescale Railway Modelling Finescale Modelling OO HO 18.83mm 4mm BloodandCustard East Sussex Finescale Railway Modelling Finescale Modelling OO HO 18.83mm 4mm BloodandCustard East Sussex Finescale Railway Modelling Finescale Modelling OO HO 18.83mm 4mm BloodandCustard East Sussex Finescale Railway Modelling Finescale Modelling OO HO 18.83mm 4mm BloodandCustard East Sussex Finescale Railway Modelling Finescale Modelling OO HO 18.83mm 4mm BloodandCustard East Sussex Finescale Railway Modelling Finescale Modelling OO HO 18.83mm 4mm BloodandCustard East Sussex Finescale Railway Modelling Finescale Modelling OO HO 18.83mm 4mm BloodandCustard East Sussex Finescale Railway Modelling Finescale Modelling OO HO 18.83mm 4mm BloodandCustard East Sussex Finescale Railway Modelling Finescale Modelling OO HO 18.83mm 4mm BloodandCustard East Sussex Finescale Railway Modelling Finescale Modelling OO HO 18.83mmBloodandCustard East Sussex Finescale Railway Modelling Finescale Modelling OO HO 18.83mm 4mm. BloodandCustard East Sussex Finescale Railway Modelling Finescale Modelling OO HO 18.83mm 4mm BloodandCustard East Sussex Finescale Railway Modelling Finescale Modelling OO HO 18.83mm 4mm BloodandCustard East Sussex Finescale Railway Modelling Finescale Modelling OO HO 18.83mm 4mm BloodandCustard East Sussex Finescale Railway Modelling Finescale Modelling OO HO 18.83mm 4mm BloodandCustard East Sussex Finescale Railway Modelling Finescale Modelling OO HO 18.83mm 4mm BloodandCustard East Sussex Finescale Railway Modelling Finescale Modelling OO HO 18.83mm 4mm BloodandCustard East Sussex Finescale Railway Modelling Finescale Modelling OO HO 18.83mm 4mm BloodandCustard East Sussex Finescale Railway Modelling Finescale Modelling OO HO 18.83mm 4mm BloodandCustard East Sussex Finescale Railway Modelling Finescale Modelling OO HO 18.83mm 4mm BloodandCustard East Sussex Finescale Railway Modelling Finescale Modelling OO HO 18.83mm 4mm BloodandCustard East Sussex Finescale Railway Modelling Finescale Modelling OO HO 18.83mm 4mm BloodandCustard East Sussex Finescale Railway Modelling Finescale Modelling OO HO 18.83mm 4mm BloodandCustard East Sussex Finescale Railway Modelling Finescale Modelling OO HO 18.83mm 4mm BloodandCustard East Sussex Finescale Railway Modelling Finescale Modelling OO HO 18.83mm 4mm BloodandCustard East Sussex Finescale Railway Modelling Finescale Modelling OO HO 18.83mm 4mm BloodandCustard East Sussex Finescale Railway Modelling Finescale Modelling OO HO 18.83mm 4mm BloodandCustard East Sussex Finescale Railway Modelling Finescale Modelling OO HO 18.83mm 4mm BloodandCustard East Sussex Finescale Railway Modelling Finescale Modelling OO HO 18.83mm 4mm BloodandCustard East Sussex Finescale Railway Modelling Finescale Modelling OO HO 18.83mm 4mm BloodandCustard East Sussex Finescale Railway Modelling Finescale Modelling OO HO 18.83mm 4mm BloodandCustard East Sussex Finescale Railway Modelling Finescale Modelling OO HO 18.83mm 4mm BloodandCustard East Sussex Finescale Railway Modelling Finescale Modelling OO HO 18.83mm 4mm BloodandCustard East Sussex Finescale Railway Modelling Finescale Modelling OO HO 18.83mm 4mm BloodandCustard East Sussex Finescale Railway Modelling Finescale Modelling OO HO 18.83mm 4mm BloodandCustard East Sussex Finescale Railway Modelling Finescale Modelling OO HO 18.83mm 4mm BloodandCustard East Sussex Finescale Railway Modelling Finescale Modelling OO HO 18.83mm 4mm BloodandCustard East Sussex Finescale Railway Modelling Finescale Modelling OO HO 18.83mm 4mm BloodandCustard East Sussex Finescale Railway Modelling Finescale Modelling OO HO 18.83mm 4mm BloodandCustard East Sussex Finescale Railway Modelling Finescale Modelling OO HO 18.83mm 4mm BloodandCustard East Sussex Finescale Railway Modelling Finescale Modelling OO HO 18.83mm 4mm BloodandCustard East Sussex Finescale Railway Modelling Finescale Modelling OO HO 18.83mm 4mm BloodandCustard East Sussex Finescale Railway Modelling Finescale Modelling OO HO 18.83mm 4mm BloodandCustard East Sussex Finescale Railway Modelling Finescale Modelling OO HO 18.83mm 4mm BloodandCustard East Sussex Finescale Railway Modelling Finescale Modelling OO HO 18.83mm 4mm BloodandCustard East Sussex Finescale Railway Modelling Finescale Modelling OO HO 18.83mm 4mm BloodandCustard East Sussex Finescale Railway Modelling Finescale Modelling OO HO 18.83mm 4mm BloodandCustard East Sussex Finescale Railway Modelling Finescale Modelling OO HO 18.83mm 4mm BloodandCustard East Sussex Finescale Railway Modelling Finescale Modelling OO HO 18.83mm 4mm BloodandCustard East Sussex Finescale Railway Modelling Finescale Modelling OO HO 18.83mm 4mm BloodandCustard East Sussex Finescale Railway Modelling Finescale Modelling OO HO 18.83mm 4mm BloodandCustard East Sussex Finescale Railway Modelling Finescale Modelling OO HO 18.83mm 4mm BloodandCustard East Sussex Finescale Railway Modelling Finescale Modelling OO HO 18.83mm 4mm BloodandCustard East Sussex Finescale Railway Modelling Finescale Modelling OO HO 18.83mm 4mm BloodandCustard East Sussex Finescale Railway Modelling Finescale Modelling OO HO 18.83mm 4mm BloodandCustard East Sussex Finescale Railway Modelling Finescale Modelling OO HO 18.83mm 4mm BloodandCustard East Sussex Finescale Railway Modelling Finescale Modelling OO HO 18.83mm 4mm BloodandCustard East Sussex Finescale Railway Modelling Finescale Modelling OO HO 18.83mm 4mm BloodandCustard East Sussex Finescale Railway Modelling Finescale Modelling OO HO 18.83mm 4mm BloodandCustard East Sussex Finescale Railway Modelling Finescale Modelling OO HO 18.83mm 4mm BloodandCustard East Sussex Finescale Railway Modelling Finescale Modelling OO HO 18.83mm 4mm BloodandCustard East Sussex Finescale Railway Modelling Finescale Modelling OO HO 18.83mm 4mm BloodandCustard East Sussex Finescale Railway Modelling Finescale Modelling OO HO 18.83mm 4mm BloodandCustard East Sussex Finescale Railway Modelling Finescale Modelling OO HO 18.83mm 4mm BloodandCustard East Sussex Finescale Railway Modelling Finescale Modelling OO HO 18.83mm 4mm BloodandCustard East Sussex Finescale Railway Modelling Finescale Modelling OO HO 18.83mm 4mm BloodandCustard East Sussex Finescale Railway Modelling Finescale Modelling OO HO 18.83mm 4mm BloodandCustard East Sussex Finescale Railway Modelling Finescale Modelling OO HO 18.83mm 4mm BloodandCustard East Sussex Finescale Railway Modelling Finescale Modelling OO HO 18.83mm 4mm BloodandCustard East Sussex Finescale Railway Modelling Finescale Modelling OO HO 18.83mm 4mm BloodandCustard East Sussex Finescale Railway Modelling Finescale Modelling OO HO 18.83mm 4mm BloodandCustard East Sussex Finescale Railway Modelling Finescale Modelling OO HO 18.83mm 4mm BloodandCustard East Sussex Finescale Railway Modelling Finescale Modelling OO HO 18.83mm 4mm BloodandCustard East Sussex Finescale Railway Modelling Finescale Modelling OO HO 18.83mm 4mm BloodandCustard East Sussex Finescale Railway Modelling Finescale Modelling OO HO 18.83mm 4mm BloodandCustard East Sussex Finescale Railway Modelling Finescale Modelling OO HO 18.83mm 4mm BloodandCustard East Sussex Finescale Railway Modelling Finescale Modelling OO HO 18.83mm 4mm BloodandCustard East Sussex Finescale Railway Modelling Finescale Modelling OO HO 18.83mm 4mm BloodandCustard East Sussex Finescale Railway Modelling Finescale Modelling OO HO 18.83mm 4mm BloodandCustard East Sussex Finescale Railway Modelling Finescale Modelling OO HO 18.83mm 4mm BloodandCustard East Sussex Finescale Railway Modelling Finescale Modelling OO HO 18.83mm 4mm BloodandCustard East Sussex Finescale Railway Modelling Finescale Modelling OO HO 18.83mm 4mm BloodandCustard East Sussex Finescale Railway Modelling Finescale Modelling OO HO 18.83mm 4mm BloodandCustard East Sussex Finescale Railway Modelling Finescale Modelling OO HO 18.83mm 4mm BloodandCustard East Sussex Finescale Railway Modelling Finescale Modelling OO HO 18.83mm 4mm BloodandCustard East Sussex Finescale Railway Modelling Finescale Modelling OO HO 18.83mm 4mm BloodandCustard East Sussex Finescale Railway Modelling Finescale Modelling OO HO 18.83mm 4mm BloodandCustard East Sussex Finescale Railway Modelling Finescale Modelling OO HO 18.83mm 4mm BloodandCustard East Sussex Finescale Railway Modelling Finescale Modelling OO HO 18.83mm 4mm BloodandCustard East Sussex Finescale Railway Modelling Finescale Modelling OO HO 18.83mm 4mm BloodandCustard East Sussex Finescale Railway Modelling Finescale Modelling OO HO 18.83mm 4mm BloodandCustard East Sussex Finescale Railway Modelling Finescale Modelling OO HO 18.83mm 4mm BloodandCustard East Sussex Finescale Railway Modelling Finescale Modelling OO HO 18.83mm 4mm BloodandCustard East Sussex Finescale Railway Modelling Finescale Modelling OO HO 18.83mm 4mm BloodandCustard East Sussex Finescale Railway Modelling Finescale Modelling OO HO 18.83mm 4mm BloodandCustard East Sussex Finescale Railway Modelling Finescale Modelling OO HO 18.83mm 4mm BloodandCustard East Sussex Finescale Railway Modelling Finescale Modelling OO HO 18.83mm 4mm BloodandCustard East Sussex Finescale Railway Modelling Finescale Modelling OO HO 18.83mm 4mm BloodandCustard East Sussex Finescale Railway Modelling Finescale Modelling OO HO 18.83mm 4mm BloodandCustard East Sussex Finescale Railway Modelling Finescale Modelling OO HO 18.83mm 4mm BloodandCustard East Sussex Finescale Railway Modelling Finescale Modelling OO HO 18.83mm 4mm BloodandCustard East Sussex Finescale Railway Modelling Finescale Modelling OO HO 18.83mm 4mm BloodandCustard East Sussex Finescale Railway Modelling Finescale Modelling OO HO 18.83mm 4mm BloodandCustard East Sussex Finescale Railway Modelling Finescale Modelling OO HO 18.83mm 4mm BloodandCustard East Sussex Finescale Railway Modelling Finescale Modelling OO HO 18.83mm 4mm BloodandCustard East Sussex Finescale Railway Modelling Finescale Modelling OO HO 18.83mm 4mm BloodandCustard East Sussex Finescale Railway Modelling Finescale Modelling OO HO 18.83mm 4mm BloodandCustard East Sussex Finescale Railway Modelling Finescale Modelling OO HO 18.83mm 4mm BloodandCustard East Sussex Finescale Railway Modelling Finescale Modelling OO HO 18.83mm 4mm BloodandCustard East Sussex Finescale Railway Modelling Finescale Modelling OO HO 18.83mm 4mm BloodandCustard East Sussex Finescale Railway Modelling Finescale Modelling OO HO 18.83mm 4mm BloodandCustard East Sussex Finescale Railway Modelling Finescale Modelling OO HO 18.83mm 4mm BloodandCustard East Sussex Finescale Railway Modelling Finescale Modelling OO HO 18.83mm 4mm BloodandCustard East Sussex Finescale Railway Modelling Finescale Modelling OO HO 18.83mm 4mm BloodandCustard East Sussex Finescale Railway Modelling Finescale Modelling OO HO 18.83mm 4mm BloodandCustard East Sussex Finescale Railway Modelling Finescale Modelling OO HO 18.83mm 4mm BloodandCustard East Sussex Finescale Railway Modelling Finescale Modelling OO HO 18.83mm 4mm BloodandCustard East Sussex Finescale Railway Modelling Finescale Modelling OO HO 18.83mm 4mm BloodandCustard East Sussex Finescale Railway Modelling Finescale Modelling OO HO 18.83mm 4mm BloodandCustard East Sussex Finescale Railway Modelling Finescale Modelling OO HO 18.83mm 4mm BloodandCustard East Sussex Finescale Railway Modelling Finescale Modelling OO HO 18.83mm 4mm BloodandCustard East Sussex Finescale Railway Modelling Finescale Modelling OO HO 18.83mm 4mm BloodandCustard East Sussex Finescale Railway Modelling Finescale Modelling OO HO 18.83mm 4mm BloodandCustard East Sussex Finescale Railway Modelling Finescale Modelling OO HO 18.83mm 4mm BloodandCustard East Sussex Finescale Railway Modelling Finescale Modelling OO HO 18.83mm 4mm BloodandCustard East Sussex Finescale Railway Modelling Finescale Modelling OO HO 18.83mm 4mm BloodandCustard East Sussex Finescale Railway Modelling Finescale Modelling OO HO 18.83mm 4mm BloodandCustard East Sussex Finescale Railway Modelling Finescale Modelling OO HO 18.83mm 4mm BloodandCustard East Sussex Finescale Railway Modelling Finescale Modelling OO HO 18.83mm 4mm BloodandCustard East Sussex Finescale Railway Modelling Finescale Modelling OO HO 18.83mm 4mm BloodandCustard East Sussex Finescale Railway Modelling Finescale Modelling OO HO 18.83mm 4mm BloodandCustard East Sussex Finescale Railway Modelling Finescale Modelling OO HO 18.83mm 4mm BloodandCustard East Sussex Finescale Railway Modelling Finescale Modelling OO HO 18.83mm 4mm BloodandCustard East Sussex Finescale Railway Modelling Finescale Modelling OO HO 18.83mm 4mm BloodandCustard East Sussex Finescale Railway Modelling Finescale Modelling OO HO 18.83mm 4mm BloodandCustard East Sussex Finescale Railway Modelling Finescale Modelling OO HO 18.83mm 4mm BloodandCustard East Sussex Finescale Railway Modelling Finescale Modelling OO HO 18.83mm 4mm BloodandCustard East Sussex Finescale Railway Modelling Finescale Modelling OO HO 18.83mm 4mm BloodandCustard East Sussex Finescale Railway Modelling Finescale Modelling OO HO 18.83mm 4mm BloodandCustard East Sussex Finescale Railway Modelling Finescale Modelling OO HO 18.83mm 4mm BloodandCustard East Sussex Finescale Railway Modelling Finescale Modelling OO HO 18.83mm 4mm BloodandCustard East Sussex Finescale Railway Modelling Finescale Modelling OO HO 18.83mm 4mm BloodandCustard East Sussex Finescale Railway Modelling Finescale Modelling OO HO 18.83mm 4mm BloodandCustard East Sussex Finescale Railway Modelling Finescale Modelling OO HO 18.83mm 4mm BloodandCustard East Sussex Finescale Railway Modelling Finescale Modelling OO HO 18.83mm 4mm BloodandCustard East Sussex Finescale Railway Modelling Finescale Modelling OO HO 18.83mm 4mm BloodandCustard East Sussex Finescale Railway Modelling Finescale Modelling OO HO 18.83mm 4mm BloodandCustard East Sussex Finescale Railway Modelling Finescale Modelling OO HO 18.83mm 4mm BloodandCustard East Sussex Finescale Railway Modelling Finescale Modelling OO HO 18.83mm 4mm BloodandCustard East Sussex Finescale Railway Modelling Finescale Modelling OO HO 18.83mm 4mm BloodandCustard East Sussex Finescale Railway Modelling Finescale Modelling OO HO 18.83mm 4mm BloodandCustard East Sussex Finescale Railway Modelling Finescale Modelling OO HO 18.83mm 4mm BloodandCustard East Sussex Finescale Railway Modelling Finescale Modelling OO HO 18.83mm 4mm BloodandCustard East Sussex Finescale Railway Modelling Finescale Modelling OO HO 18.83mm 4mm BloodandCustard East Sussex Finescale Railway Modelling Finescale Modelling OO HO 18.83mm 4mm BloodandCustard East Sussex Finescale Railway Modelling Finescale Modelling OO HO 18.83mm 4mm BloodandCustard East Sussex Finescale Railway Modelling Finescale Modelling OO HO 18.83mm 4mm BloodandCustard East Sussex Finescale Railway Modelling Finescale Modelling OO HO 18.83mm 4mm BloodandCustard East Sussex Finescale Railway Modelling Finescale Modelling OO HO 18.83mm 4mm BloodandCustard East Sussex Finescale Railway Modelling Finescale Modelling OO HO 18.83mm 4mm BloodandCustard East Sussex Finescale Railway Modelling Finescale Modelling OO HO 18.83mm 4mm BloodandCustard East Sussex Finescale Railway Modelling Finescale Modelling OO HO 18.83mm 4mm BloodandCustard East Sussex Finescale Railway Modelling Finescale Modelling OO HO 18.83mm 4mm BloodandCustard East Sussex Finescale Railway Modelling Finescale Modelling OO HO 18.83mm 4mm BloodandCustard East Sussex Finescale Railway Modelling Finescale Modelling OO HO 18.83mm 4mm BloodandCustard East Sussex Finescale Railway Modelling Finescale Modelling OO HO 18.83mm 4mm BloodandCustard East Sussex Finescale Railway Modelling Finescale Modelling OO HO 18.83mm 4mm BloodandCustard East Sussex Finescale Railway Modelling Finescale Modelling OO HO 18.83mm 4mm BloodandCustard East Sussex Finescale Railway Modelling Finescale Modelling OO HO 18.83mm 4mm BloodandCustard East Sussex Finescale Railway Modelling Finescale Modelling OO HO 18.83mm 4mm BloodandCustard East Sussex Finescale Railway Modelling Finescale Modelling OO HO 18.83mm 4mm BloodandCustard East Sussex Finescale Railway Modelling Finescale Modelling OO HO 18.83mm 4mm BloodandCustard East Sussex Finescale Railway Modelling Finescale Modelling OO HO 18.83mm 4mm BloodandCustard East Sussex Finescale Railway Modelling Finescale Modelling OO HO 18.83mm 4mm BloodandCustard East Sussex Finescale Railway Modelling Finescale Modelling OO HO 18.83mm 4mm BloodandCustard East Sussex Finescale Railway Modelling Finescale Modelling OO HO 18.83mm 4mm BloodandCustard East Sussex Finescale Railway Modelling Finescale Modelling OO HO 18.83mm 4mm BloodandCustard East Sussex Finescale Railway Modelling Finescale Modelling OO HO 18.83mm 4mm BloodandCustard East Sussex Finescale Railway Modelling Finescale Modelling OO HO 18.83mm 4mm BloodandCustard East Sussex Finescale Railway Modelling Finescale Modelling OO HO 18.83mm 4mm BloodandCustard East Sussex Finescale Railway Modelling Finescale Modelling OO HO 18.83mm 4mm BloodandCustard East Sussex Finescale Railway Modelling Finescale Modelling OO HO 18.83mm 4mm BloodandCustard East Sussex Finescale Railway Modelling Finescale Modelling OO HO 18.83mm 4mm BloodandCustard East Sussex Finescale Railway Modelling Finescale Modelling OO HO 18.83mm 4mm BloodandCustard East Sussex Finescale Railway Modelling Finescale Modelling OO HO 18.83mm 4mm BloodandCustard East Sussex Finescale Railway Modelling Finescale Modelling OO HO 18.83mm 4mm BloodandCustard East Sussex Finescale Railway Modelling Finescale Modelling OO HO 18.83mm 4mm BloodandCustard East Sussex Finescale Railway Modelling Finescale Modelling OO HO 18.83mm 4mm BloodandCustard East Sussex Finescale Railway Modelling Finescale Modelling OO HO 18.83mm 4mm BloodandCustard East Sussex Finescale Railway Modelling Finescale Modelling OO HO 18.83mm 4mm BloodandCustard East Sussex Finescale Railway Modelling Finescale Modelling OO HO 18.83mm 4mm BloodandCustard East Sussex Finescale Railway Modelling Finescale Modelling OO HO 18.83mm 4mm BloodandCustard East Sussex Finescale Railway Modelling Finescale Modelling OO HO 18.83mm 4mm BloodandCustard East Sussex Finescale Railway Modelling Finescale Modelling OO HO 18.83mm 4mm BloodandCustard East Sussex Finescale Railway Modelling Finescale Modelling OO HO 18.83mm 4mm BloodandCustard East Sussex Finescale Railway Modelling Finescale Modelling OO HO 18.83mm 4mm BloodandCustard East Sussex Finescale Railway Modelling Finescale Modelling OO HO 18.83mm 4mm BloodandCustard East Sussex Finescale Railway Modelling Finescale Modelling OO HO 18.83mm 4mm BloodandCustard East Sussex Finescale Railway Modelling Finescale Modelling OO HO 18.83mm 4mm BloodandCustard East Sussex Finescale Railway Modelling Finescale Modelling OO HO 18.83mm 4mm BloodandCustard East Sussex Finescale Railway Modelling Finescale Modelling OO HO 18.83mm 4mm BloodandCustard East Sussex Finescale Railway Modelling Finescale Modelling OO HO 18.83mm 4mm BloodandCustard East Sussex Finescale Railway Modelling Finescale Modelling OO HO 18.83mm 4mm BloodandCustard East Sussex Finescale Railway Modelling Finescale Modelling OO HO 18.83mm 4mm BloodandCustard East Sussex Finescale Railway Modelling Finescale Modelling OO HO 18.83mm 4mm BloodandCustard East Sussex Finescale Railway Modelling Finescale Modelling OO HO 18.83mm 4mm BloodandCustard East Sussex Finescale Railway Modelling Finescale Modelling OO HO 18.83mm 4mm BloodandCustard East Sussex Finescale Railway Modelling Finescale Modelling OO HO 18.83mm 4mm BloodandCustard East Sussex Finescale Railway Modelling Finescale Modelling OO HO 18.83mm 4mm BloodandCustard East Sussex Finescale Railway Modelling Finescale Modelling OO HO 18.83mm 4mm BloodandCustard East Sussex Finescale Railway Modelling Finescale Modelling OO HO 18.83mm 4mm BloodandCustard East Sussex Finescale Railway Modelling Finescale Modelling OO HO 18.83mm 4mm BloodandCustard East Sussex Finescale Railway Modelling Finescale Modelling OO HO 18.83mm 4mm BloodandCustard East Sussex Finescale Railway Modelling Finescale Modelling OO HO 18.83mm 4mm BloodandCustard East Sussex Finescale Railway Modelling Finescale Modelling OO HO 18.83mm 4mm BloodandCustard East Sussex Finescale Railway Modelling Finescale Modelling OO HO 18.83mm 4mm BloodandCustard East Sussex Finescale Railway Modelling Finescale Modelling OO HO 18.83mm 4mm BloodandCustard East Sussex Finescale Railway Modelling Finescale Modelling OO HO 18.83mm 4mm BloodandCustard East Sussex Finescale Railway Modelling Finescale Modelling OO HO 18.83mm 4mm BloodandCustard East Sussex Finescale Railway Modelling Finescale Modelling OO HO 18.83mm 4mm BloodandCustard East Sussex Finescale Railway Modelling Finescale Modelling OO HO 18.83mm 4mm BloodandCustard East Sussex Finescale Railway Modelling Finescale Modelling OO HO 18.83mm 4mm BloodandCustard East Sussex Finescale Railway Modelling Finescale Modelling OO HO 18.83mm 4mm BloodandCustard East Sussex Finescale Railway Modelling Finescale Modelling OO HO 18.83mm 4mm BloodandCustard East Sussex Finescale Railway Modelling Finescale Modelling OO HO 18.83mm 4mm BloodandCustard East Sussex Finescale Railway Modelling Finescale Modelling OO HO 18.83mm 4mm BloodandCustard East Sussex Finescale Railway Modelling Finescale Modelling OO HO 18.83mm 4mm BloodandCustard East Sussex Finescale Railway Modelling Finescale Modelling OO HO 18.83mm 4mm BloodandCustard East Sussex Finescale Railway Modelling Finescale Modelling OO HO 18.83mm 4mm BloodandCustard East Sussex Finescale Railway Modelling Finescale Modelling OO HO 18.83mm 4mm BloodandCustard East Sussex Finescale Railway Modelling Finescale Modelling OO HO 18.83mm 4mm BloodandCustard East Sussex Finescale Railway Modelling Finescale Modelling OO HO 18.83mm 4mm BloodandCustard East Sussex Finescale Railway Modelling Finescale Modelling OO HO 18.83mm 4mm BloodandCustard East Sussex Finescale Railway Modelling Finescale Modelling OO HO 18.83mm 4mm BloodandCustard East Sussex Finescale Railway Modelling Finescale Modelling OO HO 18.83mm 4mm BloodandCustard East Sussex Finescale Railway Modelling Finescale Modelling OO HO 18.83mm 4mm BloodandCustard East Sussex Finescale Railway Modelling Finescale Modelling OO HO 18.83mm 4mm BloodandCustard East Sussex Finescale Railway Modelling Finescale Modelling OO HO 18.83mm 4mm BloodandCustard East Sussex Finescale Railway Modelling Finescale Modelling OO HO 18.83mm 4mm BloodandCustard East Sussex Finescale Railway Modelling Finescale Modelling OO HO 18.83mm 4mm BloodandCustard East Sussex Finescale Railway Modelling Finescale Modelling OO HO 18.83mm 4mm BloodandCustard East Sussex Finescale Railway Modelling Finescale Modelling OO HO 18.83mm 4mm BloodandCustard East Sussex Finescale Railway Modelling Finescale Modelling OO HO 18.83mm 4mm BloodandCustard East Sussex Finescale Railway Modelling Finescale Modelling OO HO 18.83mm 4mm BloodandCustard East Sussex Finescale Railway Modelling Finescale Modelling OO HO 18.83mm 4mm BloodandCustard East Sussex Finescale Railway Modelling Finescale Modelling OO HO 18.83mm 4mm BloodandCustard East Sussex Finescale Railway Modelling Finescale Modelling OO HO 18.83mm 4mm BloodandCustard East Sussex Finescale Railway Modelling Finescale Modelling OO HO 18.83mm 4mm BloodandCustard East Sussex Finescale Railway Modelling Finescale Modelling OO HO 18.83mm 4mm BloodandCustard East Sussex Finescale Railway Modelling Finescale Modelling OO HO 18.83mm 4mm BloodandCustard East Sussex Finescale Railway Modelling Finescale Modelling OO HO 18.83mm 4mm BloodandCustard East Sussex Finescale Railway Modelling Finescale Modelling OO HO 18.83mm 4mm BloodandCustard East Sussex Finescale Railway Modelling Finescale Modelling OO HO 18.83mm 4mm BloodandCustard East Sussex Finescale Railway Modelling Finescale Modelling OO HO 18.83mm 4mm BloodandCustard East Sussex Finescale Railway Modelling Finescale Modelling OO HO 18.83mm 4mm BloodandCustard East Sussex Finescale Railway Modelling Finescale Modelling OO HO 18.83mm 4mm BloodandCustard East Sussex Finescale Railway Modelling Finescale Modelling OO HO 18.83mm 4mm BloodandCustard East Sussex Finescale Railway Modelling Finescale Modelling OO HO 18.83mm 4mm BloodandCustard East Sussex Finescale Railway Modelling Finescale Modelling OO HO 18.83mm 4mm BloodandCustard East Sussex Finescale Railway Modelling Finescale Modelling OO HO 18.83mm 4mm BloodandCustard East Sussex Finescale Railway Modelling Finescale Modelling OO HO 18.83mm 4mm BloodandCustard East Sussex Finescale Railway Modelling Finescale Modelling OO HO 18.83mm 4mm BloodandCustard East Sussex Finescale Railway Modelling Finescale Modelling OO HO 18.83mm 4mm BloodandCustard East Sussex Finescale Railway Modelling Finescale Modelling OO HO 18.83mm 4mm BloodandCustard East Sussex Finescale Railway Modelling Finescale Modelling OO HO 18.83mm 4mm BloodandCustard East Sussex Finescale Railway Modelling Finescale Modelling OO HO 18.83mm 4mm BloodandCustard East Sussex Finescale Railway Modelling Finescale Modelling OO HO 18.83mm 4mm BloodandCustard East Sussex Finescale Railway Modelling Finescale Modelling OO HO 18.83mm 4mm BloodandCustard East Sussex Finescale Railway Modelling Finescale Modelling OO HO 18.83mm 4mm BloodandCustard East Sussex Finescale Railway Modelling Finescale Modelling OO HO 18.83mm 4mm BloodandCustard East Sussex Finescale Railway Modelling Finescale Modelling OO HO 18.83mm 4mm BloodandCustard East Sussex Finescale Railway Modelling Finescale Modelling OO HO 18.83mm 4mm BloodandCustard East Sussex Finescale Railway Modelling Finescale Modelling OO HO 18.83mm 4mm BloodandCustard East Sussex Finescale Railway Modelling Finescale Modelling OO HO 18.83mm 4mm BloodandCustard East Sussex Finescale Railway Modelling Finescale Modelling OO HO 18.83mm 4mm BloodandCustard East Sussex Finescale Railway Modelling Finescale Modelling OO HO 18.83mm 4mm BloodandCustard East Sussex Finescale Railway Modelling Finescale Modelling OO HO 18.83mm 4mm BloodandCustard East Sussex Finescale Railway Modelling Finescale Modelling OO HO 18.83mm 4mm BloodandCustard East Sussex Finescale Railway Modelling Finescale Modelling OO HO 18.83mm 4mm BloodandCustard East Sussex Finescale Railway Modelling Finescale Modelling OO HO 18.83mm 4mm BloodandCustard East Sussex Finescale Railway Modelling Finescale Modelling OO HO 18.83mm 4mm BloodandCustard East Sussex Finescale Railway Modelling Finescale Modelling OO HO 18.83mm 4mm BloodandCustard East Sussex Finescale Railway Modelling Finescale Modelling OO HO 18.83mm 4mm BloodandCustard East Sussex Finescale Railway Modelling Finescale Modelling OO HO 18.83mm 4mm BloodandCustard East Sussex Finescale Railway Modelling Finescale Modelling OO HO 18.83mm 4mm BloodandCustard East Sussex Finescale Railway Modelling Finescale Modelling OO HO 18.83mm 4mm BloodandCustard East Sussex Finescale Railway Modelling Finescale Modelling OO HO 18.83mmBloodandCustard East Sussex Finescale Railway Modelling Finescale Modelling OO HO 18.83mm 4mm. BloodandCustard East Sussex Finescale Railway Modelling Finescale Modelling OO HO 18.83mm 4mm BloodandCustard East Sussex Finescale Railway Modelling Finescale Modelling OO HO 18.83mm 4mm BloodandCustard East Sussex Finescale Railway Modelling Finescale Modelling OO HO 18.83mm 4mm BloodandCustard East Sussex Finescale Railway Modelling Finescale Modelling OO HO 18.83mm 4mm BloodandCustard East Sussex Finescale Railway Modelling Finescale Modelling OO HO 18.83mm 4mm BloodandCustard East Sussex Finescale Railway Modelling Finescale Modelling OO HO 18.83mm 4mm BloodandCustard East Sussex Finescale Railway Modelling Finescale Modelling OO HO 18.83mm 4mm BloodandCustard East Sussex Finescale Railway Modelling Finescale Modelling OO HO 18.83mm 4mm BloodandCustard East Sussex Finescale Railway Modelling Finescale Modelling OO HO 18.83mm 4mm BloodandCustard East Sussex Finescale Railway Modelling Finescale Modelling OO HO 18.83mm 4mm BloodandCustard East Sussex Finescale Railway Modelling Finescale Modelling OO HO 18.83mm 4mm BloodandCustard East Sussex Finescale Railway Modelling Finescale Modelling OO HO 18.83mm 4mm BloodandCustard East Sussex Finescale Railway Modelling Finescale Modelling OO HO 18.83mm 4mm BloodandCustard East Sussex Finescale Railway Modelling Finescale Modelling OO HO 18.83mm 4mm BloodandCustard East Sussex Finescale Railway Modelling Finescale Modelling OO HO 18.83mm 4mm BloodandCustard East Sussex Finescale Railway Modelling Finescale Modelling OO HO 18.83mm 4mm BloodandCustard East Sussex Finescale Railway Modelling Finescale Modelling OO HO 18.83mm 4mm BloodandCustard East Sussex Finescale Railway Modelling Finescale Modelling OO HO 18.83mm 4mm BloodandCustard East Sussex Finescale Railway Modelling Finescale Modelling OO HO 18.83mm 4mm BloodandCustard East Sussex Finescale Railway Modelling Finescale Modelling OO HO 18.83mm 4mm BloodandCustard East Sussex Finescale Railway Modelling Finescale Modelling OO HO 18.83mm 4mm BloodandCustard East Sussex Finescale Railway Modelling Finescale Modelling OO HO 18.83mm 4mm BloodandCustard East Sussex Finescale Railway Modelling Finescale Modelling OO HO 18.83mm 4mm BloodandCustard East Sussex Finescale Railway Modelling Finescale Modelling OO HO 18.83mm 4mm BloodandCustard East Sussex Finescale Railway Modelling Finescale Modelling OO HO 18.83mm 4mm BloodandCustard East Sussex Finescale Railway Modelling Finescale Modelling OO HO 18.83mm 4mm BloodandCustard East Sussex Finescale Railway Modelling Finescale Modelling OO HO 18.83mm 4mm BloodandCustard East Sussex Finescale Railway Modelling Finescale Modelling OO HO 18.83mm 4mm BloodandCustard East Sussex Finescale Railway Modelling Finescale Modelling OO HO 18.83mm 4mm BloodandCustard East Sussex Finescale Railway Modelling Finescale Modelling OO HO 18.83mm 4mm BloodandCustard East Sussex Finescale Railway Modelling Finescale Modelling OO HO 18.83mm 4mm BloodandCustard East Sussex Finescale Railway Modelling Finescale Modelling OO HO 18.83mm 4mm BloodandCustard East Sussex Finescale Railway Modelling Finescale Modelling OO HO 18.83mm 4mm BloodandCustard East Sussex Finescale Railway Modelling Finescale Modelling OO HO 18.83mm 4mm BloodandCustard East Sussex Finescale Railway Modelling Finescale Modelling OO HO 18.83mm 4mm BloodandCustard East Sussex Finescale Railway Modelling Finescale Modelling OO HO 18.83mm 4mm BloodandCustard East Sussex Finescale Railway Modelling Finescale Modelling OO HO 18.83mm 4mm BloodandCustard East Sussex Finescale Railway Modelling Finescale Modelling OO HO 18.83mm 4mm BloodandCustard East Sussex Finescale Railway Modelling Finescale Modelling OO HO 18.83mm 4mm BloodandCustard East Sussex Finescale Railway Modelling Finescale Modelling OO HO 18.83mm 4mm BloodandCustard East Sussex Finescale Railway Modelling Finescale Modelling OO HO 18.83mm 4mm BloodandCustard East Sussex Finescale Railway Modelling Finescale Modelling OO HO 18.83mm 4mm BloodandCustard East Sussex Finescale Railway Modelling Finescale Modelling OO HO 18.83mm 4mm BloodandCustard East Sussex Finescale Railway Modelling Finescale Modelling OO HO 18.83mm 4mm BloodandCustard East Sussex Finescale Railway Modelling Finescale Modelling OO HO 18.83mm 4mm BloodandCustard East Sussex Finescale Railway Modelling Finescale Modelling OO HO 18.83mm 4mm BloodandCustard East Sussex Finescale Railway Modelling Finescale Modelling OO HO 18.83mm 4mm BloodandCustard East Sussex Finescale Railway Modelling Finescale Modelling OO HO 18.83mm 4mm BloodandCustard East Sussex Finescale Railway Modelling Finescale Modelling OO HO 18.83mm 4mm BloodandCustard East Sussex Finescale Railway Modelling Finescale Modelling OO HO 18.83mm 4mm BloodandCustard East Sussex Finescale Railway Modelling Finescale Modelling OO HO 18.83mm 4mm BloodandCustard East Sussex Finescale Railway Modelling Finescale Modelling OO HO 18.83mm 4mm BloodandCustard East Sussex Finescale Railway Modelling Finescale Modelling OO HO 18.83mm 4mm BloodandCustard East Sussex Finescale Railway Modelling Finescale Modelling OO HO 18.83mm 4mm BloodandCustard East Sussex Finescale Railway Modelling Finescale Modelling OO HO 18.83mm 4mm BloodandCustard East Sussex Finescale Railway Modelling Finescale Modelling OO HO 18.83mm 4mm BloodandCustard East Sussex Finescale Railway Modelling Finescale Modelling OO HO 18.83mm 4mm BloodandCustard East Sussex Finescale Railway Modelling Finescale Modelling OO HO 18.83mm 4mm BloodandCustard East Sussex Finescale Railway Modelling Finescale Modelling OO HO 18.83mm 4mm BloodandCustard East Sussex Finescale Railway Modelling Finescale Modelling OO HO 18.83mm 4mm BloodandCustard East Sussex Finescale Railway Modelling Finescale Modelling OO HO 18.83mm 4mm BloodandCustard East Sussex Finescale Railway Modelling Finescale Modelling OO HO 18.83mm 4mm BloodandCustard East Sussex Finescale Railway Modelling Finescale Modelling OO HO 18.83mm 4mm BloodandCustard East Sussex Finescale Railway Modelling Finescale Modelling OO HO 18.83mm 4mm BloodandCustard East Sussex Finescale Railway Modelling Finescale Modelling OO HO 18.83mm 4mm BloodandCustard East Sussex Finescale Railway Modelling Finescale Modelling OO HO 18.83mm 4mm BloodandCustard East Sussex Finescale Railway Modelling Finescale Modelling OO HO 18.83mm 4mm BloodandCustard East Sussex Finescale Railway Modelling Finescale Modelling OO HO 18.83mm 4mm BloodandCustard East Sussex Finescale Railway Modelling Finescale Modelling OO HO 18.83mm 4mm BloodandCustard East Sussex Finescale Railway Modelling Finescale Modelling OO HO 18.83mm 4mm BloodandCustard East Sussex Finescale Railway Modelling Finescale Modelling OO HO 18.83mm 4mm BloodandCustard East Sussex Finescale Railway Modelling Finescale Modelling OO HO 18.83mm 4mm BloodandCustard East Sussex Finescale Railway Modelling Finescale Modelling OO HO 18.83mm 4mm BloodandCustard East Sussex Finescale Railway Modelling Finescale Modelling OO HO 18.83mm 4mm BloodandCustard East Sussex Finescale Railway Modelling Finescale Modelling OO HO 18.83mm 4mm BloodandCustard East Sussex Finescale Railway Modelling Finescale Modelling OO HO 18.83mm 4mm BloodandCustard East Sussex Finescale Railway Modelling Finescale Modelling OO HO 18.83mm 4mm BloodandCustard East Sussex Finescale Railway Modelling Finescale Modelling OO HO 18.83mm 4mm BloodandCustard East Sussex Finescale Railway Modelling Finescale Modelling OO HO 18.83mm 4mm BloodandCustard East Sussex Finescale Railway Modelling Finescale Modelling OO HO 18.83mm 4mm BloodandCustard East Sussex Finescale Railway Modelling Finescale Modelling OO HO 18.83mm 4mm BloodandCustard East Sussex Finescale Railway Modelling Finescale Modelling OO HO 18.83mm 4mm BloodandCustard East Sussex Finescale Railway Modelling Finescale Modelling OO HO 18.83mm 4mm BloodandCustard East Sussex Finescale Railway Modelling Finescale Modelling OO HO 18.83mm 4mm BloodandCustard East Sussex Finescale Railway Modelling Finescale Modelling OO HO 18.83mm 4mm BloodandCustard East Sussex Finescale Railway Modelling Finescale Modelling OO HO 18.83mm 4mm BloodandCustard East Sussex Finescale Railway Modelling Finescale Modelling OO HO 18.83mm 4mm BloodandCustard East Sussex Finescale Railway Modelling Finescale Modelling OO HO 18.83mm 4mm BloodandCustard East Sussex Finescale Railway Modelling Finescale Modelling OO HO 18.83mm 4mm BloodandCustard East Sussex Finescale Railway Modelling Finescale Modelling OO HO 18.83mm 4mm BloodandCustard East Sussex Finescale Railway Modelling Finescale Modelling OO HO 18.83mm 4mm BloodandCustard East Sussex Finescale Railway Modelling Finescale Modelling OO HO 18.83mm 4mm BloodandCustard East Sussex Finescale Railway Modelling Finescale Modelling OO HO 18.83mm 4mm BloodandCustard East Sussex Finescale Railway Modelling Finescale Modelling OO HO 18.83mm 4mm BloodandCustard East Sussex Finescale Railway Modelling Finescale Modelling OO HO 18.83mm 4mm BloodandCustard East Sussex Finescale Railway Modelling Finescale Modelling OO HO 18.83mm 4mm BloodandCustard East Sussex Finescale Railway Modelling Finescale Modelling OO HO 18.83mm 4mm BloodandCustard East Sussex Finescale Railway Modelling Finescale Modelling OO HO 18.83mm 4mm BloodandCustard East Sussex Finescale Railway Modelling Finescale Modelling OO HO 18.83mm 4mm BloodandCustard East Sussex Finescale Railway Modelling Finescale Modelling OO HO 18.83mm 4mm BloodandCustard East Sussex Finescale Railway Modelling Finescale Modelling OO HO 18.83mm 4mm BloodandCustard East Sussex Finescale Railway Modelling Finescale Modelling OO HO 18.83mm 4mm BloodandCustard East Sussex Finescale Railway Modelling Finescale Modelling OO HO 18.83mm 4mm BloodandCustard East Sussex Finescale Railway Modelling Finescale Modelling OO HO 18.83mm 4mm BloodandCustard East Sussex Finescale Railway Modelling Finescale Modelling OO HO 18.83mm 4mm BloodandCustard East Sussex Finescale Railway Modelling Finescale Modelling OO HO 18.83mm 4mm BloodandCustard East Sussex Finescale Railway Modelling Finescale Modelling OO HO 18.83mm 4mm BloodandCustard East Sussex Finescale Railway Modelling Finescale Modelling OO HO 18.83mm 4mm BloodandCustard East Sussex Finescale Railway Modelling Finescale Modelling OO HO 18.83mm 4mm BloodandCustard East Sussex Finescale Railway Modelling Finescale Modelling OO HO 18.83mm 4mm BloodandCustard East Sussex Finescale Railway Modelling Finescale Modelling OO HO 18.83mm 4mm BloodandCustard East Sussex Finescale Railway Modelling Finescale Modelling OO HO 18.83mm 4mm BloodandCustard East Sussex Finescale Railway Modelling Finescale Modelling OO HO 18.83mm 4mm BloodandCustard East Sussex Finescale Railway Modelling Finescale Modelling OO HO 18.83mm 4mm BloodandCustard East Sussex Finescale Railway Modelling Finescale Modelling OO HO 18.83mm 4mm BloodandCustard East Sussex Finescale Railway Modelling Finescale Modelling OO HO 18.83mm 4mm BloodandCustard East Sussex Finescale Railway Modelling Finescale Modelling OO HO 18.83mm 4mm BloodandCustard East Sussex Finescale Railway Modelling Finescale Modelling OO HO 18.83mm 4mm BloodandCustard East Sussex Finescale Railway Modelling Finescale Modelling OO HO 18.83mm 4mm BloodandCustard East Sussex Finescale Railway Modelling Finescale Modelling OO HO 18.83mm 4mm BloodandCustard East Sussex Finescale Railway Modelling Finescale Modelling OO HO 18.83mm 4mm BloodandCustard East Sussex Finescale Railway Modelling Finescale Modelling OO HO 18.83mm 4mm BloodandCustard East Sussex Finescale Railway Modelling Finescale Modelling OO HO 18.83mm 4mm BloodandCustard East Sussex Finescale Railway Modelling Finescale Modelling OO HO 18.83mm 4mm BloodandCustard East Sussex Finescale Railway Modelling Finescale Modelling OO HO 18.83mm 4mm BloodandCustard East Sussex Finescale Railway Modelling Finescale Modelling OO HO 18.83mm 4mm BloodandCustard East Sussex Finescale Railway Modelling Finescale Modelling OO HO 18.83mm 4mm BloodandCustard East Sussex Finescale Railway Modelling Finescale Modelling OO HO 18.83mm 4mm BloodandCustard East Sussex Finescale Railway Modelling Finescale Modelling OO HO 18.83mm 4mm BloodandCustard East Sussex Finescale Railway Modelling Finescale Modelling OO HO 18.83mm 4mm BloodandCustard East Sussex Finescale Railway Modelling Finescale Modelling OO HO 18.83mm 4mm BloodandCustard East Sussex Finescale Railway Modelling Finescale Modelling OO HO 18.83mm 4mm BloodandCustard East Sussex Finescale Railway Modelling Finescale Modelling OO HO 18.83mm 4mm BloodandCustard East Sussex Finescale Railway Modelling Finescale Modelling OO HO 18.83mm 4mm BloodandCustard East Sussex Finescale Railway Modelling Finescale Modelling OO HO 18.83mm 4mm BloodandCustard East Sussex Finescale Railway Modelling Finescale Modelling OO HO 18.83mm 4mm BloodandCustard East Sussex Finescale Railway Modelling Finescale Modelling OO HO 18.83mm 4mm BloodandCustard East Sussex Finescale Railway Modelling Finescale Modelling OO HO 18.83mm 4mm BloodandCustard East Sussex Finescale Railway Modelling Finescale Modelling OO HO 18.83mm 4mm BloodandCustard East Sussex Finescale Railway Modelling Finescale Modelling OO HO 18.83mm 4mm BloodandCustard East Sussex Finescale Railway Modelling Finescale Modelling OO HO 18.83mm 4mm BloodandCustard East Sussex Finescale Railway Modelling Finescale Modelling OO HO 18.83mm 4mm BloodandCustard East Sussex Finescale Railway Modelling Finescale Modelling OO HO 18.83mm 4mm BloodandCustard East Sussex Finescale Railway Modelling Finescale Modelling OO HO 18.83mm 4mm BloodandCustard East Sussex Finescale Railway Modelling Finescale Modelling OO HO 18.83mm 4mm BloodandCustard East Sussex Finescale Railway Modelling Finescale Modelling OO HO 18.83mm 4mm BloodandCustard East Sussex Finescale Railway Modelling Finescale Modelling OO HO 18.83mm 4mm BloodandCustard East Sussex Finescale Railway Modelling Finescale Modelling OO HO 18.83mm 4mm BloodandCustard East Sussex Finescale Railway Modelling Finescale Modelling OO HO 18.83mm 4mm BloodandCustard East Sussex Finescale Railway Modelling Finescale Modelling OO HO 18.83mm 4mm BloodandCustard East Sussex Finescale Railway Modelling Finescale Modelling OO HO 18.83mm 4mm BloodandCustard East Sussex Finescale Railway Modelling Finescale Modelling OO HO 18.83mm 4mm BloodandCustard East Sussex Finescale Railway Modelling Finescale Modelling OO HO 18.83mm 4mm BloodandCustard East Sussex Finescale Railway Modelling Finescale Modelling OO HO 18.83mm 4mm BloodandCustard East Sussex Finescale Railway Modelling Finescale Modelling OO HO 18.83mm 4mm BloodandCustard East Sussex Finescale Railway Modelling Finescale Modelling OO HO 18.83mm 4mm BloodandCustard East Sussex Finescale Railway Modelling Finescale Modelling OO HO 18.83mm 4mm BloodandCustard East Sussex Finescale Railway Modelling Finescale Modelling OO HO 18.83mm 4mm BloodandCustard East Sussex Finescale Railway Modelling Finescale Modelling OO HO 18.83mm 4mm BloodandCustard East Sussex Finescale Railway Modelling Finescale Modelling OO HO 18.83mm 4mm BloodandCustard East Sussex Finescale Railway Modelling Finescale Modelling OO HO 18.83mm 4mm BloodandCustard East Sussex Finescale Railway Modelling Finescale Modelling OO HO 18.83mm 4mm BloodandCustard East Sussex Finescale Railway Modelling Finescale Modelling OO HO 18.83mm 4mm BloodandCustard East Sussex Finescale Railway Modelling Finescale Modelling OO HO 18.83mm 4mm BloodandCustard East Sussex Finescale Railway Modelling Finescale Modelling OO HO 18.83mm 4mm BloodandCustard East Sussex Finescale Railway Modelling Finescale Modelling OO HO 18.83mm 4mm BloodandCustard East Sussex Finescale Railway Modelling Finescale Modelling OO HO 18.83mm 4mm BloodandCustard East Sussex Finescale Railway Modelling Finescale Modelling OO HO 18.83mm 4mm BloodandCustard East Sussex Finescale Railway Modelling Finescale Modelling OO HO 18.83mm 4mm BloodandCustard East Sussex Finescale Railway Modelling Finescale Modelling OO HO 18.83mm 4mm BloodandCustard East Sussex Finescale Railway Modelling Finescale Modelling OO HO 18.83mm 4mm BloodandCustard East Sussex Finescale Railway Modelling Finescale Modelling OO HO 18.83mm 4mm BloodandCustard East Sussex Finescale Railway Modelling Finescale Modelling OO HO 18.83mm 4mm BloodandCustard East Sussex Finescale Railway Modelling Finescale Modelling OO HO 18.83mm 4mm BloodandCustard East Sussex Finescale Railway Modelling Finescale Modelling OO HO 18.83mm 4mm BloodandCustard East Sussex Finescale Railway Modelling Finescale Modelling OO HO 18.83mm 4mm BloodandCustard East Sussex Finescale Railway Modelling Finescale Modelling OO HO 18.83mm 4mm BloodandCustard East Sussex Finescale Railway Modelling Finescale Modelling OO HO 18.83mm 4mm BloodandCustard East Sussex Finescale Railway Modelling Finescale Modelling OO HO 18.83mm 4mm BloodandCustard East Sussex Finescale Railway Modelling Finescale Modelling OO HO 18.83mm 4mm BloodandCustard East Sussex Finescale Railway Modelling Finescale Modelling OO HO 18.83mm 4mm BloodandCustard East Sussex Finescale Railway Modelling Finescale Modelling OO HO 18.83mm 4mm BloodandCustard East Sussex Finescale Railway Modelling Finescale Modelling OO HO 18.83mm 4mm BloodandCustard East Sussex Finescale Railway Modelling Finescale Modelling OO HO 18.83mm 4mm BloodandCustard East Sussex Finescale Railway Modelling Finescale Modelling OO HO 18.83mm 4mm BloodandCustard East Sussex Finescale Railway Modelling Finescale Modelling OO HO 18.83mm 4mm BloodandCustard East Sussex Finescale Railway Modelling Finescale Modelling OO HO 18.83mm 4mm BloodandCustard East Sussex Finescale Railway Modelling Finescale Modelling OO HO 18.83mm 4mm BloodandCustard East Sussex Finescale Railway Modelling Finescale Modelling OO HO 18.83mm 4mm BloodandCustard East Sussex Finescale Railway Modelling Finescale Modelling OO HO 18.83mm 4mm BloodandCustard East Sussex Finescale Railway Modelling Finescale Modelling OO HO 18.83mm 4mm BloodandCustard East Sussex Finescale Railway Modelling Finescale Modelling OO HO 18.83mm 4mm BloodandCustard East Sussex Finescale Railway Modelling Finescale Modelling OO HO 18.83mm 4mm BloodandCustard East Sussex Finescale Railway Modelling Finescale Modelling OO HO 18.83mm 4mm BloodandCustard East Sussex Finescale Railway Modelling Finescale Modelling OO HO 18.83mm 4mm BloodandCustard East Sussex Finescale Railway Modelling Finescale Modelling OO HO 18.83mm 4mm BloodandCustard East Sussex Finescale Railway Modelling Finescale Modelling OO HO 18.83mm 4mm BloodandCustard East Sussex Finescale Railway Modelling Finescale Modelling OO HO 18.83mm 4mm BloodandCustard East Sussex Finescale Railway Modelling Finescale Modelling OO HO 18.83mm 4mm BloodandCustard East Sussex Finescale Railway Modelling Finescale Modelling OO HO 18.83mm 4mm BloodandCustard East Sussex Finescale Railway Modelling Finescale Modelling OO HO 18.83mm 4mm BloodandCustard East Sussex Finescale Railway Modelling Finescale Modelling OO HO 18.83mm 4mm BloodandCustard East Sussex Finescale Railway Modelling Finescale Modelling OO HO 18.83mm 4mm BloodandCustard East Sussex Finescale Railway Modelling Finescale Modelling OO HO 18.83mm 4mm BloodandCustard East Sussex Finescale Railway Modelling Finescale Modelling OO HO 18.83mm 4mm BloodandCustard East Sussex Finescale Railway Modelling Finescale Modelling OO HO 18.83mm 4mm BloodandCustard East Sussex Finescale Railway Modelling Finescale Modelling OO HO 18.83mm 4mm BloodandCustard East Sussex Finescale Railway Modelling Finescale Modelling OO HO 18.83mm 4mm BloodandCustard East Sussex Finescale Railway Modelling Finescale Modelling OO HO 18.83mm 4mm BloodandCustard East Sussex Finescale Railway Modelling Finescale Modelling OO HO 18.83mm 4mm BloodandCustard East Sussex Finescale Railway Modelling Finescale Modelling OO HO 18.83mm 4mm BloodandCustard East Sussex Finescale Railway Modelling Finescale Modelling OO HO 18.83mm 4mm BloodandCustard East Sussex Finescale Railway Modelling Finescale Modelling OO HO 18.83mm 4mm BloodandCustard East Sussex Finescale Railway Modelling Finescale Modelling OO HO 18.83mm 4mm BloodandCustard East Sussex Finescale Railway Modelling Finescale Modelling OO HO 18.83mm 4mm BloodandCustard East Sussex Finescale Railway Modelling Finescale Modelling OO HO 18.83mm 4mm BloodandCustard East Sussex Finescale Railway Modelling Finescale Modelling OO HO 18.83mm 4mm BloodandCustard East Sussex Finescale Railway Modelling Finescale Modelling OO HO 18.83mm 4mm BloodandCustard East Sussex Finescale Railway Modelling Finescale Modelling OO HO 18.83mm 4mm BloodandCustard East Sussex Finescale Railway Modelling Finescale Modelling OO HO 18.83mm 4mm BloodandCustard East Sussex Finescale Railway Modelling Finescale Modelling OO HO 18.83mm 4mm BloodandCustard East Sussex Finescale Railway Modelling Finescale Modelling OO HO 18.83mm 4mm BloodandCustard East Sussex Finescale Railway Modelling Finescale Modelling OO HO 18.83mm 4mm BloodandCustard East Sussex Finescale Railway Modelling Finescale Modelling OO HO 18.83mm 4mm BloodandCustard East Sussex Finescale Railway Modelling Finescale Modelling OO HO 18.83mm 4mm BloodandCustard East Sussex Finescale Railway Modelling Finescale Modelling OO HO 18.83mm 4mm BloodandCustard East Sussex Finescale Railway Modelling Finescale Modelling OO HO 18.83mm 4mm BloodandCustard East Sussex Finescale Railway Modelling Finescale Modelling OO HO 18.83mm 4mm BloodandCustard East Sussex Finescale Railway Modelling Finescale Modelling OO HO 18.83mm 4mm BloodandCustard East Sussex Finescale Railway Modelling Finescale Modelling OO HO 18.83mm 4mm BloodandCustard East Sussex Finescale Railway Modelling Finescale Modelling OO HO 18.83mm 4mm BloodandCustard East Sussex Finescale Railway Modelling Finescale Modelling OO HO 18.83mm 4mm BloodandCustard East Sussex Finescale Railway Modelling Finescale Modelling OO HO 18.83mm 4mm BloodandCustard East Sussex Finescale Railway Modelling Finescale Modelling OO HO 18.83mm 4mm BloodandCustard East Sussex Finescale Railway Modelling Finescale Modelling OO HO 18.83mm 4mm BloodandCustard East Sussex Finescale Railway Modelling Finescale Modelling OO HO 18.83mm 4mm BloodandCustard East Sussex Finescale Railway Modelling Finescale Modelling OO HO 18.83mm 4mm BloodandCustard East Sussex Finescale Railway Modelling Finescale Modelling OO HO 18.83mm 4mm BloodandCustard East Sussex Finescale Railway Modelling Finescale Modelling OO HO 18.83mm 4mm BloodandCustard East Sussex Finescale Railway Modelling Finescale Modelling OO HO 18.83mm 4mm BloodandCustard East Sussex Finescale Railway Modelling Finescale Modelling OO HO 18.83mm 4mm BloodandCustard East Sussex Finescale Railway Modelling Finescale Modelling OO HO 18.83mm 4mm BloodandCustard East Sussex Finescale Railway Modelling Finescale Modelling OO HO 18.83mm 4mm BloodandCustard East Sussex Finescale Railway Modelling Finescale Modelling OO HO 18.83mm 4mm BloodandCustard East Sussex Finescale Railway Modelling Finescale Modelling OO HO 18.83mm 4mm BloodandCustard East Sussex Finescale Railway Modelling Finescale Modelling OO HO 18.83mm 4mm BloodandCustard East Sussex Finescale Railway Modelling Finescale Modelling OO HO 18.83mm 4mm BloodandCustard East Sussex Finescale Railway Modelling Finescale Modelling OO HO 18.83mm 4mm BloodandCustard East Sussex Finescale Railway Modelling Finescale Modelling OO HO 18.83mm 4mm BloodandCustard East Sussex Finescale Railway Modelling Finescale Modelling OO HO 18.83mm 4mm BloodandCustard East Sussex Finescale Railway Modelling Finescale Modelling OO HO 18.83mm 4mm BloodandCustard East Sussex Finescale Railway Modelling Finescale Modelling OO HO 18.83mm 4mm BloodandCustard East Sussex Finescale Railway Modelling Finescale Modelling OO HO 18.83mm 4mm BloodandCustard East Sussex Finescale Railway Modelling Finescale Modelling OO HO 18.83mm 4mm BloodandCustard East Sussex Finescale Railway Modelling Finescale Modelling OO HO 18.83mm 4mm BloodandCustard East Sussex Finescale Railway Modelling Finescale Modelling OO HO 18.83mm 4mm BloodandCustard East Sussex Finescale Railway Modelling Finescale Modelling OO HO 18.83mm 4mm BloodandCustard East Sussex Finescale Railway Modelling Finescale Modelling OO HO 18.83mm 4mm BloodandCustard East Sussex Finescale Railway Modelling Finescale Modelling OO HO 18.83mm 4mm BloodandCustard East Sussex Finescale Railway Modelling Finescale Modelling OO HO 18.83mm 4mm BloodandCustard East Sussex Finescale Railway Modelling Finescale Modelling OO HO 18.83mm 4mm BloodandCustard East Sussex Finescale Railway Modelling Finescale Modelling OO HO 18.83mm 4mm BloodandCustard East Sussex Finescale Railway Modelling Finescale Modelling OO HO 18.83mm 4mm BloodandCustard East Sussex Finescale Railway Modelling Finescale Modelling OO HO 18.83mm 4mm BloodandCustard East Sussex Finescale Railway Modelling Finescale Modelling OO HO 18.83mm 4mm BloodandCustard East Sussex Finescale Railway Modelling Finescale Modelling OO HO 18.83mm 4mm BloodandCustard East Sussex Finescale Railway Modelling Finescale Modelling OO HO 18.83mm 4mm BloodandCustard East Sussex Finescale Railway Modelling Finescale Modelling OO HO 18.83mm 4mm BloodandCustard East Sussex Finescale Railway Modelling Finescale Modelling OO HO 18.83mm 4mm BloodandCustard East Sussex Finescale Railway Modelling Finescale Modelling OO HO 18.83mm 4mm BloodandCustard East Sussex Finescale Railway Modelling Finescale Modelling OO HO 18.83mm 4mm BloodandCustard East Sussex Finescale Railway Modelling Finescale Modelling OO HO 18.83mm 4mm BloodandCustard East Sussex Finescale Railway Modelling Finescale Modelling OO HO 18.83mm 4mm BloodandCustard East Sussex Finescale Railway Modelling Finescale Modelling OO HO 18.83mm 4mm BloodandCustard East Sussex Finescale Railway Modelling Finescale Modelling OO HO 18.83mm 4mm BloodandCustard East Sussex Finescale Railway Modelling Finescale Modelling OO HO 18.83mmBloodandCustard East Sussex Finescale Railway Modelling Finescale Modelling OO HO 18.83mm 4mm. BloodandCustard East Sussex Finescale Railway Modelling Finescale Modelling OO HO 18.83mm 4mm BloodandCustard East Sussex Finescale Railway Modelling Finescale Modelling OO HO 18.83mm 4mm BloodandCustard East Sussex Finescale Railway Modelling Finescale Modelling OO HO 18.83mm 4mm BloodandCustard East Sussex Finescale Railway Modelling Finescale Modelling OO HO 18.83mm 4mm BloodandCustard East Sussex Finescale Railway Modelling Finescale Modelling OO HO 18.83mm 4mm BloodandCustard East Sussex Finescale Railway Modelling Finescale Modelling OO HO 18.83mm 4mm BloodandCustard East Sussex Finescale Railway Modelling Finescale Modelling OO HO 18.83mm 4mm BloodandCustard East Sussex Finescale Railway Modelling Finescale Modelling OO HO 18.83mm 4mm BloodandCustard East Sussex Finescale Railway Modelling Finescale Modelling OO HO 18.83mm 4mm BloodandCustard East Sussex Finescale Railway Modelling Finescale Modelling OO HO 18.83mm 4mm BloodandCustard East Sussex Finescale Railway Modelling Finescale Modelling OO HO 18.83mm 4mm BloodandCustard East Sussex Finescale Railway Modelling Finescale Modelling OO HO 18.83mm 4mm BloodandCustard East Sussex Finescale Railway Modelling Finescale Modelling OO HO 18.83mm 4mm BloodandCustard East Sussex Finescale Railway Modelling Finescale Modelling OO HO 18.83mm 4mm BloodandCustard East Sussex Finescale Railway Modelling Finescale Modelling OO HO 18.83mm 4mm BloodandCustard East Sussex Finescale Railway Modelling Finescale Modelling OO HO 18.83mm 4mm BloodandCustard East Sussex Finescale Railway Modelling Finescale Modelling OO HO 18.83mm 4mm BloodandCustard East Sussex Finescale Railway Modelling Finescale Modelling OO HO 18.83mm 4mm BloodandCustard East Sussex Finescale Railway Modelling Finescale Modelling OO HO 18.83mm 4mm BloodandCustard East Sussex Finescale Railway Modelling Finescale Modelling OO HO 18.83mm 4mm BloodandCustard East Sussex Finescale Railway Modelling Finescale Modelling OO HO 18.83mm 4mm BloodandCustard East Sussex Finescale Railway Modelling Finescale Modelling OO HO 18.83mm 4mm BloodandCustard East Sussex Finescale Railway Modelling Finescale Modelling OO HO 18.83mm 4mm BloodandCustard East Sussex Finescale Railway Modelling Finescale Modelling OO HO 18.83mm 4mm BloodandCustard East Sussex Finescale Railway Modelling Finescale Modelling OO HO 18.83mm 4mm BloodandCustard East Sussex Finescale Railway Modelling Finescale Modelling OO HO 18.83mm 4mm BloodandCustard East Sussex Finescale Railway Modelling Finescale Modelling OO HO 18.83mm 4mm BloodandCustard East Sussex Finescale Railway Modelling Finescale Modelling OO HO 18.83mm 4mm BloodandCustard East Sussex Finescale Railway Modelling Finescale Modelling OO HO 18.83mm 4mm BloodandCustard East Sussex Finescale Railway Modelling Finescale Modelling OO HO 18.83mm 4mm BloodandCustard East Sussex Finescale Railway Modelling Finescale Modelling OO HO 18.83mm 4mm BloodandCustard East Sussex Finescale Railway Modelling Finescale Modelling OO HO 18.83mm 4mm BloodandCustard East Sussex Finescale Railway Modelling Finescale Modelling OO HO 18.83mm 4mm BloodandCustard East Sussex Finescale Railway Modelling Finescale Modelling OO HO 18.83mm 4mm BloodandCustard East Sussex Finescale Railway Modelling Finescale Modelling OO HO 18.83mm 4mm BloodandCustard East Sussex Finescale Railway Modelling Finescale Modelling OO HO 18.83mm 4mm BloodandCustard East Sussex Finescale Railway Modelling Finescale Modelling OO HO 18.83mm 4mm BloodandCustard East Sussex Finescale Railway Modelling Finescale Modelling OO HO 18.83mm 4mm BloodandCustard East Sussex Finescale Railway Modelling Finescale Modelling OO HO 18.83mm 4mm BloodandCustard East Sussex Finescale Railway Modelling Finescale Modelling OO HO 18.83mm 4mm BloodandCustard East Sussex Finescale Railway Modelling Finescale Modelling OO HO 18.83mm 4mm BloodandCustard East Sussex Finescale Railway Modelling Finescale Modelling OO HO 18.83mm 4mm BloodandCustard East Sussex Finescale Railway Modelling Finescale Modelling OO HO 18.83mm 4mm BloodandCustard East Sussex Finescale Railway Modelling Finescale Modelling OO HO 18.83mm 4mm BloodandCustard East Sussex Finescale Railway Modelling Finescale Modelling OO HO 18.83mm 4mm BloodandCustard East Sussex Finescale Railway Modelling Finescale Modelling OO HO 18.83mm 4mm BloodandCustard East Sussex Finescale Railway Modelling Finescale Modelling OO HO 18.83mm 4mm BloodandCustard East Sussex Finescale Railway Modelling Finescale Modelling OO HO 18.83mm 4mm BloodandCustard East Sussex Finescale Railway Modelling Finescale Modelling OO HO 18.83mm 4mm BloodandCustard East Sussex Finescale Railway Modelling Finescale Modelling OO HO 18.83mm 4mm BloodandCustard East Sussex Finescale Railway Modelling Finescale Modelling OO HO 18.83mm 4mm BloodandCustard East Sussex Finescale Railway Modelling Finescale Modelling OO HO 18.83mm 4mm BloodandCustard East Sussex Finescale Railway Modelling Finescale Modelling OO HO 18.83mm 4mm BloodandCustard East Sussex Finescale Railway Modelling Finescale Modelling OO HO 18.83mm 4mm BloodandCustard East Sussex Finescale Railway Modelling Finescale Modelling OO HO 18.83mm 4mm BloodandCustard East Sussex Finescale Railway Modelling Finescale Modelling OO HO 18.83mm 4mm BloodandCustard East Sussex Finescale Railway Modelling Finescale Modelling OO HO 18.83mm 4mm BloodandCustard East Sussex Finescale Railway Modelling Finescale Modelling OO HO 18.83mm 4mm BloodandCustard East Sussex Finescale Railway Modelling Finescale Modelling OO HO 18.83mm 4mm BloodandCustard East Sussex Finescale Railway Modelling Finescale Modelling OO HO 18.83mm 4mm BloodandCustard East Sussex Finescale Railway Modelling Finescale Modelling OO HO 18.83mm 4mm BloodandCustard East Sussex Finescale Railway Modelling Finescale Modelling OO HO 18.83mm 4mm BloodandCustard East Sussex Finescale Railway Modelling Finescale Modelling OO HO 18.83mm 4mm BloodandCustard East Sussex Finescale Railway Modelling Finescale Modelling OO HO 18.83mm 4mm BloodandCustard East Sussex Finescale Railway Modelling Finescale Modelling OO HO 18.83mm 4mm BloodandCustard East Sussex Finescale Railway Modelling Finescale Modelling OO HO 18.83mm 4mm BloodandCustard East Sussex Finescale Railway Modelling Finescale Modelling OO HO 18.83mm 4mm BloodandCustard East Sussex Finescale Railway Modelling Finescale Modelling OO HO 18.83mm 4mm BloodandCustard East Sussex Finescale Railway Modelling Finescale Modelling OO HO 18.83mm 4mm BloodandCustard East Sussex Finescale Railway Modelling Finescale Modelling OO HO 18.83mm 4mm BloodandCustard East Sussex Finescale Railway Modelling Finescale Modelling OO HO 18.83mm 4mm BloodandCustard East Sussex Finescale Railway Modelling Finescale Modelling OO HO 18.83mm 4mm BloodandCustard East Sussex Finescale Railway Modelling Finescale Modelling OO HO 18.83mm 4mm BloodandCustard East Sussex Finescale Railway Modelling Finescale Modelling OO HO 18.83mm 4mm BloodandCustard East Sussex Finescale Railway Modelling Finescale Modelling OO HO 18.83mm 4mm BloodandCustard East Sussex Finescale Railway Modelling Finescale Modelling OO HO 18.83mm 4mm BloodandCustard East Sussex Finescale Railway Modelling Finescale Modelling OO HO 18.83mm 4mm BloodandCustard East Sussex Finescale Railway Modelling Finescale Modelling OO HO 18.83mm 4mm BloodandCustard East Sussex Finescale Railway Modelling Finescale Modelling OO HO 18.83mm 4mm BloodandCustard East Sussex Finescale Railway Modelling Finescale Modelling OO HO 18.83mm 4mm BloodandCustard East Sussex Finescale Railway Modelling Finescale Modelling OO HO 18.83mm 4mm BloodandCustard East Sussex Finescale Railway Modelling Finescale Modelling OO HO 18.83mm 4mm BloodandCustard East Sussex Finescale Railway Modelling Finescale Modelling OO HO 18.83mm 4mm BloodandCustard East Sussex Finescale Railway Modelling Finescale Modelling OO HO 18.83mm 4mm BloodandCustard East Sussex Finescale Railway Modelling Finescale Modelling OO HO 18.83mm 4mm BloodandCustard East Sussex Finescale Railway Modelling Finescale Modelling OO HO 18.83mm 4mm BloodandCustard East Sussex Finescale Railway Modelling Finescale Modelling OO HO 18.83mm 4mm BloodandCustard East Sussex Finescale Railway Modelling Finescale Modelling OO HO 18.83mm 4mm BloodandCustard East Sussex Finescale Railway Modelling Finescale Modelling OO HO 18.83mm 4mm BloodandCustard East Sussex Finescale Railway Modelling Finescale Modelling OO HO 18.83mm 4mm BloodandCustard East Sussex Finescale Railway Modelling Finescale Modelling OO HO 18.83mm 4mm BloodandCustard East Sussex Finescale Railway Modelling Finescale Modelling OO HO 18.83mm 4mm BloodandCustard East Sussex Finescale Railway Modelling Finescale Modelling OO HO 18.83mm 4mm BloodandCustard East Sussex Finescale Railway Modelling Finescale Modelling OO HO 18.83mm 4mm BloodandCustard East Sussex Finescale Railway Modelling Finescale Modelling OO HO 18.83mm 4mm BloodandCustard East Sussex Finescale Railway Modelling Finescale Modelling OO HO 18.83mm 4mm BloodandCustard East Sussex Finescale Railway Modelling Finescale Modelling OO HO 18.83mm 4mm BloodandCustard East Sussex Finescale Railway Modelling Finescale Modelling OO HO 18.83mm 4mm BloodandCustard East Sussex Finescale Railway Modelling Finescale Modelling OO HO 18.83mm 4mm BloodandCustard East Sussex Finescale Railway Modelling Finescale Modelling OO HO 18.83mm 4mm BloodandCustard East Sussex Finescale Railway Modelling Finescale Modelling OO HO 18.83mm 4mm BloodandCustard East Sussex Finescale Railway Modelling Finescale Modelling OO HO 18.83mm 4mm BloodandCustard East Sussex Finescale Railway Modelling Finescale Modelling OO HO 18.83mm 4mm BloodandCustard East Sussex Finescale Railway Modelling Finescale Modelling OO HO 18.83mm 4mm BloodandCustard East Sussex Finescale Railway Modelling Finescale Modelling OO HO 18.83mm 4mm BloodandCustard East Sussex Finescale Railway Modelling Finescale Modelling OO HO 18.83mm 4mm BloodandCustard East Sussex Finescale Railway Modelling Finescale Modelling OO HO 18.83mm 4mm BloodandCustard East Sussex Finescale Railway Modelling Finescale Modelling OO HO 18.83mm 4mm BloodandCustard East Sussex Finescale Railway Modelling Finescale Modelling OO HO 18.83mm 4mm BloodandCustard East Sussex Finescale Railway Modelling Finescale Modelling OO HO 18.83mm 4mm BloodandCustard East Sussex Finescale Railway Modelling Finescale Modelling OO HO 18.83mm 4mm BloodandCustard East Sussex Finescale Railway Modelling Finescale Modelling OO HO 18.83mm 4mm BloodandCustard East Sussex Finescale Railway Modelling Finescale Modelling OO HO 18.83mm 4mm BloodandCustard East Sussex Finescale Railway Modelling Finescale Modelling OO HO 18.83mm 4mm BloodandCustard East Sussex Finescale Railway Modelling Finescale Modelling OO HO 18.83mm 4mm BloodandCustard East Sussex Finescale Railway Modelling Finescale Modelling OO HO 18.83mm 4mm BloodandCustard East Sussex Finescale Railway Modelling Finescale Modelling OO HO 18.83mm 4mm BloodandCustard East Sussex Finescale Railway Modelling Finescale Modelling OO HO 18.83mm 4mm BloodandCustard East Sussex Finescale Railway Modelling Finescale Modelling OO HO 18.83mm 4mm BloodandCustard East Sussex Finescale Railway Modelling Finescale Modelling OO HO 18.83mm 4mm BloodandCustard East Sussex Finescale Railway Modelling Finescale Modelling OO HO 18.83mm 4mm BloodandCustard East Sussex Finescale Railway Modelling Finescale Modelling OO HO 18.83mm 4mm BloodandCustard East Sussex Finescale Railway Modelling Finescale Modelling OO HO 18.83mm 4mm BloodandCustard East Sussex Finescale Railway Modelling Finescale Modelling OO HO 18.83mm 4mm BloodandCustard East Sussex Finescale Railway Modelling Finescale Modelling OO HO 18.83mm 4mm BloodandCustard East Sussex Finescale Railway Modelling Finescale Modelling OO HO 18.83mm 4mm BloodandCustard East Sussex Finescale Railway Modelling Finescale Modelling OO HO 18.83mm 4mm BloodandCustard East Sussex Finescale Railway Modelling Finescale Modelling OO HO 18.83mm 4mm BloodandCustard East Sussex Finescale Railway Modelling Finescale Modelling OO HO 18.83mm 4mm BloodandCustard East Sussex Finescale Railway Modelling Finescale Modelling OO HO 18.83mm 4mm BloodandCustard East Sussex Finescale Railway Modelling Finescale Modelling OO HO 18.83mm 4mm BloodandCustard East Sussex Finescale Railway Modelling Finescale Modelling OO HO 18.83mm 4mm BloodandCustard East Sussex Finescale Railway Modelling Finescale Modelling OO HO 18.83mm 4mm BloodandCustard East Sussex Finescale Railway Modelling Finescale Modelling OO HO 18.83mm 4mm BloodandCustard East Sussex Finescale Railway Modelling Finescale Modelling OO HO 18.83mm 4mm BloodandCustard East Sussex Finescale Railway Modelling Finescale Modelling OO HO 18.83mm 4mm BloodandCustard East Sussex Finescale Railway Modelling Finescale Modelling OO HO 18.83mm 4mm BloodandCustard East Sussex Finescale Railway Modelling Finescale Modelling OO HO 18.83mm 4mm BloodandCustard East Sussex Finescale Railway Modelling Finescale Modelling OO HO 18.83mm 4mm BloodandCustard East Sussex Finescale Railway Modelling Finescale Modelling OO HO 18.83mm 4mm BloodandCustard East Sussex Finescale Railway Modelling Finescale Modelling OO HO 18.83mm 4mm BloodandCustard East Sussex Finescale Railway Modelling Finescale Modelling OO HO 18.83mm 4mm BloodandCustard East Sussex Finescale Railway Modelling Finescale Modelling OO HO 18.83mm 4mm BloodandCustard East Sussex Finescale Railway Modelling Finescale Modelling OO HO 18.83mm 4mm BloodandCustard East Sussex Finescale Railway Modelling Finescale Modelling OO HO 18.83mm 4mm BloodandCustard East Sussex Finescale Railway Modelling Finescale Modelling OO HO 18.83mm 4mm BloodandCustard East Sussex Finescale Railway Modelling Finescale Modelling OO HO 18.83mm 4mm BloodandCustard East Sussex Finescale Railway Modelling Finescale Modelling OO HO 18.83mm 4mm BloodandCustard East Sussex Finescale Railway Modelling Finescale Modelling OO HO 18.83mm 4mm BloodandCustard East Sussex Finescale Railway Modelling Finescale Modelling OO HO 18.83mm 4mm BloodandCustard East Sussex Finescale Railway Modelling Finescale Modelling OO HO 18.83mm 4mm BloodandCustard East Sussex Finescale Railway Modelling Finescale Modelling OO HO 18.83mm 4mm BloodandCustard East Sussex Finescale Railway Modelling Finescale Modelling OO HO 18.83mm 4mm BloodandCustard East Sussex Finescale Railway Modelling Finescale Modelling OO HO 18.83mm 4mm BloodandCustard East Sussex Finescale Railway Modelling Finescale Modelling OO HO 18.83mm 4mm BloodandCustard East Sussex Finescale Railway Modelling Finescale Modelling OO HO 18.83mm 4mm BloodandCustard East Sussex Finescale Railway Modelling Finescale Modelling OO HO 18.83mm 4mm BloodandCustard East Sussex Finescale Railway Modelling Finescale Modelling OO HO 18.83mm 4mm BloodandCustard East Sussex Finescale Railway Modelling Finescale Modelling OO HO 18.83mm 4mm BloodandCustard East Sussex Finescale Railway Modelling Finescale Modelling OO HO 18.83mm 4mm BloodandCustard East Sussex Finescale Railway Modelling Finescale Modelling OO HO 18.83mm 4mm BloodandCustard East Sussex Finescale Railway Modelling Finescale Modelling OO HO 18.83mm 4mm BloodandCustard East Sussex Finescale Railway Modelling Finescale Modelling OO HO 18.83mm 4mm BloodandCustard East Sussex Finescale Railway Modelling Finescale Modelling OO HO 18.83mm 4mm BloodandCustard East Sussex Finescale Railway Modelling Finescale Modelling OO HO 18.83mm 4mm BloodandCustard East Sussex Finescale Railway Modelling Finescale Modelling OO HO 18.83mm 4mm BloodandCustard East Sussex Finescale Railway Modelling Finescale Modelling OO HO 18.83mm 4mm BloodandCustard East Sussex Finescale Railway Modelling Finescale Modelling OO HO 18.83mm 4mm BloodandCustard East Sussex Finescale Railway Modelling Finescale Modelling OO HO 18.83mm 4mm BloodandCustard East Sussex Finescale Railway Modelling Finescale Modelling OO HO 18.83mm 4mm BloodandCustard East Sussex Finescale Railway Modelling Finescale Modelling OO HO 18.83mm 4mm BloodandCustard East Sussex Finescale Railway Modelling Finescale Modelling OO HO 18.83mm 4mm BloodandCustard East Sussex Finescale Railway Modelling Finescale Modelling OO HO 18.83mm 4mm BloodandCustard East Sussex Finescale Railway Modelling Finescale Modelling OO HO 18.83mm 4mm BloodandCustard East Sussex Finescale Railway Modelling Finescale Modelling OO HO 18.83mm 4mm BloodandCustard East Sussex Finescale Railway Modelling Finescale Modelling OO HO 18.83mm 4mm BloodandCustard East Sussex Finescale Railway Modelling Finescale Modelling OO HO 18.83mm 4mm BloodandCustard East Sussex Finescale Railway Modelling Finescale Modelling OO HO 18.83mm 4mm BloodandCustard East Sussex Finescale Railway Modelling Finescale Modelling OO HO 18.83mm 4mm BloodandCustard East Sussex Finescale Railway Modelling Finescale Modelling OO HO 18.83mm 4mm BloodandCustard East Sussex Finescale Railway Modelling Finescale Modelling OO HO 18.83mm 4mm BloodandCustard East Sussex Finescale Railway Modelling Finescale Modelling OO HO 18.83mm 4mm BloodandCustard East Sussex Finescale Railway Modelling Finescale Modelling OO HO 18.83mm 4mm BloodandCustard East Sussex Finescale Railway Modelling Finescale Modelling OO HO 18.83mm 4mm BloodandCustard East Sussex Finescale Railway Modelling Finescale Modelling OO HO 18.83mm 4mm BloodandCustard East Sussex Finescale Railway Modelling Finescale Modelling OO HO 18.83mm 4mm BloodandCustard East Sussex Finescale Railway Modelling Finescale Modelling OO HO 18.83mm 4mm BloodandCustard East Sussex Finescale Railway Modelling Finescale Modelling OO HO 18.83mm 4mm BloodandCustard East Sussex Finescale Railway Modelling Finescale Modelling OO HO 18.83mm 4mm BloodandCustard East Sussex Finescale Railway Modelling Finescale Modelling OO HO 18.83mm 4mm BloodandCustard East Sussex Finescale Railway Modelling Finescale Modelling OO HO 18.83mm 4mm BloodandCustard East Sussex Finescale Railway Modelling Finescale Modelling OO HO 18.83mm 4mm BloodandCustard East Sussex Finescale Railway Modelling Finescale Modelling OO HO 18.83mm 4mm BloodandCustard East Sussex Finescale Railway Modelling Finescale Modelling OO HO 18.83mm 4mm BloodandCustard East Sussex Finescale Railway Modelling Finescale Modelling OO HO 18.83mm 4mm BloodandCustard East Sussex Finescale Railway Modelling Finescale Modelling OO HO 18.83mm 4mm BloodandCustard East Sussex Finescale Railway Modelling Finescale Modelling OO HO 18.83mm 4mm BloodandCustard East Sussex Finescale Railway Modelling Finescale Modelling OO HO 18.83mm 4mm BloodandCustard East Sussex Finescale Railway Modelling Finescale Modelling OO HO 18.83mm 4mm BloodandCustard East Sussex Finescale Railway Modelling Finescale Modelling OO HO 18.83mm 4mm BloodandCustard East Sussex Finescale Railway Modelling Finescale Modelling OO HO 18.83mm 4mm BloodandCustard East Sussex Finescale Railway Modelling Finescale Modelling OO HO 18.83mm 4mm BloodandCustard East Sussex Finescale Railway Modelling Finescale Modelling OO HO 18.83mm 4mm BloodandCustard East Sussex Finescale Railway Modelling Finescale Modelling OO HO 18.83mm 4mm BloodandCustard East Sussex Finescale Railway Modelling Finescale Modelling OO HO 18.83mm 4mm BloodandCustard East Sussex Finescale Railway Modelling Finescale Modelling OO HO 18.83mm 4mm BloodandCustard East Sussex Finescale Railway Modelling Finescale Modelling OO HO 18.83mm 4mm BloodandCustard East Sussex Finescale Railway Modelling Finescale Modelling OO HO 18.83mm 4mm BloodandCustard East Sussex Finescale Railway Modelling Finescale Modelling OO HO 18.83mm 4mm BloodandCustard East Sussex Finescale Railway Modelling Finescale Modelling OO HO 18.83mm 4mm BloodandCustard East Sussex Finescale Railway Modelling Finescale Modelling OO HO 18.83mm 4mm BloodandCustard East Sussex Finescale Railway Modelling Finescale Modelling OO HO 18.83mm 4mm BloodandCustard East Sussex Finescale Railway Modelling Finescale Modelling OO HO 18.83mm 4mm BloodandCustard East Sussex Finescale Railway Modelling Finescale Modelling OO HO 18.83mm 4mm BloodandCustard East Sussex Finescale Railway Modelling Finescale Modelling OO HO 18.83mm 4mm BloodandCustard East Sussex Finescale Railway Modelling Finescale Modelling OO HO 18.83mm 4mm BloodandCustard East Sussex Finescale Railway Modelling Finescale Modelling OO HO 18.83mm 4mm BloodandCustard East Sussex Finescale Railway Modelling Finescale Modelling OO HO 18.83mm 4mm BloodandCustard East Sussex Finescale Railway Modelling Finescale Modelling OO HO 18.83mm 4mm BloodandCustard East Sussex Finescale Railway Modelling Finescale Modelling OO HO 18.83mm 4mm BloodandCustard East Sussex Finescale Railway Modelling Finescale Modelling OO HO 18.83mm 4mm BloodandCustard East Sussex Finescale Railway Modelling Finescale Modelling OO HO 18.83mm 4mm BloodandCustard East Sussex Finescale Railway Modelling Finescale Modelling OO HO 18.83mm 4mm BloodandCustard East Sussex Finescale Railway Modelling Finescale Modelling OO HO 18.83mm 4mm BloodandCustard East Sussex Finescale Railway Modelling Finescale Modelling OO HO 18.83mm 4mm BloodandCustard East Sussex Finescale Railway Modelling Finescale Modelling OO HO 18.83mm 4mm BloodandCustard East Sussex Finescale Railway Modelling Finescale Modelling OO HO 18.83mm 4mm BloodandCustard East Sussex Finescale Railway Modelling Finescale Modelling OO HO 18.83mm 4mm BloodandCustard East Sussex Finescale Railway Modelling Finescale Modelling OO HO 18.83mm 4mm BloodandCustard East Sussex Finescale Railway Modelling Finescale Modelling OO HO 18.83mm 4mm BloodandCustard East Sussex Finescale Railway Modelling Finescale Modelling OO HO 18.83mm 4mm BloodandCustard East Sussex Finescale Railway Modelling Finescale Modelling OO HO 18.83mm 4mm BloodandCustard East Sussex Finescale Railway Modelling Finescale Modelling OO HO 18.83mm 4mm BloodandCustard East Sussex Finescale Railway Modelling Finescale Modelling OO HO 18.83mm 4mm BloodandCustard East Sussex Finescale Railway Modelling Finescale Modelling OO HO 18.83mm 4mm BloodandCustard East Sussex Finescale Railway Modelling Finescale Modelling OO HO 18.83mm 4mm BloodandCustard East Sussex Finescale Railway Modelling Finescale Modelling OO HO 18.83mm 4mm BloodandCustard East Sussex Finescale Railway Modelling Finescale Modelling OO HO 18.83mm 4mm BloodandCustard East Sussex Finescale Railway Modelling Finescale Modelling OO HO 18.83mm 4mm BloodandCustard East Sussex Finescale Railway Modelling Finescale Modelling OO HO 18.83mm 4mm BloodandCustard East Sussex Finescale Railway Modelling Finescale Modelling OO HO 18.83mm 4mm BloodandCustard East Sussex Finescale Railway Modelling Finescale Modelling OO HO 18.83mm 4mm BloodandCustard East Sussex Finescale Railway Modelling Finescale Modelling OO HO 18.83mm 4mm BloodandCustard East Sussex Finescale Railway Modelling Finescale Modelling OO HO 18.83mm 4mm BloodandCustard East Sussex Finescale Railway Modelling Finescale Modelling OO HO 18.83mm 4mm BloodandCustard East Sussex Finescale Railway Modelling Finescale Modelling OO HO 18.83mm 4mm BloodandCustard East Sussex Finescale Railway Modelling Finescale Modelling OO HO 18.83mm 4mm BloodandCustard East Sussex Finescale Railway Modelling Finescale Modelling OO HO 18.83mm 4mm BloodandCustard East Sussex Finescale Railway Modelling Finescale Modelling OO HO 18.83mm 4mm BloodandCustard East Sussex Finescale Railway Modelling Finescale Modelling OO HO 18.83mm 4mm BloodandCustard East Sussex Finescale Railway Modelling Finescale Modelling OO HO 18.83mm 4mm BloodandCustard East Sussex Finescale Railway Modelling Finescale Modelling OO HO 18.83mm 4mm BloodandCustard East Sussex Finescale Railway Modelling Finescale Modelling OO HO 18.83mm 4mm BloodandCustard East Sussex Finescale Railway Modelling Finescale Modelling OO HO 18.83mm 4mm BloodandCustard East Sussex Finescale Railway Modelling Finescale Modelling OO HO 18.83mm 4mm BloodandCustard East Sussex Finescale Railway Modelling Finescale Modelling OO HO 18.83mm 4mm BloodandCustard East Sussex Finescale Railway Modelling Finescale Modelling OO HO 18.83mm 4mm BloodandCustard East Sussex Finescale Railway Modelling Finescale Modelling OO HO 18.83mm 4mm BloodandCustard East Sussex Finescale Railway Modelling Finescale Modelling OO HO 18.83mm 4mm BloodandCustard East Sussex Finescale Railway Modelling Finescale Modelling OO HO 18.83mm 4mm BloodandCustard East Sussex Finescale Railway Modelling Finescale Modelling OO HO 18.83mm 4mm BloodandCustard East Sussex Finescale Railway Modelling Finescale Modelling OO HO 18.83mm 4mm BloodandCustard East Sussex Finescale Railway Modelling Finescale Modelling OO HO 18.83mm 4mm BloodandCustard East Sussex Finescale Railway Modelling Finescale Modelling OO HO 18.83mm 4mm BloodandCustard East Sussex Finescale Railway Modelling Finescale Modelling OO HO 18.83mm 4mm BloodandCustard East Sussex Finescale Railway Modelling Finescale Modelling OO HO 18.83mm 4mm BloodandCustard East Sussex Finescale Railway Modelling Finescale Modelling OO HO 18.83mm 4mm BloodandCustard East Sussex Finescale Railway Modelling Finescale Modelling OO HO 18.83mm 4mm BloodandCustard East Sussex Finescale Railway Modelling Finescale Modelling OO HO 18.83mm 4mm BloodandCustard East Sussex Finescale Railway Modelling Finescale Modelling OO HO 18.83mm 4mm BloodandCustard East Sussex Finescale Railway Modelling Finescale Modelling OO HO 18.83mm 4mm BloodandCustard East Sussex Finescale Railway Modelling Finescale Modelling OO HO 18.83mm 4mm BloodandCustard East Sussex Finescale Railway Modelling Finescale Modelling OO HO 18.83mm 4mm BloodandCustard East Sussex Finescale Railway Modelling Finescale Modelling OO HO 18.83mm 4mm BloodandCustard East Sussex Finescale Railway Modelling Finescale Modelling OO HO 18.83mm 4mm BloodandCustard East Sussex Finescale Railway Modelling Finescale Modelling OO HO 18.83mmBloodandCustard East Sussex Finescale Railway Modelling Finescale Modelling OO HO 18.83mm 4mm. BloodandCustard East Sussex Finescale Railway Modelling Finescale Modelling OO HO 18.83mm 4mm BloodandCustard East Sussex Finescale Railway Modelling Finescale Modelling OO HO 18.83mm 4mm BloodandCustard East Sussex Finescale Railway Modelling Finescale Modelling OO HO 18.83mm 4mm BloodandCustard East Sussex Finescale Railway Modelling Finescale Modelling OO HO 18.83mm 4mm BloodandCustard East Sussex Finescale Railway Modelling Finescale Modelling OO HO 18.83mm 4mm BloodandCustard East Sussex Finescale Railway Modelling Finescale Modelling OO HO 18.83mm 4mm BloodandCustard East Sussex Finescale Railway Modelling Finescale Modelling OO HO 18.83mm 4mm BloodandCustard East Sussex Finescale Railway Modelling Finescale Modelling OO HO 18.83mm 4mm BloodandCustard East Sussex Finescale Railway Modelling Finescale Modelling OO HO 18.83mm 4mm BloodandCustard East Sussex Finescale Railway Modelling Finescale Modelling OO HO 18.83mm 4mm BloodandCustard East Sussex Finescale Railway Modelling Finescale Modelling OO HO 18.83mm 4mm BloodandCustard East Sussex Finescale Railway Modelling Finescale Modelling OO HO 18.83mm 4mm BloodandCustard East Sussex Finescale Railway Modelling Finescale Modelling OO HO 18.83mm 4mm BloodandCustard East Sussex Finescale Railway Modelling Finescale Modelling OO HO 18.83mm 4mm BloodandCustard East Sussex Finescale Railway Modelling Finescale Modelling OO HO 18.83mm 4mm BloodandCustard East Sussex Finescale Railway Modelling Finescale Modelling OO HO 18.83mm 4mm BloodandCustard East Sussex Finescale Railway Modelling Finescale Modelling OO HO 18.83mm 4mm BloodandCustard East Sussex Finescale Railway Modelling Finescale Modelling OO HO 18.83mm 4mm BloodandCustard East Sussex Finescale Railway Modelling Finescale Modelling OO HO 18.83mm 4mm BloodandCustard East Sussex Finescale Railway Modelling Finescale Modelling OO HO 18.83mm 4mm BloodandCustard East Sussex Finescale Railway Modelling Finescale Modelling OO HO 18.83mm 4mm BloodandCustard East Sussex Finescale Railway Modelling Finescale Modelling OO HO 18.83mm 4mm BloodandCustard East Sussex Finescale Railway Modelling Finescale Modelling OO HO 18.83mm 4mm BloodandCustard East Sussex Finescale Railway Modelling Finescale Modelling OO HO 18.83mm 4mm BloodandCustard East Sussex Finescale Railway Modelling Finescale Modelling OO HO 18.83mm 4mm BloodandCustard East Sussex Finescale Railway Modelling Finescale Modelling OO HO 18.83mm 4mm BloodandCustard East Sussex Finescale Railway Modelling Finescale Modelling OO HO 18.83mm 4mm BloodandCustard East Sussex Finescale Railway Modelling Finescale Modelling OO HO 18.83mm 4mm BloodandCustard East Sussex Finescale Railway Modelling Finescale Modelling OO HO 18.83mm 4mm BloodandCustard East Sussex Finescale Railway Modelling Finescale Modelling OO HO 18.83mm 4mm BloodandCustard East Sussex Finescale Railway Modelling Finescale Modelling OO HO 18.83mm 4mm BloodandCustard East Sussex Finescale Railway Modelling Finescale Modelling OO HO 18.83mm 4mm BloodandCustard East Sussex Finescale Railway Modelling Finescale Modelling OO HO 18.83mm 4mm BloodandCustard East Sussex Finescale Railway Modelling Finescale Modelling OO HO 18.83mm 4mm BloodandCustard East Sussex Finescale Railway Modelling Finescale Modelling OO HO 18.83mm 4mm BloodandCustard East Sussex Finescale Railway Modelling Finescale Modelling OO HO 18.83mm 4mm BloodandCustard East Sussex Finescale Railway Modelling Finescale Modelling OO HO 18.83mm 4mm BloodandCustard East Sussex Finescale Railway Modelling Finescale Modelling OO HO 18.83mm 4mm BloodandCustard East Sussex Finescale Railway Modelling Finescale Modelling OO HO 18.83mm 4mm BloodandCustard East Sussex Finescale Railway Modelling Finescale Modelling OO HO 18.83mm 4mm BloodandCustard East Sussex Finescale Railway Modelling Finescale Modelling OO HO 18.83mm 4mm BloodandCustard East Sussex Finescale Railway Modelling Finescale Modelling OO HO 18.83mm 4mm BloodandCustard East Sussex Finescale Railway Modelling Finescale Modelling OO HO 18.83mm 4mm BloodandCustard East Sussex Finescale Railway Modelling Finescale Modelling OO HO 18.83mm 4mm BloodandCustard East Sussex Finescale Railway Modelling Finescale Modelling OO HO 18.83mm 4mm BloodandCustard East Sussex Finescale Railway Modelling Finescale Modelling OO HO 18.83mm 4mm BloodandCustard East Sussex Finescale Railway Modelling Finescale Modelling OO HO 18.83mm 4mm BloodandCustard East Sussex Finescale Railway Modelling Finescale Modelling OO HO 18.83mm 4mm BloodandCustard East Sussex Finescale Railway Modelling Finescale Modelling OO HO 18.83mm 4mm BloodandCustard East Sussex Finescale Railway Modelling Finescale Modelling OO HO 18.83mm 4mm BloodandCustard East Sussex Finescale Railway Modelling Finescale Modelling OO HO 18.83mm 4mm BloodandCustard East Sussex Finescale Railway Modelling Finescale Modelling OO HO 18.83mm 4mm BloodandCustard East Sussex Finescale Railway Modelling Finescale Modelling OO HO 18.83mm 4mm BloodandCustard East Sussex Finescale Railway Modelling Finescale Modelling OO HO 18.83mm 4mm BloodandCustard East Sussex Finescale Railway Modelling Finescale Modelling OO HO 18.83mm 4mm BloodandCustard East Sussex Finescale Railway Modelling Finescale Modelling OO HO 18.83mm 4mm BloodandCustard East Sussex Finescale Railway Modelling Finescale Modelling OO HO 18.83mm 4mm BloodandCustard East Sussex Finescale Railway Modelling Finescale Modelling OO HO 18.83mm 4mm BloodandCustard East Sussex Finescale Railway Modelling Finescale Modelling OO HO 18.83mm 4mm BloodandCustard East Sussex Finescale Railway Modelling Finescale Modelling OO HO 18.83mm 4mm BloodandCustard East Sussex Finescale Railway Modelling Finescale Modelling OO HO 18.83mm 4mm BloodandCustard East Sussex Finescale Railway Modelling Finescale Modelling OO HO 18.83mm 4mm BloodandCustard East Sussex Finescale Railway Modelling Finescale Modelling OO HO 18.83mm 4mm BloodandCustard East Sussex Finescale Railway Modelling Finescale Modelling OO HO 18.83mm 4mm BloodandCustard East Sussex Finescale Railway Modelling Finescale Modelling OO HO 18.83mm 4mm BloodandCustard East Sussex Finescale Railway Modelling Finescale Modelling OO HO 18.83mm 4mm BloodandCustard East Sussex Finescale Railway Modelling Finescale Modelling OO HO 18.83mm 4mm BloodandCustard East Sussex Finescale Railway Modelling Finescale Modelling OO HO 18.83mm 4mm BloodandCustard East Sussex Finescale Railway Modelling Finescale Modelling OO HO 18.83mm 4mm BloodandCustard East Sussex Finescale Railway Modelling Finescale Modelling OO HO 18.83mm 4mm BloodandCustard East Sussex Finescale Railway Modelling Finescale Modelling OO HO 18.83mm 4mm BloodandCustard East Sussex Finescale Railway Modelling Finescale Modelling OO HO 18.83mm 4mm BloodandCustard East Sussex Finescale Railway Modelling Finescale Modelling OO HO 18.83mm 4mm BloodandCustard East Sussex Finescale Railway Modelling Finescale Modelling OO HO 18.83mm 4mm BloodandCustard East Sussex Finescale Railway Modelling Finescale Modelling OO HO 18.83mm 4mm BloodandCustard East Sussex Finescale Railway Modelling Finescale Modelling OO HO 18.83mm 4mm BloodandCustard East Sussex Finescale Railway Modelling Finescale Modelling OO HO 18.83mm 4mm BloodandCustard East Sussex Finescale Railway Modelling Finescale Modelling OO HO 18.83mm 4mm BloodandCustard East Sussex Finescale Railway Modelling Finescale Modelling OO HO 18.83mm 4mm BloodandCustard East Sussex Finescale Railway Modelling Finescale Modelling OO HO 18.83mm 4mm BloodandCustard East Sussex Finescale Railway Modelling Finescale Modelling OO HO 18.83mm 4mm BloodandCustard East Sussex Finescale Railway Modelling Finescale Modelling OO HO 18.83mm 4mm BloodandCustard East Sussex Finescale Railway Modelling Finescale Modelling OO HO 18.83mm 4mm BloodandCustard East Sussex Finescale Railway Modelling Finescale Modelling OO HO 18.83mm 4mm BloodandCustard East Sussex Finescale Railway Modelling Finescale Modelling OO HO 18.83mm 4mm BloodandCustard East Sussex Finescale Railway Modelling Finescale Modelling OO HO 18.83mm 4mm BloodandCustard East Sussex Finescale Railway Modelling Finescale Modelling OO HO 18.83mm 4mm BloodandCustard East Sussex Finescale Railway Modelling Finescale Modelling OO HO 18.83mm 4mm BloodandCustard East Sussex Finescale Railway Modelling Finescale Modelling OO HO 18.83mm 4mm BloodandCustard East Sussex Finescale Railway Modelling Finescale Modelling OO HO 18.83mm 4mm BloodandCustard East Sussex Finescale Railway Modelling Finescale Modelling OO HO 18.83mm 4mm BloodandCustard East Sussex Finescale Railway Modelling Finescale Modelling OO HO 18.83mm 4mm BloodandCustard East Sussex Finescale Railway Modelling Finescale Modelling OO HO 18.83mm 4mm BloodandCustard East Sussex Finescale Railway Modelling Finescale Modelling OO HO 18.83mm 4mm BloodandCustard East Sussex Finescale Railway Modelling Finescale Modelling OO HO 18.83mm 4mm BloodandCustard East Sussex Finescale Railway Modelling Finescale Modelling OO HO 18.83mm 4mm BloodandCustard East Sussex Finescale Railway Modelling Finescale Modelling OO HO 18.83mm 4mm BloodandCustard East Sussex Finescale Railway Modelling Finescale Modelling OO HO 18.83mm 4mm BloodandCustard East Sussex Finescale Railway Modelling Finescale Modelling OO HO 18.83mm 4mm BloodandCustard East Sussex Finescale Railway Modelling Finescale Modelling OO HO 18.83mm 4mm BloodandCustard East Sussex Finescale Railway Modelling Finescale Modelling OO HO 18.83mm 4mm BloodandCustard East Sussex Finescale Railway Modelling Finescale Modelling OO HO 18.83mm 4mm BloodandCustard East Sussex Finescale Railway Modelling Finescale Modelling OO HO 18.83mm 4mm BloodandCustard East Sussex Finescale Railway Modelling Finescale Modelling OO HO 18.83mm 4mm BloodandCustard East Sussex Finescale Railway Modelling Finescale Modelling OO HO 18.83mm 4mm BloodandCustard East Sussex Finescale Railway Modelling Finescale Modelling OO HO 18.83mm 4mm BloodandCustard East Sussex Finescale Railway Modelling Finescale Modelling OO HO 18.83mm 4mm BloodandCustard East Sussex Finescale Railway Modelling Finescale Modelling OO HO 18.83mm 4mm BloodandCustard East Sussex Finescale Railway Modelling Finescale Modelling OO HO 18.83mm 4mm BloodandCustard East Sussex Finescale Railway Modelling Finescale Modelling OO HO 18.83mm 4mm BloodandCustard East Sussex Finescale Railway Modelling Finescale Modelling OO HO 18.83mm 4mm BloodandCustard East Sussex Finescale Railway Modelling Finescale Modelling OO HO 18.83mm 4mm BloodandCustard East Sussex Finescale Railway Modelling Finescale Modelling OO HO 18.83mm 4mm BloodandCustard East Sussex Finescale Railway Modelling Finescale Modelling OO HO 18.83mm 4mm BloodandCustard East Sussex Finescale Railway Modelling Finescale Modelling OO HO 18.83mm 4mm BloodandCustard East Sussex Finescale Railway Modelling Finescale Modelling OO HO 18.83mm 4mm BloodandCustard East Sussex Finescale Railway Modelling Finescale Modelling OO HO 18.83mm 4mm BloodandCustard East Sussex Finescale Railway Modelling Finescale Modelling OO HO 18.83mm 4mm BloodandCustard East Sussex Finescale Railway Modelling Finescale Modelling OO HO 18.83mm 4mm BloodandCustard East Sussex Finescale Railway Modelling Finescale Modelling OO HO 18.83mm 4mm BloodandCustard East Sussex Finescale Railway Modelling Finescale Modelling OO HO 18.83mm 4mm BloodandCustard East Sussex Finescale Railway Modelling Finescale Modelling OO HO 18.83mm 4mm BloodandCustard East Sussex Finescale Railway Modelling Finescale Modelling OO HO 18.83mm 4mm BloodandCustard East Sussex Finescale Railway Modelling Finescale Modelling OO HO 18.83mm 4mm BloodandCustard East Sussex Finescale Railway Modelling Finescale Modelling OO HO 18.83mm 4mm BloodandCustard East Sussex Finescale Railway Modelling Finescale Modelling OO HO 18.83mm 4mm BloodandCustard East Sussex Finescale Railway Modelling Finescale Modelling OO HO 18.83mm 4mm BloodandCustard East Sussex Finescale Railway Modelling Finescale Modelling OO HO 18.83mm 4mm BloodandCustard East Sussex Finescale Railway Modelling Finescale Modelling OO HO 18.83mm 4mm BloodandCustard East Sussex Finescale Railway Modelling Finescale Modelling OO HO 18.83mm 4mm BloodandCustard East Sussex Finescale Railway Modelling Finescale Modelling OO HO 18.83mm 4mm BloodandCustard East Sussex Finescale Railway Modelling Finescale Modelling OO HO 18.83mm 4mm BloodandCustard East Sussex Finescale Railway Modelling Finescale Modelling OO HO 18.83mm 4mm BloodandCustard East Sussex Finescale Railway Modelling Finescale Modelling OO HO 18.83mm 4mm BloodandCustard East Sussex Finescale Railway Modelling Finescale Modelling OO HO 18.83mm 4mm BloodandCustard East Sussex Finescale Railway Modelling Finescale Modelling OO HO 18.83mm 4mm BloodandCustard East Sussex Finescale Railway Modelling Finescale Modelling OO HO 18.83mm 4mm BloodandCustard East Sussex Finescale Railway Modelling Finescale Modelling OO HO 18.83mm 4mm BloodandCustard East Sussex Finescale Railway Modelling Finescale Modelling OO HO 18.83mm 4mm BloodandCustard East Sussex Finescale Railway Modelling Finescale Modelling OO HO 18.83mm 4mm BloodandCustard East Sussex Finescale Railway Modelling Finescale Modelling OO HO 18.83mm 4mm BloodandCustard East Sussex Finescale Railway Modelling Finescale Modelling OO HO 18.83mm 4mm BloodandCustard East Sussex Finescale Railway Modelling Finescale Modelling OO HO 18.83mm 4mm BloodandCustard East Sussex Finescale Railway Modelling Finescale Modelling OO HO 18.83mm 4mm BloodandCustard East Sussex Finescale Railway Modelling Finescale Modelling OO HO 18.83mm 4mm BloodandCustard East Sussex Finescale Railway Modelling Finescale Modelling OO HO 18.83mm 4mm BloodandCustard East Sussex Finescale Railway Modelling Finescale Modelling OO HO 18.83mm 4mm BloodandCustard East Sussex Finescale Railway Modelling Finescale Modelling OO HO 18.83mm 4mm BloodandCustard East Sussex Finescale Railway Modelling Finescale Modelling OO HO 18.83mm 4mm BloodandCustard East Sussex Finescale Railway Modelling Finescale Modelling OO HO 18.83mm 4mm BloodandCustard East Sussex Finescale Railway Modelling Finescale Modelling OO HO 18.83mm 4mm BloodandCustard East Sussex Finescale Railway Modelling Finescale Modelling OO HO 18.83mm 4mm BloodandCustard East Sussex Finescale Railway Modelling Finescale Modelling OO HO 18.83mm 4mm BloodandCustard East Sussex Finescale Railway Modelling Finescale Modelling OO HO 18.83mm 4mm BloodandCustard East Sussex Finescale Railway Modelling Finescale Modelling OO HO 18.83mm 4mm BloodandCustard East Sussex Finescale Railway Modelling Finescale Modelling OO HO 18.83mm 4mm BloodandCustard East Sussex Finescale Railway Modelling Finescale Modelling OO HO 18.83mm 4mm BloodandCustard East Sussex Finescale Railway Modelling Finescale Modelling OO HO 18.83mm 4mm BloodandCustard East Sussex Finescale Railway Modelling Finescale Modelling OO HO 18.83mm 4mm BloodandCustard East Sussex Finescale Railway Modelling Finescale Modelling OO HO 18.83mm 4mm BloodandCustard East Sussex Finescale Railway Modelling Finescale Modelling OO HO 18.83mm 4mm BloodandCustard East Sussex Finescale Railway Modelling Finescale Modelling OO HO 18.83mm 4mm BloodandCustard East Sussex Finescale Railway Modelling Finescale Modelling OO HO 18.83mm 4mm BloodandCustard East Sussex Finescale Railway Modelling Finescale Modelling OO HO 18.83mm 4mm BloodandCustard East Sussex Finescale Railway Modelling Finescale Modelling OO HO 18.83mm 4mm BloodandCustard East Sussex Finescale Railway Modelling Finescale Modelling OO HO 18.83mm 4mm BloodandCustard East Sussex Finescale Railway Modelling Finescale Modelling OO HO 18.83mm 4mm BloodandCustard East Sussex Finescale Railway Modelling Finescale Modelling OO HO 18.83mm 4mm BloodandCustard East Sussex Finescale Railway Modelling Finescale Modelling OO HO 18.83mm 4mm BloodandCustard East Sussex Finescale Railway Modelling Finescale Modelling OO HO 18.83mm 4mm BloodandCustard East Sussex Finescale Railway Modelling Finescale Modelling OO HO 18.83mm 4mm BloodandCustard East Sussex Finescale Railway Modelling Finescale Modelling OO HO 18.83mm 4mm BloodandCustard East Sussex Finescale Railway Modelling Finescale Modelling OO HO 18.83mm 4mm BloodandCustard East Sussex Finescale Railway Modelling Finescale Modelling OO HO 18.83mm 4mm BloodandCustard East Sussex Finescale Railway Modelling Finescale Modelling OO HO 18.83mm 4mm BloodandCustard East Sussex Finescale Railway Modelling Finescale Modelling OO HO 18.83mm 4mm BloodandCustard East Sussex Finescale Railway Modelling Finescale Modelling OO HO 18.83mm 4mm BloodandCustard East Sussex Finescale Railway Modelling Finescale Modelling OO HO 18.83mm 4mm BloodandCustard East Sussex Finescale Railway Modelling Finescale Modelling OO HO 18.83mm 4mm BloodandCustard East Sussex Finescale Railway Modelling Finescale Modelling OO HO 18.83mm 4mm BloodandCustard East Sussex Finescale Railway Modelling Finescale Modelling OO HO 18.83mm 4mm BloodandCustard East Sussex Finescale Railway Modelling Finescale Modelling OO HO 18.83mm 4mm BloodandCustard East Sussex Finescale Railway Modelling Finescale Modelling OO HO 18.83mm 4mm BloodandCustard East Sussex Finescale Railway Modelling Finescale Modelling OO HO 18.83mm 4mm BloodandCustard East Sussex Finescale Railway Modelling Finescale Modelling OO HO 18.83mm 4mm BloodandCustard East Sussex Finescale Railway Modelling Finescale Modelling OO HO 18.83mm 4mm BloodandCustard East Sussex Finescale Railway Modelling Finescale Modelling OO HO 18.83mm 4mm BloodandCustard East Sussex Finescale Railway Modelling Finescale Modelling OO HO 18.83mm 4mm BloodandCustard East Sussex Finescale Railway Modelling Finescale Modelling OO HO 18.83mm 4mm BloodandCustard East Sussex Finescale Railway Modelling Finescale Modelling OO HO 18.83mm 4mm BloodandCustard East Sussex Finescale Railway Modelling Finescale Modelling OO HO 18.83mm 4mm BloodandCustard East Sussex Finescale Railway Modelling Finescale Modelling OO HO 18.83mm 4mm BloodandCustard East Sussex Finescale Railway Modelling Finescale Modelling OO HO 18.83mm 4mm BloodandCustard East Sussex Finescale Railway Modelling Finescale Modelling OO HO 18.83mm 4mm BloodandCustard East Sussex Finescale Railway Modelling Finescale Modelling OO HO 18.83mm 4mm BloodandCustard East Sussex Finescale Railway Modelling Finescale Modelling OO HO 18.83mm 4mm BloodandCustard East Sussex Finescale Railway Modelling Finescale Modelling OO HO 18.83mm 4mm BloodandCustard East Sussex Finescale Railway Modelling Finescale Modelling OO HO 18.83mm 4mm BloodandCustard East Sussex Finescale Railway Modelling Finescale Modelling OO HO 18.83mm 4mm BloodandCustard East Sussex Finescale Railway Modelling Finescale Modelling OO HO 18.83mm 4mm BloodandCustard East Sussex Finescale Railway Modelling Finescale Modelling OO HO 18.83mm 4mm BloodandCustard East Sussex Finescale Railway Modelling Finescale Modelling OO HO 18.83mm 4mm BloodandCustard East Sussex Finescale Railway Modelling Finescale Modelling OO HO 18.83mm 4mm BloodandCustard East Sussex Finescale Railway Modelling Finescale Modelling OO HO 18.83mm 4mm BloodandCustard East Sussex Finescale Railway Modelling Finescale Modelling OO HO 18.83mm 4mm BloodandCustard East Sussex Finescale Railway Modelling Finescale Modelling OO HO 18.83mm 4mm BloodandCustard East Sussex Finescale Railway Modelling Finescale Modelling OO HO 18.83mm 4mm BloodandCustard East Sussex Finescale Railway Modelling Finescale Modelling OO HO 18.83mm 4mm BloodandCustard East Sussex Finescale Railway Modelling Finescale Modelling OO HO 18.83mm 4mm BloodandCustard East Sussex Finescale Railway Modelling Finescale Modelling OO HO 18.83mm 4mm BloodandCustard East Sussex Finescale Railway Modelling Finescale Modelling OO HO 18.83mm 4mm BloodandCustard East Sussex Finescale Railway Modelling Finescale Modelling OO HO 18.83mm 4mm BloodandCustard East Sussex Finescale Railway Modelling Finescale Modelling OO HO 18.83mm 4mm BloodandCustard East Sussex Finescale Railway Modelling Finescale Modelling OO HO 18.83mm 4mm BloodandCustard East Sussex Finescale Railway Modelling Finescale Modelling OO HO 18.83mm 4mm BloodandCustard East Sussex Finescale Railway Modelling Finescale Modelling OO HO 18.83mm 4mm BloodandCustard East Sussex Finescale Railway Modelling Finescale Modelling OO HO 18.83mm 4mm BloodandCustard East Sussex Finescale Railway Modelling Finescale Modelling OO HO 18.83mm 4mm BloodandCustard East Sussex Finescale Railway Modelling Finescale Modelling OO HO 18.83mm 4mm BloodandCustard East Sussex Finescale Railway Modelling Finescale Modelling OO HO 18.83mm 4mm BloodandCustard East Sussex Finescale Railway Modelling Finescale Modelling OO HO 18.83mm 4mm BloodandCustard East Sussex Finescale Railway Modelling Finescale Modelling OO HO 18.83mm 4mm BloodandCustard East Sussex Finescale Railway Modelling Finescale Modelling OO HO 18.83mm 4mm BloodandCustard East Sussex Finescale Railway Modelling Finescale Modelling OO HO 18.83mm 4mm BloodandCustard East Sussex Finescale Railway Modelling Finescale Modelling OO HO 18.83mm 4mm BloodandCustard East Sussex Finescale Railway Modelling Finescale Modelling OO HO 18.83mm 4mm BloodandCustard East Sussex Finescale Railway Modelling Finescale Modelling OO HO 18.83mm 4mm BloodandCustard East Sussex Finescale Railway Modelling Finescale Modelling OO HO 18.83mm 4mm BloodandCustard East Sussex Finescale Railway Modelling Finescale Modelling OO HO 18.83mm 4mm BloodandCustard East Sussex Finescale Railway Modelling Finescale Modelling OO HO 18.83mm 4mm BloodandCustard East Sussex Finescale Railway Modelling Finescale Modelling OO HO 18.83mm 4mm BloodandCustard East Sussex Finescale Railway Modelling Finescale Modelling OO HO 18.83mm 4mm BloodandCustard East Sussex Finescale Railway Modelling Finescale Modelling OO HO 18.83mm 4mm BloodandCustard East Sussex Finescale Railway Modelling Finescale Modelling OO HO 18.83mm 4mm BloodandCustard East Sussex Finescale Railway Modelling Finescale Modelling OO HO 18.83mm 4mm BloodandCustard East Sussex Finescale Railway Modelling Finescale Modelling OO HO 18.83mm 4mm BloodandCustard East Sussex Finescale Railway Modelling Finescale Modelling OO HO 18.83mm 4mm BloodandCustard East Sussex Finescale Railway Modelling Finescale Modelling OO HO 18.83mm 4mm BloodandCustard East Sussex Finescale Railway Modelling Finescale Modelling OO HO 18.83mm 4mm BloodandCustard East Sussex Finescale Railway Modelling Finescale Modelling OO HO 18.83mm 4mm BloodandCustard East Sussex Finescale Railway Modelling Finescale Modelling OO HO 18.83mm 4mm BloodandCustard East Sussex Finescale Railway Modelling Finescale Modelling OO HO 18.83mm 4mm BloodandCustard East Sussex Finescale Railway Modelling Finescale Modelling OO HO 18.83mm 4mm BloodandCustard East Sussex Finescale Railway Modelling Finescale Modelling OO HO 18.83mm 4mm BloodandCustard East Sussex Finescale Railway Modelling Finescale Modelling OO HO 18.83mm 4mm BloodandCustard East Sussex Finescale Railway Modelling Finescale Modelling OO HO 18.83mm 4mm BloodandCustard East Sussex Finescale Railway Modelling Finescale Modelling OO HO 18.83mm 4mm BloodandCustard East Sussex Finescale Railway Modelling Finescale Modelling OO HO 18.83mm 4mm BloodandCustard East Sussex Finescale Railway Modelling Finescale Modelling OO HO 18.83mm 4mm BloodandCustard East Sussex Finescale Railway Modelling Finescale Modelling OO HO 18.83mm 4mm BloodandCustard East Sussex Finescale Railway Modelling Finescale Modelling OO HO 18.83mm 4mm BloodandCustard East Sussex Finescale Railway Modelling Finescale Modelling OO HO 18.83mm 4mm BloodandCustard East Sussex Finescale Railway Modelling Finescale Modelling OO HO 18.83mm 4mm BloodandCustard East Sussex Finescale Railway Modelling Finescale Modelling OO HO 18.83mm 4mm BloodandCustard East Sussex Finescale Railway Modelling Finescale Modelling OO HO 18.83mm 4mm BloodandCustard East Sussex Finescale Railway Modelling Finescale Modelling OO HO 18.83mm 4mm BloodandCustard East Sussex Finescale Railway Modelling Finescale Modelling OO HO 18.83mm 4mm BloodandCustard East Sussex Finescale Railway Modelling Finescale Modelling OO HO 18.83mm 4mm BloodandCustard East Sussex Finescale Railway Modelling Finescale Modelling OO HO 18.83mm 4mm BloodandCustard East Sussex Finescale Railway Modelling Finescale Modelling OO HO 18.83mm 4mm BloodandCustard East Sussex Finescale Railway Modelling Finescale Modelling OO HO 18.83mm 4mm BloodandCustard East Sussex Finescale Railway Modelling Finescale Modelling OO HO 18.83mm 4mm BloodandCustard East Sussex Finescale Railway Modelling Finescale Modelling OO HO 18.83mm 4mm BloodandCustard East Sussex Finescale Railway Modelling Finescale Modelling OO HO 18.83mm 4mm BloodandCustard East Sussex Finescale Railway Modelling Finescale Modelling OO HO 18.83mm 4mm BloodandCustard East Sussex Finescale Railway Modelling Finescale Modelling OO HO 18.83mm 4mm BloodandCustard East Sussex Finescale Railway Modelling Finescale Modelling OO HO 18.83mm 4mm BloodandCustard East Sussex Finescale Railway Modelling Finescale Modelling OO HO 18.83mm 4mm BloodandCustard East Sussex Finescale Railway Modelling Finescale Modelling OO HO 18.83mm 4mm BloodandCustard East Sussex Finescale Railway Modelling Finescale Modelling OO HO 18.83mm 4mm BloodandCustard East Sussex Finescale Railway Modelling Finescale Modelling OO HO 18.83mm 4mm BloodandCustard East Sussex Finescale Railway Modelling Finescale Modelling OO HO 18.83mm 4mm BloodandCustard East Sussex Finescale Railway Modelling Finescale Modelling OO HO 18.83mm 4mm BloodandCustard East Sussex Finescale Railway Modelling Finescale Modelling OO HO 18.83mm 4mm BloodandCustard East Sussex Finescale Railway Modelling Finescale Modelling OO HO 18.83mm 4mm BloodandCustard East Sussex Finescale Railway Modelling Finescale Modelling OO HO 18.83mmBloodandCustard East Sussex Finescale Railway Modelling Finescale Modelling OO HO 18.83mm 4mm. BloodandCustard East Sussex Finescale Railway Modelling Finescale Modelling OO HO 18.83mm 4mm BloodandCustard East Sussex Finescale Railway Modelling Finescale Modelling OO HO 18.83mm 4mm BloodandCustard East Sussex Finescale Railway Modelling Finescale Modelling OO HO 18.83mm 4mm BloodandCustard East Sussex Finescale Railway Modelling Finescale Modelling OO HO 18.83mm 4mm BloodandCustard East Sussex Finescale Railway Modelling Finescale Modelling OO HO 18.83mm 4mm BloodandCustard East Sussex Finescale Railway Modelling Finescale Modelling OO HO 18.83mm 4mm BloodandCustard East Sussex Finescale Railway Modelling Finescale Modelling OO HO 18.83mm 4mm BloodandCustard East Sussex Finescale Railway Modelling Finescale Modelling OO HO 18.83mm 4mm BloodandCustard East Sussex Finescale Railway Modelling Finescale Modelling OO HO 18.83mm 4mm BloodandCustard East Sussex Finescale Railway Modelling Finescale Modelling OO HO 18.83mm 4mm BloodandCustard East Sussex Finescale Railway Modelling Finescale Modelling OO HO 18.83mm 4mm BloodandCustard East Sussex Finescale Railway Modelling Finescale Modelling OO HO 18.83mm 4mm BloodandCustard East Sussex Finescale Railway Modelling Finescale Modelling OO HO 18.83mm 4mm BloodandCustard East Sussex Finescale Railway Modelling Finescale Modelling OO HO 18.83mm 4mm BloodandCustard East Sussex Finescale Railway Modelling Finescale Modelling OO HO 18.83mm 4mm BloodandCustard East Sussex Finescale Railway Modelling Finescale Modelling OO HO 18.83mm 4mm BloodandCustard East Sussex Finescale Railway Modelling Finescale Modelling OO HO 18.83mm 4mm BloodandCustard East Sussex Finescale Railway Modelling Finescale Modelling OO HO 18.83mm 4mm BloodandCustard East Sussex Finescale Railway Modelling Finescale Modelling OO HO 18.83mm 4mm BloodandCustard East Sussex Finescale Railway Modelling Finescale Modelling OO HO 18.83mm 4mm BloodandCustard East Sussex Finescale Railway Modelling Finescale Modelling OO HO 18.83mm 4mm BloodandCustard East Sussex Finescale Railway Modelling Finescale Modelling OO HO 18.83mm 4mm BloodandCustard East Sussex Finescale Railway Modelling Finescale Modelling OO HO 18.83mm 4mm BloodandCustard East Sussex Finescale Railway Modelling Finescale Modelling OO HO 18.83mm 4mm BloodandCustard East Sussex Finescale Railway Modelling Finescale Modelling OO HO 18.83mm 4mm BloodandCustard East Sussex Finescale Railway Modelling Finescale Modelling OO HO 18.83mm 4mm BloodandCustard East Sussex Finescale Railway Modelling Finescale Modelling OO HO 18.83mm 4mm BloodandCustard East Sussex Finescale Railway Modelling Finescale Modelling OO HO 18.83mm 4mm BloodandCustard East Sussex Finescale Railway Modelling Finescale Modelling OO HO 18.83mm 4mm BloodandCustard East Sussex Finescale Railway Modelling Finescale Modelling OO HO 18.83mm 4mm BloodandCustard East Sussex Finescale Railway Modelling Finescale Modelling OO HO 18.83mm 4mm BloodandCustard East Sussex Finescale Railway Modelling Finescale Modelling OO HO 18.83mm 4mm BloodandCustard East Sussex Finescale Railway Modelling Finescale Modelling OO HO 18.83mm 4mm BloodandCustard East Sussex Finescale Railway Modelling Finescale Modelling OO HO 18.83mm 4mm BloodandCustard East Sussex Finescale Railway Modelling Finescale Modelling OO HO 18.83mm 4mm BloodandCustard East Sussex Finescale Railway Modelling Finescale Modelling OO HO 18.83mm 4mm BloodandCustard East Sussex Finescale Railway Modelling Finescale Modelling OO HO 18.83mm 4mm BloodandCustard East Sussex Finescale Railway Modelling Finescale Modelling OO HO 18.83mm 4mm BloodandCustard East Sussex Finescale Railway Modelling Finescale Modelling OO HO 18.83mm 4mm BloodandCustard East Sussex Finescale Railway Modelling Finescale Modelling OO HO 18.83mm 4mm BloodandCustard East Sussex Finescale Railway Modelling Finescale Modelling OO HO 18.83mm 4mm BloodandCustard East Sussex Finescale Railway Modelling Finescale Modelling OO HO 18.83mm 4mm BloodandCustard East Sussex Finescale Railway Modelling Finescale Modelling OO HO 18.83mm 4mm BloodandCustard East Sussex Finescale Railway Modelling Finescale Modelling OO HO 18.83mm 4mm BloodandCustard East Sussex Finescale Railway Modelling Finescale Modelling OO HO 18.83mm 4mm BloodandCustard East Sussex Finescale Railway Modelling Finescale Modelling OO HO 18.83mm 4mm BloodandCustard East Sussex Finescale Railway Modelling Finescale Modelling OO HO 18.83mm 4mm BloodandCustard East Sussex Finescale Railway Modelling Finescale Modelling OO HO 18.83mm 4mm BloodandCustard East Sussex Finescale Railway Modelling Finescale Modelling OO HO 18.83mm 4mm BloodandCustard East Sussex Finescale Railway Modelling Finescale Modelling OO HO 18.83mm 4mm BloodandCustard East Sussex Finescale Railway Modelling Finescale Modelling OO HO 18.83mm 4mm BloodandCustard East Sussex Finescale Railway Modelling Finescale Modelling OO HO 18.83mm 4mm BloodandCustard East Sussex Finescale Railway Modelling Finescale Modelling OO HO 18.83mm 4mm BloodandCustard East Sussex Finescale Railway Modelling Finescale Modelling OO HO 18.83mm 4mm BloodandCustard East Sussex Finescale Railway Modelling Finescale Modelling OO HO 18.83mm 4mm BloodandCustard East Sussex Finescale Railway Modelling Finescale Modelling OO HO 18.83mm 4mm BloodandCustard East Sussex Finescale Railway Modelling Finescale Modelling OO HO 18.83mm 4mm BloodandCustard East Sussex Finescale Railway Modelling Finescale Modelling OO HO 18.83mm 4mm BloodandCustard East Sussex Finescale Railway Modelling Finescale Modelling OO HO 18.83mm 4mm BloodandCustard East Sussex Finescale Railway Modelling Finescale Modelling OO HO 18.83mm 4mm BloodandCustard East Sussex Finescale Railway Modelling Finescale Modelling OO HO 18.83mm 4mm BloodandCustard East Sussex Finescale Railway Modelling Finescale Modelling OO HO 18.83mm 4mm BloodandCustard East Sussex Finescale Railway Modelling Finescale Modelling OO HO 18.83mm 4mm BloodandCustard East Sussex Finescale Railway Modelling Finescale Modelling OO HO 18.83mm 4mm BloodandCustard East Sussex Finescale Railway Modelling Finescale Modelling OO HO 18.83mm 4mm BloodandCustard East Sussex Finescale Railway Modelling Finescale Modelling OO HO 18.83mm 4mm BloodandCustard East Sussex Finescale Railway Modelling Finescale Modelling OO HO 18.83mm 4mm BloodandCustard East Sussex Finescale Railway Modelling Finescale Modelling OO HO 18.83mm 4mm BloodandCustard East Sussex Finescale Railway Modelling Finescale Modelling OO HO 18.83mm 4mm BloodandCustard East Sussex Finescale Railway Modelling Finescale Modelling OO HO 18.83mm 4mm BloodandCustard East Sussex Finescale Railway Modelling Finescale Modelling OO HO 18.83mm 4mm BloodandCustard East Sussex Finescale Railway Modelling Finescale Modelling OO HO 18.83mm 4mm BloodandCustard East Sussex Finescale Railway Modelling Finescale Modelling OO HO 18.83mm 4mm BloodandCustard East Sussex Finescale Railway Modelling Finescale Modelling OO HO 18.83mm 4mm BloodandCustard East Sussex Finescale Railway Modelling Finescale Modelling OO HO 18.83mm 4mm BloodandCustard East Sussex Finescale Railway Modelling Finescale Modelling OO HO 18.83mm 4mm BloodandCustard East Sussex Finescale Railway Modelling Finescale Modelling OO HO 18.83mm 4mm BloodandCustard East Sussex Finescale Railway Modelling Finescale Modelling OO HO 18.83mm 4mm BloodandCustard East Sussex Finescale Railway Modelling Finescale Modelling OO HO 18.83mm 4mm BloodandCustard East Sussex Finescale Railway Modelling Finescale Modelling OO HO 18.83mm 4mm BloodandCustard East Sussex Finescale Railway Modelling Finescale Modelling OO HO 18.83mm 4mm BloodandCustard East Sussex Finescale Railway Modelling Finescale Modelling OO HO 18.83mm 4mm BloodandCustard East Sussex Finescale Railway Modelling Finescale Modelling OO HO 18.83mm 4mm BloodandCustard East Sussex Finescale Railway Modelling Finescale Modelling OO HO 18.83mm 4mm BloodandCustard East Sussex Finescale Railway Modelling Finescale Modelling OO HO 18.83mm 4mm BloodandCustard East Sussex Finescale Railway Modelling Finescale Modelling OO HO 18.83mm 4mm BloodandCustard East Sussex Finescale Railway Modelling Finescale Modelling OO HO 18.83mm 4mm BloodandCustard East Sussex Finescale Railway Modelling Finescale Modelling OO HO 18.83mm 4mm BloodandCustard East Sussex Finescale Railway Modelling Finescale Modelling OO HO 18.83mm 4mm BloodandCustard East Sussex Finescale Railway Modelling Finescale Modelling OO HO 18.83mm 4mm BloodandCustard East Sussex Finescale Railway Modelling Finescale Modelling OO HO 18.83mm 4mm BloodandCustard East Sussex Finescale Railway Modelling Finescale Modelling OO HO 18.83mm 4mm BloodandCustard East Sussex Finescale Railway Modelling Finescale Modelling OO HO 18.83mm 4mm BloodandCustard East Sussex Finescale Railway Modelling Finescale Modelling OO HO 18.83mm 4mm BloodandCustard East Sussex Finescale Railway Modelling Finescale Modelling OO HO 18.83mm 4mm BloodandCustard East Sussex Finescale Railway Modelling Finescale Modelling OO HO 18.83mm 4mm BloodandCustard East Sussex Finescale Railway Modelling Finescale Modelling OO HO 18.83mm 4mm BloodandCustard East Sussex Finescale Railway Modelling Finescale Modelling OO HO 18.83mm 4mm BloodandCustard East Sussex Finescale Railway Modelling Finescale Modelling OO HO 18.83mm 4mm BloodandCustard East Sussex Finescale Railway Modelling Finescale Modelling OO HO 18.83mm 4mm BloodandCustard East Sussex Finescale Railway Modelling Finescale Modelling OO HO 18.83mm 4mm BloodandCustard East Sussex Finescale Railway Modelling Finescale Modelling OO HO 18.83mm 4mm BloodandCustard East Sussex Finescale Railway Modelling Finescale Modelling OO HO 18.83mm 4mm BloodandCustard East Sussex Finescale Railway Modelling Finescale Modelling OO HO 18.83mm 4mm BloodandCustard East Sussex Finescale Railway Modelling Finescale Modelling OO HO 18.83mm 4mm BloodandCustard East Sussex Finescale Railway Modelling Finescale Modelling OO HO 18.83mm 4mm BloodandCustard East Sussex Finescale Railway Modelling Finescale Modelling OO HO 18.83mm 4mm BloodandCustard East Sussex Finescale Railway Modelling Finescale Modelling OO HO 18.83mm 4mm BloodandCustard East Sussex Finescale Railway Modelling Finescale Modelling OO HO 18.83mm 4mm BloodandCustard East Sussex Finescale Railway Modelling Finescale Modelling OO HO 18.83mm 4mm BloodandCustard East Sussex Finescale Railway Modelling Finescale Modelling OO HO 18.83mm 4mm BloodandCustard East Sussex Finescale Railway Modelling Finescale Modelling OO HO 18.83mm 4mm BloodandCustard East Sussex Finescale Railway Modelling Finescale Modelling OO HO 18.83mm 4mm BloodandCustard East Sussex Finescale Railway Modelling Finescale Modelling OO HO 18.83mm 4mm BloodandCustard East Sussex Finescale Railway Modelling Finescale Modelling OO HO 18.83mm 4mm BloodandCustard East Sussex Finescale Railway Modelling Finescale Modelling OO HO 18.83mm 4mm BloodandCustard East Sussex Finescale Railway Modelling Finescale Modelling OO HO 18.83mm 4mm BloodandCustard East Sussex Finescale Railway Modelling Finescale Modelling OO HO 18.83mm 4mm BloodandCustard East Sussex Finescale Railway Modelling Finescale Modelling OO HO 18.83mm 4mm BloodandCustard East Sussex Finescale Railway Modelling Finescale Modelling OO HO 18.83mm 4mm BloodandCustard East Sussex Finescale Railway Modelling Finescale Modelling OO HO 18.83mm 4mm BloodandCustard East Sussex Finescale Railway Modelling Finescale Modelling OO HO 18.83mm 4mm BloodandCustard East Sussex Finescale Railway Modelling Finescale Modelling OO HO 18.83mm 4mm BloodandCustard East Sussex Finescale Railway Modelling Finescale Modelling OO HO 18.83mm 4mm BloodandCustard East Sussex Finescale Railway Modelling Finescale Modelling OO HO 18.83mm 4mm BloodandCustard East Sussex Finescale Railway Modelling Finescale Modelling OO HO 18.83mm 4mm BloodandCustard East Sussex Finescale Railway Modelling Finescale Modelling OO HO 18.83mm 4mm BloodandCustard East Sussex Finescale Railway Modelling Finescale Modelling OO HO 18.83mm 4mm BloodandCustard East Sussex Finescale Railway Modelling Finescale Modelling OO HO 18.83mm 4mm BloodandCustard East Sussex Finescale Railway Modelling Finescale Modelling OO HO 18.83mm 4mm BloodandCustard East Sussex Finescale Railway Modelling Finescale Modelling OO HO 18.83mm 4mm BloodandCustard East Sussex Finescale Railway Modelling Finescale Modelling OO HO 18.83mm 4mm BloodandCustard East Sussex Finescale Railway Modelling Finescale Modelling OO HO 18.83mm 4mm BloodandCustard East Sussex Finescale Railway Modelling Finescale Modelling OO HO 18.83mm 4mm BloodandCustard East Sussex Finescale Railway Modelling Finescale Modelling OO HO 18.83mm 4mm BloodandCustard East Sussex Finescale Railway Modelling Finescale Modelling OO HO 18.83mm 4mm BloodandCustard East Sussex Finescale Railway Modelling Finescale Modelling OO HO 18.83mm 4mm BloodandCustard East Sussex Finescale Railway Modelling Finescale Modelling OO HO 18.83mm 4mm BloodandCustard East Sussex Finescale Railway Modelling Finescale Modelling OO HO 18.83mm 4mm BloodandCustard East Sussex Finescale Railway Modelling Finescale Modelling OO HO 18.83mm 4mm BloodandCustard East Sussex Finescale Railway Modelling Finescale Modelling OO HO 18.83mm 4mm BloodandCustard East Sussex Finescale Railway Modelling Finescale Modelling OO HO 18.83mm 4mm BloodandCustard East Sussex Finescale Railway Modelling Finescale Modelling OO HO 18.83mm 4mm BloodandCustard East Sussex Finescale Railway Modelling Finescale Modelling OO HO 18.83mm 4mm BloodandCustard East Sussex Finescale Railway Modelling Finescale Modelling OO HO 18.83mm 4mm BloodandCustard East Sussex Finescale Railway Modelling Finescale Modelling OO HO 18.83mm 4mm BloodandCustard East Sussex Finescale Railway Modelling Finescale Modelling OO HO 18.83mm 4mm BloodandCustard East Sussex Finescale Railway Modelling Finescale Modelling OO HO 18.83mm 4mm BloodandCustard East Sussex Finescale Railway Modelling Finescale Modelling OO HO 18.83mm 4mm BloodandCustard East Sussex Finescale Railway Modelling Finescale Modelling OO HO 18.83mm 4mm BloodandCustard East Sussex Finescale Railway Modelling Finescale Modelling OO HO 18.83mm 4mm BloodandCustard East Sussex Finescale Railway Modelling Finescale Modelling OO HO 18.83mm 4mm BloodandCustard East Sussex Finescale Railway Modelling Finescale Modelling OO HO 18.83mm 4mm BloodandCustard East Sussex Finescale Railway Modelling Finescale Modelling OO HO 18.83mm 4mm BloodandCustard East Sussex Finescale Railway Modelling Finescale Modelling OO HO 18.83mm 4mm BloodandCustard East Sussex Finescale Railway Modelling Finescale Modelling OO HO 18.83mm 4mm BloodandCustard East Sussex Finescale Railway Modelling Finescale Modelling OO HO 18.83mm 4mm BloodandCustard East Sussex Finescale Railway Modelling Finescale Modelling OO HO 18.83mm 4mm BloodandCustard East Sussex Finescale Railway Modelling Finescale Modelling OO HO 18.83mm 4mm BloodandCustard East Sussex Finescale Railway Modelling Finescale Modelling OO HO 18.83mm 4mm BloodandCustard East Sussex Finescale Railway Modelling Finescale Modelling OO HO 18.83mm 4mm BloodandCustard East Sussex Finescale Railway Modelling Finescale Modelling OO HO 18.83mm 4mm BloodandCustard East Sussex Finescale Railway Modelling Finescale Modelling OO HO 18.83mm 4mm BloodandCustard East Sussex Finescale Railway Modelling Finescale Modelling OO HO 18.83mm 4mm BloodandCustard East Sussex Finescale Railway Modelling Finescale Modelling OO HO 18.83mm 4mm BloodandCustard East Sussex Finescale Railway Modelling Finescale Modelling OO HO 18.83mm 4mm BloodandCustard East Sussex Finescale Railway Modelling Finescale Modelling OO HO 18.83mm 4mm BloodandCustard East Sussex Finescale Railway Modelling Finescale Modelling OO HO 18.83mm 4mm BloodandCustard East Sussex Finescale Railway Modelling Finescale Modelling OO HO 18.83mm 4mm BloodandCustard East Sussex Finescale Railway Modelling Finescale Modelling OO HO 18.83mm 4mm BloodandCustard East Sussex Finescale Railway Modelling Finescale Modelling OO HO 18.83mm 4mm BloodandCustard East Sussex Finescale Railway Modelling Finescale Modelling OO HO 18.83mm 4mm BloodandCustard East Sussex Finescale Railway Modelling Finescale Modelling OO HO 18.83mm 4mm BloodandCustard East Sussex Finescale Railway Modelling Finescale Modelling OO HO 18.83mm 4mm BloodandCustard East Sussex Finescale Railway Modelling Finescale Modelling OO HO 18.83mm 4mm BloodandCustard East Sussex Finescale Railway Modelling Finescale Modelling OO HO 18.83mm 4mm BloodandCustard East Sussex Finescale Railway Modelling Finescale Modelling OO HO 18.83mm 4mm BloodandCustard East Sussex Finescale Railway Modelling Finescale Modelling OO HO 18.83mm 4mm BloodandCustard East Sussex Finescale Railway Modelling Finescale Modelling OO HO 18.83mm 4mm BloodandCustard East Sussex Finescale Railway Modelling Finescale Modelling OO HO 18.83mm 4mm BloodandCustard East Sussex Finescale Railway Modelling Finescale Modelling OO HO 18.83mm 4mm BloodandCustard East Sussex Finescale Railway Modelling Finescale Modelling OO HO 18.83mm 4mm BloodandCustard East Sussex Finescale Railway Modelling Finescale Modelling OO HO 18.83mm 4mm BloodandCustard East Sussex Finescale Railway Modelling Finescale Modelling OO HO 18.83mm 4mm BloodandCustard East Sussex Finescale Railway Modelling Finescale Modelling OO HO 18.83mm 4mm BloodandCustard East Sussex Finescale Railway Modelling Finescale Modelling OO HO 18.83mm 4mm BloodandCustard East Sussex Finescale Railway Modelling Finescale Modelling OO HO 18.83mm 4mm BloodandCustard East Sussex Finescale Railway Modelling Finescale Modelling OO HO 18.83mm 4mm BloodandCustard East Sussex Finescale Railway Modelling Finescale Modelling OO HO 18.83mm 4mm BloodandCustard East Sussex Finescale Railway Modelling Finescale Modelling OO HO 18.83mm 4mm BloodandCustard East Sussex Finescale Railway Modelling Finescale Modelling OO HO 18.83mm 4mm BloodandCustard East Sussex Finescale Railway Modelling Finescale Modelling OO HO 18.83mm 4mm BloodandCustard East Sussex Finescale Railway Modelling Finescale Modelling OO HO 18.83mm 4mm BloodandCustard East Sussex Finescale Railway Modelling Finescale Modelling OO HO 18.83mm 4mm BloodandCustard East Sussex Finescale Railway Modelling Finescale Modelling OO HO 18.83mm 4mm BloodandCustard East Sussex Finescale Railway Modelling Finescale Modelling OO HO 18.83mm 4mm BloodandCustard East Sussex Finescale Railway Modelling Finescale Modelling OO HO 18.83mm 4mm BloodandCustard East Sussex Finescale Railway Modelling Finescale Modelling OO HO 18.83mm 4mm BloodandCustard East Sussex Finescale Railway Modelling Finescale Modelling OO HO 18.83mm 4mm BloodandCustard East Sussex Finescale Railway Modelling Finescale Modelling OO HO 18.83mm 4mm BloodandCustard East Sussex Finescale Railway Modelling Finescale Modelling OO HO 18.83mm 4mm BloodandCustard East Sussex Finescale Railway Modelling Finescale Modelling OO HO 18.83mm 4mm BloodandCustard East Sussex Finescale Railway Modelling Finescale Modelling OO HO 18.83mm 4mm BloodandCustard East Sussex Finescale Railway Modelling Finescale Modelling OO HO 18.83mm 4mm BloodandCustard East Sussex Finescale Railway Modelling Finescale Modelling OO HO 18.83mm 4mm BloodandCustard East Sussex Finescale Railway Modelling Finescale Modelling OO HO 18.83mm 4mm BloodandCustard East Sussex Finescale Railway Modelling Finescale Modelling OO HO 18.83mm 4mm BloodandCustard East Sussex Finescale Railway Modelling Finescale Modelling OO HO 18.83mm 4mm BloodandCustard East Sussex Finescale Railway Modelling Finescale Modelling OO HO 18.83mm 4mm BloodandCustard East Sussex Finescale Railway Modelling Finescale Modelling OO HO 18.83mm 4mm BloodandCustard East Sussex Finescale Railway Modelling Finescale Modelling OO HO 18.83mm 4mm BloodandCustard East Sussex Finescale Railway Modelling Finescale Modelling OO HO 18.83mm 4mm BloodandCustard East Sussex Finescale Railway Modelling Finescale Modelling OO HO 18.83mm 4mm BloodandCustard East Sussex Finescale Railway Modelling Finescale Modelling OO HO 18.83mm 4mm BloodandCustard East Sussex Finescale Railway Modelling Finescale Modelling OO HO 18.83mm 4mm BloodandCustard East Sussex Finescale Railway Modelling Finescale Modelling OO HO 18.83mm 4mm BloodandCustard East Sussex Finescale Railway Modelling Finescale Modelling OO HO 18.83mm 4mm BloodandCustard East Sussex Finescale Railway Modelling Finescale Modelling OO HO 18.83mm 4mm BloodandCustard East Sussex Finescale Railway Modelling Finescale Modelling OO HO 18.83mm 4mm BloodandCustard East Sussex Finescale Railway Modelling Finescale Modelling OO HO 18.83mm 4mm BloodandCustard East Sussex Finescale Railway Modelling Finescale Modelling OO HO 18.83mm 4mm BloodandCustard East Sussex Finescale Railway Modelling Finescale Modelling OO HO 18.83mm 4mm BloodandCustard East Sussex Finescale Railway Modelling Finescale Modelling OO HO 18.83mm 4mm BloodandCustard East Sussex Finescale Railway Modelling Finescale Modelling OO HO 18.83mm 4mm BloodandCustard East Sussex Finescale Railway Modelling Finescale Modelling OO HO 18.83mm 4mm BloodandCustard East Sussex Finescale Railway Modelling Finescale Modelling OO HO 18.83mm 4mm BloodandCustard East Sussex Finescale Railway Modelling Finescale Modelling OO HO 18.83mm 4mm BloodandCustard East Sussex Finescale Railway Modelling Finescale Modelling OO HO 18.83mm 4mm BloodandCustard East Sussex Finescale Railway Modelling Finescale Modelling OO HO 18.83mm 4mm BloodandCustard East Sussex Finescale Railway Modelling Finescale Modelling OO HO 18.83mm 4mm BloodandCustard East Sussex Finescale Railway Modelling Finescale Modelling OO HO 18.83mm 4mm BloodandCustard East Sussex Finescale Railway Modelling Finescale Modelling OO HO 18.83mm 4mm BloodandCustard East Sussex Finescale Railway Modelling Finescale Modelling OO HO 18.83mm 4mm BloodandCustard East Sussex Finescale Railway Modelling Finescale Modelling OO HO 18.83mm 4mm BloodandCustard East Sussex Finescale Railway Modelling Finescale Modelling OO HO 18.83mm 4mm BloodandCustard East Sussex Finescale Railway Modelling Finescale Modelling OO HO 18.83mm 4mm BloodandCustard East Sussex Finescale Railway Modelling Finescale Modelling OO HO 18.83mm 4mm BloodandCustard East Sussex Finescale Railway Modelling Finescale Modelling OO HO 18.83mm 4mm BloodandCustard East Sussex Finescale Railway Modelling Finescale Modelling OO HO 18.83mm 4mm BloodandCustard East Sussex Finescale Railway Modelling Finescale Modelling OO HO 18.83mm 4mm BloodandCustard East Sussex Finescale Railway Modelling Finescale Modelling OO HO 18.83mm 4mm BloodandCustard East Sussex Finescale Railway Modelling Finescale Modelling OO HO 18.83mm 4mm BloodandCustard East Sussex Finescale Railway Modelling Finescale Modelling OO HO 18.83mm 4mm BloodandCustard East Sussex Finescale Railway Modelling Finescale Modelling OO HO 18.83mm 4mm BloodandCustard East Sussex Finescale Railway Modelling Finescale Modelling OO HO 18.83mm 4mm BloodandCustard East Sussex Finescale Railway Modelling Finescale Modelling OO HO 18.83mm 4mm BloodandCustard East Sussex Finescale Railway Modelling Finescale Modelling OO HO 18.83mm 4mm BloodandCustard East Sussex Finescale Railway Modelling Finescale Modelling OO HO 18.83mm 4mm BloodandCustard East Sussex Finescale Railway Modelling Finescale Modelling OO HO 18.83mm 4mm BloodandCustard East Sussex Finescale Railway Modelling Finescale Modelling OO HO 18.83mm 4mm BloodandCustard East Sussex Finescale Railway Modelling Finescale Modelling OO HO 18.83mm 4mm BloodandCustard East Sussex Finescale Railway Modelling Finescale Modelling OO HO 18.83mm 4mm BloodandCustard East Sussex Finescale Railway Modelling Finescale Modelling OO HO 18.83mm 4mm BloodandCustard East Sussex Finescale Railway Modelling Finescale Modelling OO HO 18.83mm 4mm BloodandCustard East Sussex Finescale Railway Modelling Finescale Modelling OO HO 18.83mm 4mm BloodandCustard East Sussex Finescale Railway Modelling Finescale Modelling OO HO 18.83mm 4mm BloodandCustard East Sussex Finescale Railway Modelling Finescale Modelling OO HO 18.83mm 4mm BloodandCustard East Sussex Finescale Railway Modelling Finescale Modelling OO HO 18.83mm 4mm BloodandCustard East Sussex Finescale Railway Modelling Finescale Modelling OO HO 18.83mm 4mm BloodandCustard East Sussex Finescale Railway Modelling Finescale Modelling OO HO 18.83mm 4mm BloodandCustard East Sussex Finescale Railway Modelling Finescale Modelling OO HO 18.83mm 4mm BloodandCustard East Sussex Finescale Railway Modelling Finescale Modelling OO HO 18.83mm 4mm BloodandCustard East Sussex Finescale Railway Modelling Finescale Modelling OO HO 18.83mm 4mm BloodandCustard East Sussex Finescale Railway Modelling Finescale Modelling OO HO 18.83mm 4mm BloodandCustard East Sussex Finescale Railway Modelling Finescale Modelling OO HO 18.83mm 4mm BloodandCustard East Sussex Finescale Railway Modelling Finescale Modelling OO HO 18.83mm 4mm BloodandCustard East Sussex Finescale Railway Modelling Finescale Modelling OO HO 18.83mm 4mm BloodandCustard East Sussex Finescale Railway Modelling Finescale Modelling OO HO 18.83mm 4mm BloodandCustard East Sussex Finescale Railway Modelling Finescale Modelling OO HO 18.83mm 4mm BloodandCustard East Sussex Finescale Railway Modelling Finescale Modelling OO HO 18.83mm 4mm BloodandCustard East Sussex Finescale Railway Modelling Finescale Modelling OO HO 18.83mm 4mm BloodandCustard East Sussex Finescale Railway Modelling Finescale Modelling OO HO 18.83mm 4mm BloodandCustard East Sussex Finescale Railway Modelling Finescale Modelling OO HO 18.83mm 4mm BloodandCustard East Sussex Finescale Railway Modelling Finescale Modelling OO HO 18.83mm 4mm BloodandCustard East Sussex Finescale Railway Modelling Finescale Modelling OO HO 18.83mm 4mm BloodandCustard East Sussex Finescale Railway Modelling Finescale Modelling OO HO 18.83mmBloodandCustard East Sussex Finescale Railway Modelling Finescale Modelling OO HO 18.83mm 4mm. BloodandCustard East Sussex Finescale Railway Modelling Finescale Modelling OO HO 18.83mm 4mm BloodandCustard East Sussex Finescale Railway Modelling Finescale Modelling OO HO 18.83mm 4mm BloodandCustard East Sussex Finescale Railway Modelling Finescale Modelling OO HO 18.83mm 4mm BloodandCustard East Sussex Finescale Railway Modelling Finescale Modelling OO HO 18.83mm 4mm BloodandCustard East Sussex Finescale Railway Modelling Finescale Modelling OO HO 18.83mm 4mm BloodandCustard East Sussex Finescale Railway Modelling Finescale Modelling OO HO 18.83mm 4mm BloodandCustard East Sussex Finescale Railway Modelling Finescale Modelling OO HO 18.83mm 4mm BloodandCustard East Sussex Finescale Railway Modelling Finescale Modelling OO HO 18.83mm 4mm BloodandCustard East Sussex Finescale Railway Modelling Finescale Modelling OO HO 18.83mm 4mm BloodandCustard East Sussex Finescale Railway Modelling Finescale Modelling OO HO 18.83mm 4mm BloodandCustard East Sussex Finescale Railway Modelling Finescale Modelling OO HO 18.83mm 4mm BloodandCustard East Sussex Finescale Railway Modelling Finescale Modelling OO HO 18.83mm 4mm BloodandCustard East Sussex Finescale Railway Modelling Finescale Modelling OO HO 18.83mm 4mm BloodandCustard East Sussex Finescale Railway Modelling Finescale Modelling OO HO 18.83mm 4mm BloodandCustard East Sussex Finescale Railway Modelling Finescale Modelling OO HO 18.83mm 4mm BloodandCustard East Sussex Finescale Railway Modelling Finescale Modelling OO HO 18.83mm 4mm BloodandCustard East Sussex Finescale Railway Modelling Finescale Modelling OO HO 18.83mm 4mm BloodandCustard East Sussex Finescale Railway Modelling Finescale Modelling OO HO 18.83mm 4mm BloodandCustard East Sussex Finescale Railway Modelling Finescale Modelling OO HO 18.83mm 4mm BloodandCustard East Sussex Finescale Railway Modelling Finescale Modelling OO HO 18.83mm 4mm BloodandCustard East Sussex Finescale Railway Modelling Finescale Modelling OO HO 18.83mm 4mm BloodandCustard East Sussex Finescale Railway Modelling Finescale Modelling OO HO 18.83mm 4mm BloodandCustard East Sussex Finescale Railway Modelling Finescale Modelling OO HO 18.83mm 4mm BloodandCustard East Sussex Finescale Railway Modelling Finescale Modelling OO HO 18.83mm 4mm BloodandCustard East Sussex Finescale Railway Modelling Finescale Modelling OO HO 18.83mm 4mm BloodandCustard East Sussex Finescale Railway Modelling Finescale Modelling OO HO 18.83mm 4mm BloodandCustard East Sussex Finescale Railway Modelling Finescale Modelling OO HO 18.83mm 4mm BloodandCustard East Sussex Finescale Railway Modelling Finescale Modelling OO HO 18.83mm 4mm BloodandCustard East Sussex Finescale Railway Modelling Finescale Modelling OO HO 18.83mm 4mm BloodandCustard East Sussex Finescale Railway Modelling Finescale Modelling OO HO 18.83mm 4mm BloodandCustard East Sussex Finescale Railway Modelling Finescale Modelling OO HO 18.83mm 4mm BloodandCustard East Sussex Finescale Railway Modelling Finescale Modelling OO HO 18.83mm 4mm BloodandCustard East Sussex Finescale Railway Modelling Finescale Modelling OO HO 18.83mm 4mm BloodandCustard East Sussex Finescale Railway Modelling Finescale Modelling OO HO 18.83mm 4mm BloodandCustard East Sussex Finescale Railway Modelling Finescale Modelling OO HO 18.83mm 4mm BloodandCustard East Sussex Finescale Railway Modelling Finescale Modelling OO HO 18.83mm 4mm BloodandCustard East Sussex Finescale Railway Modelling Finescale Modelling OO HO 18.83mm 4mm BloodandCustard East Sussex Finescale Railway Modelling Finescale Modelling OO HO 18.83mm 4mm BloodandCustard East Sussex Finescale Railway Modelling Finescale Modelling OO HO 18.83mm 4mm BloodandCustard East Sussex Finescale Railway Modelling Finescale Modelling OO HO 18.83mm 4mm BloodandCustard East Sussex Finescale Railway Modelling Finescale Modelling OO HO 18.83mm 4mm BloodandCustard East Sussex Finescale Railway Modelling Finescale Modelling OO HO 18.83mm 4mm BloodandCustard East Sussex Finescale Railway Modelling Finescale Modelling OO HO 18.83mm 4mm BloodandCustard East Sussex Finescale Railway Modelling Finescale Modelling OO HO 18.83mm 4mm BloodandCustard East Sussex Finescale Railway Modelling Finescale Modelling OO HO 18.83mm 4mm BloodandCustard East Sussex Finescale Railway Modelling Finescale Modelling OO HO 18.83mm 4mm BloodandCustard East Sussex Finescale Railway Modelling Finescale Modelling OO HO 18.83mm 4mm BloodandCustard East Sussex Finescale Railway Modelling Finescale Modelling OO HO 18.83mm 4mm BloodandCustard East Sussex Finescale Railway Modelling Finescale Modelling OO HO 18.83mm 4mm BloodandCustard East Sussex Finescale Railway Modelling Finescale Modelling OO HO 18.83mm 4mm BloodandCustard East Sussex Finescale Railway Modelling Finescale Modelling OO HO 18.83mm 4mm BloodandCustard East Sussex Finescale Railway Modelling Finescale Modelling OO HO 18.83mm 4mm BloodandCustard East Sussex Finescale Railway Modelling Finescale Modelling OO HO 18.83mm 4mm BloodandCustard East Sussex Finescale Railway Modelling Finescale Modelling OO HO 18.83mm 4mm BloodandCustard East Sussex Finescale Railway Modelling Finescale Modelling OO HO 18.83mm 4mm BloodandCustard East Sussex Finescale Railway Modelling Finescale Modelling OO HO 18.83mm 4mm BloodandCustard East Sussex Finescale Railway Modelling Finescale Modelling OO HO 18.83mm 4mm BloodandCustard East Sussex Finescale Railway Modelling Finescale Modelling OO HO 18.83mm 4mm BloodandCustard East Sussex Finescale Railway Modelling Finescale Modelling OO HO 18.83mm 4mm BloodandCustard East Sussex Finescale Railway Modelling Finescale Modelling OO HO 18.83mm 4mm BloodandCustard East Sussex Finescale Railway Modelling Finescale Modelling OO HO 18.83mm 4mm BloodandCustard East Sussex Finescale Railway Modelling Finescale Modelling OO HO 18.83mm 4mm BloodandCustard East Sussex Finescale Railway Modelling Finescale Modelling OO HO 18.83mm 4mm BloodandCustard East Sussex Finescale Railway Modelling Finescale Modelling OO HO 18.83mm 4mm BloodandCustard East Sussex Finescale Railway Modelling Finescale Modelling OO HO 18.83mm 4mm BloodandCustard East Sussex Finescale Railway Modelling Finescale Modelling OO HO 18.83mm 4mm BloodandCustard East Sussex Finescale Railway Modelling Finescale Modelling OO HO 18.83mm 4mm BloodandCustard East Sussex Finescale Railway Modelling Finescale Modelling OO HO 18.83mm 4mm BloodandCustard East Sussex Finescale Railway Modelling Finescale Modelling OO HO 18.83mm 4mm BloodandCustard East Sussex Finescale Railway Modelling Finescale Modelling OO HO 18.83mm 4mm BloodandCustard East Sussex Finescale Railway Modelling Finescale Modelling OO HO 18.83mm 4mm BloodandCustard East Sussex Finescale Railway Modelling Finescale Modelling OO HO 18.83mm 4mm BloodandCustard East Sussex Finescale Railway Modelling Finescale Modelling OO HO 18.83mm 4mm BloodandCustard East Sussex Finescale Railway Modelling Finescale Modelling OO HO 18.83mm 4mm BloodandCustard East Sussex Finescale Railway Modelling Finescale Modelling OO HO 18.83mm 4mm BloodandCustard East Sussex Finescale Railway Modelling Finescale Modelling OO HO 18.83mm 4mm BloodandCustard East Sussex Finescale Railway Modelling Finescale Modelling OO HO 18.83mm 4mm BloodandCustard East Sussex Finescale Railway Modelling Finescale Modelling OO HO 18.83mm 4mm BloodandCustard East Sussex Finescale Railway Modelling Finescale Modelling OO HO 18.83mm 4mm BloodandCustard East Sussex Finescale Railway Modelling Finescale Modelling OO HO 18.83mm 4mm BloodandCustard East Sussex Finescale Railway Modelling Finescale Modelling OO HO 18.83mm 4mm BloodandCustard East Sussex Finescale Railway Modelling Finescale Modelling OO HO 18.83mm 4mm BloodandCustard East Sussex Finescale Railway Modelling Finescale Modelling OO HO 18.83mm 4mm BloodandCustard East Sussex Finescale Railway Modelling Finescale Modelling OO HO 18.83mm 4mm BloodandCustard East Sussex Finescale Railway Modelling Finescale Modelling OO HO 18.83mm 4mm BloodandCustard East Sussex Finescale Railway Modelling Finescale Modelling OO HO 18.83mm 4mm BloodandCustard East Sussex Finescale Railway Modelling Finescale Modelling OO HO 18.83mm 4mm BloodandCustard East Sussex Finescale Railway Modelling Finescale Modelling OO HO 18.83mm 4mm BloodandCustard East Sussex Finescale Railway Modelling Finescale Modelling OO HO 18.83mm 4mm BloodandCustard East Sussex Finescale Railway Modelling Finescale Modelling OO HO 18.83mm 4mm BloodandCustard East Sussex Finescale Railway Modelling Finescale Modelling OO HO 18.83mm 4mm BloodandCustard East Sussex Finescale Railway Modelling Finescale Modelling OO HO 18.83mm 4mm BloodandCustard East Sussex Finescale Railway Modelling Finescale Modelling OO HO 18.83mm 4mm BloodandCustard East Sussex Finescale Railway Modelling Finescale Modelling OO HO 18.83mm 4mm BloodandCustard East Sussex Finescale Railway Modelling Finescale Modelling OO HO 18.83mm 4mm BloodandCustard East Sussex Finescale Railway Modelling Finescale Modelling OO HO 18.83mm 4mm BloodandCustard East Sussex Finescale Railway Modelling Finescale Modelling OO HO 18.83mm 4mm BloodandCustard East Sussex Finescale Railway Modelling Finescale Modelling OO HO 18.83mm 4mm BloodandCustard East Sussex Finescale Railway Modelling Finescale Modelling OO HO 18.83mm 4mm BloodandCustard East Sussex Finescale Railway Modelling Finescale Modelling OO HO 18.83mm 4mm BloodandCustard East Sussex Finescale Railway Modelling Finescale Modelling OO HO 18.83mm 4mm BloodandCustard East Sussex Finescale Railway Modelling Finescale Modelling OO HO 18.83mm 4mm BloodandCustard East Sussex Finescale Railway Modelling Finescale Modelling OO HO 18.83mm 4mm BloodandCustard East Sussex Finescale Railway Modelling Finescale Modelling OO HO 18.83mm 4mm BloodandCustard East Sussex Finescale Railway Modelling Finescale Modelling OO HO 18.83mm 4mm BloodandCustard East Sussex Finescale Railway Modelling Finescale Modelling OO HO 18.83mm 4mm BloodandCustard East Sussex Finescale Railway Modelling Finescale Modelling OO HO 18.83mm 4mm BloodandCustard East Sussex Finescale Railway Modelling Finescale Modelling OO HO 18.83mm 4mm BloodandCustard East Sussex Finescale Railway Modelling Finescale Modelling OO HO 18.83mm 4mm BloodandCustard East Sussex Finescale Railway Modelling Finescale Modelling OO HO 18.83mm 4mm BloodandCustard East Sussex Finescale Railway Modelling Finescale Modelling OO HO 18.83mm 4mm BloodandCustard East Sussex Finescale Railway Modelling Finescale Modelling OO HO 18.83mm 4mm BloodandCustard East Sussex Finescale Railway Modelling Finescale Modelling OO HO 18.83mm 4mm BloodandCustard East Sussex Finescale Railway Modelling Finescale Modelling OO HO 18.83mm 4mm BloodandCustard East Sussex Finescale Railway Modelling Finescale Modelling OO HO 18.83mm 4mm BloodandCustard East Sussex Finescale Railway Modelling Finescale Modelling OO HO 18.83mm 4mm BloodandCustard East Sussex Finescale Railway Modelling Finescale Modelling OO HO 18.83mm 4mm BloodandCustard East Sussex Finescale Railway Modelling Finescale Modelling OO HO 18.83mm 4mm BloodandCustard East Sussex Finescale Railway Modelling Finescale Modelling OO HO 18.83mm 4mm BloodandCustard East Sussex Finescale Railway Modelling Finescale Modelling OO HO 18.83mm 4mm BloodandCustard East Sussex Finescale Railway Modelling Finescale Modelling OO HO 18.83mm 4mm BloodandCustard East Sussex Finescale Railway Modelling Finescale Modelling OO HO 18.83mm 4mm BloodandCustard East Sussex Finescale Railway Modelling Finescale Modelling OO HO 18.83mm 4mm BloodandCustard East Sussex Finescale Railway Modelling Finescale Modelling OO HO 18.83mm 4mm BloodandCustard East Sussex Finescale Railway Modelling Finescale Modelling OO HO 18.83mm 4mm BloodandCustard East Sussex Finescale Railway Modelling Finescale Modelling OO HO 18.83mm 4mm BloodandCustard East Sussex Finescale Railway Modelling Finescale Modelling OO HO 18.83mm 4mm BloodandCustard East Sussex Finescale Railway Modelling Finescale Modelling OO HO 18.83mm 4mm BloodandCustard East Sussex Finescale Railway Modelling Finescale Modelling OO HO 18.83mm 4mm BloodandCustard East Sussex Finescale Railway Modelling Finescale Modelling OO HO 18.83mm 4mm BloodandCustard East Sussex Finescale Railway Modelling Finescale Modelling OO HO 18.83mm 4mm BloodandCustard East Sussex Finescale Railway Modelling Finescale Modelling OO HO 18.83mm 4mm BloodandCustard East Sussex Finescale Railway Modelling Finescale Modelling OO HO 18.83mm 4mm BloodandCustard East Sussex Finescale Railway Modelling Finescale Modelling OO HO 18.83mm 4mm BloodandCustard East Sussex Finescale Railway Modelling Finescale Modelling OO HO 18.83mm 4mm BloodandCustard East Sussex Finescale Railway Modelling Finescale Modelling OO HO 18.83mm 4mm BloodandCustard East Sussex Finescale Railway Modelling Finescale Modelling OO HO 18.83mm 4mm BloodandCustard East Sussex Finescale Railway Modelling Finescale Modelling OO HO 18.83mm 4mm BloodandCustard East Sussex Finescale Railway Modelling Finescale Modelling OO HO 18.83mm 4mm BloodandCustard East Sussex Finescale Railway Modelling Finescale Modelling OO HO 18.83mm 4mm BloodandCustard East Sussex Finescale Railway Modelling Finescale Modelling OO HO 18.83mm 4mm BloodandCustard East Sussex Finescale Railway Modelling Finescale Modelling OO HO 18.83mm 4mm BloodandCustard East Sussex Finescale Railway Modelling Finescale Modelling OO HO 18.83mm 4mm BloodandCustard East Sussex Finescale Railway Modelling Finescale Modelling OO HO 18.83mm 4mm BloodandCustard East Sussex Finescale Railway Modelling Finescale Modelling OO HO 18.83mm 4mm BloodandCustard East Sussex Finescale Railway Modelling Finescale Modelling OO HO 18.83mm 4mm BloodandCustard East Sussex Finescale Railway Modelling Finescale Modelling OO HO 18.83mm 4mm BloodandCustard East Sussex Finescale Railway Modelling Finescale Modelling OO HO 18.83mm 4mm BloodandCustard East Sussex Finescale Railway Modelling Finescale Modelling OO HO 18.83mm 4mm BloodandCustard East Sussex Finescale Railway Modelling Finescale Modelling OO HO 18.83mm 4mm BloodandCustard East Sussex Finescale Railway Modelling Finescale Modelling OO HO 18.83mm 4mm BloodandCustard East Sussex Finescale Railway Modelling Finescale Modelling OO HO 18.83mm 4mm BloodandCustard East Sussex Finescale Railway Modelling Finescale Modelling OO HO 18.83mm 4mm BloodandCustard East Sussex Finescale Railway Modelling Finescale Modelling OO HO 18.83mm 4mm BloodandCustard East Sussex Finescale Railway Modelling Finescale Modelling OO HO 18.83mm 4mm BloodandCustard East Sussex Finescale Railway Modelling Finescale Modelling OO HO 18.83mm 4mm BloodandCustard East Sussex Finescale Railway Modelling Finescale Modelling OO HO 18.83mm 4mm BloodandCustard East Sussex Finescale Railway Modelling Finescale Modelling OO HO 18.83mm 4mm BloodandCustard East Sussex Finescale Railway Modelling Finescale Modelling OO HO 18.83mm 4mm BloodandCustard East Sussex Finescale Railway Modelling Finescale Modelling OO HO 18.83mm 4mm BloodandCustard East Sussex Finescale Railway Modelling Finescale Modelling OO HO 18.83mm 4mm BloodandCustard East Sussex Finescale Railway Modelling Finescale Modelling OO HO 18.83mm 4mm BloodandCustard East Sussex Finescale Railway Modelling Finescale Modelling OO HO 18.83mm 4mm BloodandCustard East Sussex Finescale Railway Modelling Finescale Modelling OO HO 18.83mm 4mm BloodandCustard East Sussex Finescale Railway Modelling Finescale Modelling OO HO 18.83mm 4mm BloodandCustard East Sussex Finescale Railway Modelling Finescale Modelling OO HO 18.83mm 4mm BloodandCustard East Sussex Finescale Railway Modelling Finescale Modelling OO HO 18.83mm 4mm BloodandCustard East Sussex Finescale Railway Modelling Finescale Modelling OO HO 18.83mm 4mm BloodandCustard East Sussex Finescale Railway Modelling Finescale Modelling OO HO 18.83mm 4mm BloodandCustard East Sussex Finescale Railway Modelling Finescale Modelling OO HO 18.83mm 4mm BloodandCustard East Sussex Finescale Railway Modelling Finescale Modelling OO HO 18.83mm 4mm BloodandCustard East Sussex Finescale Railway Modelling Finescale Modelling OO HO 18.83mm 4mm BloodandCustard East Sussex Finescale Railway Modelling Finescale Modelling OO HO 18.83mm 4mm BloodandCustard East Sussex Finescale Railway Modelling Finescale Modelling OO HO 18.83mm 4mm BloodandCustard East Sussex Finescale Railway Modelling Finescale Modelling OO HO 18.83mm 4mm BloodandCustard East Sussex Finescale Railway Modelling Finescale Modelling OO HO 18.83mm 4mm BloodandCustard East Sussex Finescale Railway Modelling Finescale Modelling OO HO 18.83mm 4mm BloodandCustard East Sussex Finescale Railway Modelling Finescale Modelling OO HO 18.83mm 4mm BloodandCustard East Sussex Finescale Railway Modelling Finescale Modelling OO HO 18.83mm 4mm BloodandCustard East Sussex Finescale Railway Modelling Finescale Modelling OO HO 18.83mm 4mm BloodandCustard East Sussex Finescale Railway Modelling Finescale Modelling OO HO 18.83mm 4mm BloodandCustard East Sussex Finescale Railway Modelling Finescale Modelling OO HO 18.83mm 4mm BloodandCustard East Sussex Finescale Railway Modelling Finescale Modelling OO HO 18.83mm 4mm BloodandCustard East Sussex Finescale Railway Modelling Finescale Modelling OO HO 18.83mm 4mm BloodandCustard East Sussex Finescale Railway Modelling Finescale Modelling OO HO 18.83mm 4mm BloodandCustard East Sussex Finescale Railway Modelling Finescale Modelling OO HO 18.83mm 4mm BloodandCustard East Sussex Finescale Railway Modelling Finescale Modelling OO HO 18.83mm 4mm BloodandCustard East Sussex Finescale Railway Modelling Finescale Modelling OO HO 18.83mm 4mm BloodandCustard East Sussex Finescale Railway Modelling Finescale Modelling OO HO 18.83mm 4mm BloodandCustard East Sussex Finescale Railway Modelling Finescale Modelling OO HO 18.83mm 4mm BloodandCustard East Sussex Finescale Railway Modelling Finescale Modelling OO HO 18.83mm 4mm BloodandCustard East Sussex Finescale Railway Modelling Finescale Modelling OO HO 18.83mm 4mm BloodandCustard East Sussex Finescale Railway Modelling Finescale Modelling OO HO 18.83mm 4mm BloodandCustard East Sussex Finescale Railway Modelling Finescale Modelling OO HO 18.83mm 4mm BloodandCustard East Sussex Finescale Railway Modelling Finescale Modelling OO HO 18.83mm 4mm BloodandCustard East Sussex Finescale Railway Modelling Finescale Modelling OO HO 18.83mm 4mm BloodandCustard East Sussex Finescale Railway Modelling Finescale Modelling OO HO 18.83mm 4mm BloodandCustard East Sussex Finescale Railway Modelling Finescale Modelling OO HO 18.83mm 4mm BloodandCustard East Sussex Finescale Railway Modelling Finescale Modelling OO HO 18.83mm 4mm BloodandCustard East Sussex Finescale Railway Modelling Finescale Modelling OO HO 18.83mm 4mm BloodandCustard East Sussex Finescale Railway Modelling Finescale Modelling OO HO 18.83mm 4mm BloodandCustard East Sussex Finescale Railway Modelling Finescale Modelling OO HO 18.83mm 4mm BloodandCustard East Sussex Finescale Railway Modelling Finescale Modelling OO HO 18.83mm 4mm BloodandCustard East Sussex Finescale Railway Modelling Finescale Modelling OO HO 18.83mm 4mm BloodandCustard East Sussex Finescale Railway Modelling Finescale Modelling OO HO 18.83mm 4mm BloodandCustard East Sussex Finescale Railway Modelling Finescale Modelling OO HO 18.83mm 4mm BloodandCustard East Sussex Finescale Railway Modelling Finescale Modelling OO HO 18.83mm 4mm BloodandCustard East Sussex Finescale Railway Modelling Finescale Modelling OO HO 18.83mm 4mm BloodandCustard East Sussex Finescale Railway Modelling Finescale Modelling OO HO 18.83mm 4mm BloodandCustard East Sussex Finescale Railway Modelling Finescale Modelling OO HO 18.83mm 4mm BloodandCustard East Sussex Finescale Railway Modelling Finescale Modelling OO HO 18.83mm 4mm BloodandCustard East Sussex Finescale Railway Modelling Finescale Modelling OO HO 18.83mm 4mm BloodandCustard East Sussex Finescale Railway Modelling Finescale Modelling OO HO 18.83mm 4mm BloodandCustard East Sussex Finescale Railway Modelling Finescale Modelling OO HO 18.83mm 4mm BloodandCustard East Sussex Finescale Railway Modelling Finescale Modelling OO HO 18.83mm 4mm BloodandCustard East Sussex Finescale Railway Modelling Finescale Modelling OO HO 18.83mm 4mm BloodandCustard East Sussex Finescale Railway Modelling Finescale Modelling OO HO 18.83mm 4mm BloodandCustard East Sussex Finescale Railway Modelling Finescale Modelling OO HO 18.83mm 4mm BloodandCustard East Sussex Finescale Railway Modelling Finescale Modelling OO HO 18.83mm 4mm BloodandCustard East Sussex Finescale Railway Modelling Finescale Modelling OO HO 18.83mm 4mm BloodandCustard East Sussex Finescale Railway Modelling Finescale Modelling OO HO 18.83mm 4mm BloodandCustard East Sussex Finescale Railway Modelling Finescale Modelling OO HO 18.83mm 4mm BloodandCustard East Sussex Finescale Railway Modelling Finescale Modelling OO HO 18.83mm 4mm BloodandCustard East Sussex Finescale Railway Modelling Finescale Modelling OO HO 18.83mm 4mm BloodandCustard East Sussex Finescale Railway Modelling Finescale Modelling OO HO 18.83mm 4mm BloodandCustard East Sussex Finescale Railway Modelling Finescale Modelling OO HO 18.83mm 4mm BloodandCustard East Sussex Finescale Railway Modelling Finescale Modelling OO HO 18.83mm 4mm BloodandCustard East Sussex Finescale Railway Modelling Finescale Modelling OO HO 18.83mm 4mm BloodandCustard East Sussex Finescale Railway Modelling Finescale Modelling OO HO 18.83mm 4mm BloodandCustard East Sussex Finescale Railway Modelling Finescale Modelling OO HO 18.83mm 4mm BloodandCustard East Sussex Finescale Railway Modelling Finescale Modelling OO HO 18.83mm 4mm BloodandCustard East Sussex Finescale Railway Modelling Finescale Modelling OO HO 18.83mm 4mm BloodandCustard East Sussex Finescale Railway Modelling Finescale Modelling OO HO 18.83mm 4mm BloodandCustard East Sussex Finescale Railway Modelling Finescale Modelling OO HO 18.83mm 4mm BloodandCustard East Sussex Finescale Railway Modelling Finescale Modelling OO HO 18.83mm 4mm BloodandCustard East Sussex Finescale Railway Modelling Finescale Modelling OO HO 18.83mm 4mm BloodandCustard East Sussex Finescale Railway Modelling Finescale Modelling OO HO 18.83mm 4mm BloodandCustard East Sussex Finescale Railway Modelling Finescale Modelling OO HO 18.83mm 4mm BloodandCustard East Sussex Finescale Railway Modelling Finescale Modelling OO HO 18.83mm 4mm BloodandCustard East Sussex Finescale Railway Modelling Finescale Modelling OO HO 18.83mm 4mm BloodandCustard East Sussex Finescale Railway Modelling Finescale Modelling OO HO 18.83mm 4mm BloodandCustard East Sussex Finescale Railway Modelling Finescale Modelling OO HO 18.83mm 4mm BloodandCustard East Sussex Finescale Railway Modelling Finescale Modelling OO HO 18.83mm 4mm BloodandCustard East Sussex Finescale Railway Modelling Finescale Modelling OO HO 18.83mm 4mm BloodandCustard East Sussex Finescale Railway Modelling Finescale Modelling OO HO 18.83mm 4mm BloodandCustard East Sussex Finescale Railway Modelling Finescale Modelling OO HO 18.83mm 4mm BloodandCustard East Sussex Finescale Railway Modelling Finescale Modelling OO HO 18.83mm 4mm BloodandCustard East Sussex Finescale Railway Modelling Finescale Modelling OO HO 18.83mm 4mm BloodandCustard East Sussex Finescale Railway Modelling Finescale Modelling OO HO 18.83mm 4mm BloodandCustard East Sussex Finescale Railway Modelling Finescale Modelling OO HO 18.83mm 4mm BloodandCustard East Sussex Finescale Railway Modelling Finescale Modelling OO HO 18.83mm 4mm BloodandCustard East Sussex Finescale Railway Modelling Finescale Modelling OO HO 18.83mm 4mm BloodandCustard East Sussex Finescale Railway Modelling Finescale Modelling OO HO 18.83mm 4mm BloodandCustard East Sussex Finescale Railway Modelling Finescale Modelling OO HO 18.83mm 4mm BloodandCustard East Sussex Finescale Railway Modelling Finescale Modelling OO HO 18.83mm 4mm BloodandCustard East Sussex Finescale Railway Modelling Finescale Modelling OO HO 18.83mm 4mm BloodandCustard East Sussex Finescale Railway Modelling Finescale Modelling OO HO 18.83mm 4mm BloodandCustard East Sussex Finescale Railway Modelling Finescale Modelling OO HO 18.83mm 4mm BloodandCustard East Sussex Finescale Railway Modelling Finescale Modelling OO HO 18.83mm 4mm BloodandCustard East Sussex Finescale Railway Modelling Finescale Modelling OO HO 18.83mm 4mm BloodandCustard East Sussex Finescale Railway Modelling Finescale Modelling OO HO 18.83mm 4mm BloodandCustard East Sussex Finescale Railway Modelling Finescale Modelling OO HO 18.83mm 4mm BloodandCustard East Sussex Finescale Railway Modelling Finescale Modelling OO HO 18.83mm 4mm BloodandCustard East Sussex Finescale Railway Modelling Finescale Modelling OO HO 18.83mm 4mm BloodandCustard East Sussex Finescale Railway Modelling Finescale Modelling OO HO 18.83mm 4mm BloodandCustard East Sussex Finescale Railway Modelling Finescale Modelling OO HO 18.83mm 4mm BloodandCustard East Sussex Finescale Railway Modelling Finescale Modelling OO HO 18.83mm 4mm BloodandCustard East Sussex Finescale Railway Modelling Finescale Modelling OO HO 18.83mm 4mm BloodandCustard East Sussex Finescale Railway Modelling Finescale Modelling OO HO 18.83mm 4mm BloodandCustard East Sussex Finescale Railway Modelling Finescale Modelling OO HO 18.83mm 4mm BloodandCustard East Sussex Finescale Railway Modelling Finescale Modelling OO HO 18.83mm 4mm BloodandCustard East Sussex Finescale Railway Modelling Finescale Modelling OO HO 18.83mm 4mm BloodandCustard East Sussex Finescale Railway Modelling Finescale Modelling OO HO 18.83mm 4mm BloodandCustard East Sussex Finescale Railway Modelling Finescale Modelling OO HO 18.83mm 4mm BloodandCustard East Sussex Finescale Railway Modelling Finescale Modelling OO HO 18.83mm 4mm BloodandCustard East Sussex Finescale Railway Modelling Finescale Modelling OO HO 18.83mmBloodandCustard East Sussex Finescale Railway Modelling Finescale Modelling OO HO 18.83mm 4mm. BloodandCustard East Sussex Finescale Railway Modelling Finescale Modelling OO HO 18.83mm 4mm BloodandCustard East Sussex Finescale Railway Modelling Finescale Modelling OO HO 18.83mm 4mm BloodandCustard East Sussex Finescale Railway Modelling Finescale Modelling OO HO 18.83mm 4mm BloodandCustard East Sussex Finescale Railway Modelling Finescale Modelling OO HO 18.83mm 4mm BloodandCustard East Sussex Finescale Railway Modelling Finescale Modelling OO HO 18.83mm 4mm BloodandCustard East Sussex Finescale Railway Modelling Finescale Modelling OO HO 18.83mm 4mm BloodandCustard East Sussex Finescale Railway Modelling Finescale Modelling OO HO 18.83mm 4mm BloodandCustard East Sussex Finescale Railway Modelling Finescale Modelling OO HO 18.83mm 4mm BloodandCustard East Sussex Finescale Railway Modelling Finescale Modelling OO HO 18.83mm 4mm BloodandCustard East Sussex Finescale Railway Modelling Finescale Modelling OO HO 18.83mm 4mm BloodandCustard East Sussex Finescale Railway Modelling Finescale Modelling OO HO 18.83mm 4mm BloodandCustard East Sussex Finescale Railway Modelling Finescale Modelling OO HO 18.83mm 4mm BloodandCustard East Sussex Finescale Railway Modelling Finescale Modelling OO HO 18.83mm 4mm BloodandCustard East Sussex Finescale Railway Modelling Finescale Modelling OO HO 18.83mm 4mm BloodandCustard East Sussex Finescale Railway Modelling Finescale Modelling OO HO 18.83mm 4mm BloodandCustard East Sussex Finescale Railway Modelling Finescale Modelling OO HO 18.83mm 4mm BloodandCustard East Sussex Finescale Railway Modelling Finescale Modelling OO HO 18.83mm 4mm BloodandCustard East Sussex Finescale Railway Modelling Finescale Modelling OO HO 18.83mm 4mm BloodandCustard East Sussex Finescale Railway Modelling Finescale Modelling OO HO 18.83mm 4mm BloodandCustard East Sussex Finescale Railway Modelling Finescale Modelling OO HO 18.83mm 4mm BloodandCustard East Sussex Finescale Railway Modelling Finescale Modelling OO HO 18.83mm 4mm BloodandCustard East Sussex Finescale Railway Modelling Finescale Modelling OO HO 18.83mm 4mm BloodandCustard East Sussex Finescale Railway Modelling Finescale Modelling OO HO 18.83mm 4mm BloodandCustard East Sussex Finescale Railway Modelling Finescale Modelling OO HO 18.83mm 4mm BloodandCustard East Sussex Finescale Railway Modelling Finescale Modelling OO HO 18.83mm 4mm BloodandCustard East Sussex Finescale Railway Modelling Finescale Modelling OO HO 18.83mm 4mm BloodandCustard East Sussex Finescale Railway Modelling Finescale Modelling OO HO 18.83mm 4mm BloodandCustard East Sussex Finescale Railway Modelling Finescale Modelling OO HO 18.83mm 4mm BloodandCustard East Sussex Finescale Railway Modelling Finescale Modelling OO HO 18.83mm 4mm BloodandCustard East Sussex Finescale Railway Modelling Finescale Modelling OO HO 18.83mm 4mm BloodandCustard East Sussex Finescale Railway Modelling Finescale Modelling OO HO 18.83mm 4mm BloodandCustard East Sussex Finescale Railway Modelling Finescale Modelling OO HO 18.83mm 4mm BloodandCustard East Sussex Finescale Railway Modelling Finescale Modelling OO HO 18.83mm 4mm BloodandCustard East Sussex Finescale Railway Modelling Finescale Modelling OO HO 18.83mm 4mm BloodandCustard East Sussex Finescale Railway Modelling Finescale Modelling OO HO 18.83mm 4mm BloodandCustard East Sussex Finescale Railway Modelling Finescale Modelling OO HO 18.83mm 4mm BloodandCustard East Sussex Finescale Railway Modelling Finescale Modelling OO HO 18.83mm 4mm BloodandCustard East Sussex Finescale Railway Modelling Finescale Modelling OO HO 18.83mm 4mm BloodandCustard East Sussex Finescale Railway Modelling Finescale Modelling OO HO 18.83mm 4mm BloodandCustard East Sussex Finescale Railway Modelling Finescale Modelling OO HO 18.83mm 4mm BloodandCustard East Sussex Finescale Railway Modelling Finescale Modelling OO HO 18.83mm 4mm BloodandCustard East Sussex Finescale Railway Modelling Finescale Modelling OO HO 18.83mm 4mm BloodandCustard East Sussex Finescale Railway Modelling Finescale Modelling OO HO 18.83mm 4mm BloodandCustard East Sussex Finescale Railway Modelling Finescale Modelling OO HO 18.83mm 4mm BloodandCustard East Sussex Finescale Railway Modelling Finescale Modelling OO HO 18.83mm 4mm BloodandCustard East Sussex Finescale Railway Modelling Finescale Modelling OO HO 18.83mm 4mm BloodandCustard East Sussex Finescale Railway Modelling Finescale Modelling OO HO 18.83mm 4mm BloodandCustard East Sussex Finescale Railway Modelling Finescale Modelling OO HO 18.83mm 4mm BloodandCustard East Sussex Finescale Railway Modelling Finescale Modelling OO HO 18.83mm 4mm BloodandCustard East Sussex Finescale Railway Modelling Finescale Modelling OO HO 18.83mm 4mm BloodandCustard East Sussex Finescale Railway Modelling Finescale Modelling OO HO 18.83mm 4mm BloodandCustard East Sussex Finescale Railway Modelling Finescale Modelling OO HO 18.83mm 4mm BloodandCustard East Sussex Finescale Railway Modelling Finescale Modelling OO HO 18.83mm 4mm BloodandCustard East Sussex Finescale Railway Modelling Finescale Modelling OO HO 18.83mm 4mm BloodandCustard East Sussex Finescale Railway Modelling Finescale Modelling OO HO 18.83mm 4mm BloodandCustard East Sussex Finescale Railway Modelling Finescale Modelling OO HO 18.83mm 4mm BloodandCustard East Sussex Finescale Railway Modelling Finescale Modelling OO HO 18.83mm 4mm BloodandCustard East Sussex Finescale Railway Modelling Finescale Modelling OO HO 18.83mm 4mm BloodandCustard East Sussex Finescale Railway Modelling Finescale Modelling OO HO 18.83mm 4mm BloodandCustard East Sussex Finescale Railway Modelling Finescale Modelling OO HO 18.83mm 4mm BloodandCustard East Sussex Finescale Railway Modelling Finescale Modelling OO HO 18.83mm 4mm BloodandCustard East Sussex Finescale Railway Modelling Finescale Modelling OO HO 18.83mm 4mm BloodandCustard East Sussex Finescale Railway Modelling Finescale Modelling OO HO 18.83mm 4mm BloodandCustard East Sussex Finescale Railway Modelling Finescale Modelling OO HO 18.83mm 4mm BloodandCustard East Sussex Finescale Railway Modelling Finescale Modelling OO HO 18.83mm 4mm BloodandCustard East Sussex Finescale Railway Modelling Finescale Modelling OO HO 18.83mm 4mm BloodandCustard East Sussex Finescale Railway Modelling Finescale Modelling OO HO 18.83mm 4mm BloodandCustard East Sussex Finescale Railway Modelling Finescale Modelling OO HO 18.83mm 4mm BloodandCustard East Sussex Finescale Railway Modelling Finescale Modelling OO HO 18.83mm 4mm BloodandCustard East Sussex Finescale Railway Modelling Finescale Modelling OO HO 18.83mm 4mm BloodandCustard East Sussex Finescale Railway Modelling Finescale Modelling OO HO 18.83mm 4mm BloodandCustard East Sussex Finescale Railway Modelling Finescale Modelling OO HO 18.83mm 4mm BloodandCustard East Sussex Finescale Railway Modelling Finescale Modelling OO HO 18.83mm 4mm BloodandCustard East Sussex Finescale Railway Modelling Finescale Modelling OO HO 18.83mm 4mm BloodandCustard East Sussex Finescale Railway Modelling Finescale Modelling OO HO 18.83mm 4mm BloodandCustard East Sussex Finescale Railway Modelling Finescale Modelling OO HO 18.83mm 4mm BloodandCustard East Sussex Finescale Railway Modelling Finescale Modelling OO HO 18.83mm 4mm BloodandCustard East Sussex Finescale Railway Modelling Finescale Modelling OO HO 18.83mm 4mm BloodandCustard East Sussex Finescale Railway Modelling Finescale Modelling OO HO 18.83mm 4mm BloodandCustard East Sussex Finescale Railway Modelling Finescale Modelling OO HO 18.83mm 4mm BloodandCustard East Sussex Finescale Railway Modelling Finescale Modelling OO HO 18.83mm 4mm BloodandCustard East Sussex Finescale Railway Modelling Finescale Modelling OO HO 18.83mm 4mm BloodandCustard East Sussex Finescale Railway Modelling Finescale Modelling OO HO 18.83mm 4mm BloodandCustard East Sussex Finescale Railway Modelling Finescale Modelling OO HO 18.83mm 4mm BloodandCustard East Sussex Finescale Railway Modelling Finescale Modelling OO HO 18.83mm 4mm BloodandCustard East Sussex Finescale Railway Modelling Finescale Modelling OO HO 18.83mm 4mm BloodandCustard East Sussex Finescale Railway Modelling Finescale Modelling OO HO 18.83mm 4mm BloodandCustard East Sussex Finescale Railway Modelling Finescale Modelling OO HO 18.83mm 4mm BloodandCustard East Sussex Finescale Railway Modelling Finescale Modelling OO HO 18.83mm 4mm BloodandCustard East Sussex Finescale Railway Modelling Finescale Modelling OO HO 18.83mm 4mm BloodandCustard East Sussex Finescale Railway Modelling Finescale Modelling OO HO 18.83mm 4mm BloodandCustard East Sussex Finescale Railway Modelling Finescale Modelling OO HO 18.83mm 4mm BloodandCustard East Sussex Finescale Railway Modelling Finescale Modelling OO HO 18.83mm 4mm BloodandCustard East Sussex Finescale Railway Modelling Finescale Modelling OO HO 18.83mm 4mm BloodandCustard East Sussex Finescale Railway Modelling Finescale Modelling OO HO 18.83mm 4mm BloodandCustard East Sussex Finescale Railway Modelling Finescale Modelling OO HO 18.83mm 4mm BloodandCustard East Sussex Finescale Railway Modelling Finescale Modelling OO HO 18.83mm 4mm BloodandCustard East Sussex Finescale Railway Modelling Finescale Modelling OO HO 18.83mm 4mm BloodandCustard East Sussex Finescale Railway Modelling Finescale Modelling OO HO 18.83mm 4mm BloodandCustard East Sussex Finescale Railway Modelling Finescale Modelling OO HO 18.83mm 4mm BloodandCustard East Sussex Finescale Railway Modelling Finescale Modelling OO HO 18.83mm 4mm BloodandCustard East Sussex Finescale Railway Modelling Finescale Modelling OO HO 18.83mm 4mm BloodandCustard East Sussex Finescale Railway Modelling Finescale Modelling OO HO 18.83mm 4mm BloodandCustard East Sussex Finescale Railway Modelling Finescale Modelling OO HO 18.83mm 4mm BloodandCustard East Sussex Finescale Railway Modelling Finescale Modelling OO HO 18.83mm 4mm BloodandCustard East Sussex Finescale Railway Modelling Finescale Modelling OO HO 18.83mm 4mm BloodandCustard East Sussex Finescale Railway Modelling Finescale Modelling OO HO 18.83mm 4mm BloodandCustard East Sussex Finescale Railway Modelling Finescale Modelling OO HO 18.83mm 4mm BloodandCustard East Sussex Finescale Railway Modelling Finescale Modelling OO HO 18.83mm 4mm BloodandCustard East Sussex Finescale Railway Modelling Finescale Modelling OO HO 18.83mm 4mm BloodandCustard East Sussex Finescale Railway Modelling Finescale Modelling OO HO 18.83mm 4mm BloodandCustard East Sussex Finescale Railway Modelling Finescale Modelling OO HO 18.83mm 4mm BloodandCustard East Sussex Finescale Railway Modelling Finescale Modelling OO HO 18.83mm 4mm BloodandCustard East Sussex Finescale Railway Modelling Finescale Modelling OO HO 18.83mm 4mm BloodandCustard East Sussex Finescale Railway Modelling Finescale Modelling OO HO 18.83mm 4mm BloodandCustard East Sussex Finescale Railway Modelling Finescale Modelling OO HO 18.83mm 4mm BloodandCustard East Sussex Finescale Railway Modelling Finescale Modelling OO HO 18.83mm 4mm BloodandCustard East Sussex Finescale Railway Modelling Finescale Modelling OO HO 18.83mm 4mm BloodandCustard East Sussex Finescale Railway Modelling Finescale Modelling OO HO 18.83mm 4mm BloodandCustard East Sussex Finescale Railway Modelling Finescale Modelling OO HO 18.83mm 4mm BloodandCustard East Sussex Finescale Railway Modelling Finescale Modelling OO HO 18.83mm 4mm BloodandCustard East Sussex Finescale Railway Modelling Finescale Modelling OO HO 18.83mm 4mm BloodandCustard East Sussex Finescale Railway Modelling Finescale Modelling OO HO 18.83mm 4mm BloodandCustard East Sussex Finescale Railway Modelling Finescale Modelling OO HO 18.83mm 4mm BloodandCustard East Sussex Finescale Railway Modelling Finescale Modelling OO HO 18.83mm 4mm BloodandCustard East Sussex Finescale Railway Modelling Finescale Modelling OO HO 18.83mm 4mm BloodandCustard East Sussex Finescale Railway Modelling Finescale Modelling OO HO 18.83mm 4mm BloodandCustard East Sussex Finescale Railway Modelling Finescale Modelling OO HO 18.83mm 4mm BloodandCustard East Sussex Finescale Railway Modelling Finescale Modelling OO HO 18.83mm 4mm BloodandCustard East Sussex Finescale Railway Modelling Finescale Modelling OO HO 18.83mm 4mm BloodandCustard East Sussex Finescale Railway Modelling Finescale Modelling OO HO 18.83mm 4mm BloodandCustard East Sussex Finescale Railway Modelling Finescale Modelling OO HO 18.83mm 4mm BloodandCustard East Sussex Finescale Railway Modelling Finescale Modelling OO HO 18.83mm 4mm BloodandCustard East Sussex Finescale Railway Modelling Finescale Modelling OO HO 18.83mm 4mm BloodandCustard East Sussex Finescale Railway Modelling Finescale Modelling OO HO 18.83mm 4mm BloodandCustard East Sussex Finescale Railway Modelling Finescale Modelling OO HO 18.83mm 4mm BloodandCustard East Sussex Finescale Railway Modelling Finescale Modelling OO HO 18.83mm 4mm BloodandCustard East Sussex Finescale Railway Modelling Finescale Modelling OO HO 18.83mm 4mm BloodandCustard East Sussex Finescale Railway Modelling Finescale Modelling OO HO 18.83mm 4mm BloodandCustard East Sussex Finescale Railway Modelling Finescale Modelling OO HO 18.83mm 4mm BloodandCustard East Sussex Finescale Railway Modelling Finescale Modelling OO HO 18.83mm 4mm BloodandCustard East Sussex Finescale Railway Modelling Finescale Modelling OO HO 18.83mm 4mm BloodandCustard East Sussex Finescale Railway Modelling Finescale Modelling OO HO 18.83mm 4mm BloodandCustard East Sussex Finescale Railway Modelling Finescale Modelling OO HO 18.83mm 4mm BloodandCustard East Sussex Finescale Railway Modelling Finescale Modelling OO HO 18.83mm 4mm BloodandCustard East Sussex Finescale Railway Modelling Finescale Modelling OO HO 18.83mm 4mm BloodandCustard East Sussex Finescale Railway Modelling Finescale Modelling OO HO 18.83mm 4mm BloodandCustard East Sussex Finescale Railway Modelling Finescale Modelling OO HO 18.83mm 4mm BloodandCustard East Sussex Finescale Railway Modelling Finescale Modelling OO HO 18.83mm 4mm BloodandCustard East Sussex Finescale Railway Modelling Finescale Modelling OO HO 18.83mm 4mm BloodandCustard East Sussex Finescale Railway Modelling Finescale Modelling OO HO 18.83mm 4mm BloodandCustard East Sussex Finescale Railway Modelling Finescale Modelling OO HO 18.83mm 4mm BloodandCustard East Sussex Finescale Railway Modelling Finescale Modelling OO HO 18.83mm 4mm BloodandCustard East Sussex Finescale Railway Modelling Finescale Modelling OO HO 18.83mm 4mm BloodandCustard East Sussex Finescale Railway Modelling Finescale Modelling OO HO 18.83mm 4mm BloodandCustard East Sussex Finescale Railway Modelling Finescale Modelling OO HO 18.83mm 4mm BloodandCustard East Sussex Finescale Railway Modelling Finescale Modelling OO HO 18.83mm 4mm BloodandCustard East Sussex Finescale Railway Modelling Finescale Modelling OO HO 18.83mm 4mm BloodandCustard East Sussex Finescale Railway Modelling Finescale Modelling OO HO 18.83mm 4mm BloodandCustard East Sussex Finescale Railway Modelling Finescale Modelling OO HO 18.83mm 4mm BloodandCustard East Sussex Finescale Railway Modelling Finescale Modelling OO HO 18.83mm 4mm BloodandCustard East Sussex Finescale Railway Modelling Finescale Modelling OO HO 18.83mm 4mm BloodandCustard East Sussex Finescale Railway Modelling Finescale Modelling OO HO 18.83mm 4mm BloodandCustard East Sussex Finescale Railway Modelling Finescale Modelling OO HO 18.83mm 4mm BloodandCustard East Sussex Finescale Railway Modelling Finescale Modelling OO HO 18.83mm 4mm BloodandCustard East Sussex Finescale Railway Modelling Finescale Modelling OO HO 18.83mm 4mm BloodandCustard East Sussex Finescale Railway Modelling Finescale Modelling OO HO 18.83mm 4mm BloodandCustard East Sussex Finescale Railway Modelling Finescale Modelling OO HO 18.83mm 4mm BloodandCustard East Sussex Finescale Railway Modelling Finescale Modelling OO HO 18.83mm 4mm BloodandCustard East Sussex Finescale Railway Modelling Finescale Modelling OO HO 18.83mm 4mm BloodandCustard East Sussex Finescale Railway Modelling Finescale Modelling OO HO 18.83mm 4mm BloodandCustard East Sussex Finescale Railway Modelling Finescale Modelling OO HO 18.83mm 4mm BloodandCustard East Sussex Finescale Railway Modelling Finescale Modelling OO HO 18.83mm 4mm BloodandCustard East Sussex Finescale Railway Modelling Finescale Modelling OO HO 18.83mm 4mm BloodandCustard East Sussex Finescale Railway Modelling Finescale Modelling OO HO 18.83mm 4mm BloodandCustard East Sussex Finescale Railway Modelling Finescale Modelling OO HO 18.83mm 4mm BloodandCustard East Sussex Finescale Railway Modelling Finescale Modelling OO HO 18.83mm 4mm BloodandCustard East Sussex Finescale Railway Modelling Finescale Modelling OO HO 18.83mm 4mm BloodandCustard East Sussex Finescale Railway Modelling Finescale Modelling OO HO 18.83mm 4mm BloodandCustard East Sussex Finescale Railway Modelling Finescale Modelling OO HO 18.83mm 4mm BloodandCustard East Sussex Finescale Railway Modelling Finescale Modelling OO HO 18.83mm 4mm BloodandCustard East Sussex Finescale Railway Modelling Finescale Modelling OO HO 18.83mm 4mm BloodandCustard East Sussex Finescale Railway Modelling Finescale Modelling OO HO 18.83mm 4mm BloodandCustard East Sussex Finescale Railway Modelling Finescale Modelling OO HO 18.83mm 4mm BloodandCustard East Sussex Finescale Railway Modelling Finescale Modelling OO HO 18.83mm 4mm BloodandCustard East Sussex Finescale Railway Modelling Finescale Modelling OO HO 18.83mm 4mm BloodandCustard East Sussex Finescale Railway Modelling Finescale Modelling OO HO 18.83mm 4mm BloodandCustard East Sussex Finescale Railway Modelling Finescale Modelling OO HO 18.83mm 4mm BloodandCustard East Sussex Finescale Railway Modelling Finescale Modelling OO HO 18.83mm 4mm BloodandCustard East Sussex Finescale Railway Modelling Finescale Modelling OO HO 18.83mm 4mm BloodandCustard East Sussex Finescale Railway Modelling Finescale Modelling OO HO 18.83mm 4mm BloodandCustard East Sussex Finescale Railway Modelling Finescale Modelling OO HO 18.83mm 4mm BloodandCustard East Sussex Finescale Railway Modelling Finescale Modelling OO HO 18.83mm 4mm BloodandCustard East Sussex Finescale Railway Modelling Finescale Modelling OO HO 18.83mm 4mm BloodandCustard East Sussex Finescale Railway Modelling Finescale Modelling OO HO 18.83mm 4mm BloodandCustard East Sussex Finescale Railway Modelling Finescale Modelling OO HO 18.83mm 4mm BloodandCustard East Sussex Finescale Railway Modelling Finescale Modelling OO HO 18.83mm 4mm BloodandCustard East Sussex Finescale Railway Modelling Finescale Modelling OO HO 18.83mm 4mm BloodandCustard East Sussex Finescale Railway Modelling Finescale Modelling OO HO 18.83mm 4mm BloodandCustard East Sussex Finescale Railway Modelling Finescale Modelling OO HO 18.83mm 4mm BloodandCustard East Sussex Finescale Railway Modelling Finescale Modelling OO HO 18.83mm 4mm BloodandCustard East Sussex Finescale Railway Modelling Finescale Modelling OO HO 18.83mm 4mm BloodandCustard East Sussex Finescale Railway Modelling Finescale Modelling OO HO 18.83mm 4mm BloodandCustard East Sussex Finescale Railway Modelling Finescale Modelling OO HO 18.83mm 4mm BloodandCustard East Sussex Finescale Railway Modelling Finescale Modelling OO HO 18.83mm 4mm BloodandCustard East Sussex Finescale Railway Modelling Finescale Modelling OO HO 18.83mm 4mm BloodandCustard East Sussex Finescale Railway Modelling Finescale Modelling OO HO 18.83mm 4mm BloodandCustard East Sussex Finescale Railway Modelling Finescale Modelling OO HO 18.83mm 4mm BloodandCustard East Sussex Finescale Railway Modelling Finescale Modelling OO HO 18.83mm 4mm BloodandCustard East Sussex Finescale Railway Modelling Finescale Modelling OO HO 18.83mm 4mm BloodandCustard East Sussex Finescale Railway Modelling Finescale Modelling OO HO 18.83mm 4mm BloodandCustard East Sussex Finescale Railway Modelling Finescale Modelling OO HO 18.83mm 4mm BloodandCustard East Sussex Finescale Railway Modelling Finescale Modelling OO HO 18.83mm 4mm BloodandCustard East Sussex Finescale Railway Modelling Finescale Modelling OO HO 18.83mm 4mm BloodandCustard East Sussex Finescale Railway Modelling Finescale Modelling OO HO 18.83mm 4mm BloodandCustard East Sussex Finescale Railway Modelling Finescale Modelling OO HO 18.83mm 4mm BloodandCustard East Sussex Finescale Railway Modelling Finescale Modelling OO HO 18.83mm 4mm BloodandCustard East Sussex Finescale Railway Modelling Finescale Modelling OO HO 18.83mm 4mm BloodandCustard East Sussex Finescale Railway Modelling Finescale Modelling OO HO 18.83mm 4mm BloodandCustard East Sussex Finescale Railway Modelling Finescale Modelling OO HO 18.83mm 4mm BloodandCustard East Sussex Finescale Railway Modelling Finescale Modelling OO HO 18.83mm 4mm BloodandCustard East Sussex Finescale Railway Modelling Finescale Modelling OO HO 18.83mm 4mm BloodandCustard East Sussex Finescale Railway Modelling Finescale Modelling OO HO 18.83mm 4mm BloodandCustard East Sussex Finescale Railway Modelling Finescale Modelling OO HO 18.83mm 4mm BloodandCustard East Sussex Finescale Railway Modelling Finescale Modelling OO HO 18.83mm 4mm BloodandCustard East Sussex Finescale Railway Modelling Finescale Modelling OO HO 18.83mm 4mm BloodandCustard East Sussex Finescale Railway Modelling Finescale Modelling OO HO 18.83mm 4mm BloodandCustard East Sussex Finescale Railway Modelling Finescale Modelling OO HO 18.83mm 4mm BloodandCustard East Sussex Finescale Railway Modelling Finescale Modelling OO HO 18.83mm 4mm BloodandCustard East Sussex Finescale Railway Modelling Finescale Modelling OO HO 18.83mm 4mm BloodandCustard East Sussex Finescale Railway Modelling Finescale Modelling OO HO 18.83mm 4mm BloodandCustard East Sussex Finescale Railway Modelling Finescale Modelling OO HO 18.83mm 4mm BloodandCustard East Sussex Finescale Railway Modelling Finescale Modelling OO HO 18.83mm 4mm BloodandCustard East Sussex Finescale Railway Modelling Finescale Modelling OO HO 18.83mm 4mm BloodandCustard East Sussex Finescale Railway Modelling Finescale Modelling OO HO 18.83mm 4mm BloodandCustard East Sussex Finescale Railway Modelling Finescale Modelling OO HO 18.83mm 4mm BloodandCustard East Sussex Finescale Railway Modelling Finescale Modelling OO HO 18.83mm 4mm BloodandCustard East Sussex Finescale Railway Modelling Finescale Modelling OO HO 18.83mm 4mm BloodandCustard East Sussex Finescale Railway Modelling Finescale Modelling OO HO 18.83mm 4mm BloodandCustard East Sussex Finescale Railway Modelling Finescale Modelling OO HO 18.83mm 4mm BloodandCustard East Sussex Finescale Railway Modelling Finescale Modelling OO HO 18.83mm 4mm BloodandCustard East Sussex Finescale Railway Modelling Finescale Modelling OO HO 18.83mm 4mm BloodandCustard East Sussex Finescale Railway Modelling Finescale Modelling OO HO 18.83mm 4mm BloodandCustard East Sussex Finescale Railway Modelling Finescale Modelling OO HO 18.83mm 4mm BloodandCustard East Sussex Finescale Railway Modelling Finescale Modelling OO HO 18.83mm 4mm BloodandCustard East Sussex Finescale Railway Modelling Finescale Modelling OO HO 18.83mm 4mm BloodandCustard East Sussex Finescale Railway Modelling Finescale Modelling OO HO 18.83mm 4mm BloodandCustard East Sussex Finescale Railway Modelling Finescale Modelling OO HO 18.83mm 4mm BloodandCustard East Sussex Finescale Railway Modelling Finescale Modelling OO HO 18.83mm 4mm BloodandCustard East Sussex Finescale Railway Modelling Finescale Modelling OO HO 18.83mm 4mm BloodandCustard East Sussex Finescale Railway Modelling Finescale Modelling OO HO 18.83mm 4mm BloodandCustard East Sussex Finescale Railway Modelling Finescale Modelling OO HO 18.83mm 4mm BloodandCustard East Sussex Finescale Railway Modelling Finescale Modelling OO HO 18.83mm 4mm BloodandCustard East Sussex Finescale Railway Modelling Finescale Modelling OO HO 18.83mm 4mm BloodandCustard East Sussex Finescale Railway Modelling Finescale Modelling OO HO 18.83mm 4mm BloodandCustard East Sussex Finescale Railway Modelling Finescale Modelling OO HO 18.83mm 4mm BloodandCustard East Sussex Finescale Railway Modelling Finescale Modelling OO HO 18.83mm 4mm BloodandCustard East Sussex Finescale Railway Modelling Finescale Modelling OO HO 18.83mm 4mm BloodandCustard East Sussex Finescale Railway Modelling Finescale Modelling OO HO 18.83mm 4mm BloodandCustard East Sussex Finescale Railway Modelling Finescale Modelling OO HO 18.83mm 4mm BloodandCustard East Sussex Finescale Railway Modelling Finescale Modelling OO HO 18.83mm 4mm BloodandCustard East Sussex Finescale Railway Modelling Finescale Modelling OO HO 18.83mm 4mm BloodandCustard East Sussex Finescale Railway Modelling Finescale Modelling OO HO 18.83mm 4mm BloodandCustard East Sussex Finescale Railway Modelling Finescale Modelling OO HO 18.83mm 4mm BloodandCustard East Sussex Finescale Railway Modelling Finescale Modelling OO HO 18.83mm 4mm BloodandCustard East Sussex Finescale Railway Modelling Finescale Modelling OO HO 18.83mm 4mm BloodandCustard East Sussex Finescale Railway Modelling Finescale Modelling OO HO 18.83mm 4mm BloodandCustard East Sussex Finescale Railway Modelling Finescale Modelling OO HO 18.83mm 4mm BloodandCustard East Sussex Finescale Railway Modelling Finescale Modelling OO HO 18.83mm 4mm BloodandCustard East Sussex Finescale Railway Modelling Finescale Modelling OO HO 18.83mm 4mm BloodandCustard East Sussex Finescale Railway Modelling Finescale Modelling OO HO 18.83mm 4mm BloodandCustard East Sussex Finescale Railway Modelling Finescale Modelling OO HO 18.83mm 4mm BloodandCustard East Sussex Finescale Railway Modelling Finescale Modelling OO HO 18.83mm 4mm BloodandCustard East Sussex Finescale Railway Modelling Finescale Modelling OO HO 18.83mm 4mm BloodandCustard East Sussex Finescale Railway Modelling Finescale Modelling OO HO 18.83mm 4mm BloodandCustard East Sussex Finescale Railway Modelling Finescale Modelling OO HO 18.83mmBloodandCustard East Sussex Finescale Railway Modelling Finescale Modelling OO HO 18.83mm 4mm. BloodandCustard East Sussex Finescale Railway Modelling Finescale Modelling OO HO 18.83mm 4mm BloodandCustard East Sussex Finescale Railway Modelling Finescale Modelling OO HO 18.83mm 4mm BloodandCustard East Sussex Finescale Railway Modelling Finescale Modelling OO HO 18.83mm 4mm BloodandCustard East Sussex Finescale Railway Modelling Finescale Modelling OO HO 18.83mm 4mm BloodandCustard East Sussex Finescale Railway Modelling Finescale Modelling OO HO 18.83mm 4mm BloodandCustard East Sussex Finescale Railway Modelling Finescale Modelling OO HO 18.83mm 4mm BloodandCustard East Sussex Finescale Railway Modelling Finescale Modelling OO HO 18.83mm 4mm BloodandCustard East Sussex Finescale Railway Modelling Finescale Modelling OO HO 18.83mm 4mm BloodandCustard East Sussex Finescale Railway Modelling Finescale Modelling OO HO 18.83mm 4mm BloodandCustard East Sussex Finescale Railway Modelling Finescale Modelling OO HO 18.83mm 4mm BloodandCustard East Sussex Finescale Railway Modelling Finescale Modelling OO HO 18.83mm 4mm BloodandCustard East Sussex Finescale Railway Modelling Finescale Modelling OO HO 18.83mm 4mm BloodandCustard East Sussex Finescale Railway Modelling Finescale Modelling OO HO 18.83mm 4mm BloodandCustard East Sussex Finescale Railway Modelling Finescale Modelling OO HO 18.83mm 4mm BloodandCustard East Sussex Finescale Railway Modelling Finescale Modelling OO HO 18.83mm 4mm BloodandCustard East Sussex Finescale Railway Modelling Finescale Modelling OO HO 18.83mm 4mm BloodandCustard East Sussex Finescale Railway Modelling Finescale Modelling OO HO 18.83mm 4mm BloodandCustard East Sussex Finescale Railway Modelling Finescale Modelling OO HO 18.83mm 4mm BloodandCustard East Sussex Finescale Railway Modelling Finescale Modelling OO HO 18.83mm 4mm BloodandCustard East Sussex Finescale Railway Modelling Finescale Modelling OO HO 18.83mm 4mm BloodandCustard East Sussex Finescale Railway Modelling Finescale Modelling OO HO 18.83mm 4mm BloodandCustard East Sussex Finescale Railway Modelling Finescale Modelling OO HO 18.83mm 4mm BloodandCustard East Sussex Finescale Railway Modelling Finescale Modelling OO HO 18.83mm 4mm BloodandCustard East Sussex Finescale Railway Modelling Finescale Modelling OO HO 18.83mm 4mm BloodandCustard East Sussex Finescale Railway Modelling Finescale Modelling OO HO 18.83mm 4mm BloodandCustard East Sussex Finescale Railway Modelling Finescale Modelling OO HO 18.83mm 4mm BloodandCustard East Sussex Finescale Railway Modelling Finescale Modelling OO HO 18.83mm 4mm BloodandCustard East Sussex Finescale Railway Modelling Finescale Modelling OO HO 18.83mm 4mm BloodandCustard East Sussex Finescale Railway Modelling Finescale Modelling OO HO 18.83mm 4mm BloodandCustard East Sussex Finescale Railway Modelling Finescale Modelling OO HO 18.83mm 4mm BloodandCustard East Sussex Finescale Railway Modelling Finescale Modelling OO HO 18.83mm 4mm BloodandCustard East Sussex Finescale Railway Modelling Finescale Modelling OO HO 18.83mm 4mm BloodandCustard East Sussex Finescale Railway Modelling Finescale Modelling OO HO 18.83mm 4mm BloodandCustard East Sussex Finescale Railway Modelling Finescale Modelling OO HO 18.83mm 4mm BloodandCustard East Sussex Finescale Railway Modelling Finescale Modelling OO HO 18.83mm 4mm BloodandCustard East Sussex Finescale Railway Modelling Finescale Modelling OO HO 18.83mm 4mm BloodandCustard East Sussex Finescale Railway Modelling Finescale Modelling OO HO 18.83mm 4mm BloodandCustard East Sussex Finescale Railway Modelling Finescale Modelling OO HO 18.83mm 4mm BloodandCustard East Sussex Finescale Railway Modelling Finescale Modelling OO HO 18.83mm 4mm BloodandCustard East Sussex Finescale Railway Modelling Finescale Modelling OO HO 18.83mm 4mm BloodandCustard East Sussex Finescale Railway Modelling Finescale Modelling OO HO 18.83mm 4mm BloodandCustard East Sussex Finescale Railway Modelling Finescale Modelling OO HO 18.83mm 4mm BloodandCustard East Sussex Finescale Railway Modelling Finescale Modelling OO HO 18.83mm 4mm BloodandCustard East Sussex Finescale Railway Modelling Finescale Modelling OO HO 18.83mm 4mm BloodandCustard East Sussex Finescale Railway Modelling Finescale Modelling OO HO 18.83mm 4mm BloodandCustard East Sussex Finescale Railway Modelling Finescale Modelling OO HO 18.83mm 4mm BloodandCustard East Sussex Finescale Railway Modelling Finescale Modelling OO HO 18.83mm 4mm BloodandCustard East Sussex Finescale Railway Modelling Finescale Modelling OO HO 18.83mm 4mm BloodandCustard East Sussex Finescale Railway Modelling Finescale Modelling OO HO 18.83mm 4mm BloodandCustard East Sussex Finescale Railway Modelling Finescale Modelling OO HO 18.83mm 4mm BloodandCustard East Sussex Finescale Railway Modelling Finescale Modelling OO HO 18.83mm 4mm BloodandCustard East Sussex Finescale Railway Modelling Finescale Modelling OO HO 18.83mm 4mm BloodandCustard East Sussex Finescale Railway Modelling Finescale Modelling OO HO 18.83mm 4mm BloodandCustard East Sussex Finescale Railway Modelling Finescale Modelling OO HO 18.83mm 4mm BloodandCustard East Sussex Finescale Railway Modelling Finescale Modelling OO HO 18.83mm 4mm BloodandCustard East Sussex Finescale Railway Modelling Finescale Modelling OO HO 18.83mm 4mm BloodandCustard East Sussex Finescale Railway Modelling Finescale Modelling OO HO 18.83mm 4mm BloodandCustard East Sussex Finescale Railway Modelling Finescale Modelling OO HO 18.83mm 4mm BloodandCustard East Sussex Finescale Railway Modelling Finescale Modelling OO HO 18.83mm 4mm BloodandCustard East Sussex Finescale Railway Modelling Finescale Modelling OO HO 18.83mm 4mm BloodandCustard East Sussex Finescale Railway Modelling Finescale Modelling OO HO 18.83mm 4mm BloodandCustard East Sussex Finescale Railway Modelling Finescale Modelling OO HO 18.83mm 4mm BloodandCustard East Sussex Finescale Railway Modelling Finescale Modelling OO HO 18.83mm 4mm BloodandCustard East Sussex Finescale Railway Modelling Finescale Modelling OO HO 18.83mm 4mm BloodandCustard East Sussex Finescale Railway Modelling Finescale Modelling OO HO 18.83mm 4mm BloodandCustard East Sussex Finescale Railway Modelling Finescale Modelling OO HO 18.83mm 4mm BloodandCustard East Sussex Finescale Railway Modelling Finescale Modelling OO HO 18.83mm 4mm BloodandCustard East Sussex Finescale Railway Modelling Finescale Modelling OO HO 18.83mm 4mm BloodandCustard East Sussex Finescale Railway Modelling Finescale Modelling OO HO 18.83mm 4mm BloodandCustard East Sussex Finescale Railway Modelling Finescale Modelling OO HO 18.83mm 4mm BloodandCustard East Sussex Finescale Railway Modelling Finescale Modelling OO HO 18.83mm 4mm BloodandCustard East Sussex Finescale Railway Modelling Finescale Modelling OO HO 18.83mm 4mm BloodandCustard East Sussex Finescale Railway Modelling Finescale Modelling OO HO 18.83mm 4mm BloodandCustard East Sussex Finescale Railway Modelling Finescale Modelling OO HO 18.83mm 4mm BloodandCustard East Sussex Finescale Railway Modelling Finescale Modelling OO HO 18.83mm 4mm BloodandCustard East Sussex Finescale Railway Modelling Finescale Modelling OO HO 18.83mm 4mm BloodandCustard East Sussex Finescale Railway Modelling Finescale Modelling OO HO 18.83mm 4mm BloodandCustard East Sussex Finescale Railway Modelling Finescale Modelling OO HO 18.83mm 4mm BloodandCustard East Sussex Finescale Railway Modelling Finescale Modelling OO HO 18.83mm 4mm BloodandCustard East Sussex Finescale Railway Modelling Finescale Modelling OO HO 18.83mm 4mm BloodandCustard East Sussex Finescale Railway Modelling Finescale Modelling OO HO 18.83mm 4mm BloodandCustard East Sussex Finescale Railway Modelling Finescale Modelling OO HO 18.83mm 4mm BloodandCustard East Sussex Finescale Railway Modelling Finescale Modelling OO HO 18.83mm 4mm BloodandCustard East Sussex Finescale Railway Modelling Finescale Modelling OO HO 18.83mm 4mm BloodandCustard East Sussex Finescale Railway Modelling Finescale Modelling OO HO 18.83mm 4mm BloodandCustard East Sussex Finescale Railway Modelling Finescale Modelling OO HO 18.83mm 4mm BloodandCustard East Sussex Finescale Railway Modelling Finescale Modelling OO HO 18.83mm 4mm BloodandCustard East Sussex Finescale Railway Modelling Finescale Modelling OO HO 18.83mm 4mm BloodandCustard East Sussex Finescale Railway Modelling Finescale Modelling OO HO 18.83mm 4mm BloodandCustard East Sussex Finescale Railway Modelling Finescale Modelling OO HO 18.83mm 4mm BloodandCustard East Sussex Finescale Railway Modelling Finescale Modelling OO HO 18.83mm 4mm BloodandCustard East Sussex Finescale Railway Modelling Finescale Modelling OO HO 18.83mm 4mm BloodandCustard East Sussex Finescale Railway Modelling Finescale Modelling OO HO 18.83mm 4mm BloodandCustard East Sussex Finescale Railway Modelling Finescale Modelling OO HO 18.83mm 4mm BloodandCustard East Sussex Finescale Railway Modelling Finescale Modelling OO HO 18.83mm 4mm BloodandCustard East Sussex Finescale Railway Modelling Finescale Modelling OO HO 18.83mm 4mm BloodandCustard East Sussex Finescale Railway Modelling Finescale Modelling OO HO 18.83mm 4mm BloodandCustard East Sussex Finescale Railway Modelling Finescale Modelling OO HO 18.83mm 4mm BloodandCustard East Sussex Finescale Railway Modelling Finescale Modelling OO HO 18.83mm 4mm BloodandCustard East Sussex Finescale Railway Modelling Finescale Modelling OO HO 18.83mm 4mm BloodandCustard East Sussex Finescale Railway Modelling Finescale Modelling OO HO 18.83mm 4mm BloodandCustard East Sussex Finescale Railway Modelling Finescale Modelling OO HO 18.83mm 4mm BloodandCustard East Sussex Finescale Railway Modelling Finescale Modelling OO HO 18.83mm 4mm BloodandCustard East Sussex Finescale Railway Modelling Finescale Modelling OO HO 18.83mm 4mm BloodandCustard East Sussex Finescale Railway Modelling Finescale Modelling OO HO 18.83mm 4mm BloodandCustard East Sussex Finescale Railway Modelling Finescale Modelling OO HO 18.83mm 4mm BloodandCustard East Sussex Finescale Railway Modelling Finescale Modelling OO HO 18.83mm 4mm BloodandCustard East Sussex Finescale Railway Modelling Finescale Modelling OO HO 18.83mm 4mm BloodandCustard East Sussex Finescale Railway Modelling Finescale Modelling OO HO 18.83mm 4mm BloodandCustard East Sussex Finescale Railway Modelling Finescale Modelling OO HO 18.83mm 4mm BloodandCustard East Sussex Finescale Railway Modelling Finescale Modelling OO HO 18.83mm 4mm BloodandCustard East Sussex Finescale Railway Modelling Finescale Modelling OO HO 18.83mm 4mm BloodandCustard East Sussex Finescale Railway Modelling Finescale Modelling OO HO 18.83mm 4mm BloodandCustard East Sussex Finescale Railway Modelling Finescale Modelling OO HO 18.83mm 4mm BloodandCustard East Sussex Finescale Railway Modelling Finescale Modelling OO HO 18.83mm 4mm BloodandCustard East Sussex Finescale Railway Modelling Finescale Modelling OO HO 18.83mm 4mm BloodandCustard East Sussex Finescale Railway Modelling Finescale Modelling OO HO 18.83mm 4mm BloodandCustard East Sussex Finescale Railway Modelling Finescale Modelling OO HO 18.83mm 4mm BloodandCustard East Sussex Finescale Railway Modelling Finescale Modelling OO HO 18.83mm 4mm BloodandCustard East Sussex Finescale Railway Modelling Finescale Modelling OO HO 18.83mm 4mm BloodandCustard East Sussex Finescale Railway Modelling Finescale Modelling OO HO 18.83mm 4mm BloodandCustard East Sussex Finescale Railway Modelling Finescale Modelling OO HO 18.83mm 4mm BloodandCustard East Sussex Finescale Railway Modelling Finescale Modelling OO HO 18.83mm 4mm BloodandCustard East Sussex Finescale Railway Modelling Finescale Modelling OO HO 18.83mm 4mm BloodandCustard East Sussex Finescale Railway Modelling Finescale Modelling OO HO 18.83mm 4mm BloodandCustard East Sussex Finescale Railway Modelling Finescale Modelling OO HO 18.83mm 4mm BloodandCustard East Sussex Finescale Railway Modelling Finescale Modelling OO HO 18.83mm 4mm BloodandCustard East Sussex Finescale Railway Modelling Finescale Modelling OO HO 18.83mm 4mm BloodandCustard East Sussex Finescale Railway Modelling Finescale Modelling OO HO 18.83mm 4mm BloodandCustard East Sussex Finescale Railway Modelling Finescale Modelling OO HO 18.83mm 4mm BloodandCustard East Sussex Finescale Railway Modelling Finescale Modelling OO HO 18.83mm 4mm BloodandCustard East Sussex Finescale Railway Modelling Finescale Modelling OO HO 18.83mm 4mm BloodandCustard East Sussex Finescale Railway Modelling Finescale Modelling OO HO 18.83mm 4mm BloodandCustard East Sussex Finescale Railway Modelling Finescale Modelling OO HO 18.83mm 4mm BloodandCustard East Sussex Finescale Railway Modelling Finescale Modelling OO HO 18.83mm 4mm BloodandCustard East Sussex Finescale Railway Modelling Finescale Modelling OO HO 18.83mm 4mm BloodandCustard East Sussex Finescale Railway Modelling Finescale Modelling OO HO 18.83mm 4mm BloodandCustard East Sussex Finescale Railway Modelling Finescale Modelling OO HO 18.83mm 4mm BloodandCustard East Sussex Finescale Railway Modelling Finescale Modelling OO HO 18.83mm 4mm BloodandCustard East Sussex Finescale Railway Modelling Finescale Modelling OO HO 18.83mm 4mm BloodandCustard East Sussex Finescale Railway Modelling Finescale Modelling OO HO 18.83mm 4mm BloodandCustard East Sussex Finescale Railway Modelling Finescale Modelling OO HO 18.83mm 4mm BloodandCustard East Sussex Finescale Railway Modelling Finescale Modelling OO HO 18.83mm 4mm BloodandCustard East Sussex Finescale Railway Modelling Finescale Modelling OO HO 18.83mm 4mm BloodandCustard East Sussex Finescale Railway Modelling Finescale Modelling OO HO 18.83mm 4mm BloodandCustard East Sussex Finescale Railway Modelling Finescale Modelling OO HO 18.83mm 4mm BloodandCustard East Sussex Finescale Railway Modelling Finescale Modelling OO HO 18.83mm 4mm BloodandCustard East Sussex Finescale Railway Modelling Finescale Modelling OO HO 18.83mm 4mm BloodandCustard East Sussex Finescale Railway Modelling Finescale Modelling OO HO 18.83mm 4mm BloodandCustard East Sussex Finescale Railway Modelling Finescale Modelling OO HO 18.83mm 4mm BloodandCustard East Sussex Finescale Railway Modelling Finescale Modelling OO HO 18.83mm 4mm BloodandCustard East Sussex Finescale Railway Modelling Finescale Modelling OO HO 18.83mm 4mm BloodandCustard East Sussex Finescale Railway Modelling Finescale Modelling OO HO 18.83mm 4mm BloodandCustard East Sussex Finescale Railway Modelling Finescale Modelling OO HO 18.83mm 4mm BloodandCustard East Sussex Finescale Railway Modelling Finescale Modelling OO HO 18.83mm 4mm BloodandCustard East Sussex Finescale Railway Modelling Finescale Modelling OO HO 18.83mm 4mm BloodandCustard East Sussex Finescale Railway Modelling Finescale Modelling OO HO 18.83mm 4mm BloodandCustard East Sussex Finescale Railway Modelling Finescale Modelling OO HO 18.83mm 4mm BloodandCustard East Sussex Finescale Railway Modelling Finescale Modelling OO HO 18.83mm 4mm BloodandCustard East Sussex Finescale Railway Modelling Finescale Modelling OO HO 18.83mm 4mm BloodandCustard East Sussex Finescale Railway Modelling Finescale Modelling OO HO 18.83mm 4mm BloodandCustard East Sussex Finescale Railway Modelling Finescale Modelling OO HO 18.83mm 4mm BloodandCustard East Sussex Finescale Railway Modelling Finescale Modelling OO HO 18.83mm 4mm BloodandCustard East Sussex Finescale Railway Modelling Finescale Modelling OO HO 18.83mm 4mm BloodandCustard East Sussex Finescale Railway Modelling Finescale Modelling OO HO 18.83mm 4mm BloodandCustard East Sussex Finescale Railway Modelling Finescale Modelling OO HO 18.83mm 4mm BloodandCustard East Sussex Finescale Railway Modelling Finescale Modelling OO HO 18.83mm 4mm BloodandCustard East Sussex Finescale Railway Modelling Finescale Modelling OO HO 18.83mm 4mm BloodandCustard East Sussex Finescale Railway Modelling Finescale Modelling OO HO 18.83mm 4mm BloodandCustard East Sussex Finescale Railway Modelling Finescale Modelling OO HO 18.83mm 4mm BloodandCustard East Sussex Finescale Railway Modelling Finescale Modelling OO HO 18.83mm 4mm BloodandCustard East Sussex Finescale Railway Modelling Finescale Modelling OO HO 18.83mm 4mm BloodandCustard East Sussex Finescale Railway Modelling Finescale Modelling OO HO 18.83mm 4mm BloodandCustard East Sussex Finescale Railway Modelling Finescale Modelling OO HO 18.83mm 4mm BloodandCustard East Sussex Finescale Railway Modelling Finescale Modelling OO HO 18.83mm 4mm BloodandCustard East Sussex Finescale Railway Modelling Finescale Modelling OO HO 18.83mm 4mm BloodandCustard East Sussex Finescale Railway Modelling Finescale Modelling OO HO 18.83mm 4mm BloodandCustard East Sussex Finescale Railway Modelling Finescale Modelling OO HO 18.83mm 4mm BloodandCustard East Sussex Finescale Railway Modelling Finescale Modelling OO HO 18.83mm 4mm BloodandCustard East Sussex Finescale Railway Modelling Finescale Modelling OO HO 18.83mm 4mm BloodandCustard East Sussex Finescale Railway Modelling Finescale Modelling OO HO 18.83mm 4mm BloodandCustard East Sussex Finescale Railway Modelling Finescale Modelling OO HO 18.83mm 4mm BloodandCustard East Sussex Finescale Railway Modelling Finescale Modelling OO HO 18.83mm 4mm BloodandCustard East Sussex Finescale Railway Modelling Finescale Modelling OO HO 18.83mm 4mm BloodandCustard East Sussex Finescale Railway Modelling Finescale Modelling OO HO 18.83mm 4mm BloodandCustard East Sussex Finescale Railway Modelling Finescale Modelling OO HO 18.83mm 4mm BloodandCustard East Sussex Finescale Railway Modelling Finescale Modelling OO HO 18.83mm 4mm BloodandCustard East Sussex Finescale Railway Modelling Finescale Modelling OO HO 18.83mm 4mm BloodandCustard East Sussex Finescale Railway Modelling Finescale Modelling OO HO 18.83mm 4mm BloodandCustard East Sussex Finescale Railway Modelling Finescale Modelling OO HO 18.83mm 4mm BloodandCustard East Sussex Finescale Railway Modelling Finescale Modelling OO HO 18.83mm 4mm BloodandCustard East Sussex Finescale Railway Modelling Finescale Modelling OO HO 18.83mm 4mm BloodandCustard East Sussex Finescale Railway Modelling Finescale Modelling OO HO 18.83mm 4mm BloodandCustard East Sussex Finescale Railway Modelling Finescale Modelling OO HO 18.83mm 4mm BloodandCustard East Sussex Finescale Railway Modelling Finescale Modelling OO HO 18.83mm 4mm BloodandCustard East Sussex Finescale Railway Modelling Finescale Modelling OO HO 18.83mm 4mm BloodandCustard East Sussex Finescale Railway Modelling Finescale Modelling OO HO 18.83mm 4mm BloodandCustard East Sussex Finescale Railway Modelling Finescale Modelling OO HO 18.83mm 4mm BloodandCustard East Sussex Finescale Railway Modelling Finescale Modelling OO HO 18.83mm 4mm BloodandCustard East Sussex Finescale Railway Modelling Finescale Modelling OO HO 18.83mm 4mm BloodandCustard East Sussex Finescale Railway Modelling Finescale Modelling OO HO 18.83mm 4mm BloodandCustard East Sussex Finescale Railway Modelling Finescale Modelling OO HO 18.83mm 4mm BloodandCustard East Sussex Finescale Railway Modelling Finescale Modelling OO HO 18.83mm 4mm BloodandCustard East Sussex Finescale Railway Modelling Finescale Modelling OO HO 18.83mm 4mm BloodandCustard East Sussex Finescale Railway Modelling Finescale Modelling OO HO 18.83mm 4mm BloodandCustard East Sussex Finescale Railway Modelling Finescale Modelling OO HO 18.83mm 4mm BloodandCustard East Sussex Finescale Railway Modelling Finescale Modelling OO HO 18.83mm 4mm BloodandCustard East Sussex Finescale Railway Modelling Finescale Modelling OO HO 18.83mm 4mm BloodandCustard East Sussex Finescale Railway Modelling Finescale Modelling OO HO 18.83mm 4mm BloodandCustard East Sussex Finescale Railway Modelling Finescale Modelling OO HO 18.83mm 4mm BloodandCustard East Sussex Finescale Railway Modelling Finescale Modelling OO HO 18.83mm 4mm BloodandCustard East Sussex Finescale Railway Modelling Finescale Modelling OO HO 18.83mm 4mm BloodandCustard East Sussex Finescale Railway Modelling Finescale Modelling OO HO 18.83mm 4mm BloodandCustard East Sussex Finescale Railway Modelling Finescale Modelling OO HO 18.83mm 4mm BloodandCustard East Sussex Finescale Railway Modelling Finescale Modelling OO HO 18.83mm 4mm BloodandCustard East Sussex Finescale Railway Modelling Finescale Modelling OO HO 18.83mm 4mm BloodandCustard East Sussex Finescale Railway Modelling Finescale Modelling OO HO 18.83mm 4mm BloodandCustard East Sussex Finescale Railway Modelling Finescale Modelling OO HO 18.83mm 4mm BloodandCustard East Sussex Finescale Railway Modelling Finescale Modelling OO HO 18.83mm 4mm BloodandCustard East Sussex Finescale Railway Modelling Finescale Modelling OO HO 18.83mm 4mm BloodandCustard East Sussex Finescale Railway Modelling Finescale Modelling OO HO 18.83mm 4mm BloodandCustard East Sussex Finescale Railway Modelling Finescale Modelling OO HO 18.83mm 4mm BloodandCustard East Sussex Finescale Railway Modelling Finescale Modelling OO HO 18.83mm 4mm BloodandCustard East Sussex Finescale Railway Modelling Finescale Modelling OO HO 18.83mm 4mm BloodandCustard East Sussex Finescale Railway Modelling Finescale Modelling OO HO 18.83mm 4mm BloodandCustard East Sussex Finescale Railway Modelling Finescale Modelling OO HO 18.83mm 4mm BloodandCustard East Sussex Finescale Railway Modelling Finescale Modelling OO HO 18.83mm 4mm BloodandCustard East Sussex Finescale Railway Modelling Finescale Modelling OO HO 18.83mm 4mm BloodandCustard East Sussex Finescale Railway Modelling Finescale Modelling OO HO 18.83mm 4mm BloodandCustard East Sussex Finescale Railway Modelling Finescale Modelling OO HO 18.83mm 4mm BloodandCustard East Sussex Finescale Railway Modelling Finescale Modelling OO HO 18.83mm 4mm BloodandCustard East Sussex Finescale Railway Modelling Finescale Modelling OO HO 18.83mm 4mm BloodandCustard East Sussex Finescale Railway Modelling Finescale Modelling OO HO 18.83mm 4mm BloodandCustard East Sussex Finescale Railway Modelling Finescale Modelling OO HO 18.83mm 4mm BloodandCustard East Sussex Finescale Railway Modelling Finescale Modelling OO HO 18.83mm 4mm BloodandCustard East Sussex Finescale Railway Modelling Finescale Modelling OO HO 18.83mm 4mm BloodandCustard East Sussex Finescale Railway Modelling Finescale Modelling OO HO 18.83mm 4mm BloodandCustard East Sussex Finescale Railway Modelling Finescale Modelling OO HO 18.83mm 4mm BloodandCustard East Sussex Finescale Railway Modelling Finescale Modelling OO HO 18.83mm 4mm BloodandCustard East Sussex Finescale Railway Modelling Finescale Modelling OO HO 18.83mm 4mm BloodandCustard East Sussex Finescale Railway Modelling Finescale Modelling OO HO 18.83mm 4mm BloodandCustard East Sussex Finescale Railway Modelling Finescale Modelling OO HO 18.83mm 4mm BloodandCustard East Sussex Finescale Railway Modelling Finescale Modelling OO HO 18.83mm 4mm BloodandCustard East Sussex Finescale Railway Modelling Finescale Modelling OO HO 18.83mm 4mm BloodandCustard East Sussex Finescale Railway Modelling Finescale Modelling OO HO 18.83mm 4mm BloodandCustard East Sussex Finescale Railway Modelling Finescale Modelling OO HO 18.83mm 4mm BloodandCustard East Sussex Finescale Railway Modelling Finescale Modelling OO HO 18.83mm 4mm BloodandCustard East Sussex Finescale Railway Modelling Finescale Modelling OO HO 18.83mm 4mm BloodandCustard East Sussex Finescale Railway Modelling Finescale Modelling OO HO 18.83mm 4mm BloodandCustard East Sussex Finescale Railway Modelling Finescale Modelling OO HO 18.83mm 4mm BloodandCustard East Sussex Finescale Railway Modelling Finescale Modelling OO HO 18.83mm 4mm BloodandCustard East Sussex Finescale Railway Modelling Finescale Modelling OO HO 18.83mm 4mm BloodandCustard East Sussex Finescale Railway Modelling Finescale Modelling OO HO 18.83mm 4mm BloodandCustard East Sussex Finescale Railway Modelling Finescale Modelling OO HO 18.83mm 4mm BloodandCustard East Sussex Finescale Railway Modelling Finescale Modelling OO HO 18.83mm 4mm BloodandCustard East Sussex Finescale Railway Modelling Finescale Modelling OO HO 18.83mm 4mm BloodandCustard East Sussex Finescale Railway Modelling Finescale Modelling OO HO 18.83mm 4mm BloodandCustard East Sussex Finescale Railway Modelling Finescale Modelling OO HO 18.83mm 4mm BloodandCustard East Sussex Finescale Railway Modelling Finescale Modelling OO HO 18.83mm 4mm BloodandCustard East Sussex Finescale Railway Modelling Finescale Modelling OO HO 18.83mm 4mm BloodandCustard East Sussex Finescale Railway Modelling Finescale Modelling OO HO 18.83mm 4mm BloodandCustard East Sussex Finescale Railway Modelling Finescale Modelling OO HO 18.83mm 4mm BloodandCustard East Sussex Finescale Railway Modelling Finescale Modelling OO HO 18.83mm 4mm BloodandCustard East Sussex Finescale Railway Modelling Finescale Modelling OO HO 18.83mm 4mm BloodandCustard East Sussex Finescale Railway Modelling Finescale Modelling OO HO 18.83mm 4mm BloodandCustard East Sussex Finescale Railway Modelling Finescale Modelling OO HO 18.83mm 4mm BloodandCustard East Sussex Finescale Railway Modelling Finescale Modelling OO HO 18.83mm 4mm BloodandCustard East Sussex Finescale Railway Modelling Finescale Modelling OO HO 18.83mm 4mm BloodandCustard East Sussex Finescale Railway Modelling Finescale Modelling OO HO 18.83mm 4mm BloodandCustard East Sussex Finescale Railway Modelling Finescale Modelling OO HO 18.83mm 4mm BloodandCustard East Sussex Finescale Railway Modelling Finescale Modelling OO HO 18.83mm 4mm BloodandCustard East Sussex Finescale Railway Modelling Finescale Modelling OO HO 18.83mm 4mm BloodandCustard East Sussex Finescale Railway Modelling Finescale Modelling OO HO 18.83mm 4mm BloodandCustard East Sussex Finescale Railway Modelling Finescale Modelling OO HO 18.83mm 4mm BloodandCustard East Sussex Finescale Railway Modelling Finescale Modelling OO HO 18.83mm 4mm BloodandCustard East Sussex Finescale Railway Modelling Finescale Modelling OO HO 18.83mmBloodandCustard East Sussex Finescale Railway Modelling Finescale Modelling OO HO 18.83mm 4mm. BloodandCustard East Sussex Finescale Railway Modelling Finescale Modelling OO HO 18.83mm 4mm BloodandCustard East Sussex Finescale Railway Modelling Finescale Modelling OO HO 18.83mm 4mm BloodandCustard East Sussex Finescale Railway Modelling Finescale Modelling OO HO 18.83mm 4mm BloodandCustard East Sussex Finescale Railway Modelling Finescale Modelling OO HO 18.83mm 4mm BloodandCustard East Sussex Finescale Railway Modelling Finescale Modelling OO HO 18.83mm 4mm BloodandCustard East Sussex Finescale Railway Modelling Finescale Modelling OO HO 18.83mm 4mm BloodandCustard East Sussex Finescale Railway Modelling Finescale Modelling OO HO 18.83mm 4mm BloodandCustard East Sussex Finescale Railway Modelling Finescale Modelling OO HO 18.83mm 4mm BloodandCustard East Sussex Finescale Railway Modelling Finescale Modelling OO HO 18.83mm 4mm BloodandCustard East Sussex Finescale Railway Modelling Finescale Modelling OO HO 18.83mm 4mm BloodandCustard East Sussex Finescale Railway Modelling Finescale Modelling OO HO 18.83mm 4mm BloodandCustard East Sussex Finescale Railway Modelling Finescale Modelling OO HO 18.83mm 4mm BloodandCustard East Sussex Finescale Railway Modelling Finescale Modelling OO HO 18.83mm 4mm BloodandCustard East Sussex Finescale Railway Modelling Finescale Modelling OO HO 18.83mm 4mm BloodandCustard East Sussex Finescale Railway Modelling Finescale Modelling OO HO 18.83mm 4mm BloodandCustard East Sussex Finescale Railway Modelling Finescale Modelling OO HO 18.83mm 4mm BloodandCustard East Sussex Finescale Railway Modelling Finescale Modelling OO HO 18.83mm 4mm BloodandCustard East Sussex Finescale Railway Modelling Finescale Modelling OO HO 18.83mm 4mm BloodandCustard East Sussex Finescale Railway Modelling Finescale Modelling OO HO 18.83mm 4mm BloodandCustard East Sussex Finescale Railway Modelling Finescale Modelling OO HO 18.83mm 4mm BloodandCustard East Sussex Finescale Railway Modelling Finescale Modelling OO HO 18.83mm 4mm BloodandCustard East Sussex Finescale Railway Modelling Finescale Modelling OO HO 18.83mm 4mm BloodandCustard East Sussex Finescale Railway Modelling Finescale Modelling OO HO 18.83mm 4mm BloodandCustard East Sussex Finescale Railway Modelling Finescale Modelling OO HO 18.83mm 4mm BloodandCustard East Sussex Finescale Railway Modelling Finescale Modelling OO HO 18.83mm 4mm BloodandCustard East Sussex Finescale Railway Modelling Finescale Modelling OO HO 18.83mm 4mm BloodandCustard East Sussex Finescale Railway Modelling Finescale Modelling OO HO 18.83mm 4mm BloodandCustard East Sussex Finescale Railway Modelling Finescale Modelling OO HO 18.83mm 4mm BloodandCustard East Sussex Finescale Railway Modelling Finescale Modelling OO HO 18.83mm 4mm BloodandCustard East Sussex Finescale Railway Modelling Finescale Modelling OO HO 18.83mm 4mm BloodandCustard East Sussex Finescale Railway Modelling Finescale Modelling OO HO 18.83mm 4mm BloodandCustard East Sussex Finescale Railway Modelling Finescale Modelling OO HO 18.83mm 4mm BloodandCustard East Sussex Finescale Railway Modelling Finescale Modelling OO HO 18.83mm 4mm BloodandCustard East Sussex Finescale Railway Modelling Finescale Modelling OO HO 18.83mm 4mm BloodandCustard East Sussex Finescale Railway Modelling Finescale Modelling OO HO 18.83mm 4mm BloodandCustard East Sussex Finescale Railway Modelling Finescale Modelling OO HO 18.83mm 4mm BloodandCustard East Sussex Finescale Railway Modelling Finescale Modelling OO HO 18.83mm 4mm BloodandCustard East Sussex Finescale Railway Modelling Finescale Modelling OO HO 18.83mm 4mm BloodandCustard East Sussex Finescale Railway Modelling Finescale Modelling OO HO 18.83mm 4mm BloodandCustard East Sussex Finescale Railway Modelling Finescale Modelling OO HO 18.83mm 4mm BloodandCustard East Sussex Finescale Railway Modelling Finescale Modelling OO HO 18.83mm 4mm BloodandCustard East Sussex Finescale Railway Modelling Finescale Modelling OO HO 18.83mm 4mm BloodandCustard East Sussex Finescale Railway Modelling Finescale Modelling OO HO 18.83mm 4mm BloodandCustard East Sussex Finescale Railway Modelling Finescale Modelling OO HO 18.83mm 4mm BloodandCustard East Sussex Finescale Railway Modelling Finescale Modelling OO HO 18.83mm 4mm BloodandCustard East Sussex Finescale Railway Modelling Finescale Modelling OO HO 18.83mm 4mm BloodandCustard East Sussex Finescale Railway Modelling Finescale Modelling OO HO 18.83mm 4mm BloodandCustard East Sussex Finescale Railway Modelling Finescale Modelling OO HO 18.83mm 4mm BloodandCustard East Sussex Finescale Railway Modelling Finescale Modelling OO HO 18.83mm 4mm BloodandCustard East Sussex Finescale Railway Modelling Finescale Modelling OO HO 18.83mm 4mm BloodandCustard East Sussex Finescale Railway Modelling Finescale Modelling OO HO 18.83mm 4mm BloodandCustard East Sussex Finescale Railway Modelling Finescale Modelling OO HO 18.83mm 4mm BloodandCustard East Sussex Finescale Railway Modelling Finescale Modelling OO HO 18.83mm 4mm BloodandCustard East Sussex Finescale Railway Modelling Finescale Modelling OO HO 18.83mm 4mm BloodandCustard East Sussex Finescale Railway Modelling Finescale Modelling OO HO 18.83mm 4mm BloodandCustard East Sussex Finescale Railway Modelling Finescale Modelling OO HO 18.83mm 4mm BloodandCustard East Sussex Finescale Railway Modelling Finescale Modelling OO HO 18.83mm 4mm BloodandCustard East Sussex Finescale Railway Modelling Finescale Modelling OO HO 18.83mm 4mm BloodandCustard East Sussex Finescale Railway Modelling Finescale Modelling OO HO 18.83mm 4mm BloodandCustard East Sussex Finescale Railway Modelling Finescale Modelling OO HO 18.83mm 4mm BloodandCustard East Sussex Finescale Railway Modelling Finescale Modelling OO HO 18.83mm 4mm BloodandCustard East Sussex Finescale Railway Modelling Finescale Modelling OO HO 18.83mm 4mm BloodandCustard East Sussex Finescale Railway Modelling Finescale Modelling OO HO 18.83mm 4mm BloodandCustard East Sussex Finescale Railway Modelling Finescale Modelling OO HO 18.83mm 4mm BloodandCustard East Sussex Finescale Railway Modelling Finescale Modelling OO HO 18.83mm 4mm BloodandCustard East Sussex Finescale Railway Modelling Finescale Modelling OO HO 18.83mm 4mm BloodandCustard East Sussex Finescale Railway Modelling Finescale Modelling OO HO 18.83mm 4mm BloodandCustard East Sussex Finescale Railway Modelling Finescale Modelling OO HO 18.83mm 4mm BloodandCustard East Sussex Finescale Railway Modelling Finescale Modelling OO HO 18.83mm 4mm BloodandCustard East Sussex Finescale Railway Modelling Finescale Modelling OO HO 18.83mm 4mm BloodandCustard East Sussex Finescale Railway Modelling Finescale Modelling OO HO 18.83mm 4mm BloodandCustard East Sussex Finescale Railway Modelling Finescale Modelling OO HO 18.83mm 4mm BloodandCustard East Sussex Finescale Railway Modelling Finescale Modelling OO HO 18.83mm 4mm BloodandCustard East Sussex Finescale Railway Modelling Finescale Modelling OO HO 18.83mm 4mm BloodandCustard East Sussex Finescale Railway Modelling Finescale Modelling OO HO 18.83mm 4mm BloodandCustard East Sussex Finescale Railway Modelling Finescale Modelling OO HO 18.83mm 4mm BloodandCustard East Sussex Finescale Railway Modelling Finescale Modelling OO HO 18.83mm 4mm BloodandCustard East Sussex Finescale Railway Modelling Finescale Modelling OO HO 18.83mm 4mm BloodandCustard East Sussex Finescale Railway Modelling Finescale Modelling OO HO 18.83mm 4mm BloodandCustard East Sussex Finescale Railway Modelling Finescale Modelling OO HO 18.83mm 4mm BloodandCustard East Sussex Finescale Railway Modelling Finescale Modelling OO HO 18.83mm 4mm BloodandCustard East Sussex Finescale Railway Modelling Finescale Modelling OO HO 18.83mm 4mm BloodandCustard East Sussex Finescale Railway Modelling Finescale Modelling OO HO 18.83mm 4mm BloodandCustard East Sussex Finescale Railway Modelling Finescale Modelling OO HO 18.83mm 4mm BloodandCustard East Sussex Finescale Railway Modelling Finescale Modelling OO HO 18.83mm 4mm BloodandCustard East Sussex Finescale Railway Modelling Finescale Modelling OO HO 18.83mm 4mm BloodandCustard East Sussex Finescale Railway Modelling Finescale Modelling OO HO 18.83mm 4mm BloodandCustard East Sussex Finescale Railway Modelling Finescale Modelling OO HO 18.83mm 4mm BloodandCustard East Sussex Finescale Railway Modelling Finescale Modelling OO HO 18.83mm 4mm BloodandCustard East Sussex Finescale Railway Modelling Finescale Modelling OO HO 18.83mm 4mm BloodandCustard East Sussex Finescale Railway Modelling Finescale Modelling OO HO 18.83mm 4mm BloodandCustard East Sussex Finescale Railway Modelling Finescale Modelling OO HO 18.83mm 4mm BloodandCustard East Sussex Finescale Railway Modelling Finescale Modelling OO HO 18.83mm 4mm BloodandCustard East Sussex Finescale Railway Modelling Finescale Modelling OO HO 18.83mm 4mm BloodandCustard East Sussex Finescale Railway Modelling Finescale Modelling OO HO 18.83mm 4mm BloodandCustard East Sussex Finescale Railway Modelling Finescale Modelling OO HO 18.83mm 4mm BloodandCustard East Sussex Finescale Railway Modelling Finescale Modelling OO HO 18.83mm 4mm BloodandCustard East Sussex Finescale Railway Modelling Finescale Modelling OO HO 18.83mm 4mm BloodandCustard East Sussex Finescale Railway Modelling Finescale Modelling OO HO 18.83mm 4mm BloodandCustard East Sussex Finescale Railway Modelling Finescale Modelling OO HO 18.83mm 4mm BloodandCustard East Sussex Finescale Railway Modelling Finescale Modelling OO HO 18.83mm 4mm BloodandCustard East Sussex Finescale Railway Modelling Finescale Modelling OO HO 18.83mm 4mm BloodandCustard East Sussex Finescale Railway Modelling Finescale Modelling OO HO 18.83mm 4mm BloodandCustard East Sussex Finescale Railway Modelling Finescale Modelling OO HO 18.83mm 4mm BloodandCustard East Sussex Finescale Railway Modelling Finescale Modelling OO HO 18.83mm 4mm BloodandCustard East Sussex Finescale Railway Modelling Finescale Modelling OO HO 18.83mm 4mm BloodandCustard East Sussex Finescale Railway Modelling Finescale Modelling OO HO 18.83mm 4mm BloodandCustard East Sussex Finescale Railway Modelling Finescale Modelling OO HO 18.83mm 4mm BloodandCustard East Sussex Finescale Railway Modelling Finescale Modelling OO HO 18.83mm 4mm BloodandCustard East Sussex Finescale Railway Modelling Finescale Modelling OO HO 18.83mm 4mm BloodandCustard East Sussex Finescale Railway Modelling Finescale Modelling OO HO 18.83mm 4mm BloodandCustard East Sussex Finescale Railway Modelling Finescale Modelling OO HO 18.83mm 4mm BloodandCustard East Sussex Finescale Railway Modelling Finescale Modelling OO HO 18.83mm 4mm BloodandCustard East Sussex Finescale Railway Modelling Finescale Modelling OO HO 18.83mm 4mm BloodandCustard East Sussex Finescale Railway Modelling Finescale Modelling OO HO 18.83mm 4mm BloodandCustard East Sussex Finescale Railway Modelling Finescale Modelling OO HO 18.83mm 4mm BloodandCustard East Sussex Finescale Railway Modelling Finescale Modelling OO HO 18.83mm 4mm BloodandCustard East Sussex Finescale Railway Modelling Finescale Modelling OO HO 18.83mm 4mm BloodandCustard East Sussex Finescale Railway Modelling Finescale Modelling OO HO 18.83mm 4mm BloodandCustard East Sussex Finescale Railway Modelling Finescale Modelling OO HO 18.83mm 4mm BloodandCustard East Sussex Finescale Railway Modelling Finescale Modelling OO HO 18.83mm 4mm BloodandCustard East Sussex Finescale Railway Modelling Finescale Modelling OO HO 18.83mm 4mm BloodandCustard East Sussex Finescale Railway Modelling Finescale Modelling OO HO 18.83mm 4mm BloodandCustard East Sussex Finescale Railway Modelling Finescale Modelling OO HO 18.83mm 4mm BloodandCustard East Sussex Finescale Railway Modelling Finescale Modelling OO HO 18.83mm 4mm BloodandCustard East Sussex Finescale Railway Modelling Finescale Modelling OO HO 18.83mm 4mm BloodandCustard East Sussex Finescale Railway Modelling Finescale Modelling OO HO 18.83mm 4mm BloodandCustard East Sussex Finescale Railway Modelling Finescale Modelling OO HO 18.83mm 4mm BloodandCustard East Sussex Finescale Railway Modelling Finescale Modelling OO HO 18.83mm 4mm BloodandCustard East Sussex Finescale Railway Modelling Finescale Modelling OO HO 18.83mm 4mm BloodandCustard East Sussex Finescale Railway Modelling Finescale Modelling OO HO 18.83mm 4mm BloodandCustard East Sussex Finescale Railway Modelling Finescale Modelling OO HO 18.83mm 4mm BloodandCustard East Sussex Finescale Railway Modelling Finescale Modelling OO HO 18.83mm 4mm BloodandCustard East Sussex Finescale Railway Modelling Finescale Modelling OO HO 18.83mm 4mm BloodandCustard East Sussex Finescale Railway Modelling Finescale Modelling OO HO 18.83mm 4mm BloodandCustard East Sussex Finescale Railway Modelling Finescale Modelling OO HO 18.83mm 4mm BloodandCustard East Sussex Finescale Railway Modelling Finescale Modelling OO HO 18.83mm 4mm BloodandCustard East Sussex Finescale Railway Modelling Finescale Modelling OO HO 18.83mm 4mm BloodandCustard East Sussex Finescale Railway Modelling Finescale Modelling OO HO 18.83mm 4mm BloodandCustard East Sussex Finescale Railway Modelling Finescale Modelling OO HO 18.83mm 4mm BloodandCustard East Sussex Finescale Railway Modelling Finescale Modelling OO HO 18.83mm 4mm BloodandCustard East Sussex Finescale Railway Modelling Finescale Modelling OO HO 18.83mm 4mm BloodandCustard East Sussex Finescale Railway Modelling Finescale Modelling OO HO 18.83mm 4mm BloodandCustard East Sussex Finescale Railway Modelling Finescale Modelling OO HO 18.83mm 4mm BloodandCustard East Sussex Finescale Railway Modelling Finescale Modelling OO HO 18.83mm 4mm BloodandCustard East Sussex Finescale Railway Modelling Finescale Modelling OO HO 18.83mm 4mm BloodandCustard East Sussex Finescale Railway Modelling Finescale Modelling OO HO 18.83mm 4mm BloodandCustard East Sussex Finescale Railway Modelling Finescale Modelling OO HO 18.83mm 4mm BloodandCustard East Sussex Finescale Railway Modelling Finescale Modelling OO HO 18.83mm 4mm BloodandCustard East Sussex Finescale Railway Modelling Finescale Modelling OO HO 18.83mm 4mm BloodandCustard East Sussex Finescale Railway Modelling Finescale Modelling OO HO 18.83mm 4mm BloodandCustard East Sussex Finescale Railway Modelling Finescale Modelling OO HO 18.83mm 4mm BloodandCustard East Sussex Finescale Railway Modelling Finescale Modelling OO HO 18.83mm 4mm BloodandCustard East Sussex Finescale Railway Modelling Finescale Modelling OO HO 18.83mm 4mm BloodandCustard East Sussex Finescale Railway Modelling Finescale Modelling OO HO 18.83mm 4mm BloodandCustard East Sussex Finescale Railway Modelling Finescale Modelling OO HO 18.83mm 4mm BloodandCustard East Sussex Finescale Railway Modelling Finescale Modelling OO HO 18.83mm 4mm BloodandCustard East Sussex Finescale Railway Modelling Finescale Modelling OO HO 18.83mm 4mm BloodandCustard East Sussex Finescale Railway Modelling Finescale Modelling OO HO 18.83mm 4mm BloodandCustard East Sussex Finescale Railway Modelling Finescale Modelling OO HO 18.83mm 4mm BloodandCustard East Sussex Finescale Railway Modelling Finescale Modelling OO HO 18.83mm 4mm BloodandCustard East Sussex Finescale Railway Modelling Finescale Modelling OO HO 18.83mm 4mm BloodandCustard East Sussex Finescale Railway Modelling Finescale Modelling OO HO 18.83mm 4mm BloodandCustard East Sussex Finescale Railway Modelling Finescale Modelling OO HO 18.83mm 4mm BloodandCustard East Sussex Finescale Railway Modelling Finescale Modelling OO HO 18.83mm 4mm BloodandCustard East Sussex Finescale Railway Modelling Finescale Modelling OO HO 18.83mm 4mm BloodandCustard East Sussex Finescale Railway Modelling Finescale Modelling OO HO 18.83mm 4mm BloodandCustard East Sussex Finescale Railway Modelling Finescale Modelling OO HO 18.83mm 4mm BloodandCustard East Sussex Finescale Railway Modelling Finescale Modelling OO HO 18.83mm 4mm BloodandCustard East Sussex Finescale Railway Modelling Finescale Modelling OO HO 18.83mm 4mm BloodandCustard East Sussex Finescale Railway Modelling Finescale Modelling OO HO 18.83mm 4mm BloodandCustard East Sussex Finescale Railway Modelling Finescale Modelling OO HO 18.83mm 4mm BloodandCustard East Sussex Finescale Railway Modelling Finescale Modelling OO HO 18.83mm 4mm BloodandCustard East Sussex Finescale Railway Modelling Finescale Modelling OO HO 18.83mm 4mm BloodandCustard East Sussex Finescale Railway Modelling Finescale Modelling OO HO 18.83mm 4mm BloodandCustard East Sussex Finescale Railway Modelling Finescale Modelling OO HO 18.83mm 4mm BloodandCustard East Sussex Finescale Railway Modelling Finescale Modelling OO HO 18.83mm 4mm BloodandCustard East Sussex Finescale Railway Modelling Finescale Modelling OO HO 18.83mm 4mm BloodandCustard East Sussex Finescale Railway Modelling Finescale Modelling OO HO 18.83mm 4mm BloodandCustard East Sussex Finescale Railway Modelling Finescale Modelling OO HO 18.83mm 4mm BloodandCustard East Sussex Finescale Railway Modelling Finescale Modelling OO HO 18.83mm 4mm BloodandCustard East Sussex Finescale Railway Modelling Finescale Modelling OO HO 18.83mm 4mm BloodandCustard East Sussex Finescale Railway Modelling Finescale Modelling OO HO 18.83mm 4mm BloodandCustard East Sussex Finescale Railway Modelling Finescale Modelling OO HO 18.83mm 4mm BloodandCustard East Sussex Finescale Railway Modelling Finescale Modelling OO HO 18.83mm 4mm BloodandCustard East Sussex Finescale Railway Modelling Finescale Modelling OO HO 18.83mm 4mm BloodandCustard East Sussex Finescale Railway Modelling Finescale Modelling OO HO 18.83mm 4mm BloodandCustard East Sussex Finescale Railway Modelling Finescale Modelling OO HO 18.83mm 4mm BloodandCustard East Sussex Finescale Railway Modelling Finescale Modelling OO HO 18.83mm 4mm BloodandCustard East Sussex Finescale Railway Modelling Finescale Modelling OO HO 18.83mm 4mm BloodandCustard East Sussex Finescale Railway Modelling Finescale Modelling OO HO 18.83mm 4mm BloodandCustard East Sussex Finescale Railway Modelling Finescale Modelling OO HO 18.83mm 4mm BloodandCustard East Sussex Finescale Railway Modelling Finescale Modelling OO HO 18.83mm 4mm BloodandCustard East Sussex Finescale Railway Modelling Finescale Modelling OO HO 18.83mm 4mm BloodandCustard East Sussex Finescale Railway Modelling Finescale Modelling OO HO 18.83mm 4mm BloodandCustard East Sussex Finescale Railway Modelling Finescale Modelling OO HO 18.83mm 4mm BloodandCustard East Sussex Finescale Railway Modelling Finescale Modelling OO HO 18.83mm 4mm BloodandCustard East Sussex Finescale Railway Modelling Finescale Modelling OO HO 18.83mm 4mm BloodandCustard East Sussex Finescale Railway Modelling Finescale Modelling OO HO 18.83mm 4mm BloodandCustard East Sussex Finescale Railway Modelling Finescale Modelling OO HO 18.83mm 4mm BloodandCustard East Sussex Finescale Railway Modelling Finescale Modelling OO HO 18.83mm 4mm BloodandCustard East Sussex Finescale Railway Modelling Finescale Modelling OO HO 18.83mm 4mm BloodandCustard East Sussex Finescale Railway Modelling Finescale Modelling OO HO 18.83mm 4mm BloodandCustard East Sussex Finescale Railway Modelling Finescale Modelling OO HO 18.83mm 4mm BloodandCustard East Sussex Finescale Railway Modelling Finescale Modelling OO HO 18.83mm 4mm BloodandCustard East Sussex Finescale Railway Modelling Finescale Modelling OO HO 18.83mm 4mm BloodandCustard East Sussex Finescale Railway Modelling Finescale Modelling OO HO 18.83mm 4mm BloodandCustard East Sussex Finescale Railway Modelling Finescale Modelling OO HO 18.83mm 4mm BloodandCustard East Sussex Finescale Railway Modelling Finescale Modelling OO HO 18.83mm 4mm BloodandCustard East Sussex Finescale Railway Modelling Finescale Modelling OO HO 18.83mm 4mm BloodandCustard East Sussex Finescale Railway Modelling Finescale Modelling OO HO 18.83mm 4mm BloodandCustard East Sussex Finescale Railway Modelling Finescale Modelling OO HO 18.83mm 4mm BloodandCustard East Sussex Finescale Railway Modelling Finescale Modelling OO HO 18.83mm 4mm BloodandCustard East Sussex Finescale Railway Modelling Finescale Modelling OO HO 18.83mm 4mm BloodandCustard East Sussex Finescale Railway Modelling Finescale Modelling OO HO 18.83mm 4mm BloodandCustard East Sussex Finescale Railway Modelling Finescale Modelling OO HO 18.83mm 4mm BloodandCustard East Sussex Finescale Railway Modelling Finescale Modelling OO HO 18.83mm 4mm BloodandCustard East Sussex Finescale Railway Modelling Finescale Modelling OO HO 18.83mm 4mm BloodandCustard East Sussex Finescale Railway Modelling Finescale Modelling OO HO 18.83mm 4mm BloodandCustard East Sussex Finescale Railway Modelling Finescale Modelling OO HO 18.83mm 4mm BloodandCustard East Sussex Finescale Railway Modelling Finescale Modelling OO HO 18.83mm 4mm BloodandCustard East Sussex Finescale Railway Modelling Finescale Modelling OO HO 18.83mm 4mm BloodandCustard East Sussex Finescale Railway Modelling Finescale Modelling OO HO 18.83mm 4mm BloodandCustard East Sussex Finescale Railway Modelling Finescale Modelling OO HO 18.83mm 4mm BloodandCustard East Sussex Finescale Railway Modelling Finescale Modelling OO HO 18.83mm 4mm BloodandCustard East Sussex Finescale Railway Modelling Finescale Modelling OO HO 18.83mm 4mm BloodandCustard East Sussex Finescale Railway Modelling Finescale Modelling OO HO 18.83mm 4mm BloodandCustard East Sussex Finescale Railway Modelling Finescale Modelling OO HO 18.83mm 4mm BloodandCustard East Sussex Finescale Railway Modelling Finescale Modelling OO HO 18.83mm 4mm BloodandCustard East Sussex Finescale Railway Modelling Finescale Modelling OO HO 18.83mm 4mm BloodandCustard East Sussex Finescale Railway Modelling Finescale Modelling OO HO 18.83mm 4mm BloodandCustard East Sussex Finescale Railway Modelling Finescale Modelling OO HO 18.83mm 4mm BloodandCustard East Sussex Finescale Railway Modelling Finescale Modelling OO HO 18.83mm 4mm BloodandCustard East Sussex Finescale Railway Modelling Finescale Modelling OO HO 18.83mm 4mm BloodandCustard East Sussex Finescale Railway Modelling Finescale Modelling OO HO 18.83mm 4mm BloodandCustard East Sussex Finescale Railway Modelling Finescale Modelling OO HO 18.83mm 4mm BloodandCustard East Sussex Finescale Railway Modelling Finescale Modelling OO HO 18.83mm 4mm BloodandCustard East Sussex Finescale Railway Modelling Finescale Modelling OO HO 18.83mm 4mm BloodandCustard East Sussex Finescale Railway Modelling Finescale Modelling OO HO 18.83mm 4mm BloodandCustard East Sussex Finescale Railway Modelling Finescale Modelling OO HO 18.83mm 4mm BloodandCustard East Sussex Finescale Railway Modelling Finescale Modelling OO HO 18.83mm 4mm BloodandCustard East Sussex Finescale Railway Modelling Finescale Modelling OO HO 18.83mm 4mm BloodandCustard East Sussex Finescale Railway Modelling Finescale Modelling OO HO 18.83mm 4mm BloodandCustard East Sussex Finescale Railway Modelling Finescale Modelling OO HO 18.83mm 4mm BloodandCustard East Sussex Finescale Railway Modelling Finescale Modelling OO HO 18.83mm 4mm BloodandCustard East Sussex Finescale Railway Modelling Finescale Modelling OO HO 18.83mm 4mm BloodandCustard East Sussex Finescale Railway Modelling Finescale Modelling OO HO 18.83mm 4mm BloodandCustard East Sussex Finescale Railway Modelling Finescale Modelling OO HO 18.83mm 4mm BloodandCustard East Sussex Finescale Railway Modelling Finescale Modelling OO HO 18.83mm 4mm BloodandCustard East Sussex Finescale Railway Modelling Finescale Modelling OO HO 18.83mm 4mm BloodandCustard East Sussex Finescale Railway Modelling Finescale Modelling OO HO 18.83mm 4mm BloodandCustard East Sussex Finescale Railway Modelling Finescale Modelling OO HO 18.83mm 4mm BloodandCustard East Sussex Finescale Railway Modelling Finescale Modelling OO HO 18.83mm 4mm BloodandCustard East Sussex Finescale Railway Modelling Finescale Modelling OO HO 18.83mm 4mm BloodandCustard East Sussex Finescale Railway Modelling Finescale Modelling OO HO 18.83mm 4mm BloodandCustard East Sussex Finescale Railway Modelling Finescale Modelling OO HO 18.83mm 4mm BloodandCustard East Sussex Finescale Railway Modelling Finescale Modelling OO HO 18.83mm 4mm BloodandCustard East Sussex Finescale Railway Modelling Finescale Modelling OO HO 18.83mm 4mm BloodandCustard East Sussex Finescale Railway Modelling Finescale Modelling OO HO 18.83mm 4mm BloodandCustard East Sussex Finescale Railway Modelling Finescale Modelling OO HO 18.83mm 4mm BloodandCustard East Sussex Finescale Railway Modelling Finescale Modelling OO HO 18.83mm 4mm BloodandCustard East Sussex Finescale Railway Modelling Finescale Modelling OO HO 18.83mm 4mm BloodandCustard East Sussex Finescale Railway Modelling Finescale Modelling OO HO 18.83mm 4mm BloodandCustard East Sussex Finescale Railway Modelling Finescale Modelling OO HO 18.83mm 4mm BloodandCustard East Sussex Finescale Railway Modelling Finescale Modelling OO HO 18.83mm 4mm BloodandCustard East Sussex Finescale Railway Modelling Finescale Modelling OO HO 18.83mm 4mm BloodandCustard East Sussex Finescale Railway Modelling Finescale Modelling OO HO 18.83mm 4mm BloodandCustard East Sussex Finescale Railway Modelling Finescale Modelling OO HO 18.83mm 4mm BloodandCustard East Sussex Finescale Railway Modelling Finescale Modelling OO HO 18.83mm 4mm BloodandCustard East Sussex Finescale Railway Modelling Finescale Modelling OO HO 18.83mm 4mm BloodandCustard East Sussex Finescale Railway Modelling Finescale Modelling OO HO 18.83mm 4mm BloodandCustard East Sussex Finescale Railway Modelling Finescale Modelling OO HO 18.83mm 4mm BloodandCustard East Sussex Finescale Railway Modelling Finescale Modelling OO HO 18.83mm 4mm BloodandCustard East Sussex Finescale Railway Modelling Finescale Modelling OO HO 18.83mm 4mm BloodandCustard East Sussex Finescale Railway Modelling Finescale Modelling OO HO 18.83mm 4mm BloodandCustard East Sussex Finescale Railway Modelling Finescale Modelling OO HO 18.83mmBloodandCustard East Sussex Finescale Railway Modelling Finescale Modelling OO HO 18.83mm 4mm. BloodandCustard East Sussex Finescale Railway Modelling Finescale Modelling OO HO 18.83mm 4mm BloodandCustard East Sussex Finescale Railway Modelling Finescale Modelling OO HO 18.83mm 4mm BloodandCustard East Sussex Finescale Railway Modelling Finescale Modelling OO HO 18.83mm 4mm BloodandCustard East Sussex Finescale Railway Modelling Finescale Modelling OO HO 18.83mm 4mm BloodandCustard East Sussex Finescale Railway Modelling Finescale Modelling OO HO 18.83mm 4mm BloodandCustard East Sussex Finescale Railway Modelling Finescale Modelling OO HO 18.83mm 4mm BloodandCustard East Sussex Finescale Railway Modelling Finescale Modelling OO HO 18.83mm 4mm BloodandCustard East Sussex Finescale Railway Modelling Finescale Modelling OO HO 18.83mm 4mm BloodandCustard East Sussex Finescale Railway Modelling Finescale Modelling OO HO 18.83mm 4mm BloodandCustard East Sussex Finescale Railway Modelling Finescale Modelling OO HO 18.83mm 4mm BloodandCustard East Sussex Finescale Railway Modelling Finescale Modelling OO HO 18.83mm 4mm BloodandCustard East Sussex Finescale Railway Modelling Finescale Modelling OO HO 18.83mm 4mm BloodandCustard East Sussex Finescale Railway Modelling Finescale Modelling OO HO 18.83mm 4mm BloodandCustard East Sussex Finescale Railway Modelling Finescale Modelling OO HO 18.83mm 4mm BloodandCustard East Sussex Finescale Railway Modelling Finescale Modelling OO HO 18.83mm 4mm BloodandCustard East Sussex Finescale Railway Modelling Finescale Modelling OO HO 18.83mm 4mm BloodandCustard East Sussex Finescale Railway Modelling Finescale Modelling OO HO 18.83mm 4mm BloodandCustard East Sussex Finescale Railway Modelling Finescale Modelling OO HO 18.83mm 4mm BloodandCustard East Sussex Finescale Railway Modelling Finescale Modelling OO HO 18.83mm 4mm BloodandCustard East Sussex Finescale Railway Modelling Finescale Modelling OO HO 18.83mm 4mm BloodandCustard East Sussex Finescale Railway Modelling Finescale Modelling OO HO 18.83mm 4mm BloodandCustard East Sussex Finescale Railway Modelling Finescale Modelling OO HO 18.83mm 4mm BloodandCustard East Sussex Finescale Railway Modelling Finescale Modelling OO HO 18.83mm 4mm BloodandCustard East Sussex Finescale Railway Modelling Finescale Modelling OO HO 18.83mm 4mm BloodandCustard East Sussex Finescale Railway Modelling Finescale Modelling OO HO 18.83mm 4mm BloodandCustard East Sussex Finescale Railway Modelling Finescale Modelling OO HO 18.83mm 4mm BloodandCustard East Sussex Finescale Railway Modelling Finescale Modelling OO HO 18.83mm 4mm BloodandCustard East Sussex Finescale Railway Modelling Finescale Modelling OO HO 18.83mm 4mm BloodandCustard East Sussex Finescale Railway Modelling Finescale Modelling OO HO 18.83mm 4mm BloodandCustard East Sussex Finescale Railway Modelling Finescale Modelling OO HO 18.83mm 4mm BloodandCustard East Sussex Finescale Railway Modelling Finescale Modelling OO HO 18.83mm 4mm BloodandCustard East Sussex Finescale Railway Modelling Finescale Modelling OO HO 18.83mm 4mm BloodandCustard East Sussex Finescale Railway Modelling Finescale Modelling OO HO 18.83mm 4mm BloodandCustard East Sussex Finescale Railway Modelling Finescale Modelling OO HO 18.83mm 4mm BloodandCustard East Sussex Finescale Railway Modelling Finescale Modelling OO HO 18.83mm 4mm BloodandCustard East Sussex Finescale Railway Modelling Finescale Modelling OO HO 18.83mm 4mm BloodandCustard East Sussex Finescale Railway Modelling Finescale Modelling OO HO 18.83mm 4mm BloodandCustard East Sussex Finescale Railway Modelling Finescale Modelling OO HO 18.83mm 4mm BloodandCustard East Sussex Finescale Railway Modelling Finescale Modelling OO HO 18.83mm 4mm BloodandCustard East Sussex Finescale Railway Modelling Finescale Modelling OO HO 18.83mm 4mm BloodandCustard East Sussex Finescale Railway Modelling Finescale Modelling OO HO 18.83mm 4mm BloodandCustard East Sussex Finescale Railway Modelling Finescale Modelling OO HO 18.83mm 4mm BloodandCustard East Sussex Finescale Railway Modelling Finescale Modelling OO HO 18.83mm 4mm BloodandCustard East Sussex Finescale Railway Modelling Finescale Modelling OO HO 18.83mm 4mm BloodandCustard East Sussex Finescale Railway Modelling Finescale Modelling OO HO 18.83mm 4mm BloodandCustard East Sussex Finescale Railway Modelling Finescale Modelling OO HO 18.83mm 4mm BloodandCustard East Sussex Finescale Railway Modelling Finescale Modelling OO HO 18.83mm 4mm BloodandCustard East Sussex Finescale Railway Modelling Finescale Modelling OO HO 18.83mm 4mm BloodandCustard East Sussex Finescale Railway Modelling Finescale Modelling OO HO 18.83mm 4mm BloodandCustard East Sussex Finescale Railway Modelling Finescale Modelling OO HO 18.83mm 4mm BloodandCustard East Sussex Finescale Railway Modelling Finescale Modelling OO HO 18.83mm 4mm BloodandCustard East Sussex Finescale Railway Modelling Finescale Modelling OO HO 18.83mm 4mm BloodandCustard East Sussex Finescale Railway Modelling Finescale Modelling OO HO 18.83mm 4mm BloodandCustard East Sussex Finescale Railway Modelling Finescale Modelling OO HO 18.83mm 4mm BloodandCustard East Sussex Finescale Railway Modelling Finescale Modelling OO HO 18.83mm 4mm BloodandCustard East Sussex Finescale Railway Modelling Finescale Modelling OO HO 18.83mm 4mm BloodandCustard East Sussex Finescale Railway Modelling Finescale Modelling OO HO 18.83mm 4mm BloodandCustard East Sussex Finescale Railway Modelling Finescale Modelling OO HO 18.83mm 4mm BloodandCustard East Sussex Finescale Railway Modelling Finescale Modelling OO HO 18.83mm 4mm BloodandCustard East Sussex Finescale Railway Modelling Finescale Modelling OO HO 18.83mm 4mm BloodandCustard East Sussex Finescale Railway Modelling Finescale Modelling OO HO 18.83mm 4mm BloodandCustard East Sussex Finescale Railway Modelling Finescale Modelling OO HO 18.83mm 4mm BloodandCustard East Sussex Finescale Railway Modelling Finescale Modelling OO HO 18.83mm 4mm BloodandCustard East Sussex Finescale Railway Modelling Finescale Modelling OO HO 18.83mm 4mm BloodandCustard East Sussex Finescale Railway Modelling Finescale Modelling OO HO 18.83mm 4mm BloodandCustard East Sussex Finescale Railway Modelling Finescale Modelling OO HO 18.83mm 4mm BloodandCustard East Sussex Finescale Railway Modelling Finescale Modelling OO HO 18.83mm 4mm BloodandCustard East Sussex Finescale Railway Modelling Finescale Modelling OO HO 18.83mm 4mm BloodandCustard East Sussex Finescale Railway Modelling Finescale Modelling OO HO 18.83mm 4mm BloodandCustard East Sussex Finescale Railway Modelling Finescale Modelling OO HO 18.83mm 4mm BloodandCustard East Sussex Finescale Railway Modelling Finescale Modelling OO HO 18.83mm 4mm BloodandCustard East Sussex Finescale Railway Modelling Finescale Modelling OO HO 18.83mm 4mm BloodandCustard East Sussex Finescale Railway Modelling Finescale Modelling OO HO 18.83mm 4mm BloodandCustard East Sussex Finescale Railway Modelling Finescale Modelling OO HO 18.83mm 4mm BloodandCustard East Sussex Finescale Railway Modelling Finescale Modelling OO HO 18.83mm 4mm BloodandCustard East Sussex Finescale Railway Modelling Finescale Modelling OO HO 18.83mm 4mm BloodandCustard East Sussex Finescale Railway Modelling Finescale Modelling OO HO 18.83mm 4mm BloodandCustard East Sussex Finescale Railway Modelling Finescale Modelling OO HO 18.83mm 4mm BloodandCustard East Sussex Finescale Railway Modelling Finescale Modelling OO HO 18.83mm 4mm BloodandCustard East Sussex Finescale Railway Modelling Finescale Modelling OO HO 18.83mm 4mm BloodandCustard East Sussex Finescale Railway Modelling Finescale Modelling OO HO 18.83mm 4mm BloodandCustard East Sussex Finescale Railway Modelling Finescale Modelling OO HO 18.83mm 4mm BloodandCustard East Sussex Finescale Railway Modelling Finescale Modelling OO HO 18.83mm 4mm BloodandCustard East Sussex Finescale Railway Modelling Finescale Modelling OO HO 18.83mm 4mm BloodandCustard East Sussex Finescale Railway Modelling Finescale Modelling OO HO 18.83mm 4mm BloodandCustard East Sussex Finescale Railway Modelling Finescale Modelling OO HO 18.83mm 4mm BloodandCustard East Sussex Finescale Railway Modelling Finescale Modelling OO HO 18.83mm 4mm BloodandCustard East Sussex Finescale Railway Modelling Finescale Modelling OO HO 18.83mm 4mm BloodandCustard East Sussex Finescale Railway Modelling Finescale Modelling OO HO 18.83mm 4mm BloodandCustard East Sussex Finescale Railway Modelling Finescale Modelling OO HO 18.83mm 4mm BloodandCustard East Sussex Finescale Railway Modelling Finescale Modelling OO HO 18.83mm 4mm BloodandCustard East Sussex Finescale Railway Modelling Finescale Modelling OO HO 18.83mm 4mm BloodandCustard East Sussex Finescale Railway Modelling Finescale Modelling OO HO 18.83mm 4mm BloodandCustard East Sussex Finescale Railway Modelling Finescale Modelling OO HO 18.83mm 4mm BloodandCustard East Sussex Finescale Railway Modelling Finescale Modelling OO HO 18.83mm 4mm BloodandCustard East Sussex Finescale Railway Modelling Finescale Modelling OO HO 18.83mm 4mm BloodandCustard East Sussex Finescale Railway Modelling Finescale Modelling OO HO 18.83mm 4mm BloodandCustard East Sussex Finescale Railway Modelling Finescale Modelling OO HO 18.83mm 4mm BloodandCustard East Sussex Finescale Railway Modelling Finescale Modelling OO HO 18.83mm 4mm BloodandCustard East Sussex Finescale Railway Modelling Finescale Modelling OO HO 18.83mm 4mm BloodandCustard East Sussex Finescale Railway Modelling Finescale Modelling OO HO 18.83mm 4mm BloodandCustard East Sussex Finescale Railway Modelling Finescale Modelling OO HO 18.83mm 4mm BloodandCustard East Sussex Finescale Railway Modelling Finescale Modelling OO HO 18.83mm 4mm BloodandCustard East Sussex Finescale Railway Modelling Finescale Modelling OO HO 18.83mm 4mm BloodandCustard East Sussex Finescale Railway Modelling Finescale Modelling OO HO 18.83mm 4mm BloodandCustard East Sussex Finescale Railway Modelling Finescale Modelling OO HO 18.83mm 4mm BloodandCustard East Sussex Finescale Railway Modelling Finescale Modelling OO HO 18.83mm 4mm BloodandCustard East Sussex Finescale Railway Modelling Finescale Modelling OO HO 18.83mm 4mm BloodandCustard East Sussex Finescale Railway Modelling Finescale Modelling OO HO 18.83mm 4mm BloodandCustard East Sussex Finescale Railway Modelling Finescale Modelling OO HO 18.83mm 4mm BloodandCustard East Sussex Finescale Railway Modelling Finescale Modelling OO HO 18.83mm 4mm BloodandCustard East Sussex Finescale Railway Modelling Finescale Modelling OO HO 18.83mm 4mm BloodandCustard East Sussex Finescale Railway Modelling Finescale Modelling OO HO 18.83mm 4mm BloodandCustard East Sussex Finescale Railway Modelling Finescale Modelling OO HO 18.83mm 4mm BloodandCustard East Sussex Finescale Railway Modelling Finescale Modelling OO HO 18.83mm 4mm BloodandCustard East Sussex Finescale Railway Modelling Finescale Modelling OO HO 18.83mm 4mm BloodandCustard East Sussex Finescale Railway Modelling Finescale Modelling OO HO 18.83mm 4mm BloodandCustard East Sussex Finescale Railway Modelling Finescale Modelling OO HO 18.83mm 4mm BloodandCustard East Sussex Finescale Railway Modelling Finescale Modelling OO HO 18.83mm 4mm BloodandCustard East Sussex Finescale Railway Modelling Finescale Modelling OO HO 18.83mm 4mm BloodandCustard East Sussex Finescale Railway Modelling Finescale Modelling OO HO 18.83mm 4mm BloodandCustard East Sussex Finescale Railway Modelling Finescale Modelling OO HO 18.83mm 4mm BloodandCustard East Sussex Finescale Railway Modelling Finescale Modelling OO HO 18.83mm 4mm BloodandCustard East Sussex Finescale Railway Modelling Finescale Modelling OO HO 18.83mm 4mm BloodandCustard East Sussex Finescale Railway Modelling Finescale Modelling OO HO 18.83mm 4mm BloodandCustard East Sussex Finescale Railway Modelling Finescale Modelling OO HO 18.83mm 4mm BloodandCustard East Sussex Finescale Railway Modelling Finescale Modelling OO HO 18.83mm 4mm BloodandCustard East Sussex Finescale Railway Modelling Finescale Modelling OO HO 18.83mm 4mm BloodandCustard East Sussex Finescale Railway Modelling Finescale Modelling OO HO 18.83mm 4mm BloodandCustard East Sussex Finescale Railway Modelling Finescale Modelling OO HO 18.83mm 4mm BloodandCustard East Sussex Finescale Railway Modelling Finescale Modelling OO HO 18.83mm 4mm BloodandCustard East Sussex Finescale Railway Modelling Finescale Modelling OO HO 18.83mm 4mm BloodandCustard East Sussex Finescale Railway Modelling Finescale Modelling OO HO 18.83mm 4mm BloodandCustard East Sussex Finescale Railway Modelling Finescale Modelling OO HO 18.83mm 4mm BloodandCustard East Sussex Finescale Railway Modelling Finescale Modelling OO HO 18.83mm 4mm BloodandCustard East Sussex Finescale Railway Modelling Finescale Modelling OO HO 18.83mm 4mm BloodandCustard East Sussex Finescale Railway Modelling Finescale Modelling OO HO 18.83mm 4mm BloodandCustard East Sussex Finescale Railway Modelling Finescale Modelling OO HO 18.83mm 4mm BloodandCustard East Sussex Finescale Railway Modelling Finescale Modelling OO HO 18.83mm 4mm BloodandCustard East Sussex Finescale Railway Modelling Finescale Modelling OO HO 18.83mm 4mm BloodandCustard East Sussex Finescale Railway Modelling Finescale Modelling OO HO 18.83mm 4mm BloodandCustard East Sussex Finescale Railway Modelling Finescale Modelling OO HO 18.83mm 4mm BloodandCustard East Sussex Finescale Railway Modelling Finescale Modelling OO HO 18.83mm 4mm BloodandCustard East Sussex Finescale Railway Modelling Finescale Modelling OO HO 18.83mm 4mm BloodandCustard East Sussex Finescale Railway Modelling Finescale Modelling OO HO 18.83mm 4mm BloodandCustard East Sussex Finescale Railway Modelling Finescale Modelling OO HO 18.83mm 4mm BloodandCustard East Sussex Finescale Railway Modelling Finescale Modelling OO HO 18.83mm 4mm BloodandCustard East Sussex Finescale Railway Modelling Finescale Modelling OO HO 18.83mm 4mm BloodandCustard East Sussex Finescale Railway Modelling Finescale Modelling OO HO 18.83mm 4mm BloodandCustard East Sussex Finescale Railway Modelling Finescale Modelling OO HO 18.83mm 4mm BloodandCustard East Sussex Finescale Railway Modelling Finescale Modelling OO HO 18.83mm 4mm BloodandCustard East Sussex Finescale Railway Modelling Finescale Modelling OO HO 18.83mm 4mm BloodandCustard East Sussex Finescale Railway Modelling Finescale Modelling OO HO 18.83mm 4mm BloodandCustard East Sussex Finescale Railway Modelling Finescale Modelling OO HO 18.83mm 4mm BloodandCustard East Sussex Finescale Railway Modelling Finescale Modelling OO HO 18.83mm 4mm BloodandCustard East Sussex Finescale Railway Modelling Finescale Modelling OO HO 18.83mm 4mm BloodandCustard East Sussex Finescale Railway Modelling Finescale Modelling OO HO 18.83mm 4mm BloodandCustard East Sussex Finescale Railway Modelling Finescale Modelling OO HO 18.83mm 4mm BloodandCustard East Sussex Finescale Railway Modelling Finescale Modelling OO HO 18.83mm 4mm BloodandCustard East Sussex Finescale Railway Modelling Finescale Modelling OO HO 18.83mm 4mm BloodandCustard East Sussex Finescale Railway Modelling Finescale Modelling OO HO 18.83mm 4mm BloodandCustard East Sussex Finescale Railway Modelling Finescale Modelling OO HO 18.83mm 4mm BloodandCustard East Sussex Finescale Railway Modelling Finescale Modelling OO HO 18.83mm 4mm BloodandCustard East Sussex Finescale Railway Modelling Finescale Modelling OO HO 18.83mm 4mm BloodandCustard East Sussex Finescale Railway Modelling Finescale Modelling OO HO 18.83mm 4mm BloodandCustard East Sussex Finescale Railway Modelling Finescale Modelling OO HO 18.83mm 4mm BloodandCustard East Sussex Finescale Railway Modelling Finescale Modelling OO HO 18.83mm 4mm BloodandCustard East Sussex Finescale Railway Modelling Finescale Modelling OO HO 18.83mm 4mm BloodandCustard East Sussex Finescale Railway Modelling Finescale Modelling OO HO 18.83mm 4mm BloodandCustard East Sussex Finescale Railway Modelling Finescale Modelling OO HO 18.83mm 4mm BloodandCustard East Sussex Finescale Railway Modelling Finescale Modelling OO HO 18.83mm 4mm BloodandCustard East Sussex Finescale Railway Modelling Finescale Modelling OO HO 18.83mm 4mm BloodandCustard East Sussex Finescale Railway Modelling Finescale Modelling OO HO 18.83mm 4mm BloodandCustard East Sussex Finescale Railway Modelling Finescale Modelling OO HO 18.83mm 4mm BloodandCustard East Sussex Finescale Railway Modelling Finescale Modelling OO HO 18.83mm 4mm BloodandCustard East Sussex Finescale Railway Modelling Finescale Modelling OO HO 18.83mm 4mm BloodandCustard East Sussex Finescale Railway Modelling Finescale Modelling OO HO 18.83mm 4mm BloodandCustard East Sussex Finescale Railway Modelling Finescale Modelling OO HO 18.83mm 4mm BloodandCustard East Sussex Finescale Railway Modelling Finescale Modelling OO HO 18.83mm 4mm BloodandCustard East Sussex Finescale Railway Modelling Finescale Modelling OO HO 18.83mm 4mm BloodandCustard East Sussex Finescale Railway Modelling Finescale Modelling OO HO 18.83mm 4mm BloodandCustard East Sussex Finescale Railway Modelling Finescale Modelling OO HO 18.83mm 4mm BloodandCustard East Sussex Finescale Railway Modelling Finescale Modelling OO HO 18.83mm 4mm BloodandCustard East Sussex Finescale Railway Modelling Finescale Modelling OO HO 18.83mm 4mm BloodandCustard East Sussex Finescale Railway Modelling Finescale Modelling OO HO 18.83mm 4mm BloodandCustard East Sussex Finescale Railway Modelling Finescale Modelling OO HO 18.83mm 4mm BloodandCustard East Sussex Finescale Railway Modelling Finescale Modelling OO HO 18.83mm 4mm BloodandCustard East Sussex Finescale Railway Modelling Finescale Modelling OO HO 18.83mm 4mm BloodandCustard East Sussex Finescale Railway Modelling Finescale Modelling OO HO 18.83mm 4mm BloodandCustard East Sussex Finescale Railway Modelling Finescale Modelling OO HO 18.83mm 4mm BloodandCustard East Sussex Finescale Railway Modelling Finescale Modelling OO HO 18.83mm 4mm BloodandCustard East Sussex Finescale Railway Modelling Finescale Modelling OO HO 18.83mm 4mm BloodandCustard East Sussex Finescale Railway Modelling Finescale Modelling OO HO 18.83mm 4mm BloodandCustard East Sussex Finescale Railway Modelling Finescale Modelling OO HO 18.83mm 4mm BloodandCustard East Sussex Finescale Railway Modelling Finescale Modelling OO HO 18.83mm 4mm BloodandCustard East Sussex Finescale Railway Modelling Finescale Modelling OO HO 18.83mm 4mm BloodandCustard East Sussex Finescale Railway Modelling Finescale Modelling OO HO 18.83mm 4mm BloodandCustard East Sussex Finescale Railway Modelling Finescale Modelling OO HO 18.83mm 4mm BloodandCustard East Sussex Finescale Railway Modelling Finescale Modelling OO HO 18.83mm 4mm BloodandCustard East Sussex Finescale Railway Modelling Finescale Modelling OO HO 18.83mm 4mm BloodandCustard East Sussex Finescale Railway Modelling Finescale Modelling OO HO 18.83mm 4mm BloodandCustard East Sussex Finescale Railway Modelling Finescale Modelling OO HO 18.83mm 4mm BloodandCustard East Sussex Finescale Railway Modelling Finescale Modelling OO HO 18.83mm 4mm BloodandCustard East Sussex Finescale Railway Modelling Finescale Modelling OO HO 18.83mm 4mm BloodandCustard East Sussex Finescale Railway Modelling Finescale Modelling OO HO 18.83mm 4mm BloodandCustard East Sussex Finescale Railway Modelling Finescale Modelling OO HO 18.83mm 4mm BloodandCustard East Sussex Finescale Railway Modelling Finescale Modelling OO HO 18.83mm 4mm BloodandCustard East Sussex Finescale Railway Modelling Finescale Modelling OO HO 18.83mm 4mm BloodandCustard East Sussex Finescale Railway Modelling Finescale Modelling OO HO 18.83mm 4mm BloodandCustard East Sussex Finescale Railway Modelling Finescale Modelling OO HO 18.83mm 4mm BloodandCustard East Sussex Finescale Railway Modelling Finescale Modelling OO HO 18.83mm 4mm BloodandCustard East Sussex Finescale Railway Modelling Finescale Modelling OO HO 18.83mm 4mm BloodandCustard East Sussex Finescale Railway Modelling Finescale Modelling OO HO 18.83mm 4mm BloodandCustard East Sussex Finescale Railway Modelling Finescale Modelling OO HO 18.83mm 4mm BloodandCustard East Sussex Finescale Railway Modelling Finescale Modelling OO HO 18.83mm 4mm BloodandCustard East Sussex Finescale Railway Modelling Finescale Modelling OO HO 18.83mm 4mm BloodandCustard East Sussex Finescale Railway Modelling Finescale Modelling OO HO 18.83mm 4mm BloodandCustard East Sussex Finescale Railway Modelling Finescale Modelling OO HO 18.83mm 4mm BloodandCustard East Sussex Finescale Railway Modelling Finescale Modelling OO HO 18.83mm 4mm BloodandCustard East Sussex Finescale Railway Modelling Finescale Modelling OO HO 18.83mm 4mm BloodandCustard East Sussex Finescale Railway Modelling Finescale Modelling OO HO 18.83mm 4mm BloodandCustard East Sussex Finescale Railway Modelling Finescale Modelling OO HO 18.83mm 4mm BloodandCustard East Sussex Finescale Railway Modelling Finescale Modelling OO HO 18.83mm 4mm BloodandCustard East Sussex Finescale Railway Modelling Finescale Modelling OO HO 18.83mm 4mm BloodandCustard East Sussex Finescale Railway Modelling Finescale Modelling OO HO 18.83mm 4mm BloodandCustard East Sussex Finescale Railway Modelling Finescale Modelling OO HO 18.83mm 4mm BloodandCustard East Sussex Finescale Railway Modelling Finescale Modelling OO HO 18.83mm 4mm BloodandCustard East Sussex Finescale Railway Modelling Finescale Modelling OO HO 18.83mm 4mm BloodandCustard East Sussex Finescale Railway Modelling Finescale Modelling OO HO 18.83mm 4mm BloodandCustard East Sussex Finescale Railway Modelling Finescale Modelling OO HO 18.83mm 4mm BloodandCustard East Sussex Finescale Railway Modelling Finescale Modelling OO HO 18.83mm 4mm BloodandCustard East Sussex Finescale Railway Modelling Finescale Modelling OO HO 18.83mm 4mm BloodandCustard East Sussex Finescale Railway Modelling Finescale Modelling OO HO 18.83mm 4mm BloodandCustard East Sussex Finescale Railway Modelling Finescale Modelling OO HO 18.83mm 4mm BloodandCustard East Sussex Finescale Railway Modelling Finescale Modelling OO HO 18.83mm 4mm BloodandCustard East Sussex Finescale Railway Modelling Finescale Modelling OO HO 18.83mm 4mm BloodandCustard East Sussex Finescale Railway Modelling Finescale Modelling OO HO 18.83mm 4mm BloodandCustard East Sussex Finescale Railway Modelling Finescale Modelling OO HO 18.83mm 4mm BloodandCustard East Sussex Finescale Railway Modelling Finescale Modelling OO HO 18.83mm 4mm BloodandCustard East Sussex Finescale Railway Modelling Finescale Modelling OO HO 18.83mm 4mm BloodandCustard East Sussex Finescale Railway Modelling Finescale Modelling OO HO 18.83mm 4mm BloodandCustard East Sussex Finescale Railway Modelling Finescale Modelling OO HO 18.83mm 4mm BloodandCustard East Sussex Finescale Railway Modelling Finescale Modelling OO HO 18.83mm 4mm BloodandCustard East Sussex Finescale Railway Modelling Finescale Modelling OO HO 18.83mm 4mm BloodandCustard East Sussex Finescale Railway Modelling Finescale Modelling OO HO 18.83mm 4mm BloodandCustard East Sussex Finescale Railway Modelling Finescale Modelling OO HO 18.83mm 4mm BloodandCustard East Sussex Finescale Railway Modelling Finescale Modelling OO HO 18.83mm 4mm BloodandCustard East Sussex Finescale Railway Modelling Finescale Modelling OO HO 18.83mm 4mm BloodandCustard East Sussex Finescale Railway Modelling Finescale Modelling OO HO 18.83mm 4mm BloodandCustard East Sussex Finescale Railway Modelling Finescale Modelling OO HO 18.83mm 4mm BloodandCustard East Sussex Finescale Railway Modelling Finescale Modelling OO HO 18.83mm 4mm BloodandCustard East Sussex Finescale Railway Modelling Finescale Modelling OO HO 18.83mm 4mm BloodandCustard East Sussex Finescale Railway Modelling Finescale Modelling OO HO 18.83mm 4mm BloodandCustard East Sussex Finescale Railway Modelling Finescale Modelling OO HO 18.83mm 4mm BloodandCustard East Sussex Finescale Railway Modelling Finescale Modelling OO HO 18.83mm 4mm BloodandCustard East Sussex Finescale Railway Modelling Finescale Modelling OO HO 18.83mm 4mm BloodandCustard East Sussex Finescale Railway Modelling Finescale Modelling OO HO 18.83mm 4mm BloodandCustard East Sussex Finescale Railway Modelling Finescale Modelling OO HO 18.83mm 4mm BloodandCustard East Sussex Finescale Railway Modelling Finescale Modelling OO HO 18.83mm 4mm BloodandCustard East Sussex Finescale Railway Modelling Finescale Modelling OO HO 18.83mm 4mm BloodandCustard East Sussex Finescale Railway Modelling Finescale Modelling OO HO 18.83mm 4mm BloodandCustard East Sussex Finescale Railway Modelling Finescale Modelling OO HO 18.83mm 4mm BloodandCustard East Sussex Finescale Railway Modelling Finescale Modelling OO HO 18.83mm 4mm BloodandCustard East Sussex Finescale Railway Modelling Finescale Modelling OO HO 18.83mm 4mm BloodandCustard East Sussex Finescale Railway Modelling Finescale Modelling OO HO 18.83mm 4mm BloodandCustard East Sussex Finescale Railway Modelling Finescale Modelling OO HO 18.83mm 4mm BloodandCustard East Sussex Finescale Railway Modelling Finescale Modelling OO HO 18.83mm 4mm BloodandCustard East Sussex Finescale Railway Modelling Finescale Modelling OO HO 18.83mm 4mm BloodandCustard East Sussex Finescale Railway Modelling Finescale Modelling OO HO 18.83mm 4mm BloodandCustard East Sussex Finescale Railway Modelling Finescale Modelling OO HO 18.83mm 4mm BloodandCustard East Sussex Finescale Railway Modelling Finescale Modelling OO HO 18.83mm 4mm BloodandCustard East Sussex Finescale Railway Modelling Finescale Modelling OO HO 18.83mm 4mm BloodandCustard East Sussex Finescale Railway Modelling Finescale Modelling OO HO 18.83mm 4mm BloodandCustard East Sussex Finescale Railway Modelling Finescale Modelling OO HO 18.83mm 4mm BloodandCustard East Sussex Finescale Railway Modelling Finescale Modelling OO HO 18.83mm 4mm BloodandCustard East Sussex Finescale Railway Modelling Finescale Modelling OO HO 18.83mmBloodandCustard East Sussex Finescale Railway Modelling Finescale Modelling OO HO 18.83mm 4mm. BloodandCustard East Sussex Finescale Railway Modelling Finescale Modelling OO HO 18.83mm 4mm BloodandCustard East Sussex Finescale Railway Modelling Finescale Modelling OO HO 18.83mm 4mm BloodandCustard East Sussex Finescale Railway Modelling Finescale Modelling OO HO 18.83mm 4mm BloodandCustard East Sussex Finescale Railway Modelling Finescale Modelling OO HO 18.83mm 4mm BloodandCustard East Sussex Finescale Railway Modelling Finescale Modelling OO HO 18.83mm 4mm BloodandCustard East Sussex Finescale Railway Modelling Finescale Modelling OO HO 18.83mm 4mm BloodandCustard East Sussex Finescale Railway Modelling Finescale Modelling OO HO 18.83mm 4mm BloodandCustard East Sussex Finescale Railway Modelling Finescale Modelling OO HO 18.83mm 4mm BloodandCustard East Sussex Finescale Railway Modelling Finescale Modelling OO HO 18.83mm 4mm BloodandCustard East Sussex Finescale Railway Modelling Finescale Modelling OO HO 18.83mm 4mm BloodandCustard East Sussex Finescale Railway Modelling Finescale Modelling OO HO 18.83mm 4mm BloodandCustard East Sussex Finescale Railway Modelling Finescale Modelling OO HO 18.83mm 4mm BloodandCustard East Sussex Finescale Railway Modelling Finescale Modelling OO HO 18.83mm 4mm BloodandCustard East Sussex Finescale Railway Modelling Finescale Modelling OO HO 18.83mm 4mm BloodandCustard East Sussex Finescale Railway Modelling Finescale Modelling OO HO 18.83mm 4mm BloodandCustard East Sussex Finescale Railway Modelling Finescale Modelling OO HO 18.83mm 4mm BloodandCustard East Sussex Finescale Railway Modelling Finescale Modelling OO HO 18.83mm 4mm BloodandCustard East Sussex Finescale Railway Modelling Finescale Modelling OO HO 18.83mm 4mm BloodandCustard East Sussex Finescale Railway Modelling Finescale Modelling OO HO 18.83mm 4mm BloodandCustard East Sussex Finescale Railway Modelling Finescale Modelling OO HO 18.83mm 4mm BloodandCustard East Sussex Finescale Railway Modelling Finescale Modelling OO HO 18.83mm 4mm BloodandCustard East Sussex Finescale Railway Modelling Finescale Modelling OO HO 18.83mm 4mm BloodandCustard East Sussex Finescale Railway Modelling Finescale Modelling OO HO 18.83mm 4mm BloodandCustard East Sussex Finescale Railway Modelling Finescale Modelling OO HO 18.83mm 4mm BloodandCustard East Sussex Finescale Railway Modelling Finescale Modelling OO HO 18.83mm 4mm BloodandCustard East Sussex Finescale Railway Modelling Finescale Modelling OO HO 18.83mm 4mm BloodandCustard East Sussex Finescale Railway Modelling Finescale Modelling OO HO 18.83mm 4mm BloodandCustard East Sussex Finescale Railway Modelling Finescale Modelling OO HO 18.83mm 4mm BloodandCustard East Sussex Finescale Railway Modelling Finescale Modelling OO HO 18.83mm 4mm BloodandCustard East Sussex Finescale Railway Modelling Finescale Modelling OO HO 18.83mm 4mm BloodandCustard East Sussex Finescale Railway Modelling Finescale Modelling OO HO 18.83mm 4mm BloodandCustard East Sussex Finescale Railway Modelling Finescale Modelling OO HO 18.83mm 4mm BloodandCustard East Sussex Finescale Railway Modelling Finescale Modelling OO HO 18.83mm 4mm BloodandCustard East Sussex Finescale Railway Modelling Finescale Modelling OO HO 18.83mm 4mm BloodandCustard East Sussex Finescale Railway Modelling Finescale Modelling OO HO 18.83mm 4mm BloodandCustard East Sussex Finescale Railway Modelling Finescale Modelling OO HO 18.83mm 4mm BloodandCustard East Sussex Finescale Railway Modelling Finescale Modelling OO HO 18.83mm 4mm BloodandCustard East Sussex Finescale Railway Modelling Finescale Modelling OO HO 18.83mm 4mm BloodandCustard East Sussex Finescale Railway Modelling Finescale Modelling OO HO 18.83mm 4mm BloodandCustard East Sussex Finescale Railway Modelling Finescale Modelling OO HO 18.83mm 4mm BloodandCustard East Sussex Finescale Railway Modelling Finescale Modelling OO HO 18.83mm 4mm BloodandCustard East Sussex Finescale Railway Modelling Finescale Modelling OO HO 18.83mm 4mm BloodandCustard East Sussex Finescale Railway Modelling Finescale Modelling OO HO 18.83mm 4mm BloodandCustard East Sussex Finescale Railway Modelling Finescale Modelling OO HO 18.83mm 4mm BloodandCustard East Sussex Finescale Railway Modelling Finescale Modelling OO HO 18.83mm 4mm BloodandCustard East Sussex Finescale Railway Modelling Finescale Modelling OO HO 18.83mm 4mm BloodandCustard East Sussex Finescale Railway Modelling Finescale Modelling OO HO 18.83mm 4mm BloodandCustard East Sussex Finescale Railway Modelling Finescale Modelling OO HO 18.83mm 4mm BloodandCustard East Sussex Finescale Railway Modelling Finescale Modelling OO HO 18.83mm 4mm BloodandCustard East Sussex Finescale Railway Modelling Finescale Modelling OO HO 18.83mm 4mm BloodandCustard East Sussex Finescale Railway Modelling Finescale Modelling OO HO 18.83mm 4mm BloodandCustard East Sussex Finescale Railway Modelling Finescale Modelling OO HO 18.83mm 4mm BloodandCustard East Sussex Finescale Railway Modelling Finescale Modelling OO HO 18.83mm 4mm BloodandCustard East Sussex Finescale Railway Modelling Finescale Modelling OO HO 18.83mm 4mm BloodandCustard East Sussex Finescale Railway Modelling Finescale Modelling OO HO 18.83mm 4mm BloodandCustard East Sussex Finescale Railway Modelling Finescale Modelling OO HO 18.83mm 4mm BloodandCustard East Sussex Finescale Railway Modelling Finescale Modelling OO HO 18.83mm 4mm BloodandCustard East Sussex Finescale Railway Modelling Finescale Modelling OO HO 18.83mm 4mm BloodandCustard East Sussex Finescale Railway Modelling Finescale Modelling OO HO 18.83mm 4mm BloodandCustard East Sussex Finescale Railway Modelling Finescale Modelling OO HO 18.83mm 4mm BloodandCustard East Sussex Finescale Railway Modelling Finescale Modelling OO HO 18.83mm 4mm BloodandCustard East Sussex Finescale Railway Modelling Finescale Modelling OO HO 18.83mm 4mm BloodandCustard East Sussex Finescale Railway Modelling Finescale Modelling OO HO 18.83mm 4mm BloodandCustard East Sussex Finescale Railway Modelling Finescale Modelling OO HO 18.83mm 4mm BloodandCustard East Sussex Finescale Railway Modelling Finescale Modelling OO HO 18.83mm 4mm BloodandCustard East Sussex Finescale Railway Modelling Finescale Modelling OO HO 18.83mm 4mm BloodandCustard East Sussex Finescale Railway Modelling Finescale Modelling OO HO 18.83mm 4mm BloodandCustard East Sussex Finescale Railway Modelling Finescale Modelling OO HO 18.83mm 4mm BloodandCustard East Sussex Finescale Railway Modelling Finescale Modelling OO HO 18.83mm 4mm BloodandCustard East Sussex Finescale Railway Modelling Finescale Modelling OO HO 18.83mm 4mm BloodandCustard East Sussex Finescale Railway Modelling Finescale Modelling OO HO 18.83mm 4mm BloodandCustard East Sussex Finescale Railway Modelling Finescale Modelling OO HO 18.83mm 4mm BloodandCustard East Sussex Finescale Railway Modelling Finescale Modelling OO HO 18.83mm 4mm BloodandCustard East Sussex Finescale Railway Modelling Finescale Modelling OO HO 18.83mm 4mm BloodandCustard East Sussex Finescale Railway Modelling Finescale Modelling OO HO 18.83mm 4mm BloodandCustard East Sussex Finescale Railway Modelling Finescale Modelling OO HO 18.83mm 4mm BloodandCustard East Sussex Finescale Railway Modelling Finescale Modelling OO HO 18.83mm 4mm BloodandCustard East Sussex Finescale Railway Modelling Finescale Modelling OO HO 18.83mm 4mm BloodandCustard East Sussex Finescale Railway Modelling Finescale Modelling OO HO 18.83mm 4mm BloodandCustard East Sussex Finescale Railway Modelling Finescale Modelling OO HO 18.83mm 4mm BloodandCustard East Sussex Finescale Railway Modelling Finescale Modelling OO HO 18.83mm 4mm BloodandCustard East Sussex Finescale Railway Modelling Finescale Modelling OO HO 18.83mm 4mm BloodandCustard East Sussex Finescale Railway Modelling Finescale Modelling OO HO 18.83mm 4mm BloodandCustard East Sussex Finescale Railway Modelling Finescale Modelling OO HO 18.83mm 4mm BloodandCustard East Sussex Finescale Railway Modelling Finescale Modelling OO HO 18.83mm 4mm BloodandCustard East Sussex Finescale Railway Modelling Finescale Modelling OO HO 18.83mm 4mm BloodandCustard East Sussex Finescale Railway Modelling Finescale Modelling OO HO 18.83mm 4mm BloodandCustard East Sussex Finescale Railway Modelling Finescale Modelling OO HO 18.83mm 4mm BloodandCustard East Sussex Finescale Railway Modelling Finescale Modelling OO HO 18.83mm 4mm BloodandCustard East Sussex Finescale Railway Modelling Finescale Modelling OO HO 18.83mm 4mm BloodandCustard East Sussex Finescale Railway Modelling Finescale Modelling OO HO 18.83mm 4mm BloodandCustard East Sussex Finescale Railway Modelling Finescale Modelling OO HO 18.83mm 4mm BloodandCustard East Sussex Finescale Railway Modelling Finescale Modelling OO HO 18.83mm 4mm BloodandCustard East Sussex Finescale Railway Modelling Finescale Modelling OO HO 18.83mm 4mm BloodandCustard East Sussex Finescale Railway Modelling Finescale Modelling OO HO 18.83mm 4mm BloodandCustard East Sussex Finescale Railway Modelling Finescale Modelling OO HO 18.83mm 4mm BloodandCustard East Sussex Finescale Railway Modelling Finescale Modelling OO HO 18.83mm 4mm BloodandCustard East Sussex Finescale Railway Modelling Finescale Modelling OO HO 18.83mm 4mm BloodandCustard East Sussex Finescale Railway Modelling Finescale Modelling OO HO 18.83mm 4mm BloodandCustard East Sussex Finescale Railway Modelling Finescale Modelling OO HO 18.83mm 4mm BloodandCustard East Sussex Finescale Railway Modelling Finescale Modelling OO HO 18.83mm 4mm BloodandCustard East Sussex Finescale Railway Modelling Finescale Modelling OO HO 18.83mm 4mm BloodandCustard East Sussex Finescale Railway Modelling Finescale Modelling OO HO 18.83mm 4mm BloodandCustard East Sussex Finescale Railway Modelling Finescale Modelling OO HO 18.83mm 4mm BloodandCustard East Sussex Finescale Railway Modelling Finescale Modelling OO HO 18.83mm 4mm BloodandCustard East Sussex Finescale Railway Modelling Finescale Modelling OO HO 18.83mm 4mm BloodandCustard East Sussex Finescale Railway Modelling Finescale Modelling OO HO 18.83mm 4mm BloodandCustard East Sussex Finescale Railway Modelling Finescale Modelling OO HO 18.83mm 4mm BloodandCustard East Sussex Finescale Railway Modelling Finescale Modelling OO HO 18.83mm 4mm BloodandCustard East Sussex Finescale Railway Modelling Finescale Modelling OO HO 18.83mm 4mm BloodandCustard East Sussex Finescale Railway Modelling Finescale Modelling OO HO 18.83mm 4mm BloodandCustard East Sussex Finescale Railway Modelling Finescale Modelling OO HO 18.83mm 4mm BloodandCustard East Sussex Finescale Railway Modelling Finescale Modelling OO HO 18.83mm 4mm BloodandCustard East Sussex Finescale Railway Modelling Finescale Modelling OO HO 18.83mm 4mm BloodandCustard East Sussex Finescale Railway Modelling Finescale Modelling OO HO 18.83mm 4mm BloodandCustard East Sussex Finescale Railway Modelling Finescale Modelling OO HO 18.83mm 4mm BloodandCustard East Sussex Finescale Railway Modelling Finescale Modelling OO HO 18.83mm 4mm BloodandCustard East Sussex Finescale Railway Modelling Finescale Modelling OO HO 18.83mm 4mm BloodandCustard East Sussex Finescale Railway Modelling Finescale Modelling OO HO 18.83mm 4mm BloodandCustard East Sussex Finescale Railway Modelling Finescale Modelling OO HO 18.83mm 4mm BloodandCustard East Sussex Finescale Railway Modelling Finescale Modelling OO HO 18.83mm 4mm BloodandCustard East Sussex Finescale Railway Modelling Finescale Modelling OO HO 18.83mm 4mm BloodandCustard East Sussex Finescale Railway Modelling Finescale Modelling OO HO 18.83mm 4mm BloodandCustard East Sussex Finescale Railway Modelling Finescale Modelling OO HO 18.83mm 4mm BloodandCustard East Sussex Finescale Railway Modelling Finescale Modelling OO HO 18.83mm 4mm BloodandCustard East Sussex Finescale Railway Modelling Finescale Modelling OO HO 18.83mm 4mm BloodandCustard East Sussex Finescale Railway Modelling Finescale Modelling OO HO 18.83mm 4mm BloodandCustard East Sussex Finescale Railway Modelling Finescale Modelling OO HO 18.83mm 4mm BloodandCustard East Sussex Finescale Railway Modelling Finescale Modelling OO HO 18.83mm 4mm BloodandCustard East Sussex Finescale Railway Modelling Finescale Modelling OO HO 18.83mm 4mm BloodandCustard East Sussex Finescale Railway Modelling Finescale Modelling OO HO 18.83mm 4mm BloodandCustard East Sussex Finescale Railway Modelling Finescale Modelling OO HO 18.83mm 4mm BloodandCustard East Sussex Finescale Railway Modelling Finescale Modelling OO HO 18.83mm 4mm BloodandCustard East Sussex Finescale Railway Modelling Finescale Modelling OO HO 18.83mm 4mm BloodandCustard East Sussex Finescale Railway Modelling Finescale Modelling OO HO 18.83mm 4mm BloodandCustard East Sussex Finescale Railway Modelling Finescale Modelling OO HO 18.83mm 4mm BloodandCustard East Sussex Finescale Railway Modelling Finescale Modelling OO HO 18.83mm 4mm BloodandCustard East Sussex Finescale Railway Modelling Finescale Modelling OO HO 18.83mm 4mm BloodandCustard East Sussex Finescale Railway Modelling Finescale Modelling OO HO 18.83mm 4mm BloodandCustard East Sussex Finescale Railway Modelling Finescale Modelling OO HO 18.83mm 4mm BloodandCustard East Sussex Finescale Railway Modelling Finescale Modelling OO HO 18.83mm 4mm BloodandCustard East Sussex Finescale Railway Modelling Finescale Modelling OO HO 18.83mm 4mm BloodandCustard East Sussex Finescale Railway Modelling Finescale Modelling OO HO 18.83mm 4mm BloodandCustard East Sussex Finescale Railway Modelling Finescale Modelling OO HO 18.83mm 4mm BloodandCustard East Sussex Finescale Railway Modelling Finescale Modelling OO HO 18.83mm 4mm BloodandCustard East Sussex Finescale Railway Modelling Finescale Modelling OO HO 18.83mm 4mm BloodandCustard East Sussex Finescale Railway Modelling Finescale Modelling OO HO 18.83mm 4mm BloodandCustard East Sussex Finescale Railway Modelling Finescale Modelling OO HO 18.83mm 4mm BloodandCustard East Sussex Finescale Railway Modelling Finescale Modelling OO HO 18.83mm 4mm BloodandCustard East Sussex Finescale Railway Modelling Finescale Modelling OO HO 18.83mm 4mm BloodandCustard East Sussex Finescale Railway Modelling Finescale Modelling OO HO 18.83mm 4mm BloodandCustard East Sussex Finescale Railway Modelling Finescale Modelling OO HO 18.83mm 4mm BloodandCustard East Sussex Finescale Railway Modelling Finescale Modelling OO HO 18.83mm 4mm BloodandCustard East Sussex Finescale Railway Modelling Finescale Modelling OO HO 18.83mm 4mm BloodandCustard East Sussex Finescale Railway Modelling Finescale Modelling OO HO 18.83mm 4mm BloodandCustard East Sussex Finescale Railway Modelling Finescale Modelling OO HO 18.83mm 4mm BloodandCustard East Sussex Finescale Railway Modelling Finescale Modelling OO HO 18.83mm 4mm BloodandCustard East Sussex Finescale Railway Modelling Finescale Modelling OO HO 18.83mm 4mm BloodandCustard East Sussex Finescale Railway Modelling Finescale Modelling OO HO 18.83mm 4mm BloodandCustard East Sussex Finescale Railway Modelling Finescale Modelling OO HO 18.83mm 4mm BloodandCustard East Sussex Finescale Railway Modelling Finescale Modelling OO HO 18.83mm 4mm BloodandCustard East Sussex Finescale Railway Modelling Finescale Modelling OO HO 18.83mm 4mm BloodandCustard East Sussex Finescale Railway Modelling Finescale Modelling OO HO 18.83mm 4mm BloodandCustard East Sussex Finescale Railway Modelling Finescale Modelling OO HO 18.83mm 4mm BloodandCustard East Sussex Finescale Railway Modelling Finescale Modelling OO HO 18.83mm 4mm BloodandCustard East Sussex Finescale Railway Modelling Finescale Modelling OO HO 18.83mm 4mm BloodandCustard East Sussex Finescale Railway Modelling Finescale Modelling OO HO 18.83mm 4mm BloodandCustard East Sussex Finescale Railway Modelling Finescale Modelling OO HO 18.83mm 4mm BloodandCustard East Sussex Finescale Railway Modelling Finescale Modelling OO HO 18.83mm 4mm BloodandCustard East Sussex Finescale Railway Modelling Finescale Modelling OO HO 18.83mm 4mm BloodandCustard East Sussex Finescale Railway Modelling Finescale Modelling OO HO 18.83mm 4mm BloodandCustard East Sussex Finescale Railway Modelling Finescale Modelling OO HO 18.83mm 4mm BloodandCustard East Sussex Finescale Railway Modelling Finescale Modelling OO HO 18.83mm 4mm BloodandCustard East Sussex Finescale Railway Modelling Finescale Modelling OO HO 18.83mm 4mm BloodandCustard East Sussex Finescale Railway Modelling Finescale Modelling OO HO 18.83mm 4mm BloodandCustard East Sussex Finescale Railway Modelling Finescale Modelling OO HO 18.83mm 4mm BloodandCustard East Sussex Finescale Railway Modelling Finescale Modelling OO HO 18.83mm 4mm BloodandCustard East Sussex Finescale Railway Modelling Finescale Modelling OO HO 18.83mm 4mm BloodandCustard East Sussex Finescale Railway Modelling Finescale Modelling OO HO 18.83mm 4mm BloodandCustard East Sussex Finescale Railway Modelling Finescale Modelling OO HO 18.83mm 4mm BloodandCustard East Sussex Finescale Railway Modelling Finescale Modelling OO HO 18.83mm 4mm BloodandCustard East Sussex Finescale Railway Modelling Finescale Modelling OO HO 18.83mm 4mm BloodandCustard East Sussex Finescale Railway Modelling Finescale Modelling OO HO 18.83mm 4mm BloodandCustard East Sussex Finescale Railway Modelling Finescale Modelling OO HO 18.83mm 4mm BloodandCustard East Sussex Finescale Railway Modelling Finescale Modelling OO HO 18.83mm 4mm BloodandCustard East Sussex Finescale Railway Modelling Finescale Modelling OO HO 18.83mm 4mm BloodandCustard East Sussex Finescale Railway Modelling Finescale Modelling OO HO 18.83mm 4mm BloodandCustard East Sussex Finescale Railway Modelling Finescale Modelling OO HO 18.83mm 4mm BloodandCustard East Sussex Finescale Railway Modelling Finescale Modelling OO HO 18.83mm 4mm BloodandCustard East Sussex Finescale Railway Modelling Finescale Modelling OO HO 18.83mm 4mm BloodandCustard East Sussex Finescale Railway Modelling Finescale Modelling OO HO 18.83mm 4mm BloodandCustard East Sussex Finescale Railway Modelling Finescale Modelling OO HO 18.83mm 4mm BloodandCustard East Sussex Finescale Railway Modelling Finescale Modelling OO HO 18.83mm 4mm BloodandCustard East Sussex Finescale Railway Modelling Finescale Modelling OO HO 18.83mm 4mm BloodandCustard East Sussex Finescale Railway Modelling Finescale Modelling OO HO 18.83mm 4mm BloodandCustard East Sussex Finescale Railway Modelling Finescale Modelling OO HO 18.83mm 4mm BloodandCustard East Sussex Finescale Railway Modelling Finescale Modelling OO HO 18.83mm 4mm BloodandCustard East Sussex Finescale Railway Modelling Finescale Modelling OO HO 18.83mm 4mm BloodandCustard East Sussex Finescale Railway Modelling Finescale Modelling OO HO 18.83mm 4mm BloodandCustard East Sussex Finescale Railway Modelling Finescale Modelling OO HO 18.83mm 4mm BloodandCustard East Sussex Finescale Railway Modelling Finescale Modelling OO HO 18.83mm 4mm BloodandCustard East Sussex Finescale Railway Modelling Finescale Modelling OO HO 18.83mm 4mm BloodandCustard East Sussex Finescale Railway Modelling Finescale Modelling OO HO 18.83mm 4mm BloodandCustard East Sussex Finescale Railway Modelling Finescale Modelling OO HO 18.83mm 4mm BloodandCustard East Sussex Finescale Railway Modelling Finescale Modelling OO HO 18.83mm 4mm BloodandCustard East Sussex Finescale Railway Modelling Finescale Modelling OO HO 18.83mm 4mm BloodandCustard East Sussex Finescale Railway Modelling Finescale Modelling OO HO 18.83mm 4mm BloodandCustard East Sussex Finescale Railway Modelling Finescale Modelling OO HO 18.83mm 4mm BloodandCustard East Sussex Finescale Railway Modelling Finescale Modelling OO HO 18.83mm 4mm BloodandCustard East Sussex Finescale Railway Modelling Finescale Modelling OO HO 18.83mm 4mm BloodandCustard East Sussex Finescale Railway Modelling Finescale Modelling OO HO 18.83mm 4mm BloodandCustard East Sussex Finescale Railway Modelling Finescale Modelling OO HO 18.83mm 4mm BloodandCustard East Sussex Finescale Railway Modelling Finescale Modelling OO HO 18.83mm 4mm BloodandCustard East Sussex Finescale Railway Modelling Finescale Modelling OO HO 18.83mm 4mm BloodandCustard East Sussex Finescale Railway Modelling Finescale Modelling OO HO 18.83mm 4mm BloodandCustard East Sussex Finescale Railway Modelling Finescale Modelling OO HO 18.83mm 4mm BloodandCustard East Sussex Finescale Railway Modelling Finescale Modelling OO HO 18.83mm 4mm BloodandCustard East Sussex Finescale Railway Modelling Finescale Modelling OO HO 18.83mm 4mm BloodandCustard East Sussex Finescale Railway Modelling Finescale Modelling OO HO 18.83mm 4mm BloodandCustard East Sussex Finescale Railway Modelling Finescale Modelling OO HO 18.83mm 4mm BloodandCustard East Sussex Finescale Railway Modelling Finescale Modelling OO HO 18.83mm 4mm BloodandCustard East Sussex Finescale Railway Modelling Finescale Modelling OO HO 18.83mm 4mm BloodandCustard East Sussex Finescale Railway Modelling Finescale Modelling OO HO 18.83mm 4mm BloodandCustard East Sussex Finescale Railway Modelling Finescale Modelling OO HO 18.83mm 4mm BloodandCustard East Sussex Finescale Railway Modelling Finescale Modelling OO HO 18.83mm 4mm BloodandCustard East Sussex Finescale Railway Modelling Finescale Modelling OO HO 18.83mm 4mm BloodandCustard East Sussex Finescale Railway Modelling Finescale Modelling OO HO 18.83mm 4mm BloodandCustard East Sussex Finescale Railway Modelling Finescale Modelling OO HO 18.83mm 4mm BloodandCustard East Sussex Finescale Railway Modelling Finescale Modelling OO HO 18.83mm 4mm BloodandCustard East Sussex Finescale Railway Modelling Finescale Modelling OO HO 18.83mm 4mm BloodandCustard East Sussex Finescale Railway Modelling Finescale Modelling OO HO 18.83mm 4mm BloodandCustard East Sussex Finescale Railway Modelling Finescale Modelling OO HO 18.83mm 4mm BloodandCustard East Sussex Finescale Railway Modelling Finescale Modelling OO HO 18.83mm 4mm BloodandCustard East Sussex Finescale Railway Modelling Finescale Modelling OO HO 18.83mm 4mm BloodandCustard East Sussex Finescale Railway Modelling Finescale Modelling OO HO 18.83mm 4mm BloodandCustard East Sussex Finescale Railway Modelling Finescale Modelling OO HO 18.83mm 4mm BloodandCustard East Sussex Finescale Railway Modelling Finescale Modelling OO HO 18.83mm 4mm BloodandCustard East Sussex Finescale Railway Modelling Finescale Modelling OO HO 18.83mm 4mm BloodandCustard East Sussex Finescale Railway Modelling Finescale Modelling OO HO 18.83mm 4mm BloodandCustard East Sussex Finescale Railway Modelling Finescale Modelling OO HO 18.83mm 4mm BloodandCustard East Sussex Finescale Railway Modelling Finescale Modelling OO HO 18.83mm 4mm BloodandCustard East Sussex Finescale Railway Modelling Finescale Modelling OO HO 18.83mm 4mm BloodandCustard East Sussex Finescale Railway Modelling Finescale Modelling OO HO 18.83mm 4mm BloodandCustard East Sussex Finescale Railway Modelling Finescale Modelling OO HO 18.83mm 4mm BloodandCustard East Sussex Finescale Railway Modelling Finescale Modelling OO HO 18.83mm 4mm BloodandCustard East Sussex Finescale Railway Modelling Finescale Modelling OO HO 18.83mm 4mm BloodandCustard East Sussex Finescale Railway Modelling Finescale Modelling OO HO 18.83mm 4mm BloodandCustard East Sussex Finescale Railway Modelling Finescale Modelling OO HO 18.83mm 4mm BloodandCustard East Sussex Finescale Railway Modelling Finescale Modelling OO HO 18.83mm 4mm BloodandCustard East Sussex Finescale Railway Modelling Finescale Modelling OO HO 18.83mm 4mm BloodandCustard East Sussex Finescale Railway Modelling Finescale Modelling OO HO 18.83mm 4mm BloodandCustard East Sussex Finescale Railway Modelling Finescale Modelling OO HO 18.83mm 4mm BloodandCustard East Sussex Finescale Railway Modelling Finescale Modelling OO HO 18.83mm 4mm BloodandCustard East Sussex Finescale Railway Modelling Finescale Modelling OO HO 18.83mm 4mm BloodandCustard East Sussex Finescale Railway Modelling Finescale Modelling OO HO 18.83mm 4mm BloodandCustard East Sussex Finescale Railway Modelling Finescale Modelling OO HO 18.83mm 4mm BloodandCustard East Sussex Finescale Railway Modelling Finescale Modelling OO HO 18.83mm 4mm BloodandCustard East Sussex Finescale Railway Modelling Finescale Modelling OO HO 18.83mm 4mm BloodandCustard East Sussex Finescale Railway Modelling Finescale Modelling OO HO 18.83mm 4mm BloodandCustard East Sussex Finescale Railway Modelling Finescale Modelling OO HO 18.83mm 4mm BloodandCustard East Sussex Finescale Railway Modelling Finescale Modelling OO HO 18.83mm 4mm BloodandCustard East Sussex Finescale Railway Modelling Finescale Modelling OO HO 18.83mm 4mm BloodandCustard East Sussex Finescale Railway Modelling Finescale Modelling OO HO 18.83mm 4mm BloodandCustard East Sussex Finescale Railway Modelling Finescale Modelling OO HO 18.83mm 4mm BloodandCustard East Sussex Finescale Railway Modelling Finescale Modelling OO HO 18.83mm 4mm BloodandCustard East Sussex Finescale Railway Modelling Finescale Modelling OO HO 18.83mm 4mm BloodandCustard East Sussex Finescale Railway Modelling Finescale Modelling OO HO 18.83mm 4mm BloodandCustard East Sussex Finescale Railway Modelling Finescale Modelling OO HO 18.83mm 4mm BloodandCustard East Sussex Finescale Railway Modelling Finescale Modelling OO HO 18.83mm 4mm BloodandCustard East Sussex Finescale Railway Modelling Finescale Modelling OO HO 18.83mm 4mm BloodandCustard East Sussex Finescale Railway Modelling Finescale Modelling OO HO 18.83mm 4mm BloodandCustard East Sussex Finescale Railway Modelling Finescale Modelling OO HO 18.83mm 4mm BloodandCustard East Sussex Finescale Railway Modelling Finescale Modelling OO HO 18.83mm 4mm BloodandCustard East Sussex Finescale Railway Modelling Finescale Modelling OO HO 18.83mm 4mm BloodandCustard East Sussex Finescale Railway Modelling Finescale Modelling OO HO 18.83mm 4mm BloodandCustard East Sussex Finescale Railway Modelling Finescale Modelling OO HO 18.83mmBloodandCustard East Sussex Finescale Railway Modelling Finescale Modelling OO HO 18.83mm 4mm. BloodandCustard East Sussex Finescale Railway Modelling Finescale Modelling OO HO 18.83mm 4mm BloodandCustard East Sussex Finescale Railway Modelling Finescale Modelling OO HO 18.83mm 4mm BloodandCustard East Sussex Finescale Railway Modelling Finescale Modelling OO HO 18.83mm 4mm BloodandCustard East Sussex Finescale Railway Modelling Finescale Modelling OO HO 18.83mm 4mm BloodandCustard East Sussex Finescale Railway Modelling Finescale Modelling OO HO 18.83mm 4mm BloodandCustard East Sussex Finescale Railway Modelling Finescale Modelling OO HO 18.83mm 4mm BloodandCustard East Sussex Finescale Railway Modelling Finescale Modelling OO HO 18.83mm 4mm BloodandCustard East Sussex Finescale Railway Modelling Finescale Modelling OO HO 18.83mm 4mm BloodandCustard East Sussex Finescale Railway Modelling Finescale Modelling OO HO 18.83mm 4mm BloodandCustard East Sussex Finescale Railway Modelling Finescale Modelling OO HO 18.83mm 4mm BloodandCustard East Sussex Finescale Railway Modelling Finescale Modelling OO HO 18.83mm 4mm BloodandCustard East Sussex Finescale Railway Modelling Finescale Modelling OO HO 18.83mm 4mm BloodandCustard East Sussex Finescale Railway Modelling Finescale Modelling OO HO 18.83mm 4mm BloodandCustard East Sussex Finescale Railway Modelling Finescale Modelling OO HO 18.83mm 4mm BloodandCustard East Sussex Finescale Railway Modelling Finescale Modelling OO HO 18.83mm 4mm BloodandCustard East Sussex Finescale Railway Modelling Finescale Modelling OO HO 18.83mm 4mm BloodandCustard East Sussex Finescale Railway Modelling Finescale Modelling OO HO 18.83mm 4mm BloodandCustard East Sussex Finescale Railway Modelling Finescale Modelling OO HO 18.83mm 4mm BloodandCustard East Sussex Finescale Railway Modelling Finescale Modelling OO HO 18.83mm 4mm BloodandCustard East Sussex Finescale Railway Modelling Finescale Modelling OO HO 18.83mm 4mm BloodandCustard East Sussex Finescale Railway Modelling Finescale Modelling OO HO 18.83mm 4mm BloodandCustard East Sussex Finescale Railway Modelling Finescale Modelling OO HO 18.83mm 4mm BloodandCustard East Sussex Finescale Railway Modelling Finescale Modelling OO HO 18.83mm 4mm BloodandCustard East Sussex Finescale Railway Modelling Finescale Modelling OO HO 18.83mm 4mm BloodandCustard East Sussex Finescale Railway Modelling Finescale Modelling OO HO 18.83mm 4mm BloodandCustard East Sussex Finescale Railway Modelling Finescale Modelling OO HO 18.83mm 4mm BloodandCustard East Sussex Finescale Railway Modelling Finescale Modelling OO HO 18.83mm 4mm BloodandCustard East Sussex Finescale Railway Modelling Finescale Modelling OO HO 18.83mm 4mm BloodandCustard East Sussex Finescale Railway Modelling Finescale Modelling OO HO 18.83mm 4mm BloodandCustard East Sussex Finescale Railway Modelling Finescale Modelling OO HO 18.83mm 4mm BloodandCustard East Sussex Finescale Railway Modelling Finescale Modelling OO HO 18.83mm 4mm BloodandCustard East Sussex Finescale Railway Modelling Finescale Modelling OO HO 18.83mm 4mm BloodandCustard East Sussex Finescale Railway Modelling Finescale Modelling OO HO 18.83mm 4mm BloodandCustard East Sussex Finescale Railway Modelling Finescale Modelling OO HO 18.83mm 4mm BloodandCustard East Sussex Finescale Railway Modelling Finescale Modelling OO HO 18.83mm 4mm BloodandCustard East Sussex Finescale Railway Modelling Finescale Modelling OO HO 18.83mm 4mm BloodandCustard East Sussex Finescale Railway Modelling Finescale Modelling OO HO 18.83mm 4mm BloodandCustard East Sussex Finescale Railway Modelling Finescale Modelling OO HO 18.83mm 4mm BloodandCustard East Sussex Finescale Railway Modelling Finescale Modelling OO HO 18.83mm 4mm BloodandCustard East Sussex Finescale Railway Modelling Finescale Modelling OO HO 18.83mm 4mm BloodandCustard East Sussex Finescale Railway Modelling Finescale Modelling OO HO 18.83mm 4mm BloodandCustard East Sussex Finescale Railway Modelling Finescale Modelling OO HO 18.83mm 4mm BloodandCustard East Sussex Finescale Railway Modelling Finescale Modelling OO HO 18.83mm 4mm BloodandCustard East Sussex Finescale Railway Modelling Finescale Modelling OO HO 18.83mm 4mm BloodandCustard East Sussex Finescale Railway Modelling Finescale Modelling OO HO 18.83mm 4mm BloodandCustard East Sussex Finescale Railway Modelling Finescale Modelling OO HO 18.83mm 4mm BloodandCustard East Sussex Finescale Railway Modelling Finescale Modelling OO HO 18.83mm 4mm BloodandCustard East Sussex Finescale Railway Modelling Finescale Modelling OO HO 18.83mm 4mm BloodandCustard East Sussex Finescale Railway Modelling Finescale Modelling OO HO 18.83mm 4mm BloodandCustard East Sussex Finescale Railway Modelling Finescale Modelling OO HO 18.83mm 4mm BloodandCustard East Sussex Finescale Railway Modelling Finescale Modelling OO HO 18.83mm 4mm BloodandCustard East Sussex Finescale Railway Modelling Finescale Modelling OO HO 18.83mm 4mm BloodandCustard East Sussex Finescale Railway Modelling Finescale Modelling OO HO 18.83mm 4mm BloodandCustard East Sussex Finescale Railway Modelling Finescale Modelling OO HO 18.83mm 4mm BloodandCustard East Sussex Finescale Railway Modelling Finescale Modelling OO HO 18.83mm 4mm BloodandCustard East Sussex Finescale Railway Modelling Finescale Modelling OO HO 18.83mm 4mm BloodandCustard East Sussex Finescale Railway Modelling Finescale Modelling OO HO 18.83mm 4mm BloodandCustard East Sussex Finescale Railway Modelling Finescale Modelling OO HO 18.83mm 4mm BloodandCustard East Sussex Finescale Railway Modelling Finescale Modelling OO HO 18.83mm 4mm BloodandCustard East Sussex Finescale Railway Modelling Finescale Modelling OO HO 18.83mm 4mm BloodandCustard East Sussex Finescale Railway Modelling Finescale Modelling OO HO 18.83mm 4mm BloodandCustard East Sussex Finescale Railway Modelling Finescale Modelling OO HO 18.83mm 4mm BloodandCustard East Sussex Finescale Railway Modelling Finescale Modelling OO HO 18.83mm 4mm BloodandCustard East Sussex Finescale Railway Modelling Finescale Modelling OO HO 18.83mm 4mm BloodandCustard East Sussex Finescale Railway Modelling Finescale Modelling OO HO 18.83mm 4mm BloodandCustard East Sussex Finescale Railway Modelling Finescale Modelling OO HO 18.83mm 4mm BloodandCustard East Sussex Finescale Railway Modelling Finescale Modelling OO HO 18.83mm 4mm BloodandCustard East Sussex Finescale Railway Modelling Finescale Modelling OO HO 18.83mm 4mm BloodandCustard East Sussex Finescale Railway Modelling Finescale Modelling OO HO 18.83mm 4mm BloodandCustard East Sussex Finescale Railway Modelling Finescale Modelling OO HO 18.83mm 4mm BloodandCustard East Sussex Finescale Railway Modelling Finescale Modelling OO HO 18.83mm 4mm BloodandCustard East Sussex Finescale Railway Modelling Finescale Modelling OO HO 18.83mm 4mm BloodandCustard East Sussex Finescale Railway Modelling Finescale Modelling OO HO 18.83mm 4mm BloodandCustard East Sussex Finescale Railway Modelling Finescale Modelling OO HO 18.83mm 4mm BloodandCustard East Sussex Finescale Railway Modelling Finescale Modelling OO HO 18.83mm 4mm BloodandCustard East Sussex Finescale Railway Modelling Finescale Modelling OO HO 18.83mm 4mm BloodandCustard East Sussex Finescale Railway Modelling Finescale Modelling OO HO 18.83mm 4mm BloodandCustard East Sussex Finescale Railway Modelling Finescale Modelling OO HO 18.83mm 4mm BloodandCustard East Sussex Finescale Railway Modelling Finescale Modelling OO HO 18.83mm 4mm BloodandCustard East Sussex Finescale Railway Modelling Finescale Modelling OO HO 18.83mm 4mm BloodandCustard East Sussex Finescale Railway Modelling Finescale Modelling OO HO 18.83mm 4mm BloodandCustard East Sussex Finescale Railway Modelling Finescale Modelling OO HO 18.83mm 4mm BloodandCustard East Sussex Finescale Railway Modelling Finescale Modelling OO HO 18.83mm 4mm BloodandCustard East Sussex Finescale Railway Modelling Finescale Modelling OO HO 18.83mm 4mm BloodandCustard East Sussex Finescale Railway Modelling Finescale Modelling OO HO 18.83mm 4mm BloodandCustard East Sussex Finescale Railway Modelling Finescale Modelling OO HO 18.83mm 4mm BloodandCustard East Sussex Finescale Railway Modelling Finescale Modelling OO HO 18.83mm 4mm BloodandCustard East Sussex Finescale Railway Modelling Finescale Modelling OO HO 18.83mm 4mm BloodandCustard East Sussex Finescale Railway Modelling Finescale Modelling OO HO 18.83mm 4mm BloodandCustard East Sussex Finescale Railway Modelling Finescale Modelling OO HO 18.83mm 4mm BloodandCustard East Sussex Finescale Railway Modelling Finescale Modelling OO HO 18.83mm 4mm BloodandCustard East Sussex Finescale Railway Modelling Finescale Modelling OO HO 18.83mm 4mm BloodandCustard East Sussex Finescale Railway Modelling Finescale Modelling OO HO 18.83mm 4mm BloodandCustard East Sussex Finescale Railway Modelling Finescale Modelling OO HO 18.83mm 4mm BloodandCustard East Sussex Finescale Railway Modelling Finescale Modelling OO HO 18.83mm 4mm BloodandCustard East Sussex Finescale Railway Modelling Finescale Modelling OO HO 18.83mm 4mm BloodandCustard East Sussex Finescale Railway Modelling Finescale Modelling OO HO 18.83mm 4mm BloodandCustard East Sussex Finescale Railway Modelling Finescale Modelling OO HO 18.83mm 4mm BloodandCustard East Sussex Finescale Railway Modelling Finescale Modelling OO HO 18.83mm 4mm BloodandCustard East Sussex Finescale Railway Modelling Finescale Modelling OO HO 18.83mm 4mm BloodandCustard East Sussex Finescale Railway Modelling Finescale Modelling OO HO 18.83mm 4mm BloodandCustard East Sussex Finescale Railway Modelling Finescale Modelling OO HO 18.83mm 4mm BloodandCustard East Sussex Finescale Railway Modelling Finescale Modelling OO HO 18.83mm 4mm BloodandCustard East Sussex Finescale Railway Modelling Finescale Modelling OO HO 18.83mm 4mm BloodandCustard East Sussex Finescale Railway Modelling Finescale Modelling OO HO 18.83mm 4mm BloodandCustard East Sussex Finescale Railway Modelling Finescale Modelling OO HO 18.83mm 4mm BloodandCustard East Sussex Finescale Railway Modelling Finescale Modelling OO HO 18.83mm 4mm BloodandCustard East Sussex Finescale Railway Modelling Finescale Modelling OO HO 18.83mm 4mm BloodandCustard East Sussex Finescale Railway Modelling Finescale Modelling OO HO 18.83mm 4mm BloodandCustard East Sussex Finescale Railway Modelling Finescale Modelling OO HO 18.83mm 4mm BloodandCustard East Sussex Finescale Railway Modelling Finescale Modelling OO HO 18.83mm 4mm BloodandCustard East Sussex Finescale Railway Modelling Finescale Modelling OO HO 18.83mm 4mm BloodandCustard East Sussex Finescale Railway Modelling Finescale Modelling OO HO 18.83mm 4mm BloodandCustard East Sussex Finescale Railway Modelling Finescale Modelling OO HO 18.83mm 4mm BloodandCustard East Sussex Finescale Railway Modelling Finescale Modelling OO HO 18.83mm 4mm BloodandCustard East Sussex Finescale Railway Modelling Finescale Modelling OO HO 18.83mm 4mm BloodandCustard East Sussex Finescale Railway Modelling Finescale Modelling OO HO 18.83mm 4mm BloodandCustard East Sussex Finescale Railway Modelling Finescale Modelling OO HO 18.83mm 4mm BloodandCustard East Sussex Finescale Railway Modelling Finescale Modelling OO HO 18.83mm 4mm BloodandCustard East Sussex Finescale Railway Modelling Finescale Modelling OO HO 18.83mm 4mm BloodandCustard East Sussex Finescale Railway Modelling Finescale Modelling OO HO 18.83mm 4mm BloodandCustard East Sussex Finescale Railway Modelling Finescale Modelling OO HO 18.83mm 4mm BloodandCustard East Sussex Finescale Railway Modelling Finescale Modelling OO HO 18.83mm 4mm BloodandCustard East Sussex Finescale Railway Modelling Finescale Modelling OO HO 18.83mm 4mm BloodandCustard East Sussex Finescale Railway Modelling Finescale Modelling OO HO 18.83mm 4mm BloodandCustard East Sussex Finescale Railway Modelling Finescale Modelling OO HO 18.83mm 4mm BloodandCustard East Sussex Finescale Railway Modelling Finescale Modelling OO HO 18.83mm 4mm BloodandCustard East Sussex Finescale Railway Modelling Finescale Modelling OO HO 18.83mm 4mm BloodandCustard East Sussex Finescale Railway Modelling Finescale Modelling OO HO 18.83mm 4mm BloodandCustard East Sussex Finescale Railway Modelling Finescale Modelling OO HO 18.83mm 4mm BloodandCustard East Sussex Finescale Railway Modelling Finescale Modelling OO HO 18.83mm 4mm BloodandCustard East Sussex Finescale Railway Modelling Finescale Modelling OO HO 18.83mm 4mm BloodandCustard East Sussex Finescale Railway Modelling Finescale Modelling OO HO 18.83mm 4mm BloodandCustard East Sussex Finescale Railway Modelling Finescale Modelling OO HO 18.83mm 4mm BloodandCustard East Sussex Finescale Railway Modelling Finescale Modelling OO HO 18.83mm 4mm BloodandCustard East Sussex Finescale Railway Modelling Finescale Modelling OO HO 18.83mm 4mm BloodandCustard East Sussex Finescale Railway Modelling Finescale Modelling OO HO 18.83mm 4mm BloodandCustard East Sussex Finescale Railway Modelling Finescale Modelling OO HO 18.83mm 4mm BloodandCustard East Sussex Finescale Railway Modelling Finescale Modelling OO HO 18.83mm 4mm BloodandCustard East Sussex Finescale Railway Modelling Finescale Modelling OO HO 18.83mm 4mm BloodandCustard East Sussex Finescale Railway Modelling Finescale Modelling OO HO 18.83mm 4mm BloodandCustard East Sussex Finescale Railway Modelling Finescale Modelling OO HO 18.83mm 4mm BloodandCustard East Sussex Finescale Railway Modelling Finescale Modelling OO HO 18.83mm 4mm BloodandCustard East Sussex Finescale Railway Modelling Finescale Modelling OO HO 18.83mm 4mm BloodandCustard East Sussex Finescale Railway Modelling Finescale Modelling OO HO 18.83mm 4mm BloodandCustard East Sussex Finescale Railway Modelling Finescale Modelling OO HO 18.83mm 4mm BloodandCustard East Sussex Finescale Railway Modelling Finescale Modelling OO HO 18.83mm 4mm BloodandCustard East Sussex Finescale Railway Modelling Finescale Modelling OO HO 18.83mm 4mm BloodandCustard East Sussex Finescale Railway Modelling Finescale Modelling OO HO 18.83mm 4mm BloodandCustard East Sussex Finescale Railway Modelling Finescale Modelling OO HO 18.83mm 4mm BloodandCustard East Sussex Finescale Railway Modelling Finescale Modelling OO HO 18.83mm 4mm BloodandCustard East Sussex Finescale Railway Modelling Finescale Modelling OO HO 18.83mm 4mm BloodandCustard East Sussex Finescale Railway Modelling Finescale Modelling OO HO 18.83mm 4mm BloodandCustard East Sussex Finescale Railway Modelling Finescale Modelling OO HO 18.83mm 4mm BloodandCustard East Sussex Finescale Railway Modelling Finescale Modelling OO HO 18.83mm 4mm BloodandCustard East Sussex Finescale Railway Modelling Finescale Modelling OO HO 18.83mm 4mm BloodandCustard East Sussex Finescale Railway Modelling Finescale Modelling OO HO 18.83mm 4mm BloodandCustard East Sussex Finescale Railway Modelling Finescale Modelling OO HO 18.83mm 4mm BloodandCustard East Sussex Finescale Railway Modelling Finescale Modelling OO HO 18.83mm 4mm BloodandCustard East Sussex Finescale Railway Modelling Finescale Modelling OO HO 18.83mm 4mm BloodandCustard East Sussex Finescale Railway Modelling Finescale Modelling OO HO 18.83mm 4mm BloodandCustard East Sussex Finescale Railway Modelling Finescale Modelling OO HO 18.83mm 4mm BloodandCustard East Sussex Finescale Railway Modelling Finescale Modelling OO HO 18.83mm 4mm BloodandCustard East Sussex Finescale Railway Modelling Finescale Modelling OO HO 18.83mm 4mm BloodandCustard East Sussex Finescale Railway Modelling Finescale Modelling OO HO 18.83mm 4mm BloodandCustard East Sussex Finescale Railway Modelling Finescale Modelling OO HO 18.83mm 4mm BloodandCustard East Sussex Finescale Railway Modelling Finescale Modelling OO HO 18.83mm 4mm BloodandCustard East Sussex Finescale Railway Modelling Finescale Modelling OO HO 18.83mm 4mm BloodandCustard East Sussex Finescale Railway Modelling Finescale Modelling OO HO 18.83mm 4mm BloodandCustard East Sussex Finescale Railway Modelling Finescale Modelling OO HO 18.83mm 4mm BloodandCustard East Sussex Finescale Railway Modelling Finescale Modelling OO HO 18.83mm 4mm BloodandCustard East Sussex Finescale Railway Modelling Finescale Modelling OO HO 18.83mm 4mm BloodandCustard East Sussex Finescale Railway Modelling Finescale Modelling OO HO 18.83mm 4mm BloodandCustard East Sussex Finescale Railway Modelling Finescale Modelling OO HO 18.83mm 4mm BloodandCustard East Sussex Finescale Railway Modelling Finescale Modelling OO HO 18.83mm 4mm BloodandCustard East Sussex Finescale Railway Modelling Finescale Modelling OO HO 18.83mm 4mm BloodandCustard East Sussex Finescale Railway Modelling Finescale Modelling OO HO 18.83mm 4mm BloodandCustard East Sussex Finescale Railway Modelling Finescale Modelling OO HO 18.83mm 4mm BloodandCustard East Sussex Finescale Railway Modelling Finescale Modelling OO HO 18.83mm 4mm BloodandCustard East Sussex Finescale Railway Modelling Finescale Modelling OO HO 18.83mm 4mm BloodandCustard East Sussex Finescale Railway Modelling Finescale Modelling OO HO 18.83mm 4mm BloodandCustard East Sussex Finescale Railway Modelling Finescale Modelling OO HO 18.83mm 4mm BloodandCustard East Sussex Finescale Railway Modelling Finescale Modelling OO HO 18.83mm 4mm BloodandCustard East Sussex Finescale Railway Modelling Finescale Modelling OO HO 18.83mm 4mm BloodandCustard East Sussex Finescale Railway Modelling Finescale Modelling OO HO 18.83mm 4mm BloodandCustard East Sussex Finescale Railway Modelling Finescale Modelling OO HO 18.83mm 4mm BloodandCustard East Sussex Finescale Railway Modelling Finescale Modelling OO HO 18.83mm 4mm BloodandCustard East Sussex Finescale Railway Modelling Finescale Modelling OO HO 18.83mm 4mm BloodandCustard East Sussex Finescale Railway Modelling Finescale Modelling OO HO 18.83mm 4mm BloodandCustard East Sussex Finescale Railway Modelling Finescale Modelling OO HO 18.83mm 4mm BloodandCustard East Sussex Finescale Railway Modelling Finescale Modelling OO HO 18.83mm 4mm BloodandCustard East Sussex Finescale Railway Modelling Finescale Modelling OO HO 18.83mm 4mm BloodandCustard East Sussex Finescale Railway Modelling Finescale Modelling OO HO 18.83mm 4mm BloodandCustard East Sussex Finescale Railway Modelling Finescale Modelling OO HO 18.83mm 4mm BloodandCustard East Sussex Finescale Railway Modelling Finescale Modelling OO HO 18.83mm 4mm BloodandCustard East Sussex Finescale Railway Modelling Finescale Modelling OO HO 18.83mm 4mm BloodandCustard East Sussex Finescale Railway Modelling Finescale Modelling OO HO 18.83mm 4mm BloodandCustard East Sussex Finescale Railway Modelling Finescale Modelling OO HO 18.83mm 4mm BloodandCustard East Sussex Finescale Railway Modelling Finescale Modelling OO HO 18.83mm 4mm BloodandCustard East Sussex Finescale Railway Modelling Finescale Modelling OO HO 18.83mm 4mm BloodandCustard East Sussex Finescale Railway Modelling Finescale Modelling OO HO 18.83mm 4mm BloodandCustard East Sussex Finescale Railway Modelling Finescale Modelling OO HO 18.83mm 4mm BloodandCustard East Sussex Finescale Railway Modelling Finescale Modelling OO HO 18.83mm 4mm BloodandCustard East Sussex Finescale Railway Modelling Finescale Modelling OO HO 18.83mm 4mm BloodandCustard East Sussex Finescale Railway Modelling Finescale Modelling OO HO 18.83mm 4mm BloodandCustard East Sussex Finescale Railway Modelling Finescale Modelling OO HO 18.83mm 4mm BloodandCustard East Sussex Finescale Railway Modelling Finescale Modelling OO HO 18.83mm 4mm BloodandCustard East Sussex Finescale Railway Modelling Finescale Modelling OO HO 18.83mm 4mm BloodandCustard East Sussex Finescale Railway Modelling Finescale Modelling OO HO 18.83mm 4mm BloodandCustard East Sussex Finescale Railway Modelling Finescale Modelling OO HO 18.83mm 4mm BloodandCustard East Sussex Finescale Railway Modelling Finescale Modelling OO HO 18.83mm 4mm BloodandCustard East Sussex Finescale Railway Modelling Finescale Modelling OO HO 18.83mm 4mm BloodandCustard East Sussex Finescale Railway Modelling Finescale Modelling OO HO 18.83mm 4mm BloodandCustard East Sussex Finescale Railway Modelling Finescale Modelling OO HO 18.83mm 4mm BloodandCustard East Sussex Finescale Railway Modelling Finescale Modelling OO HO 18.83mm 4mm BloodandCustard East Sussex Finescale Railway Modelling Finescale Modelling OO HO 18.83mm 4mm BloodandCustard East Sussex Finescale Railway Modelling Finescale Modelling OO HO 18.83mm 4mm BloodandCustard East Sussex Finescale Railway Modelling Finescale Modelling OO HO 18.83mm 4mm BloodandCustard East Sussex Finescale Railway Modelling Finescale Modelling OO HO 18.83mm 4mm BloodandCustard East Sussex Finescale Railway Modelling Finescale Modelling OO HO 18.83mm 4mm BloodandCustard East Sussex Finescale Railway Modelling Finescale Modelling OO HO 18.83mm 4mm BloodandCustard East Sussex Finescale Railway Modelling Finescale Modelling OO HO 18.83mm 4mm BloodandCustard East Sussex Finescale Railway Modelling Finescale Modelling OO HO 18.83mm 4mm BloodandCustard East Sussex Finescale Railway Modelling Finescale Modelling OO HO 18.83mm 4mm BloodandCustard East Sussex Finescale Railway Modelling Finescale Modelling OO HO 18.83mm 4mm BloodandCustard East Sussex Finescale Railway Modelling Finescale Modelling OO HO 18.83mm 4mm BloodandCustard East Sussex Finescale Railway Modelling Finescale Modelling OO HO 18.83mm 4mm BloodandCustard East Sussex Finescale Railway Modelling Finescale Modelling OO HO 18.83mm 4mm BloodandCustard East Sussex Finescale Railway Modelling Finescale Modelling OO HO 18.83mm 4mm BloodandCustard East Sussex Finescale Railway Modelling Finescale Modelling OO HO 18.83mm 4mm BloodandCustard East Sussex Finescale Railway Modelling Finescale Modelling OO HO 18.83mm 4mm BloodandCustard East Sussex Finescale Railway Modelling Finescale Modelling OO HO 18.83mm 4mm BloodandCustard East Sussex Finescale Railway Modelling Finescale Modelling OO HO 18.83mm 4mm BloodandCustard East Sussex Finescale Railway Modelling Finescale Modelling OO HO 18.83mm 4mm BloodandCustard East Sussex Finescale Railway Modelling Finescale Modelling OO HO 18.83mm 4mm BloodandCustard East Sussex Finescale Railway Modelling Finescale Modelling OO HO 18.83mm 4mm BloodandCustard East Sussex Finescale Railway Modelling Finescale Modelling OO HO 18.83mm 4mm BloodandCustard East Sussex Finescale Railway Modelling Finescale Modelling OO HO 18.83mm 4mm BloodandCustard East Sussex Finescale Railway Modelling Finescale Modelling OO HO 18.83mm 4mm BloodandCustard East Sussex Finescale Railway Modelling Finescale Modelling OO HO 18.83mm 4mm BloodandCustard East Sussex Finescale Railway Modelling Finescale Modelling OO HO 18.83mm 4mm BloodandCustard East Sussex Finescale Railway Modelling Finescale Modelling OO HO 18.83mm 4mm BloodandCustard East Sussex Finescale Railway Modelling Finescale Modelling OO HO 18.83mm 4mm BloodandCustard East Sussex Finescale Railway Modelling Finescale Modelling OO HO 18.83mm 4mm BloodandCustard East Sussex Finescale Railway Modelling Finescale Modelling OO HO 18.83mm 4mm BloodandCustard East Sussex Finescale Railway Modelling Finescale Modelling OO HO 18.83mm 4mm BloodandCustard East Sussex Finescale Railway Modelling Finescale Modelling OO HO 18.83mm 4mm BloodandCustard East Sussex Finescale Railway Modelling Finescale Modelling OO HO 18.83mm 4mm BloodandCustard East Sussex Finescale Railway Modelling Finescale Modelling OO HO 18.83mm 4mm BloodandCustard East Sussex Finescale Railway Modelling Finescale Modelling OO HO 18.83mm 4mm BloodandCustard East Sussex Finescale Railway Modelling Finescale Modelling OO HO 18.83mm 4mm BloodandCustard East Sussex Finescale Railway Modelling Finescale Modelling OO HO 18.83mm 4mm BloodandCustard East Sussex Finescale Railway Modelling Finescale Modelling OO HO 18.83mm 4mm BloodandCustard East Sussex Finescale Railway Modelling Finescale Modelling OO HO 18.83mm 4mm BloodandCustard East Sussex Finescale Railway Modelling Finescale Modelling OO HO 18.83mm 4mm BloodandCustard East Sussex Finescale Railway Modelling Finescale Modelling OO HO 18.83mm 4mm BloodandCustard East Sussex Finescale Railway Modelling Finescale Modelling OO HO 18.83mm 4mm BloodandCustard East Sussex Finescale Railway Modelling Finescale Modelling OO HO 18.83mm 4mm BloodandCustard East Sussex Finescale Railway Modelling Finescale Modelling OO HO 18.83mm 4mm BloodandCustard East Sussex Finescale Railway Modelling Finescale Modelling OO HO 18.83mm 4mm BloodandCustard East Sussex Finescale Railway Modelling Finescale Modelling OO HO 18.83mm 4mm BloodandCustard East Sussex Finescale Railway Modelling Finescale Modelling OO HO 18.83mm 4mm BloodandCustard East Sussex Finescale Railway Modelling Finescale Modelling OO HO 18.83mm 4mm BloodandCustard East Sussex Finescale Railway Modelling Finescale Modelling OO HO 18.83mm 4mm BloodandCustard East Sussex Finescale Railway Modelling Finescale Modelling OO HO 18.83mm 4mm BloodandCustard East Sussex Finescale Railway Modelling Finescale Modelling OO HO 18.83mm 4mm BloodandCustard East Sussex Finescale Railway Modelling Finescale Modelling OO HO 18.83mm 4mm BloodandCustard East Sussex Finescale Railway Modelling Finescale Modelling OO HO 18.83mm 4mm BloodandCustard East Sussex Finescale Railway Modelling Finescale Modelling OO HO 18.83mm 4mm BloodandCustard East Sussex Finescale Railway Modelling Finescale Modelling OO HO 18.83mm 4mm BloodandCustard East Sussex Finescale Railway Modelling Finescale Modelling OO HO 18.83mm 4mm BloodandCustard East Sussex Finescale Railway Modelling Finescale Modelling OO HO 18.83mm 4mm BloodandCustard East Sussex Finescale Railway Modelling Finescale Modelling OO HO 18.83mm 4mm BloodandCustard East Sussex Finescale Railway Modelling Finescale Modelling OO HO 18.83mm 4mm BloodandCustard East Sussex Finescale Railway Modelling Finescale Modelling OO HO 18.83mm 4mm BloodandCustard East Sussex Finescale Railway Modelling Finescale Modelling OO HO 18.83mmBloodandCustard East Sussex Finescale Railway Modelling Finescale Modelling OO HO 18.83mm 4mm. BloodandCustard East Sussex Finescale Railway Modelling Finescale Modelling OO HO 18.83mm 4mm BloodandCustard East Sussex Finescale Railway Modelling Finescale Modelling OO HO 18.83mm 4mm BloodandCustard East Sussex Finescale Railway Modelling Finescale Modelling OO HO 18.83mm 4mm BloodandCustard East Sussex Finescale Railway Modelling Finescale Modelling OO HO 18.83mm 4mm BloodandCustard East Sussex Finescale Railway Modelling Finescale Modelling OO HO 18.83mm 4mm BloodandCustard East Sussex Finescale Railway Modelling Finescale Modelling OO HO 18.83mm 4mm BloodandCustard East Sussex Finescale Railway Modelling Finescale Modelling OO HO 18.83mm 4mm BloodandCustard East Sussex Finescale Railway Modelling Finescale Modelling OO HO 18.83mm 4mm BloodandCustard East Sussex Finescale Railway Modelling Finescale Modelling OO HO 18.83mm 4mm BloodandCustard East Sussex Finescale Railway Modelling Finescale Modelling OO HO 18.83mm 4mm BloodandCustard East Sussex Finescale Railway Modelling Finescale Modelling OO HO 18.83mm 4mm BloodandCustard East Sussex Finescale Railway Modelling Finescale Modelling OO HO 18.83mm 4mm BloodandCustard East Sussex Finescale Railway Modelling Finescale Modelling OO HO 18.83mm 4mm BloodandCustard East Sussex Finescale Railway Modelling Finescale Modelling OO HO 18.83mm 4mm BloodandCustard East Sussex Finescale Railway Modelling Finescale Modelling OO HO 18.83mm 4mm BloodandCustard East Sussex Finescale Railway Modelling Finescale Modelling OO HO 18.83mm 4mm BloodandCustard East Sussex Finescale Railway Modelling Finescale Modelling OO HO 18.83mm 4mm BloodandCustard East Sussex Finescale Railway Modelling Finescale Modelling OO HO 18.83mm 4mm BloodandCustard East Sussex Finescale Railway Modelling Finescale Modelling OO HO 18.83mm 4mm BloodandCustard East Sussex Finescale Railway Modelling Finescale Modelling OO HO 18.83mm 4mm BloodandCustard East Sussex Finescale Railway Modelling Finescale Modelling OO HO 18.83mm 4mm BloodandCustard East Sussex Finescale Railway Modelling Finescale Modelling OO HO 18.83mm 4mm BloodandCustard East Sussex Finescale Railway Modelling Finescale Modelling OO HO 18.83mm 4mm BloodandCustard East Sussex Finescale Railway Modelling Finescale Modelling OO HO 18.83mm 4mm BloodandCustard East Sussex Finescale Railway Modelling Finescale Modelling OO HO 18.83mm 4mm BloodandCustard East Sussex Finescale Railway Modelling Finescale Modelling OO HO 18.83mm 4mm BloodandCustard East Sussex Finescale Railway Modelling Finescale Modelling OO HO 18.83mm 4mm BloodandCustard East Sussex Finescale Railway Modelling Finescale Modelling OO HO 18.83mm 4mm BloodandCustard East Sussex Finescale Railway Modelling Finescale Modelling OO HO 18.83mm 4mm BloodandCustard East Sussex Finescale Railway Modelling Finescale Modelling OO HO 18.83mm 4mm BloodandCustard East Sussex Finescale Railway Modelling Finescale Modelling OO HO 18.83mm 4mm BloodandCustard East Sussex Finescale Railway Modelling Finescale Modelling OO HO 18.83mm 4mm BloodandCustard East Sussex Finescale Railway Modelling Finescale Modelling OO HO 18.83mm 4mm BloodandCustard East Sussex Finescale Railway Modelling Finescale Modelling OO HO 18.83mm 4mm BloodandCustard East Sussex Finescale Railway Modelling Finescale Modelling OO HO 18.83mm 4mm BloodandCustard East Sussex Finescale Railway Modelling Finescale Modelling OO HO 18.83mm 4mm BloodandCustard East Sussex Finescale Railway Modelling Finescale Modelling OO HO 18.83mm 4mm BloodandCustard East Sussex Finescale Railway Modelling Finescale Modelling OO HO 18.83mm 4mm BloodandCustard East Sussex Finescale Railway Modelling Finescale Modelling OO HO 18.83mm 4mm BloodandCustard East Sussex Finescale Railway Modelling Finescale Modelling OO HO 18.83mm 4mm BloodandCustard East Sussex Finescale Railway Modelling Finescale Modelling OO HO 18.83mm 4mm BloodandCustard East Sussex Finescale Railway Modelling Finescale Modelling OO HO 18.83mm 4mm BloodandCustard East Sussex Finescale Railway Modelling Finescale Modelling OO HO 18.83mm 4mm BloodandCustard East Sussex Finescale Railway Modelling Finescale Modelling OO HO 18.83mm 4mm BloodandCustard East Sussex Finescale Railway Modelling Finescale Modelling OO HO 18.83mm 4mm BloodandCustard East Sussex Finescale Railway Modelling Finescale Modelling OO HO 18.83mm 4mm BloodandCustard East Sussex Finescale Railway Modelling Finescale Modelling OO HO 18.83mm 4mm BloodandCustard East Sussex Finescale Railway Modelling Finescale Modelling OO HO 18.83mm 4mm BloodandCustard East Sussex Finescale Railway Modelling Finescale Modelling OO HO 18.83mm 4mm BloodandCustard East Sussex Finescale Railway Modelling Finescale Modelling OO HO 18.83mm 4mm BloodandCustard East Sussex Finescale Railway Modelling Finescale Modelling OO HO 18.83mm 4mm BloodandCustard East Sussex Finescale Railway Modelling Finescale Modelling OO HO 18.83mm 4mm BloodandCustard East Sussex Finescale Railway Modelling Finescale Modelling OO HO 18.83mm 4mm BloodandCustard East Sussex Finescale Railway Modelling Finescale Modelling OO HO 18.83mm 4mm BloodandCustard East Sussex Finescale Railway Modelling Finescale Modelling OO HO 18.83mm 4mm BloodandCustard East Sussex Finescale Railway Modelling Finescale Modelling OO HO 18.83mm 4mm BloodandCustard East Sussex Finescale Railway Modelling Finescale Modelling OO HO 18.83mm 4mm BloodandCustard East Sussex Finescale Railway Modelling Finescale Modelling OO HO 18.83mm 4mm BloodandCustard East Sussex Finescale Railway Modelling Finescale Modelling OO HO 18.83mm 4mm BloodandCustard East Sussex Finescale Railway Modelling Finescale Modelling OO HO 18.83mm 4mm BloodandCustard East Sussex Finescale Railway Modelling Finescale Modelling OO HO 18.83mm 4mm BloodandCustard East Sussex Finescale Railway Modelling Finescale Modelling OO HO 18.83mm 4mm BloodandCustard East Sussex Finescale Railway Modelling Finescale Modelling OO HO 18.83mm 4mm BloodandCustard East Sussex Finescale Railway Modelling Finescale Modelling OO HO 18.83mm 4mm BloodandCustard East Sussex Finescale Railway Modelling Finescale Modelling OO HO 18.83mm 4mm BloodandCustard East Sussex Finescale Railway Modelling Finescale Modelling OO HO 18.83mm 4mm BloodandCustard East Sussex Finescale Railway Modelling Finescale Modelling OO HO 18.83mm 4mm BloodandCustard East Sussex Finescale Railway Modelling Finescale Modelling OO HO 18.83mm 4mm BloodandCustard East Sussex Finescale Railway Modelling Finescale Modelling OO HO 18.83mm 4mm BloodandCustard East Sussex Finescale Railway Modelling Finescale Modelling OO HO 18.83mm 4mm BloodandCustard East Sussex Finescale Railway Modelling Finescale Modelling OO HO 18.83mm 4mm BloodandCustard East Sussex Finescale Railway Modelling Finescale Modelling OO HO 18.83mm 4mm BloodandCustard East Sussex Finescale Railway Modelling Finescale Modelling OO HO 18.83mm 4mm BloodandCustard East Sussex Finescale Railway Modelling Finescale Modelling OO HO 18.83mm 4mm BloodandCustard East Sussex Finescale Railway Modelling Finescale Modelling OO HO 18.83mm 4mm BloodandCustard East Sussex Finescale Railway Modelling Finescale Modelling OO HO 18.83mm 4mm BloodandCustard East Sussex Finescale Railway Modelling Finescale Modelling OO HO 18.83mm 4mm BloodandCustard East Sussex Finescale Railway Modelling Finescale Modelling OO HO 18.83mm 4mm BloodandCustard East Sussex Finescale Railway Modelling Finescale Modelling OO HO 18.83mm 4mm BloodandCustard East Sussex Finescale Railway Modelling Finescale Modelling OO HO 18.83mm 4mm BloodandCustard East Sussex Finescale Railway Modelling Finescale Modelling OO HO 18.83mm 4mm BloodandCustard East Sussex Finescale Railway Modelling Finescale Modelling OO HO 18.83mm 4mm BloodandCustard East Sussex Finescale Railway Modelling Finescale Modelling OO HO 18.83mm 4mm BloodandCustard East Sussex Finescale Railway Modelling Finescale Modelling OO HO 18.83mm 4mm BloodandCustard East Sussex Finescale Railway Modelling Finescale Modelling OO HO 18.83mm 4mm BloodandCustard East Sussex Finescale Railway Modelling Finescale Modelling OO HO 18.83mm 4mm BloodandCustard East Sussex Finescale Railway Modelling Finescale Modelling OO HO 18.83mm 4mm BloodandCustard East Sussex Finescale Railway Modelling Finescale Modelling OO HO 18.83mm 4mm BloodandCustard East Sussex Finescale Railway Modelling Finescale Modelling OO HO 18.83mm 4mm BloodandCustard East Sussex Finescale Railway Modelling Finescale Modelling OO HO 18.83mm 4mm BloodandCustard East Sussex Finescale Railway Modelling Finescale Modelling OO HO 18.83mm 4mm BloodandCustard East Sussex Finescale Railway Modelling Finescale Modelling OO HO 18.83mm 4mm BloodandCustard East Sussex Finescale Railway Modelling Finescale Modelling OO HO 18.83mm 4mm BloodandCustard East Sussex Finescale Railway Modelling Finescale Modelling OO HO 18.83mm 4mm BloodandCustard East Sussex Finescale Railway Modelling Finescale Modelling OO HO 18.83mm 4mm BloodandCustard East Sussex Finescale Railway Modelling Finescale Modelling OO HO 18.83mm 4mm BloodandCustard East Sussex Finescale Railway Modelling Finescale Modelling OO HO 18.83mm 4mm BloodandCustard East Sussex Finescale Railway Modelling Finescale Modelling OO HO 18.83mm 4mm BloodandCustard East Sussex Finescale Railway Modelling Finescale Modelling OO HO 18.83mm 4mm BloodandCustard East Sussex Finescale Railway Modelling Finescale Modelling OO HO 18.83mm 4mm BloodandCustard East Sussex Finescale Railway Modelling Finescale Modelling OO HO 18.83mm 4mm BloodandCustard East Sussex Finescale Railway Modelling Finescale Modelling OO HO 18.83mm 4mm BloodandCustard East Sussex Finescale Railway Modelling Finescale Modelling OO HO 18.83mm 4mm BloodandCustard East Sussex Finescale Railway Modelling Finescale Modelling OO HO 18.83mm 4mm BloodandCustard East Sussex Finescale Railway Modelling Finescale Modelling OO HO 18.83mm 4mm BloodandCustard East Sussex Finescale Railway Modelling Finescale Modelling OO HO 18.83mm 4mm BloodandCustard East Sussex Finescale Railway Modelling Finescale Modelling OO HO 18.83mm 4mm BloodandCustard East Sussex Finescale Railway Modelling Finescale Modelling OO HO 18.83mm 4mm BloodandCustard East Sussex Finescale Railway Modelling Finescale Modelling OO HO 18.83mm 4mm BloodandCustard East Sussex Finescale Railway Modelling Finescale Modelling OO HO 18.83mm 4mm BloodandCustard East Sussex Finescale Railway Modelling Finescale Modelling OO HO 18.83mm 4mm BloodandCustard East Sussex Finescale Railway Modelling Finescale Modelling OO HO 18.83mm 4mm BloodandCustard East Sussex Finescale Railway Modelling Finescale Modelling OO HO 18.83mm 4mm BloodandCustard East Sussex Finescale Railway Modelling Finescale Modelling OO HO 18.83mm 4mm BloodandCustard East Sussex Finescale Railway Modelling Finescale Modelling OO HO 18.83mm 4mm BloodandCustard East Sussex Finescale Railway Modelling Finescale Modelling OO HO 18.83mm 4mm BloodandCustard East Sussex Finescale Railway Modelling Finescale Modelling OO HO 18.83mm 4mm BloodandCustard East Sussex Finescale Railway Modelling Finescale Modelling OO HO 18.83mm 4mm BloodandCustard East Sussex Finescale Railway Modelling Finescale Modelling OO HO 18.83mm 4mm BloodandCustard East Sussex Finescale Railway Modelling Finescale Modelling OO HO 18.83mm 4mm BloodandCustard East Sussex Finescale Railway Modelling Finescale Modelling OO HO 18.83mm 4mm BloodandCustard East Sussex Finescale Railway Modelling Finescale Modelling OO HO 18.83mm 4mm BloodandCustard East Sussex Finescale Railway Modelling Finescale Modelling OO HO 18.83mm 4mm BloodandCustard East Sussex Finescale Railway Modelling Finescale Modelling OO HO 18.83mm 4mm BloodandCustard East Sussex Finescale Railway Modelling Finescale Modelling OO HO 18.83mm 4mm BloodandCustard East Sussex Finescale Railway Modelling Finescale Modelling OO HO 18.83mm 4mm BloodandCustard East Sussex Finescale Railway Modelling Finescale Modelling OO HO 18.83mm 4mm BloodandCustard East Sussex Finescale Railway Modelling Finescale Modelling OO HO 18.83mm 4mm BloodandCustard East Sussex Finescale Railway Modelling Finescale Modelling OO HO 18.83mm 4mm BloodandCustard East Sussex Finescale Railway Modelling Finescale Modelling OO HO 18.83mm 4mm BloodandCustard East Sussex Finescale Railway Modelling Finescale Modelling OO HO 18.83mm 4mm BloodandCustard East Sussex Finescale Railway Modelling Finescale Modelling OO HO 18.83mm 4mm BloodandCustard East Sussex Finescale Railway Modelling Finescale Modelling OO HO 18.83mm 4mm BloodandCustard East Sussex Finescale Railway Modelling Finescale Modelling OO HO 18.83mm 4mm BloodandCustard East Sussex Finescale Railway Modelling Finescale Modelling OO HO 18.83mm 4mm BloodandCustard East Sussex Finescale Railway Modelling Finescale Modelling OO HO 18.83mm 4mm BloodandCustard East Sussex Finescale Railway Modelling Finescale Modelling OO HO 18.83mm 4mm BloodandCustard East Sussex Finescale Railway Modelling Finescale Modelling OO HO 18.83mm 4mm BloodandCustard East Sussex Finescale Railway Modelling Finescale Modelling OO HO 18.83mm 4mm BloodandCustard East Sussex Finescale Railway Modelling Finescale Modelling OO HO 18.83mm 4mm BloodandCustard East Sussex Finescale Railway Modelling Finescale Modelling OO HO 18.83mm 4mm BloodandCustard East Sussex Finescale Railway Modelling Finescale Modelling OO HO 18.83mm 4mm BloodandCustard East Sussex Finescale Railway Modelling Finescale Modelling OO HO 18.83mm 4mm BloodandCustard East Sussex Finescale Railway Modelling Finescale Modelling OO HO 18.83mm 4mm BloodandCustard East Sussex Finescale Railway Modelling Finescale Modelling OO HO 18.83mm 4mm BloodandCustard East Sussex Finescale Railway Modelling Finescale Modelling OO HO 18.83mm 4mm BloodandCustard East Sussex Finescale Railway Modelling Finescale Modelling OO HO 18.83mm 4mm BloodandCustard East Sussex Finescale Railway Modelling Finescale Modelling OO HO 18.83mm 4mm BloodandCustard East Sussex Finescale Railway Modelling Finescale Modelling OO HO 18.83mm 4mm BloodandCustard East Sussex Finescale Railway Modelling Finescale Modelling OO HO 18.83mm 4mm BloodandCustard East Sussex Finescale Railway Modelling Finescale Modelling OO HO 18.83mm 4mm BloodandCustard East Sussex Finescale Railway Modelling Finescale Modelling OO HO 18.83mm 4mm BloodandCustard East Sussex Finescale Railway Modelling Finescale Modelling OO HO 18.83mm 4mm BloodandCustard East Sussex Finescale Railway Modelling Finescale Modelling OO HO 18.83mm 4mm BloodandCustard East Sussex Finescale Railway Modelling Finescale Modelling OO HO 18.83mm 4mm BloodandCustard East Sussex Finescale Railway Modelling Finescale Modelling OO HO 18.83mm 4mm BloodandCustard East Sussex Finescale Railway Modelling Finescale Modelling OO HO 18.83mm 4mm BloodandCustard East Sussex Finescale Railway Modelling Finescale Modelling OO HO 18.83mm 4mm BloodandCustard East Sussex Finescale Railway Modelling Finescale Modelling OO HO 18.83mm 4mm BloodandCustard East Sussex Finescale Railway Modelling Finescale Modelling OO HO 18.83mm 4mm BloodandCustard East Sussex Finescale Railway Modelling Finescale Modelling OO HO 18.83mm 4mm BloodandCustard East Sussex Finescale Railway Modelling Finescale Modelling OO HO 18.83mm 4mm BloodandCustard East Sussex Finescale Railway Modelling Finescale Modelling OO HO 18.83mm 4mm BloodandCustard East Sussex Finescale Railway Modelling Finescale Modelling OO HO 18.83mm 4mm BloodandCustard East Sussex Finescale Railway Modelling Finescale Modelling OO HO 18.83mm 4mm BloodandCustard East Sussex Finescale Railway Modelling Finescale Modelling OO HO 18.83mm 4mm BloodandCustard East Sussex Finescale Railway Modelling Finescale Modelling OO HO 18.83mm 4mm BloodandCustard East Sussex Finescale Railway Modelling Finescale Modelling OO HO 18.83mm 4mm BloodandCustard East Sussex Finescale Railway Modelling Finescale Modelling OO HO 18.83mm 4mm BloodandCustard East Sussex Finescale Railway Modelling Finescale Modelling OO HO 18.83mm 4mm BloodandCustard East Sussex Finescale Railway Modelling Finescale Modelling OO HO 18.83mm 4mm BloodandCustard East Sussex Finescale Railway Modelling Finescale Modelling OO HO 18.83mm 4mm BloodandCustard East Sussex Finescale Railway Modelling Finescale Modelling OO HO 18.83mm 4mm BloodandCustard East Sussex Finescale Railway Modelling Finescale Modelling OO HO 18.83mm 4mm BloodandCustard East Sussex Finescale Railway Modelling Finescale Modelling OO HO 18.83mm 4mm BloodandCustard East Sussex Finescale Railway Modelling Finescale Modelling OO HO 18.83mm 4mm BloodandCustard East Sussex Finescale Railway Modelling Finescale Modelling OO HO 18.83mm 4mm BloodandCustard East Sussex Finescale Railway Modelling Finescale Modelling OO HO 18.83mm 4mm BloodandCustard East Sussex Finescale Railway Modelling Finescale Modelling OO HO 18.83mm 4mm BloodandCustard East Sussex Finescale Railway Modelling Finescale Modelling OO HO 18.83mm 4mm BloodandCustard East Sussex Finescale Railway Modelling Finescale Modelling OO HO 18.83mm 4mm BloodandCustard East Sussex Finescale Railway Modelling Finescale Modelling OO HO 18.83mm 4mm BloodandCustard East Sussex Finescale Railway Modelling Finescale Modelling OO HO 18.83mm 4mm BloodandCustard East Sussex Finescale Railway Modelling Finescale Modelling OO HO 18.83mm 4mm BloodandCustard East Sussex Finescale Railway Modelling Finescale Modelling OO HO 18.83mm 4mm BloodandCustard East Sussex Finescale Railway Modelling Finescale Modelling OO HO 18.83mm 4mm BloodandCustard East Sussex Finescale Railway Modelling Finescale Modelling OO HO 18.83mm 4mm BloodandCustard East Sussex Finescale Railway Modelling Finescale Modelling OO HO 18.83mm 4mm BloodandCustard East Sussex Finescale Railway Modelling Finescale Modelling OO HO 18.83mm 4mm BloodandCustard East Sussex Finescale Railway Modelling Finescale Modelling OO HO 18.83mm 4mm BloodandCustard East Sussex Finescale Railway Modelling Finescale Modelling OO HO 18.83mm 4mm BloodandCustard East Sussex Finescale Railway Modelling Finescale Modelling OO HO 18.83mm 4mm BloodandCustard East Sussex Finescale Railway Modelling Finescale Modelling OO HO 18.83mm 4mm BloodandCustard East Sussex Finescale Railway Modelling Finescale Modelling OO HO 18.83mm 4mm BloodandCustard East Sussex Finescale Railway Modelling Finescale Modelling OO HO 18.83mm 4mm BloodandCustard East Sussex Finescale Railway Modelling Finescale Modelling OO HO 18.83mm 4mm BloodandCustard East Sussex Finescale Railway Modelling Finescale Modelling OO HO 18.83mm 4mm BloodandCustard East Sussex Finescale Railway Modelling Finescale Modelling OO HO 18.83mm 4mm BloodandCustard East Sussex Finescale Railway Modelling Finescale Modelling OO HO 18.83mm 4mm BloodandCustard East Sussex Finescale Railway Modelling Finescale Modelling OO HO 18.83mm 4mm BloodandCustard East Sussex Finescale Railway Modelling Finescale Modelling OO HO 18.83mm 4mm BloodandCustard East Sussex Finescale Railway Modelling Finescale Modelling OO HO 18.83mm 4mm BloodandCustard East Sussex Finescale Railway Modelling Finescale Modelling OO HO 18.83mm 4mm BloodandCustard East Sussex Finescale Railway Modelling Finescale Modelling OO HO 18.83mm 4mm BloodandCustard East Sussex Finescale Railway Modelling Finescale Modelling OO HO 18.83mm 4mm BloodandCustard East Sussex Finescale Railway Modelling Finescale Modelling OO HO 18.83mm 4mm BloodandCustard East Sussex Finescale Railway Modelling Finescale Modelling OO HO 18.83mm 4mm BloodandCustard East Sussex Finescale Railway Modelling Finescale Modelling OO HO 18.83mm 4mm BloodandCustard East Sussex Finescale Railway Modelling Finescale Modelling OO HO 18.83mm 4mm BloodandCustard East Sussex Finescale Railway Modelling Finescale Modelling OO HO 18.83mm 4mm BloodandCustard East Sussex Finescale Railway Modelling Finescale Modelling OO HO 18.83mm 4mm BloodandCustard East Sussex Finescale Railway Modelling Finescale Modelling OO HO 18.83mm 4mm BloodandCustard East Sussex Finescale Railway Modelling Finescale Modelling OO HO 18.83mm 4mm BloodandCustard East Sussex Finescale Railway Modelling Finescale Modelling OO HO 18.83mm 4mm BloodandCustard East Sussex Finescale Railway Modelling Finescale Modelling OO HO 18.83mm 4mm BloodandCustard East Sussex Finescale Railway Modelling Finescale Modelling OO HO 18.83mm 4mm BloodandCustard East Sussex Finescale Railway Modelling Finescale Modelling OO HO 18.83mm 4mm BloodandCustard East Sussex Finescale Railway Modelling Finescale Modelling OO HO 18.83mm 4mm BloodandCustard East Sussex Finescale Railway Modelling Finescale Modelling OO HO 18.83mm 4mm BloodandCustard East Sussex Finescale Railway Modelling Finescale Modelling OO HO 18.83mm 4mm BloodandCustard East Sussex Finescale Railway Modelling Finescale Modelling OO HO 18.83mm 4mm BloodandCustard East Sussex Finescale Railway Modelling Finescale Modelling OO HO 18.83mm 4mm BloodandCustard East Sussex Finescale Railway Modelling Finescale Modelling OO HO 18.83mm 4mm BloodandCustard East Sussex Finescale Railway Modelling Finescale Modelling OO HO 18.83mm 4mm BloodandCustard East Sussex Finescale Railway Modelling Finescale Modelling OO HO 18.83mm 4mm BloodandCustard East Sussex Finescale Railway Modelling Finescale Modelling OO HO 18.83mm 4mm BloodandCustard East Sussex Finescale Railway Modelling Finescale Modelling OO HO 18.83mm 4mm BloodandCustard East Sussex Finescale Railway Modelling Finescale Modelling OO HO 18.83mm 4mm BloodandCustard East Sussex Finescale Railway Modelling Finescale Modelling OO HO 18.83mm 4mm BloodandCustard East Sussex Finescale Railway Modelling Finescale Modelling OO HO 18.83mm 4mm BloodandCustard East Sussex Finescale Railway Modelling Finescale Modelling OO HO 18.83mm 4mm BloodandCustard East Sussex Finescale Railway Modelling Finescale Modelling OO HO 18.83mm 4mm BloodandCustard East Sussex Finescale Railway Modelling Finescale Modelling OO HO 18.83mm 4mm BloodandCustard East Sussex Finescale Railway Modelling Finescale Modelling OO HO 18.83mm 4mm BloodandCustard East Sussex Finescale Railway Modelling Finescale Modelling OO HO 18.83mm 4mm BloodandCustard East Sussex Finescale Railway Modelling Finescale Modelling OO HO 18.83mm 4mm BloodandCustard East Sussex Finescale Railway Modelling Finescale Modelling OO HO 18.83mm 4mm BloodandCustard East Sussex Finescale Railway Modelling Finescale Modelling OO HO 18.83mm 4mm BloodandCustard East Sussex Finescale Railway Modelling Finescale Modelling OO HO 18.83mm 4mm BloodandCustard East Sussex Finescale Railway Modelling Finescale Modelling OO HO 18.83mm 4mm BloodandCustard East Sussex Finescale Railway Modelling Finescale Modelling OO HO 18.83mm 4mm BloodandCustard East Sussex Finescale Railway Modelling Finescale Modelling OO HO 18.83mm 4mm BloodandCustard East Sussex Finescale Railway Modelling Finescale Modelling OO HO 18.83mm 4mm BloodandCustard East Sussex Finescale Railway Modelling Finescale Modelling OO HO 18.83mm 4mm BloodandCustard East Sussex Finescale Railway Modelling Finescale Modelling OO HO 18.83mm 4mm BloodandCustard East Sussex Finescale Railway Modelling Finescale Modelling OO HO 18.83mm 4mm BloodandCustard East Sussex Finescale Railway Modelling Finescale Modelling OO HO 18.83mm 4mm BloodandCustard East Sussex Finescale Railway Modelling Finescale Modelling OO HO 18.83mm 4mm BloodandCustard East Sussex Finescale Railway Modelling Finescale Modelling OO HO 18.83mm 4mm BloodandCustard East Sussex Finescale Railway Modelling Finescale Modelling OO HO 18.83mm 4mm BloodandCustard East Sussex Finescale Railway Modelling Finescale Modelling OO HO 18.83mm 4mm BloodandCustard East Sussex Finescale Railway Modelling Finescale Modelling OO HO 18.83mm 4mm BloodandCustard East Sussex Finescale Railway Modelling Finescale Modelling OO HO 18.83mm 4mm BloodandCustard East Sussex Finescale Railway Modelling Finescale Modelling OO HO 18.83mm 4mm BloodandCustard East Sussex Finescale Railway Modelling Finescale Modelling OO HO 18.83mm 4mm BloodandCustard East Sussex Finescale Railway Modelling Finescale Modelling OO HO 18.83mm 4mm BloodandCustard East Sussex Finescale Railway Modelling Finescale Modelling OO HO 18.83mm 4mm BloodandCustard East Sussex Finescale Railway Modelling Finescale Modelling OO HO 18.83mm 4mm BloodandCustard East Sussex Finescale Railway Modelling Finescale Modelling OO HO 18.83mm 4mm BloodandCustard East Sussex Finescale Railway Modelling Finescale Modelling OO HO 18.83mm 4mm BloodandCustard East Sussex Finescale Railway Modelling Finescale Modelling OO HO 18.83mm 4mm BloodandCustard East Sussex Finescale Railway Modelling Finescale Modelling OO HO 18.83mm 4mm BloodandCustard East Sussex Finescale Railway Modelling Finescale Modelling OO HO 18.83mm 4mm BloodandCustard East Sussex Finescale Railway Modelling Finescale Modelling OO HO 18.83mm 4mm BloodandCustard East Sussex Finescale Railway Modelling Finescale Modelling OO HO 18.83mm 4mm BloodandCustard East Sussex Finescale Railway Modelling Finescale Modelling OO HO 18.83mm 4mm BloodandCustard East Sussex Finescale Railway Modelling Finescale Modelling OO HO 18.83mm 4mm BloodandCustard East Sussex Finescale Railway Modelling Finescale Modelling OO HO 18.83mm 4mm BloodandCustard East Sussex Finescale Railway Modelling Finescale Modelling OO HO 18.83mm 4mm BloodandCustard East Sussex Finescale Railway Modelling Finescale Modelling OO HO 18.83mm 4mm BloodandCustard East Sussex Finescale Railway Modelling Finescale Modelling OO HO 18.83mm 4mm BloodandCustard East Sussex Finescale Railway Modelling Finescale Modelling OO HO 18.83mm 4mm BloodandCustard East Sussex Finescale Railway Modelling Finescale Modelling OO HO 18.83mm 4mm BloodandCustard East Sussex Finescale Railway Modelling Finescale Modelling OO HO 18.83mm 4mm BloodandCustard East Sussex Finescale Railway Modelling Finescale Modelling OO HO 18.83mm 4mm BloodandCustard East Sussex Finescale Railway Modelling Finescale Modelling OO HO 18.83mmBloodandCustard East Sussex Finescale Railway Modelling Finescale Modelling OO HO 18.83mm 4mm. BloodandCustard East Sussex Finescale Railway Modelling Finescale Modelling OO HO 18.83mm 4mm BloodandCustard East Sussex Finescale Railway Modelling Finescale Modelling OO HO 18.83mm 4mm BloodandCustard East Sussex Finescale Railway Modelling Finescale Modelling OO HO 18.83mm 4mm BloodandCustard East Sussex Finescale Railway Modelling Finescale Modelling OO HO 18.83mm 4mm BloodandCustard East Sussex Finescale Railway Modelling Finescale Modelling OO HO 18.83mm 4mm BloodandCustard East Sussex Finescale Railway Modelling Finescale Modelling OO HO 18.83mm 4mm BloodandCustard East Sussex Finescale Railway Modelling Finescale Modelling OO HO 18.83mm 4mm BloodandCustard East Sussex Finescale Railway Modelling Finescale Modelling OO HO 18.83mm 4mm BloodandCustard East Sussex Finescale Railway Modelling Finescale Modelling OO HO 18.83mm 4mm BloodandCustard East Sussex Finescale Railway Modelling Finescale Modelling OO HO 18.83mm 4mm BloodandCustard East Sussex Finescale Railway Modelling Finescale Modelling OO HO 18.83mm 4mm BloodandCustard East Sussex Finescale Railway Modelling Finescale Modelling OO HO 18.83mm 4mm BloodandCustard East Sussex Finescale Railway Modelling Finescale Modelling OO HO 18.83mm 4mm BloodandCustard East Sussex Finescale Railway Modelling Finescale Modelling OO HO 18.83mm 4mm BloodandCustard East Sussex Finescale Railway Modelling Finescale Modelling OO HO 18.83mm 4mm BloodandCustard East Sussex Finescale Railway Modelling Finescale Modelling OO HO 18.83mm 4mm BloodandCustard East Sussex Finescale Railway Modelling Finescale Modelling OO HO 18.83mm 4mm BloodandCustard East Sussex Finescale Railway Modelling Finescale Modelling OO HO 18.83mm 4mm BloodandCustard East Sussex Finescale Railway Modelling Finescale Modelling OO HO 18.83mm 4mm BloodandCustard East Sussex Finescale Railway Modelling Finescale Modelling OO HO 18.83mm 4mm BloodandCustard East Sussex Finescale Railway Modelling Finescale Modelling OO HO 18.83mm 4mm BloodandCustard East Sussex Finescale Railway Modelling Finescale Modelling OO HO 18.83mm 4mm BloodandCustard East Sussex Finescale Railway Modelling Finescale Modelling OO HO 18.83mm 4mm BloodandCustard East Sussex Finescale Railway Modelling Finescale Modelling OO HO 18.83mm 4mm BloodandCustard East Sussex Finescale Railway Modelling Finescale Modelling OO HO 18.83mm 4mm BloodandCustard East Sussex Finescale Railway Modelling Finescale Modelling OO HO 18.83mm 4mm BloodandCustard East Sussex Finescale Railway Modelling Finescale Modelling OO HO 18.83mm 4mm BloodandCustard East Sussex Finescale Railway Modelling Finescale Modelling OO HO 18.83mm 4mm BloodandCustard East Sussex Finescale Railway Modelling Finescale Modelling OO HO 18.83mm 4mm BloodandCustard East Sussex Finescale Railway Modelling Finescale Modelling OO HO 18.83mm 4mm BloodandCustard East Sussex Finescale Railway Modelling Finescale Modelling OO HO 18.83mm 4mm BloodandCustard East Sussex Finescale Railway Modelling Finescale Modelling OO HO 18.83mm 4mm BloodandCustard East Sussex Finescale Railway Modelling Finescale Modelling OO HO 18.83mm 4mm BloodandCustard East Sussex Finescale Railway Modelling Finescale Modelling OO HO 18.83mm 4mm BloodandCustard East Sussex Finescale Railway Modelling Finescale Modelling OO HO 18.83mm 4mm BloodandCustard East Sussex Finescale Railway Modelling Finescale Modelling OO HO 18.83mm 4mm BloodandCustard East Sussex Finescale Railway Modelling Finescale Modelling OO HO 18.83mm 4mm BloodandCustard East Sussex Finescale Railway Modelling Finescale Modelling OO HO 18.83mm 4mm BloodandCustard East Sussex Finescale Railway Modelling Finescale Modelling OO HO 18.83mm 4mm BloodandCustard East Sussex Finescale Railway Modelling Finescale Modelling OO HO 18.83mm 4mm BloodandCustard East Sussex Finescale Railway Modelling Finescale Modelling OO HO 18.83mm 4mm BloodandCustard East Sussex Finescale Railway Modelling Finescale Modelling OO HO 18.83mm 4mm BloodandCustard East Sussex Finescale Railway Modelling Finescale Modelling OO HO 18.83mm 4mm BloodandCustard East Sussex Finescale Railway Modelling Finescale Modelling OO HO 18.83mm 4mm BloodandCustard East Sussex Finescale Railway Modelling Finescale Modelling OO HO 18.83mm 4mm BloodandCustard East Sussex Finescale Railway Modelling Finescale Modelling OO HO 18.83mm 4mm BloodandCustard East Sussex Finescale Railway Modelling Finescale Modelling OO HO 18.83mm 4mm BloodandCustard East Sussex Finescale Railway Modelling Finescale Modelling OO HO 18.83mm 4mm BloodandCustard East Sussex Finescale Railway Modelling Finescale Modelling OO HO 18.83mm 4mm BloodandCustard East Sussex Finescale Railway Modelling Finescale Modelling OO HO 18.83mm 4mm BloodandCustard East Sussex Finescale Railway Modelling Finescale Modelling OO HO 18.83mm 4mm BloodandCustard East Sussex Finescale Railway Modelling Finescale Modelling OO HO 18.83mm 4mm BloodandCustard East Sussex Finescale Railway Modelling Finescale Modelling OO HO 18.83mm 4mm BloodandCustard East Sussex Finescale Railway Modelling Finescale Modelling OO HO 18.83mm 4mm BloodandCustard East Sussex Finescale Railway Modelling Finescale Modelling OO HO 18.83mm 4mm BloodandCustard East Sussex Finescale Railway Modelling Finescale Modelling OO HO 18.83mm 4mm BloodandCustard East Sussex Finescale Railway Modelling Finescale Modelling OO HO 18.83mm 4mm BloodandCustard East Sussex Finescale Railway Modelling Finescale Modelling OO HO 18.83mm 4mm BloodandCustard East Sussex Finescale Railway Modelling Finescale Modelling OO HO 18.83mm 4mm BloodandCustard East Sussex Finescale Railway Modelling Finescale Modelling OO HO 18.83mm 4mm BloodandCustard East Sussex Finescale Railway Modelling Finescale Modelling OO HO 18.83mm 4mm BloodandCustard East Sussex Finescale Railway Modelling Finescale Modelling OO HO 18.83mm 4mm BloodandCustard East Sussex Finescale Railway Modelling Finescale Modelling OO HO 18.83mm 4mm BloodandCustard East Sussex Finescale Railway Modelling Finescale Modelling OO HO 18.83mm 4mm BloodandCustard East Sussex Finescale Railway Modelling Finescale Modelling OO HO 18.83mm 4mm BloodandCustard East Sussex Finescale Railway Modelling Finescale Modelling OO HO 18.83mm 4mm BloodandCustard East Sussex Finescale Railway Modelling Finescale Modelling OO HO 18.83mm 4mm BloodandCustard East Sussex Finescale Railway Modelling Finescale Modelling OO HO 18.83mm 4mm BloodandCustard East Sussex Finescale Railway Modelling Finescale Modelling OO HO 18.83mm 4mm BloodandCustard East Sussex Finescale Railway Modelling Finescale Modelling OO HO 18.83mm 4mm BloodandCustard East Sussex Finescale Railway Modelling Finescale Modelling OO HO 18.83mm 4mm BloodandCustard East Sussex Finescale Railway Modelling Finescale Modelling OO HO 18.83mm 4mm BloodandCustard East Sussex Finescale Railway Modelling Finescale Modelling OO HO 18.83mm 4mm BloodandCustard East Sussex Finescale Railway Modelling Finescale Modelling OO HO 18.83mm 4mm BloodandCustard East Sussex Finescale Railway Modelling Finescale Modelling OO HO 18.83mm 4mm BloodandCustard East Sussex Finescale Railway Modelling Finescale Modelling OO HO 18.83mm 4mm BloodandCustard East Sussex Finescale Railway Modelling Finescale Modelling OO HO 18.83mm 4mm BloodandCustard East Sussex Finescale Railway Modelling Finescale Modelling OO HO 18.83mm 4mm BloodandCustard East Sussex Finescale Railway Modelling Finescale Modelling OO HO 18.83mm 4mm BloodandCustard East Sussex Finescale Railway Modelling Finescale Modelling OO HO 18.83mm 4mm BloodandCustard East Sussex Finescale Railway Modelling Finescale Modelling OO HO 18.83mm 4mm BloodandCustard East Sussex Finescale Railway Modelling Finescale Modelling OO HO 18.83mm 4mm BloodandCustard East Sussex Finescale Railway Modelling Finescale Modelling OO HO 18.83mm 4mm BloodandCustard East Sussex Finescale Railway Modelling Finescale Modelling OO HO 18.83mm 4mm BloodandCustard East Sussex Finescale Railway Modelling Finescale Modelling OO HO 18.83mm 4mm BloodandCustard East Sussex Finescale Railway Modelling Finescale Modelling OO HO 18.83mm 4mm BloodandCustard East Sussex Finescale Railway Modelling Finescale Modelling OO HO 18.83mm 4mm BloodandCustard East Sussex Finescale Railway Modelling Finescale Modelling OO HO 18.83mm 4mm BloodandCustard East Sussex Finescale Railway Modelling Finescale Modelling OO HO 18.83mm 4mm BloodandCustard East Sussex Finescale Railway Modelling Finescale Modelling OO HO 18.83mm 4mm BloodandCustard East Sussex Finescale Railway Modelling Finescale Modelling OO HO 18.83mm 4mm BloodandCustard East Sussex Finescale Railway Modelling Finescale Modelling OO HO 18.83mm 4mm BloodandCustard East Sussex Finescale Railway Modelling Finescale Modelling OO HO 18.83mm 4mm BloodandCustard East Sussex Finescale Railway Modelling Finescale Modelling OO HO 18.83mm 4mm BloodandCustard East Sussex Finescale Railway Modelling Finescale Modelling OO HO 18.83mm 4mm BloodandCustard East Sussex Finescale Railway Modelling Finescale Modelling OO HO 18.83mm 4mm BloodandCustard East Sussex Finescale Railway Modelling Finescale Modelling OO HO 18.83mm 4mm BloodandCustard East Sussex Finescale Railway Modelling Finescale Modelling OO HO 18.83mm 4mm BloodandCustard East Sussex Finescale Railway Modelling Finescale Modelling OO HO 18.83mm 4mm BloodandCustard East Sussex Finescale Railway Modelling Finescale Modelling OO HO 18.83mm 4mm BloodandCustard East Sussex Finescale Railway Modelling Finescale Modelling OO HO 18.83mm 4mm BloodandCustard East Sussex Finescale Railway Modelling Finescale Modelling OO HO 18.83mm 4mm BloodandCustard East Sussex Finescale Railway Modelling Finescale Modelling OO HO 18.83mm 4mm BloodandCustard East Sussex Finescale Railway Modelling Finescale Modelling OO HO 18.83mm 4mm BloodandCustard East Sussex Finescale Railway Modelling Finescale Modelling OO HO 18.83mm 4mm BloodandCustard East Sussex Finescale Railway Modelling Finescale Modelling OO HO 18.83mm 4mm BloodandCustard East Sussex Finescale Railway Modelling Finescale Modelling OO HO 18.83mm 4mm BloodandCustard East Sussex Finescale Railway Modelling Finescale Modelling OO HO 18.83mm 4mm BloodandCustard East Sussex Finescale Railway Modelling Finescale Modelling OO HO 18.83mm 4mm BloodandCustard East Sussex Finescale Railway Modelling Finescale Modelling OO HO 18.83mm 4mm BloodandCustard East Sussex Finescale Railway Modelling Finescale Modelling OO HO 18.83mm 4mm BloodandCustard East Sussex Finescale Railway Modelling Finescale Modelling OO HO 18.83mm 4mm BloodandCustard East Sussex Finescale Railway Modelling Finescale Modelling OO HO 18.83mm 4mm BloodandCustard East Sussex Finescale Railway Modelling Finescale Modelling OO HO 18.83mm 4mm BloodandCustard East Sussex Finescale Railway Modelling Finescale Modelling OO HO 18.83mm 4mm BloodandCustard East Sussex Finescale Railway Modelling Finescale Modelling OO HO 18.83mm 4mm BloodandCustard East Sussex Finescale Railway Modelling Finescale Modelling OO HO 18.83mm 4mm BloodandCustard East Sussex Finescale Railway Modelling Finescale Modelling OO HO 18.83mm 4mm BloodandCustard East Sussex Finescale Railway Modelling Finescale Modelling OO HO 18.83mm 4mm BloodandCustard East Sussex Finescale Railway Modelling Finescale Modelling OO HO 18.83mm 4mm BloodandCustard East Sussex Finescale Railway Modelling Finescale Modelling OO HO 18.83mm 4mm BloodandCustard East Sussex Finescale Railway Modelling Finescale Modelling OO HO 18.83mm 4mm BloodandCustard East Sussex Finescale Railway Modelling Finescale Modelling OO HO 18.83mm 4mm BloodandCustard East Sussex Finescale Railway Modelling Finescale Modelling OO HO 18.83mm 4mm BloodandCustard East Sussex Finescale Railway Modelling Finescale Modelling OO HO 18.83mm 4mm BloodandCustard East Sussex Finescale Railway Modelling Finescale Modelling OO HO 18.83mm 4mm BloodandCustard East Sussex Finescale Railway Modelling Finescale Modelling OO HO 18.83mm 4mm BloodandCustard East Sussex Finescale Railway Modelling Finescale Modelling OO HO 18.83mm 4mm BloodandCustard East Sussex Finescale Railway Modelling Finescale Modelling OO HO 18.83mm 4mm BloodandCustard East Sussex Finescale Railway Modelling Finescale Modelling OO HO 18.83mm 4mm BloodandCustard East Sussex Finescale Railway Modelling Finescale Modelling OO HO 18.83mm 4mm BloodandCustard East Sussex Finescale Railway Modelling Finescale Modelling OO HO 18.83mm 4mm BloodandCustard East Sussex Finescale Railway Modelling Finescale Modelling OO HO 18.83mm 4mm BloodandCustard East Sussex Finescale Railway Modelling Finescale Modelling OO HO 18.83mm 4mm BloodandCustard East Sussex Finescale Railway Modelling Finescale Modelling OO HO 18.83mm 4mm BloodandCustard East Sussex Finescale Railway Modelling Finescale Modelling OO HO 18.83mm 4mm BloodandCustard East Sussex Finescale Railway Modelling Finescale Modelling OO HO 18.83mm 4mm BloodandCustard East Sussex Finescale Railway Modelling Finescale Modelling OO HO 18.83mm 4mm BloodandCustard East Sussex Finescale Railway Modelling Finescale Modelling OO HO 18.83mm 4mm BloodandCustard East Sussex Finescale Railway Modelling Finescale Modelling OO HO 18.83mm 4mm BloodandCustard East Sussex Finescale Railway Modelling Finescale Modelling OO HO 18.83mm 4mm BloodandCustard East Sussex Finescale Railway Modelling Finescale Modelling OO HO 18.83mm 4mm BloodandCustard East Sussex Finescale Railway Modelling Finescale Modelling OO HO 18.83mm 4mm BloodandCustard East Sussex Finescale Railway Modelling Finescale Modelling OO HO 18.83mm 4mm BloodandCustard East Sussex Finescale Railway Modelling Finescale Modelling OO HO 18.83mm 4mm BloodandCustard East Sussex Finescale Railway Modelling Finescale Modelling OO HO 18.83mm 4mm BloodandCustard East Sussex Finescale Railway Modelling Finescale Modelling OO HO 18.83mm 4mm BloodandCustard East Sussex Finescale Railway Modelling Finescale Modelling OO HO 18.83mm 4mm BloodandCustard East Sussex Finescale Railway Modelling Finescale Modelling OO HO 18.83mm 4mm BloodandCustard East Sussex Finescale Railway Modelling Finescale Modelling OO HO 18.83mm 4mm BloodandCustard East Sussex Finescale Railway Modelling Finescale Modelling OO HO 18.83mm 4mm BloodandCustard East Sussex Finescale Railway Modelling Finescale Modelling OO HO 18.83mm 4mm BloodandCustard East Sussex Finescale Railway Modelling Finescale Modelling OO HO 18.83mm 4mm BloodandCustard East Sussex Finescale Railway Modelling Finescale Modelling OO HO 18.83mm 4mm BloodandCustard East Sussex Finescale Railway Modelling Finescale Modelling OO HO 18.83mm 4mm BloodandCustard East Sussex Finescale Railway Modelling Finescale Modelling OO HO 18.83mm 4mm BloodandCustard East Sussex Finescale Railway Modelling Finescale Modelling OO HO 18.83mm 4mm BloodandCustard East Sussex Finescale Railway Modelling Finescale Modelling OO HO 18.83mm 4mm BloodandCustard East Sussex Finescale Railway Modelling Finescale Modelling OO HO 18.83mm 4mm BloodandCustard East Sussex Finescale Railway Modelling Finescale Modelling OO HO 18.83mm 4mm BloodandCustard East Sussex Finescale Railway Modelling Finescale Modelling OO HO 18.83mm 4mm BloodandCustard East Sussex Finescale Railway Modelling Finescale Modelling OO HO 18.83mm 4mm BloodandCustard East Sussex Finescale Railway Modelling Finescale Modelling OO HO 18.83mm 4mm BloodandCustard East Sussex Finescale Railway Modelling Finescale Modelling OO HO 18.83mm 4mm BloodandCustard East Sussex Finescale Railway Modelling Finescale Modelling OO HO 18.83mm 4mm BloodandCustard East Sussex Finescale Railway Modelling Finescale Modelling OO HO 18.83mm 4mm BloodandCustard East Sussex Finescale Railway Modelling Finescale Modelling OO HO 18.83mm 4mm BloodandCustard East Sussex Finescale Railway Modelling Finescale Modelling OO HO 18.83mm 4mm BloodandCustard East Sussex Finescale Railway Modelling Finescale Modelling OO HO 18.83mm 4mm BloodandCustard East Sussex Finescale Railway Modelling Finescale Modelling OO HO 18.83mm 4mm BloodandCustard East Sussex Finescale Railway Modelling Finescale Modelling OO HO 18.83mm 4mm BloodandCustard East Sussex Finescale Railway Modelling Finescale Modelling OO HO 18.83mm 4mm BloodandCustard East Sussex Finescale Railway Modelling Finescale Modelling OO HO 18.83mm 4mm BloodandCustard East Sussex Finescale Railway Modelling Finescale Modelling OO HO 18.83mm 4mm BloodandCustard East Sussex Finescale Railway Modelling Finescale Modelling OO HO 18.83mm 4mm BloodandCustard East Sussex Finescale Railway Modelling Finescale Modelling OO HO 18.83mm 4mm BloodandCustard East Sussex Finescale Railway Modelling Finescale Modelling OO HO 18.83mm 4mm BloodandCustard East Sussex Finescale Railway Modelling Finescale Modelling OO HO 18.83mm 4mm BloodandCustard East Sussex Finescale Railway Modelling Finescale Modelling OO HO 18.83mm 4mm BloodandCustard East Sussex Finescale Railway Modelling Finescale Modelling OO HO 18.83mm 4mm BloodandCustard East Sussex Finescale Railway Modelling Finescale Modelling OO HO 18.83mm 4mm BloodandCustard East Sussex Finescale Railway Modelling Finescale Modelling OO HO 18.83mm 4mm BloodandCustard East Sussex Finescale Railway Modelling Finescale Modelling OO HO 18.83mm 4mm BloodandCustard East Sussex Finescale Railway Modelling Finescale Modelling OO HO 18.83mm 4mm BloodandCustard East Sussex Finescale Railway Modelling Finescale Modelling OO HO 18.83mm 4mm BloodandCustard East Sussex Finescale Railway Modelling Finescale Modelling OO HO 18.83mm 4mm BloodandCustard East Sussex Finescale Railway Modelling Finescale Modelling OO HO 18.83mm 4mm BloodandCustard East Sussex Finescale Railway Modelling Finescale Modelling OO HO 18.83mm 4mm BloodandCustard East Sussex Finescale Railway Modelling Finescale Modelling OO HO 18.83mm 4mm BloodandCustard East Sussex Finescale Railway Modelling Finescale Modelling OO HO 18.83mm 4mm BloodandCustard East Sussex Finescale Railway Modelling Finescale Modelling OO HO 18.83mm 4mm BloodandCustard East Sussex Finescale Railway Modelling Finescale Modelling OO HO 18.83mm 4mm BloodandCustard East Sussex Finescale Railway Modelling Finescale Modelling OO HO 18.83mm 4mm BloodandCustard East Sussex Finescale Railway Modelling Finescale Modelling OO HO 18.83mm 4mm BloodandCustard East Sussex Finescale Railway Modelling Finescale Modelling OO HO 18.83mm 4mm BloodandCustard East Sussex Finescale Railway Modelling Finescale Modelling OO HO 18.83mm 4mm BloodandCustard East Sussex Finescale Railway Modelling Finescale Modelling OO HO 18.83mm 4mm BloodandCustard East Sussex Finescale Railway Modelling Finescale Modelling OO HO 18.83mm 4mm BloodandCustard East Sussex Finescale Railway Modelling Finescale Modelling OO HO 18.83mm 4mm BloodandCustard East Sussex Finescale Railway Modelling Finescale Modelling OO HO 18.83mm 4mm BloodandCustard East Sussex Finescale Railway Modelling Finescale Modelling OO HO 18.83mm 4mm BloodandCustard East Sussex Finescale Railway Modelling Finescale Modelling OO HO 18.83mm 4mm BloodandCustard East Sussex Finescale Railway Modelling Finescale Modelling OO HO 18.83mm 4mm BloodandCustard East Sussex Finescale Railway Modelling Finescale Modelling OO HO 18.83mm 4mm BloodandCustard East Sussex Finescale Railway Modelling Finescale Modelling OO HO 18.83mm 4mm BloodandCustard East Sussex Finescale Railway Modelling Finescale Modelling OO HO 18.83mm 4mm BloodandCustard East Sussex Finescale Railway Modelling Finescale Modelling OO HO 18.83mm 4mm BloodandCustard East Sussex Finescale Railway Modelling Finescale Modelling OO HO 18.83mm 4mm BloodandCustard East Sussex Finescale Railway Modelling Finescale Modelling OO HO 18.83mm 4mm BloodandCustard East Sussex Finescale Railway Modelling Finescale Modelling OO HO 18.83mm 4mm BloodandCustard East Sussex Finescale Railway Modelling Finescale Modelling OO HO 18.83mm 4mm BloodandCustard East Sussex Finescale Railway Modelling Finescale Modelling OO HO 18.83mm 4mm BloodandCustard East Sussex Finescale Railway Modelling Finescale Modelling OO HO 18.83mm 4mm BloodandCustard East Sussex Finescale Railway Modelling Finescale Modelling OO HO 18.83mm 4mm BloodandCustard East Sussex Finescale Railway Modelling Finescale Modelling OO HO 18.83mm 4mm BloodandCustard East Sussex Finescale Railway Modelling Finescale Modelling OO HO 18.83mm 4mm BloodandCustard East Sussex Finescale Railway Modelling Finescale Modelling OO HO 18.83mm 4mm BloodandCustard East Sussex Finescale Railway Modelling Finescale Modelling OO HO 18.83mm 4mm BloodandCustard East Sussex Finescale Railway Modelling Finescale Modelling OO HO 18.83mm 4mm BloodandCustard East Sussex Finescale Railway Modelling Finescale Modelling OO HO 18.83mm 4mm BloodandCustard East Sussex Finescale Railway Modelling Finescale Modelling OO HO 18.83mm 4mm BloodandCustard East Sussex Finescale Railway Modelling Finescale Modelling OO HO 18.83mm 4mm BloodandCustard East Sussex Finescale Railway Modelling Finescale Modelling OO HO 18.83mm 4mm BloodandCustard East Sussex Finescale Railway Modelling Finescale Modelling OO HO 18.83mm 4mm BloodandCustard East Sussex Finescale Railway Modelling Finescale Modelling OO HO 18.83mm 4mm BloodandCustard East Sussex Finescale Railway Modelling Finescale Modelling OO HO 18.83mm 4mm BloodandCustard East Sussex Finescale Railway Modelling Finescale Modelling OO HO 18.83mm 4mm BloodandCustard East Sussex Finescale Railway Modelling Finescale Modelling OO HO 18.83mm 4mm BloodandCustard East Sussex Finescale Railway Modelling Finescale Modelling OO HO 18.83mm 4mm BloodandCustard East Sussex Finescale Railway Modelling Finescale Modelling OO HO 18.83mm 4mm BloodandCustard East Sussex Finescale Railway Modelling Finescale Modelling OO HO 18.83mm 4mm BloodandCustard East Sussex Finescale Railway Modelling Finescale Modelling OO HO 18.83mm 4mm BloodandCustard East Sussex Finescale Railway Modelling Finescale Modelling OO HO 18.83mm 4mm BloodandCustard East Sussex Finescale Railway Modelling Finescale Modelling OO HO 18.83mm 4mm BloodandCustard East Sussex Finescale Railway Modelling Finescale Modelling OO HO 18.83mm 4mm BloodandCustard East Sussex Finescale Railway Modelling Finescale Modelling OO HO 18.83mm 4mm BloodandCustard East Sussex Finescale Railway Modelling Finescale Modelling OO HO 18.83mm 4mm BloodandCustard East Sussex Finescale Railway Modelling Finescale Modelling OO HO 18.83mm 4mm BloodandCustard East Sussex Finescale Railway Modelling Finescale Modelling OO HO 18.83mm 4mm BloodandCustard East Sussex Finescale Railway Modelling Finescale Modelling OO HO 18.83mm 4mm BloodandCustard East Sussex Finescale Railway Modelling Finescale Modelling OO HO 18.83mm 4mm BloodandCustard East Sussex Finescale Railway Modelling Finescale Modelling OO HO 18.83mm 4mm BloodandCustard East Sussex Finescale Railway Modelling Finescale Modelling OO HO 18.83mm 4mm BloodandCustard East Sussex Finescale Railway Modelling Finescale Modelling OO HO 18.83mm 4mm BloodandCustard East Sussex Finescale Railway Modelling Finescale Modelling OO HO 18.83mm 4mm BloodandCustard East Sussex Finescale Railway Modelling Finescale Modelling OO HO 18.83mm 4mm BloodandCustard East Sussex Finescale Railway Modelling Finescale Modelling OO HO 18.83mm 4mm BloodandCustard East Sussex Finescale Railway Modelling Finescale Modelling OO HO 18.83mm 4mm BloodandCustard East Sussex Finescale Railway Modelling Finescale Modelling OO HO 18.83mm 4mm BloodandCustard East Sussex Finescale Railway Modelling Finescale Modelling OO HO 18.83mm 4mm BloodandCustard East Sussex Finescale Railway Modelling Finescale Modelling OO HO 18.83mm 4mm BloodandCustard East Sussex Finescale Railway Modelling Finescale Modelling OO HO 18.83mm 4mm BloodandCustard East Sussex Finescale Railway Modelling Finescale Modelling OO HO 18.83mm 4mm BloodandCustard East Sussex Finescale Railway Modelling Finescale Modelling OO HO 18.83mm 4mm BloodandCustard East Sussex Finescale Railway Modelling Finescale Modelling OO HO 18.83mm 4mm BloodandCustard East Sussex Finescale Railway Modelling Finescale Modelling OO HO 18.83mm 4mm BloodandCustard East Sussex Finescale Railway Modelling Finescale Modelling OO HO 18.83mm 4mm BloodandCustard East Sussex Finescale Railway Modelling Finescale Modelling OO HO 18.83mm 4mm BloodandCustard East Sussex Finescale Railway Modelling Finescale Modelling OO HO 18.83mm 4mm BloodandCustard East Sussex Finescale Railway Modelling Finescale Modelling OO HO 18.83mm 4mm BloodandCustard East Sussex Finescale Railway Modelling Finescale Modelling OO HO 18.83mm 4mm BloodandCustard East Sussex Finescale Railway Modelling Finescale Modelling OO HO 18.83mm 4mm BloodandCustard East Sussex Finescale Railway Modelling Finescale Modelling OO HO 18.83mm 4mm BloodandCustard East Sussex Finescale Railway Modelling Finescale Modelling OO HO 18.83mm 4mm BloodandCustard East Sussex Finescale Railway Modelling Finescale Modelling OO HO 18.83mm 4mm BloodandCustard East Sussex Finescale Railway Modelling Finescale Modelling OO HO 18.83mm 4mm BloodandCustard East Sussex Finescale Railway Modelling Finescale Modelling OO HO 18.83mm 4mm BloodandCustard East Sussex Finescale Railway Modelling Finescale Modelling OO HO 18.83mm 4mm BloodandCustard East Sussex Finescale Railway Modelling Finescale Modelling OO HO 18.83mm 4mm BloodandCustard East Sussex Finescale Railway Modelling Finescale Modelling OO HO 18.83mm 4mm BloodandCustard East Sussex Finescale Railway Modelling Finescale Modelling OO HO 18.83mm 4mm BloodandCustard East Sussex Finescale Railway Modelling Finescale Modelling OO HO 18.83mm 4mm BloodandCustard East Sussex Finescale Railway Modelling Finescale Modelling OO HO 18.83mm 4mm BloodandCustard East Sussex Finescale Railway Modelling Finescale Modelling OO HO 18.83mm 4mm BloodandCustard East Sussex Finescale Railway Modelling Finescale Modelling OO HO 18.83mm 4mm BloodandCustard East Sussex Finescale Railway Modelling Finescale Modelling OO HO 18.83mmBloodandCustard East Sussex Finescale Railway Modelling Finescale Modelling OO HO 18.83mm 4mm. BloodandCustard East Sussex Finescale Railway Modelling Finescale Modelling OO HO 18.83mm 4mm BloodandCustard East Sussex Finescale Railway Modelling Finescale Modelling OO HO 18.83mm 4mm BloodandCustard East Sussex Finescale Railway Modelling Finescale Modelling OO HO 18.83mm 4mm BloodandCustard East Sussex Finescale Railway Modelling Finescale Modelling OO HO 18.83mm 4mm BloodandCustard East Sussex Finescale Railway Modelling Finescale Modelling OO HO 18.83mm 4mm BloodandCustard East Sussex Finescale Railway Modelling Finescale Modelling OO HO 18.83mm 4mm BloodandCustard East Sussex Finescale Railway Modelling Finescale Modelling OO HO 18.83mm 4mm BloodandCustard East Sussex Finescale Railway Modelling Finescale Modelling OO HO 18.83mm 4mm BloodandCustard East Sussex Finescale Railway Modelling Finescale Modelling OO HO 18.83mm 4mm BloodandCustard East Sussex Finescale Railway Modelling Finescale Modelling OO HO 18.83mm 4mm BloodandCustard East Sussex Finescale Railway Modelling Finescale Modelling OO HO 18.83mm 4mm BloodandCustard East Sussex Finescale Railway Modelling Finescale Modelling OO HO 18.83mm 4mm BloodandCustard East Sussex Finescale Railway Modelling Finescale Modelling OO HO 18.83mm 4mm BloodandCustard East Sussex Finescale Railway Modelling Finescale Modelling OO HO 18.83mm 4mm BloodandCustard East Sussex Finescale Railway Modelling Finescale Modelling OO HO 18.83mm 4mm BloodandCustard East Sussex Finescale Railway Modelling Finescale Modelling OO HO 18.83mm 4mm BloodandCustard East Sussex Finescale Railway Modelling Finescale Modelling OO HO 18.83mm 4mm BloodandCustard East Sussex Finescale Railway Modelling Finescale Modelling OO HO 18.83mm 4mm BloodandCustard East Sussex Finescale Railway Modelling Finescale Modelling OO HO 18.83mm 4mm BloodandCustard East Sussex Finescale Railway Modelling Finescale Modelling OO HO 18.83mm 4mm BloodandCustard East Sussex Finescale Railway Modelling Finescale Modelling OO HO 18.83mm 4mm BloodandCustard East Sussex Finescale Railway Modelling Finescale Modelling OO HO 18.83mm 4mm BloodandCustard East Sussex Finescale Railway Modelling Finescale Modelling OO HO 18.83mm 4mm BloodandCustard East Sussex Finescale Railway Modelling Finescale Modelling OO HO 18.83mm 4mm BloodandCustard East Sussex Finescale Railway Modelling Finescale Modelling OO HO 18.83mm 4mm BloodandCustard East Sussex Finescale Railway Modelling Finescale Modelling OO HO 18.83mm 4mm BloodandCustard East Sussex Finescale Railway Modelling Finescale Modelling OO HO 18.83mm 4mm BloodandCustard East Sussex Finescale Railway Modelling Finescale Modelling OO HO 18.83mm 4mm BloodandCustard East Sussex Finescale Railway Modelling Finescale Modelling OO HO 18.83mm 4mm BloodandCustard East Sussex Finescale Railway Modelling Finescale Modelling OO HO 18.83mm 4mm BloodandCustard East Sussex Finescale Railway Modelling Finescale Modelling OO HO 18.83mm 4mm BloodandCustard East Sussex Finescale Railway Modelling Finescale Modelling OO HO 18.83mm 4mm BloodandCustard East Sussex Finescale Railway Modelling Finescale Modelling OO HO 18.83mm 4mm BloodandCustard East Sussex Finescale Railway Modelling Finescale Modelling OO HO 18.83mm 4mm BloodandCustard East Sussex Finescale Railway Modelling Finescale Modelling OO HO 18.83mm 4mm BloodandCustard East Sussex Finescale Railway Modelling Finescale Modelling OO HO 18.83mm 4mm BloodandCustard East Sussex Finescale Railway Modelling Finescale Modelling OO HO 18.83mm 4mm BloodandCustard East Sussex Finescale Railway Modelling Finescale Modelling OO HO 18.83mm 4mm BloodandCustard East Sussex Finescale Railway Modelling Finescale Modelling OO HO 18.83mm 4mm BloodandCustard East Sussex Finescale Railway Modelling Finescale Modelling OO HO 18.83mm 4mm BloodandCustard East Sussex Finescale Railway Modelling Finescale Modelling OO HO 18.83mm 4mm BloodandCustard East Sussex Finescale Railway Modelling Finescale Modelling OO HO 18.83mm 4mm BloodandCustard East Sussex Finescale Railway Modelling Finescale Modelling OO HO 18.83mm 4mm BloodandCustard East Sussex Finescale Railway Modelling Finescale Modelling OO HO 18.83mm 4mm BloodandCustard East Sussex Finescale Railway Modelling Finescale Modelling OO HO 18.83mm 4mm BloodandCustard East Sussex Finescale Railway Modelling Finescale Modelling OO HO 18.83mm 4mm BloodandCustard East Sussex Finescale Railway Modelling Finescale Modelling OO HO 18.83mm 4mm BloodandCustard East Sussex Finescale Railway Modelling Finescale Modelling OO HO 18.83mm 4mm BloodandCustard East Sussex Finescale Railway Modelling Finescale Modelling OO HO 18.83mm 4mm BloodandCustard East Sussex Finescale Railway Modelling Finescale Modelling OO HO 18.83mm 4mm BloodandCustard East Sussex Finescale Railway Modelling Finescale Modelling OO HO 18.83mm 4mm BloodandCustard East Sussex Finescale Railway Modelling Finescale Modelling OO HO 18.83mm 4mm BloodandCustard East Sussex Finescale Railway Modelling Finescale Modelling OO HO 18.83mm 4mm BloodandCustard East Sussex Finescale Railway Modelling Finescale Modelling OO HO 18.83mm 4mm BloodandCustard East Sussex Finescale Railway Modelling Finescale Modelling OO HO 18.83mm 4mm BloodandCustard East Sussex Finescale Railway Modelling Finescale Modelling OO HO 18.83mm 4mm BloodandCustard East Sussex Finescale Railway Modelling Finescale Modelling OO HO 18.83mm 4mm BloodandCustard East Sussex Finescale Railway Modelling Finescale Modelling OO HO 18.83mm 4mm BloodandCustard East Sussex Finescale Railway Modelling Finescale Modelling OO HO 18.83mm 4mm BloodandCustard East Sussex Finescale Railway Modelling Finescale Modelling OO HO 18.83mm 4mm BloodandCustard East Sussex Finescale Railway Modelling Finescale Modelling OO HO 18.83mm 4mm BloodandCustard East Sussex Finescale Railway Modelling Finescale Modelling OO HO 18.83mm 4mm BloodandCustard East Sussex Finescale Railway Modelling Finescale Modelling OO HO 18.83mm 4mm BloodandCustard East Sussex Finescale Railway Modelling Finescale Modelling OO HO 18.83mm 4mm BloodandCustard East Sussex Finescale Railway Modelling Finescale Modelling OO HO 18.83mm 4mm BloodandCustard East Sussex Finescale Railway Modelling Finescale Modelling OO HO 18.83mm 4mm BloodandCustard East Sussex Finescale Railway Modelling Finescale Modelling OO HO 18.83mm 4mm BloodandCustard East Sussex Finescale Railway Modelling Finescale Modelling OO HO 18.83mm 4mm BloodandCustard East Sussex Finescale Railway Modelling Finescale Modelling OO HO 18.83mm 4mm BloodandCustard East Sussex Finescale Railway Modelling Finescale Modelling OO HO 18.83mm 4mm BloodandCustard East Sussex Finescale Railway Modelling Finescale Modelling OO HO 18.83mm 4mm BloodandCustard East Sussex Finescale Railway Modelling Finescale Modelling OO HO 18.83mm 4mm BloodandCustard East Sussex Finescale Railway Modelling Finescale Modelling OO HO 18.83mm 4mm BloodandCustard East Sussex Finescale Railway Modelling Finescale Modelling OO HO 18.83mm 4mm BloodandCustard East Sussex Finescale Railway Modelling Finescale Modelling OO HO 18.83mm 4mm BloodandCustard East Sussex Finescale Railway Modelling Finescale Modelling OO HO 18.83mm 4mm BloodandCustard East Sussex Finescale Railway Modelling Finescale Modelling OO HO 18.83mm 4mm BloodandCustard East Sussex Finescale Railway Modelling Finescale Modelling OO HO 18.83mm 4mm BloodandCustard East Sussex Finescale Railway Modelling Finescale Modelling OO HO 18.83mm 4mm BloodandCustard East Sussex Finescale Railway Modelling Finescale Modelling OO HO 18.83mm 4mm BloodandCustard East Sussex Finescale Railway Modelling Finescale Modelling OO HO 18.83mm 4mm BloodandCustard East Sussex Finescale Railway Modelling Finescale Modelling OO HO 18.83mm 4mm BloodandCustard East Sussex Finescale Railway Modelling Finescale Modelling OO HO 18.83mm 4mm BloodandCustard East Sussex Finescale Railway Modelling Finescale Modelling OO HO 18.83mm 4mm BloodandCustard East Sussex Finescale Railway Modelling Finescale Modelling OO HO 18.83mm 4mm BloodandCustard East Sussex Finescale Railway Modelling Finescale Modelling OO HO 18.83mm 4mm BloodandCustard East Sussex Finescale Railway Modelling Finescale Modelling OO HO 18.83mm 4mm BloodandCustard East Sussex Finescale Railway Modelling Finescale Modelling OO HO 18.83mm 4mm BloodandCustard East Sussex Finescale Railway Modelling Finescale Modelling OO HO 18.83mm 4mm BloodandCustard East Sussex Finescale Railway Modelling Finescale Modelling OO HO 18.83mm 4mm BloodandCustard East Sussex Finescale Railway Modelling Finescale Modelling OO HO 18.83mm 4mm BloodandCustard East Sussex Finescale Railway Modelling Finescale Modelling OO HO 18.83mm 4mm BloodandCustard East Sussex Finescale Railway Modelling Finescale Modelling OO HO 18.83mm 4mm BloodandCustard East Sussex Finescale Railway Modelling Finescale Modelling OO HO 18.83mm 4mm BloodandCustard East Sussex Finescale Railway Modelling Finescale Modelling OO HO 18.83mm 4mm BloodandCustard East Sussex Finescale Railway Modelling Finescale Modelling OO HO 18.83mm 4mm BloodandCustard East Sussex Finescale Railway Modelling Finescale Modelling OO HO 18.83mm 4mm BloodandCustard East Sussex Finescale Railway Modelling Finescale Modelling OO HO 18.83mm 4mm BloodandCustard East Sussex Finescale Railway Modelling Finescale Modelling OO HO 18.83mm 4mm BloodandCustard East Sussex Finescale Railway Modelling Finescale Modelling OO HO 18.83mm 4mm BloodandCustard East Sussex Finescale Railway Modelling Finescale Modelling OO HO 18.83mm 4mm BloodandCustard East Sussex Finescale Railway Modelling Finescale Modelling OO HO 18.83mm 4mm BloodandCustard East Sussex Finescale Railway Modelling Finescale Modelling OO HO 18.83mm 4mm BloodandCustard East Sussex Finescale Railway Modelling Finescale Modelling OO HO 18.83mm 4mm BloodandCustard East Sussex Finescale Railway Modelling Finescale Modelling OO HO 18.83mm 4mm BloodandCustard East Sussex Finescale Railway Modelling Finescale Modelling OO HO 18.83mm 4mm BloodandCustard East Sussex Finescale Railway Modelling Finescale Modelling OO HO 18.83mm 4mm BloodandCustard East Sussex Finescale Railway Modelling Finescale Modelling OO HO 18.83mm 4mm BloodandCustard East Sussex Finescale Railway Modelling Finescale Modelling OO HO 18.83mm 4mm BloodandCustard East Sussex Finescale Railway Modelling Finescale Modelling OO HO 18.83mm 4mm BloodandCustard East Sussex Finescale Railway Modelling Finescale Modelling OO HO 18.83mm 4mm BloodandCustard East Sussex Finescale Railway Modelling Finescale Modelling OO HO 18.83mm 4mm BloodandCustard East Sussex Finescale Railway Modelling Finescale Modelling OO HO 18.83mm 4mm BloodandCustard East Sussex Finescale Railway Modelling Finescale Modelling OO HO 18.83mm 4mm BloodandCustard East Sussex Finescale Railway Modelling Finescale Modelling OO HO 18.83mm 4mm BloodandCustard East Sussex Finescale Railway Modelling Finescale Modelling OO HO 18.83mm 4mm BloodandCustard East Sussex Finescale Railway Modelling Finescale Modelling OO HO 18.83mm 4mm BloodandCustard East Sussex Finescale Railway Modelling Finescale Modelling OO HO 18.83mm 4mm BloodandCustard East Sussex Finescale Railway Modelling Finescale Modelling OO HO 18.83mm 4mm BloodandCustard East Sussex Finescale Railway Modelling Finescale Modelling OO HO 18.83mm 4mm BloodandCustard East Sussex Finescale Railway Modelling Finescale Modelling OO HO 18.83mm 4mm BloodandCustard East Sussex Finescale Railway Modelling Finescale Modelling OO HO 18.83mm 4mm BloodandCustard East Sussex Finescale Railway Modelling Finescale Modelling OO HO 18.83mm 4mm BloodandCustard East Sussex Finescale Railway Modelling Finescale Modelling OO HO 18.83mm 4mm BloodandCustard East Sussex Finescale Railway Modelling Finescale Modelling OO HO 18.83mm 4mm BloodandCustard East Sussex Finescale Railway Modelling Finescale Modelling OO HO 18.83mm 4mm BloodandCustard East Sussex Finescale Railway Modelling Finescale Modelling OO HO 18.83mm 4mm BloodandCustard East Sussex Finescale Railway Modelling Finescale Modelling OO HO 18.83mm 4mm BloodandCustard East Sussex Finescale Railway Modelling Finescale Modelling OO HO 18.83mm 4mm BloodandCustard East Sussex Finescale Railway Modelling Finescale Modelling OO HO 18.83mm 4mm BloodandCustard East Sussex Finescale Railway Modelling Finescale Modelling OO HO 18.83mm 4mm BloodandCustard East Sussex Finescale Railway Modelling Finescale Modelling OO HO 18.83mm 4mm BloodandCustard East Sussex Finescale Railway Modelling Finescale Modelling OO HO 18.83mm 4mm BloodandCustard East Sussex Finescale Railway Modelling Finescale Modelling OO HO 18.83mm 4mm BloodandCustard East Sussex Finescale Railway Modelling Finescale Modelling OO HO 18.83mm 4mm BloodandCustard East Sussex Finescale Railway Modelling Finescale Modelling OO HO 18.83mm 4mm BloodandCustard East Sussex Finescale Railway Modelling Finescale Modelling OO HO 18.83mm 4mm BloodandCustard East Sussex Finescale Railway Modelling Finescale Modelling OO HO 18.83mm 4mm BloodandCustard East Sussex Finescale Railway Modelling Finescale Modelling OO HO 18.83mm 4mm BloodandCustard East Sussex Finescale Railway Modelling Finescale Modelling OO HO 18.83mm 4mm BloodandCustard East Sussex Finescale Railway Modelling Finescale Modelling OO HO 18.83mm 4mm BloodandCustard East Sussex Finescale Railway Modelling Finescale Modelling OO HO 18.83mm 4mm BloodandCustard East Sussex Finescale Railway Modelling Finescale Modelling OO HO 18.83mm 4mm BloodandCustard East Sussex Finescale Railway Modelling Finescale Modelling OO HO 18.83mm 4mm BloodandCustard East Sussex Finescale Railway Modelling Finescale Modelling OO HO 18.83mm 4mm BloodandCustard East Sussex Finescale Railway Modelling Finescale Modelling OO HO 18.83mm 4mm BloodandCustard East Sussex Finescale Railway Modelling Finescale Modelling OO HO 18.83mm 4mm BloodandCustard East Sussex Finescale Railway Modelling Finescale Modelling OO HO 18.83mm 4mm BloodandCustard East Sussex Finescale Railway Modelling Finescale Modelling OO HO 18.83mm 4mm BloodandCustard East Sussex Finescale Railway Modelling Finescale Modelling OO HO 18.83mm 4mm BloodandCustard East Sussex Finescale Railway Modelling Finescale Modelling OO HO 18.83mm 4mm BloodandCustard East Sussex Finescale Railway Modelling Finescale Modelling OO HO 18.83mm 4mm BloodandCustard East Sussex Finescale Railway Modelling Finescale Modelling OO HO 18.83mm 4mm BloodandCustard East Sussex Finescale Railway Modelling Finescale Modelling OO HO 18.83mm 4mm BloodandCustard East Sussex Finescale Railway Modelling Finescale Modelling OO HO 18.83mm 4mm BloodandCustard East Sussex Finescale Railway Modelling Finescale Modelling OO HO 18.83mm 4mm BloodandCustard East Sussex Finescale Railway Modelling Finescale Modelling OO HO 18.83mm 4mm BloodandCustard East Sussex Finescale Railway Modelling Finescale Modelling OO HO 18.83mm 4mm BloodandCustard East Sussex Finescale Railway Modelling Finescale Modelling OO HO 18.83mm 4mm BloodandCustard East Sussex Finescale Railway Modelling Finescale Modelling OO HO 18.83mm 4mm BloodandCustard East Sussex Finescale Railway Modelling Finescale Modelling OO HO 18.83mm 4mm BloodandCustard East Sussex Finescale Railway Modelling Finescale Modelling OO HO 18.83mm 4mm BloodandCustard East Sussex Finescale Railway Modelling Finescale Modelling OO HO 18.83mm 4mm BloodandCustard East Sussex Finescale Railway Modelling Finescale Modelling OO HO 18.83mm 4mm BloodandCustard East Sussex Finescale Railway Modelling Finescale Modelling OO HO 18.83mm 4mm BloodandCustard East Sussex Finescale Railway Modelling Finescale Modelling OO HO 18.83mm 4mm BloodandCustard East Sussex Finescale Railway Modelling Finescale Modelling OO HO 18.83mm 4mm BloodandCustard East Sussex Finescale Railway Modelling Finescale Modelling OO HO 18.83mm 4mm BloodandCustard East Sussex Finescale Railway Modelling Finescale Modelling OO HO 18.83mm 4mm BloodandCustard East Sussex Finescale Railway Modelling Finescale Modelling OO HO 18.83mm 4mm BloodandCustard East Sussex Finescale Railway Modelling Finescale Modelling OO HO 18.83mm 4mm BloodandCustard East Sussex Finescale Railway Modelling Finescale Modelling OO HO 18.83mm 4mm BloodandCustard East Sussex Finescale Railway Modelling Finescale Modelling OO HO 18.83mm 4mm BloodandCustard East Sussex Finescale Railway Modelling Finescale Modelling OO HO 18.83mm 4mm BloodandCustard East Sussex Finescale Railway Modelling Finescale Modelling OO HO 18.83mm 4mm BloodandCustard East Sussex Finescale Railway Modelling Finescale Modelling OO HO 18.83mm 4mm BloodandCustard East Sussex Finescale Railway Modelling Finescale Modelling OO HO 18.83mm 4mm BloodandCustard East Sussex Finescale Railway Modelling Finescale Modelling OO HO 18.83mm 4mm BloodandCustard East Sussex Finescale Railway Modelling Finescale Modelling OO HO 18.83mm 4mm BloodandCustard East Sussex Finescale Railway Modelling Finescale Modelling OO HO 18.83mm 4mm BloodandCustard East Sussex Finescale Railway Modelling Finescale Modelling OO HO 18.83mm 4mm BloodandCustard East Sussex Finescale Railway Modelling Finescale Modelling OO HO 18.83mm 4mm BloodandCustard East Sussex Finescale Railway Modelling Finescale Modelling OO HO 18.83mm 4mm BloodandCustard East Sussex Finescale Railway Modelling Finescale Modelling OO HO 18.83mm 4mm BloodandCustard East Sussex Finescale Railway Modelling Finescale Modelling OO HO 18.83mm 4mm BloodandCustard East Sussex Finescale Railway Modelling Finescale Modelling OO HO 18.83mm 4mm BloodandCustard East Sussex Finescale Railway Modelling Finescale Modelling OO HO 18.83mm 4mm BloodandCustard East Sussex Finescale Railway Modelling Finescale Modelling OO HO 18.83mm 4mm BloodandCustard East Sussex Finescale Railway Modelling Finescale Modelling OO HO 18.83mm 4mm BloodandCustard East Sussex Finescale Railway Modelling Finescale Modelling OO HO 18.83mm 4mm BloodandCustard East Sussex Finescale Railway Modelling Finescale Modelling OO HO 18.83mm 4mm BloodandCustard East Sussex Finescale Railway Modelling Finescale Modelling OO HO 18.83mm 4mm BloodandCustard East Sussex Finescale Railway Modelling Finescale Modelling OO HO 18.83mm 4mm BloodandCustard East Sussex Finescale Railway Modelling Finescale Modelling OO HO 18.83mm 4mm BloodandCustard East Sussex Finescale Railway Modelling Finescale Modelling OO HO 18.83mm 4mm BloodandCustard East Sussex Finescale Railway Modelling Finescale Modelling OO HO 18.83mm 4mm BloodandCustard East Sussex Finescale Railway Modelling Finescale Modelling OO HO 18.83mm 4mm BloodandCustard East Sussex Finescale Railway Modelling Finescale Modelling OO HO 18.83mm 4mm BloodandCustard East Sussex Finescale Railway Modelling Finescale Modelling OO HO 18.83mm 4mm BloodandCustard East Sussex Finescale Railway Modelling Finescale Modelling OO HO 18.83mm 4mm BloodandCustard East Sussex Finescale Railway Modelling Finescale Modelling OO HO 18.83mm 4mm BloodandCustard East Sussex Finescale Railway Modelling Finescale Modelling OO HO 18.83mm 4mm BloodandCustard East Sussex Finescale Railway Modelling Finescale Modelling OO HO 18.83mm 4mm BloodandCustard East Sussex Finescale Railway Modelling Finescale Modelling OO HO 18.83mm 4mm BloodandCustard East Sussex Finescale Railway Modelling Finescale Modelling OO HO 18.83mm 4mm BloodandCustard East Sussex Finescale Railway Modelling Finescale Modelling OO HO 18.83mm 4mm BloodandCustard East Sussex Finescale Railway Modelling Finescale Modelling OO HO 18.83mm 4mm BloodandCustard East Sussex Finescale Railway Modelling Finescale Modelling OO HO 18.83mm 4mm BloodandCustard East Sussex Finescale Railway Modelling Finescale Modelling OO HO 18.83mm 4mm BloodandCustard East Sussex Finescale Railway Modelling Finescale Modelling OO HO 18.83mm 4mm BloodandCustard East Sussex Finescale Railway Modelling Finescale Modelling OO HO 18.83mm 4mm BloodandCustard East Sussex Finescale Railway Modelling Finescale Modelling OO HO 18.83mm 4mm BloodandCustard East Sussex Finescale Railway Modelling Finescale Modelling OO HO 18.83mm 4mm BloodandCustard East Sussex Finescale Railway Modelling Finescale Modelling OO HO 18.83mm 4mm BloodandCustard East Sussex Finescale Railway Modelling Finescale Modelling OO HO 18.83mm 4mm BloodandCustard East Sussex Finescale Railway Modelling Finescale Modelling OO HO 18.83mm 4mm BloodandCustard East Sussex Finescale Railway Modelling Finescale Modelling OO HO 18.83mm 4mm BloodandCustard East Sussex Finescale Railway Modelling Finescale Modelling OO HO 18.83mm 4mm BloodandCustard East Sussex Finescale Railway Modelling Finescale Modelling OO HO 18.83mm 4mm BloodandCustard East Sussex Finescale Railway Modelling Finescale Modelling OO HO 18.83mm 4mm BloodandCustard East Sussex Finescale Railway Modelling Finescale Modelling OO HO 18.83mm 4mm BloodandCustard East Sussex Finescale Railway Modelling Finescale Modelling OO HO 18.83mm 4mm BloodandCustard East Sussex Finescale Railway Modelling Finescale Modelling OO HO 18.83mm 4mm BloodandCustard East Sussex Finescale Railway Modelling Finescale Modelling OO HO 18.83mm 4mm BloodandCustard East Sussex Finescale Railway Modelling Finescale Modelling OO HO 18.83mm 4mm BloodandCustard East Sussex Finescale Railway Modelling Finescale Modelling OO HO 18.83mm 4mm BloodandCustard East Sussex Finescale Railway Modelling Finescale Modelling OO HO 18.83mm 4mm BloodandCustard East Sussex Finescale Railway Modelling Finescale Modelling OO HO 18.83mm 4mm BloodandCustard East Sussex Finescale Railway Modelling Finescale Modelling OO HO 18.83mm 4mm BloodandCustard East Sussex Finescale Railway Modelling Finescale Modelling OO HO 18.83mm 4mm BloodandCustard East Sussex Finescale Railway Modelling Finescale Modelling OO HO 18.83mm 4mm BloodandCustard East Sussex Finescale Railway Modelling Finescale Modelling OO HO 18.83mm 4mm BloodandCustard East Sussex Finescale Railway Modelling Finescale Modelling OO HO 18.83mm 4mm BloodandCustard East Sussex Finescale Railway Modelling Finescale Modelling OO HO 18.83mm 4mm BloodandCustard East Sussex Finescale Railway Modelling Finescale Modelling OO HO 18.83mm 4mm BloodandCustard East Sussex Finescale Railway Modelling Finescale Modelling OO HO 18.83mm 4mm BloodandCustard East Sussex Finescale Railway Modelling Finescale Modelling OO HO 18.83mm 4mm BloodandCustard East Sussex Finescale Railway Modelling Finescale Modelling OO HO 18.83mm 4mm BloodandCustard East Sussex Finescale Railway Modelling Finescale Modelling OO HO 18.83mm 4mm BloodandCustard East Sussex Finescale Railway Modelling Finescale Modelling OO HO 18.83mm 4mm BloodandCustard East Sussex Finescale Railway Modelling Finescale Modelling OO HO 18.83mm 4mm BloodandCustard East Sussex Finescale Railway Modelling Finescale Modelling OO HO 18.83mm 4mm BloodandCustard East Sussex Finescale Railway Modelling Finescale Modelling OO HO 18.83mm 4mm BloodandCustard East Sussex Finescale Railway Modelling Finescale Modelling OO HO 18.83mm 4mm BloodandCustard East Sussex Finescale Railway Modelling Finescale Modelling OO HO 18.83mm 4mm BloodandCustard East Sussex Finescale Railway Modelling Finescale Modelling OO HO 18.83mm 4mm BloodandCustard East Sussex Finescale Railway Modelling Finescale Modelling OO HO 18.83mm 4mm BloodandCustard East Sussex Finescale Railway Modelling Finescale Modelling OO HO 18.83mm 4mm BloodandCustard East Sussex Finescale Railway Modelling Finescale Modelling OO HO 18.83mm 4mm BloodandCustard East Sussex Finescale Railway Modelling Finescale Modelling OO HO 18.83mm 4mm BloodandCustard East Sussex Finescale Railway Modelling Finescale Modelling OO HO 18.83mm 4mm BloodandCustard East Sussex Finescale Railway Modelling Finescale Modelling OO HO 18.83mm 4mm BloodandCustard East Sussex Finescale Railway Modelling Finescale Modelling OO HO 18.83mm 4mm BloodandCustard East Sussex Finescale Railway Modelling Finescale Modelling OO HO 18.83mm 4mm BloodandCustard East Sussex Finescale Railway Modelling Finescale Modelling OO HO 18.83mm 4mm BloodandCustard East Sussex Finescale Railway Modelling Finescale Modelling OO HO 18.83mm 4mm BloodandCustard East Sussex Finescale Railway Modelling Finescale Modelling OO HO 18.83mm 4mm BloodandCustard East Sussex Finescale Railway Modelling Finescale Modelling OO HO 18.83mm 4mm BloodandCustard East Sussex Finescale Railway Modelling Finescale Modelling OO HO 18.83mm 4mm BloodandCustard East Sussex Finescale Railway Modelling Finescale Modelling OO HO 18.83mm 4mm BloodandCustard East Sussex Finescale Railway Modelling Finescale Modelling OO HO 18.83mm 4mm BloodandCustard East Sussex Finescale Railway Modelling Finescale Modelling OO HO 18.83mm 4mm BloodandCustard East Sussex Finescale Railway Modelling Finescale Modelling OO HO 18.83mm 4mm BloodandCustard East Sussex Finescale Railway Modelling Finescale Modelling OO HO 18.83mm 4mm BloodandCustard East Sussex Finescale Railway Modelling Finescale Modelling OO HO 18.83mm 4mm BloodandCustard East Sussex Finescale Railway Modelling Finescale Modelling OO HO 18.83mm 4mm BloodandCustard East Sussex Finescale Railway Modelling Finescale Modelling OO HO 18.83mm 4mm BloodandCustard East Sussex Finescale Railway Modelling Finescale Modelling OO HO 18.83mm 4mm BloodandCustard East Sussex Finescale Railway Modelling Finescale Modelling OO HO 18.83mm 4mm BloodandCustard East Sussex Finescale Railway Modelling Finescale Modelling OO HO 18.83mm 4mm BloodandCustard East Sussex Finescale Railway Modelling Finescale Modelling OO HO 18.83mm 4mm BloodandCustard East Sussex Finescale Railway Modelling Finescale Modelling OO HO 18.83mm 4mm BloodandCustard East Sussex Finescale Railway Modelling Finescale Modelling OO HO 18.83mm 4mm BloodandCustard East Sussex Finescale Railway Modelling Finescale Modelling OO HO 18.83mm 4mm BloodandCustard East Sussex Finescale Railway Modelling Finescale Modelling OO HO 18.83mm 4mm BloodandCustard East Sussex Finescale Railway Modelling Finescale Modelling OO HO 18.83mmBloodandCustard East Sussex Finescale Railway Modelling Finescale Modelling OO HO 18.83mm 4mm. BloodandCustard East Sussex Finescale Railway Modelling Finescale Modelling OO HO 18.83mm 4mm BloodandCustard East Sussex Finescale Railway Modelling Finescale Modelling OO HO 18.83mm 4mm BloodandCustard East Sussex Finescale Railway Modelling Finescale Modelling OO HO 18.83mm 4mm BloodandCustard East Sussex Finescale Railway Modelling Finescale Modelling OO HO 18.83mm 4mm BloodandCustard East Sussex Finescale Railway Modelling Finescale Modelling OO HO 18.83mm 4mm BloodandCustard East Sussex Finescale Railway Modelling Finescale Modelling OO HO 18.83mm 4mm BloodandCustard East Sussex Finescale Railway Modelling Finescale Modelling OO HO 18.83mm 4mm BloodandCustard East Sussex Finescale Railway Modelling Finescale Modelling OO HO 18.83mm 4mm BloodandCustard East Sussex Finescale Railway Modelling Finescale Modelling OO HO 18.83mm 4mm BloodandCustard East Sussex Finescale Railway Modelling Finescale Modelling OO HO 18.83mm 4mm BloodandCustard East Sussex Finescale Railway Modelling Finescale Modelling OO HO 18.83mm 4mm BloodandCustard East Sussex Finescale Railway Modelling Finescale Modelling OO HO 18.83mm 4mm BloodandCustard East Sussex Finescale Railway Modelling Finescale Modelling OO HO 18.83mm 4mm BloodandCustard East Sussex Finescale Railway Modelling Finescale Modelling OO HO 18.83mm 4mm BloodandCustard East Sussex Finescale Railway Modelling Finescale Modelling OO HO 18.83mm 4mm BloodandCustard East Sussex Finescale Railway Modelling Finescale Modelling OO HO 18.83mm 4mm BloodandCustard East Sussex Finescale Railway Modelling Finescale Modelling OO HO 18.83mm 4mm BloodandCustard East Sussex Finescale Railway Modelling Finescale Modelling OO HO 18.83mm 4mm BloodandCustard East Sussex Finescale Railway Modelling Finescale Modelling OO HO 18.83mm 4mm BloodandCustard East Sussex Finescale Railway Modelling Finescale Modelling OO HO 18.83mm 4mm BloodandCustard East Sussex Finescale Railway Modelling Finescale Modelling OO HO 18.83mm 4mm BloodandCustard East Sussex Finescale Railway Modelling Finescale Modelling OO HO 18.83mm 4mm BloodandCustard East Sussex Finescale Railway Modelling Finescale Modelling OO HO 18.83mm 4mm BloodandCustard East Sussex Finescale Railway Modelling Finescale Modelling OO HO 18.83mm 4mm BloodandCustard East Sussex Finescale Railway Modelling Finescale Modelling OO HO 18.83mm 4mm BloodandCustard East Sussex Finescale Railway Modelling Finescale Modelling OO HO 18.83mm 4mm BloodandCustard East Sussex Finescale Railway Modelling Finescale Modelling OO HO 18.83mm 4mm BloodandCustard East Sussex Finescale Railway Modelling Finescale Modelling OO HO 18.83mm 4mm BloodandCustard East Sussex Finescale Railway Modelling Finescale Modelling OO HO 18.83mm 4mm BloodandCustard East Sussex Finescale Railway Modelling Finescale Modelling OO HO 18.83mm 4mm BloodandCustard East Sussex Finescale Railway Modelling Finescale Modelling OO HO 18.83mm 4mm BloodandCustard East Sussex Finescale Railway Modelling Finescale Modelling OO HO 18.83mm 4mm BloodandCustard East Sussex Finescale Railway Modelling Finescale Modelling OO HO 18.83mm 4mm BloodandCustard East Sussex Finescale Railway Modelling Finescale Modelling OO HO 18.83mm 4mm BloodandCustard East Sussex Finescale Railway Modelling Finescale Modelling OO HO 18.83mm 4mm BloodandCustard East Sussex Finescale Railway Modelling Finescale Modelling OO HO 18.83mm 4mm BloodandCustard East Sussex Finescale Railway Modelling Finescale Modelling OO HO 18.83mm 4mm BloodandCustard East Sussex Finescale Railway Modelling Finescale Modelling OO HO 18.83mm 4mm BloodandCustard East Sussex Finescale Railway Modelling Finescale Modelling OO HO 18.83mm 4mm BloodandCustard East Sussex Finescale Railway Modelling Finescale Modelling OO HO 18.83mm 4mm BloodandCustard East Sussex Finescale Railway Modelling Finescale Modelling OO HO 18.83mm 4mm BloodandCustard East Sussex Finescale Railway Modelling Finescale Modelling OO HO 18.83mm 4mm BloodandCustard East Sussex Finescale Railway Modelling Finescale Modelling OO HO 18.83mm 4mm BloodandCustard East Sussex Finescale Railway Modelling Finescale Modelling OO HO 18.83mm 4mm BloodandCustard East Sussex Finescale Railway Modelling Finescale Modelling OO HO 18.83mm 4mm BloodandCustard East Sussex Finescale Railway Modelling Finescale Modelling OO HO 18.83mm 4mm BloodandCustard East Sussex Finescale Railway Modelling Finescale Modelling OO HO 18.83mm 4mm BloodandCustard East Sussex Finescale Railway Modelling Finescale Modelling OO HO 18.83mm 4mm BloodandCustard East Sussex Finescale Railway Modelling Finescale Modelling OO HO 18.83mm 4mm BloodandCustard East Sussex Finescale Railway Modelling Finescale Modelling OO HO 18.83mm 4mm BloodandCustard East Sussex Finescale Railway Modelling Finescale Modelling OO HO 18.83mm 4mm BloodandCustard East Sussex Finescale Railway Modelling Finescale Modelling OO HO 18.83mm 4mm BloodandCustard East Sussex Finescale Railway Modelling Finescale Modelling OO HO 18.83mm 4mm BloodandCustard East Sussex Finescale Railway Modelling Finescale Modelling OO HO 18.83mm 4mm BloodandCustard East Sussex Finescale Railway Modelling Finescale Modelling OO HO 18.83mm 4mm BloodandCustard East Sussex Finescale Railway Modelling Finescale Modelling OO HO 18.83mm 4mm BloodandCustard East Sussex Finescale Railway Modelling Finescale Modelling OO HO 18.83mm 4mm BloodandCustard East Sussex Finescale Railway Modelling Finescale Modelling OO HO 18.83mm 4mm BloodandCustard East Sussex Finescale Railway Modelling Finescale Modelling OO HO 18.83mm 4mm BloodandCustard East Sussex Finescale Railway Modelling Finescale Modelling OO HO 18.83mm 4mm BloodandCustard East Sussex Finescale Railway Modelling Finescale Modelling OO HO 18.83mm 4mm BloodandCustard East Sussex Finescale Railway Modelling Finescale Modelling OO HO 18.83mm 4mm BloodandCustard East Sussex Finescale Railway Modelling Finescale Modelling OO HO 18.83mm 4mm BloodandCustard East Sussex Finescale Railway Modelling Finescale Modelling OO HO 18.83mm 4mm BloodandCustard East Sussex Finescale Railway Modelling Finescale Modelling OO HO 18.83mm 4mm BloodandCustard East Sussex Finescale Railway Modelling Finescale Modelling OO HO 18.83mm 4mm BloodandCustard East Sussex Finescale Railway Modelling Finescale Modelling OO HO 18.83mm 4mm BloodandCustard East Sussex Finescale Railway Modelling Finescale Modelling OO HO 18.83mm 4mm BloodandCustard East Sussex Finescale Railway Modelling Finescale Modelling OO HO 18.83mm 4mm BloodandCustard East Sussex Finescale Railway Modelling Finescale Modelling OO HO 18.83mm 4mm BloodandCustard East Sussex Finescale Railway Modelling Finescale Modelling OO HO 18.83mm 4mm BloodandCustard East Sussex Finescale Railway Modelling Finescale Modelling OO HO 18.83mm 4mm BloodandCustard East Sussex Finescale Railway Modelling Finescale Modelling OO HO 18.83mm 4mm BloodandCustard East Sussex Finescale Railway Modelling Finescale Modelling OO HO 18.83mm 4mm BloodandCustard East Sussex Finescale Railway Modelling Finescale Modelling OO HO 18.83mm 4mm BloodandCustard East Sussex Finescale Railway Modelling Finescale Modelling OO HO 18.83mm 4mm BloodandCustard East Sussex Finescale Railway Modelling Finescale Modelling OO HO 18.83mm 4mm BloodandCustard East Sussex Finescale Railway Modelling Finescale Modelling OO HO 18.83mm 4mm BloodandCustard East Sussex Finescale Railway Modelling Finescale Modelling OO HO 18.83mm 4mm BloodandCustard East Sussex Finescale Railway Modelling Finescale Modelling OO HO 18.83mm 4mm BloodandCustard East Sussex Finescale Railway Modelling Finescale Modelling OO HO 18.83mm 4mm BloodandCustard East Sussex Finescale Railway Modelling Finescale Modelling OO HO 18.83mm 4mm BloodandCustard East Sussex Finescale Railway Modelling Finescale Modelling OO HO 18.83mm 4mm BloodandCustard East Sussex Finescale Railway Modelling Finescale Modelling OO HO 18.83mm 4mm BloodandCustard East Sussex Finescale Railway Modelling Finescale Modelling OO HO 18.83mm 4mm BloodandCustard East Sussex Finescale Railway Modelling Finescale Modelling OO HO 18.83mm 4mm BloodandCustard East Sussex Finescale Railway Modelling Finescale Modelling OO HO 18.83mm 4mm BloodandCustard East Sussex Finescale Railway Modelling Finescale Modelling OO HO 18.83mm 4mm BloodandCustard East Sussex Finescale Railway Modelling Finescale Modelling OO HO 18.83mm 4mm BloodandCustard East Sussex Finescale Railway Modelling Finescale Modelling OO HO 18.83mm 4mm BloodandCustard East Sussex Finescale Railway Modelling Finescale Modelling OO HO 18.83mm 4mm BloodandCustard East Sussex Finescale Railway Modelling Finescale Modelling OO HO 18.83mm 4mm BloodandCustard East Sussex Finescale Railway Modelling Finescale Modelling OO HO 18.83mm 4mm BloodandCustard East Sussex Finescale Railway Modelling Finescale Modelling OO HO 18.83mm 4mm BloodandCustard East Sussex Finescale Railway Modelling Finescale Modelling OO HO 18.83mm 4mm BloodandCustard East Sussex Finescale Railway Modelling Finescale Modelling OO HO 18.83mm 4mm BloodandCustard East Sussex Finescale Railway Modelling Finescale Modelling OO HO 18.83mm 4mm BloodandCustard East Sussex Finescale Railway Modelling Finescale Modelling OO HO 18.83mm 4mm BloodandCustard East Sussex Finescale Railway Modelling Finescale Modelling OO HO 18.83mm 4mm BloodandCustard East Sussex Finescale Railway Modelling Finescale Modelling OO HO 18.83mm 4mm BloodandCustard East Sussex Finescale Railway Modelling Finescale Modelling OO HO 18.83mm 4mm BloodandCustard East Sussex Finescale Railway Modelling Finescale Modelling OO HO 18.83mm 4mm BloodandCustard East Sussex Finescale Railway Modelling Finescale Modelling OO HO 18.83mm 4mm BloodandCustard East Sussex Finescale Railway Modelling Finescale Modelling OO HO 18.83mm 4mm BloodandCustard East Sussex Finescale Railway Modelling Finescale Modelling OO HO 18.83mm 4mm BloodandCustard East Sussex Finescale Railway Modelling Finescale Modelling OO HO 18.83mm 4mm BloodandCustard East Sussex Finescale Railway Modelling Finescale Modelling OO HO 18.83mm 4mm BloodandCustard East Sussex Finescale Railway Modelling Finescale Modelling OO HO 18.83mm 4mm BloodandCustard East Sussex Finescale Railway Modelling Finescale Modelling OO HO 18.83mm 4mm BloodandCustard East Sussex Finescale Railway Modelling Finescale Modelling OO HO 18.83mm 4mm BloodandCustard East Sussex Finescale Railway Modelling Finescale Modelling OO HO 18.83mm 4mm BloodandCustard East Sussex Finescale Railway Modelling Finescale Modelling OO HO 18.83mm 4mm BloodandCustard East Sussex Finescale Railway Modelling Finescale Modelling OO HO 18.83mm 4mm BloodandCustard East Sussex Finescale Railway Modelling Finescale Modelling OO HO 18.83mm 4mm BloodandCustard East Sussex Finescale Railway Modelling Finescale Modelling OO HO 18.83mm 4mm BloodandCustard East Sussex Finescale Railway Modelling Finescale Modelling OO HO 18.83mm 4mm BloodandCustard East Sussex Finescale Railway Modelling Finescale Modelling OO HO 18.83mm 4mm BloodandCustard East Sussex Finescale Railway Modelling Finescale Modelling OO HO 18.83mm 4mm BloodandCustard East Sussex Finescale Railway Modelling Finescale Modelling OO HO 18.83mm 4mm BloodandCustard East Sussex Finescale Railway Modelling Finescale Modelling OO HO 18.83mm 4mm BloodandCustard East Sussex Finescale Railway Modelling Finescale Modelling OO HO 18.83mm 4mm BloodandCustard East Sussex Finescale Railway Modelling Finescale Modelling OO HO 18.83mm 4mm BloodandCustard East Sussex Finescale Railway Modelling Finescale Modelling OO HO 18.83mm 4mm BloodandCustard East Sussex Finescale Railway Modelling Finescale Modelling OO HO 18.83mm 4mm BloodandCustard East Sussex Finescale Railway Modelling Finescale Modelling OO HO 18.83mm 4mm BloodandCustard East Sussex Finescale Railway Modelling Finescale Modelling OO HO 18.83mm 4mm BloodandCustard East Sussex Finescale Railway Modelling Finescale Modelling OO HO 18.83mm 4mm BloodandCustard East Sussex Finescale Railway Modelling Finescale Modelling OO HO 18.83mm 4mm BloodandCustard East Sussex Finescale Railway Modelling Finescale Modelling OO HO 18.83mm 4mm BloodandCustard East Sussex Finescale Railway Modelling Finescale Modelling OO HO 18.83mm 4mm BloodandCustard East Sussex Finescale Railway Modelling Finescale Modelling OO HO 18.83mm 4mm BloodandCustard East Sussex Finescale Railway Modelling Finescale Modelling OO HO 18.83mm 4mm BloodandCustard East Sussex Finescale Railway Modelling Finescale Modelling OO HO 18.83mm 4mm BloodandCustard East Sussex Finescale Railway Modelling Finescale Modelling OO HO 18.83mm 4mm BloodandCustard East Sussex Finescale Railway Modelling Finescale Modelling OO HO 18.83mm 4mm BloodandCustard East Sussex Finescale Railway Modelling Finescale Modelling OO HO 18.83mm 4mm BloodandCustard East Sussex Finescale Railway Modelling Finescale Modelling OO HO 18.83mm 4mm BloodandCustard East Sussex Finescale Railway Modelling Finescale Modelling OO HO 18.83mm 4mm BloodandCustard East Sussex Finescale Railway Modelling Finescale Modelling OO HO 18.83mm 4mm BloodandCustard East Sussex Finescale Railway Modelling Finescale Modelling OO HO 18.83mm 4mm BloodandCustard East Sussex Finescale Railway Modelling Finescale Modelling OO HO 18.83mm 4mm BloodandCustard East Sussex Finescale Railway Modelling Finescale Modelling OO HO 18.83mm 4mm BloodandCustard East Sussex Finescale Railway Modelling Finescale Modelling OO HO 18.83mm 4mm BloodandCustard East Sussex Finescale Railway Modelling Finescale Modelling OO HO 18.83mm 4mm BloodandCustard East Sussex Finescale Railway Modelling Finescale Modelling OO HO 18.83mm 4mm BloodandCustard East Sussex Finescale Railway Modelling Finescale Modelling OO HO 18.83mm 4mm BloodandCustard East Sussex Finescale Railway Modelling Finescale Modelling OO HO 18.83mm 4mm BloodandCustard East Sussex Finescale Railway Modelling Finescale Modelling OO HO 18.83mm 4mm BloodandCustard East Sussex Finescale Railway Modelling Finescale Modelling OO HO 18.83mm 4mm BloodandCustard East Sussex Finescale Railway Modelling Finescale Modelling OO HO 18.83mm 4mm BloodandCustard East Sussex Finescale Railway Modelling Finescale Modelling OO HO 18.83mm 4mm BloodandCustard East Sussex Finescale Railway Modelling Finescale Modelling OO HO 18.83mm 4mm BloodandCustard East Sussex Finescale Railway Modelling Finescale Modelling OO HO 18.83mm 4mm BloodandCustard East Sussex Finescale Railway Modelling Finescale Modelling OO HO 18.83mm 4mm BloodandCustard East Sussex Finescale Railway Modelling Finescale Modelling OO HO 18.83mm 4mm BloodandCustard East Sussex Finescale Railway Modelling Finescale Modelling OO HO 18.83mm 4mm BloodandCustard East Sussex Finescale Railway Modelling Finescale Modelling OO HO 18.83mm 4mm BloodandCustard East Sussex Finescale Railway Modelling Finescale Modelling OO HO 18.83mm 4mm BloodandCustard East Sussex Finescale Railway Modelling Finescale Modelling OO HO 18.83mm 4mm BloodandCustard East Sussex Finescale Railway Modelling Finescale Modelling OO HO 18.83mm 4mm BloodandCustard East Sussex Finescale Railway Modelling Finescale Modelling OO HO 18.83mm 4mm BloodandCustard East Sussex Finescale Railway Modelling Finescale Modelling OO HO 18.83mm 4mm BloodandCustard East Sussex Finescale Railway Modelling Finescale Modelling OO HO 18.83mm 4mm BloodandCustard East Sussex Finescale Railway Modelling Finescale Modelling OO HO 18.83mm 4mm BloodandCustard East Sussex Finescale Railway Modelling Finescale Modelling OO HO 18.83mm 4mm BloodandCustard East Sussex Finescale Railway Modelling Finescale Modelling OO HO 18.83mm 4mm BloodandCustard East Sussex Finescale Railway Modelling Finescale Modelling OO HO 18.83mm 4mm BloodandCustard East Sussex Finescale Railway Modelling Finescale Modelling OO HO 18.83mm 4mm BloodandCustard East Sussex Finescale Railway Modelling Finescale Modelling OO HO 18.83mm 4mm BloodandCustard East Sussex Finescale Railway Modelling Finescale Modelling OO HO 18.83mm 4mm BloodandCustard East Sussex Finescale Railway Modelling Finescale Modelling OO HO 18.83mm 4mm BloodandCustard East Sussex Finescale Railway Modelling Finescale Modelling OO HO 18.83mm 4mm BloodandCustard East Sussex Finescale Railway Modelling Finescale Modelling OO HO 18.83mm 4mm BloodandCustard East Sussex Finescale Railway Modelling Finescale Modelling OO HO 18.83mm 4mm BloodandCustard East Sussex Finescale Railway Modelling Finescale Modelling OO HO 18.83mm 4mm BloodandCustard East Sussex Finescale Railway Modelling Finescale Modelling OO HO 18.83mm 4mm BloodandCustard East Sussex Finescale Railway Modelling Finescale Modelling OO HO 18.83mm 4mm BloodandCustard East Sussex Finescale Railway Modelling Finescale Modelling OO HO 18.83mm 4mm BloodandCustard East Sussex Finescale Railway Modelling Finescale Modelling OO HO 18.83mm 4mm BloodandCustard East Sussex Finescale Railway Modelling Finescale Modelling OO HO 18.83mm 4mm BloodandCustard East Sussex Finescale Railway Modelling Finescale Modelling OO HO 18.83mm 4mm BloodandCustard East Sussex Finescale Railway Modelling Finescale Modelling OO HO 18.83mm 4mm BloodandCustard East Sussex Finescale Railway Modelling Finescale Modelling OO HO 18.83mm 4mm BloodandCustard East Sussex Finescale Railway Modelling Finescale Modelling OO HO 18.83mm 4mm BloodandCustard East Sussex Finescale Railway Modelling Finescale Modelling OO HO 18.83mm 4mm BloodandCustard East Sussex Finescale Railway Modelling Finescale Modelling OO HO 18.83mm 4mm BloodandCustard East Sussex Finescale Railway Modelling Finescale Modelling OO HO 18.83mm 4mm BloodandCustard East Sussex Finescale Railway Modelling Finescale Modelling OO HO 18.83mm 4mm BloodandCustard East Sussex Finescale Railway Modelling Finescale Modelling OO HO 18.83mm 4mm BloodandCustard East Sussex Finescale Railway Modelling Finescale Modelling OO HO 18.83mm 4mm BloodandCustard East Sussex Finescale Railway Modelling Finescale Modelling OO HO 18.83mm 4mm BloodandCustard East Sussex Finescale Railway Modelling Finescale Modelling OO HO 18.83mm 4mm BloodandCustard East Sussex Finescale Railway Modelling Finescale Modelling OO HO 18.83mm 4mm BloodandCustard East Sussex Finescale Railway Modelling Finescale Modelling OO HO 18.83mm 4mm BloodandCustard East Sussex Finescale Railway Modelling Finescale Modelling OO HO 18.83mm 4mm BloodandCustard East Sussex Finescale Railway Modelling Finescale Modelling OO HO 18.83mm 4mm BloodandCustard East Sussex Finescale Railway Modelling Finescale Modelling OO HO 18.83mm 4mm BloodandCustard East Sussex Finescale Railway Modelling Finescale Modelling OO HO 18.83mm 4mm BloodandCustard East Sussex Finescale Railway Modelling Finescale Modelling OO HO 18.83mm 4mm BloodandCustard East Sussex Finescale Railway Modelling Finescale Modelling OO HO 18.83mm 4mm BloodandCustard East Sussex Finescale Railway Modelling Finescale Modelling OO HO 18.83mm 4mm BloodandCustard East Sussex Finescale Railway Modelling Finescale Modelling OO HO 18.83mm 4mm BloodandCustard East Sussex Finescale Railway Modelling Finescale Modelling OO HO 18.83mm 4mm BloodandCustard East Sussex Finescale Railway Modelling Finescale Modelling OO HO 18.83mm 4mm BloodandCustard East Sussex Finescale Railway Modelling Finescale Modelling OO HO 18.83mm 4mm BloodandCustard East Sussex Finescale Railway Modelling Finescale Modelling OO HO 18.83mm 4mm BloodandCustard East Sussex Finescale Railway Modelling Finescale Modelling OO HO 18.83mm 4mm BloodandCustard East Sussex Finescale Railway Modelling Finescale Modelling OO HO 18.83mm 4mm BloodandCustard East Sussex Finescale Railway Modelling Finescale Modelling OO HO 18.83mm 4mm BloodandCustard East Sussex Finescale Railway Modelling Finescale Modelling OO HO 18.83mm 4mm BloodandCustard East Sussex Finescale Railway Modelling Finescale Modelling OO HO 18.83mm 4mm BloodandCustard East Sussex Finescale Railway Modelling Finescale Modelling OO HO 18.83mm 4mm BloodandCustard East Sussex Finescale Railway Modelling Finescale Modelling OO HO 18.83mm 4mm BloodandCustard East Sussex Finescale Railway Modelling Finescale Modelling OO HO 18.83mm 4mm BloodandCustard East Sussex Finescale Railway Modelling Finescale Modelling OO HO 18.83mm 4mm BloodandCustard East Sussex Finescale Railway Modelling Finescale Modelling OO HO 18.83mm 4mm BloodandCustard East Sussex Finescale Railway Modelling Finescale Modelling OO HO 18.83mm 4mm BloodandCustard East Sussex Finescale Railway Modelling Finescale Modelling OO HO 18.83mm 4mm BloodandCustard East Sussex Finescale Railway Modelling Finescale Modelling OO HO 18.83mm 4mm BloodandCustard East Sussex Finescale Railway Modelling Finescale Modelling OO HO 18.83mm 4mm BloodandCustard East Sussex Finescale Railway Modelling Finescale Modelling OO HO 18.83mm 4mm BloodandCustard East Sussex Finescale Railway Modelling Finescale Modelling OO HO 18.83mm 4mm BloodandCustard East Sussex Finescale Railway Modelling Finescale Modelling OO HO 18.83mm 4mm BloodandCustard East Sussex Finescale Railway Modelling Finescale Modelling OO HO 18.83mm 4mm BloodandCustard East Sussex Finescale Railway Modelling Finescale Modelling OO HO 18.83mm 4mm BloodandCustard East Sussex Finescale Railway Modelling Finescale Modelling OO HO 18.83mm 4mm BloodandCustard East Sussex Finescale Railway Modelling Finescale Modelling OO HO 18.83mm 4mm BloodandCustard East Sussex Finescale Railway Modelling Finescale Modelling OO HO 18.83mm 4mm BloodandCustard East Sussex Finescale Railway Modelling Finescale Modelling OO HO 18.83mm 4mm BloodandCustard East Sussex Finescale Railway Modelling Finescale Modelling OO HO 18.83mm 4mm BloodandCustard East Sussex Finescale Railway Modelling Finescale Modelling OO HO 18.83mm 4mm BloodandCustard East Sussex Finescale Railway Modelling Finescale Modelling OO HO 18.83mm 4mm BloodandCustard East Sussex Finescale Railway Modelling Finescale Modelling OO HO 18.83mm 4mm BloodandCustard East Sussex Finescale Railway Modelling Finescale Modelling OO HO 18.83mm 4mm BloodandCustard East Sussex Finescale Railway Modelling Finescale Modelling OO HO 18.83mm 4mm BloodandCustard East Sussex Finescale Railway Modelling Finescale Modelling OO HO 18.83mm 4mm BloodandCustard East Sussex Finescale Railway Modelling Finescale Modelling OO HO 18.83mm 4mm BloodandCustard East Sussex Finescale Railway Modelling Finescale Modelling OO HO 18.83mm 4mm BloodandCustard East Sussex Finescale Railway Modelling Finescale Modelling OO HO 18.83mm 4mm BloodandCustard East Sussex Finescale Railway Modelling Finescale Modelling OO HO 18.83mm 4mm BloodandCustard East Sussex Finescale Railway Modelling Finescale Modelling OO HO 18.83mm 4mm BloodandCustard East Sussex Finescale Railway Modelling Finescale Modelling OO HO 18.83mm 4mm BloodandCustard East Sussex Finescale Railway Modelling Finescale Modelling OO HO 18.83mm 4mm BloodandCustard East Sussex Finescale Railway Modelling Finescale Modelling OO HO 18.83mm 4mm BloodandCustard East Sussex Finescale Railway Modelling Finescale Modelling OO HO 18.83mm 4mm BloodandCustard East Sussex Finescale Railway Modelling Finescale Modelling OO HO 18.83mm 4mm BloodandCustard East Sussex Finescale Railway Modelling Finescale Modelling OO HO 18.83mm 4mm BloodandCustard East Sussex Finescale Railway Modelling Finescale Modelling OO HO 18.83mm 4mm BloodandCustard East Sussex Finescale Railway Modelling Finescale Modelling OO HO 18.83mm 4mm BloodandCustard East Sussex Finescale Railway Modelling Finescale Modelling OO HO 18.83mm 4mm BloodandCustard East Sussex Finescale Railway Modelling Finescale Modelling OO HO 18.83mm 4mm BloodandCustard East Sussex Finescale Railway Modelling Finescale Modelling OO HO 18.83mm 4mm BloodandCustard East Sussex Finescale Railway Modelling Finescale Modelling OO HO 18.83mm 4mm BloodandCustard East Sussex Finescale Railway Modelling Finescale Modelling OO HO 18.83mm 4mm BloodandCustard East Sussex Finescale Railway Modelling Finescale Modelling OO HO 18.83mm 4mm BloodandCustard East Sussex Finescale Railway Modelling Finescale Modelling OO HO 18.83mm 4mm BloodandCustard East Sussex Finescale Railway Modelling Finescale Modelling OO HO 18.83mm 4mm BloodandCustard East Sussex Finescale Railway Modelling Finescale Modelling OO HO 18.83mm 4mm BloodandCustard East Sussex Finescale Railway Modelling Finescale Modelling OO HO 18.83mm 4mm BloodandCustard East Sussex Finescale Railway Modelling Finescale Modelling OO HO 18.83mm 4mm BloodandCustard East Sussex Finescale Railway Modelling Finescale Modelling OO HO 18.83mm 4mm BloodandCustard East Sussex Finescale Railway Modelling Finescale Modelling OO HO 18.83mm 4mm BloodandCustard East Sussex Finescale Railway Modelling Finescale Modelling OO HO 18.83mm 4mm BloodandCustard East Sussex Finescale Railway Modelling Finescale Modelling OO HO 18.83mm 4mm BloodandCustard East Sussex Finescale Railway Modelling Finescale Modelling OO HO 18.83mm 4mm BloodandCustard East Sussex Finescale Railway Modelling Finescale Modelling OO HO 18.83mm 4mm BloodandCustard East Sussex Finescale Railway Modelling Finescale Modelling OO HO 18.83mm 4mm BloodandCustard East Sussex Finescale Railway Modelling Finescale Modelling OO HO 18.83mm 4mm BloodandCustard East Sussex Finescale Railway Modelling Finescale Modelling OO HO 18.83mm 4mm BloodandCustard East Sussex Finescale Railway Modelling Finescale Modelling OO HO 18.83mm 4mm BloodandCustard East Sussex Finescale Railway Modelling Finescale Modelling OO HO 18.83mm 4mm BloodandCustard East Sussex Finescale Railway Modelling Finescale Modelling OO HO 18.83mm 4mm BloodandCustard East Sussex Finescale Railway Modelling Finescale Modelling OO HO 18.83mm 4mm BloodandCustard East Sussex Finescale Railway Modelling Finescale Modelling OO HO 18.83mm 4mm BloodandCustard East Sussex Finescale Railway Modelling Finescale Modelling OO HO 18.83mm 4mm BloodandCustard East Sussex Finescale Railway Modelling Finescale Modelling OO HO 18.83mmBloodandCustard East Sussex Finescale Railway Modelling Finescale Modelling OO HO 18.83mm 4mm. BloodandCustard East Sussex Finescale Railway Modelling Finescale Modelling OO HO 18.83mm 4mm BloodandCustard East Sussex Finescale Railway Modelling Finescale Modelling OO HO 18.83mm 4mm BloodandCustard East Sussex Finescale Railway Modelling Finescale Modelling OO HO 18.83mm 4mm BloodandCustard East Sussex Finescale Railway Modelling Finescale Modelling OO HO 18.83mm 4mm BloodandCustard East Sussex Finescale Railway Modelling Finescale Modelling OO HO 18.83mm 4mm BloodandCustard East Sussex Finescale Railway Modelling Finescale Modelling OO HO 18.83mm 4mm BloodandCustard East Sussex Finescale Railway Modelling Finescale Modelling OO HO 18.83mm 4mm BloodandCustard East Sussex Finescale Railway Modelling Finescale Modelling OO HO 18.83mm 4mm BloodandCustard East Sussex Finescale Railway Modelling Finescale Modelling OO HO 18.83mm 4mm BloodandCustard East Sussex Finescale Railway Modelling Finescale Modelling OO HO 18.83mm 4mm BloodandCustard East Sussex Finescale Railway Modelling Finescale Modelling OO HO 18.83mm 4mm BloodandCustard East Sussex Finescale Railway Modelling Finescale Modelling OO HO 18.83mm 4mm BloodandCustard East Sussex Finescale Railway Modelling Finescale Modelling OO HO 18.83mm 4mm BloodandCustard East Sussex Finescale Railway Modelling Finescale Modelling OO HO 18.83mm 4mm BloodandCustard East Sussex Finescale Railway Modelling Finescale Modelling OO HO 18.83mm 4mm BloodandCustard East Sussex Finescale Railway Modelling Finescale Modelling OO HO 18.83mm 4mm BloodandCustard East Sussex Finescale Railway Modelling Finescale Modelling OO HO 18.83mm 4mm BloodandCustard East Sussex Finescale Railway Modelling Finescale Modelling OO HO 18.83mm 4mm BloodandCustard East Sussex Finescale Railway Modelling Finescale Modelling OO HO 18.83mm 4mm BloodandCustard East Sussex Finescale Railway Modelling Finescale Modelling OO HO 18.83mm 4mm BloodandCustard East Sussex Finescale Railway Modelling Finescale Modelling OO HO 18.83mm 4mm BloodandCustard East Sussex Finescale Railway Modelling Finescale Modelling OO HO 18.83mm 4mm BloodandCustard East Sussex Finescale Railway Modelling Finescale Modelling OO HO 18.83mm 4mm BloodandCustard East Sussex Finescale Railway Modelling Finescale Modelling OO HO 18.83mm 4mm BloodandCustard East Sussex Finescale Railway Modelling Finescale Modelling OO HO 18.83mm 4mm BloodandCustard East Sussex Finescale Railway Modelling Finescale Modelling OO HO 18.83mm 4mm BloodandCustard East Sussex Finescale Railway Modelling Finescale Modelling OO HO 18.83mm 4mm BloodandCustard East Sussex Finescale Railway Modelling Finescale Modelling OO HO 18.83mm 4mm BloodandCustard East Sussex Finescale Railway Modelling Finescale Modelling OO HO 18.83mm 4mm BloodandCustard East Sussex Finescale Railway Modelling Finescale Modelling OO HO 18.83mm 4mm BloodandCustard East Sussex Finescale Railway Modelling Finescale Modelling OO HO 18.83mm 4mm BloodandCustard East Sussex Finescale Railway Modelling Finescale Modelling OO HO 18.83mm 4mm BloodandCustard East Sussex Finescale Railway Modelling Finescale Modelling OO HO 18.83mm 4mm BloodandCustard East Sussex Finescale Railway Modelling Finescale Modelling OO HO 18.83mm 4mm BloodandCustard East Sussex Finescale Railway Modelling Finescale Modelling OO HO 18.83mm 4mm BloodandCustard East Sussex Finescale Railway Modelling Finescale Modelling OO HO 18.83mm 4mm BloodandCustard East Sussex Finescale Railway Modelling Finescale Modelling OO HO 18.83mm 4mm BloodandCustard East Sussex Finescale Railway Modelling Finescale Modelling OO HO 18.83mm 4mm BloodandCustard East Sussex Finescale Railway Modelling Finescale Modelling OO HO 18.83mm 4mm BloodandCustard East Sussex Finescale Railway Modelling Finescale Modelling OO HO 18.83mm 4mm BloodandCustard East Sussex Finescale Railway Modelling Finescale Modelling OO HO 18.83mm 4mm BloodandCustard East Sussex Finescale Railway Modelling Finescale Modelling OO HO 18.83mm 4mm BloodandCustard East Sussex Finescale Railway Modelling Finescale Modelling OO HO 18.83mm 4mm BloodandCustard East Sussex Finescale Railway Modelling Finescale Modelling OO HO 18.83mm 4mm BloodandCustard East Sussex Finescale Railway Modelling Finescale Modelling OO HO 18.83mm 4mm BloodandCustard East Sussex Finescale Railway Modelling Finescale Modelling OO HO 18.83mm 4mm BloodandCustard East Sussex Finescale Railway Modelling Finescale Modelling OO HO 18.83mm 4mm BloodandCustard East Sussex Finescale Railway Modelling Finescale Modelling OO HO 18.83mm 4mm BloodandCustard East Sussex Finescale Railway Modelling Finescale Modelling OO HO 18.83mm 4mm BloodandCustard East Sussex Finescale Railway Modelling Finescale Modelling OO HO 18.83mm 4mm BloodandCustard East Sussex Finescale Railway Modelling Finescale Modelling OO HO 18.83mm 4mm BloodandCustard East Sussex Finescale Railway Modelling Finescale Modelling OO HO 18.83mm 4mm BloodandCustard East Sussex Finescale Railway Modelling Finescale Modelling OO HO 18.83mm 4mm BloodandCustard East Sussex Finescale Railway Modelling Finescale Modelling OO HO 18.83mm 4mm BloodandCustard East Sussex Finescale Railway Modelling Finescale Modelling OO HO 18.83mm 4mm BloodandCustard East Sussex Finescale Railway Modelling Finescale Modelling OO HO 18.83mm 4mm BloodandCustard East Sussex Finescale Railway Modelling Finescale Modelling OO HO 18.83mm 4mm BloodandCustard East Sussex Finescale Railway Modelling Finescale Modelling OO HO 18.83mm 4mm BloodandCustard East Sussex Finescale Railway Modelling Finescale Modelling OO HO 18.83mm 4mm BloodandCustard East Sussex Finescale Railway Modelling Finescale Modelling OO HO 18.83mm 4mm BloodandCustard East Sussex Finescale Railway Modelling Finescale Modelling OO HO 18.83mm 4mm BloodandCustard East Sussex Finescale Railway Modelling Finescale Modelling OO HO 18.83mm 4mm BloodandCustard East Sussex Finescale Railway Modelling Finescale Modelling OO HO 18.83mm 4mm BloodandCustard East Sussex Finescale Railway Modelling Finescale Modelling OO HO 18.83mm 4mm BloodandCustard East Sussex Finescale Railway Modelling Finescale Modelling OO HO 18.83mm 4mm BloodandCustard East Sussex Finescale Railway Modelling Finescale Modelling OO HO 18.83mm 4mm BloodandCustard East Sussex Finescale Railway Modelling Finescale Modelling OO HO 18.83mm 4mm BloodandCustard East Sussex Finescale Railway Modelling Finescale Modelling OO HO 18.83mm 4mm BloodandCustard East Sussex Finescale Railway Modelling Finescale Modelling OO HO 18.83mm 4mm BloodandCustard East Sussex Finescale Railway Modelling Finescale Modelling OO HO 18.83mm 4mm BloodandCustard East Sussex Finescale Railway Modelling Finescale Modelling OO HO 18.83mm 4mm BloodandCustard East Sussex Finescale Railway Modelling Finescale Modelling OO HO 18.83mm 4mm BloodandCustard East Sussex Finescale Railway Modelling Finescale Modelling OO HO 18.83mm 4mm BloodandCustard East Sussex Finescale Railway Modelling Finescale Modelling OO HO 18.83mm 4mm BloodandCustard East Sussex Finescale Railway Modelling Finescale Modelling OO HO 18.83mm 4mm BloodandCustard East Sussex Finescale Railway Modelling Finescale Modelling OO HO 18.83mm 4mm BloodandCustard East Sussex Finescale Railway Modelling Finescale Modelling OO HO 18.83mm 4mm BloodandCustard East Sussex Finescale Railway Modelling Finescale Modelling OO HO 18.83mm 4mm BloodandCustard East Sussex Finescale Railway Modelling Finescale Modelling OO HO 18.83mm 4mm BloodandCustard East Sussex Finescale Railway Modelling Finescale Modelling OO HO 18.83mm 4mm BloodandCustard East Sussex Finescale Railway Modelling Finescale Modelling OO HO 18.83mm 4mm BloodandCustard East Sussex Finescale Railway Modelling Finescale Modelling OO HO 18.83mm 4mm BloodandCustard East Sussex Finescale Railway Modelling Finescale Modelling OO HO 18.83mm 4mm BloodandCustard East Sussex Finescale Railway Modelling Finescale Modelling OO HO 18.83mm 4mm BloodandCustard East Sussex Finescale Railway Modelling Finescale Modelling OO HO 18.83mm 4mm BloodandCustard East Sussex Finescale Railway Modelling Finescale Modelling OO HO 18.83mm 4mm BloodandCustard East Sussex Finescale Railway Modelling Finescale Modelling OO HO 18.83mm 4mm BloodandCustard East Sussex Finescale Railway Modelling Finescale Modelling OO HO 18.83mm 4mm BloodandCustard East Sussex Finescale Railway Modelling Finescale Modelling OO HO 18.83mm 4mm BloodandCustard East Sussex Finescale Railway Modelling Finescale Modelling OO HO 18.83mm 4mm BloodandCustard East Sussex Finescale Railway Modelling Finescale Modelling OO HO 18.83mm 4mm BloodandCustard East Sussex Finescale Railway Modelling Finescale Modelling OO HO 18.83mm 4mm BloodandCustard East Sussex Finescale Railway Modelling Finescale Modelling OO HO 18.83mm 4mm BloodandCustard East Sussex Finescale Railway Modelling Finescale Modelling OO HO 18.83mm 4mm BloodandCustard East Sussex Finescale Railway Modelling Finescale Modelling OO HO 18.83mm 4mm BloodandCustard East Sussex Finescale Railway Modelling Finescale Modelling OO HO 18.83mm 4mm BloodandCustard East Sussex Finescale Railway Modelling Finescale Modelling OO HO 18.83mm 4mm BloodandCustard East Sussex Finescale Railway Modelling Finescale Modelling OO HO 18.83mm 4mm BloodandCustard East Sussex Finescale Railway Modelling Finescale Modelling OO HO 18.83mm 4mm BloodandCustard East Sussex Finescale Railway Modelling Finescale Modelling OO HO 18.83mm 4mm BloodandCustard East Sussex Finescale Railway Modelling Finescale Modelling OO HO 18.83mm 4mm BloodandCustard East Sussex Finescale Railway Modelling Finescale Modelling OO HO 18.83mm 4mm BloodandCustard East Sussex Finescale Railway Modelling Finescale Modelling OO HO 18.83mm 4mm BloodandCustard East Sussex Finescale Railway Modelling Finescale Modelling OO HO 18.83mm 4mm BloodandCustard East Sussex Finescale Railway Modelling Finescale Modelling OO HO 18.83mm 4mm BloodandCustard East Sussex Finescale Railway Modelling Finescale Modelling OO HO 18.83mm 4mm BloodandCustard East Sussex Finescale Railway Modelling Finescale Modelling OO HO 18.83mm 4mm BloodandCustard East Sussex Finescale Railway Modelling Finescale Modelling OO HO 18.83mm 4mm BloodandCustard East Sussex Finescale Railway Modelling Finescale Modelling OO HO 18.83mm 4mm BloodandCustard East Sussex Finescale Railway Modelling Finescale Modelling OO HO 18.83mm 4mm BloodandCustard East Sussex Finescale Railway Modelling Finescale Modelling OO HO 18.83mm 4mm BloodandCustard East Sussex Finescale Railway Modelling Finescale Modelling OO HO 18.83mm 4mm BloodandCustard East Sussex Finescale Railway Modelling Finescale Modelling OO HO 18.83mm 4mm BloodandCustard East Sussex Finescale Railway Modelling Finescale Modelling OO HO 18.83mm 4mm BloodandCustard East Sussex Finescale Railway Modelling Finescale Modelling OO HO 18.83mm 4mm BloodandCustard East Sussex Finescale Railway Modelling Finescale Modelling OO HO 18.83mm 4mm BloodandCustard East Sussex Finescale Railway Modelling Finescale Modelling OO HO 18.83mm 4mm BloodandCustard East Sussex Finescale Railway Modelling Finescale Modelling OO HO 18.83mm 4mm BloodandCustard East Sussex Finescale Railway Modelling Finescale Modelling OO HO 18.83mm 4mm BloodandCustard East Sussex Finescale Railway Modelling Finescale Modelling OO HO 18.83mm 4mm BloodandCustard East Sussex Finescale Railway Modelling Finescale Modelling OO HO 18.83mm 4mm BloodandCustard East Sussex Finescale Railway Modelling Finescale Modelling OO HO 18.83mm 4mm BloodandCustard East Sussex Finescale Railway Modelling Finescale Modelling OO HO 18.83mm 4mm BloodandCustard East Sussex Finescale Railway Modelling Finescale Modelling OO HO 18.83mm 4mm BloodandCustard East Sussex Finescale Railway Modelling Finescale Modelling OO HO 18.83mm 4mm BloodandCustard East Sussex Finescale Railway Modelling Finescale Modelling OO HO 18.83mm 4mm BloodandCustard East Sussex Finescale Railway Modelling Finescale Modelling OO HO 18.83mm 4mm BloodandCustard East Sussex Finescale Railway Modelling Finescale Modelling OO HO 18.83mm 4mm BloodandCustard East Sussex Finescale Railway Modelling Finescale Modelling OO HO 18.83mm 4mm BloodandCustard East Sussex Finescale Railway Modelling Finescale Modelling OO HO 18.83mm 4mm BloodandCustard East Sussex Finescale Railway Modelling Finescale Modelling OO HO 18.83mm 4mm BloodandCustard East Sussex Finescale Railway Modelling Finescale Modelling OO HO 18.83mm 4mm BloodandCustard East Sussex Finescale Railway Modelling Finescale Modelling OO HO 18.83mm 4mm BloodandCustard East Sussex Finescale Railway Modelling Finescale Modelling OO HO 18.83mm 4mm BloodandCustard East Sussex Finescale Railway Modelling Finescale Modelling OO HO 18.83mm 4mm BloodandCustard East Sussex Finescale Railway Modelling Finescale Modelling OO HO 18.83mm 4mm BloodandCustard East Sussex Finescale Railway Modelling Finescale Modelling OO HO 18.83mm 4mm BloodandCustard East Sussex Finescale Railway Modelling Finescale Modelling OO HO 18.83mm 4mm BloodandCustard East Sussex Finescale Railway Modelling Finescale Modelling OO HO 18.83mm 4mm BloodandCustard East Sussex Finescale Railway Modelling Finescale Modelling OO HO 18.83mm 4mm BloodandCustard East Sussex Finescale Railway Modelling Finescale Modelling OO HO 18.83mm 4mm BloodandCustard East Sussex Finescale Railway Modelling Finescale Modelling OO HO 18.83mm 4mm BloodandCustard East Sussex Finescale Railway Modelling Finescale Modelling OO HO 18.83mm 4mm BloodandCustard East Sussex Finescale Railway Modelling Finescale Modelling OO HO 18.83mm 4mm BloodandCustard East Sussex Finescale Railway Modelling Finescale Modelling OO HO 18.83mm 4mm BloodandCustard East Sussex Finescale Railway Modelling Finescale Modelling OO HO 18.83mm 4mm BloodandCustard East Sussex Finescale Railway Modelling Finescale Modelling OO HO 18.83mm 4mm BloodandCustard East Sussex Finescale Railway Modelling Finescale Modelling OO HO 18.83mm 4mm BloodandCustard East Sussex Finescale Railway Modelling Finescale Modelling OO HO 18.83mm 4mm BloodandCustard East Sussex Finescale Railway Modelling Finescale Modelling OO HO 18.83mm 4mm BloodandCustard East Sussex Finescale Railway Modelling Finescale Modelling OO HO 18.83mm 4mm BloodandCustard East Sussex Finescale Railway Modelling Finescale Modelling OO HO 18.83mm 4mm BloodandCustard East Sussex Finescale Railway Modelling Finescale Modelling OO HO 18.83mm 4mm BloodandCustard East Sussex Finescale Railway Modelling Finescale Modelling OO HO 18.83mm 4mm BloodandCustard East Sussex Finescale Railway Modelling Finescale Modelling OO HO 18.83mm 4mm BloodandCustard East Sussex Finescale Railway Modelling Finescale Modelling OO HO 18.83mm 4mm BloodandCustard East Sussex Finescale Railway Modelling Finescale Modelling OO HO 18.83mm 4mm BloodandCustard East Sussex Finescale Railway Modelling Finescale Modelling OO HO 18.83mm 4mm BloodandCustard East Sussex Finescale Railway Modelling Finescale Modelling OO HO 18.83mm 4mm BloodandCustard East Sussex Finescale Railway Modelling Finescale Modelling OO HO 18.83mm 4mm BloodandCustard East Sussex Finescale Railway Modelling Finescale Modelling OO HO 18.83mm 4mm BloodandCustard East Sussex Finescale Railway Modelling Finescale Modelling OO HO 18.83mm 4mm BloodandCustard East Sussex Finescale Railway Modelling Finescale Modelling OO HO 18.83mm 4mm BloodandCustard East Sussex Finescale Railway Modelling Finescale Modelling OO HO 18.83mm 4mm BloodandCustard East Sussex Finescale Railway Modelling Finescale Modelling OO HO 18.83mm 4mm BloodandCustard East Sussex Finescale Railway Modelling Finescale Modelling OO HO 18.83mm 4mm BloodandCustard East Sussex Finescale Railway Modelling Finescale Modelling OO HO 18.83mm 4mm BloodandCustard East Sussex Finescale Railway Modelling Finescale Modelling OO HO 18.83mm 4mm BloodandCustard East Sussex Finescale Railway Modelling Finescale Modelling OO HO 18.83mm 4mm BloodandCustard East Sussex Finescale Railway Modelling Finescale Modelling OO HO 18.83mm 4mm BloodandCustard East Sussex Finescale Railway Modelling Finescale Modelling OO HO 18.83mm 4mm BloodandCustard East Sussex Finescale Railway Modelling Finescale Modelling OO HO 18.83mm 4mm BloodandCustard East Sussex Finescale Railway Modelling Finescale Modelling OO HO 18.83mm 4mm BloodandCustard East Sussex Finescale Railway Modelling Finescale Modelling OO HO 18.83mm 4mm BloodandCustard East Sussex Finescale Railway Modelling Finescale Modelling OO HO 18.83mm 4mm BloodandCustard East Sussex Finescale Railway Modelling Finescale Modelling OO HO 18.83mm 4mm BloodandCustard East Sussex Finescale Railway Modelling Finescale Modelling OO HO 18.83mm 4mm BloodandCustard East Sussex Finescale Railway Modelling Finescale Modelling OO HO 18.83mm 4mm BloodandCustard East Sussex Finescale Railway Modelling Finescale Modelling OO HO 18.83mm 4mm BloodandCustard East Sussex Finescale Railway Modelling Finescale Modelling OO HO 18.83mm 4mm BloodandCustard East Sussex Finescale Railway Modelling Finescale Modelling OO HO 18.83mm 4mm BloodandCustard East Sussex Finescale Railway Modelling Finescale Modelling OO HO 18.83mm 4mm BloodandCustard East Sussex Finescale Railway Modelling Finescale Modelling OO HO 18.83mm 4mm BloodandCustard East Sussex Finescale Railway Modelling Finescale Modelling OO HO 18.83mm 4mm BloodandCustard East Sussex Finescale Railway Modelling Finescale Modelling OO HO 18.83mm 4mm BloodandCustard East Sussex Finescale Railway Modelling Finescale Modelling OO HO 18.83mm 4mm BloodandCustard East Sussex Finescale Railway Modelling Finescale Modelling OO HO 18.83mm 4mm BloodandCustard East Sussex Finescale Railway Modelling Finescale Modelling OO HO 18.83mm 4mm BloodandCustard East Sussex Finescale Railway Modelling Finescale Modelling OO HO 18.83mm 4mm BloodandCustard East Sussex Finescale Railway Modelling Finescale Modelling OO HO 18.83mm 4mm BloodandCustard East Sussex Finescale Railway Modelling Finescale Modelling OO HO 18.83mm 4mm BloodandCustard East Sussex Finescale Railway Modelling Finescale Modelling OO HO 18.83mm 4mm BloodandCustard East Sussex Finescale Railway Modelling Finescale Modelling OO HO 18.83mm 4mm BloodandCustard East Sussex Finescale Railway Modelling Finescale Modelling OO HO 18.83mm 4mm BloodandCustard East Sussex Finescale Railway Modelling Finescale Modelling OO HO 18.83mm 4mm BloodandCustard East Sussex Finescale Railway Modelling Finescale Modelling OO HO 18.83mm 4mm BloodandCustard East Sussex Finescale Railway Modelling Finescale Modelling OO HO 18.83mm 4mm BloodandCustard East Sussex Finescale Railway Modelling Finescale Modelling OO HO 18.83mm 4mm BloodandCustard East Sussex Finescale Railway Modelling Finescale Modelling OO HO 18.83mm 4mm BloodandCustard East Sussex Finescale Railway Modelling Finescale Modelling OO HO 18.83mm 4mm BloodandCustard East Sussex Finescale Railway Modelling Finescale Modelling OO HO 18.83mm 4mm BloodandCustard East Sussex Finescale Railway Modelling Finescale Modelling OO HO 18.83mm 4mm BloodandCustard East Sussex Finescale Railway Modelling Finescale Modelling OO HO 18.83mm 4mm BloodandCustard East Sussex Finescale Railway Modelling Finescale Modelling OO HO 18.83mm 4mm BloodandCustard East Sussex Finescale Railway Modelling Finescale Modelling OO HO 18.83mm 4mm BloodandCustard East Sussex Finescale Railway Modelling Finescale Modelling OO HO 18.83mm 4mm BloodandCustard East Sussex Finescale Railway Modelling Finescale Modelling OO HO 18.83mm 4mm BloodandCustard East Sussex Finescale Railway Modelling Finescale Modelling OO HO 18.83mm 4mm BloodandCustard East Sussex Finescale Railway Modelling Finescale Modelling OO HO 18.83mm 4mm BloodandCustard East Sussex Finescale Railway Modelling Finescale Modelling OO HO 18.83mm 4mm BloodandCustard East Sussex Finescale Railway Modelling Finescale Modelling OO HO 18.83mm 4mm BloodandCustard East Sussex Finescale Railway Modelling Finescale Modelling OO HO 18.83mm 4mm BloodandCustard East Sussex Finescale Railway Modelling Finescale Modelling OO HO 18.83mm 4mm BloodandCustard East Sussex Finescale Railway Modelling Finescale Modelling OO HO 18.83mm 4mm BloodandCustard East Sussex Finescale Railway Modelling Finescale Modelling OO HO 18.83mm 4mm BloodandCustard East Sussex Finescale Railway Modelling Finescale Modelling OO HO 18.83mm 4mm BloodandCustard East Sussex Finescale Railway Modelling Finescale Modelling OO HO 18.83mm 4mm BloodandCustard East Sussex Finescale Railway Modelling Finescale Modelling OO HO 18.83mm 4mm BloodandCustard East Sussex Finescale Railway Modelling Finescale Modelling OO HO 18.83mm 4mm BloodandCustard East Sussex Finescale Railway Modelling Finescale Modelling OO HO 18.83mm 4mm BloodandCustard East Sussex Finescale Railway Modelling Finescale Modelling OO HO 18.83mm 4mm BloodandCustard East Sussex Finescale Railway Modelling Finescale Modelling OO HO 18.83mm 4mm BloodandCustard East Sussex Finescale Railway Modelling Finescale Modelling OO HO 18.83mm 4mm BloodandCustard East Sussex Finescale Railway Modelling Finescale Modelling OO HO 18.83mm 4mm BloodandCustard East Sussex Finescale Railway Modelling Finescale Modelling OO HO 18.83mm 4mm BloodandCustard East Sussex Finescale Railway Modelling Finescale Modelling OO HO 18.83mm 4mm BloodandCustard East Sussex Finescale Railway Modelling Finescale Modelling OO HO 18.83mm 4mm BloodandCustard East Sussex Finescale Railway Modelling Finescale Modelling OO HO 18.83mm 4mm BloodandCustard East Sussex Finescale Railway Modelling Finescale Modelling OO HO 18.83mm 4mm BloodandCustard East Sussex Finescale Railway Modelling Finescale Modelling OO HO 18.83mm 4mm BloodandCustard East Sussex Finescale Railway Modelling Finescale Modelling OO HO 18.83mm 4mm BloodandCustard East Sussex Finescale Railway Modelling Finescale Modelling OO HO 18.83mm 4mm BloodandCustard East Sussex Finescale Railway Modelling Finescale Modelling OO HO 18.83mm 4mm BloodandCustard East Sussex Finescale Railway Modelling Finescale Modelling OO HO 18.83mm 4mm BloodandCustard East Sussex Finescale Railway Modelling Finescale Modelling OO HO 18.83mm 4mm BloodandCustard East Sussex Finescale Railway Modelling Finescale Modelling OO HO 18.83mm 4mm BloodandCustard East Sussex Finescale Railway Modelling Finescale Modelling OO HO 18.83mm 4mm BloodandCustard East Sussex Finescale Railway Modelling Finescale Modelling OO HO 18.83mm 4mm BloodandCustard East Sussex Finescale Railway Modelling Finescale Modelling OO HO 18.83mm 4mm BloodandCustard East Sussex Finescale Railway Modelling Finescale Modelling OO HO 18.83mm 4mm BloodandCustard East Sussex Finescale Railway Modelling Finescale Modelling OO HO 18.83mm 4mm BloodandCustard East Sussex Finescale Railway Modelling Finescale Modelling OO HO 18.83mm 4mm BloodandCustard East Sussex Finescale Railway Modelling Finescale Modelling OO HO 18.83mm 4mm BloodandCustard East Sussex Finescale Railway Modelling Finescale Modelling OO HO 18.83mm 4mm BloodandCustard East Sussex Finescale Railway Modelling Finescale Modelling OO HO 18.83mm 4mm BloodandCustard East Sussex Finescale Railway Modelling Finescale Modelling OO HO 18.83mm 4mm BloodandCustard East Sussex Finescale Railway Modelling Finescale Modelling OO HO 18.83mm 4mm BloodandCustard East Sussex Finescale Railway Modelling Finescale Modelling OO HO 18.83mm 4mm BloodandCustard East Sussex Finescale Railway Modelling Finescale Modelling OO HO 18.83mm 4mm BloodandCustard East Sussex Finescale Railway Modelling Finescale Modelling OO HO 18.83mm 4mm BloodandCustard East Sussex Finescale Railway Modelling Finescale Modelling OO HO 18.83mm 4mm BloodandCustard East Sussex Finescale Railway Modelling Finescale Modelling OO HO 18.83mm 4mm BloodandCustard East Sussex Finescale Railway Modelling Finescale Modelling OO HO 18.83mm 4mm BloodandCustard East Sussex Finescale Railway Modelling Finescale Modelling OO HO 18.83mm 4mm BloodandCustard East Sussex Finescale Railway Modelling Finescale Modelling OO HO 18.83mm 4mm BloodandCustard East Sussex Finescale Railway Modelling Finescale Modelling OO HO 18.83mm 4mm BloodandCustard East Sussex Finescale Railway Modelling Finescale Modelling OO HO 18.83mm 4mm BloodandCustard East Sussex Finescale Railway Modelling Finescale Modelling OO HO 18.83mm 4mm BloodandCustard East Sussex Finescale Railway Modelling Finescale Modelling OO HO 18.83mm 4mm BloodandCustard East Sussex Finescale Railway Modelling Finescale Modelling OO HO 18.83mm 4mm BloodandCustard East Sussex Finescale Railway Modelling Finescale Modelling OO HO 18.83mm 4mm BloodandCustard East Sussex Finescale Railway Modelling Finescale Modelling OO HO 18.83mm 4mm BloodandCustard East Sussex Finescale Railway Modelling Finescale Modelling OO HO 18.83mm 4mm BloodandCustard East Sussex Finescale Railway Modelling Finescale Modelling OO HO 18.83mm 4mm BloodandCustard East Sussex Finescale Railway Modelling Finescale Modelling OO HO 18.83mm 4mm BloodandCustard East Sussex Finescale Railway Modelling Finescale Modelling OO HO 18.83mm 4mm BloodandCustard East Sussex Finescale Railway Modelling Finescale Modelling OO HO 18.83mm 4mm BloodandCustard East Sussex Finescale Railway Modelling Finescale Modelling OO HO 18.83mm 4mm BloodandCustard East Sussex Finescale Railway Modelling Finescale Modelling OO HO 18.83mm 4mm BloodandCustard East Sussex Finescale Railway Modelling Finescale Modelling OO HO 18.83mm 4mm BloodandCustard East Sussex Finescale Railway Modelling Finescale Modelling OO HO 18.83mm 4mm BloodandCustard East Sussex Finescale Railway Modelling Finescale Modelling OO HO 18.83mm 4mm BloodandCustard East Sussex Finescale Railway Modelling Finescale Modelling OO HO 18.83mm 4mm BloodandCustard East Sussex Finescale Railway Modelling Finescale Modelling OO HO 18.83mm 4mm BloodandCustard East Sussex Finescale Railway Modelling Finescale Modelling OO HO 18.83mm 4mm BloodandCustard East Sussex Finescale Railway Modelling Finescale Modelling OO HO 18.83mmBloodandCustard East Sussex Finescale Railway Modelling Finescale Modelling OO HO 18.83mm 4mm. BloodandCustard East Sussex Finescale Railway Modelling Finescale Modelling OO HO 18.83mm 4mm BloodandCustard East Sussex Finescale Railway Modelling Finescale Modelling OO HO 18.83mm 4mm BloodandCustard East Sussex Finescale Railway Modelling Finescale Modelling OO HO 18.83mm 4mm BloodandCustard East Sussex Finescale Railway Modelling Finescale Modelling OO HO 18.83mm 4mm BloodandCustard East Sussex Finescale Railway Modelling Finescale Modelling OO HO 18.83mm 4mm BloodandCustard East Sussex Finescale Railway Modelling Finescale Modelling OO HO 18.83mm 4mm BloodandCustard East Sussex Finescale Railway Modelling Finescale Modelling OO HO 18.83mm 4mm BloodandCustard East Sussex Finescale Railway Modelling Finescale Modelling OO HO 18.83mm 4mm BloodandCustard East Sussex Finescale Railway Modelling Finescale Modelling OO HO 18.83mm 4mm BloodandCustard East Sussex Finescale Railway Modelling Finescale Modelling OO HO 18.83mm 4mm BloodandCustard East Sussex Finescale Railway Modelling Finescale Modelling OO HO 18.83mm 4mm BloodandCustard East Sussex Finescale Railway Modelling Finescale Modelling OO HO 18.83mm 4mm BloodandCustard East Sussex Finescale Railway Modelling Finescale Modelling OO HO 18.83mm 4mm BloodandCustard East Sussex Finescale Railway Modelling Finescale Modelling OO HO 18.83mm 4mm BloodandCustard East Sussex Finescale Railway Modelling Finescale Modelling OO HO 18.83mm 4mm BloodandCustard East Sussex Finescale Railway Modelling Finescale Modelling OO HO 18.83mm 4mm BloodandCustard East Sussex Finescale Railway Modelling Finescale Modelling OO HO 18.83mm 4mm BloodandCustard East Sussex Finescale Railway Modelling Finescale Modelling OO HO 18.83mm 4mm BloodandCustard East Sussex Finescale Railway Modelling Finescale Modelling OO HO 18.83mm 4mm BloodandCustard East Sussex Finescale Railway Modelling Finescale Modelling OO HO 18.83mm 4mm BloodandCustard East Sussex Finescale Railway Modelling Finescale Modelling OO HO 18.83mm 4mm BloodandCustard East Sussex Finescale Railway Modelling Finescale Modelling OO HO 18.83mm 4mm BloodandCustard East Sussex Finescale Railway Modelling Finescale Modelling OO HO 18.83mm 4mm BloodandCustard East Sussex Finescale Railway Modelling Finescale Modelling OO HO 18.83mm 4mm BloodandCustard East Sussex Finescale Railway Modelling Finescale Modelling OO HO 18.83mm 4mm BloodandCustard East Sussex Finescale Railway Modelling Finescale Modelling OO HO 18.83mm 4mm BloodandCustard East Sussex Finescale Railway Modelling Finescale Modelling OO HO 18.83mm 4mm BloodandCustard East Sussex Finescale Railway Modelling Finescale Modelling OO HO 18.83mm 4mm BloodandCustard East Sussex Finescale Railway Modelling Finescale Modelling OO HO 18.83mm 4mm BloodandCustard East Sussex Finescale Railway Modelling Finescale Modelling OO HO 18.83mm 4mm BloodandCustard East Sussex Finescale Railway Modelling Finescale Modelling OO HO 18.83mm 4mm BloodandCustard East Sussex Finescale Railway Modelling Finescale Modelling OO HO 18.83mm 4mm BloodandCustard East Sussex Finescale Railway Modelling Finescale Modelling OO HO 18.83mm 4mm BloodandCustard East Sussex Finescale Railway Modelling Finescale Modelling OO HO 18.83mm 4mm BloodandCustard East Sussex Finescale Railway Modelling Finescale Modelling OO HO 18.83mm 4mm BloodandCustard East Sussex Finescale Railway Modelling Finescale Modelling OO HO 18.83mm 4mm BloodandCustard East Sussex Finescale Railway Modelling Finescale Modelling OO HO 18.83mm 4mm BloodandCustard East Sussex Finescale Railway Modelling Finescale Modelling OO HO 18.83mm 4mm BloodandCustard East Sussex Finescale Railway Modelling Finescale Modelling OO HO 18.83mm 4mm BloodandCustard East Sussex Finescale Railway Modelling Finescale Modelling OO HO 18.83mm 4mm BloodandCustard East Sussex Finescale Railway Modelling Finescale Modelling OO HO 18.83mm 4mm BloodandCustard East Sussex Finescale Railway Modelling Finescale Modelling OO HO 18.83mm 4mm BloodandCustard East Sussex Finescale Railway Modelling Finescale Modelling OO HO 18.83mm 4mm BloodandCustard East Sussex Finescale Railway Modelling Finescale Modelling OO HO 18.83mm 4mm BloodandCustard East Sussex Finescale Railway Modelling Finescale Modelling OO HO 18.83mm 4mm BloodandCustard East Sussex Finescale Railway Modelling Finescale Modelling OO HO 18.83mm 4mm BloodandCustard East Sussex Finescale Railway Modelling Finescale Modelling OO HO 18.83mm 4mm BloodandCustard East Sussex Finescale Railway Modelling Finescale Modelling OO HO 18.83mm 4mm BloodandCustard East Sussex Finescale Railway Modelling Finescale Modelling OO HO 18.83mm 4mm BloodandCustard East Sussex Finescale Railway Modelling Finescale Modelling OO HO 18.83mm 4mm BloodandCustard East Sussex Finescale Railway Modelling Finescale Modelling OO HO 18.83mm 4mm BloodandCustard East Sussex Finescale Railway Modelling Finescale Modelling OO HO 18.83mm 4mm BloodandCustard East Sussex Finescale Railway Modelling Finescale Modelling OO HO 18.83mm 4mm BloodandCustard East Sussex Finescale Railway Modelling Finescale Modelling OO HO 18.83mm 4mm BloodandCustard East Sussex Finescale Railway Modelling Finescale Modelling OO HO 18.83mm 4mm BloodandCustard East Sussex Finescale Railway Modelling Finescale Modelling OO HO 18.83mm 4mm BloodandCustard East Sussex Finescale Railway Modelling Finescale Modelling OO HO 18.83mm 4mm BloodandCustard East Sussex Finescale Railway Modelling Finescale Modelling OO HO 18.83mm 4mm BloodandCustard East Sussex Finescale Railway Modelling Finescale Modelling OO HO 18.83mm 4mm BloodandCustard East Sussex Finescale Railway Modelling Finescale Modelling OO HO 18.83mm 4mm BloodandCustard East Sussex Finescale Railway Modelling Finescale Modelling OO HO 18.83mm 4mm BloodandCustard East Sussex Finescale Railway Modelling Finescale Modelling OO HO 18.83mm 4mm BloodandCustard East Sussex Finescale Railway Modelling Finescale Modelling OO HO 18.83mm 4mm BloodandCustard East Sussex Finescale Railway Modelling Finescale Modelling OO HO 18.83mm 4mm BloodandCustard East Sussex Finescale Railway Modelling Finescale Modelling OO HO 18.83mm 4mm BloodandCustard East Sussex Finescale Railway Modelling Finescale Modelling OO HO 18.83mm 4mm BloodandCustard East Sussex Finescale Railway Modelling Finescale Modelling OO HO 18.83mm 4mm BloodandCustard East Sussex Finescale Railway Modelling Finescale Modelling OO HO 18.83mm 4mm BloodandCustard East Sussex Finescale Railway Modelling Finescale Modelling OO HO 18.83mm 4mm BloodandCustard East Sussex Finescale Railway Modelling Finescale Modelling OO HO 18.83mm 4mm BloodandCustard East Sussex Finescale Railway Modelling Finescale Modelling OO HO 18.83mm 4mm BloodandCustard East Sussex Finescale Railway Modelling Finescale Modelling OO HO 18.83mm 4mm BloodandCustard East Sussex Finescale Railway Modelling Finescale Modelling OO HO 18.83mm 4mm BloodandCustard East Sussex Finescale Railway Modelling Finescale Modelling OO HO 18.83mm 4mm BloodandCustard East Sussex Finescale Railway Modelling Finescale Modelling OO HO 18.83mm 4mm BloodandCustard East Sussex Finescale Railway Modelling Finescale Modelling OO HO 18.83mm 4mm BloodandCustard East Sussex Finescale Railway Modelling Finescale Modelling OO HO 18.83mm 4mm BloodandCustard East Sussex Finescale Railway Modelling Finescale Modelling OO HO 18.83mm 4mm BloodandCustard East Sussex Finescale Railway Modelling Finescale Modelling OO HO 18.83mm 4mm BloodandCustard East Sussex Finescale Railway Modelling Finescale Modelling OO HO 18.83mm 4mm BloodandCustard East Sussex Finescale Railway Modelling Finescale Modelling OO HO 18.83mm 4mm BloodandCustard East Sussex Finescale Railway Modelling Finescale Modelling OO HO 18.83mm 4mm BloodandCustard East Sussex Finescale Railway Modelling Finescale Modelling OO HO 18.83mm 4mm BloodandCustard East Sussex Finescale Railway Modelling Finescale Modelling OO HO 18.83mm 4mm BloodandCustard East Sussex Finescale Railway Modelling Finescale Modelling OO HO 18.83mm 4mm BloodandCustard East Sussex Finescale Railway Modelling Finescale Modelling OO HO 18.83mm 4mm BloodandCustard East Sussex Finescale Railway Modelling Finescale Modelling OO HO 18.83mm 4mm BloodandCustard East Sussex Finescale Railway Modelling Finescale Modelling OO HO 18.83mm 4mm BloodandCustard East Sussex Finescale Railway Modelling Finescale Modelling OO HO 18.83mm 4mm BloodandCustard East Sussex Finescale Railway Modelling Finescale Modelling OO HO 18.83mm 4mm BloodandCustard East Sussex Finescale Railway Modelling Finescale Modelling OO HO 18.83mm 4mm BloodandCustard East Sussex Finescale Railway Modelling Finescale Modelling OO HO 18.83mm 4mm BloodandCustard East Sussex Finescale Railway Modelling Finescale Modelling OO HO 18.83mm 4mm BloodandCustard East Sussex Finescale Railway Modelling Finescale Modelling OO HO 18.83mm 4mm BloodandCustard East Sussex Finescale Railway Modelling Finescale Modelling OO HO 18.83mm 4mm BloodandCustard East Sussex Finescale Railway Modelling Finescale Modelling OO HO 18.83mm 4mm BloodandCustard East Sussex Finescale Railway Modelling Finescale Modelling OO HO 18.83mm 4mm BloodandCustard East Sussex Finescale Railway Modelling Finescale Modelling OO HO 18.83mm 4mm BloodandCustard East Sussex Finescale Railway Modelling Finescale Modelling OO HO 18.83mm 4mm BloodandCustard East Sussex Finescale Railway Modelling Finescale Modelling OO HO 18.83mm 4mm BloodandCustard East Sussex Finescale Railway Modelling Finescale Modelling OO HO 18.83mm 4mm BloodandCustard East Sussex Finescale Railway Modelling Finescale Modelling OO HO 18.83mm 4mm BloodandCustard East Sussex Finescale Railway Modelling Finescale Modelling OO HO 18.83mm 4mm BloodandCustard East Sussex Finescale Railway Modelling Finescale Modelling OO HO 18.83mm 4mm BloodandCustard East Sussex Finescale Railway Modelling Finescale Modelling OO HO 18.83mm 4mm BloodandCustard East Sussex Finescale Railway Modelling Finescale Modelling OO HO 18.83mm 4mm BloodandCustard East Sussex Finescale Railway Modelling Finescale Modelling OO HO 18.83mm 4mm BloodandCustard East Sussex Finescale Railway Modelling Finescale Modelling OO HO 18.83mm 4mm BloodandCustard East Sussex Finescale Railway Modelling Finescale Modelling OO HO 18.83mm 4mm BloodandCustard East Sussex Finescale Railway Modelling Finescale Modelling OO HO 18.83mm 4mm BloodandCustard East Sussex Finescale Railway Modelling Finescale Modelling OO HO 18.83mm 4mm BloodandCustard East Sussex Finescale Railway Modelling Finescale Modelling OO HO 18.83mm 4mm BloodandCustard East Sussex Finescale Railway Modelling Finescale Modelling OO HO 18.83mm 4mm BloodandCustard East Sussex Finescale Railway Modelling Finescale Modelling OO HO 18.83mm 4mm BloodandCustard East Sussex Finescale Railway Modelling Finescale Modelling OO HO 18.83mm 4mm BloodandCustard East Sussex Finescale Railway Modelling Finescale Modelling OO HO 18.83mm 4mm BloodandCustard East Sussex Finescale Railway Modelling Finescale Modelling OO HO 18.83mm 4mm BloodandCustard East Sussex Finescale Railway Modelling Finescale Modelling OO HO 18.83mm 4mm BloodandCustard East Sussex Finescale Railway Modelling Finescale Modelling OO HO 18.83mm 4mm BloodandCustard East Sussex Finescale Railway Modelling Finescale Modelling OO HO 18.83mm 4mm BloodandCustard East Sussex Finescale Railway Modelling Finescale Modelling OO HO 18.83mm 4mm BloodandCustard East Sussex Finescale Railway Modelling Finescale Modelling OO HO 18.83mm 4mm BloodandCustard East Sussex Finescale Railway Modelling Finescale Modelling OO HO 18.83mm 4mm BloodandCustard East Sussex Finescale Railway Modelling Finescale Modelling OO HO 18.83mm 4mm BloodandCustard East Sussex Finescale Railway Modelling Finescale Modelling OO HO 18.83mm 4mm BloodandCustard East Sussex Finescale Railway Modelling Finescale Modelling OO HO 18.83mm 4mm BloodandCustard East Sussex Finescale Railway Modelling Finescale Modelling OO HO 18.83mm 4mm BloodandCustard East Sussex Finescale Railway Modelling Finescale Modelling OO HO 18.83mm 4mm BloodandCustard East Sussex Finescale Railway Modelling Finescale Modelling OO HO 18.83mm 4mm BloodandCustard East Sussex Finescale Railway Modelling Finescale Modelling OO HO 18.83mm 4mm BloodandCustard East Sussex Finescale Railway Modelling Finescale Modelling OO HO 18.83mm 4mm BloodandCustard East Sussex Finescale Railway Modelling Finescale Modelling OO HO 18.83mm 4mm BloodandCustard East Sussex Finescale Railway Modelling Finescale Modelling OO HO 18.83mm 4mm BloodandCustard East Sussex Finescale Railway Modelling Finescale Modelling OO HO 18.83mm 4mm BloodandCustard East Sussex Finescale Railway Modelling Finescale Modelling OO HO 18.83mm 4mm BloodandCustard East Sussex Finescale Railway Modelling Finescale Modelling OO HO 18.83mm 4mm BloodandCustard East Sussex Finescale Railway Modelling Finescale Modelling OO HO 18.83mm 4mm BloodandCustard East Sussex Finescale Railway Modelling Finescale Modelling OO HO 18.83mm 4mm BloodandCustard East Sussex Finescale Railway Modelling Finescale Modelling OO HO 18.83mm 4mm BloodandCustard East Sussex Finescale Railway Modelling Finescale Modelling OO HO 18.83mm 4mm BloodandCustard East Sussex Finescale Railway Modelling Finescale Modelling OO HO 18.83mm 4mm BloodandCustard East Sussex Finescale Railway Modelling Finescale Modelling OO HO 18.83mm 4mm BloodandCustard East Sussex Finescale Railway Modelling Finescale Modelling OO HO 18.83mm 4mm BloodandCustard East Sussex Finescale Railway Modelling Finescale Modelling OO HO 18.83mm 4mm BloodandCustard East Sussex Finescale Railway Modelling Finescale Modelling OO HO 18.83mm 4mm BloodandCustard East Sussex Finescale Railway Modelling Finescale Modelling OO HO 18.83mm 4mm BloodandCustard East Sussex Finescale Railway Modelling Finescale Modelling OO HO 18.83mm 4mm BloodandCustard East Sussex Finescale Railway Modelling Finescale Modelling OO HO 18.83mm 4mm BloodandCustard East Sussex Finescale Railway Modelling Finescale Modelling OO HO 18.83mm 4mm BloodandCustard East Sussex Finescale Railway Modelling Finescale Modelling OO HO 18.83mm 4mm BloodandCustard East Sussex Finescale Railway Modelling Finescale Modelling OO HO 18.83mm 4mm BloodandCustard East Sussex Finescale Railway Modelling Finescale Modelling OO HO 18.83mm 4mm BloodandCustard East Sussex Finescale Railway Modelling Finescale Modelling OO HO 18.83mm 4mm BloodandCustard East Sussex Finescale Railway Modelling Finescale Modelling OO HO 18.83mm 4mm BloodandCustard East Sussex Finescale Railway Modelling Finescale Modelling OO HO 18.83mm 4mm BloodandCustard East Sussex Finescale Railway Modelling Finescale Modelling OO HO 18.83mm 4mm BloodandCustard East Sussex Finescale Railway Modelling Finescale Modelling OO HO 18.83mm 4mm BloodandCustard East Sussex Finescale Railway Modelling Finescale Modelling OO HO 18.83mm 4mm BloodandCustard East Sussex Finescale Railway Modelling Finescale Modelling OO HO 18.83mm 4mm BloodandCustard East Sussex Finescale Railway Modelling Finescale Modelling OO HO 18.83mm 4mm BloodandCustard East Sussex Finescale Railway Modelling Finescale Modelling OO HO 18.83mm 4mm BloodandCustard East Sussex Finescale Railway Modelling Finescale Modelling OO HO 18.83mm 4mm BloodandCustard East Sussex Finescale Railway Modelling Finescale Modelling OO HO 18.83mm 4mm BloodandCustard East Sussex Finescale Railway Modelling Finescale Modelling OO HO 18.83mm 4mm BloodandCustard East Sussex Finescale Railway Modelling Finescale Modelling OO HO 18.83mm 4mm BloodandCustard East Sussex Finescale Railway Modelling Finescale Modelling OO HO 18.83mm 4mm BloodandCustard East Sussex Finescale Railway Modelling Finescale Modelling OO HO 18.83mm 4mm BloodandCustard East Sussex Finescale Railway Modelling Finescale Modelling OO HO 18.83mm 4mm BloodandCustard East Sussex Finescale Railway Modelling Finescale Modelling OO HO 18.83mm 4mm BloodandCustard East Sussex Finescale Railway Modelling Finescale Modelling OO HO 18.83mm 4mm BloodandCustard East Sussex Finescale Railway Modelling Finescale Modelling OO HO 18.83mm 4mm BloodandCustard East Sussex Finescale Railway Modelling Finescale Modelling OO HO 18.83mm 4mm BloodandCustard East Sussex Finescale Railway Modelling Finescale Modelling OO HO 18.83mm 4mm BloodandCustard East Sussex Finescale Railway Modelling Finescale Modelling OO HO 18.83mm 4mm BloodandCustard East Sussex Finescale Railway Modelling Finescale Modelling OO HO 18.83mm 4mm BloodandCustard East Sussex Finescale Railway Modelling Finescale Modelling OO HO 18.83mm 4mm BloodandCustard East Sussex Finescale Railway Modelling Finescale Modelling OO HO 18.83mm 4mm BloodandCustard East Sussex Finescale Railway Modelling Finescale Modelling OO HO 18.83mm 4mm BloodandCustard East Sussex Finescale Railway Modelling Finescale Modelling OO HO 18.83mm 4mm BloodandCustard East Sussex Finescale Railway Modelling Finescale Modelling OO HO 18.83mm 4mm BloodandCustard East Sussex Finescale Railway Modelling Finescale Modelling OO HO 18.83mm 4mm BloodandCustard East Sussex Finescale Railway Modelling Finescale Modelling OO HO 18.83mm 4mm BloodandCustard East Sussex Finescale Railway Modelling Finescale Modelling OO HO 18.83mm 4mm BloodandCustard East Sussex Finescale Railway Modelling Finescale Modelling OO HO 18.83mm 4mm BloodandCustard East Sussex Finescale Railway Modelling Finescale Modelling OO HO 18.83mm 4mm BloodandCustard East Sussex Finescale Railway Modelling Finescale Modelling OO HO 18.83mm 4mm BloodandCustard East Sussex Finescale Railway Modelling Finescale Modelling OO HO 18.83mm 4mm BloodandCustard East Sussex Finescale Railway Modelling Finescale Modelling OO HO 18.83mm 4mm BloodandCustard East Sussex Finescale Railway Modelling Finescale Modelling OO HO 18.83mm 4mm BloodandCustard East Sussex Finescale Railway Modelling Finescale Modelling OO HO 18.83mm 4mm BloodandCustard East Sussex Finescale Railway Modelling Finescale Modelling OO HO 18.83mm 4mm BloodandCustard East Sussex Finescale Railway Modelling Finescale Modelling OO HO 18.83mm 4mm BloodandCustard East Sussex Finescale Railway Modelling Finescale Modelling OO HO 18.83mm 4mm BloodandCustard East Sussex Finescale Railway Modelling Finescale Modelling OO HO 18.83mm 4mm BloodandCustard East Sussex Finescale Railway Modelling Finescale Modelling OO HO 18.83mm 4mm BloodandCustard East Sussex Finescale Railway Modelling Finescale Modelling OO HO 18.83mm 4mm BloodandCustard East Sussex Finescale Railway Modelling Finescale Modelling OO HO 18.83mm 4mm BloodandCustard East Sussex Finescale Railway Modelling Finescale Modelling OO HO 18.83mm 4mm BloodandCustard East Sussex Finescale Railway Modelling Finescale Modelling OO HO 18.83mm 4mm BloodandCustard East Sussex Finescale Railway Modelling Finescale Modelling OO HO 18.83mm 4mm BloodandCustard East Sussex Finescale Railway Modelling Finescale Modelling OO HO 18.83mm 4mm BloodandCustard East Sussex Finescale Railway Modelling Finescale Modelling OO HO 18.83mm 4mm BloodandCustard East Sussex Finescale Railway Modelling Finescale Modelling OO HO 18.83mm 4mm BloodandCustard East Sussex Finescale Railway Modelling Finescale Modelling OO HO 18.83mm 4mm BloodandCustard East Sussex Finescale Railway Modelling Finescale Modelling OO HO 18.83mm 4mm BloodandCustard East Sussex Finescale Railway Modelling Finescale Modelling OO HO 18.83mm 4mm BloodandCustard East Sussex Finescale Railway Modelling Finescale Modelling OO HO 18.83mm 4mm BloodandCustard East Sussex Finescale Railway Modelling Finescale Modelling OO HO 18.83mm 4mm BloodandCustard East Sussex Finescale Railway Modelling Finescale Modelling OO HO 18.83mm 4mm BloodandCustard East Sussex Finescale Railway Modelling Finescale Modelling OO HO 18.83mm 4mm BloodandCustard East Sussex Finescale Railway Modelling Finescale Modelling OO HO 18.83mm 4mm BloodandCustard East Sussex Finescale Railway Modelling Finescale Modelling OO HO 18.83mm 4mm BloodandCustard East Sussex Finescale Railway Modelling Finescale Modelling OO HO 18.83mm 4mm BloodandCustard East Sussex Finescale Railway Modelling Finescale Modelling OO HO 18.83mm 4mm BloodandCustard East Sussex Finescale Railway Modelling Finescale Modelling OO HO 18.83mm 4mm BloodandCustard East Sussex Finescale Railway Modelling Finescale Modelling OO HO 18.83mm 4mm BloodandCustard East Sussex Finescale Railway Modelling Finescale Modelling OO HO 18.83mm 4mm BloodandCustard East Sussex Finescale Railway Modelling Finescale Modelling OO HO 18.83mm 4mm BloodandCustard East Sussex Finescale Railway Modelling Finescale Modelling OO HO 18.83mm 4mm BloodandCustard East Sussex Finescale Railway Modelling Finescale Modelling OO HO 18.83mm 4mm BloodandCustard East Sussex Finescale Railway Modelling Finescale Modelling OO HO 18.83mm 4mm BloodandCustard East Sussex Finescale Railway Modelling Finescale Modelling OO HO 18.83mm 4mm BloodandCustard East Sussex Finescale Railway Modelling Finescale Modelling OO HO 18.83mm 4mm BloodandCustard East Sussex Finescale Railway Modelling Finescale Modelling OO HO 18.83mm 4mm BloodandCustard East Sussex Finescale Railway Modelling Finescale Modelling OO HO 18.83mm 4mm BloodandCustard East Sussex Finescale Railway Modelling Finescale Modelling OO HO 18.83mm 4mm BloodandCustard East Sussex Finescale Railway Modelling Finescale Modelling OO HO 18.83mm 4mm BloodandCustard East Sussex Finescale Railway Modelling Finescale Modelling OO HO 18.83mm 4mm BloodandCustard East Sussex Finescale Railway Modelling Finescale Modelling OO HO 18.83mm 4mm BloodandCustard East Sussex Finescale Railway Modelling Finescale Modelling OO HO 18.83mm 4mm BloodandCustard East Sussex Finescale Railway Modelling Finescale Modelling OO HO 18.83mm 4mm BloodandCustard East Sussex Finescale Railway Modelling Finescale Modelling OO HO 18.83mm 4mm BloodandCustard East Sussex Finescale Railway Modelling Finescale Modelling OO HO 18.83mm 4mm BloodandCustard East Sussex Finescale Railway Modelling Finescale Modelling OO HO 18.83mm 4mm BloodandCustard East Sussex Finescale Railway Modelling Finescale Modelling OO HO 18.83mm 4mm BloodandCustard East Sussex Finescale Railway Modelling Finescale Modelling OO HO 18.83mm 4mm BloodandCustard East Sussex Finescale Railway Modelling Finescale Modelling OO HO 18.83mm 4mm BloodandCustard East Sussex Finescale Railway Modelling Finescale Modelling OO HO 18.83mm 4mm BloodandCustard East Sussex Finescale Railway Modelling Finescale Modelling OO HO 18.83mm 4mm BloodandCustard East Sussex Finescale Railway Modelling Finescale Modelling OO HO 18.83mm 4mm BloodandCustard East Sussex Finescale Railway Modelling Finescale Modelling OO HO 18.83mm 4mm BloodandCustard East Sussex Finescale Railway Modelling Finescale Modelling OO HO 18.83mm 4mm BloodandCustard East Sussex Finescale Railway Modelling Finescale Modelling OO HO 18.83mm 4mm BloodandCustard East Sussex Finescale Railway Modelling Finescale Modelling OO HO 18.83mm 4mm BloodandCustard East Sussex Finescale Railway Modelling Finescale Modelling OO HO 18.83mm 4mm BloodandCustard East Sussex Finescale Railway Modelling Finescale Modelling OO HO 18.83mm 4mm BloodandCustard East Sussex Finescale Railway Modelling Finescale Modelling OO HO 18.83mm 4mm BloodandCustard East Sussex Finescale Railway Modelling Finescale Modelling OO HO 18.83mm 4mm BloodandCustard East Sussex Finescale Railway Modelling Finescale Modelling OO HO 18.83mm 4mm BloodandCustard East Sussex Finescale Railway Modelling Finescale Modelling OO HO 18.83mm 4mm BloodandCustard East Sussex Finescale Railway Modelling Finescale Modelling OO HO 18.83mm 4mm BloodandCustard East Sussex Finescale Railway Modelling Finescale Modelling OO HO 18.83mm 4mm BloodandCustard East Sussex Finescale Railway Modelling Finescale Modelling OO HO 18.83mm 4mm BloodandCustard East Sussex Finescale Railway Modelling Finescale Modelling OO HO 18.83mm 4mm BloodandCustard East Sussex Finescale Railway Modelling Finescale Modelling OO HO 18.83mm 4mm BloodandCustard East Sussex Finescale Railway Modelling Finescale Modelling OO HO 18.83mm 4mm BloodandCustard East Sussex Finescale Railway Modelling Finescale Modelling OO HO 18.83mm 4mm BloodandCustard East Sussex Finescale Railway Modelling Finescale Modelling OO HO 18.83mm 4mm BloodandCustard East Sussex Finescale Railway Modelling Finescale Modelling OO HO 18.83mm 4mm BloodandCustard East Sussex Finescale Railway Modelling Finescale Modelling OO HO 18.83mm 4mm BloodandCustard East Sussex Finescale Railway Modelling Finescale Modelling OO HO 18.83mm 4mm BloodandCustard East Sussex Finescale Railway Modelling Finescale Modelling OO HO 18.83mm 4mm BloodandCustard East Sussex Finescale Railway Modelling Finescale Modelling OO HO 18.83mm 4mm BloodandCustard East Sussex Finescale Railway Modelling Finescale Modelling OO HO 18.83mm 4mm BloodandCustard East Sussex Finescale Railway Modelling Finescale Modelling OO HO 18.83mm 4mm BloodandCustard East Sussex Finescale Railway Modelling Finescale Modelling OO HO 18.83mm 4mm BloodandCustard East Sussex Finescale Railway Modelling Finescale Modelling OO HO 18.83mm 4mm BloodandCustard East Sussex Finescale Railway Modelling Finescale Modelling OO HO 18.83mm 4mm BloodandCustard East Sussex Finescale Railway Modelling Finescale Modelling OO HO 18.83mm 4mm BloodandCustard East Sussex Finescale Railway Modelling Finescale Modelling OO HO 18.83mm 4mm BloodandCustard East Sussex Finescale Railway Modelling Finescale Modelling OO HO 18.83mm 4mm BloodandCustard East Sussex Finescale Railway Modelling Finescale Modelling OO HO 18.83mm 4mm BloodandCustard East Sussex Finescale Railway Modelling Finescale Modelling OO HO 18.83mm 4mm BloodandCustard East Sussex Finescale Railway Modelling Finescale Modelling OO HO 18.83mm 4mm BloodandCustard East Sussex Finescale Railway Modelling Finescale Modelling OO HO 18.83mm 4mm BloodandCustard East Sussex Finescale Railway Modelling Finescale Modelling OO HO 18.83mmBloodandCustard East Sussex Finescale Railway Modelling Finescale Modelling OO HO 18.83mm 4mm. BloodandCustard East Sussex Finescale Railway Modelling Finescale Modelling OO HO 18.83mm 4mm BloodandCustard East Sussex Finescale Railway Modelling Finescale Modelling OO HO 18.83mm 4mm BloodandCustard East Sussex Finescale Railway Modelling Finescale Modelling OO HO 18.83mm 4mm BloodandCustard East Sussex Finescale Railway Modelling Finescale Modelling OO HO 18.83mm 4mm BloodandCustard East Sussex Finescale Railway Modelling Finescale Modelling OO HO 18.83mm 4mm BloodandCustard East Sussex Finescale Railway Modelling Finescale Modelling OO HO 18.83mm 4mm BloodandCustard East Sussex Finescale Railway Modelling Finescale Modelling OO HO 18.83mm 4mm BloodandCustard East Sussex Finescale Railway Modelling Finescale Modelling OO HO 18.83mm 4mm BloodandCustard East Sussex Finescale Railway Modelling Finescale Modelling OO HO 18.83mm 4mm BloodandCustard East Sussex Finescale Railway Modelling Finescale Modelling OO HO 18.83mm 4mm BloodandCustard East Sussex Finescale Railway Modelling Finescale Modelling OO HO 18.83mm 4mm BloodandCustard East Sussex Finescale Railway Modelling Finescale Modelling OO HO 18.83mm 4mm BloodandCustard East Sussex Finescale Railway Modelling Finescale Modelling OO HO 18.83mm 4mm BloodandCustard East Sussex Finescale Railway Modelling Finescale Modelling OO HO 18.83mm 4mm BloodandCustard East Sussex Finescale Railway Modelling Finescale Modelling OO HO 18.83mm 4mm BloodandCustard East Sussex Finescale Railway Modelling Finescale Modelling OO HO 18.83mm 4mm BloodandCustard East Sussex Finescale Railway Modelling Finescale Modelling OO HO 18.83mm 4mm BloodandCustard East Sussex Finescale Railway Modelling Finescale Modelling OO HO 18.83mm 4mm BloodandCustard East Sussex Finescale Railway Modelling Finescale Modelling OO HO 18.83mm 4mm BloodandCustard East Sussex Finescale Railway Modelling Finescale Modelling OO HO 18.83mm 4mm BloodandCustard East Sussex Finescale Railway Modelling Finescale Modelling OO HO 18.83mm 4mm BloodandCustard East Sussex Finescale Railway Modelling Finescale Modelling OO HO 18.83mm 4mm BloodandCustard East Sussex Finescale Railway Modelling Finescale Modelling OO HO 18.83mm 4mm BloodandCustard East Sussex Finescale Railway Modelling Finescale Modelling OO HO 18.83mm 4mm BloodandCustard East Sussex Finescale Railway Modelling Finescale Modelling OO HO 18.83mm 4mm BloodandCustard East Sussex Finescale Railway Modelling Finescale Modelling OO HO 18.83mm 4mm BloodandCustard East Sussex Finescale Railway Modelling Finescale Modelling OO HO 18.83mm 4mm BloodandCustard East Sussex Finescale Railway Modelling Finescale Modelling OO HO 18.83mm 4mm BloodandCustard East Sussex Finescale Railway Modelling Finescale Modelling OO HO 18.83mm 4mm BloodandCustard East Sussex Finescale Railway Modelling Finescale Modelling OO HO 18.83mm 4mm BloodandCustard East Sussex Finescale Railway Modelling Finescale Modelling OO HO 18.83mm 4mm BloodandCustard East Sussex Finescale Railway Modelling Finescale Modelling OO HO 18.83mm 4mm BloodandCustard East Sussex Finescale Railway Modelling Finescale Modelling OO HO 18.83mm 4mm BloodandCustard East Sussex Finescale Railway Modelling Finescale Modelling OO HO 18.83mm 4mm BloodandCustard East Sussex Finescale Railway Modelling Finescale Modelling OO HO 18.83mm 4mm BloodandCustard East Sussex Finescale Railway Modelling Finescale Modelling OO HO 18.83mm 4mm BloodandCustard East Sussex Finescale Railway Modelling Finescale Modelling OO HO 18.83mm 4mm BloodandCustard East Sussex Finescale Railway Modelling Finescale Modelling OO HO 18.83mm 4mm BloodandCustard East Sussex Finescale Railway Modelling Finescale Modelling OO HO 18.83mm 4mm BloodandCustard East Sussex Finescale Railway Modelling Finescale Modelling OO HO 18.83mm 4mm BloodandCustard East Sussex Finescale Railway Modelling Finescale Modelling OO HO 18.83mm 4mm BloodandCustard East Sussex Finescale Railway Modelling Finescale Modelling OO HO 18.83mm 4mm BloodandCustard East Sussex Finescale Railway Modelling Finescale Modelling OO HO 18.83mm 4mm BloodandCustard East Sussex Finescale Railway Modelling Finescale Modelling OO HO 18.83mm 4mm BloodandCustard East Sussex Finescale Railway Modelling Finescale Modelling OO HO 18.83mm 4mm BloodandCustard East Sussex Finescale Railway Modelling Finescale Modelling OO HO 18.83mm 4mm BloodandCustard East Sussex Finescale Railway Modelling Finescale Modelling OO HO 18.83mm 4mm BloodandCustard East Sussex Finescale Railway Modelling Finescale Modelling OO HO 18.83mm 4mm BloodandCustard East Sussex Finescale Railway Modelling Finescale Modelling OO HO 18.83mm 4mm BloodandCustard East Sussex Finescale Railway Modelling Finescale Modelling OO HO 18.83mm 4mm BloodandCustard East Sussex Finescale Railway Modelling Finescale Modelling OO HO 18.83mm 4mm BloodandCustard East Sussex Finescale Railway Modelling Finescale Modelling OO HO 18.83mm 4mm BloodandCustard East Sussex Finescale Railway Modelling Finescale Modelling OO HO 18.83mm 4mm BloodandCustard East Sussex Finescale Railway Modelling Finescale Modelling OO HO 18.83mm 4mm BloodandCustard East Sussex Finescale Railway Modelling Finescale Modelling OO HO 18.83mm 4mm BloodandCustard East Sussex Finescale Railway Modelling Finescale Modelling OO HO 18.83mm 4mm BloodandCustard East Sussex Finescale Railway Modelling Finescale Modelling OO HO 18.83mm 4mm BloodandCustard East Sussex Finescale Railway Modelling Finescale Modelling OO HO 18.83mm 4mm BloodandCustard East Sussex Finescale Railway Modelling Finescale Modelling OO HO 18.83mm 4mm BloodandCustard East Sussex Finescale Railway Modelling Finescale Modelling OO HO 18.83mm 4mm BloodandCustard East Sussex Finescale Railway Modelling Finescale Modelling OO HO 18.83mm 4mm BloodandCustard East Sussex Finescale Railway Modelling Finescale Modelling OO HO 18.83mm 4mm BloodandCustard East Sussex Finescale Railway Modelling Finescale Modelling OO HO 18.83mm 4mm BloodandCustard East Sussex Finescale Railway Modelling Finescale Modelling OO HO 18.83mm 4mm BloodandCustard East Sussex Finescale Railway Modelling Finescale Modelling OO HO 18.83mm 4mm BloodandCustard East Sussex Finescale Railway Modelling Finescale Modelling OO HO 18.83mm 4mm BloodandCustard East Sussex Finescale Railway Modelling Finescale Modelling OO HO 18.83mm 4mm BloodandCustard East Sussex Finescale Railway Modelling Finescale Modelling OO HO 18.83mm 4mm BloodandCustard East Sussex Finescale Railway Modelling Finescale Modelling OO HO 18.83mm 4mm BloodandCustard East Sussex Finescale Railway Modelling Finescale Modelling OO HO 18.83mm 4mm BloodandCustard East Sussex Finescale Railway Modelling Finescale Modelling OO HO 18.83mm 4mm BloodandCustard East Sussex Finescale Railway Modelling Finescale Modelling OO HO 18.83mm 4mm BloodandCustard East Sussex Finescale Railway Modelling Finescale Modelling OO HO 18.83mm 4mm BloodandCustard East Sussex Finescale Railway Modelling Finescale Modelling OO HO 18.83mm 4mm BloodandCustard East Sussex Finescale Railway Modelling Finescale Modelling OO HO 18.83mm 4mm BloodandCustard East Sussex Finescale Railway Modelling Finescale Modelling OO HO 18.83mm 4mm BloodandCustard East Sussex Finescale Railway Modelling Finescale Modelling OO HO 18.83mm 4mm BloodandCustard East Sussex Finescale Railway Modelling Finescale Modelling OO HO 18.83mm 4mm BloodandCustard East Sussex Finescale Railway Modelling Finescale Modelling OO HO 18.83mm 4mm BloodandCustard East Sussex Finescale Railway Modelling Finescale Modelling OO HO 18.83mm 4mm BloodandCustard East Sussex Finescale Railway Modelling Finescale Modelling OO HO 18.83mm 4mm BloodandCustard East Sussex Finescale Railway Modelling Finescale Modelling OO HO 18.83mm 4mm BloodandCustard East Sussex Finescale Railway Modelling Finescale Modelling OO HO 18.83mm 4mm BloodandCustard East Sussex Finescale Railway Modelling Finescale Modelling OO HO 18.83mm 4mm BloodandCustard East Sussex Finescale Railway Modelling Finescale Modelling OO HO 18.83mm 4mm BloodandCustard East Sussex Finescale Railway Modelling Finescale Modelling OO HO 18.83mm 4mm BloodandCustard East Sussex Finescale Railway Modelling Finescale Modelling OO HO 18.83mm 4mm BloodandCustard East Sussex Finescale Railway Modelling Finescale Modelling OO HO 18.83mm 4mm BloodandCustard East Sussex Finescale Railway Modelling Finescale Modelling OO HO 18.83mm 4mm BloodandCustard East Sussex Finescale Railway Modelling Finescale Modelling OO HO 18.83mm 4mm BloodandCustard East Sussex Finescale Railway Modelling Finescale Modelling OO HO 18.83mm 4mm BloodandCustard East Sussex Finescale Railway Modelling Finescale Modelling OO HO 18.83mm 4mm BloodandCustard East Sussex Finescale Railway Modelling Finescale Modelling OO HO 18.83mm 4mm BloodandCustard East Sussex Finescale Railway Modelling Finescale Modelling OO HO 18.83mm 4mm BloodandCustard East Sussex Finescale Railway Modelling Finescale Modelling OO HO 18.83mm 4mm BloodandCustard East Sussex Finescale Railway Modelling Finescale Modelling OO HO 18.83mm 4mm BloodandCustard East Sussex Finescale Railway Modelling Finescale Modelling OO HO 18.83mm 4mm BloodandCustard East Sussex Finescale Railway Modelling Finescale Modelling OO HO 18.83mm 4mm BloodandCustard East Sussex Finescale Railway Modelling Finescale Modelling OO HO 18.83mm 4mm BloodandCustard East Sussex Finescale Railway Modelling Finescale Modelling OO HO 18.83mm 4mm BloodandCustard East Sussex Finescale Railway Modelling Finescale Modelling OO HO 18.83mm 4mm BloodandCustard East Sussex Finescale Railway Modelling Finescale Modelling OO HO 18.83mm 4mm BloodandCustard East Sussex Finescale Railway Modelling Finescale Modelling OO HO 18.83mm 4mm BloodandCustard East Sussex Finescale Railway Modelling Finescale Modelling OO HO 18.83mm 4mm BloodandCustard East Sussex Finescale Railway Modelling Finescale Modelling OO HO 18.83mm 4mm BloodandCustard East Sussex Finescale Railway Modelling Finescale Modelling OO HO 18.83mm 4mm BloodandCustard East Sussex Finescale Railway Modelling Finescale Modelling OO HO 18.83mm 4mm BloodandCustard East Sussex Finescale Railway Modelling Finescale Modelling OO HO 18.83mm 4mm BloodandCustard East Sussex Finescale Railway Modelling Finescale Modelling OO HO 18.83mm 4mm BloodandCustard East Sussex Finescale Railway Modelling Finescale Modelling OO HO 18.83mm 4mm BloodandCustard East Sussex Finescale Railway Modelling Finescale Modelling OO HO 18.83mm 4mm BloodandCustard East Sussex Finescale Railway Modelling Finescale Modelling OO HO 18.83mm 4mm BloodandCustard East Sussex Finescale Railway Modelling Finescale Modelling OO HO 18.83mm 4mm BloodandCustard East Sussex Finescale Railway Modelling Finescale Modelling OO HO 18.83mm 4mm BloodandCustard East Sussex Finescale Railway Modelling Finescale Modelling OO HO 18.83mm 4mm BloodandCustard East Sussex Finescale Railway Modelling Finescale Modelling OO HO 18.83mm 4mm BloodandCustard East Sussex Finescale Railway Modelling Finescale Modelling OO HO 18.83mm 4mm BloodandCustard East Sussex Finescale Railway Modelling Finescale Modelling OO HO 18.83mm 4mm BloodandCustard East Sussex Finescale Railway Modelling Finescale Modelling OO HO 18.83mm 4mm BloodandCustard East Sussex Finescale Railway Modelling Finescale Modelling OO HO 18.83mm 4mm BloodandCustard East Sussex Finescale Railway Modelling Finescale Modelling OO HO 18.83mm 4mm BloodandCustard East Sussex Finescale Railway Modelling Finescale Modelling OO HO 18.83mm 4mm BloodandCustard East Sussex Finescale Railway Modelling Finescale Modelling OO HO 18.83mm 4mm BloodandCustard East Sussex Finescale Railway Modelling Finescale Modelling OO HO 18.83mm 4mm BloodandCustard East Sussex Finescale Railway Modelling Finescale Modelling OO HO 18.83mm 4mm BloodandCustard East Sussex Finescale Railway Modelling Finescale Modelling OO HO 18.83mm 4mm BloodandCustard East Sussex Finescale Railway Modelling Finescale Modelling OO HO 18.83mm 4mm BloodandCustard East Sussex Finescale Railway Modelling Finescale Modelling OO HO 18.83mm 4mm BloodandCustard East Sussex Finescale Railway Modelling Finescale Modelling OO HO 18.83mm 4mm BloodandCustard East Sussex Finescale Railway Modelling Finescale Modelling OO HO 18.83mm 4mm BloodandCustard East Sussex Finescale Railway Modelling Finescale Modelling OO HO 18.83mm 4mm BloodandCustard East Sussex Finescale Railway Modelling Finescale Modelling OO HO 18.83mm 4mm BloodandCustard East Sussex Finescale Railway Modelling Finescale Modelling OO HO 18.83mm 4mm BloodandCustard East Sussex Finescale Railway Modelling Finescale Modelling OO HO 18.83mm 4mm BloodandCustard East Sussex Finescale Railway Modelling Finescale Modelling OO HO 18.83mm 4mm BloodandCustard East Sussex Finescale Railway Modelling Finescale Modelling OO HO 18.83mm 4mm BloodandCustard East Sussex Finescale Railway Modelling Finescale Modelling OO HO 18.83mm 4mm BloodandCustard East Sussex Finescale Railway Modelling Finescale Modelling OO HO 18.83mm 4mm BloodandCustard East Sussex Finescale Railway Modelling Finescale Modelling OO HO 18.83mm 4mm BloodandCustard East Sussex Finescale Railway Modelling Finescale Modelling OO HO 18.83mm 4mm BloodandCustard East Sussex Finescale Railway Modelling Finescale Modelling OO HO 18.83mm 4mm BloodandCustard East Sussex Finescale Railway Modelling Finescale Modelling OO HO 18.83mm 4mm BloodandCustard East Sussex Finescale Railway Modelling Finescale Modelling OO HO 18.83mm 4mm BloodandCustard East Sussex Finescale Railway Modelling Finescale Modelling OO HO 18.83mm 4mm BloodandCustard East Sussex Finescale Railway Modelling Finescale Modelling OO HO 18.83mm 4mm BloodandCustard East Sussex Finescale Railway Modelling Finescale Modelling OO HO 18.83mm 4mm BloodandCustard East Sussex Finescale Railway Modelling Finescale Modelling OO HO 18.83mm 4mm BloodandCustard East Sussex Finescale Railway Modelling Finescale Modelling OO HO 18.83mm 4mm BloodandCustard East Sussex Finescale Railway Modelling Finescale Modelling OO HO 18.83mm 4mm BloodandCustard East Sussex Finescale Railway Modelling Finescale Modelling OO HO 18.83mm 4mm BloodandCustard East Sussex Finescale Railway Modelling Finescale Modelling OO HO 18.83mm 4mm BloodandCustard East Sussex Finescale Railway Modelling Finescale Modelling OO HO 18.83mm 4mm BloodandCustard East Sussex Finescale Railway Modelling Finescale Modelling OO HO 18.83mm 4mm BloodandCustard East Sussex Finescale Railway Modelling Finescale Modelling OO HO 18.83mm 4mm BloodandCustard East Sussex Finescale Railway Modelling Finescale Modelling OO HO 18.83mm 4mm BloodandCustard East Sussex Finescale Railway Modelling Finescale Modelling OO HO 18.83mm 4mm BloodandCustard East Sussex Finescale Railway Modelling Finescale Modelling OO HO 18.83mm 4mm BloodandCustard East Sussex Finescale Railway Modelling Finescale Modelling OO HO 18.83mm 4mm BloodandCustard East Sussex Finescale Railway Modelling Finescale Modelling OO HO 18.83mm 4mm BloodandCustard East Sussex Finescale Railway Modelling Finescale Modelling OO HO 18.83mm 4mm BloodandCustard East Sussex Finescale Railway Modelling Finescale Modelling OO HO 18.83mm 4mm BloodandCustard East Sussex Finescale Railway Modelling Finescale Modelling OO HO 18.83mm 4mm BloodandCustard East Sussex Finescale Railway Modelling Finescale Modelling OO HO 18.83mm 4mm BloodandCustard East Sussex Finescale Railway Modelling Finescale Modelling OO HO 18.83mm 4mm BloodandCustard East Sussex Finescale Railway Modelling Finescale Modelling OO HO 18.83mm 4mm BloodandCustard East Sussex Finescale Railway Modelling Finescale Modelling OO HO 18.83mm 4mm BloodandCustard East Sussex Finescale Railway Modelling Finescale Modelling OO HO 18.83mm 4mm BloodandCustard East Sussex Finescale Railway Modelling Finescale Modelling OO HO 18.83mm 4mm BloodandCustard East Sussex Finescale Railway Modelling Finescale Modelling OO HO 18.83mm 4mm BloodandCustard East Sussex Finescale Railway Modelling Finescale Modelling OO HO 18.83mm 4mm BloodandCustard East Sussex Finescale Railway Modelling Finescale Modelling OO HO 18.83mm 4mm BloodandCustard East Sussex Finescale Railway Modelling Finescale Modelling OO HO 18.83mm 4mm BloodandCustard East Sussex Finescale Railway Modelling Finescale Modelling OO HO 18.83mm 4mm BloodandCustard East Sussex Finescale Railway Modelling Finescale Modelling OO HO 18.83mm 4mm BloodandCustard East Sussex Finescale Railway Modelling Finescale Modelling OO HO 18.83mm 4mm BloodandCustard East Sussex Finescale Railway Modelling Finescale Modelling OO HO 18.83mm 4mm BloodandCustard East Sussex Finescale Railway Modelling Finescale Modelling OO HO 18.83mm 4mm BloodandCustard East Sussex Finescale Railway Modelling Finescale Modelling OO HO 18.83mm 4mm BloodandCustard East Sussex Finescale Railway Modelling Finescale Modelling OO HO 18.83mm 4mm BloodandCustard East Sussex Finescale Railway Modelling Finescale Modelling OO HO 18.83mm 4mm BloodandCustard East Sussex Finescale Railway Modelling Finescale Modelling OO HO 18.83mm 4mm BloodandCustard East Sussex Finescale Railway Modelling Finescale Modelling OO HO 18.83mm 4mm BloodandCustard East Sussex Finescale Railway Modelling Finescale Modelling OO HO 18.83mm 4mm BloodandCustard East Sussex Finescale Railway Modelling Finescale Modelling OO HO 18.83mm 4mm BloodandCustard East Sussex Finescale Railway Modelling Finescale Modelling OO HO 18.83mm 4mm BloodandCustard East Sussex Finescale Railway Modelling Finescale Modelling OO HO 18.83mm 4mm BloodandCustard East Sussex Finescale Railway Modelling Finescale Modelling OO HO 18.83mm 4mm BloodandCustard East Sussex Finescale Railway Modelling Finescale Modelling OO HO 18.83mm 4mm BloodandCustard East Sussex Finescale Railway Modelling Finescale Modelling OO HO 18.83mm 4mm BloodandCustard East Sussex Finescale Railway Modelling Finescale Modelling OO HO 18.83mm 4mm BloodandCustard East Sussex Finescale Railway Modelling Finescale Modelling OO HO 18.83mm 4mm BloodandCustard East Sussex Finescale Railway Modelling Finescale Modelling OO HO 18.83mm 4mm BloodandCustard East Sussex Finescale Railway Modelling Finescale Modelling OO HO 18.83mm 4mm BloodandCustard East Sussex Finescale Railway Modelling Finescale Modelling OO HO 18.83mm 4mm BloodandCustard East Sussex Finescale Railway Modelling Finescale Modelling OO HO 18.83mm 4mm BloodandCustard East Sussex Finescale Railway Modelling Finescale Modelling OO HO 18.83mm 4mm BloodandCustard East Sussex Finescale Railway Modelling Finescale Modelling OO HO 18.83mm 4mm BloodandCustard East Sussex Finescale Railway Modelling Finescale Modelling OO HO 18.83mm 4mm BloodandCustard East Sussex Finescale Railway Modelling Finescale Modelling OO HO 18.83mm 4mm BloodandCustard East Sussex Finescale Railway Modelling Finescale Modelling OO HO 18.83mm 4mm BloodandCustard East Sussex Finescale Railway Modelling Finescale Modelling OO HO 18.83mm 4mm BloodandCustard East Sussex Finescale Railway Modelling Finescale Modelling OO HO 18.83mm 4mm BloodandCustard East Sussex Finescale Railway Modelling Finescale Modelling OO HO 18.83mm 4mm BloodandCustard East Sussex Finescale Railway Modelling Finescale Modelling OO HO 18.83mm 4mm BloodandCustard East Sussex Finescale Railway Modelling Finescale Modelling OO HO 18.83mm 4mm BloodandCustard East Sussex Finescale Railway Modelling Finescale Modelling OO HO 18.83mm 4mm BloodandCustard East Sussex Finescale Railway Modelling Finescale Modelling OO HO 18.83mm 4mm BloodandCustard East Sussex Finescale Railway Modelling Finescale Modelling OO HO 18.83mm 4mm BloodandCustard East Sussex Finescale Railway Modelling Finescale Modelling OO HO 18.83mm 4mm BloodandCustard East Sussex Finescale Railway Modelling Finescale Modelling OO HO 18.83mm 4mm BloodandCustard East Sussex Finescale Railway Modelling Finescale Modelling OO HO 18.83mm 4mm BloodandCustard East Sussex Finescale Railway Modelling Finescale Modelling OO HO 18.83mm 4mm BloodandCustard East Sussex Finescale Railway Modelling Finescale Modelling OO HO 18.83mm 4mm BloodandCustard East Sussex Finescale Railway Modelling Finescale Modelling OO HO 18.83mm 4mm BloodandCustard East Sussex Finescale Railway Modelling Finescale Modelling OO HO 18.83mm 4mm BloodandCustard East Sussex Finescale Railway Modelling Finescale Modelling OO HO 18.83mm 4mm BloodandCustard East Sussex Finescale Railway Modelling Finescale Modelling OO HO 18.83mm 4mm BloodandCustard East Sussex Finescale Railway Modelling Finescale Modelling OO HO 18.83mm 4mm BloodandCustard East Sussex Finescale Railway Modelling Finescale Modelling OO HO 18.83mm 4mm BloodandCustard East Sussex Finescale Railway Modelling Finescale Modelling OO HO 18.83mm 4mm BloodandCustard East Sussex Finescale Railway Modelling Finescale Modelling OO HO 18.83mm 4mm BloodandCustard East Sussex Finescale Railway Modelling Finescale Modelling OO HO 18.83mm 4mm BloodandCustard East Sussex Finescale Railway Modelling Finescale Modelling OO HO 18.83mm 4mm BloodandCustard East Sussex Finescale Railway Modelling Finescale Modelling OO HO 18.83mm 4mm BloodandCustard East Sussex Finescale Railway Modelling Finescale Modelling OO HO 18.83mm 4mm BloodandCustard East Sussex Finescale Railway Modelling Finescale Modelling OO HO 18.83mm 4mm BloodandCustard East Sussex Finescale Railway Modelling Finescale Modelling OO HO 18.83mm 4mm BloodandCustard East Sussex Finescale Railway Modelling Finescale Modelling OO HO 18.83mm 4mm BloodandCustard East Sussex Finescale Railway Modelling Finescale Modelling OO HO 18.83mm 4mm BloodandCustard East Sussex Finescale Railway Modelling Finescale Modelling OO HO 18.83mm 4mm BloodandCustard East Sussex Finescale Railway Modelling Finescale Modelling OO HO 18.83mm 4mm BloodandCustard East Sussex Finescale Railway Modelling Finescale Modelling OO HO 18.83mm 4mm BloodandCustard East Sussex Finescale Railway Modelling Finescale Modelling OO HO 18.83mm 4mm BloodandCustard East Sussex Finescale Railway Modelling Finescale Modelling OO HO 18.83mm 4mm BloodandCustard East Sussex Finescale Railway Modelling Finescale Modelling OO HO 18.83mm 4mm BloodandCustard East Sussex Finescale Railway Modelling Finescale Modelling OO HO 18.83mm 4mm BloodandCustard East Sussex Finescale Railway Modelling Finescale Modelling OO HO 18.83mm 4mm BloodandCustard East Sussex Finescale Railway Modelling Finescale Modelling OO HO 18.83mm 4mm BloodandCustard East Sussex Finescale Railway Modelling Finescale Modelling OO HO 18.83mm 4mm BloodandCustard East Sussex Finescale Railway Modelling Finescale Modelling OO HO 18.83mm 4mm BloodandCustard East Sussex Finescale Railway Modelling Finescale Modelling OO HO 18.83mm 4mm BloodandCustard East Sussex Finescale Railway Modelling Finescale Modelling OO HO 18.83mm 4mm BloodandCustard East Sussex Finescale Railway Modelling Finescale Modelling OO HO 18.83mm 4mm BloodandCustard East Sussex Finescale Railway Modelling Finescale Modelling OO HO 18.83mm 4mm BloodandCustard East Sussex Finescale Railway Modelling Finescale Modelling OO HO 18.83mm 4mm BloodandCustard East Sussex Finescale Railway Modelling Finescale Modelling OO HO 18.83mm 4mm BloodandCustard East Sussex Finescale Railway Modelling Finescale Modelling OO HO 18.83mm 4mm BloodandCustard East Sussex Finescale Railway Modelling Finescale Modelling OO HO 18.83mm 4mm BloodandCustard East Sussex Finescale Railway Modelling Finescale Modelling OO HO 18.83mm 4mm BloodandCustard East Sussex Finescale Railway Modelling Finescale Modelling OO HO 18.83mm 4mm BloodandCustard East Sussex Finescale Railway Modelling Finescale Modelling OO HO 18.83mm 4mm BloodandCustard East Sussex Finescale Railway Modelling Finescale Modelling OO HO 18.83mm 4mm BloodandCustard East Sussex Finescale Railway Modelling Finescale Modelling OO HO 18.83mm 4mm BloodandCustard East Sussex Finescale Railway Modelling Finescale Modelling OO HO 18.83mm 4mm BloodandCustard East Sussex Finescale Railway Modelling Finescale Modelling OO HO 18.83mm 4mm BloodandCustard East Sussex Finescale Railway Modelling Finescale Modelling OO HO 18.83mm 4mm BloodandCustard East Sussex Finescale Railway Modelling Finescale Modelling OO HO 18.83mm 4mm BloodandCustard East Sussex Finescale Railway Modelling Finescale Modelling OO HO 18.83mm 4mm BloodandCustard East Sussex Finescale Railway Modelling Finescale Modelling OO HO 18.83mm 4mm BloodandCustard East Sussex Finescale Railway Modelling Finescale Modelling OO HO 18.83mm 4mm BloodandCustard East Sussex Finescale Railway Modelling Finescale Modelling OO HO 18.83mm 4mm BloodandCustard East Sussex Finescale Railway Modelling Finescale Modelling OO HO 18.83mm 4mm BloodandCustard East Sussex Finescale Railway Modelling Finescale Modelling OO HO 18.83mm 4mm BloodandCustard East Sussex Finescale Railway Modelling Finescale Modelling OO HO 18.83mm 4mm BloodandCustard East Sussex Finescale Railway Modelling Finescale Modelling OO HO 18.83mm 4mm BloodandCustard East Sussex Finescale Railway Modelling Finescale Modelling OO HO 18.83mm 4mm BloodandCustard East Sussex Finescale Railway Modelling Finescale Modelling OO HO 18.83mm 4mm BloodandCustard East Sussex Finescale Railway Modelling Finescale Modelling OO HO 18.83mm 4mm BloodandCustard East Sussex Finescale Railway Modelling Finescale Modelling OO HO 18.83mm 4mm BloodandCustard East Sussex Finescale Railway Modelling Finescale Modelling OO HO 18.83mm 4mm BloodandCustard East Sussex Finescale Railway Modelling Finescale Modelling OO HO 18.83mm 4mm BloodandCustard East Sussex Finescale Railway Modelling Finescale Modelling OO HO 18.83mm 4mm BloodandCustard East Sussex Finescale Railway Modelling Finescale Modelling OO HO 18.83mm 4mm BloodandCustard East Sussex Finescale Railway Modelling Finescale Modelling OO HO 18.83mm 4mm BloodandCustard East Sussex Finescale Railway Modelling Finescale Modelling OO HO 18.83mm 4mm BloodandCustard East Sussex Finescale Railway Modelling Finescale Modelling OO HO 18.83mmBloodandCustard East Sussex Finescale Railway Modelling Finescale Modelling OO HO 18.83mm 4mm. BloodandCustard East Sussex Finescale Railway Modelling Finescale Modelling OO HO 18.83mm 4mm BloodandCustard East Sussex Finescale Railway Modelling Finescale Modelling OO HO 18.83mm 4mm BloodandCustard East Sussex Finescale Railway Modelling Finescale Modelling OO HO 18.83mm 4mm BloodandCustard East Sussex Finescale Railway Modelling Finescale Modelling OO HO 18.83mm 4mm BloodandCustard East Sussex Finescale Railway Modelling Finescale Modelling OO HO 18.83mm 4mm BloodandCustard East Sussex Finescale Railway Modelling Finescale Modelling OO HO 18.83mm 4mm BloodandCustard East Sussex Finescale Railway Modelling Finescale Modelling OO HO 18.83mm 4mm BloodandCustard East Sussex Finescale Railway Modelling Finescale Modelling OO HO 18.83mm 4mm BloodandCustard East Sussex Finescale Railway Modelling Finescale Modelling OO HO 18.83mm 4mm BloodandCustard East Sussex Finescale Railway Modelling Finescale Modelling OO HO 18.83mm 4mm BloodandCustard East Sussex Finescale Railway Modelling Finescale Modelling OO HO 18.83mm 4mm BloodandCustard East Sussex Finescale Railway Modelling Finescale Modelling OO HO 18.83mm 4mm BloodandCustard East Sussex Finescale Railway Modelling Finescale Modelling OO HO 18.83mm 4mm BloodandCustard East Sussex Finescale Railway Modelling Finescale Modelling OO HO 18.83mm 4mm BloodandCustard East Sussex Finescale Railway Modelling Finescale Modelling OO HO 18.83mm 4mm BloodandCustard East Sussex Finescale Railway Modelling Finescale Modelling OO HO 18.83mm 4mm BloodandCustard East Sussex Finescale Railway Modelling Finescale Modelling OO HO 18.83mm 4mm BloodandCustard East Sussex Finescale Railway Modelling Finescale Modelling OO HO 18.83mm 4mm BloodandCustard East Sussex Finescale Railway Modelling Finescale Modelling OO HO 18.83mm 4mm BloodandCustard East Sussex Finescale Railway Modelling Finescale Modelling OO HO 18.83mm 4mm BloodandCustard East Sussex Finescale Railway Modelling Finescale Modelling OO HO 18.83mm 4mm BloodandCustard East Sussex Finescale Railway Modelling Finescale Modelling OO HO 18.83mm 4mm BloodandCustard East Sussex Finescale Railway Modelling Finescale Modelling OO HO 18.83mm 4mm BloodandCustard East Sussex Finescale Railway Modelling Finescale Modelling OO HO 18.83mm 4mm BloodandCustard East Sussex Finescale Railway Modelling Finescale Modelling OO HO 18.83mm 4mm BloodandCustard East Sussex Finescale Railway Modelling Finescale Modelling OO HO 18.83mm 4mm BloodandCustard East Sussex Finescale Railway Modelling Finescale Modelling OO HO 18.83mm 4mm BloodandCustard East Sussex Finescale Railway Modelling Finescale Modelling OO HO 18.83mm 4mm BloodandCustard East Sussex Finescale Railway Modelling Finescale Modelling OO HO 18.83mm 4mm BloodandCustard East Sussex Finescale Railway Modelling Finescale Modelling OO HO 18.83mm 4mm BloodandCustard East Sussex Finescale Railway Modelling Finescale Modelling OO HO 18.83mm 4mm BloodandCustard East Sussex Finescale Railway Modelling Finescale Modelling OO HO 18.83mm 4mm BloodandCustard East Sussex Finescale Railway Modelling Finescale Modelling OO HO 18.83mm 4mm BloodandCustard East Sussex Finescale Railway Modelling Finescale Modelling OO HO 18.83mm 4mm BloodandCustard East Sussex Finescale Railway Modelling Finescale Modelling OO HO 18.83mm 4mm BloodandCustard East Sussex Finescale Railway Modelling Finescale Modelling OO HO 18.83mm 4mm BloodandCustard East Sussex Finescale Railway Modelling Finescale Modelling OO HO 18.83mm 4mm BloodandCustard East Sussex Finescale Railway Modelling Finescale Modelling OO HO 18.83mm 4mm BloodandCustard East Sussex Finescale Railway Modelling Finescale Modelling OO HO 18.83mm 4mm BloodandCustard East Sussex Finescale Railway Modelling Finescale Modelling OO HO 18.83mm 4mm BloodandCustard East Sussex Finescale Railway Modelling Finescale Modelling OO HO 18.83mm 4mm BloodandCustard East Sussex Finescale Railway Modelling Finescale Modelling OO HO 18.83mm 4mm BloodandCustard East Sussex Finescale Railway Modelling Finescale Modelling OO HO 18.83mm 4mm BloodandCustard East Sussex Finescale Railway Modelling Finescale Modelling OO HO 18.83mm 4mm BloodandCustard East Sussex Finescale Railway Modelling Finescale Modelling OO HO 18.83mm 4mm BloodandCustard East Sussex Finescale Railway Modelling Finescale Modelling OO HO 18.83mm 4mm BloodandCustard East Sussex Finescale Railway Modelling Finescale Modelling OO HO 18.83mm 4mm BloodandCustard East Sussex Finescale Railway Modelling Finescale Modelling OO HO 18.83mm 4mm BloodandCustard East Sussex Finescale Railway Modelling Finescale Modelling OO HO 18.83mm 4mm BloodandCustard East Sussex Finescale Railway Modelling Finescale Modelling OO HO 18.83mm 4mm BloodandCustard East Sussex Finescale Railway Modelling Finescale Modelling OO HO 18.83mm 4mm BloodandCustard East Sussex Finescale Railway Modelling Finescale Modelling OO HO 18.83mm 4mm BloodandCustard East Sussex Finescale Railway Modelling Finescale Modelling OO HO 18.83mm 4mm BloodandCustard East Sussex Finescale Railway Modelling Finescale Modelling OO HO 18.83mm 4mm BloodandCustard East Sussex Finescale Railway Modelling Finescale Modelling OO HO 18.83mm 4mm BloodandCustard East Sussex Finescale Railway Modelling Finescale Modelling OO HO 18.83mm 4mm BloodandCustard East Sussex Finescale Railway Modelling Finescale Modelling OO HO 18.83mm 4mm BloodandCustard East Sussex Finescale Railway Modelling Finescale Modelling OO HO 18.83mm 4mm BloodandCustard East Sussex Finescale Railway Modelling Finescale Modelling OO HO 18.83mm 4mm BloodandCustard East Sussex Finescale Railway Modelling Finescale Modelling OO HO 18.83mm 4mm BloodandCustard East Sussex Finescale Railway Modelling Finescale Modelling OO HO 18.83mm 4mm BloodandCustard East Sussex Finescale Railway Modelling Finescale Modelling OO HO 18.83mm 4mm BloodandCustard East Sussex Finescale Railway Modelling Finescale Modelling OO HO 18.83mm 4mm BloodandCustard East Sussex Finescale Railway Modelling Finescale Modelling OO HO 18.83mm 4mm BloodandCustard East Sussex Finescale Railway Modelling Finescale Modelling OO HO 18.83mm 4mm BloodandCustard East Sussex Finescale Railway Modelling Finescale Modelling OO HO 18.83mm 4mm BloodandCustard East Sussex Finescale Railway Modelling Finescale Modelling OO HO 18.83mm 4mm BloodandCustard East Sussex Finescale Railway Modelling Finescale Modelling OO HO 18.83mm 4mm BloodandCustard East Sussex Finescale Railway Modelling Finescale Modelling OO HO 18.83mm 4mm BloodandCustard East Sussex Finescale Railway Modelling Finescale Modelling OO HO 18.83mm 4mm BloodandCustard East Sussex Finescale Railway Modelling Finescale Modelling OO HO 18.83mm 4mm BloodandCustard East Sussex Finescale Railway Modelling Finescale Modelling OO HO 18.83mm 4mm BloodandCustard East Sussex Finescale Railway Modelling Finescale Modelling OO HO 18.83mm 4mm BloodandCustard East Sussex Finescale Railway Modelling Finescale Modelling OO HO 18.83mm 4mm BloodandCustard East Sussex Finescale Railway Modelling Finescale Modelling OO HO 18.83mm 4mm BloodandCustard East Sussex Finescale Railway Modelling Finescale Modelling OO HO 18.83mm 4mm BloodandCustard East Sussex Finescale Railway Modelling Finescale Modelling OO HO 18.83mm 4mm BloodandCustard East Sussex Finescale Railway Modelling Finescale Modelling OO HO 18.83mm 4mm BloodandCustard East Sussex Finescale Railway Modelling Finescale Modelling OO HO 18.83mm 4mm BloodandCustard East Sussex Finescale Railway Modelling Finescale Modelling OO HO 18.83mm 4mm BloodandCustard East Sussex Finescale Railway Modelling Finescale Modelling OO HO 18.83mm 4mm BloodandCustard East Sussex Finescale Railway Modelling Finescale Modelling OO HO 18.83mm 4mm BloodandCustard East Sussex Finescale Railway Modelling Finescale Modelling OO HO 18.83mm 4mm BloodandCustard East Sussex Finescale Railway Modelling Finescale Modelling OO HO 18.83mm 4mm BloodandCustard East Sussex Finescale Railway Modelling Finescale Modelling OO HO 18.83mm 4mm BloodandCustard East Sussex Finescale Railway Modelling Finescale Modelling OO HO 18.83mm 4mm BloodandCustard East Sussex Finescale Railway Modelling Finescale Modelling OO HO 18.83mm 4mm BloodandCustard East Sussex Finescale Railway Modelling Finescale Modelling OO HO 18.83mm 4mm BloodandCustard East Sussex Finescale Railway Modelling Finescale Modelling OO HO 18.83mm 4mm BloodandCustard East Sussex Finescale Railway Modelling Finescale Modelling OO HO 18.83mm 4mm BloodandCustard East Sussex Finescale Railway Modelling Finescale Modelling OO HO 18.83mm 4mm BloodandCustard East Sussex Finescale Railway Modelling Finescale Modelling OO HO 18.83mm 4mm BloodandCustard East Sussex Finescale Railway Modelling Finescale Modelling OO HO 18.83mm 4mm BloodandCustard East Sussex Finescale Railway Modelling Finescale Modelling OO HO 18.83mm 4mm BloodandCustard East Sussex Finescale Railway Modelling Finescale Modelling OO HO 18.83mm 4mm BloodandCustard East Sussex Finescale Railway Modelling Finescale Modelling OO HO 18.83mm 4mm BloodandCustard East Sussex Finescale Railway Modelling Finescale Modelling OO HO 18.83mm 4mm BloodandCustard East Sussex Finescale Railway Modelling Finescale Modelling OO HO 18.83mm 4mm BloodandCustard East Sussex Finescale Railway Modelling Finescale Modelling OO HO 18.83mm 4mm BloodandCustard East Sussex Finescale Railway Modelling Finescale Modelling OO HO 18.83mm 4mm BloodandCustard East Sussex Finescale Railway Modelling Finescale Modelling OO HO 18.83mm 4mm BloodandCustard East Sussex Finescale Railway Modelling Finescale Modelling OO HO 18.83mm 4mm BloodandCustard East Sussex Finescale Railway Modelling Finescale Modelling OO HO 18.83mm 4mm BloodandCustard East Sussex Finescale Railway Modelling Finescale Modelling OO HO 18.83mm 4mm BloodandCustard East Sussex Finescale Railway Modelling Finescale Modelling OO HO 18.83mm 4mm BloodandCustard East Sussex Finescale Railway Modelling Finescale Modelling OO HO 18.83mm 4mm BloodandCustard East Sussex Finescale Railway Modelling Finescale Modelling OO HO 18.83mm 4mm BloodandCustard East Sussex Finescale Railway Modelling Finescale Modelling OO HO 18.83mm 4mm BloodandCustard East Sussex Finescale Railway Modelling Finescale Modelling OO HO 18.83mm 4mm BloodandCustard East Sussex Finescale Railway Modelling Finescale Modelling OO HO 18.83mm 4mm BloodandCustard East Sussex Finescale Railway Modelling Finescale Modelling OO HO 18.83mm 4mm BloodandCustard East Sussex Finescale Railway Modelling Finescale Modelling OO HO 18.83mm 4mm BloodandCustard East Sussex Finescale Railway Modelling Finescale Modelling OO HO 18.83mm 4mm BloodandCustard East Sussex Finescale Railway Modelling Finescale Modelling OO HO 18.83mm 4mm BloodandCustard East Sussex Finescale Railway Modelling Finescale Modelling OO HO 18.83mm 4mm BloodandCustard East Sussex Finescale Railway Modelling Finescale Modelling OO HO 18.83mm 4mm BloodandCustard East Sussex Finescale Railway Modelling Finescale Modelling OO HO 18.83mm 4mm BloodandCustard East Sussex Finescale Railway Modelling Finescale Modelling OO HO 18.83mm 4mm BloodandCustard East Sussex Finescale Railway Modelling Finescale Modelling OO HO 18.83mm 4mm BloodandCustard East Sussex Finescale Railway Modelling Finescale Modelling OO HO 18.83mm 4mm BloodandCustard East Sussex Finescale Railway Modelling Finescale Modelling OO HO 18.83mm 4mm BloodandCustard East Sussex Finescale Railway Modelling Finescale Modelling OO HO 18.83mm 4mm BloodandCustard East Sussex Finescale Railway Modelling Finescale Modelling OO HO 18.83mm 4mm BloodandCustard East Sussex Finescale Railway Modelling Finescale Modelling OO HO 18.83mm 4mm BloodandCustard East Sussex Finescale Railway Modelling Finescale Modelling OO HO 18.83mm 4mm BloodandCustard East Sussex Finescale Railway Modelling Finescale Modelling OO HO 18.83mm 4mm BloodandCustard East Sussex Finescale Railway Modelling Finescale Modelling OO HO 18.83mm 4mm BloodandCustard East Sussex Finescale Railway Modelling Finescale Modelling OO HO 18.83mm 4mm BloodandCustard East Sussex Finescale Railway Modelling Finescale Modelling OO HO 18.83mm 4mm BloodandCustard East Sussex Finescale Railway Modelling Finescale Modelling OO HO 18.83mm 4mm BloodandCustard East Sussex Finescale Railway Modelling Finescale Modelling OO HO 18.83mm 4mm BloodandCustard East Sussex Finescale Railway Modelling Finescale Modelling OO HO 18.83mm 4mm BloodandCustard East Sussex Finescale Railway Modelling Finescale Modelling OO HO 18.83mm 4mm BloodandCustard East Sussex Finescale Railway Modelling Finescale Modelling OO HO 18.83mm 4mm BloodandCustard East Sussex Finescale Railway Modelling Finescale Modelling OO HO 18.83mm 4mm BloodandCustard East Sussex Finescale Railway Modelling Finescale Modelling OO HO 18.83mm 4mm BloodandCustard East Sussex Finescale Railway Modelling Finescale Modelling OO HO 18.83mm 4mm BloodandCustard East Sussex Finescale Railway Modelling Finescale Modelling OO HO 18.83mm 4mm BloodandCustard East Sussex Finescale Railway Modelling Finescale Modelling OO HO 18.83mm 4mm BloodandCustard East Sussex Finescale Railway Modelling Finescale Modelling OO HO 18.83mm 4mm BloodandCustard East Sussex Finescale Railway Modelling Finescale Modelling OO HO 18.83mm 4mm BloodandCustard East Sussex Finescale Railway Modelling Finescale Modelling OO HO 18.83mm 4mm BloodandCustard East Sussex Finescale Railway Modelling Finescale Modelling OO HO 18.83mm 4mm BloodandCustard East Sussex Finescale Railway Modelling Finescale Modelling OO HO 18.83mm 4mm BloodandCustard East Sussex Finescale Railway Modelling Finescale Modelling OO HO 18.83mm 4mm BloodandCustard East Sussex Finescale Railway Modelling Finescale Modelling OO HO 18.83mm 4mm BloodandCustard East Sussex Finescale Railway Modelling Finescale Modelling OO HO 18.83mm 4mm BloodandCustard East Sussex Finescale Railway Modelling Finescale Modelling OO HO 18.83mm 4mm BloodandCustard East Sussex Finescale Railway Modelling Finescale Modelling OO HO 18.83mm 4mm BloodandCustard East Sussex Finescale Railway Modelling Finescale Modelling OO HO 18.83mm 4mm BloodandCustard East Sussex Finescale Railway Modelling Finescale Modelling OO HO 18.83mm 4mm BloodandCustard East Sussex Finescale Railway Modelling Finescale Modelling OO HO 18.83mm 4mm BloodandCustard East Sussex Finescale Railway Modelling Finescale Modelling OO HO 18.83mm 4mm BloodandCustard East Sussex Finescale Railway Modelling Finescale Modelling OO HO 18.83mm 4mm BloodandCustard East Sussex Finescale Railway Modelling Finescale Modelling OO HO 18.83mm 4mm BloodandCustard East Sussex Finescale Railway Modelling Finescale Modelling OO HO 18.83mm 4mm BloodandCustard East Sussex Finescale Railway Modelling Finescale Modelling OO HO 18.83mm 4mm BloodandCustard East Sussex Finescale Railway Modelling Finescale Modelling OO HO 18.83mm 4mm BloodandCustard East Sussex Finescale Railway Modelling Finescale Modelling OO HO 18.83mm 4mm BloodandCustard East Sussex Finescale Railway Modelling Finescale Modelling OO HO 18.83mm 4mm BloodandCustard East Sussex Finescale Railway Modelling Finescale Modelling OO HO 18.83mm 4mm BloodandCustard East Sussex Finescale Railway Modelling Finescale Modelling OO HO 18.83mm 4mm BloodandCustard East Sussex Finescale Railway Modelling Finescale Modelling OO HO 18.83mm 4mm BloodandCustard East Sussex Finescale Railway Modelling Finescale Modelling OO HO 18.83mm 4mm BloodandCustard East Sussex Finescale Railway Modelling Finescale Modelling OO HO 18.83mm 4mm BloodandCustard East Sussex Finescale Railway Modelling Finescale Modelling OO HO 18.83mm 4mm BloodandCustard East Sussex Finescale Railway Modelling Finescale Modelling OO HO 18.83mm 4mm BloodandCustard East Sussex Finescale Railway Modelling Finescale Modelling OO HO 18.83mm 4mm BloodandCustard East Sussex Finescale Railway Modelling Finescale Modelling OO HO 18.83mm 4mm BloodandCustard East Sussex Finescale Railway Modelling Finescale Modelling OO HO 18.83mm 4mm BloodandCustard East Sussex Finescale Railway Modelling Finescale Modelling OO HO 18.83mm 4mm BloodandCustard East Sussex Finescale Railway Modelling Finescale Modelling OO HO 18.83mm 4mm BloodandCustard East Sussex Finescale Railway Modelling Finescale Modelling OO HO 18.83mm 4mm BloodandCustard East Sussex Finescale Railway Modelling Finescale Modelling OO HO 18.83mm 4mm BloodandCustard East Sussex Finescale Railway Modelling Finescale Modelling OO HO 18.83mm 4mm BloodandCustard East Sussex Finescale Railway Modelling Finescale Modelling OO HO 18.83mm 4mm BloodandCustard East Sussex Finescale Railway Modelling Finescale Modelling OO HO 18.83mm 4mm BloodandCustard East Sussex Finescale Railway Modelling Finescale Modelling OO HO 18.83mm 4mm BloodandCustard East Sussex Finescale Railway Modelling Finescale Modelling OO HO 18.83mm 4mm BloodandCustard East Sussex Finescale Railway Modelling Finescale Modelling OO HO 18.83mm 4mm BloodandCustard East Sussex Finescale Railway Modelling Finescale Modelling OO HO 18.83mm 4mm BloodandCustard East Sussex Finescale Railway Modelling Finescale Modelling OO HO 18.83mm 4mm BloodandCustard East Sussex Finescale Railway Modelling Finescale Modelling OO HO 18.83mm 4mm BloodandCustard East Sussex Finescale Railway Modelling Finescale Modelling OO HO 18.83mm 4mm BloodandCustard East Sussex Finescale Railway Modelling Finescale Modelling OO HO 18.83mm 4mm BloodandCustard East Sussex Finescale Railway Modelling Finescale Modelling OO HO 18.83mm 4mm BloodandCustard East Sussex Finescale Railway Modelling Finescale Modelling OO HO 18.83mm 4mm BloodandCustard East Sussex Finescale Railway Modelling Finescale Modelling OO HO 18.83mm 4mm BloodandCustard East Sussex Finescale Railway Modelling Finescale Modelling OO HO 18.83mm 4mm BloodandCustard East Sussex Finescale Railway Modelling Finescale Modelling OO HO 18.83mm 4mm BloodandCustard East Sussex Finescale Railway Modelling Finescale Modelling OO HO 18.83mm 4mm BloodandCustard East Sussex Finescale Railway Modelling Finescale Modelling OO HO 18.83mm 4mm BloodandCustard East Sussex Finescale Railway Modelling Finescale Modelling OO HO 18.83mm 4mm BloodandCustard East Sussex Finescale Railway Modelling Finescale Modelling OO HO 18.83mm 4mm BloodandCustard East Sussex Finescale Railway Modelling Finescale Modelling OO HO 18.83mm 4mm BloodandCustard East Sussex Finescale Railway Modelling Finescale Modelling OO HO 18.83mm 4mm BloodandCustard East Sussex Finescale Railway Modelling Finescale Modelling OO HO 18.83mm 4mm BloodandCustard East Sussex Finescale Railway Modelling Finescale Modelling OO HO 18.83mm 4mm BloodandCustard East Sussex Finescale Railway Modelling Finescale Modelling OO HO 18.83mm 4mm BloodandCustard East Sussex Finescale Railway Modelling Finescale Modelling OO HO 18.83mm 4mm BloodandCustard East Sussex Finescale Railway Modelling Finescale Modelling OO HO 18.83mm 4mm BloodandCustard East Sussex Finescale Railway Modelling Finescale Modelling OO HO 18.83mm 4mm BloodandCustard East Sussex Finescale Railway Modelling Finescale Modelling OO HO 18.83mm 4mm BloodandCustard East Sussex Finescale Railway Modelling Finescale Modelling OO HO 18.83mm 4mm BloodandCustard East Sussex Finescale Railway Modelling Finescale Modelling OO HO 18.83mm 4mm BloodandCustard East Sussex Finescale Railway Modelling Finescale Modelling OO HO 18.83mm 4mm BloodandCustard East Sussex Finescale Railway Modelling Finescale Modelling OO HO 18.83mm 4mm BloodandCustard East Sussex Finescale Railway Modelling Finescale Modelling OO HO 18.83mm 4mm BloodandCustard East Sussex Finescale Railway Modelling Finescale Modelling OO HO 18.83mm 4mm BloodandCustard East Sussex Finescale Railway Modelling Finescale Modelling OO HO 18.83mm 4mm BloodandCustard East Sussex Finescale Railway Modelling Finescale Modelling OO HO 18.83mm 4mm BloodandCustard East Sussex Finescale Railway Modelling Finescale Modelling OO HO 18.83mm 4mm BloodandCustard East Sussex Finescale Railway Modelling Finescale Modelling OO HO 18.83mm 4mm BloodandCustard East Sussex Finescale Railway Modelling Finescale Modelling OO HO 18.83mm 4mm BloodandCustard East Sussex Finescale Railway Modelling Finescale Modelling OO HO 18.83mm 4mm BloodandCustard East Sussex Finescale Railway Modelling Finescale Modelling OO HO 18.83mm 4mm BloodandCustard East Sussex Finescale Railway Modelling Finescale Modelling OO HO 18.83mm 4mm BloodandCustard East Sussex Finescale Railway Modelling Finescale Modelling OO HO 18.83mm 4mm BloodandCustard East Sussex Finescale Railway Modelling Finescale Modelling OO HO 18.83mm 4mm BloodandCustard East Sussex Finescale Railway Modelling Finescale Modelling OO HO 18.83mm 4mm BloodandCustard East Sussex Finescale Railway Modelling Finescale Modelling OO HO 18.83mm 4mm BloodandCustard East Sussex Finescale Railway Modelling Finescale Modelling OO HO 18.83mm 4mm BloodandCustard East Sussex Finescale Railway Modelling Finescale Modelling OO HO 18.83mm 4mm BloodandCustard East Sussex Finescale Railway Modelling Finescale Modelling OO HO 18.83mm 4mm BloodandCustard East Sussex Finescale Railway Modelling Finescale Modelling OO HO 18.83mm 4mm BloodandCustard East Sussex Finescale Railway Modelling Finescale Modelling OO HO 18.83mm 4mm BloodandCustard East Sussex Finescale Railway Modelling Finescale Modelling OO HO 18.83mm 4mm BloodandCustard East Sussex Finescale Railway Modelling Finescale Modelling OO HO 18.83mm 4mm BloodandCustard East Sussex Finescale Railway Modelling Finescale Modelling OO HO 18.83mm 4mm BloodandCustard East Sussex Finescale Railway Modelling Finescale Modelling OO HO 18.83mm 4mm BloodandCustard East Sussex Finescale Railway Modelling Finescale Modelling OO HO 18.83mm 4mm BloodandCustard East Sussex Finescale Railway Modelling Finescale Modelling OO HO 18.83mm 4mm BloodandCustard East Sussex Finescale Railway Modelling Finescale Modelling OO HO 18.83mm 4mm BloodandCustard East Sussex Finescale Railway Modelling Finescale Modelling OO HO 18.83mm 4mm BloodandCustard East Sussex Finescale Railway Modelling Finescale Modelling OO HO 18.83mm 4mm BloodandCustard East Sussex Finescale Railway Modelling Finescale Modelling OO HO 18.83mm 4mm BloodandCustard East Sussex Finescale Railway Modelling Finescale Modelling OO HO 18.83mm 4mm BloodandCustard East Sussex Finescale Railway Modelling Finescale Modelling OO HO 18.83mm 4mm BloodandCustard East Sussex Finescale Railway Modelling Finescale Modelling OO HO 18.83mm 4mm BloodandCustard East Sussex Finescale Railway Modelling Finescale Modelling OO HO 18.83mm 4mm BloodandCustard East Sussex Finescale Railway Modelling Finescale Modelling OO HO 18.83mm 4mm BloodandCustard East Sussex Finescale Railway Modelling Finescale Modelling OO HO 18.83mm 4mm BloodandCustard East Sussex Finescale Railway Modelling Finescale Modelling OO HO 18.83mm 4mm BloodandCustard East Sussex Finescale Railway Modelling Finescale Modelling OO HO 18.83mm 4mm BloodandCustard East Sussex Finescale Railway Modelling Finescale Modelling OO HO 18.83mm 4mm BloodandCustard East Sussex Finescale Railway Modelling Finescale Modelling OO HO 18.83mm 4mm BloodandCustard East Sussex Finescale Railway Modelling Finescale Modelling OO HO 18.83mm 4mm BloodandCustard East Sussex Finescale Railway Modelling Finescale Modelling OO HO 18.83mm 4mm BloodandCustard East Sussex Finescale Railway Modelling Finescale Modelling OO HO 18.83mm 4mm BloodandCustard East Sussex Finescale Railway Modelling Finescale Modelling OO HO 18.83mm 4mm BloodandCustard East Sussex Finescale Railway Modelling Finescale Modelling OO HO 18.83mm 4mm BloodandCustard East Sussex Finescale Railway Modelling Finescale Modelling OO HO 18.83mm 4mm BloodandCustard East Sussex Finescale Railway Modelling Finescale Modelling OO HO 18.83mm 4mm BloodandCustard East Sussex Finescale Railway Modelling Finescale Modelling OO HO 18.83mm 4mm BloodandCustard East Sussex Finescale Railway Modelling Finescale Modelling OO HO 18.83mm 4mm BloodandCustard East Sussex Finescale Railway Modelling Finescale Modelling OO HO 18.83mm 4mm BloodandCustard East Sussex Finescale Railway Modelling Finescale Modelling OO HO 18.83mm 4mm BloodandCustard East Sussex Finescale Railway Modelling Finescale Modelling OO HO 18.83mm 4mm BloodandCustard East Sussex Finescale Railway Modelling Finescale Modelling OO HO 18.83mm 4mm BloodandCustard East Sussex Finescale Railway Modelling Finescale Modelling OO HO 18.83mm 4mm BloodandCustard East Sussex Finescale Railway Modelling Finescale Modelling OO HO 18.83mm 4mm BloodandCustard East Sussex Finescale Railway Modelling Finescale Modelling OO HO 18.83mm 4mm BloodandCustard East Sussex Finescale Railway Modelling Finescale Modelling OO HO 18.83mm 4mm BloodandCustard East Sussex Finescale Railway Modelling Finescale Modelling OO HO 18.83mm 4mm BloodandCustard East Sussex Finescale Railway Modelling Finescale Modelling OO HO 18.83mm 4mm BloodandCustard East Sussex Finescale Railway Modelling Finescale Modelling OO HO 18.83mm 4mm BloodandCustard East Sussex Finescale Railway Modelling Finescale Modelling OO HO 18.83mm 4mm BloodandCustard East Sussex Finescale Railway Modelling Finescale Modelling OO HO 18.83mm 4mm BloodandCustard East Sussex Finescale Railway Modelling Finescale Modelling OO HO 18.83mm 4mm BloodandCustard East Sussex Finescale Railway Modelling Finescale Modelling OO HO 18.83mm 4mm BloodandCustard East Sussex Finescale Railway Modelling Finescale Modelling OO HO 18.83mm 4mm BloodandCustard East Sussex Finescale Railway Modelling Finescale Modelling OO HO 18.83mm 4mm BloodandCustard East Sussex Finescale Railway Modelling Finescale Modelling OO HO 18.83mm 4mm BloodandCustard East Sussex Finescale Railway Modelling Finescale Modelling OO HO 18.83mm 4mm BloodandCustard East Sussex Finescale Railway Modelling Finescale Modelling OO HO 18.83mm 4mm BloodandCustard East Sussex Finescale Railway Modelling Finescale Modelling OO HO 18.83mmBloodandCustard East Sussex Finescale Railway Modelling Finescale Modelling OO HO 18.83mm 4mm. BloodandCustard East Sussex Finescale Railway Modelling Finescale Modelling OO HO 18.83mm 4mm BloodandCustard East Sussex Finescale Railway Modelling Finescale Modelling OO HO 18.83mm 4mm BloodandCustard East Sussex Finescale Railway Modelling Finescale Modelling OO HO 18.83mm 4mm BloodandCustard East Sussex Finescale Railway Modelling Finescale Modelling OO HO 18.83mm 4mm BloodandCustard East Sussex Finescale Railway Modelling Finescale Modelling OO HO 18.83mm 4mm BloodandCustard East Sussex Finescale Railway Modelling Finescale Modelling OO HO 18.83mm 4mm BloodandCustard East Sussex Finescale Railway Modelling Finescale Modelling OO HO 18.83mm 4mm BloodandCustard East Sussex Finescale Railway Modelling Finescale Modelling OO HO 18.83mm 4mm BloodandCustard East Sussex Finescale Railway Modelling Finescale Modelling OO HO 18.83mm 4mm BloodandCustard East Sussex Finescale Railway Modelling Finescale Modelling OO HO 18.83mm 4mm BloodandCustard East Sussex Finescale Railway Modelling Finescale Modelling OO HO 18.83mm 4mm BloodandCustard East Sussex Finescale Railway Modelling Finescale Modelling OO HO 18.83mm 4mm BloodandCustard East Sussex Finescale Railway Modelling Finescale Modelling OO HO 18.83mm 4mm BloodandCustard East Sussex Finescale Railway Modelling Finescale Modelling OO HO 18.83mm 4mm BloodandCustard East Sussex Finescale Railway Modelling Finescale Modelling OO HO 18.83mm 4mm BloodandCustard East Sussex Finescale Railway Modelling Finescale Modelling OO HO 18.83mm 4mm BloodandCustard East Sussex Finescale Railway Modelling Finescale Modelling OO HO 18.83mm 4mm BloodandCustard East Sussex Finescale Railway Modelling Finescale Modelling OO HO 18.83mm 4mm BloodandCustard East Sussex Finescale Railway Modelling Finescale Modelling OO HO 18.83mm 4mm BloodandCustard East Sussex Finescale Railway Modelling Finescale Modelling OO HO 18.83mm 4mm BloodandCustard East Sussex Finescale Railway Modelling Finescale Modelling OO HO 18.83mm 4mm BloodandCustard East Sussex Finescale Railway Modelling Finescale Modelling OO HO 18.83mm 4mm BloodandCustard East Sussex Finescale Railway Modelling Finescale Modelling OO HO 18.83mm 4mm BloodandCustard East Sussex Finescale Railway Modelling Finescale Modelling OO HO 18.83mm 4mm BloodandCustard East Sussex Finescale Railway Modelling Finescale Modelling OO HO 18.83mm 4mm BloodandCustard East Sussex Finescale Railway Modelling Finescale Modelling OO HO 18.83mm 4mm BloodandCustard East Sussex Finescale Railway Modelling Finescale Modelling OO HO 18.83mm 4mm BloodandCustard East Sussex Finescale Railway Modelling Finescale Modelling OO HO 18.83mm 4mm BloodandCustard East Sussex Finescale Railway Modelling Finescale Modelling OO HO 18.83mm 4mm BloodandCustard East Sussex Finescale Railway Modelling Finescale Modelling OO HO 18.83mm 4mm BloodandCustard East Sussex Finescale Railway Modelling Finescale Modelling OO HO 18.83mm 4mm BloodandCustard East Sussex Finescale Railway Modelling Finescale Modelling OO HO 18.83mm 4mm BloodandCustard East Sussex Finescale Railway Modelling Finescale Modelling OO HO 18.83mm 4mm BloodandCustard East Sussex Finescale Railway Modelling Finescale Modelling OO HO 18.83mm 4mm BloodandCustard East Sussex Finescale Railway Modelling Finescale Modelling OO HO 18.83mm 4mm BloodandCustard East Sussex Finescale Railway Modelling Finescale Modelling OO HO 18.83mm 4mm BloodandCustard East Sussex Finescale Railway Modelling Finescale Modelling OO HO 18.83mm 4mm BloodandCustard East Sussex Finescale Railway Modelling Finescale Modelling OO HO 18.83mm 4mm BloodandCustard East Sussex Finescale Railway Modelling Finescale Modelling OO HO 18.83mm 4mm BloodandCustard East Sussex Finescale Railway Modelling Finescale Modelling OO HO 18.83mm 4mm BloodandCustard East Sussex Finescale Railway Modelling Finescale Modelling OO HO 18.83mm 4mm BloodandCustard East Sussex Finescale Railway Modelling Finescale Modelling OO HO 18.83mm 4mm BloodandCustard East Sussex Finescale Railway Modelling Finescale Modelling OO HO 18.83mm 4mm BloodandCustard East Sussex Finescale Railway Modelling Finescale Modelling OO HO 18.83mm 4mm BloodandCustard East Sussex Finescale Railway Modelling Finescale Modelling OO HO 18.83mm 4mm BloodandCustard East Sussex Finescale Railway Modelling Finescale Modelling OO HO 18.83mm 4mm BloodandCustard East Sussex Finescale Railway Modelling Finescale Modelling OO HO 18.83mm 4mm BloodandCustard East Sussex Finescale Railway Modelling Finescale Modelling OO HO 18.83mm 4mm BloodandCustard East Sussex Finescale Railway Modelling Finescale Modelling OO HO 18.83mm 4mm BloodandCustard East Sussex Finescale Railway Modelling Finescale Modelling OO HO 18.83mm 4mm BloodandCustard East Sussex Finescale Railway Modelling Finescale Modelling OO HO 18.83mm 4mm BloodandCustard East Sussex Finescale Railway Modelling Finescale Modelling OO HO 18.83mm 4mm BloodandCustard East Sussex Finescale Railway Modelling Finescale Modelling OO HO 18.83mm 4mm BloodandCustard East Sussex Finescale Railway Modelling Finescale Modelling OO HO 18.83mm 4mm BloodandCustard East Sussex Finescale Railway Modelling Finescale Modelling OO HO 18.83mm 4mm BloodandCustard East Sussex Finescale Railway Modelling Finescale Modelling OO HO 18.83mm 4mm BloodandCustard East Sussex Finescale Railway Modelling Finescale Modelling OO HO 18.83mm 4mm BloodandCustard East Sussex Finescale Railway Modelling Finescale Modelling OO HO 18.83mm 4mm BloodandCustard East Sussex Finescale Railway Modelling Finescale Modelling OO HO 18.83mm 4mm BloodandCustard East Sussex Finescale Railway Modelling Finescale Modelling OO HO 18.83mm 4mm BloodandCustard East Sussex Finescale Railway Modelling Finescale Modelling OO HO 18.83mm 4mm BloodandCustard East Sussex Finescale Railway Modelling Finescale Modelling OO HO 18.83mm 4mm BloodandCustard East Sussex Finescale Railway Modelling Finescale Modelling OO HO 18.83mm 4mm BloodandCustard East Sussex Finescale Railway Modelling Finescale Modelling OO HO 18.83mm 4mm BloodandCustard East Sussex Finescale Railway Modelling Finescale Modelling OO HO 18.83mm 4mm BloodandCustard East Sussex Finescale Railway Modelling Finescale Modelling OO HO 18.83mm 4mm BloodandCustard East Sussex Finescale Railway Modelling Finescale Modelling OO HO 18.83mm 4mm BloodandCustard East Sussex Finescale Railway Modelling Finescale Modelling OO HO 18.83mm 4mm BloodandCustard East Sussex Finescale Railway Modelling Finescale Modelling OO HO 18.83mm 4mm BloodandCustard East Sussex Finescale Railway Modelling Finescale Modelling OO HO 18.83mm 4mm BloodandCustard East Sussex Finescale Railway Modelling Finescale Modelling OO HO 18.83mm 4mm BloodandCustard East Sussex Finescale Railway Modelling Finescale Modelling OO HO 18.83mm 4mm BloodandCustard East Sussex Finescale Railway Modelling Finescale Modelling OO HO 18.83mm 4mm BloodandCustard East Sussex Finescale Railway Modelling Finescale Modelling OO HO 18.83mm 4mm BloodandCustard East Sussex Finescale Railway Modelling Finescale Modelling OO HO 18.83mm 4mm BloodandCustard East Sussex Finescale Railway Modelling Finescale Modelling OO HO 18.83mm 4mm BloodandCustard East Sussex Finescale Railway Modelling Finescale Modelling OO HO 18.83mm 4mm BloodandCustard East Sussex Finescale Railway Modelling Finescale Modelling OO HO 18.83mm 4mm BloodandCustard East Sussex Finescale Railway Modelling Finescale Modelling OO HO 18.83mm 4mm BloodandCustard East Sussex Finescale Railway Modelling Finescale Modelling OO HO 18.83mm 4mm BloodandCustard East Sussex Finescale Railway Modelling Finescale Modelling OO HO 18.83mm 4mm BloodandCustard East Sussex Finescale Railway Modelling Finescale Modelling OO HO 18.83mm 4mm BloodandCustard East Sussex Finescale Railway Modelling Finescale Modelling OO HO 18.83mm 4mm BloodandCustard East Sussex Finescale Railway Modelling Finescale Modelling OO HO 18.83mm 4mm BloodandCustard East Sussex Finescale Railway Modelling Finescale Modelling OO HO 18.83mm 4mm BloodandCustard East Sussex Finescale Railway Modelling Finescale Modelling OO HO 18.83mm 4mm BloodandCustard East Sussex Finescale Railway Modelling Finescale Modelling OO HO 18.83mm 4mm BloodandCustard East Sussex Finescale Railway Modelling Finescale Modelling OO HO 18.83mm 4mm BloodandCustard East Sussex Finescale Railway Modelling Finescale Modelling OO HO 18.83mm 4mm BloodandCustard East Sussex Finescale Railway Modelling Finescale Modelling OO HO 18.83mm 4mm BloodandCustard East Sussex Finescale Railway Modelling Finescale Modelling OO HO 18.83mm 4mm BloodandCustard East Sussex Finescale Railway Modelling Finescale Modelling OO HO 18.83mm 4mm BloodandCustard East Sussex Finescale Railway Modelling Finescale Modelling OO HO 18.83mm 4mm BloodandCustard East Sussex Finescale Railway Modelling Finescale Modelling OO HO 18.83mm 4mm BloodandCustard East Sussex Finescale Railway Modelling Finescale Modelling OO HO 18.83mm 4mm BloodandCustard East Sussex Finescale Railway Modelling Finescale Modelling OO HO 18.83mm 4mm BloodandCustard East Sussex Finescale Railway Modelling Finescale Modelling OO HO 18.83mm 4mm BloodandCustard East Sussex Finescale Railway Modelling Finescale Modelling OO HO 18.83mm 4mm BloodandCustard East Sussex Finescale Railway Modelling Finescale Modelling OO HO 18.83mm 4mm BloodandCustard East Sussex Finescale Railway Modelling Finescale Modelling OO HO 18.83mm 4mm BloodandCustard East Sussex Finescale Railway Modelling Finescale Modelling OO HO 18.83mm 4mm BloodandCustard East Sussex Finescale Railway Modelling Finescale Modelling OO HO 18.83mm 4mm BloodandCustard East Sussex Finescale Railway Modelling Finescale Modelling OO HO 18.83mm 4mm BloodandCustard East Sussex Finescale Railway Modelling Finescale Modelling OO HO 18.83mm 4mm BloodandCustard East Sussex Finescale Railway Modelling Finescale Modelling OO HO 18.83mm 4mm BloodandCustard East Sussex Finescale Railway Modelling Finescale Modelling OO HO 18.83mm 4mm BloodandCustard East Sussex Finescale Railway Modelling Finescale Modelling OO HO 18.83mm 4mm BloodandCustard East Sussex Finescale Railway Modelling Finescale Modelling OO HO 18.83mm 4mm BloodandCustard East Sussex Finescale Railway Modelling Finescale Modelling OO HO 18.83mm 4mm BloodandCustard East Sussex Finescale Railway Modelling Finescale Modelling OO HO 18.83mm 4mm BloodandCustard East Sussex Finescale Railway Modelling Finescale Modelling OO HO 18.83mm 4mm BloodandCustard East Sussex Finescale Railway Modelling Finescale Modelling OO HO 18.83mm 4mm BloodandCustard East Sussex Finescale Railway Modelling Finescale Modelling OO HO 18.83mm 4mm BloodandCustard East Sussex Finescale Railway Modelling Finescale Modelling OO HO 18.83mm 4mm BloodandCustard East Sussex Finescale Railway Modelling Finescale Modelling OO HO 18.83mm 4mm BloodandCustard East Sussex Finescale Railway Modelling Finescale Modelling OO HO 18.83mm 4mm BloodandCustard East Sussex Finescale Railway Modelling Finescale Modelling OO HO 18.83mm 4mm BloodandCustard East Sussex Finescale Railway Modelling Finescale Modelling OO HO 18.83mm 4mm BloodandCustard East Sussex Finescale Railway Modelling Finescale Modelling OO HO 18.83mm 4mm BloodandCustard East Sussex Finescale Railway Modelling Finescale Modelling OO HO 18.83mm 4mm BloodandCustard East Sussex Finescale Railway Modelling Finescale Modelling OO HO 18.83mm 4mm BloodandCustard East Sussex Finescale Railway Modelling Finescale Modelling OO HO 18.83mm 4mm BloodandCustard East Sussex Finescale Railway Modelling Finescale Modelling OO HO 18.83mm 4mm BloodandCustard East Sussex Finescale Railway Modelling Finescale Modelling OO HO 18.83mm 4mm BloodandCustard East Sussex Finescale Railway Modelling Finescale Modelling OO HO 18.83mm 4mm BloodandCustard East Sussex Finescale Railway Modelling Finescale Modelling OO HO 18.83mm 4mm BloodandCustard East Sussex Finescale Railway Modelling Finescale Modelling OO HO 18.83mm 4mm BloodandCustard East Sussex Finescale Railway Modelling Finescale Modelling OO HO 18.83mm 4mm BloodandCustard East Sussex Finescale Railway Modelling Finescale Modelling OO HO 18.83mm 4mm BloodandCustard East Sussex Finescale Railway Modelling Finescale Modelling OO HO 18.83mm 4mm BloodandCustard East Sussex Finescale Railway Modelling Finescale Modelling OO HO 18.83mm 4mm BloodandCustard East Sussex Finescale Railway Modelling Finescale Modelling OO HO 18.83mm 4mm BloodandCustard East Sussex Finescale Railway Modelling Finescale Modelling OO HO 18.83mm 4mm BloodandCustard East Sussex Finescale Railway Modelling Finescale Modelling OO HO 18.83mm 4mm BloodandCustard East Sussex Finescale Railway Modelling Finescale Modelling OO HO 18.83mm 4mm BloodandCustard East Sussex Finescale Railway Modelling Finescale Modelling OO HO 18.83mm 4mm BloodandCustard East Sussex Finescale Railway Modelling Finescale Modelling OO HO 18.83mm 4mm BloodandCustard East Sussex Finescale Railway Modelling Finescale Modelling OO HO 18.83mm 4mm BloodandCustard East Sussex Finescale Railway Modelling Finescale Modelling OO HO 18.83mm 4mm BloodandCustard East Sussex Finescale Railway Modelling Finescale Modelling OO HO 18.83mm 4mm BloodandCustard East Sussex Finescale Railway Modelling Finescale Modelling OO HO 18.83mm 4mm BloodandCustard East Sussex Finescale Railway Modelling Finescale Modelling OO HO 18.83mm 4mm BloodandCustard East Sussex Finescale Railway Modelling Finescale Modelling OO HO 18.83mm 4mm BloodandCustard East Sussex Finescale Railway Modelling Finescale Modelling OO HO 18.83mm 4mm BloodandCustard East Sussex Finescale Railway Modelling Finescale Modelling OO HO 18.83mm 4mm BloodandCustard East Sussex Finescale Railway Modelling Finescale Modelling OO HO 18.83mm 4mm BloodandCustard East Sussex Finescale Railway Modelling Finescale Modelling OO HO 18.83mm 4mm BloodandCustard East Sussex Finescale Railway Modelling Finescale Modelling OO HO 18.83mm 4mm BloodandCustard East Sussex Finescale Railway Modelling Finescale Modelling OO HO 18.83mm 4mm BloodandCustard East Sussex Finescale Railway Modelling Finescale Modelling OO HO 18.83mm 4mm BloodandCustard East Sussex Finescale Railway Modelling Finescale Modelling OO HO 18.83mm 4mm BloodandCustard East Sussex Finescale Railway Modelling Finescale Modelling OO HO 18.83mm 4mm BloodandCustard East Sussex Finescale Railway Modelling Finescale Modelling OO HO 18.83mm 4mm BloodandCustard East Sussex Finescale Railway Modelling Finescale Modelling OO HO 18.83mm 4mm BloodandCustard East Sussex Finescale Railway Modelling Finescale Modelling OO HO 18.83mm 4mm BloodandCustard East Sussex Finescale Railway Modelling Finescale Modelling OO HO 18.83mm 4mm BloodandCustard East Sussex Finescale Railway Modelling Finescale Modelling OO HO 18.83mm 4mm BloodandCustard East Sussex Finescale Railway Modelling Finescale Modelling OO HO 18.83mm 4mm BloodandCustard East Sussex Finescale Railway Modelling Finescale Modelling OO HO 18.83mm 4mm BloodandCustard East Sussex Finescale Railway Modelling Finescale Modelling OO HO 18.83mm 4mm BloodandCustard East Sussex Finescale Railway Modelling Finescale Modelling OO HO 18.83mm 4mm BloodandCustard East Sussex Finescale Railway Modelling Finescale Modelling OO HO 18.83mm 4mm BloodandCustard East Sussex Finescale Railway Modelling Finescale Modelling OO HO 18.83mm 4mm BloodandCustard East Sussex Finescale Railway Modelling Finescale Modelling OO HO 18.83mm 4mm BloodandCustard East Sussex Finescale Railway Modelling Finescale Modelling OO HO 18.83mm 4mm BloodandCustard East Sussex Finescale Railway Modelling Finescale Modelling OO HO 18.83mm 4mm BloodandCustard East Sussex Finescale Railway Modelling Finescale Modelling OO HO 18.83mm 4mm BloodandCustard East Sussex Finescale Railway Modelling Finescale Modelling OO HO 18.83mm 4mm BloodandCustard East Sussex Finescale Railway Modelling Finescale Modelling OO HO 18.83mm 4mm BloodandCustard East Sussex Finescale Railway Modelling Finescale Modelling OO HO 18.83mm 4mm BloodandCustard East Sussex Finescale Railway Modelling Finescale Modelling OO HO 18.83mm 4mm BloodandCustard East Sussex Finescale Railway Modelling Finescale Modelling OO HO 18.83mm 4mm BloodandCustard East Sussex Finescale Railway Modelling Finescale Modelling OO HO 18.83mm 4mm BloodandCustard East Sussex Finescale Railway Modelling Finescale Modelling OO HO 18.83mm 4mm BloodandCustard East Sussex Finescale Railway Modelling Finescale Modelling OO HO 18.83mm 4mm BloodandCustard East Sussex Finescale Railway Modelling Finescale Modelling OO HO 18.83mm 4mm BloodandCustard East Sussex Finescale Railway Modelling Finescale Modelling OO HO 18.83mm 4mm BloodandCustard East Sussex Finescale Railway Modelling Finescale Modelling OO HO 18.83mm 4mm BloodandCustard East Sussex Finescale Railway Modelling Finescale Modelling OO HO 18.83mm 4mm BloodandCustard East Sussex Finescale Railway Modelling Finescale Modelling OO HO 18.83mm 4mm BloodandCustard East Sussex Finescale Railway Modelling Finescale Modelling OO HO 18.83mm 4mm BloodandCustard East Sussex Finescale Railway Modelling Finescale Modelling OO HO 18.83mm 4mm BloodandCustard East Sussex Finescale Railway Modelling Finescale Modelling OO HO 18.83mm 4mm BloodandCustard East Sussex Finescale Railway Modelling Finescale Modelling OO HO 18.83mm 4mm BloodandCustard East Sussex Finescale Railway Modelling Finescale Modelling OO HO 18.83mm 4mm BloodandCustard East Sussex Finescale Railway Modelling Finescale Modelling OO HO 18.83mm 4mm BloodandCustard East Sussex Finescale Railway Modelling Finescale Modelling OO HO 18.83mm 4mm BloodandCustard East Sussex Finescale Railway Modelling Finescale Modelling OO HO 18.83mm 4mm BloodandCustard East Sussex Finescale Railway Modelling Finescale Modelling OO HO 18.83mm 4mm BloodandCustard East Sussex Finescale Railway Modelling Finescale Modelling OO HO 18.83mm 4mm BloodandCustard East Sussex Finescale Railway Modelling Finescale Modelling OO HO 18.83mm 4mm BloodandCustard East Sussex Finescale Railway Modelling Finescale Modelling OO HO 18.83mm 4mm BloodandCustard East Sussex Finescale Railway Modelling Finescale Modelling OO HO 18.83mm 4mm BloodandCustard East Sussex Finescale Railway Modelling Finescale Modelling OO HO 18.83mm 4mm BloodandCustard East Sussex Finescale Railway Modelling Finescale Modelling OO HO 18.83mm 4mm BloodandCustard East Sussex Finescale Railway Modelling Finescale Modelling OO HO 18.83mm 4mm BloodandCustard East Sussex Finescale Railway Modelling Finescale Modelling OO HO 18.83mm 4mm BloodandCustard East Sussex Finescale Railway Modelling Finescale Modelling OO HO 18.83mm 4mm BloodandCustard East Sussex Finescale Railway Modelling Finescale Modelling OO HO 18.83mm 4mm BloodandCustard East Sussex Finescale Railway Modelling Finescale Modelling OO HO 18.83mm 4mm BloodandCustard East Sussex Finescale Railway Modelling Finescale Modelling OO HO 18.83mm 4mm BloodandCustard East Sussex Finescale Railway Modelling Finescale Modelling OO HO 18.83mm 4mm BloodandCustard East Sussex Finescale Railway Modelling Finescale Modelling OO HO 18.83mm 4mm BloodandCustard East Sussex Finescale Railway Modelling Finescale Modelling OO HO 18.83mm 4mm BloodandCustard East Sussex Finescale Railway Modelling Finescale Modelling OO HO 18.83mm 4mm BloodandCustard East Sussex Finescale Railway Modelling Finescale Modelling OO HO 18.83mm 4mm BloodandCustard East Sussex Finescale Railway Modelling Finescale Modelling OO HO 18.83mm 4mm BloodandCustard East Sussex Finescale Railway Modelling Finescale Modelling OO HO 18.83mm 4mm BloodandCustard East Sussex Finescale Railway Modelling Finescale Modelling OO HO 18.83mm 4mm BloodandCustard East Sussex Finescale Railway Modelling Finescale Modelling OO HO 18.83mm 4mm BloodandCustard East Sussex Finescale Railway Modelling Finescale Modelling OO HO 18.83mm 4mm BloodandCustard East Sussex Finescale Railway Modelling Finescale Modelling OO HO 18.83mm 4mm BloodandCustard East Sussex Finescale Railway Modelling Finescale Modelling OO HO 18.83mm 4mm BloodandCustard East Sussex Finescale Railway Modelling Finescale Modelling OO HO 18.83mm 4mm BloodandCustard East Sussex Finescale Railway Modelling Finescale Modelling OO HO 18.83mm 4mm BloodandCustard East Sussex Finescale Railway Modelling Finescale Modelling OO HO 18.83mm 4mm BloodandCustard East Sussex Finescale Railway Modelling Finescale Modelling OO HO 18.83mm 4mm BloodandCustard East Sussex Finescale Railway Modelling Finescale Modelling OO HO 18.83mm 4mm BloodandCustard East Sussex Finescale Railway Modelling Finescale Modelling OO HO 18.83mm 4mm BloodandCustard East Sussex Finescale Railway Modelling Finescale Modelling OO HO 18.83mm 4mm BloodandCustard East Sussex Finescale Railway Modelling Finescale Modelling OO HO 18.83mm 4mm BloodandCustard East Sussex Finescale Railway Modelling Finescale Modelling OO HO 18.83mm 4mm BloodandCustard East Sussex Finescale Railway Modelling Finescale Modelling OO HO 18.83mm 4mm BloodandCustard East Sussex Finescale Railway Modelling Finescale Modelling OO HO 18.83mm 4mm BloodandCustard East Sussex Finescale Railway Modelling Finescale Modelling OO HO 18.83mm 4mm BloodandCustard East Sussex Finescale Railway Modelling Finescale Modelling OO HO 18.83mm 4mm BloodandCustard East Sussex Finescale Railway Modelling Finescale Modelling OO HO 18.83mm 4mm BloodandCustard East Sussex Finescale Railway Modelling Finescale Modelling OO HO 18.83mm 4mm BloodandCustard East Sussex Finescale Railway Modelling Finescale Modelling OO HO 18.83mm 4mm BloodandCustard East Sussex Finescale Railway Modelling Finescale Modelling OO HO 18.83mm 4mm BloodandCustard East Sussex Finescale Railway Modelling Finescale Modelling OO HO 18.83mm 4mm BloodandCustard East Sussex Finescale Railway Modelling Finescale Modelling OO HO 18.83mm 4mm BloodandCustard East Sussex Finescale Railway Modelling Finescale Modelling OO HO 18.83mm 4mm BloodandCustard East Sussex Finescale Railway Modelling Finescale Modelling OO HO 18.83mm 4mm BloodandCustard East Sussex Finescale Railway Modelling Finescale Modelling OO HO 18.83mm 4mm BloodandCustard East Sussex Finescale Railway Modelling Finescale Modelling OO HO 18.83mm 4mm BloodandCustard East Sussex Finescale Railway Modelling Finescale Modelling OO HO 18.83mm 4mm BloodandCustard East Sussex Finescale Railway Modelling Finescale Modelling OO HO 18.83mm 4mm BloodandCustard East Sussex Finescale Railway Modelling Finescale Modelling OO HO 18.83mm 4mm BloodandCustard East Sussex Finescale Railway Modelling Finescale Modelling OO HO 18.83mm 4mm BloodandCustard East Sussex Finescale Railway Modelling Finescale Modelling OO HO 18.83mm 4mm BloodandCustard East Sussex Finescale Railway Modelling Finescale Modelling OO HO 18.83mm 4mm BloodandCustard East Sussex Finescale Railway Modelling Finescale Modelling OO HO 18.83mm 4mm BloodandCustard East Sussex Finescale Railway Modelling Finescale Modelling OO HO 18.83mm 4mm BloodandCustard East Sussex Finescale Railway Modelling Finescale Modelling OO HO 18.83mm 4mm BloodandCustard East Sussex Finescale Railway Modelling Finescale Modelling OO HO 18.83mm 4mm BloodandCustard East Sussex Finescale Railway Modelling Finescale Modelling OO HO 18.83mm 4mm BloodandCustard East Sussex Finescale Railway Modelling Finescale Modelling OO HO 18.83mm 4mm BloodandCustard East Sussex Finescale Railway Modelling Finescale Modelling OO HO 18.83mm 4mm BloodandCustard East Sussex Finescale Railway Modelling Finescale Modelling OO HO 18.83mm 4mm BloodandCustard East Sussex Finescale Railway Modelling Finescale Modelling OO HO 18.83mm 4mm BloodandCustard East Sussex Finescale Railway Modelling Finescale Modelling OO HO 18.83mm 4mm BloodandCustard East Sussex Finescale Railway Modelling Finescale Modelling OO HO 18.83mm 4mm BloodandCustard East Sussex Finescale Railway Modelling Finescale Modelling OO HO 18.83mm 4mm BloodandCustard East Sussex Finescale Railway Modelling Finescale Modelling OO HO 18.83mm 4mm BloodandCustard East Sussex Finescale Railway Modelling Finescale Modelling OO HO 18.83mm 4mm BloodandCustard East Sussex Finescale Railway Modelling Finescale Modelling OO HO 18.83mm 4mm BloodandCustard East Sussex Finescale Railway Modelling Finescale Modelling OO HO 18.83mm 4mm BloodandCustard East Sussex Finescale Railway Modelling Finescale Modelling OO HO 18.83mm 4mm BloodandCustard East Sussex Finescale Railway Modelling Finescale Modelling OO HO 18.83mm 4mm BloodandCustard East Sussex Finescale Railway Modelling Finescale Modelling OO HO 18.83mm 4mm BloodandCustard East Sussex Finescale Railway Modelling Finescale Modelling OO HO 18.83mm 4mm BloodandCustard East Sussex Finescale Railway Modelling Finescale Modelling OO HO 18.83mm 4mm BloodandCustard East Sussex Finescale Railway Modelling Finescale Modelling OO HO 18.83mm 4mm BloodandCustard East Sussex Finescale Railway Modelling Finescale Modelling OO HO 18.83mm 4mm BloodandCustard East Sussex Finescale Railway Modelling Finescale Modelling OO HO 18.83mm 4mm BloodandCustard East Sussex Finescale Railway Modelling Finescale Modelling OO HO 18.83mm 4mm BloodandCustard East Sussex Finescale Railway Modelling Finescale Modelling OO HO 18.83mm 4mm BloodandCustard East Sussex Finescale Railway Modelling Finescale Modelling OO HO 18.83mm 4mm BloodandCustard East Sussex Finescale Railway Modelling Finescale Modelling OO HO 18.83mm 4mm BloodandCustard East Sussex Finescale Railway Modelling Finescale Modelling OO HO 18.83mm 4mm BloodandCustard East Sussex Finescale Railway Modelling Finescale Modelling OO HO 18.83mm 4mm BloodandCustard East Sussex Finescale Railway Modelling Finescale Modelling OO HO 18.83mm 4mm BloodandCustard East Sussex Finescale Railway Modelling Finescale Modelling OO HO 18.83mm 4mm BloodandCustard East Sussex Finescale Railway Modelling Finescale Modelling OO HO 18.83mm 4mm BloodandCustard East Sussex Finescale Railway Modelling Finescale Modelling OO HO 18.83mmBloodandCustard East Sussex Finescale Railway Modelling Finescale Modelling OO HO 18.83mm 4mm. BloodandCustard East Sussex Finescale Railway Modelling Finescale Modelling OO HO 18.83mm 4mm BloodandCustard East Sussex Finescale Railway Modelling Finescale Modelling OO HO 18.83mm 4mm BloodandCustard East Sussex Finescale Railway Modelling Finescale Modelling OO HO 18.83mm 4mm BloodandCustard East Sussex Finescale Railway Modelling Finescale Modelling OO HO 18.83mm 4mm BloodandCustard East Sussex Finescale Railway Modelling Finescale Modelling OO HO 18.83mm 4mm BloodandCustard East Sussex Finescale Railway Modelling Finescale Modelling OO HO 18.83mm 4mm BloodandCustard East Sussex Finescale Railway Modelling Finescale Modelling OO HO 18.83mm 4mm BloodandCustard East Sussex Finescale Railway Modelling Finescale Modelling OO HO 18.83mm 4mm BloodandCustard East Sussex Finescale Railway Modelling Finescale Modelling OO HO 18.83mm 4mm BloodandCustard East Sussex Finescale Railway Modelling Finescale Modelling OO HO 18.83mm 4mm BloodandCustard East Sussex Finescale Railway Modelling Finescale Modelling OO HO 18.83mm 4mm BloodandCustard East Sussex Finescale Railway Modelling Finescale Modelling OO HO 18.83mm 4mm BloodandCustard East Sussex Finescale Railway Modelling Finescale Modelling OO HO 18.83mm 4mm BloodandCustard East Sussex Finescale Railway Modelling Finescale Modelling OO HO 18.83mm 4mm BloodandCustard East Sussex Finescale Railway Modelling Finescale Modelling OO HO 18.83mm 4mm BloodandCustard East Sussex Finescale Railway Modelling Finescale Modelling OO HO 18.83mm 4mm BloodandCustard East Sussex Finescale Railway Modelling Finescale Modelling OO HO 18.83mm 4mm BloodandCustard East Sussex Finescale Railway Modelling Finescale Modelling OO HO 18.83mm 4mm BloodandCustard East Sussex Finescale Railway Modelling Finescale Modelling OO HO 18.83mm 4mm BloodandCustard East Sussex Finescale Railway Modelling Finescale Modelling OO HO 18.83mm 4mm BloodandCustard East Sussex Finescale Railway Modelling Finescale Modelling OO HO 18.83mm 4mm BloodandCustard East Sussex Finescale Railway Modelling Finescale Modelling OO HO 18.83mm 4mm BloodandCustard East Sussex Finescale Railway Modelling Finescale Modelling OO HO 18.83mm 4mm BloodandCustard East Sussex Finescale Railway Modelling Finescale Modelling OO HO 18.83mm 4mm BloodandCustard East Sussex Finescale Railway Modelling Finescale Modelling OO HO 18.83mm 4mm BloodandCustard East Sussex Finescale Railway Modelling Finescale Modelling OO HO 18.83mm 4mm BloodandCustard East Sussex Finescale Railway Modelling Finescale Modelling OO HO 18.83mm 4mm BloodandCustard East Sussex Finescale Railway Modelling Finescale Modelling OO HO 18.83mm 4mm BloodandCustard East Sussex Finescale Railway Modelling Finescale Modelling OO HO 18.83mm 4mm BloodandCustard East Sussex Finescale Railway Modelling Finescale Modelling OO HO 18.83mm 4mm BloodandCustard East Sussex Finescale Railway Modelling Finescale Modelling OO HO 18.83mm 4mm BloodandCustard East Sussex Finescale Railway Modelling Finescale Modelling OO HO 18.83mm 4mm BloodandCustard East Sussex Finescale Railway Modelling Finescale Modelling OO HO 18.83mm 4mm BloodandCustard East Sussex Finescale Railway Modelling Finescale Modelling OO HO 18.83mm 4mm BloodandCustard East Sussex Finescale Railway Modelling Finescale Modelling OO HO 18.83mm 4mm BloodandCustard East Sussex Finescale Railway Modelling Finescale Modelling OO HO 18.83mm 4mm BloodandCustard East Sussex Finescale Railway Modelling Finescale Modelling OO HO 18.83mm 4mm BloodandCustard East Sussex Finescale Railway Modelling Finescale Modelling OO HO 18.83mm 4mm BloodandCustard East Sussex Finescale Railway Modelling Finescale Modelling OO HO 18.83mm 4mm BloodandCustard East Sussex Finescale Railway Modelling Finescale Modelling OO HO 18.83mm 4mm BloodandCustard East Sussex Finescale Railway Modelling Finescale Modelling OO HO 18.83mm 4mm BloodandCustard East Sussex Finescale Railway Modelling Finescale Modelling OO HO 18.83mm 4mm BloodandCustard East Sussex Finescale Railway Modelling Finescale Modelling OO HO 18.83mm 4mm BloodandCustard East Sussex Finescale Railway Modelling Finescale Modelling OO HO 18.83mm 4mm BloodandCustard East Sussex Finescale Railway Modelling Finescale Modelling OO HO 18.83mm 4mm BloodandCustard East Sussex Finescale Railway Modelling Finescale Modelling OO HO 18.83mm 4mm BloodandCustard East Sussex Finescale Railway Modelling Finescale Modelling OO HO 18.83mm 4mm BloodandCustard East Sussex Finescale Railway Modelling Finescale Modelling OO HO 18.83mm 4mm BloodandCustard East Sussex Finescale Railway Modelling Finescale Modelling OO HO 18.83mm 4mm BloodandCustard East Sussex Finescale Railway Modelling Finescale Modelling OO HO 18.83mm 4mm BloodandCustard East Sussex Finescale Railway Modelling Finescale Modelling OO HO 18.83mm 4mm BloodandCustard East Sussex Finescale Railway Modelling Finescale Modelling OO HO 18.83mm 4mm BloodandCustard East Sussex Finescale Railway Modelling Finescale Modelling OO HO 18.83mm 4mm BloodandCustard East Sussex Finescale Railway Modelling Finescale Modelling OO HO 18.83mm 4mm BloodandCustard East Sussex Finescale Railway Modelling Finescale Modelling OO HO 18.83mm 4mm BloodandCustard East Sussex Finescale Railway Modelling Finescale Modelling OO HO 18.83mm 4mm BloodandCustard East Sussex Finescale Railway Modelling Finescale Modelling OO HO 18.83mm 4mm BloodandCustard East Sussex Finescale Railway Modelling Finescale Modelling OO HO 18.83mm 4mm BloodandCustard East Sussex Finescale Railway Modelling Finescale Modelling OO HO 18.83mm 4mm BloodandCustard East Sussex Finescale Railway Modelling Finescale Modelling OO HO 18.83mm 4mm BloodandCustard East Sussex Finescale Railway Modelling Finescale Modelling OO HO 18.83mm 4mm BloodandCustard East Sussex Finescale Railway Modelling Finescale Modelling OO HO 18.83mm 4mm BloodandCustard East Sussex Finescale Railway Modelling Finescale Modelling OO HO 18.83mm 4mm BloodandCustard East Sussex Finescale Railway Modelling Finescale Modelling OO HO 18.83mm 4mm BloodandCustard East Sussex Finescale Railway Modelling Finescale Modelling OO HO 18.83mm 4mm BloodandCustard East Sussex Finescale Railway Modelling Finescale Modelling OO HO 18.83mm 4mm BloodandCustard East Sussex Finescale Railway Modelling Finescale Modelling OO HO 18.83mm 4mm BloodandCustard East Sussex Finescale Railway Modelling Finescale Modelling OO HO 18.83mm 4mm BloodandCustard East Sussex Finescale Railway Modelling Finescale Modelling OO HO 18.83mm 4mm BloodandCustard East Sussex Finescale Railway Modelling Finescale Modelling OO HO 18.83mm 4mm BloodandCustard East Sussex Finescale Railway Modelling Finescale Modelling OO HO 18.83mm 4mm BloodandCustard East Sussex Finescale Railway Modelling Finescale Modelling OO HO 18.83mm 4mm BloodandCustard East Sussex Finescale Railway Modelling Finescale Modelling OO HO 18.83mm 4mm BloodandCustard East Sussex Finescale Railway Modelling Finescale Modelling OO HO 18.83mm 4mm BloodandCustard East Sussex Finescale Railway Modelling Finescale Modelling OO HO 18.83mm 4mm BloodandCustard East Sussex Finescale Railway Modelling Finescale Modelling OO HO 18.83mm 4mm BloodandCustard East Sussex Finescale Railway Modelling Finescale Modelling OO HO 18.83mm 4mm BloodandCustard East Sussex Finescale Railway Modelling Finescale Modelling OO HO 18.83mm 4mm BloodandCustard East Sussex Finescale Railway Modelling Finescale Modelling OO HO 18.83mm 4mm BloodandCustard East Sussex Finescale Railway Modelling Finescale Modelling OO HO 18.83mm 4mm BloodandCustard East Sussex Finescale Railway Modelling Finescale Modelling OO HO 18.83mm 4mm BloodandCustard East Sussex Finescale Railway Modelling Finescale Modelling OO HO 18.83mm 4mm BloodandCustard East Sussex Finescale Railway Modelling Finescale Modelling OO HO 18.83mm 4mm BloodandCustard East Sussex Finescale Railway Modelling Finescale Modelling OO HO 18.83mm 4mm BloodandCustard East Sussex Finescale Railway Modelling Finescale Modelling OO HO 18.83mm 4mm BloodandCustard East Sussex Finescale Railway Modelling Finescale Modelling OO HO 18.83mm 4mm BloodandCustard East Sussex Finescale Railway Modelling Finescale Modelling OO HO 18.83mm 4mm BloodandCustard East Sussex Finescale Railway Modelling Finescale Modelling OO HO 18.83mm 4mm BloodandCustard East Sussex Finescale Railway Modelling Finescale Modelling OO HO 18.83mm 4mm BloodandCustard East Sussex Finescale Railway Modelling Finescale Modelling OO HO 18.83mm 4mm BloodandCustard East Sussex Finescale Railway Modelling Finescale Modelling OO HO 18.83mm 4mm BloodandCustard East Sussex Finescale Railway Modelling Finescale Modelling OO HO 18.83mm 4mm BloodandCustard East Sussex Finescale Railway Modelling Finescale Modelling OO HO 18.83mm 4mm BloodandCustard East Sussex Finescale Railway Modelling Finescale Modelling OO HO 18.83mm 4mm BloodandCustard East Sussex Finescale Railway Modelling Finescale Modelling OO HO 18.83mm 4mm BloodandCustard East Sussex Finescale Railway Modelling Finescale Modelling OO HO 18.83mm 4mm BloodandCustard East Sussex Finescale Railway Modelling Finescale Modelling OO HO 18.83mm 4mm BloodandCustard East Sussex Finescale Railway Modelling Finescale Modelling OO HO 18.83mm 4mm BloodandCustard East Sussex Finescale Railway Modelling Finescale Modelling OO HO 18.83mm 4mm BloodandCustard East Sussex Finescale Railway Modelling Finescale Modelling OO HO 18.83mm 4mm BloodandCustard East Sussex Finescale Railway Modelling Finescale Modelling OO HO 18.83mm 4mm BloodandCustard East Sussex Finescale Railway Modelling Finescale Modelling OO HO 18.83mm 4mm BloodandCustard East Sussex Finescale Railway Modelling Finescale Modelling OO HO 18.83mm 4mm BloodandCustard East Sussex Finescale Railway Modelling Finescale Modelling OO HO 18.83mm 4mm BloodandCustard East Sussex Finescale Railway Modelling Finescale Modelling OO HO 18.83mm 4mm BloodandCustard East Sussex Finescale Railway Modelling Finescale Modelling OO HO 18.83mm 4mm BloodandCustard East Sussex Finescale Railway Modelling Finescale Modelling OO HO 18.83mm 4mm BloodandCustard East Sussex Finescale Railway Modelling Finescale Modelling OO HO 18.83mm 4mm BloodandCustard East Sussex Finescale Railway Modelling Finescale Modelling OO HO 18.83mm 4mm BloodandCustard East Sussex Finescale Railway Modelling Finescale Modelling OO HO 18.83mm 4mm BloodandCustard East Sussex Finescale Railway Modelling Finescale Modelling OO HO 18.83mm 4mm BloodandCustard East Sussex Finescale Railway Modelling Finescale Modelling OO HO 18.83mm 4mm BloodandCustard East Sussex Finescale Railway Modelling Finescale Modelling OO HO 18.83mm 4mm BloodandCustard East Sussex Finescale Railway Modelling Finescale Modelling OO HO 18.83mm 4mm BloodandCustard East Sussex Finescale Railway Modelling Finescale Modelling OO HO 18.83mm 4mm BloodandCustard East Sussex Finescale Railway Modelling Finescale Modelling OO HO 18.83mm 4mm BloodandCustard East Sussex Finescale Railway Modelling Finescale Modelling OO HO 18.83mm 4mm BloodandCustard East Sussex Finescale Railway Modelling Finescale Modelling OO HO 18.83mm 4mm BloodandCustard East Sussex Finescale Railway Modelling Finescale Modelling OO HO 18.83mm 4mm BloodandCustard East Sussex Finescale Railway Modelling Finescale Modelling OO HO 18.83mm 4mm BloodandCustard East Sussex Finescale Railway Modelling Finescale Modelling OO HO 18.83mm 4mm BloodandCustard East Sussex Finescale Railway Modelling Finescale Modelling OO HO 18.83mm 4mm BloodandCustard East Sussex Finescale Railway Modelling Finescale Modelling OO HO 18.83mm 4mm BloodandCustard East Sussex Finescale Railway Modelling Finescale Modelling OO HO 18.83mm 4mm BloodandCustard East Sussex Finescale Railway Modelling Finescale Modelling OO HO 18.83mm 4mm BloodandCustard East Sussex Finescale Railway Modelling Finescale Modelling OO HO 18.83mm 4mm BloodandCustard East Sussex Finescale Railway Modelling Finescale Modelling OO HO 18.83mm 4mm BloodandCustard East Sussex Finescale Railway Modelling Finescale Modelling OO HO 18.83mm 4mm BloodandCustard East Sussex Finescale Railway Modelling Finescale Modelling OO HO 18.83mm 4mm BloodandCustard East Sussex Finescale Railway Modelling Finescale Modelling OO HO 18.83mm 4mm BloodandCustard East Sussex Finescale Railway Modelling Finescale Modelling OO HO 18.83mm 4mm BloodandCustard East Sussex Finescale Railway Modelling Finescale Modelling OO HO 18.83mm 4mm BloodandCustard East Sussex Finescale Railway Modelling Finescale Modelling OO HO 18.83mm 4mm BloodandCustard East Sussex Finescale Railway Modelling Finescale Modelling OO HO 18.83mm 4mm BloodandCustard East Sussex Finescale Railway Modelling Finescale Modelling OO HO 18.83mm 4mm BloodandCustard East Sussex Finescale Railway Modelling Finescale Modelling OO HO 18.83mm 4mm BloodandCustard East Sussex Finescale Railway Modelling Finescale Modelling OO HO 18.83mm 4mm BloodandCustard East Sussex Finescale Railway Modelling Finescale Modelling OO HO 18.83mm 4mm BloodandCustard East Sussex Finescale Railway Modelling Finescale Modelling OO HO 18.83mm 4mm BloodandCustard East Sussex Finescale Railway Modelling Finescale Modelling OO HO 18.83mm 4mm BloodandCustard East Sussex Finescale Railway Modelling Finescale Modelling OO HO 18.83mm 4mm BloodandCustard East Sussex Finescale Railway Modelling Finescale Modelling OO HO 18.83mm 4mm BloodandCustard East Sussex Finescale Railway Modelling Finescale Modelling OO HO 18.83mm 4mm BloodandCustard East Sussex Finescale Railway Modelling Finescale Modelling OO HO 18.83mm 4mm BloodandCustard East Sussex Finescale Railway Modelling Finescale Modelling OO HO 18.83mm 4mm BloodandCustard East Sussex Finescale Railway Modelling Finescale Modelling OO HO 18.83mm 4mm BloodandCustard East Sussex Finescale Railway Modelling Finescale Modelling OO HO 18.83mm 4mm BloodandCustard East Sussex Finescale Railway Modelling Finescale Modelling OO HO 18.83mm 4mm BloodandCustard East Sussex Finescale Railway Modelling Finescale Modelling OO HO 18.83mm 4mm BloodandCustard East Sussex Finescale Railway Modelling Finescale Modelling OO HO 18.83mm 4mm BloodandCustard East Sussex Finescale Railway Modelling Finescale Modelling OO HO 18.83mm 4mm BloodandCustard East Sussex Finescale Railway Modelling Finescale Modelling OO HO 18.83mm 4mm BloodandCustard East Sussex Finescale Railway Modelling Finescale Modelling OO HO 18.83mm 4mm BloodandCustard East Sussex Finescale Railway Modelling Finescale Modelling OO HO 18.83mm 4mm BloodandCustard East Sussex Finescale Railway Modelling Finescale Modelling OO HO 18.83mm 4mm BloodandCustard East Sussex Finescale Railway Modelling Finescale Modelling OO HO 18.83mm 4mm BloodandCustard East Sussex Finescale Railway Modelling Finescale Modelling OO HO 18.83mm 4mm BloodandCustard East Sussex Finescale Railway Modelling Finescale Modelling OO HO 18.83mm 4mm BloodandCustard East Sussex Finescale Railway Modelling Finescale Modelling OO HO 18.83mm 4mm BloodandCustard East Sussex Finescale Railway Modelling Finescale Modelling OO HO 18.83mm 4mm BloodandCustard East Sussex Finescale Railway Modelling Finescale Modelling OO HO 18.83mm 4mm BloodandCustard East Sussex Finescale Railway Modelling Finescale Modelling OO HO 18.83mm 4mm BloodandCustard East Sussex Finescale Railway Modelling Finescale Modelling OO HO 18.83mm 4mm BloodandCustard East Sussex Finescale Railway Modelling Finescale Modelling OO HO 18.83mm 4mm BloodandCustard East Sussex Finescale Railway Modelling Finescale Modelling OO HO 18.83mm 4mm BloodandCustard East Sussex Finescale Railway Modelling Finescale Modelling OO HO 18.83mm 4mm BloodandCustard East Sussex Finescale Railway Modelling Finescale Modelling OO HO 18.83mm 4mm BloodandCustard East Sussex Finescale Railway Modelling Finescale Modelling OO HO 18.83mm 4mm BloodandCustard East Sussex Finescale Railway Modelling Finescale Modelling OO HO 18.83mm 4mm BloodandCustard East Sussex Finescale Railway Modelling Finescale Modelling OO HO 18.83mm 4mm BloodandCustard East Sussex Finescale Railway Modelling Finescale Modelling OO HO 18.83mm 4mm BloodandCustard East Sussex Finescale Railway Modelling Finescale Modelling OO HO 18.83mm 4mm BloodandCustard East Sussex Finescale Railway Modelling Finescale Modelling OO HO 18.83mm 4mm BloodandCustard East Sussex Finescale Railway Modelling Finescale Modelling OO HO 18.83mm 4mm BloodandCustard East Sussex Finescale Railway Modelling Finescale Modelling OO HO 18.83mm 4mm BloodandCustard East Sussex Finescale Railway Modelling Finescale Modelling OO HO 18.83mm 4mm BloodandCustard East Sussex Finescale Railway Modelling Finescale Modelling OO HO 18.83mm 4mm BloodandCustard East Sussex Finescale Railway Modelling Finescale Modelling OO HO 18.83mm 4mm BloodandCustard East Sussex Finescale Railway Modelling Finescale Modelling OO HO 18.83mm 4mm BloodandCustard East Sussex Finescale Railway Modelling Finescale Modelling OO HO 18.83mm 4mm BloodandCustard East Sussex Finescale Railway Modelling Finescale Modelling OO HO 18.83mm 4mm BloodandCustard East Sussex Finescale Railway Modelling Finescale Modelling OO HO 18.83mm 4mm BloodandCustard East Sussex Finescale Railway Modelling Finescale Modelling OO HO 18.83mm 4mm BloodandCustard East Sussex Finescale Railway Modelling Finescale Modelling OO HO 18.83mm 4mm BloodandCustard East Sussex Finescale Railway Modelling Finescale Modelling OO HO 18.83mm 4mm BloodandCustard East Sussex Finescale Railway Modelling Finescale Modelling OO HO 18.83mm 4mm BloodandCustard East Sussex Finescale Railway Modelling Finescale Modelling OO HO 18.83mm 4mm BloodandCustard East Sussex Finescale Railway Modelling Finescale Modelling OO HO 18.83mm 4mm BloodandCustard East Sussex Finescale Railway Modelling Finescale Modelling OO HO 18.83mm 4mm BloodandCustard East Sussex Finescale Railway Modelling Finescale Modelling OO HO 18.83mm 4mm BloodandCustard East Sussex Finescale Railway Modelling Finescale Modelling OO HO 18.83mm 4mm BloodandCustard East Sussex Finescale Railway Modelling Finescale Modelling OO HO 18.83mm 4mm BloodandCustard East Sussex Finescale Railway Modelling Finescale Modelling OO HO 18.83mm 4mm BloodandCustard East Sussex Finescale Railway Modelling Finescale Modelling OO HO 18.83mm 4mm BloodandCustard East Sussex Finescale Railway Modelling Finescale Modelling OO HO 18.83mm 4mm BloodandCustard East Sussex Finescale Railway Modelling Finescale Modelling OO HO 18.83mm 4mm BloodandCustard East Sussex Finescale Railway Modelling Finescale Modelling OO HO 18.83mm 4mm BloodandCustard East Sussex Finescale Railway Modelling Finescale Modelling OO HO 18.83mm 4mm BloodandCustard East Sussex Finescale Railway Modelling Finescale Modelling OO HO 18.83mm 4mm BloodandCustard East Sussex Finescale Railway Modelling Finescale Modelling OO HO 18.83mm 4mm BloodandCustard East Sussex Finescale Railway Modelling Finescale Modelling OO HO 18.83mm 4mm BloodandCustard East Sussex Finescale Railway Modelling Finescale Modelling OO HO 18.83mm 4mm BloodandCustard East Sussex Finescale Railway Modelling Finescale Modelling OO HO 18.83mm 4mm BloodandCustard East Sussex Finescale Railway Modelling Finescale Modelling OO HO 18.83mm 4mm BloodandCustard East Sussex Finescale Railway Modelling Finescale Modelling OO HO 18.83mm 4mm BloodandCustard East Sussex Finescale Railway Modelling Finescale Modelling OO HO 18.83mm 4mm BloodandCustard East Sussex Finescale Railway Modelling Finescale Modelling OO HO 18.83mm 4mm BloodandCustard East Sussex Finescale Railway Modelling Finescale Modelling OO HO 18.83mm 4mm BloodandCustard East Sussex Finescale Railway Modelling Finescale Modelling OO HO 18.83mm 4mm BloodandCustard East Sussex Finescale Railway Modelling Finescale Modelling OO HO 18.83mm 4mm BloodandCustard East Sussex Finescale Railway Modelling Finescale Modelling OO HO 18.83mm 4mm BloodandCustard East Sussex Finescale Railway Modelling Finescale Modelling OO HO 18.83mm 4mm BloodandCustard East Sussex Finescale Railway Modelling Finescale Modelling OO HO 18.83mm 4mm BloodandCustard East Sussex Finescale Railway Modelling Finescale Modelling OO HO 18.83mm 4mm BloodandCustard East Sussex Finescale Railway Modelling Finescale Modelling OO HO 18.83mm 4mm BloodandCustard East Sussex Finescale Railway Modelling Finescale Modelling OO HO 18.83mm 4mm BloodandCustard East Sussex Finescale Railway Modelling Finescale Modelling OO HO 18.83mm 4mm BloodandCustard East Sussex Finescale Railway Modelling Finescale Modelling OO HO 18.83mm 4mm BloodandCustard East Sussex Finescale Railway Modelling Finescale Modelling OO HO 18.83mm 4mm BloodandCustard East Sussex Finescale Railway Modelling Finescale Modelling OO HO 18.83mm 4mm BloodandCustard East Sussex Finescale Railway Modelling Finescale Modelling OO HO 18.83mm 4mm BloodandCustard East Sussex Finescale Railway Modelling Finescale Modelling OO HO 18.83mm 4mm BloodandCustard East Sussex Finescale Railway Modelling Finescale Modelling OO HO 18.83mm 4mm BloodandCustard East Sussex Finescale Railway Modelling Finescale Modelling OO HO 18.83mm 4mm BloodandCustard East Sussex Finescale Railway Modelling Finescale Modelling OO HO 18.83mm 4mm BloodandCustard East Sussex Finescale Railway Modelling Finescale Modelling OO HO 18.83mm 4mm BloodandCustard East Sussex Finescale Railway Modelling Finescale Modelling OO HO 18.83mm 4mm BloodandCustard East Sussex Finescale Railway Modelling Finescale Modelling OO HO 18.83mm 4mm BloodandCustard East Sussex Finescale Railway Modelling Finescale Modelling OO HO 18.83mm 4mm BloodandCustard East Sussex Finescale Railway Modelling Finescale Modelling OO HO 18.83mm 4mm BloodandCustard East Sussex Finescale Railway Modelling Finescale Modelling OO HO 18.83mm 4mm BloodandCustard East Sussex Finescale Railway Modelling Finescale Modelling OO HO 18.83mm 4mm BloodandCustard East Sussex Finescale Railway Modelling Finescale Modelling OO HO 18.83mm 4mm BloodandCustard East Sussex Finescale Railway Modelling Finescale Modelling OO HO 18.83mm 4mm BloodandCustard East Sussex Finescale Railway Modelling Finescale Modelling OO HO 18.83mm 4mm BloodandCustard East Sussex Finescale Railway Modelling Finescale Modelling OO HO 18.83mm 4mm BloodandCustard East Sussex Finescale Railway Modelling Finescale Modelling OO HO 18.83mm 4mm BloodandCustard East Sussex Finescale Railway Modelling Finescale Modelling OO HO 18.83mm 4mm BloodandCustard East Sussex Finescale Railway Modelling Finescale Modelling OO HO 18.83mm 4mm BloodandCustard East Sussex Finescale Railway Modelling Finescale Modelling OO HO 18.83mm 4mm BloodandCustard East Sussex Finescale Railway Modelling Finescale Modelling OO HO 18.83mm 4mm BloodandCustard East Sussex Finescale Railway Modelling Finescale Modelling OO HO 18.83mm 4mm BloodandCustard East Sussex Finescale Railway Modelling Finescale Modelling OO HO 18.83mm 4mm BloodandCustard East Sussex Finescale Railway Modelling Finescale Modelling OO HO 18.83mm 4mm BloodandCustard East Sussex Finescale Railway Modelling Finescale Modelling OO HO 18.83mm 4mm BloodandCustard East Sussex Finescale Railway Modelling Finescale Modelling OO HO 18.83mm 4mm BloodandCustard East Sussex Finescale Railway Modelling Finescale Modelling OO HO 18.83mm 4mm BloodandCustard East Sussex Finescale Railway Modelling Finescale Modelling OO HO 18.83mm 4mm BloodandCustard East Sussex Finescale Railway Modelling Finescale Modelling OO HO 18.83mm 4mm BloodandCustard East Sussex Finescale Railway Modelling Finescale Modelling OO HO 18.83mm 4mm BloodandCustard East Sussex Finescale Railway Modelling Finescale Modelling OO HO 18.83mm 4mm BloodandCustard East Sussex Finescale Railway Modelling Finescale Modelling OO HO 18.83mm 4mm BloodandCustard East Sussex Finescale Railway Modelling Finescale Modelling OO HO 18.83mm 4mm BloodandCustard East Sussex Finescale Railway Modelling Finescale Modelling OO HO 18.83mm 4mm BloodandCustard East Sussex Finescale Railway Modelling Finescale Modelling OO HO 18.83mm 4mm BloodandCustard East Sussex Finescale Railway Modelling Finescale Modelling OO HO 18.83mm 4mm BloodandCustard East Sussex Finescale Railway Modelling Finescale Modelling OO HO 18.83mm 4mm BloodandCustard East Sussex Finescale Railway Modelling Finescale Modelling OO HO 18.83mm 4mm BloodandCustard East Sussex Finescale Railway Modelling Finescale Modelling OO HO 18.83mm 4mm BloodandCustard East Sussex Finescale Railway Modelling Finescale Modelling OO HO 18.83mm 4mm BloodandCustard East Sussex Finescale Railway Modelling Finescale Modelling OO HO 18.83mm 4mm BloodandCustard East Sussex Finescale Railway Modelling Finescale Modelling OO HO 18.83mm 4mm BloodandCustard East Sussex Finescale Railway Modelling Finescale Modelling OO HO 18.83mm 4mm BloodandCustard East Sussex Finescale Railway Modelling Finescale Modelling OO HO 18.83mm 4mm BloodandCustard East Sussex Finescale Railway Modelling Finescale Modelling OO HO 18.83mm 4mm BloodandCustard East Sussex Finescale Railway Modelling Finescale Modelling OO HO 18.83mm 4mm BloodandCustard East Sussex Finescale Railway Modelling Finescale Modelling OO HO 18.83mm 4mm BloodandCustard East Sussex Finescale Railway Modelling Finescale Modelling OO HO 18.83mm 4mm BloodandCustard East Sussex Finescale Railway Modelling Finescale Modelling OO HO 18.83mm 4mm BloodandCustard East Sussex Finescale Railway Modelling Finescale Modelling OO HO 18.83mm 4mm BloodandCustard East Sussex Finescale Railway Modelling Finescale Modelling OO HO 18.83mm 4mm BloodandCustard East Sussex Finescale Railway Modelling Finescale Modelling OO HO 18.83mm 4mm BloodandCustard East Sussex Finescale Railway Modelling Finescale Modelling OO HO 18.83mm 4mm BloodandCustard East Sussex Finescale Railway Modelling Finescale Modelling OO HO 18.83mm 4mm BloodandCustard East Sussex Finescale Railway Modelling Finescale Modelling OO HO 18.83mm 4mm BloodandCustard East Sussex Finescale Railway Modelling Finescale Modelling OO HO 18.83mmBloodandCustard East Sussex Finescale Railway Modelling Finescale Modelling OO HO 18.83mm 4mm. BloodandCustard East Sussex Finescale Railway Modelling Finescale Modelling OO HO 18.83mm 4mm BloodandCustard East Sussex Finescale Railway Modelling Finescale Modelling OO HO 18.83mm 4mm BloodandCustard East Sussex Finescale Railway Modelling Finescale Modelling OO HO 18.83mm 4mm BloodandCustard East Sussex Finescale Railway Modelling Finescale Modelling OO HO 18.83mm 4mm BloodandCustard East Sussex Finescale Railway Modelling Finescale Modelling OO HO 18.83mm 4mm BloodandCustard East Sussex Finescale Railway Modelling Finescale Modelling OO HO 18.83mm 4mm BloodandCustard East Sussex Finescale Railway Modelling Finescale Modelling OO HO 18.83mm 4mm BloodandCustard East Sussex Finescale Railway Modelling Finescale Modelling OO HO 18.83mm 4mm BloodandCustard East Sussex Finescale Railway Modelling Finescale Modelling OO HO 18.83mm 4mm BloodandCustard East Sussex Finescale Railway Modelling Finescale Modelling OO HO 18.83mm 4mm BloodandCustard East Sussex Finescale Railway Modelling Finescale Modelling OO HO 18.83mm 4mm BloodandCustard East Sussex Finescale Railway Modelling Finescale Modelling OO HO 18.83mm 4mm BloodandCustard East Sussex Finescale Railway Modelling Finescale Modelling OO HO 18.83mm 4mm BloodandCustard East Sussex Finescale Railway Modelling Finescale Modelling OO HO 18.83mm 4mm BloodandCustard East Sussex Finescale Railway Modelling Finescale Modelling OO HO 18.83mm 4mm BloodandCustard East Sussex Finescale Railway Modelling Finescale Modelling OO HO 18.83mm 4mm BloodandCustard East Sussex Finescale Railway Modelling Finescale Modelling OO HO 18.83mm 4mm BloodandCustard East Sussex Finescale Railway Modelling Finescale Modelling OO HO 18.83mm 4mm BloodandCustard East Sussex Finescale Railway Modelling Finescale Modelling OO HO 18.83mm 4mm BloodandCustard East Sussex Finescale Railway Modelling Finescale Modelling OO HO 18.83mm 4mm BloodandCustard East Sussex Finescale Railway Modelling Finescale Modelling OO HO 18.83mm 4mm BloodandCustard East Sussex Finescale Railway Modelling Finescale Modelling OO HO 18.83mm 4mm BloodandCustard East Sussex Finescale Railway Modelling Finescale Modelling OO HO 18.83mm 4mm BloodandCustard East Sussex Finescale Railway Modelling Finescale Modelling OO HO 18.83mm 4mm BloodandCustard East Sussex Finescale Railway Modelling Finescale Modelling OO HO 18.83mm 4mm BloodandCustard East Sussex Finescale Railway Modelling Finescale Modelling OO HO 18.83mm 4mm BloodandCustard East Sussex Finescale Railway Modelling Finescale Modelling OO HO 18.83mm 4mm BloodandCustard East Sussex Finescale Railway Modelling Finescale Modelling OO HO 18.83mm 4mm BloodandCustard East Sussex Finescale Railway Modelling Finescale Modelling OO HO 18.83mm 4mm BloodandCustard East Sussex Finescale Railway Modelling Finescale Modelling OO HO 18.83mm 4mm BloodandCustard East Sussex Finescale Railway Modelling Finescale Modelling OO HO 18.83mm 4mm BloodandCustard East Sussex Finescale Railway Modelling Finescale Modelling OO HO 18.83mm 4mm BloodandCustard East Sussex Finescale Railway Modelling Finescale Modelling OO HO 18.83mm 4mm BloodandCustard East Sussex Finescale Railway Modelling Finescale Modelling OO HO 18.83mm 4mm BloodandCustard East Sussex Finescale Railway Modelling Finescale Modelling OO HO 18.83mm 4mm BloodandCustard East Sussex Finescale Railway Modelling Finescale Modelling OO HO 18.83mm 4mm BloodandCustard East Sussex Finescale Railway Modelling Finescale Modelling OO HO 18.83mm 4mm BloodandCustard East Sussex Finescale Railway Modelling Finescale Modelling OO HO 18.83mm 4mm BloodandCustard East Sussex Finescale Railway Modelling Finescale Modelling OO HO 18.83mm 4mm BloodandCustard East Sussex Finescale Railway Modelling Finescale Modelling OO HO 18.83mm 4mm BloodandCustard East Sussex Finescale Railway Modelling Finescale Modelling OO HO 18.83mm 4mm BloodandCustard East Sussex Finescale Railway Modelling Finescale Modelling OO HO 18.83mm 4mm BloodandCustard East Sussex Finescale Railway Modelling Finescale Modelling OO HO 18.83mm 4mm BloodandCustard East Sussex Finescale Railway Modelling Finescale Modelling OO HO 18.83mm 4mm BloodandCustard East Sussex Finescale Railway Modelling Finescale Modelling OO HO 18.83mm 4mm BloodandCustard East Sussex Finescale Railway Modelling Finescale Modelling OO HO 18.83mm 4mm BloodandCustard East Sussex Finescale Railway Modelling Finescale Modelling OO HO 18.83mm 4mm BloodandCustard East Sussex Finescale Railway Modelling Finescale Modelling OO HO 18.83mm 4mm BloodandCustard East Sussex Finescale Railway Modelling Finescale Modelling OO HO 18.83mm 4mm BloodandCustard East Sussex Finescale Railway Modelling Finescale Modelling OO HO 18.83mm 4mm BloodandCustard East Sussex Finescale Railway Modelling Finescale Modelling OO HO 18.83mm 4mm BloodandCustard East Sussex Finescale Railway Modelling Finescale Modelling OO HO 18.83mm 4mm BloodandCustard East Sussex Finescale Railway Modelling Finescale Modelling OO HO 18.83mm 4mm BloodandCustard East Sussex Finescale Railway Modelling Finescale Modelling OO HO 18.83mm 4mm BloodandCustard East Sussex Finescale Railway Modelling Finescale Modelling OO HO 18.83mm 4mm BloodandCustard East Sussex Finescale Railway Modelling Finescale Modelling OO HO 18.83mm 4mm BloodandCustard East Sussex Finescale Railway Modelling Finescale Modelling OO HO 18.83mm 4mm BloodandCustard East Sussex Finescale Railway Modelling Finescale Modelling OO HO 18.83mm 4mm BloodandCustard East Sussex Finescale Railway Modelling Finescale Modelling OO HO 18.83mm 4mm BloodandCustard East Sussex Finescale Railway Modelling Finescale Modelling OO HO 18.83mm 4mm BloodandCustard East Sussex Finescale Railway Modelling Finescale Modelling OO HO 18.83mm 4mm BloodandCustard East Sussex Finescale Railway Modelling Finescale Modelling OO HO 18.83mm 4mm BloodandCustard East Sussex Finescale Railway Modelling Finescale Modelling OO HO 18.83mm 4mm BloodandCustard East Sussex Finescale Railway Modelling Finescale Modelling OO HO 18.83mm 4mm BloodandCustard East Sussex Finescale Railway Modelling Finescale Modelling OO HO 18.83mm 4mm BloodandCustard East Sussex Finescale Railway Modelling Finescale Modelling OO HO 18.83mm 4mm BloodandCustard East Sussex Finescale Railway Modelling Finescale Modelling OO HO 18.83mm 4mm BloodandCustard East Sussex Finescale Railway Modelling Finescale Modelling OO HO 18.83mm 4mm BloodandCustard East Sussex Finescale Railway Modelling Finescale Modelling OO HO 18.83mm 4mm BloodandCustard East Sussex Finescale Railway Modelling Finescale Modelling OO HO 18.83mm 4mm BloodandCustard East Sussex Finescale Railway Modelling Finescale Modelling OO HO 18.83mm 4mm BloodandCustard East Sussex Finescale Railway Modelling Finescale Modelling OO HO 18.83mm 4mm BloodandCustard East Sussex Finescale Railway Modelling Finescale Modelling OO HO 18.83mm 4mm BloodandCustard East Sussex Finescale Railway Modelling Finescale Modelling OO HO 18.83mm 4mm BloodandCustard East Sussex Finescale Railway Modelling Finescale Modelling OO HO 18.83mm 4mm BloodandCustard East Sussex Finescale Railway Modelling Finescale Modelling OO HO 18.83mm 4mm BloodandCustard East Sussex Finescale Railway Modelling Finescale Modelling OO HO 18.83mm 4mm BloodandCustard East Sussex Finescale Railway Modelling Finescale Modelling OO HO 18.83mm 4mm BloodandCustard East Sussex Finescale Railway Modelling Finescale Modelling OO HO 18.83mm 4mm BloodandCustard East Sussex Finescale Railway Modelling Finescale Modelling OO HO 18.83mm 4mm BloodandCustard East Sussex Finescale Railway Modelling Finescale Modelling OO HO 18.83mm 4mm BloodandCustard East Sussex Finescale Railway Modelling Finescale Modelling OO HO 18.83mm 4mm BloodandCustard East Sussex Finescale Railway Modelling Finescale Modelling OO HO 18.83mm 4mm BloodandCustard East Sussex Finescale Railway Modelling Finescale Modelling OO HO 18.83mm 4mm BloodandCustard East Sussex Finescale Railway Modelling Finescale Modelling OO HO 18.83mm 4mm BloodandCustard East Sussex Finescale Railway Modelling Finescale Modelling OO HO 18.83mm 4mm BloodandCustard East Sussex Finescale Railway Modelling Finescale Modelling OO HO 18.83mm 4mm BloodandCustard East Sussex Finescale Railway Modelling Finescale Modelling OO HO 18.83mm 4mm BloodandCustard East Sussex Finescale Railway Modelling Finescale Modelling OO HO 18.83mm 4mm BloodandCustard East Sussex Finescale Railway Modelling Finescale Modelling OO HO 18.83mm 4mm BloodandCustard East Sussex Finescale Railway Modelling Finescale Modelling OO HO 18.83mm 4mm BloodandCustard East Sussex Finescale Railway Modelling Finescale Modelling OO HO 18.83mm 4mm BloodandCustard East Sussex Finescale Railway Modelling Finescale Modelling OO HO 18.83mm 4mm BloodandCustard East Sussex Finescale Railway Modelling Finescale Modelling OO HO 18.83mm 4mm BloodandCustard East Sussex Finescale Railway Modelling Finescale Modelling OO HO 18.83mm 4mm BloodandCustard East Sussex Finescale Railway Modelling Finescale Modelling OO HO 18.83mm 4mm BloodandCustard East Sussex Finescale Railway Modelling Finescale Modelling OO HO 18.83mm 4mm BloodandCustard East Sussex Finescale Railway Modelling Finescale Modelling OO HO 18.83mm 4mm BloodandCustard East Sussex Finescale Railway Modelling Finescale Modelling OO HO 18.83mm 4mm BloodandCustard East Sussex Finescale Railway Modelling Finescale Modelling OO HO 18.83mm 4mm BloodandCustard East Sussex Finescale Railway Modelling Finescale Modelling OO HO 18.83mm 4mm BloodandCustard East Sussex Finescale Railway Modelling Finescale Modelling OO HO 18.83mm 4mm BloodandCustard East Sussex Finescale Railway Modelling Finescale Modelling OO HO 18.83mm 4mm BloodandCustard East Sussex Finescale Railway Modelling Finescale Modelling OO HO 18.83mm 4mm BloodandCustard East Sussex Finescale Railway Modelling Finescale Modelling OO HO 18.83mm 4mm BloodandCustard East Sussex Finescale Railway Modelling Finescale Modelling OO HO 18.83mm 4mm BloodandCustard East Sussex Finescale Railway Modelling Finescale Modelling OO HO 18.83mm 4mm BloodandCustard East Sussex Finescale Railway Modelling Finescale Modelling OO HO 18.83mm 4mm BloodandCustard East Sussex Finescale Railway Modelling Finescale Modelling OO HO 18.83mm 4mm BloodandCustard East Sussex Finescale Railway Modelling Finescale Modelling OO HO 18.83mm 4mm BloodandCustard East Sussex Finescale Railway Modelling Finescale Modelling OO HO 18.83mm 4mm BloodandCustard East Sussex Finescale Railway Modelling Finescale Modelling OO HO 18.83mm 4mm BloodandCustard East Sussex Finescale Railway Modelling Finescale Modelling OO HO 18.83mm 4mm BloodandCustard East Sussex Finescale Railway Modelling Finescale Modelling OO HO 18.83mm 4mm BloodandCustard East Sussex Finescale Railway Modelling Finescale Modelling OO HO 18.83mm 4mm BloodandCustard East Sussex Finescale Railway Modelling Finescale Modelling OO HO 18.83mm 4mm BloodandCustard East Sussex Finescale Railway Modelling Finescale Modelling OO HO 18.83mm 4mm BloodandCustard East Sussex Finescale Railway Modelling Finescale Modelling OO HO 18.83mm 4mm BloodandCustard East Sussex Finescale Railway Modelling Finescale Modelling OO HO 18.83mm 4mm BloodandCustard East Sussex Finescale Railway Modelling Finescale Modelling OO HO 18.83mm 4mm BloodandCustard East Sussex Finescale Railway Modelling Finescale Modelling OO HO 18.83mm 4mm BloodandCustard East Sussex Finescale Railway Modelling Finescale Modelling OO HO 18.83mm 4mm BloodandCustard East Sussex Finescale Railway Modelling Finescale Modelling OO HO 18.83mm 4mm BloodandCustard East Sussex Finescale Railway Modelling Finescale Modelling OO HO 18.83mm 4mm BloodandCustard East Sussex Finescale Railway Modelling Finescale Modelling OO HO 18.83mm 4mm BloodandCustard East Sussex Finescale Railway Modelling Finescale Modelling OO HO 18.83mm 4mm BloodandCustard East Sussex Finescale Railway Modelling Finescale Modelling OO HO 18.83mm 4mm BloodandCustard East Sussex Finescale Railway Modelling Finescale Modelling OO HO 18.83mm 4mm BloodandCustard East Sussex Finescale Railway Modelling Finescale Modelling OO HO 18.83mm 4mm BloodandCustard East Sussex Finescale Railway Modelling Finescale Modelling OO HO 18.83mm 4mm BloodandCustard East Sussex Finescale Railway Modelling Finescale Modelling OO HO 18.83mm 4mm BloodandCustard East Sussex Finescale Railway Modelling Finescale Modelling OO HO 18.83mm 4mm BloodandCustard East Sussex Finescale Railway Modelling Finescale Modelling OO HO 18.83mm 4mm BloodandCustard East Sussex Finescale Railway Modelling Finescale Modelling OO HO 18.83mm 4mm BloodandCustard East Sussex Finescale Railway Modelling Finescale Modelling OO HO 18.83mm 4mm BloodandCustard East Sussex Finescale Railway Modelling Finescale Modelling OO HO 18.83mm 4mm BloodandCustard East Sussex Finescale Railway Modelling Finescale Modelling OO HO 18.83mm 4mm BloodandCustard East Sussex Finescale Railway Modelling Finescale Modelling OO HO 18.83mm 4mm BloodandCustard East Sussex Finescale Railway Modelling Finescale Modelling OO HO 18.83mm 4mm BloodandCustard East Sussex Finescale Railway Modelling Finescale Modelling OO HO 18.83mm 4mm BloodandCustard East Sussex Finescale Railway Modelling Finescale Modelling OO HO 18.83mm 4mm BloodandCustard East Sussex Finescale Railway Modelling Finescale Modelling OO HO 18.83mm 4mm BloodandCustard East Sussex Finescale Railway Modelling Finescale Modelling OO HO 18.83mm 4mm BloodandCustard East Sussex Finescale Railway Modelling Finescale Modelling OO HO 18.83mm 4mm BloodandCustard East Sussex Finescale Railway Modelling Finescale Modelling OO HO 18.83mm 4mm BloodandCustard East Sussex Finescale Railway Modelling Finescale Modelling OO HO 18.83mm 4mm BloodandCustard East Sussex Finescale Railway Modelling Finescale Modelling OO HO 18.83mm 4mm BloodandCustard East Sussex Finescale Railway Modelling Finescale Modelling OO HO 18.83mm 4mm BloodandCustard East Sussex Finescale Railway Modelling Finescale Modelling OO HO 18.83mm 4mm BloodandCustard East Sussex Finescale Railway Modelling Finescale Modelling OO HO 18.83mm 4mm BloodandCustard East Sussex Finescale Railway Modelling Finescale Modelling OO HO 18.83mm 4mm BloodandCustard East Sussex Finescale Railway Modelling Finescale Modelling OO HO 18.83mm 4mm BloodandCustard East Sussex Finescale Railway Modelling Finescale Modelling OO HO 18.83mm 4mm BloodandCustard East Sussex Finescale Railway Modelling Finescale Modelling OO HO 18.83mm 4mm BloodandCustard East Sussex Finescale Railway Modelling Finescale Modelling OO HO 18.83mm 4mm BloodandCustard East Sussex Finescale Railway Modelling Finescale Modelling OO HO 18.83mm 4mm BloodandCustard East Sussex Finescale Railway Modelling Finescale Modelling OO HO 18.83mm 4mm BloodandCustard East Sussex Finescale Railway Modelling Finescale Modelling OO HO 18.83mm 4mm BloodandCustard East Sussex Finescale Railway Modelling Finescale Modelling OO HO 18.83mm 4mm BloodandCustard East Sussex Finescale Railway Modelling Finescale Modelling OO HO 18.83mm 4mm BloodandCustard East Sussex Finescale Railway Modelling Finescale Modelling OO HO 18.83mm 4mm BloodandCustard East Sussex Finescale Railway Modelling Finescale Modelling OO HO 18.83mm 4mm BloodandCustard East Sussex Finescale Railway Modelling Finescale Modelling OO HO 18.83mm 4mm BloodandCustard East Sussex Finescale Railway Modelling Finescale Modelling OO HO 18.83mm 4mm BloodandCustard East Sussex Finescale Railway Modelling Finescale Modelling OO HO 18.83mm 4mm BloodandCustard East Sussex Finescale Railway Modelling Finescale Modelling OO HO 18.83mm 4mm BloodandCustard East Sussex Finescale Railway Modelling Finescale Modelling OO HO 18.83mm 4mm BloodandCustard East Sussex Finescale Railway Modelling Finescale Modelling OO HO 18.83mm 4mm BloodandCustard East Sussex Finescale Railway Modelling Finescale Modelling OO HO 18.83mm 4mm BloodandCustard East Sussex Finescale Railway Modelling Finescale Modelling OO HO 18.83mm 4mm BloodandCustard East Sussex Finescale Railway Modelling Finescale Modelling OO HO 18.83mm 4mm BloodandCustard East Sussex Finescale Railway Modelling Finescale Modelling OO HO 18.83mm 4mm BloodandCustard East Sussex Finescale Railway Modelling Finescale Modelling OO HO 18.83mm 4mm BloodandCustard East Sussex Finescale Railway Modelling Finescale Modelling OO HO 18.83mm 4mm BloodandCustard East Sussex Finescale Railway Modelling Finescale Modelling OO HO 18.83mm 4mm BloodandCustard East Sussex Finescale Railway Modelling Finescale Modelling OO HO 18.83mm 4mm BloodandCustard East Sussex Finescale Railway Modelling Finescale Modelling OO HO 18.83mm 4mm BloodandCustard East Sussex Finescale Railway Modelling Finescale Modelling OO HO 18.83mm 4mm BloodandCustard East Sussex Finescale Railway Modelling Finescale Modelling OO HO 18.83mm 4mm BloodandCustard East Sussex Finescale Railway Modelling Finescale Modelling OO HO 18.83mm 4mm BloodandCustard East Sussex Finescale Railway Modelling Finescale Modelling OO HO 18.83mm 4mm BloodandCustard East Sussex Finescale Railway Modelling Finescale Modelling OO HO 18.83mm 4mm BloodandCustard East Sussex Finescale Railway Modelling Finescale Modelling OO HO 18.83mm 4mm BloodandCustard East Sussex Finescale Railway Modelling Finescale Modelling OO HO 18.83mm 4mm BloodandCustard East Sussex Finescale Railway Modelling Finescale Modelling OO HO 18.83mm 4mm BloodandCustard East Sussex Finescale Railway Modelling Finescale Modelling OO HO 18.83mm 4mm BloodandCustard East Sussex Finescale Railway Modelling Finescale Modelling OO HO 18.83mm 4mm BloodandCustard East Sussex Finescale Railway Modelling Finescale Modelling OO HO 18.83mm 4mm BloodandCustard East Sussex Finescale Railway Modelling Finescale Modelling OO HO 18.83mm 4mm BloodandCustard East Sussex Finescale Railway Modelling Finescale Modelling OO HO 18.83mm 4mm BloodandCustard East Sussex Finescale Railway Modelling Finescale Modelling OO HO 18.83mm 4mm BloodandCustard East Sussex Finescale Railway Modelling Finescale Modelling OO HO 18.83mm 4mm BloodandCustard East Sussex Finescale Railway Modelling Finescale Modelling OO HO 18.83mm 4mm BloodandCustard East Sussex Finescale Railway Modelling Finescale Modelling OO HO 18.83mm 4mm BloodandCustard East Sussex Finescale Railway Modelling Finescale Modelling OO HO 18.83mm 4mm BloodandCustard East Sussex Finescale Railway Modelling Finescale Modelling OO HO 18.83mm 4mm BloodandCustard East Sussex Finescale Railway Modelling Finescale Modelling OO HO 18.83mm 4mm BloodandCustard East Sussex Finescale Railway Modelling Finescale Modelling OO HO 18.83mm 4mm BloodandCustard East Sussex Finescale Railway Modelling Finescale Modelling OO HO 18.83mm 4mm BloodandCustard East Sussex Finescale Railway Modelling Finescale Modelling OO HO 18.83mm 4mm BloodandCustard East Sussex Finescale Railway Modelling Finescale Modelling OO HO 18.83mm 4mm BloodandCustard East Sussex Finescale Railway Modelling Finescale Modelling OO HO 18.83mm 4mm BloodandCustard East Sussex Finescale Railway Modelling Finescale Modelling OO HO 18.83mm 4mm BloodandCustard East Sussex Finescale Railway Modelling Finescale Modelling OO HO 18.83mm 4mm BloodandCustard East Sussex Finescale Railway Modelling Finescale Modelling OO HO 18.83mm 4mm BloodandCustard East Sussex Finescale Railway Modelling Finescale Modelling OO HO 18.83mm 4mm BloodandCustard East Sussex Finescale Railway Modelling Finescale Modelling OO HO 18.83mm 4mm BloodandCustard East Sussex Finescale Railway Modelling Finescale Modelling OO HO 18.83mm 4mm BloodandCustard East Sussex Finescale Railway Modelling Finescale Modelling OO HO 18.83mm 4mm BloodandCustard East Sussex Finescale Railway Modelling Finescale Modelling OO HO 18.83mm 4mm BloodandCustard East Sussex Finescale Railway Modelling Finescale Modelling OO HO 18.83mm 4mm BloodandCustard East Sussex Finescale Railway Modelling Finescale Modelling OO HO 18.83mm 4mm BloodandCustard East Sussex Finescale Railway Modelling Finescale Modelling OO HO 18.83mm 4mm BloodandCustard East Sussex Finescale Railway Modelling Finescale Modelling OO HO 18.83mm 4mm BloodandCustard East Sussex Finescale Railway Modelling Finescale Modelling OO HO 18.83mm 4mm BloodandCustard East Sussex Finescale Railway Modelling Finescale Modelling OO HO 18.83mm 4mm BloodandCustard East Sussex Finescale Railway Modelling Finescale Modelling OO HO 18.83mm 4mm BloodandCustard East Sussex Finescale Railway Modelling Finescale Modelling OO HO 18.83mm 4mm BloodandCustard East Sussex Finescale Railway Modelling Finescale Modelling OO HO 18.83mm 4mm BloodandCustard East Sussex Finescale Railway Modelling Finescale Modelling OO HO 18.83mm 4mm BloodandCustard East Sussex Finescale Railway Modelling Finescale Modelling OO HO 18.83mm 4mm BloodandCustard East Sussex Finescale Railway Modelling Finescale Modelling OO HO 18.83mm 4mm BloodandCustard East Sussex Finescale Railway Modelling Finescale Modelling OO HO 18.83mm 4mm BloodandCustard East Sussex Finescale Railway Modelling Finescale Modelling OO HO 18.83mm 4mm BloodandCustard East Sussex Finescale Railway Modelling Finescale Modelling OO HO 18.83mm 4mm BloodandCustard East Sussex Finescale Railway Modelling Finescale Modelling OO HO 18.83mm 4mm BloodandCustard East Sussex Finescale Railway Modelling Finescale Modelling OO HO 18.83mm 4mm BloodandCustard East Sussex Finescale Railway Modelling Finescale Modelling OO HO 18.83mm 4mm BloodandCustard East Sussex Finescale Railway Modelling Finescale Modelling OO HO 18.83mm 4mm BloodandCustard East Sussex Finescale Railway Modelling Finescale Modelling OO HO 18.83mm 4mm BloodandCustard East Sussex Finescale Railway Modelling Finescale Modelling OO HO 18.83mm 4mm BloodandCustard East Sussex Finescale Railway Modelling Finescale Modelling OO HO 18.83mm 4mm BloodandCustard East Sussex Finescale Railway Modelling Finescale Modelling OO HO 18.83mm 4mm BloodandCustard East Sussex Finescale Railway Modelling Finescale Modelling OO HO 18.83mm 4mm BloodandCustard East Sussex Finescale Railway Modelling Finescale Modelling OO HO 18.83mm 4mm BloodandCustard East Sussex Finescale Railway Modelling Finescale Modelling OO HO 18.83mm 4mm BloodandCustard East Sussex Finescale Railway Modelling Finescale Modelling OO HO 18.83mm 4mm BloodandCustard East Sussex Finescale Railway Modelling Finescale Modelling OO HO 18.83mm 4mm BloodandCustard East Sussex Finescale Railway Modelling Finescale Modelling OO HO 18.83mm 4mm BloodandCustard East Sussex Finescale Railway Modelling Finescale Modelling OO HO 18.83mm 4mm BloodandCustard East Sussex Finescale Railway Modelling Finescale Modelling OO HO 18.83mm 4mm BloodandCustard East Sussex Finescale Railway Modelling Finescale Modelling OO HO 18.83mm 4mm BloodandCustard East Sussex Finescale Railway Modelling Finescale Modelling OO HO 18.83mm 4mm BloodandCustard East Sussex Finescale Railway Modelling Finescale Modelling OO HO 18.83mm 4mm BloodandCustard East Sussex Finescale Railway Modelling Finescale Modelling OO HO 18.83mm 4mm BloodandCustard East Sussex Finescale Railway Modelling Finescale Modelling OO HO 18.83mm 4mm BloodandCustard East Sussex Finescale Railway Modelling Finescale Modelling OO HO 18.83mm 4mm BloodandCustard East Sussex Finescale Railway Modelling Finescale Modelling OO HO 18.83mm 4mm BloodandCustard East Sussex Finescale Railway Modelling Finescale Modelling OO HO 18.83mm 4mm BloodandCustard East Sussex Finescale Railway Modelling Finescale Modelling OO HO 18.83mm 4mm BloodandCustard East Sussex Finescale Railway Modelling Finescale Modelling OO HO 18.83mm 4mm BloodandCustard East Sussex Finescale Railway Modelling Finescale Modelling OO HO 18.83mm 4mm BloodandCustard East Sussex Finescale Railway Modelling Finescale Modelling OO HO 18.83mm 4mm BloodandCustard East Sussex Finescale Railway Modelling Finescale Modelling OO HO 18.83mm 4mm BloodandCustard East Sussex Finescale Railway Modelling Finescale Modelling OO HO 18.83mm 4mm BloodandCustard East Sussex Finescale Railway Modelling Finescale Modelling OO HO 18.83mm 4mm BloodandCustard East Sussex Finescale Railway Modelling Finescale Modelling OO HO 18.83mm 4mm BloodandCustard East Sussex Finescale Railway Modelling Finescale Modelling OO HO 18.83mm 4mm BloodandCustard East Sussex Finescale Railway Modelling Finescale Modelling OO HO 18.83mm 4mm BloodandCustard East Sussex Finescale Railway Modelling Finescale Modelling OO HO 18.83mm 4mm BloodandCustard East Sussex Finescale Railway Modelling Finescale Modelling OO HO 18.83mm 4mm BloodandCustard East Sussex Finescale Railway Modelling Finescale Modelling OO HO 18.83mm 4mm BloodandCustard East Sussex Finescale Railway Modelling Finescale Modelling OO HO 18.83mm 4mm BloodandCustard East Sussex Finescale Railway Modelling Finescale Modelling OO HO 18.83mm 4mm BloodandCustard East Sussex Finescale Railway Modelling Finescale Modelling OO HO 18.83mm 4mm BloodandCustard East Sussex Finescale Railway Modelling Finescale Modelling OO HO 18.83mm 4mm BloodandCustard East Sussex Finescale Railway Modelling Finescale Modelling OO HO 18.83mm 4mm BloodandCustard East Sussex Finescale Railway Modelling Finescale Modelling OO HO 18.83mm 4mm BloodandCustard East Sussex Finescale Railway Modelling Finescale Modelling OO HO 18.83mm 4mm BloodandCustard East Sussex Finescale Railway Modelling Finescale Modelling OO HO 18.83mm 4mm BloodandCustard East Sussex Finescale Railway Modelling Finescale Modelling OO HO 18.83mm 4mm BloodandCustard East Sussex Finescale Railway Modelling Finescale Modelling OO HO 18.83mm 4mm BloodandCustard East Sussex Finescale Railway Modelling Finescale Modelling OO HO 18.83mm 4mm BloodandCustard East Sussex Finescale Railway Modelling Finescale Modelling OO HO 18.83mm 4mm BloodandCustard East Sussex Finescale Railway Modelling Finescale Modelling OO HO 18.83mm 4mm BloodandCustard East Sussex Finescale Railway Modelling Finescale Modelling OO HO 18.83mmBloodandCustard East Sussex Finescale Railway Modelling Finescale Modelling OO HO 18.83mm 4mm. BloodandCustard East Sussex Finescale Railway Modelling Finescale Modelling OO HO 18.83mm 4mm BloodandCustard East Sussex Finescale Railway Modelling Finescale Modelling OO HO 18.83mm 4mm BloodandCustard East Sussex Finescale Railway Modelling Finescale Modelling OO HO 18.83mm 4mm BloodandCustard East Sussex Finescale Railway Modelling Finescale Modelling OO HO 18.83mm 4mm BloodandCustard East Sussex Finescale Railway Modelling Finescale Modelling OO HO 18.83mm 4mm BloodandCustard East Sussex Finescale Railway Modelling Finescale Modelling OO HO 18.83mm 4mm BloodandCustard East Sussex Finescale Railway Modelling Finescale Modelling OO HO 18.83mm 4mm BloodandCustard East Sussex Finescale Railway Modelling Finescale Modelling OO HO 18.83mm 4mm BloodandCustard East Sussex Finescale Railway Modelling Finescale Modelling OO HO 18.83mm 4mm BloodandCustard East Sussex Finescale Railway Modelling Finescale Modelling OO HO 18.83mm 4mm BloodandCustard East Sussex Finescale Railway Modelling Finescale Modelling OO HO 18.83mm 4mm BloodandCustard East Sussex Finescale Railway Modelling Finescale Modelling OO HO 18.83mm 4mm BloodandCustard East Sussex Finescale Railway Modelling Finescale Modelling OO HO 18.83mm 4mm BloodandCustard East Sussex Finescale Railway Modelling Finescale Modelling OO HO 18.83mm 4mm BloodandCustard East Sussex Finescale Railway Modelling Finescale Modelling OO HO 18.83mm 4mm BloodandCustard East Sussex Finescale Railway Modelling Finescale Modelling OO HO 18.83mm 4mm BloodandCustard East Sussex Finescale Railway Modelling Finescale Modelling OO HO 18.83mm 4mm BloodandCustard East Sussex Finescale Railway Modelling Finescale Modelling OO HO 18.83mm 4mm BloodandCustard East Sussex Finescale Railway Modelling Finescale Modelling OO HO 18.83mm 4mm BloodandCustard East Sussex Finescale Railway Modelling Finescale Modelling OO HO 18.83mm 4mm BloodandCustard East Sussex Finescale Railway Modelling Finescale Modelling OO HO 18.83mm 4mm BloodandCustard East Sussex Finescale Railway Modelling Finescale Modelling OO HO 18.83mm 4mm BloodandCustard East Sussex Finescale Railway Modelling Finescale Modelling OO HO 18.83mm 4mm BloodandCustard East Sussex Finescale Railway Modelling Finescale Modelling OO HO 18.83mm 4mm BloodandCustard East Sussex Finescale Railway Modelling Finescale Modelling OO HO 18.83mm 4mm BloodandCustard East Sussex Finescale Railway Modelling Finescale Modelling OO HO 18.83mm 4mm BloodandCustard East Sussex Finescale Railway Modelling Finescale Modelling OO HO 18.83mm 4mm BloodandCustard East Sussex Finescale Railway Modelling Finescale Modelling OO HO 18.83mm 4mm BloodandCustard East Sussex Finescale Railway Modelling Finescale Modelling OO HO 18.83mm 4mm BloodandCustard East Sussex Finescale Railway Modelling Finescale Modelling OO HO 18.83mm 4mm BloodandCustard East Sussex Finescale Railway Modelling Finescale Modelling OO HO 18.83mm 4mm BloodandCustard East Sussex Finescale Railway Modelling Finescale Modelling OO HO 18.83mm 4mm BloodandCustard East Sussex Finescale Railway Modelling Finescale Modelling OO HO 18.83mm 4mm BloodandCustard East Sussex Finescale Railway Modelling Finescale Modelling OO HO 18.83mm 4mm BloodandCustard East Sussex Finescale Railway Modelling Finescale Modelling OO HO 18.83mm 4mm BloodandCustard East Sussex Finescale Railway Modelling Finescale Modelling OO HO 18.83mm 4mm BloodandCustard East Sussex Finescale Railway Modelling Finescale Modelling OO HO 18.83mm 4mm BloodandCustard East Sussex Finescale Railway Modelling Finescale Modelling OO HO 18.83mm 4mm BloodandCustard East Sussex Finescale Railway Modelling Finescale Modelling OO HO 18.83mm 4mm BloodandCustard East Sussex Finescale Railway Modelling Finescale Modelling OO HO 18.83mm 4mm BloodandCustard East Sussex Finescale Railway Modelling Finescale Modelling OO HO 18.83mm 4mm BloodandCustard East Sussex Finescale Railway Modelling Finescale Modelling OO HO 18.83mm 4mm BloodandCustard East Sussex Finescale Railway Modelling Finescale Modelling OO HO 18.83mm 4mm BloodandCustard East Sussex Finescale Railway Modelling Finescale Modelling OO HO 18.83mm 4mm BloodandCustard East Sussex Finescale Railway Modelling Finescale Modelling OO HO 18.83mm 4mm BloodandCustard East Sussex Finescale Railway Modelling Finescale Modelling OO HO 18.83mm 4mm BloodandCustard East Sussex Finescale Railway Modelling Finescale Modelling OO HO 18.83mm 4mm BloodandCustard East Sussex Finescale Railway Modelling Finescale Modelling OO HO 18.83mm 4mm BloodandCustard East Sussex Finescale Railway Modelling Finescale Modelling OO HO 18.83mm 4mm BloodandCustard East Sussex Finescale Railway Modelling Finescale Modelling OO HO 18.83mm 4mm BloodandCustard East Sussex Finescale Railway Modelling Finescale Modelling OO HO 18.83mm 4mm BloodandCustard East Sussex Finescale Railway Modelling Finescale Modelling OO HO 18.83mm 4mm BloodandCustard East Sussex Finescale Railway Modelling Finescale Modelling OO HO 18.83mm 4mm BloodandCustard East Sussex Finescale Railway Modelling Finescale Modelling OO HO 18.83mm 4mm BloodandCustard East Sussex Finescale Railway Modelling Finescale Modelling OO HO 18.83mm 4mm BloodandCustard East Sussex Finescale Railway Modelling Finescale Modelling OO HO 18.83mm 4mm BloodandCustard East Sussex Finescale Railway Modelling Finescale Modelling OO HO 18.83mm 4mm BloodandCustard East Sussex Finescale Railway Modelling Finescale Modelling OO HO 18.83mm 4mm BloodandCustard East Sussex Finescale Railway Modelling Finescale Modelling OO HO 18.83mm 4mm BloodandCustard East Sussex Finescale Railway Modelling Finescale Modelling OO HO 18.83mm 4mm BloodandCustard East Sussex Finescale Railway Modelling Finescale Modelling OO HO 18.83mm 4mm BloodandCustard East Sussex Finescale Railway Modelling Finescale Modelling OO HO 18.83mm 4mm BloodandCustard East Sussex Finescale Railway Modelling Finescale Modelling OO HO 18.83mm 4mm BloodandCustard East Sussex Finescale Railway Modelling Finescale Modelling OO HO 18.83mm 4mm BloodandCustard East Sussex Finescale Railway Modelling Finescale Modelling OO HO 18.83mm 4mm BloodandCustard East Sussex Finescale Railway Modelling Finescale Modelling OO HO 18.83mm 4mm BloodandCustard East Sussex Finescale Railway Modelling Finescale Modelling OO HO 18.83mm 4mm BloodandCustard East Sussex Finescale Railway Modelling Finescale Modelling OO HO 18.83mm 4mm BloodandCustard East Sussex Finescale Railway Modelling Finescale Modelling OO HO 18.83mm 4mm BloodandCustard East Sussex Finescale Railway Modelling Finescale Modelling OO HO 18.83mm 4mm BloodandCustard East Sussex Finescale Railway Modelling Finescale Modelling OO HO 18.83mm 4mm BloodandCustard East Sussex Finescale Railway Modelling Finescale Modelling OO HO 18.83mm 4mm BloodandCustard East Sussex Finescale Railway Modelling Finescale Modelling OO HO 18.83mm 4mm BloodandCustard East Sussex Finescale Railway Modelling Finescale Modelling OO HO 18.83mm 4mm BloodandCustard East Sussex Finescale Railway Modelling Finescale Modelling OO HO 18.83mm 4mm BloodandCustard East Sussex Finescale Railway Modelling Finescale Modelling OO HO 18.83mm 4mm BloodandCustard East Sussex Finescale Railway Modelling Finescale Modelling OO HO 18.83mm 4mm BloodandCustard East Sussex Finescale Railway Modelling Finescale Modelling OO HO 18.83mm 4mm BloodandCustard East Sussex Finescale Railway Modelling Finescale Modelling OO HO 18.83mm 4mm BloodandCustard East Sussex Finescale Railway Modelling Finescale Modelling OO HO 18.83mm 4mm BloodandCustard East Sussex Finescale Railway Modelling Finescale Modelling OO HO 18.83mm 4mm BloodandCustard East Sussex Finescale Railway Modelling Finescale Modelling OO HO 18.83mm 4mm BloodandCustard East Sussex Finescale Railway Modelling Finescale Modelling OO HO 18.83mm 4mm BloodandCustard East Sussex Finescale Railway Modelling Finescale Modelling OO HO 18.83mm 4mm BloodandCustard East Sussex Finescale Railway Modelling Finescale Modelling OO HO 18.83mm 4mm BloodandCustard East Sussex Finescale Railway Modelling Finescale Modelling OO HO 18.83mm 4mm BloodandCustard East Sussex Finescale Railway Modelling Finescale Modelling OO HO 18.83mm 4mm BloodandCustard East Sussex Finescale Railway Modelling Finescale Modelling OO HO 18.83mm 4mm BloodandCustard East Sussex Finescale Railway Modelling Finescale Modelling OO HO 18.83mm 4mm BloodandCustard East Sussex Finescale Railway Modelling Finescale Modelling OO HO 18.83mm 4mm BloodandCustard East Sussex Finescale Railway Modelling Finescale Modelling OO HO 18.83mm 4mm BloodandCustard East Sussex Finescale Railway Modelling Finescale Modelling OO HO 18.83mm 4mm BloodandCustard East Sussex Finescale Railway Modelling Finescale Modelling OO HO 18.83mm 4mm BloodandCustard East Sussex Finescale Railway Modelling Finescale Modelling OO HO 18.83mm 4mm BloodandCustard East Sussex Finescale Railway Modelling Finescale Modelling OO HO 18.83mm 4mm BloodandCustard East Sussex Finescale Railway Modelling Finescale Modelling OO HO 18.83mm 4mm BloodandCustard East Sussex Finescale Railway Modelling Finescale Modelling OO HO 18.83mm 4mm BloodandCustard East Sussex Finescale Railway Modelling Finescale Modelling OO HO 18.83mm 4mm BloodandCustard East Sussex Finescale Railway Modelling Finescale Modelling OO HO 18.83mm 4mm BloodandCustard East Sussex Finescale Railway Modelling Finescale Modelling OO HO 18.83mm 4mm BloodandCustard East Sussex Finescale Railway Modelling Finescale Modelling OO HO 18.83mm 4mm BloodandCustard East Sussex Finescale Railway Modelling Finescale Modelling OO HO 18.83mm 4mm BloodandCustard East Sussex Finescale Railway Modelling Finescale Modelling OO HO 18.83mm 4mm BloodandCustard East Sussex Finescale Railway Modelling Finescale Modelling OO HO 18.83mm 4mm BloodandCustard East Sussex Finescale Railway Modelling Finescale Modelling OO HO 18.83mm 4mm BloodandCustard East Sussex Finescale Railway Modelling Finescale Modelling OO HO 18.83mm 4mm BloodandCustard East Sussex Finescale Railway Modelling Finescale Modelling OO HO 18.83mm 4mm BloodandCustard East Sussex Finescale Railway Modelling Finescale Modelling OO HO 18.83mm 4mm BloodandCustard East Sussex Finescale Railway Modelling Finescale Modelling OO HO 18.83mm 4mm BloodandCustard East Sussex Finescale Railway Modelling Finescale Modelling OO HO 18.83mm 4mm BloodandCustard East Sussex Finescale Railway Modelling Finescale Modelling OO HO 18.83mm 4mm BloodandCustard East Sussex Finescale Railway Modelling Finescale Modelling OO HO 18.83mm 4mm BloodandCustard East Sussex Finescale Railway Modelling Finescale Modelling OO HO 18.83mm 4mm BloodandCustard East Sussex Finescale Railway Modelling Finescale Modelling OO HO 18.83mm 4mm BloodandCustard East Sussex Finescale Railway Modelling Finescale Modelling OO HO 18.83mm 4mm BloodandCustard East Sussex Finescale Railway Modelling Finescale Modelling OO HO 18.83mm 4mm BloodandCustard East Sussex Finescale Railway Modelling Finescale Modelling OO HO 18.83mm 4mm BloodandCustard East Sussex Finescale Railway Modelling Finescale Modelling OO HO 18.83mm 4mm BloodandCustard East Sussex Finescale Railway Modelling Finescale Modelling OO HO 18.83mm 4mm BloodandCustard East Sussex Finescale Railway Modelling Finescale Modelling OO HO 18.83mm 4mm BloodandCustard East Sussex Finescale Railway Modelling Finescale Modelling OO HO 18.83mm 4mm BloodandCustard East Sussex Finescale Railway Modelling Finescale Modelling OO HO 18.83mm 4mm BloodandCustard East Sussex Finescale Railway Modelling Finescale Modelling OO HO 18.83mm 4mm BloodandCustard East Sussex Finescale Railway Modelling Finescale Modelling OO HO 18.83mm 4mm BloodandCustard East Sussex Finescale Railway Modelling Finescale Modelling OO HO 18.83mm 4mm BloodandCustard East Sussex Finescale Railway Modelling Finescale Modelling OO HO 18.83mm 4mm BloodandCustard East Sussex Finescale Railway Modelling Finescale Modelling OO HO 18.83mm 4mm BloodandCustard East Sussex Finescale Railway Modelling Finescale Modelling OO HO 18.83mm 4mm BloodandCustard East Sussex Finescale Railway Modelling Finescale Modelling OO HO 18.83mm 4mm BloodandCustard East Sussex Finescale Railway Modelling Finescale Modelling OO HO 18.83mm 4mm BloodandCustard East Sussex Finescale Railway Modelling Finescale Modelling OO HO 18.83mm 4mm BloodandCustard East Sussex Finescale Railway Modelling Finescale Modelling OO HO 18.83mm 4mm BloodandCustard East Sussex Finescale Railway Modelling Finescale Modelling OO HO 18.83mm 4mm BloodandCustard East Sussex Finescale Railway Modelling Finescale Modelling OO HO 18.83mm 4mm BloodandCustard East Sussex Finescale Railway Modelling Finescale Modelling OO HO 18.83mm 4mm BloodandCustard East Sussex Finescale Railway Modelling Finescale Modelling OO HO 18.83mm 4mm BloodandCustard East Sussex Finescale Railway Modelling Finescale Modelling OO HO 18.83mm 4mm BloodandCustard East Sussex Finescale Railway Modelling Finescale Modelling OO HO 18.83mm 4mm BloodandCustard East Sussex Finescale Railway Modelling Finescale Modelling OO HO 18.83mm 4mm BloodandCustard East Sussex Finescale Railway Modelling Finescale Modelling OO HO 18.83mm 4mm BloodandCustard East Sussex Finescale Railway Modelling Finescale Modelling OO HO 18.83mm 4mm BloodandCustard East Sussex Finescale Railway Modelling Finescale Modelling OO HO 18.83mm 4mm BloodandCustard East Sussex Finescale Railway Modelling Finescale Modelling OO HO 18.83mm 4mm BloodandCustard East Sussex Finescale Railway Modelling Finescale Modelling OO HO 18.83mm 4mm BloodandCustard East Sussex Finescale Railway Modelling Finescale Modelling OO HO 18.83mm 4mm BloodandCustard East Sussex Finescale Railway Modelling Finescale Modelling OO HO 18.83mm 4mm BloodandCustard East Sussex Finescale Railway Modelling Finescale Modelling OO HO 18.83mm 4mm BloodandCustard East Sussex Finescale Railway Modelling Finescale Modelling OO HO 18.83mm 4mm BloodandCustard East Sussex Finescale Railway Modelling Finescale Modelling OO HO 18.83mm 4mm BloodandCustard East Sussex Finescale Railway Modelling Finescale Modelling OO HO 18.83mm 4mm BloodandCustard East Sussex Finescale Railway Modelling Finescale Modelling OO HO 18.83mm 4mm BloodandCustard East Sussex Finescale Railway Modelling Finescale Modelling OO HO 18.83mm 4mm BloodandCustard East Sussex Finescale Railway Modelling Finescale Modelling OO HO 18.83mm 4mm BloodandCustard East Sussex Finescale Railway Modelling Finescale Modelling OO HO 18.83mm 4mm BloodandCustard East Sussex Finescale Railway Modelling Finescale Modelling OO HO 18.83mm 4mm BloodandCustard East Sussex Finescale Railway Modelling Finescale Modelling OO HO 18.83mm 4mm BloodandCustard East Sussex Finescale Railway Modelling Finescale Modelling OO HO 18.83mm 4mm BloodandCustard East Sussex Finescale Railway Modelling Finescale Modelling OO HO 18.83mm 4mm BloodandCustard East Sussex Finescale Railway Modelling Finescale Modelling OO HO 18.83mm 4mm BloodandCustard East Sussex Finescale Railway Modelling Finescale Modelling OO HO 18.83mm 4mm BloodandCustard East Sussex Finescale Railway Modelling Finescale Modelling OO HO 18.83mm 4mm BloodandCustard East Sussex Finescale Railway Modelling Finescale Modelling OO HO 18.83mm 4mm BloodandCustard East Sussex Finescale Railway Modelling Finescale Modelling OO HO 18.83mm 4mm BloodandCustard East Sussex Finescale Railway Modelling Finescale Modelling OO HO 18.83mm 4mm BloodandCustard East Sussex Finescale Railway Modelling Finescale Modelling OO HO 18.83mm 4mm BloodandCustard East Sussex Finescale Railway Modelling Finescale Modelling OO HO 18.83mm 4mm BloodandCustard East Sussex Finescale Railway Modelling Finescale Modelling OO HO 18.83mm 4mm BloodandCustard East Sussex Finescale Railway Modelling Finescale Modelling OO HO 18.83mm 4mm BloodandCustard East Sussex Finescale Railway Modelling Finescale Modelling OO HO 18.83mm 4mm BloodandCustard East Sussex Finescale Railway Modelling Finescale Modelling OO HO 18.83mm 4mm BloodandCustard East Sussex Finescale Railway Modelling Finescale Modelling OO HO 18.83mm 4mm BloodandCustard East Sussex Finescale Railway Modelling Finescale Modelling OO HO 18.83mm 4mm BloodandCustard East Sussex Finescale Railway Modelling Finescale Modelling OO HO 18.83mm 4mm BloodandCustard East Sussex Finescale Railway Modelling Finescale Modelling OO HO 18.83mm 4mm BloodandCustard East Sussex Finescale Railway Modelling Finescale Modelling OO HO 18.83mm 4mm BloodandCustard East Sussex Finescale Railway Modelling Finescale Modelling OO HO 18.83mm 4mm BloodandCustard East Sussex Finescale Railway Modelling Finescale Modelling OO HO 18.83mm 4mm BloodandCustard East Sussex Finescale Railway Modelling Finescale Modelling OO HO 18.83mm 4mm BloodandCustard East Sussex Finescale Railway Modelling Finescale Modelling OO HO 18.83mm 4mm BloodandCustard East Sussex Finescale Railway Modelling Finescale Modelling OO HO 18.83mm 4mm BloodandCustard East Sussex Finescale Railway Modelling Finescale Modelling OO HO 18.83mm 4mm BloodandCustard East Sussex Finescale Railway Modelling Finescale Modelling OO HO 18.83mm 4mm BloodandCustard East Sussex Finescale Railway Modelling Finescale Modelling OO HO 18.83mm 4mm BloodandCustard East Sussex Finescale Railway Modelling Finescale Modelling OO HO 18.83mm 4mm BloodandCustard East Sussex Finescale Railway Modelling Finescale Modelling OO HO 18.83mm 4mm BloodandCustard East Sussex Finescale Railway Modelling Finescale Modelling OO HO 18.83mm 4mm BloodandCustard East Sussex Finescale Railway Modelling Finescale Modelling OO HO 18.83mm 4mm BloodandCustard East Sussex Finescale Railway Modelling Finescale Modelling OO HO 18.83mm 4mm BloodandCustard East Sussex Finescale Railway Modelling Finescale Modelling OO HO 18.83mm 4mm BloodandCustard East Sussex Finescale Railway Modelling Finescale Modelling OO HO 18.83mm 4mm BloodandCustard East Sussex Finescale Railway Modelling Finescale Modelling OO HO 18.83mm 4mm BloodandCustard East Sussex Finescale Railway Modelling Finescale Modelling OO HO 18.83mm 4mm BloodandCustard East Sussex Finescale Railway Modelling Finescale Modelling OO HO 18.83mm 4mm BloodandCustard East Sussex Finescale Railway Modelling Finescale Modelling OO HO 18.83mm 4mm BloodandCustard East Sussex Finescale Railway Modelling Finescale Modelling OO HO 18.83mm 4mm BloodandCustard East Sussex Finescale Railway Modelling Finescale Modelling OO HO 18.83mm 4mm BloodandCustard East Sussex Finescale Railway Modelling Finescale Modelling OO HO 18.83mm 4mm BloodandCustard East Sussex Finescale Railway Modelling Finescale Modelling OO HO 18.83mm 4mm BloodandCustard East Sussex Finescale Railway Modelling Finescale Modelling OO HO 18.83mm 4mm BloodandCustard East Sussex Finescale Railway Modelling Finescale Modelling OO HO 18.83mm 4mm BloodandCustard East Sussex Finescale Railway Modelling Finescale Modelling OO HO 18.83mm 4mm BloodandCustard East Sussex Finescale Railway Modelling Finescale Modelling OO HO 18.83mm 4mm BloodandCustard East Sussex Finescale Railway Modelling Finescale Modelling OO HO 18.83mm 4mm BloodandCustard East Sussex Finescale Railway Modelling Finescale Modelling OO HO 18.83mm 4mm BloodandCustard East Sussex Finescale Railway Modelling Finescale Modelling OO HO 18.83mm 4mm BloodandCustard East Sussex Finescale Railway Modelling Finescale Modelling OO HO 18.83mm 4mm BloodandCustard East Sussex Finescale Railway Modelling Finescale Modelling OO HO 18.83mm 4mm BloodandCustard East Sussex Finescale Railway Modelling Finescale Modelling OO HO 18.83mm 4mm BloodandCustard East Sussex Finescale Railway Modelling Finescale Modelling OO HO 18.83mm 4mm BloodandCustard East Sussex Finescale Railway Modelling Finescale Modelling OO HO 18.83mm 4mm BloodandCustard East Sussex Finescale Railway Modelling Finescale Modelling OO HO 18.83mm 4mm BloodandCustard East Sussex Finescale Railway Modelling Finescale Modelling OO HO 18.83mm 4mm BloodandCustard East Sussex Finescale Railway Modelling Finescale Modelling OO HO 18.83mm 4mm BloodandCustard East Sussex Finescale Railway Modelling Finescale Modelling OO HO 18.83mm 4mm BloodandCustard East Sussex Finescale Railway Modelling Finescale Modelling OO HO 18.83mm 4mm BloodandCustard East Sussex Finescale Railway Modelling Finescale Modelling OO HO 18.83mm 4mm BloodandCustard East Sussex Finescale Railway Modelling Finescale Modelling OO HO 18.83mm 4mm BloodandCustard East Sussex Finescale Railway Modelling Finescale Modelling OO HO 18.83mm 4mm BloodandCustard East Sussex Finescale Railway Modelling Finescale Modelling OO HO 18.83mm 4mm BloodandCustard East Sussex Finescale Railway Modelling Finescale Modelling OO HO 18.83mm 4mm BloodandCustard East Sussex Finescale Railway Modelling Finescale Modelling OO HO 18.83mm 4mm BloodandCustard East Sussex Finescale Railway Modelling Finescale Modelling OO HO 18.83mm 4mm BloodandCustard East Sussex Finescale Railway Modelling Finescale Modelling OO HO 18.83mm 4mm BloodandCustard East Sussex Finescale Railway Modelling Finescale Modelling OO HO 18.83mm 4mm BloodandCustard East Sussex Finescale Railway Modelling Finescale Modelling OO HO 18.83mm 4mm BloodandCustard East Sussex Finescale Railway Modelling Finescale Modelling OO HO 18.83mm 4mm BloodandCustard East Sussex Finescale Railway Modelling Finescale Modelling OO HO 18.83mm 4mm BloodandCustard East Sussex Finescale Railway Modelling Finescale Modelling OO HO 18.83mm 4mm BloodandCustard East Sussex Finescale Railway Modelling Finescale Modelling OO HO 18.83mm 4mm BloodandCustard East Sussex Finescale Railway Modelling Finescale Modelling OO HO 18.83mm 4mm BloodandCustard East Sussex Finescale Railway Modelling Finescale Modelling OO HO 18.83mm 4mm BloodandCustard East Sussex Finescale Railway Modelling Finescale Modelling OO HO 18.83mm 4mm BloodandCustard East Sussex Finescale Railway Modelling Finescale Modelling OO HO 18.83mm 4mm BloodandCustard East Sussex Finescale Railway Modelling Finescale Modelling OO HO 18.83mm 4mm BloodandCustard East Sussex Finescale Railway Modelling Finescale Modelling OO HO 18.83mm 4mm BloodandCustard East Sussex Finescale Railway Modelling Finescale Modelling OO HO 18.83mm 4mm BloodandCustard East Sussex Finescale Railway Modelling Finescale Modelling OO HO 18.83mm 4mm BloodandCustard East Sussex Finescale Railway Modelling Finescale Modelling OO HO 18.83mm 4mm BloodandCustard East Sussex Finescale Railway Modelling Finescale Modelling OO HO 18.83mm 4mm BloodandCustard East Sussex Finescale Railway Modelling Finescale Modelling OO HO 18.83mm 4mm BloodandCustard East Sussex Finescale Railway Modelling Finescale Modelling OO HO 18.83mm 4mm BloodandCustard East Sussex Finescale Railway Modelling Finescale Modelling OO HO 18.83mm 4mm BloodandCustard East Sussex Finescale Railway Modelling Finescale Modelling OO HO 18.83mm 4mm BloodandCustard East Sussex Finescale Railway Modelling Finescale Modelling OO HO 18.83mm 4mm BloodandCustard East Sussex Finescale Railway Modelling Finescale Modelling OO HO 18.83mm 4mm BloodandCustard East Sussex Finescale Railway Modelling Finescale Modelling OO HO 18.83mm 4mm BloodandCustard East Sussex Finescale Railway Modelling Finescale Modelling OO HO 18.83mm 4mm BloodandCustard East Sussex Finescale Railway Modelling Finescale Modelling OO HO 18.83mm 4mm BloodandCustard East Sussex Finescale Railway Modelling Finescale Modelling OO HO 18.83mm 4mm BloodandCustard East Sussex Finescale Railway Modelling Finescale Modelling OO HO 18.83mm 4mm BloodandCustard East Sussex Finescale Railway Modelling Finescale Modelling OO HO 18.83mm 4mm BloodandCustard East Sussex Finescale Railway Modelling Finescale Modelling OO HO 18.83mm 4mm BloodandCustard East Sussex Finescale Railway Modelling Finescale Modelling OO HO 18.83mm 4mm BloodandCustard East Sussex Finescale Railway Modelling Finescale Modelling OO HO 18.83mm 4mm BloodandCustard East Sussex Finescale Railway Modelling Finescale Modelling OO HO 18.83mm 4mm BloodandCustard East Sussex Finescale Railway Modelling Finescale Modelling OO HO 18.83mm 4mm BloodandCustard East Sussex Finescale Railway Modelling Finescale Modelling OO HO 18.83mm 4mm BloodandCustard East Sussex Finescale Railway Modelling Finescale Modelling OO HO 18.83mm 4mm BloodandCustard East Sussex Finescale Railway Modelling Finescale Modelling OO HO 18.83mm 4mm BloodandCustard East Sussex Finescale Railway Modelling Finescale Modelling OO HO 18.83mm 4mm BloodandCustard East Sussex Finescale Railway Modelling Finescale Modelling OO HO 18.83mm 4mm BloodandCustard East Sussex Finescale Railway Modelling Finescale Modelling OO HO 18.83mm 4mm BloodandCustard East Sussex Finescale Railway Modelling Finescale Modelling OO HO 18.83mm 4mm BloodandCustard East Sussex Finescale Railway Modelling Finescale Modelling OO HO 18.83mm 4mm BloodandCustard East Sussex Finescale Railway Modelling Finescale Modelling OO HO 18.83mm 4mm BloodandCustard East Sussex Finescale Railway Modelling Finescale Modelling OO HO 18.83mm 4mm BloodandCustard East Sussex Finescale Railway Modelling Finescale Modelling OO HO 18.83mm 4mm BloodandCustard East Sussex Finescale Railway Modelling Finescale Modelling OO HO 18.83mm 4mm BloodandCustard East Sussex Finescale Railway Modelling Finescale Modelling OO HO 18.83mm 4mm BloodandCustard East Sussex Finescale Railway Modelling Finescale Modelling OO HO 18.83mm 4mm BloodandCustard East Sussex Finescale Railway Modelling Finescale Modelling OO HO 18.83mm 4mm BloodandCustard East Sussex Finescale Railway Modelling Finescale Modelling OO HO 18.83mm 4mm BloodandCustard East Sussex Finescale Railway Modelling Finescale Modelling OO HO 18.83mm 4mm BloodandCustard East Sussex Finescale Railway Modelling Finescale Modelling OO HO 18.83mm 4mm BloodandCustard East Sussex Finescale Railway Modelling Finescale Modelling OO HO 18.83mm 4mm BloodandCustard East Sussex Finescale Railway Modelling Finescale Modelling OO HO 18.83mmBloodandCustard East Sussex Finescale Railway Modelling Finescale Modelling OO HO 18.83mm 4mm. BloodandCustard East Sussex Finescale Railway Modelling Finescale Modelling OO HO 18.83mm 4mm BloodandCustard East Sussex Finescale Railway Modelling Finescale Modelling OO HO 18.83mm 4mm BloodandCustard East Sussex Finescale Railway Modelling Finescale Modelling OO HO 18.83mm 4mm BloodandCustard East Sussex Finescale Railway Modelling Finescale Modelling OO HO 18.83mm 4mm BloodandCustard East Sussex Finescale Railway Modelling Finescale Modelling OO HO 18.83mm 4mm BloodandCustard East Sussex Finescale Railway Modelling Finescale Modelling OO HO 18.83mm 4mm BloodandCustard East Sussex Finescale Railway Modelling Finescale Modelling OO HO 18.83mm 4mm BloodandCustard East Sussex Finescale Railway Modelling Finescale Modelling OO HO 18.83mm 4mm BloodandCustard East Sussex Finescale Railway Modelling Finescale Modelling OO HO 18.83mm 4mm BloodandCustard East Sussex Finescale Railway Modelling Finescale Modelling OO HO 18.83mm 4mm BloodandCustard East Sussex Finescale Railway Modelling Finescale Modelling OO HO 18.83mm 4mm BloodandCustard East Sussex Finescale Railway Modelling Finescale Modelling OO HO 18.83mm 4mm BloodandCustard East Sussex Finescale Railway Modelling Finescale Modelling OO HO 18.83mm 4mm BloodandCustard East Sussex Finescale Railway Modelling Finescale Modelling OO HO 18.83mm 4mm BloodandCustard East Sussex Finescale Railway Modelling Finescale Modelling OO HO 18.83mm 4mm BloodandCustard East Sussex Finescale Railway Modelling Finescale Modelling OO HO 18.83mm 4mm BloodandCustard East Sussex Finescale Railway Modelling Finescale Modelling OO HO 18.83mm 4mm BloodandCustard East Sussex Finescale Railway Modelling Finescale Modelling OO HO 18.83mm 4mm BloodandCustard East Sussex Finescale Railway Modelling Finescale Modelling OO HO 18.83mm 4mm BloodandCustard East Sussex Finescale Railway Modelling Finescale Modelling OO HO 18.83mm 4mm BloodandCustard East Sussex Finescale Railway Modelling Finescale Modelling OO HO 18.83mm 4mm BloodandCustard East Sussex Finescale Railway Modelling Finescale Modelling OO HO 18.83mm 4mm BloodandCustard East Sussex Finescale Railway Modelling Finescale Modelling OO HO 18.83mm 4mm BloodandCustard East Sussex Finescale Railway Modelling Finescale Modelling OO HO 18.83mm 4mm BloodandCustard East Sussex Finescale Railway Modelling Finescale Modelling OO HO 18.83mm 4mm BloodandCustard East Sussex Finescale Railway Modelling Finescale Modelling OO HO 18.83mm 4mm BloodandCustard East Sussex Finescale Railway Modelling Finescale Modelling OO HO 18.83mm 4mm BloodandCustard East Sussex Finescale Railway Modelling Finescale Modelling OO HO 18.83mm 4mm BloodandCustard East Sussex Finescale Railway Modelling Finescale Modelling OO HO 18.83mm 4mm BloodandCustard East Sussex Finescale Railway Modelling Finescale Modelling OO HO 18.83mm 4mm BloodandCustard East Sussex Finescale Railway Modelling Finescale Modelling OO HO 18.83mm 4mm BloodandCustard East Sussex Finescale Railway Modelling Finescale Modelling OO HO 18.83mm 4mm BloodandCustard East Sussex Finescale Railway Modelling Finescale Modelling OO HO 18.83mm 4mm BloodandCustard East Sussex Finescale Railway Modelling Finescale Modelling OO HO 18.83mm 4mm BloodandCustard East Sussex Finescale Railway Modelling Finescale Modelling OO HO 18.83mm 4mm BloodandCustard East Sussex Finescale Railway Modelling Finescale Modelling OO HO 18.83mm 4mm BloodandCustard East Sussex Finescale Railway Modelling Finescale Modelling OO HO 18.83mm 4mm BloodandCustard East Sussex Finescale Railway Modelling Finescale Modelling OO HO 18.83mm 4mm BloodandCustard East Sussex Finescale Railway Modelling Finescale Modelling OO HO 18.83mm 4mm BloodandCustard East Sussex Finescale Railway Modelling Finescale Modelling OO HO 18.83mm 4mm BloodandCustard East Sussex Finescale Railway Modelling Finescale Modelling OO HO 18.83mm 4mm BloodandCustard East Sussex Finescale Railway Modelling Finescale Modelling OO HO 18.83mm 4mm BloodandCustard East Sussex Finescale Railway Modelling Finescale Modelling OO HO 18.83mm 4mm BloodandCustard East Sussex Finescale Railway Modelling Finescale Modelling OO HO 18.83mm 4mm BloodandCustard East Sussex Finescale Railway Modelling Finescale Modelling OO HO 18.83mm 4mm BloodandCustard East Sussex Finescale Railway Modelling Finescale Modelling OO HO 18.83mm 4mm BloodandCustard East Sussex Finescale Railway Modelling Finescale Modelling OO HO 18.83mm 4mm BloodandCustard East Sussex Finescale Railway Modelling Finescale Modelling OO HO 18.83mm 4mm BloodandCustard East Sussex Finescale Railway Modelling Finescale Modelling OO HO 18.83mm 4mm BloodandCustard East Sussex Finescale Railway Modelling Finescale Modelling OO HO 18.83mm 4mm BloodandCustard East Sussex Finescale Railway Modelling Finescale Modelling OO HO 18.83mm 4mm BloodandCustard East Sussex Finescale Railway Modelling Finescale Modelling OO HO 18.83mm 4mm BloodandCustard East Sussex Finescale Railway Modelling Finescale Modelling OO HO 18.83mm 4mm BloodandCustard East Sussex Finescale Railway Modelling Finescale Modelling OO HO 18.83mm 4mm BloodandCustard East Sussex Finescale Railway Modelling Finescale Modelling OO HO 18.83mm 4mm BloodandCustard East Sussex Finescale Railway Modelling Finescale Modelling OO HO 18.83mm 4mm BloodandCustard East Sussex Finescale Railway Modelling Finescale Modelling OO HO 18.83mm 4mm BloodandCustard East Sussex Finescale Railway Modelling Finescale Modelling OO HO 18.83mm 4mm BloodandCustard East Sussex Finescale Railway Modelling Finescale Modelling OO HO 18.83mm 4mm BloodandCustard East Sussex Finescale Railway Modelling Finescale Modelling OO HO 18.83mm 4mm BloodandCustard East Sussex Finescale Railway Modelling Finescale Modelling OO HO 18.83mm 4mm BloodandCustard East Sussex Finescale Railway Modelling Finescale Modelling OO HO 18.83mm 4mm BloodandCustard East Sussex Finescale Railway Modelling Finescale Modelling OO HO 18.83mm 4mm BloodandCustard East Sussex Finescale Railway Modelling Finescale Modelling OO HO 18.83mm 4mm BloodandCustard East Sussex Finescale Railway Modelling Finescale Modelling OO HO 18.83mm 4mm BloodandCustard East Sussex Finescale Railway Modelling Finescale Modelling OO HO 18.83mm 4mm BloodandCustard East Sussex Finescale Railway Modelling Finescale Modelling OO HO 18.83mm 4mm BloodandCustard East Sussex Finescale Railway Modelling Finescale Modelling OO HO 18.83mm 4mm BloodandCustard East Sussex Finescale Railway Modelling Finescale Modelling OO HO 18.83mm 4mm BloodandCustard East Sussex Finescale Railway Modelling Finescale Modelling OO HO 18.83mm 4mm BloodandCustard East Sussex Finescale Railway Modelling Finescale Modelling OO HO 18.83mm 4mm BloodandCustard East Sussex Finescale Railway Modelling Finescale Modelling OO HO 18.83mm 4mm BloodandCustard East Sussex Finescale Railway Modelling Finescale Modelling OO HO 18.83mm 4mm BloodandCustard East Sussex Finescale Railway Modelling Finescale Modelling OO HO 18.83mm 4mm BloodandCustard East Sussex Finescale Railway Modelling Finescale Modelling OO HO 18.83mm 4mm BloodandCustard East Sussex Finescale Railway Modelling Finescale Modelling OO HO 18.83mm 4mm BloodandCustard East Sussex Finescale Railway Modelling Finescale Modelling OO HO 18.83mm 4mm BloodandCustard East Sussex Finescale Railway Modelling Finescale Modelling OO HO 18.83mm 4mm BloodandCustard East Sussex Finescale Railway Modelling Finescale Modelling OO HO 18.83mm 4mm BloodandCustard East Sussex Finescale Railway Modelling Finescale Modelling OO HO 18.83mm 4mm BloodandCustard East Sussex Finescale Railway Modelling Finescale Modelling OO HO 18.83mm 4mm BloodandCustard East Sussex Finescale Railway Modelling Finescale Modelling OO HO 18.83mm 4mm BloodandCustard East Sussex Finescale Railway Modelling Finescale Modelling OO HO 18.83mm 4mm BloodandCustard East Sussex Finescale Railway Modelling Finescale Modelling OO HO 18.83mm 4mm BloodandCustard East Sussex Finescale Railway Modelling Finescale Modelling OO HO 18.83mm 4mm BloodandCustard East Sussex Finescale Railway Modelling Finescale Modelling OO HO 18.83mm 4mm BloodandCustard East Sussex Finescale Railway Modelling Finescale Modelling OO HO 18.83mm 4mm BloodandCustard East Sussex Finescale Railway Modelling Finescale Modelling OO HO 18.83mm 4mm BloodandCustard East Sussex Finescale Railway Modelling Finescale Modelling OO HO 18.83mm 4mm BloodandCustard East Sussex Finescale Railway Modelling Finescale Modelling OO HO 18.83mm 4mm BloodandCustard East Sussex Finescale Railway Modelling Finescale Modelling OO HO 18.83mm 4mm BloodandCustard East Sussex Finescale Railway Modelling Finescale Modelling OO HO 18.83mm 4mm BloodandCustard East Sussex Finescale Railway Modelling Finescale Modelling OO HO 18.83mm 4mm BloodandCustard East Sussex Finescale Railway Modelling Finescale Modelling OO HO 18.83mm 4mm BloodandCustard East Sussex Finescale Railway Modelling Finescale Modelling OO HO 18.83mm 4mm BloodandCustard East Sussex Finescale Railway Modelling Finescale Modelling OO HO 18.83mm 4mm BloodandCustard East Sussex Finescale Railway Modelling Finescale Modelling OO HO 18.83mm 4mm BloodandCustard East Sussex Finescale Railway Modelling Finescale Modelling OO HO 18.83mm 4mm BloodandCustard East Sussex Finescale Railway Modelling Finescale Modelling OO HO 18.83mm 4mm BloodandCustard East Sussex Finescale Railway Modelling Finescale Modelling OO HO 18.83mm 4mm BloodandCustard East Sussex Finescale Railway Modelling Finescale Modelling OO HO 18.83mm 4mm BloodandCustard East Sussex Finescale Railway Modelling Finescale Modelling OO HO 18.83mm 4mm BloodandCustard East Sussex Finescale Railway Modelling Finescale Modelling OO HO 18.83mm 4mm BloodandCustard East Sussex Finescale Railway Modelling Finescale Modelling OO HO 18.83mm 4mm BloodandCustard East Sussex Finescale Railway Modelling Finescale Modelling OO HO 18.83mm 4mm BloodandCustard East Sussex Finescale Railway Modelling Finescale Modelling OO HO 18.83mm 4mm BloodandCustard East Sussex Finescale Railway Modelling Finescale Modelling OO HO 18.83mm 4mm BloodandCustard East Sussex Finescale Railway Modelling Finescale Modelling OO HO 18.83mm 4mm BloodandCustard East Sussex Finescale Railway Modelling Finescale Modelling OO HO 18.83mm 4mm BloodandCustard East Sussex Finescale Railway Modelling Finescale Modelling OO HO 18.83mm 4mm BloodandCustard East Sussex Finescale Railway Modelling Finescale Modelling OO HO 18.83mm 4mm BloodandCustard East Sussex Finescale Railway Modelling Finescale Modelling OO HO 18.83mm 4mm BloodandCustard East Sussex Finescale Railway Modelling Finescale Modelling OO HO 18.83mm 4mm BloodandCustard East Sussex Finescale Railway Modelling Finescale Modelling OO HO 18.83mm 4mm BloodandCustard East Sussex Finescale Railway Modelling Finescale Modelling OO HO 18.83mm 4mm BloodandCustard East Sussex Finescale Railway Modelling Finescale Modelling OO HO 18.83mm 4mm BloodandCustard East Sussex Finescale Railway Modelling Finescale Modelling OO HO 18.83mm 4mm BloodandCustard East Sussex Finescale Railway Modelling Finescale Modelling OO HO 18.83mm 4mm BloodandCustard East Sussex Finescale Railway Modelling Finescale Modelling OO HO 18.83mm 4mm BloodandCustard East Sussex Finescale Railway Modelling Finescale Modelling OO HO 18.83mm 4mm BloodandCustard East Sussex Finescale Railway Modelling Finescale Modelling OO HO 18.83mm 4mm BloodandCustard East Sussex Finescale Railway Modelling Finescale Modelling OO HO 18.83mm 4mm BloodandCustard East Sussex Finescale Railway Modelling Finescale Modelling OO HO 18.83mm 4mm BloodandCustard East Sussex Finescale Railway Modelling Finescale Modelling OO HO 18.83mm 4mm BloodandCustard East Sussex Finescale Railway Modelling Finescale Modelling OO HO 18.83mm 4mm BloodandCustard East Sussex Finescale Railway Modelling Finescale Modelling OO HO 18.83mm 4mm BloodandCustard East Sussex Finescale Railway Modelling Finescale Modelling OO HO 18.83mm 4mm BloodandCustard East Sussex Finescale Railway Modelling Finescale Modelling OO HO 18.83mm 4mm BloodandCustard East Sussex Finescale Railway Modelling Finescale Modelling OO HO 18.83mm 4mm BloodandCustard East Sussex Finescale Railway Modelling Finescale Modelling OO HO 18.83mm 4mm BloodandCustard East Sussex Finescale Railway Modelling Finescale Modelling OO HO 18.83mm 4mm BloodandCustard East Sussex Finescale Railway Modelling Finescale Modelling OO HO 18.83mm 4mm BloodandCustard East Sussex Finescale Railway Modelling Finescale Modelling OO HO 18.83mm 4mm BloodandCustard East Sussex Finescale Railway Modelling Finescale Modelling OO HO 18.83mm 4mm BloodandCustard East Sussex Finescale Railway Modelling Finescale Modelling OO HO 18.83mm 4mm BloodandCustard East Sussex Finescale Railway Modelling Finescale Modelling OO HO 18.83mm 4mm BloodandCustard East Sussex Finescale Railway Modelling Finescale Modelling OO HO 18.83mm 4mm BloodandCustard East Sussex Finescale Railway Modelling Finescale Modelling OO HO 18.83mm 4mm BloodandCustard East Sussex Finescale Railway Modelling Finescale Modelling OO HO 18.83mm 4mm BloodandCustard East Sussex Finescale Railway Modelling Finescale Modelling OO HO 18.83mm 4mm BloodandCustard East Sussex Finescale Railway Modelling Finescale Modelling OO HO 18.83mm 4mm BloodandCustard East Sussex Finescale Railway Modelling Finescale Modelling OO HO 18.83mm 4mm BloodandCustard East Sussex Finescale Railway Modelling Finescale Modelling OO HO 18.83mm 4mm BloodandCustard East Sussex Finescale Railway Modelling Finescale Modelling OO HO 18.83mm 4mm BloodandCustard East Sussex Finescale Railway Modelling Finescale Modelling OO HO 18.83mm 4mm BloodandCustard East Sussex Finescale Railway Modelling Finescale Modelling OO HO 18.83mm 4mm BloodandCustard East Sussex Finescale Railway Modelling Finescale Modelling OO HO 18.83mm 4mm BloodandCustard East Sussex Finescale Railway Modelling Finescale Modelling OO HO 18.83mm 4mm BloodandCustard East Sussex Finescale Railway Modelling Finescale Modelling OO HO 18.83mm 4mm BloodandCustard East Sussex Finescale Railway Modelling Finescale Modelling OO HO 18.83mm 4mm BloodandCustard East Sussex Finescale Railway Modelling Finescale Modelling OO HO 18.83mm 4mm BloodandCustard East Sussex Finescale Railway Modelling Finescale Modelling OO HO 18.83mm 4mm BloodandCustard East Sussex Finescale Railway Modelling Finescale Modelling OO HO 18.83mm 4mm BloodandCustard East Sussex Finescale Railway Modelling Finescale Modelling OO HO 18.83mm 4mm BloodandCustard East Sussex Finescale Railway Modelling Finescale Modelling OO HO 18.83mm 4mm BloodandCustard East Sussex Finescale Railway Modelling Finescale Modelling OO HO 18.83mm 4mm BloodandCustard East Sussex Finescale Railway Modelling Finescale Modelling OO HO 18.83mm 4mm BloodandCustard East Sussex Finescale Railway Modelling Finescale Modelling OO HO 18.83mm 4mm BloodandCustard East Sussex Finescale Railway Modelling Finescale Modelling OO HO 18.83mm 4mm BloodandCustard East Sussex Finescale Railway Modelling Finescale Modelling OO HO 18.83mm 4mm BloodandCustard East Sussex Finescale Railway Modelling Finescale Modelling OO HO 18.83mm 4mm BloodandCustard East Sussex Finescale Railway Modelling Finescale Modelling OO HO 18.83mm 4mm BloodandCustard East Sussex Finescale Railway Modelling Finescale Modelling OO HO 18.83mm 4mm BloodandCustard East Sussex Finescale Railway Modelling Finescale Modelling OO HO 18.83mm 4mm BloodandCustard East Sussex Finescale Railway Modelling Finescale Modelling OO HO 18.83mm 4mm BloodandCustard East Sussex Finescale Railway Modelling Finescale Modelling OO HO 18.83mm 4mm BloodandCustard East Sussex Finescale Railway Modelling Finescale Modelling OO HO 18.83mm 4mm BloodandCustard East Sussex Finescale Railway Modelling Finescale Modelling OO HO 18.83mm 4mm BloodandCustard East Sussex Finescale Railway Modelling Finescale Modelling OO HO 18.83mm 4mm BloodandCustard East Sussex Finescale Railway Modelling Finescale Modelling OO HO 18.83mm 4mm BloodandCustard East Sussex Finescale Railway Modelling Finescale Modelling OO HO 18.83mm 4mm BloodandCustard East Sussex Finescale Railway Modelling Finescale Modelling OO HO 18.83mm 4mm BloodandCustard East Sussex Finescale Railway Modelling Finescale Modelling OO HO 18.83mm 4mm BloodandCustard East Sussex Finescale Railway Modelling Finescale Modelling OO HO 18.83mm 4mm BloodandCustard East Sussex Finescale Railway Modelling Finescale Modelling OO HO 18.83mm 4mm BloodandCustard East Sussex Finescale Railway Modelling Finescale Modelling OO HO 18.83mm 4mm BloodandCustard East Sussex Finescale Railway Modelling Finescale Modelling OO HO 18.83mm 4mm BloodandCustard East Sussex Finescale Railway Modelling Finescale Modelling OO HO 18.83mm 4mm BloodandCustard East Sussex Finescale Railway Modelling Finescale Modelling OO HO 18.83mm 4mm BloodandCustard East Sussex Finescale Railway Modelling Finescale Modelling OO HO 18.83mm 4mm BloodandCustard East Sussex Finescale Railway Modelling Finescale Modelling OO HO 18.83mm 4mm BloodandCustard East Sussex Finescale Railway Modelling Finescale Modelling OO HO 18.83mm 4mm BloodandCustard East Sussex Finescale Railway Modelling Finescale Modelling OO HO 18.83mm 4mm BloodandCustard East Sussex Finescale Railway Modelling Finescale Modelling OO HO 18.83mm 4mm BloodandCustard East Sussex Finescale Railway Modelling Finescale Modelling OO HO 18.83mm 4mm BloodandCustard East Sussex Finescale Railway Modelling Finescale Modelling OO HO 18.83mm 4mm BloodandCustard East Sussex Finescale Railway Modelling Finescale Modelling OO HO 18.83mm 4mm BloodandCustard East Sussex Finescale Railway Modelling Finescale Modelling OO HO 18.83mm 4mm BloodandCustard East Sussex Finescale Railway Modelling Finescale Modelling OO HO 18.83mm 4mm BloodandCustard East Sussex Finescale Railway Modelling Finescale Modelling OO HO 18.83mm 4mm BloodandCustard East Sussex Finescale Railway Modelling Finescale Modelling OO HO 18.83mm 4mm BloodandCustard East Sussex Finescale Railway Modelling Finescale Modelling OO HO 18.83mm 4mm BloodandCustard East Sussex Finescale Railway Modelling Finescale Modelling OO HO 18.83mm 4mm BloodandCustard East Sussex Finescale Railway Modelling Finescale Modelling OO HO 18.83mm 4mm BloodandCustard East Sussex Finescale Railway Modelling Finescale Modelling OO HO 18.83mm 4mm BloodandCustard East Sussex Finescale Railway Modelling Finescale Modelling OO HO 18.83mm 4mm BloodandCustard East Sussex Finescale Railway Modelling Finescale Modelling OO HO 18.83mm 4mm BloodandCustard East Sussex Finescale Railway Modelling Finescale Modelling OO HO 18.83mm 4mm BloodandCustard East Sussex Finescale Railway Modelling Finescale Modelling OO HO 18.83mm 4mm BloodandCustard East Sussex Finescale Railway Modelling Finescale Modelling OO HO 18.83mm 4mm BloodandCustard East Sussex Finescale Railway Modelling Finescale Modelling OO HO 18.83mm 4mm BloodandCustard East Sussex Finescale Railway Modelling Finescale Modelling OO HO 18.83mm 4mm BloodandCustard East Sussex Finescale Railway Modelling Finescale Modelling OO HO 18.83mm 4mm BloodandCustard East Sussex Finescale Railway Modelling Finescale Modelling OO HO 18.83mm 4mm BloodandCustard East Sussex Finescale Railway Modelling Finescale Modelling OO HO 18.83mm 4mm BloodandCustard East Sussex Finescale Railway Modelling Finescale Modelling OO HO 18.83mm 4mm BloodandCustard East Sussex Finescale Railway Modelling Finescale Modelling OO HO 18.83mm 4mm BloodandCustard East Sussex Finescale Railway Modelling Finescale Modelling OO HO 18.83mm 4mm BloodandCustard East Sussex Finescale Railway Modelling Finescale Modelling OO HO 18.83mm 4mm BloodandCustard East Sussex Finescale Railway Modelling Finescale Modelling OO HO 18.83mm 4mm BloodandCustard East Sussex Finescale Railway Modelling Finescale Modelling OO HO 18.83mm 4mm BloodandCustard East Sussex Finescale Railway Modelling Finescale Modelling OO HO 18.83mm 4mm BloodandCustard East Sussex Finescale Railway Modelling Finescale Modelling OO HO 18.83mm 4mm BloodandCustard East Sussex Finescale Railway Modelling Finescale Modelling OO HO 18.83mm 4mm BloodandCustard East Sussex Finescale Railway Modelling Finescale Modelling OO HO 18.83mm 4mm BloodandCustard East Sussex Finescale Railway Modelling Finescale Modelling OO HO 18.83mm 4mm BloodandCustard East Sussex Finescale Railway Modelling Finescale Modelling OO HO 18.83mm 4mm BloodandCustard East Sussex Finescale Railway Modelling Finescale Modelling OO HO 18.83mm 4mm BloodandCustard East Sussex Finescale Railway Modelling Finescale Modelling OO HO 18.83mm 4mm BloodandCustard East Sussex Finescale Railway Modelling Finescale Modelling OO HO 18.83mm 4mm BloodandCustard East Sussex Finescale Railway Modelling Finescale Modelling OO HO 18.83mm 4mm BloodandCustard East Sussex Finescale Railway Modelling Finescale Modelling OO HO 18.83mm 4mm BloodandCustard East Sussex Finescale Railway Modelling Finescale Modelling OO HO 18.83mm 4mm BloodandCustard East Sussex Finescale Railway Modelling Finescale Modelling OO HO 18.83mm 4mm BloodandCustard East Sussex Finescale Railway Modelling Finescale Modelling OO HO 18.83mm 4mm BloodandCustard East Sussex Finescale Railway Modelling Finescale Modelling OO HO 18.83mm 4mm BloodandCustard East Sussex Finescale Railway Modelling Finescale Modelling OO HO 18.83mm 4mm BloodandCustard East Sussex Finescale Railway Modelling Finescale Modelling OO HO 18.83mm 4mm BloodandCustard East Sussex Finescale Railway Modelling Finescale Modelling OO HO 18.83mm 4mm BloodandCustard East Sussex Finescale Railway Modelling Finescale Modelling OO HO 18.83mm 4mm BloodandCustard East Sussex Finescale Railway Modelling Finescale Modelling OO HO 18.83mm 4mm BloodandCustard East Sussex Finescale Railway Modelling Finescale Modelling OO HO 18.83mm 4mm BloodandCustard East Sussex Finescale Railway Modelling Finescale Modelling OO HO 18.83mm 4mm BloodandCustard East Sussex Finescale Railway Modelling Finescale Modelling OO HO 18.83mm 4mm BloodandCustard East Sussex Finescale Railway Modelling Finescale Modelling OO HO 18.83mm 4mm BloodandCustard East Sussex Finescale Railway Modelling Finescale Modelling OO HO 18.83mm 4mm BloodandCustard East Sussex Finescale Railway Modelling Finescale Modelling OO HO 18.83mm 4mm BloodandCustard East Sussex Finescale Railway Modelling Finescale Modelling OO HO 18.83mm 4mm BloodandCustard East Sussex Finescale Railway Modelling Finescale Modelling OO HO 18.83mm 4mm BloodandCustard East Sussex Finescale Railway Modelling Finescale Modelling OO HO 18.83mm 4mm BloodandCustard East Sussex Finescale Railway Modelling Finescale Modelling OO HO 18.83mm 4mm BloodandCustard East Sussex Finescale Railway Modelling Finescale Modelling OO HO 18.83mm 4mm BloodandCustard East Sussex Finescale Railway Modelling Finescale Modelling OO HO 18.83mm 4mm BloodandCustard East Sussex Finescale Railway Modelling Finescale Modelling OO HO 18.83mm 4mm BloodandCustard East Sussex Finescale Railway Modelling Finescale Modelling OO HO 18.83mm 4mm BloodandCustard East Sussex Finescale Railway Modelling Finescale Modelling OO HO 18.83mm 4mm BloodandCustard East Sussex Finescale Railway Modelling Finescale Modelling OO HO 18.83mm 4mm BloodandCustard East Sussex Finescale Railway Modelling Finescale Modelling OO HO 18.83mm 4mm BloodandCustard East Sussex Finescale Railway Modelling Finescale Modelling OO HO 18.83mm 4mm BloodandCustard East Sussex Finescale Railway Modelling Finescale Modelling OO HO 18.83mm 4mm BloodandCustard East Sussex Finescale Railway Modelling Finescale Modelling OO HO 18.83mm 4mm BloodandCustard East Sussex Finescale Railway Modelling Finescale Modelling OO HO 18.83mm 4mm BloodandCustard East Sussex Finescale Railway Modelling Finescale Modelling OO HO 18.83mm 4mm BloodandCustard East Sussex Finescale Railway Modelling Finescale Modelling OO HO 18.83mm 4mm BloodandCustard East Sussex Finescale Railway Modelling Finescale Modelling OO HO 18.83mm 4mm BloodandCustard East Sussex Finescale Railway Modelling Finescale Modelling OO HO 18.83mm 4mm BloodandCustard East Sussex Finescale Railway Modelling Finescale Modelling OO HO 18.83mm 4mm BloodandCustard East Sussex Finescale Railway Modelling Finescale Modelling OO HO 18.83mm 4mm BloodandCustard East Sussex Finescale Railway Modelling Finescale Modelling OO HO 18.83mm 4mm BloodandCustard East Sussex Finescale Railway Modelling Finescale Modelling OO HO 18.83mm 4mm BloodandCustard East Sussex Finescale Railway Modelling Finescale Modelling OO HO 18.83mm 4mm BloodandCustard East Sussex Finescale Railway Modelling Finescale Modelling OO HO 18.83mm 4mm BloodandCustard East Sussex Finescale Railway Modelling Finescale Modelling OO HO 18.83mm 4mm BloodandCustard East Sussex Finescale Railway Modelling Finescale Modelling OO HO 18.83mm 4mm BloodandCustard East Sussex Finescale Railway Modelling Finescale Modelling OO HO 18.83mm 4mm BloodandCustard East Sussex Finescale Railway Modelling Finescale Modelling OO HO 18.83mm 4mm BloodandCustard East Sussex Finescale Railway Modelling Finescale Modelling OO HO 18.83mm 4mm BloodandCustard East Sussex Finescale Railway Modelling Finescale Modelling OO HO 18.83mm 4mm BloodandCustard East Sussex Finescale Railway Modelling Finescale Modelling OO HO 18.83mm 4mm BloodandCustard East Sussex Finescale Railway Modelling Finescale Modelling OO HO 18.83mm 4mm BloodandCustard East Sussex Finescale Railway Modelling Finescale Modelling OO HO 18.83mm 4mm BloodandCustard East Sussex Finescale Railway Modelling Finescale Modelling OO HO 18.83mm 4mm BloodandCustard East Sussex Finescale Railway Modelling Finescale Modelling OO HO 18.83mm 4mm BloodandCustard East Sussex Finescale Railway Modelling Finescale Modelling OO HO 18.83mm 4mm BloodandCustard East Sussex Finescale Railway Modelling Finescale Modelling OO HO 18.83mm 4mm BloodandCustard East Sussex Finescale Railway Modelling Finescale Modelling OO HO 18.83mm